This Pan Roasted Pear Salad is the perfect salad that straddles late summer and early fall, also known as the start of pear season. Served with soft lettuce, cheese and candied walnuts, these saucy, warm pears are heaven on a plate.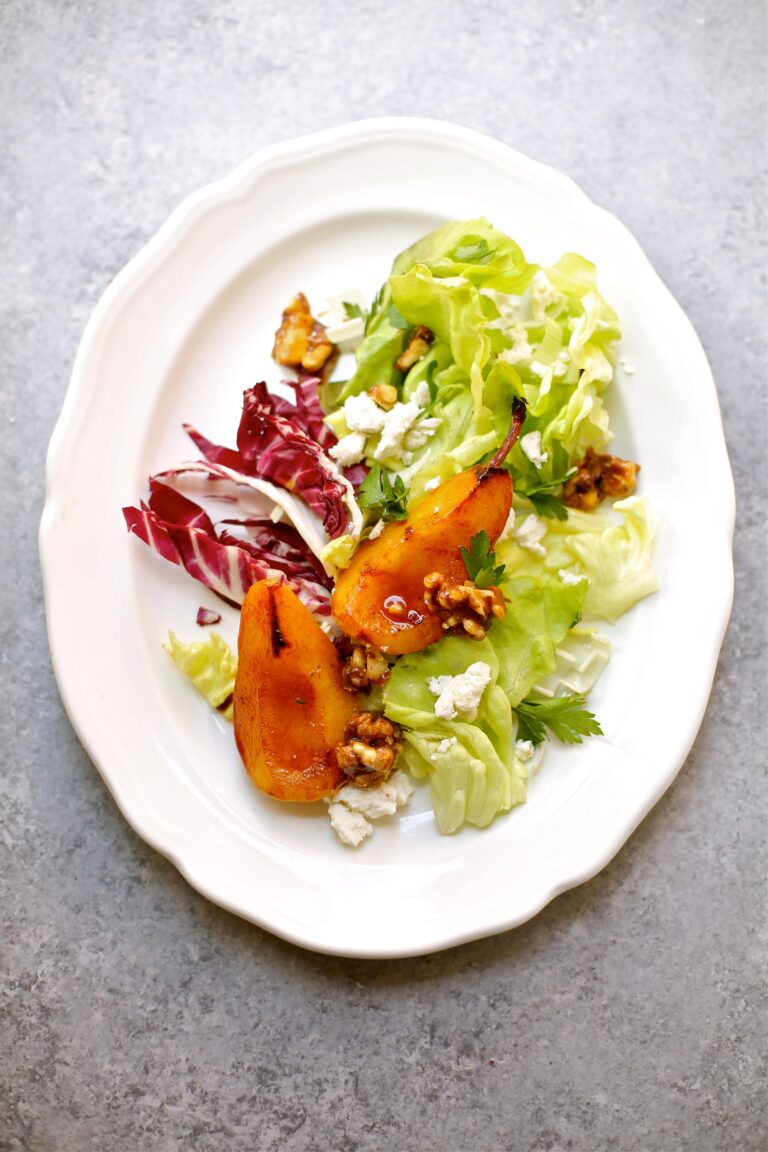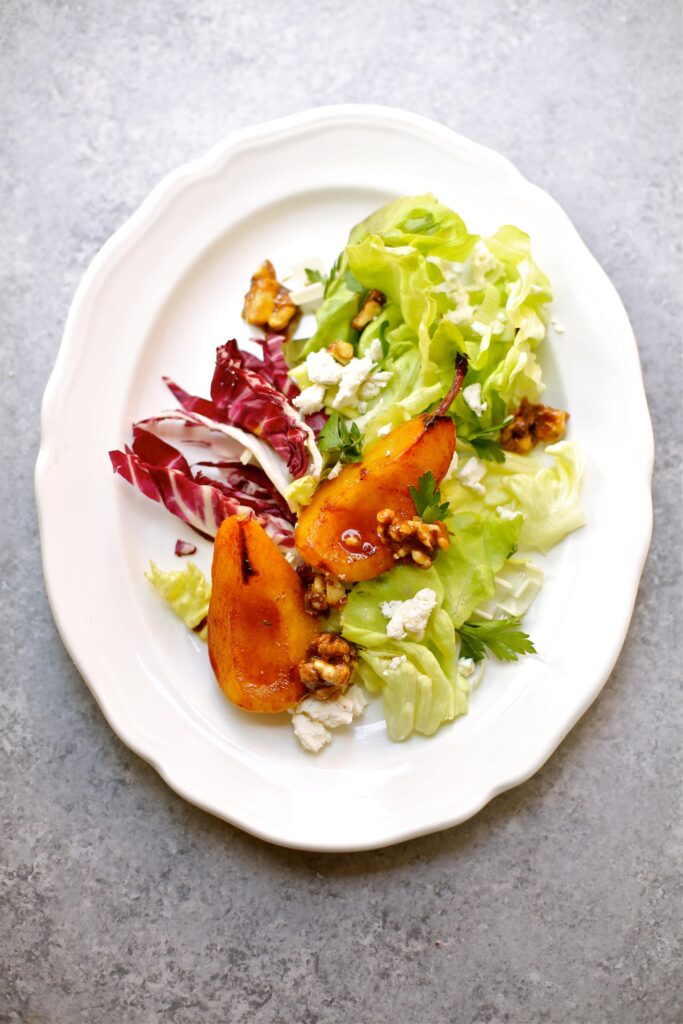 If you've never roasted a pear in your life, this recipe is going to knock your socks off.
We are in pear season, people! And this salad is:
Crunchy, but not annoyingly so…think butter lettuce and raddichio
Soft goat cheese for tang and creaminess
Candied nuts which only take minutes, no fancy equipment needed
Are you with me so far?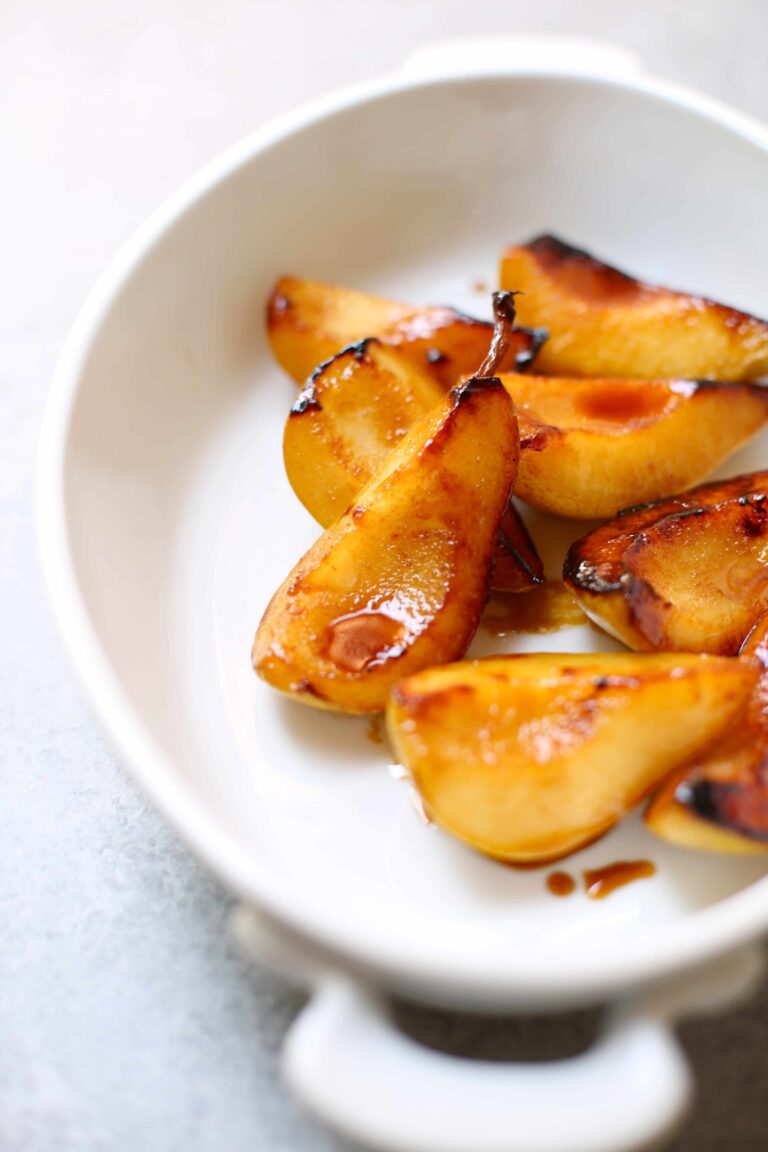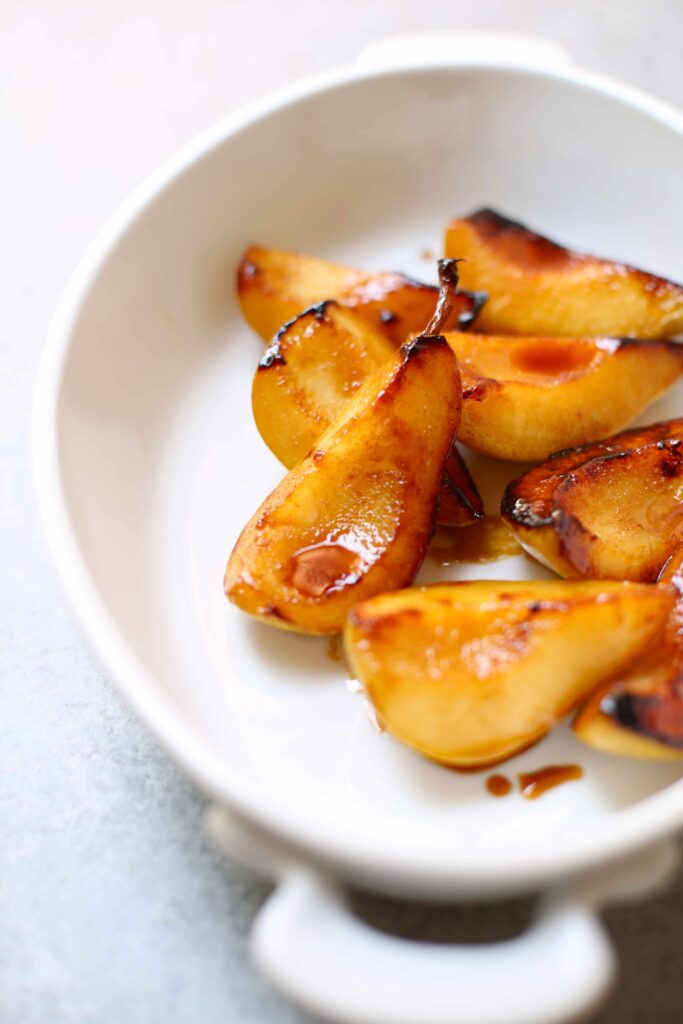 How Do You Pan Roast Pears?
This idea of pan roasting pears sounds like a HUGE, scary idea, but it's not.
All you need to do is:
Toss the pears with a little sugar
Heat them in a non-stick skillet with some melted butter
Cook them on a gentle heat, turning carefully, until they caramelize on all sides
That's it!
So easy, so pretty.
Really versatile, too.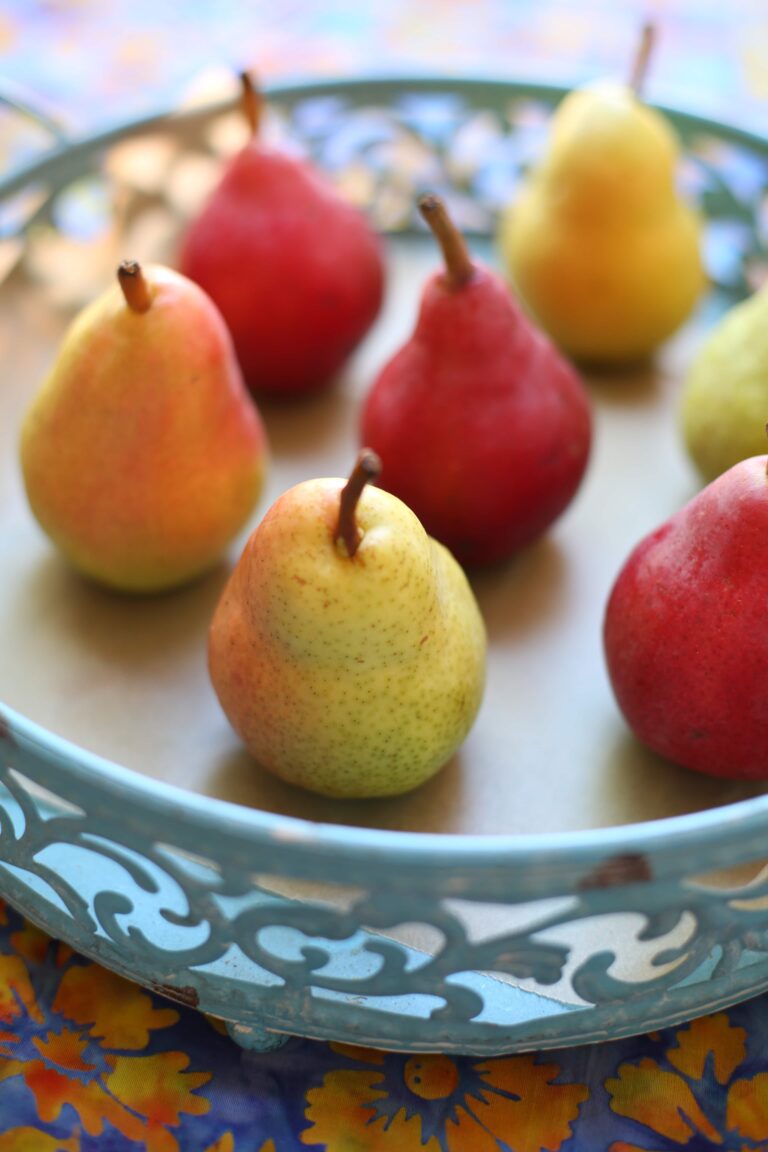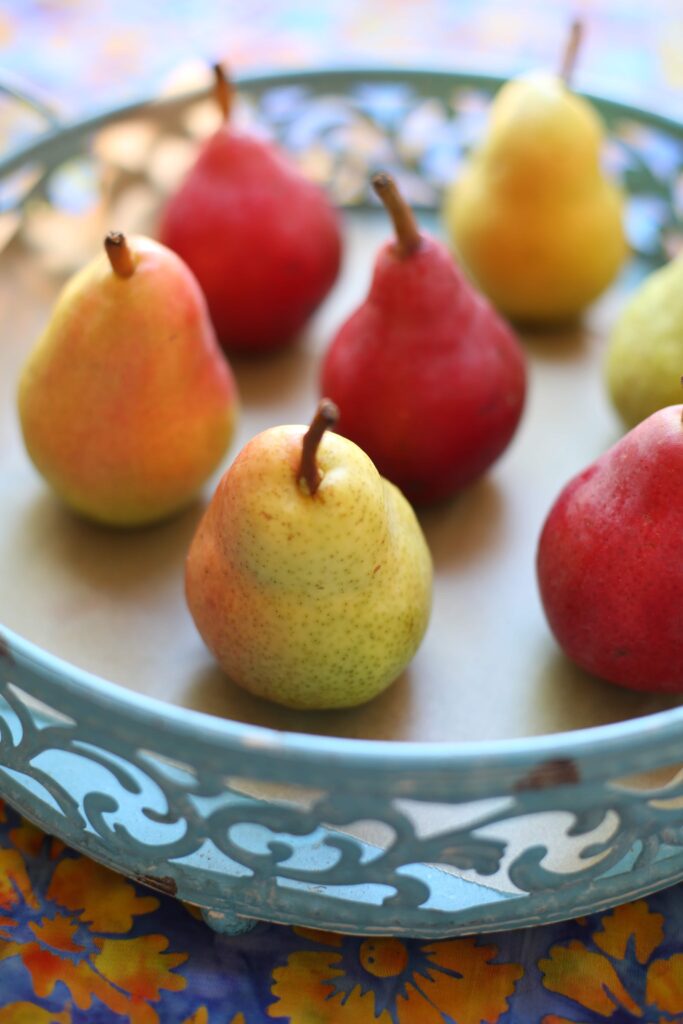 How else can you use Pan Roasted Pears?
Hello, vanilla ice cream.
And morning yogurt with granola and honey.
Totally delicious sitting alongside roasted meat, especially pork.
Doesn't pan roasted pears on cooked oatmeal with some maple syrup sound amazing?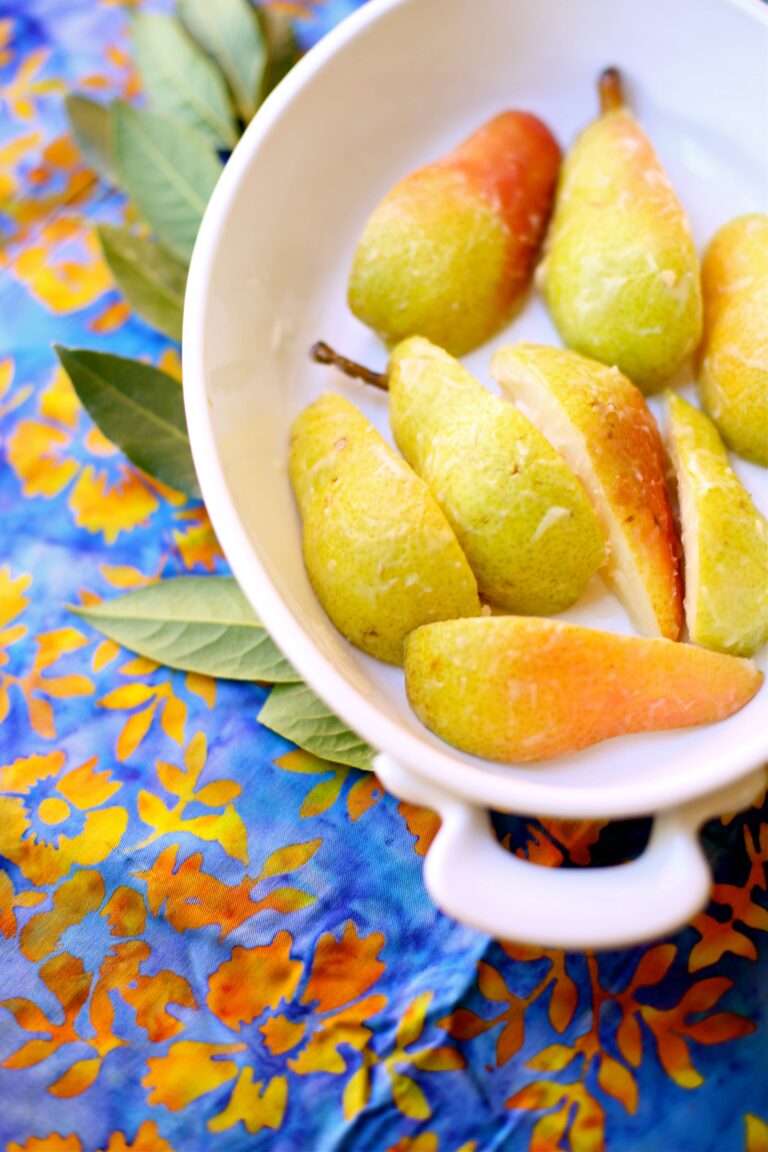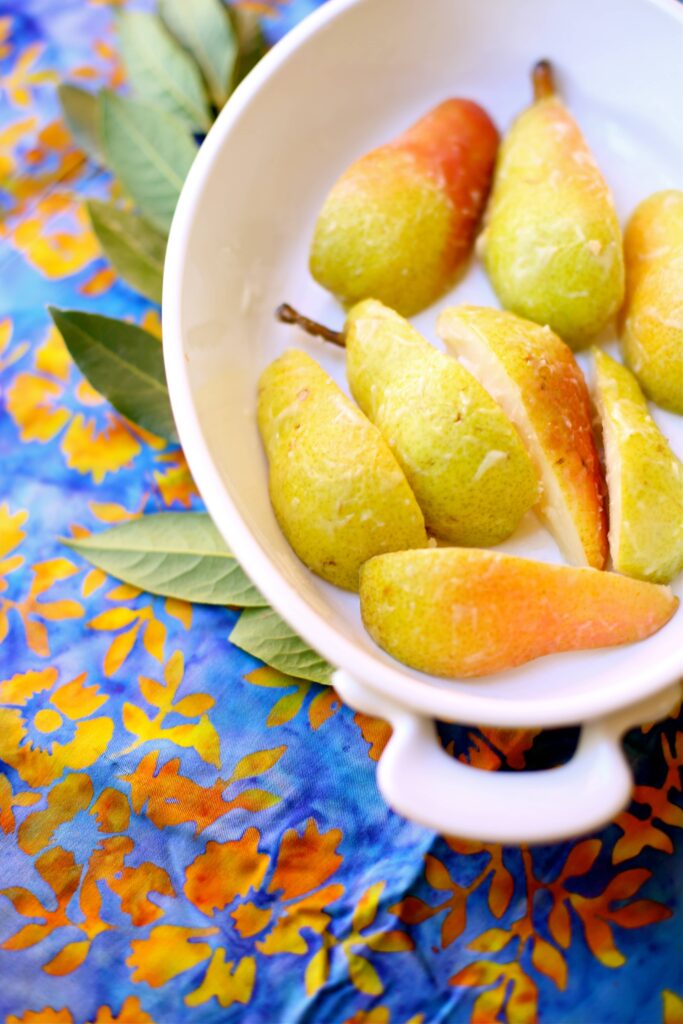 When is Pear Season?
I used Bartlett pears for this salad recipe, and they're in season from August to February, thankfully.
Why? Because they're sweet, really juicy and have a classic pear flavor.
Did you know there are ten kinds of US pears?
Here's more info on pear varieties if you really want to geek out 🙂
It's fun to experiment, how about:
Canning them! (Yes, it's a little work, but so worth it.)
Serve thick wedges of fresh pear on a wooden board with sliced cheeses and crackers or warm toasted bread (tip: toss cut pears in a little fresh lemon juice to stop discoloration.)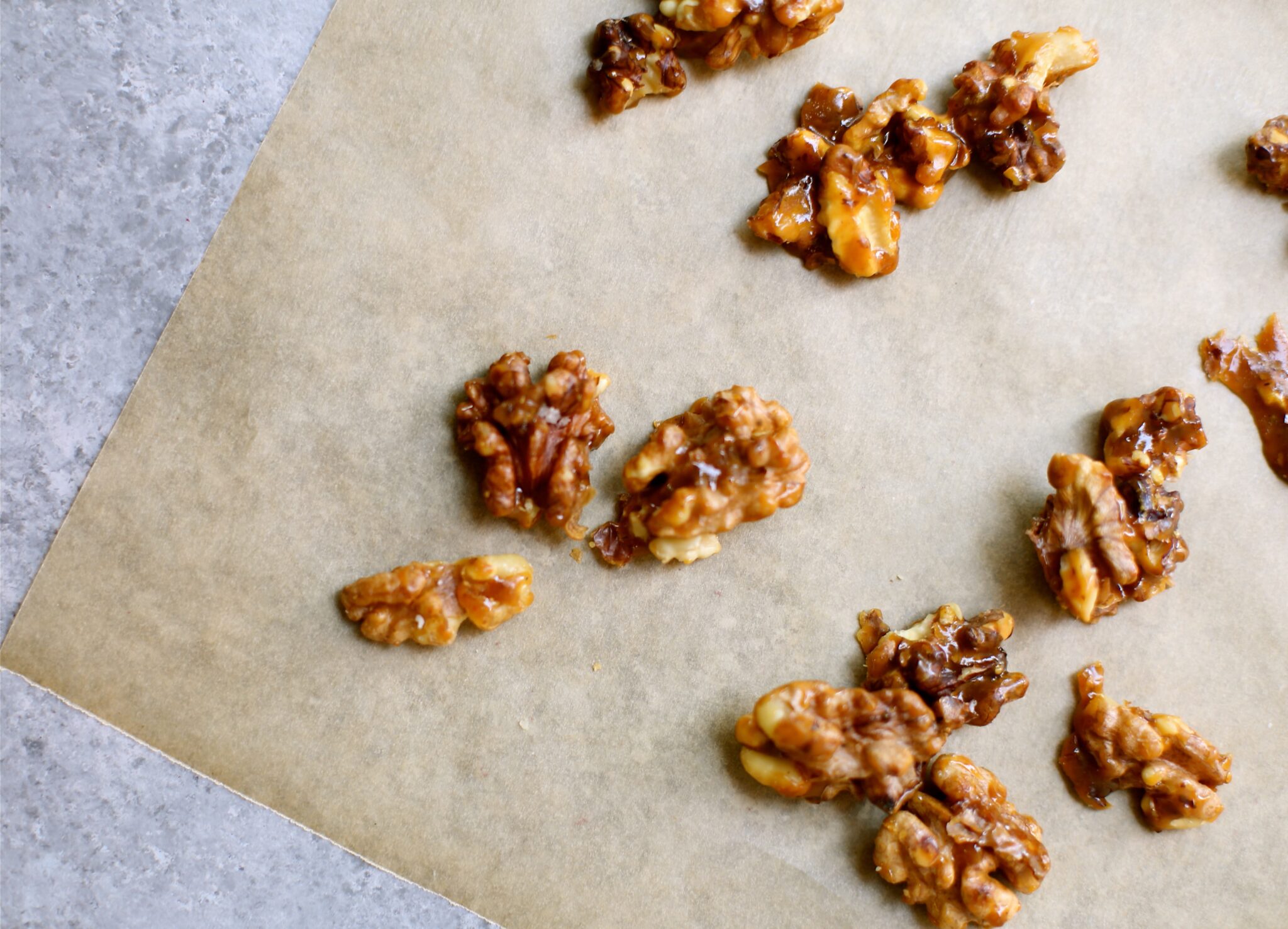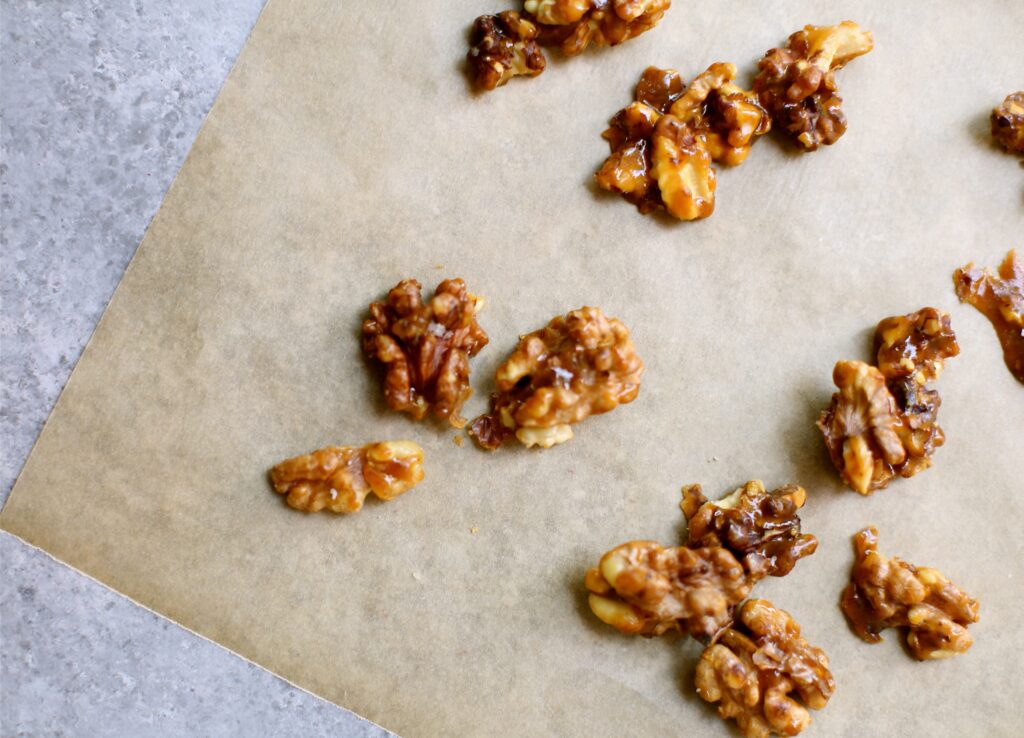 How do you make Pan Roasted Pear Salad?
Fresh pears in grocery stores and Farmer's Markets now, so now's the perfect time to make this beautiful salad a part of your autumn repertoire.
This recipe for Pan Roasted Pear Salad is a magical combination of saucy roasted pears with soft lettuces, made crazy good with easy homemade candied walnuts and a few nubs of soft goat cheese.
The main steps to making the salad are:
Quarter and core the fresh pears
Saute pears in a non-stick pan with butter and sugar (your insurance policy for pear caramelization.)
Make the candied nuts – easy with only 3 ingredients and no candy thermometer needed!
Tear soft butter lettuce, raddichio and flat leaf parsley into pieces.
Toss simply with a vinaigrette of olive oil, vinegar, honey and fresh leeks.
Put the lettuce on a platter or individual plates and top with roasted pears, a crumble of goat cheese, and a few candied nuts for serving.
Did I mention this salad is absolutely delicious? People LOVE it.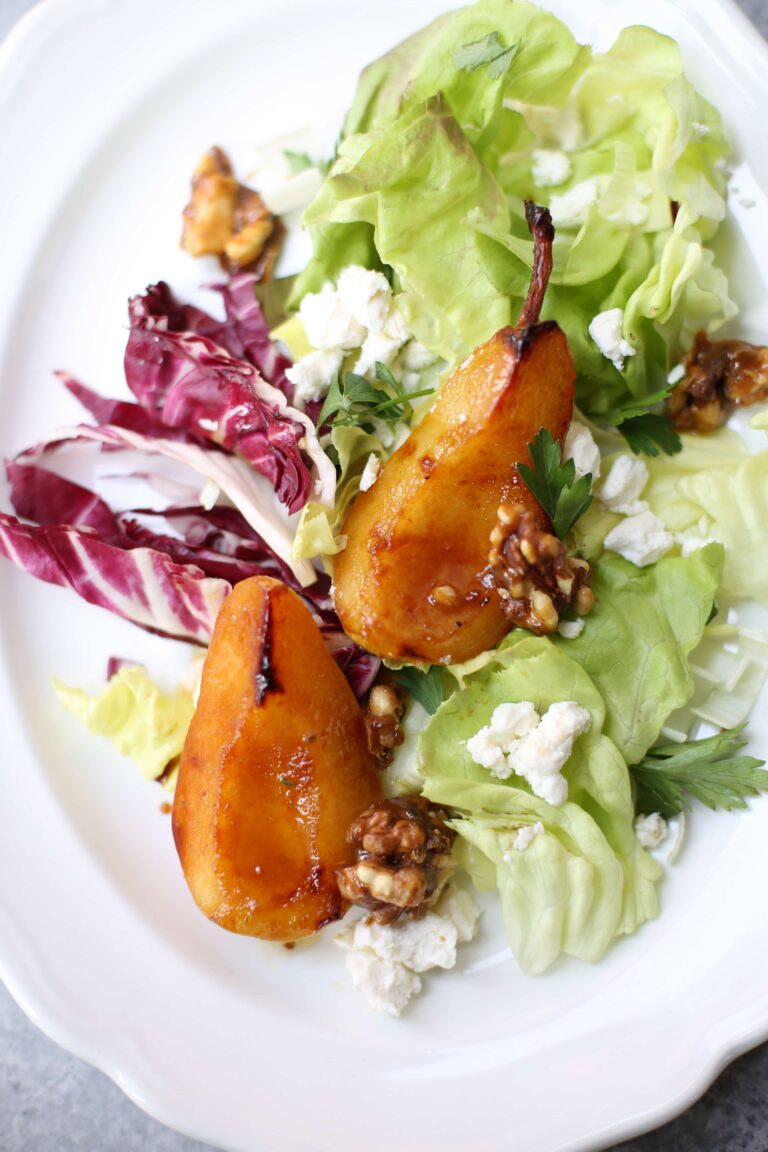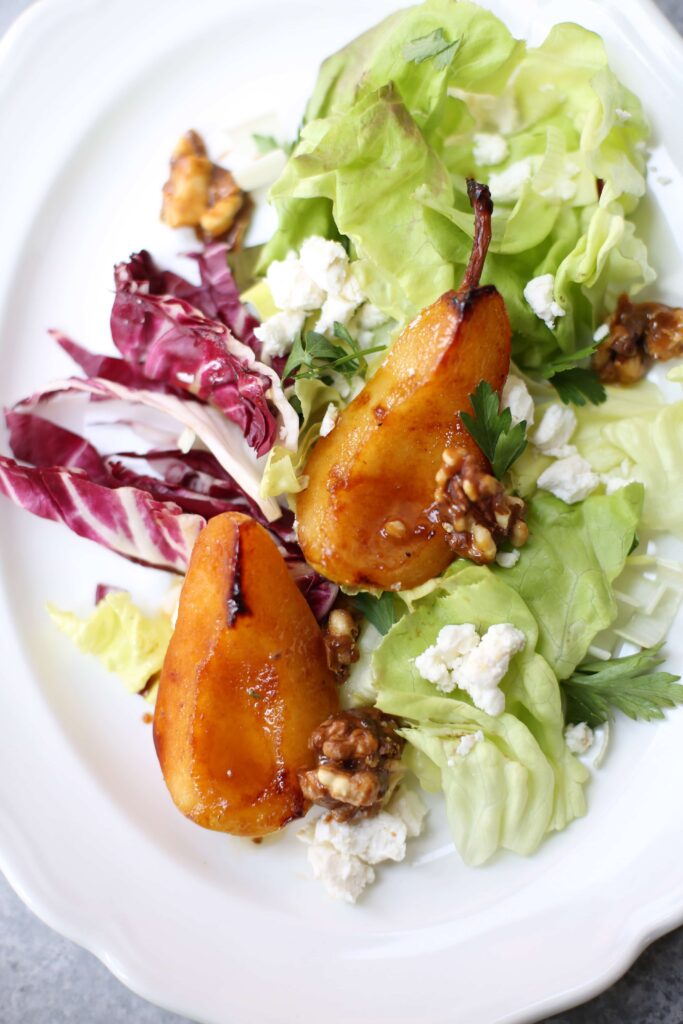 Serving Ideas for Pan Roasted Pear Salad
This beauty of a salad is perfect served on small plates before a special dinner.
Think slow cooked pork chop recipes like this one.
You could also serve it with thin sliced grilled chicken breast for a nice lunch idea.
It's also super easy to tote this salad to work—pack up the components separately and assemble just before eating. (Bring extra for your hungry co-workers!)
More Recipes to Try:



Roasted Spring Vegetables with Vinaigrette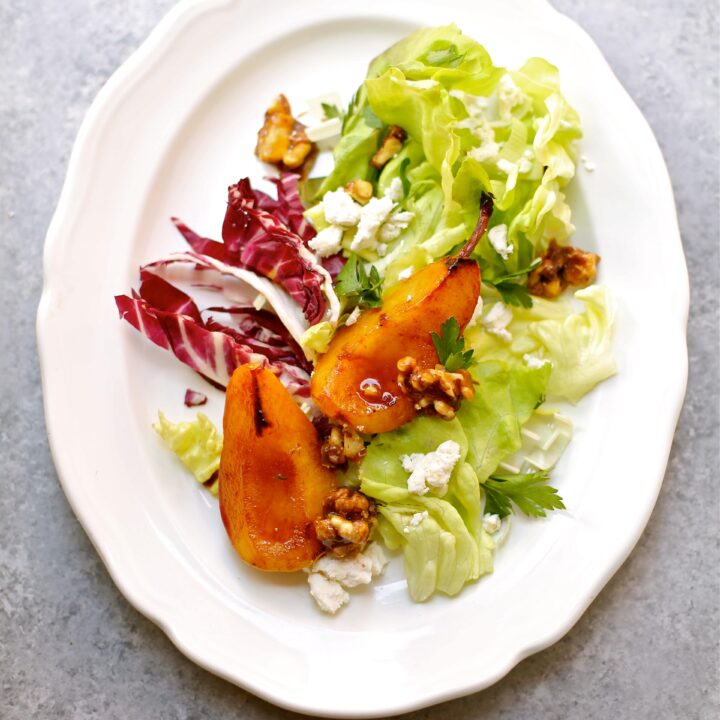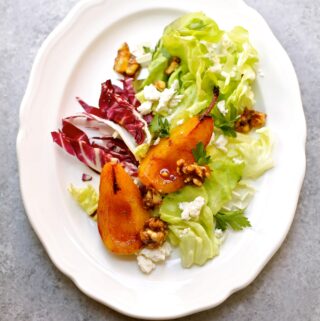 Ingredients
Serves 4

FOR THE PAN ROASTED PEARS

3

pears, Bartlett variety, quartered and cored

2 1/2

teaspoons

sugar

1/4

teaspoon

salt

1

tablespoon

butter

1/4

cup

white balsamic vinegar

2

tablespoons

olive oil

1

teaspoon

honey

1

tablespoon

leek
salt and freshly ground pepper

4

cups

butter lettuce

1/2

radicchio, thinly sliced

1/4

cup

parsley, flat leaf (Italian), roughly chopped

4

ounces

goat cheese, crumbled
candied walnuts, recipe follows
CANDIED NUTS

1

cup

walnuts or pecans, raw

1/4

cup

sugar, superfine

1

tbsp.

butter, unsalted
Instructions
PAN ROAST THE PEARS

Toss the pears with 2 teaspoons of the sugar and a pinch of salt in a medium bowl

Heat a medium (12 inch) non-stick skillet, melt the butter and place the pears in the pan, cut side down in a single layer on medium-high heat

Cook pears until the sides are golden, about 2-4 minutes per side, carefully turning with a small spatula to caramelize the other cut sides, another 2-4 minutes each.

Turn heat off and with the skillet still sitting on the burner, add 2 tablespoons of the vinegar, gently coating the pears with the glaze

Remove the pears carefully from the pan and transfer to a plate or dish to cool for 30 minutes before plating

Make the vinaigrette In a medium bowl, whisk together 2 tablespoons of olive oil, the remaining 2 tablespoons of vinegar, the honey, and chopped leek. Season with salt and pepper.

Tear the lettuce radicchio and parsley into pieces and add to the medium bowl with the vinaigrette, and toss gently. Divide the lettuce mixture between 4 individual serving plates, and top each portion with 2-3 pieces of the pan roasted pear, the candied walnuts, and the goat cheese. Drizzle with any remaining sauce from the bowl. Serve immediately.

MAKE THE CANDIED NUTS

Melt the butter In a large non-stick skillet on medium-high heat. Add the sugar and nuts, gently combining everything together using a non-stick spatula.

Continue cooking, stirring frequently and adjusting the heat lower if necessary to avoid burning.

As the sugar/butter mixture turns dark and syrupy, continue tossing the mixture gently in the pan to coat all the nuts. The process takes about 5 minutes.

Transfer the nuts to a piece of parchment paper or non-stick wax paper and let them cool until ready to use
Notes
Tips:
Bartlett pears are the most common variety to find, and perfect in this salad
Use Apple Cider Vinegar instead of white balsamic if desired.
I buy one fresh leek, the smallest I can find, and just slice the tender white part.
Nutrition
Serving:
4
g
|
Calories:
551
kcal
|
Carbohydrates:
45
g
|
Protein:
11
g
|
Fat:
38
g
|
Saturated Fat:
11
g
|
Cholesterol:
29
mg
|
Sodium:
312
mg
|
Potassium:
421
mg
|
Fiber:
7
g
|
Sugar:
33
g
|
Vitamin A:
2544
IU
|
Vitamin C:
14
mg
|
Calcium:
107
mg
|
Iron:
3
mg
Tips for Success with Every Recipe
Super important to read the whole recipe before you begin
Pay attention to the ingredient list and photos for the recipe
If possible, prep your ingredients a little before you start
Always use a sharp knife for safety
Use the size of pan called for in the recipe
For savory recipes, taste and season as you go
Buy fresh, organic ingredients, locally sourced whenever possible
SOURCE: Studio Delicious, adapted from Cooks Illustrated.