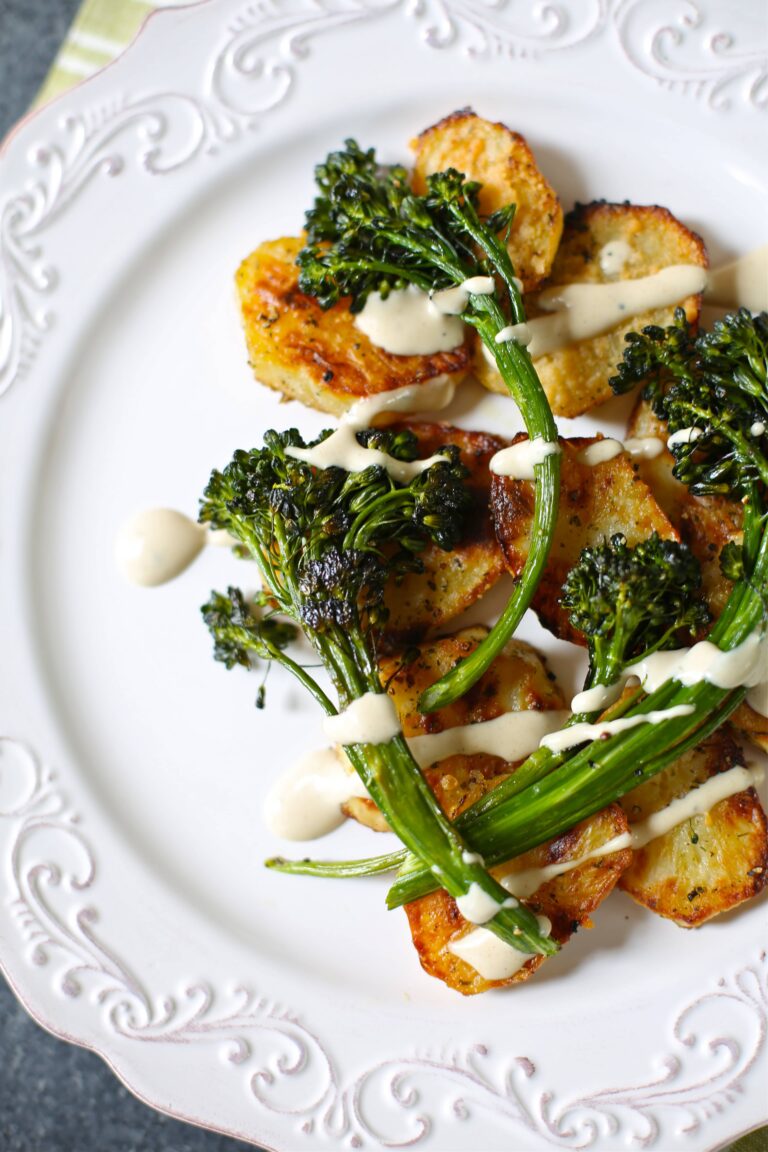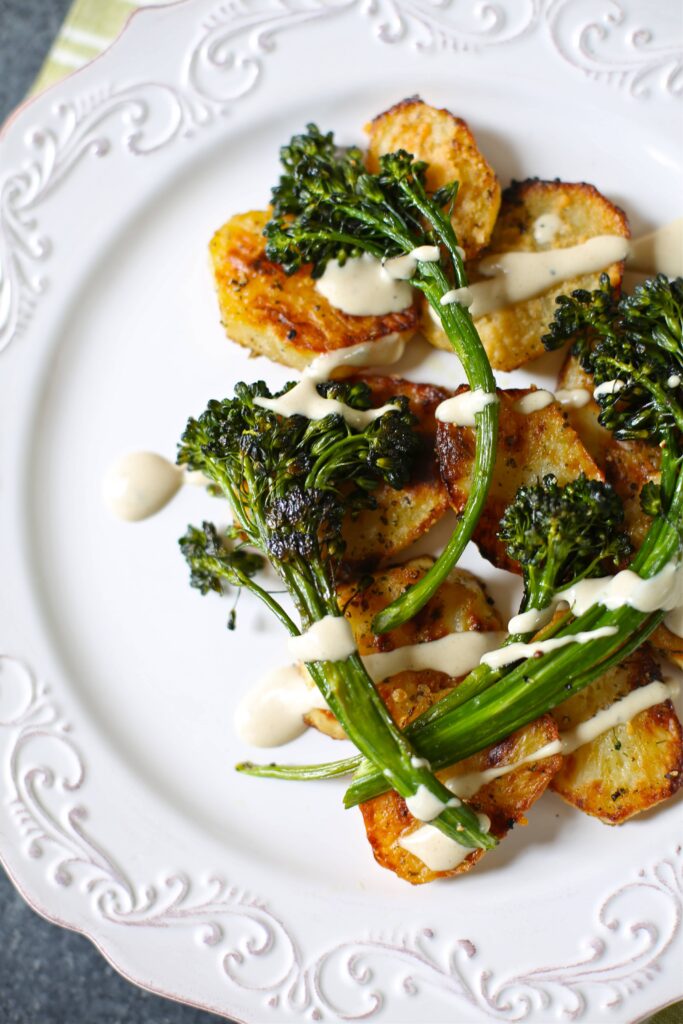 With spring, there are many firsts.
There are the first shoots of green grass, tulips and daffodils.  There's the first round of major yard clean up, which in my case involves many, many tree branches that crashed to the ground from the weight of heavy snow.
This will likely result in my first backache.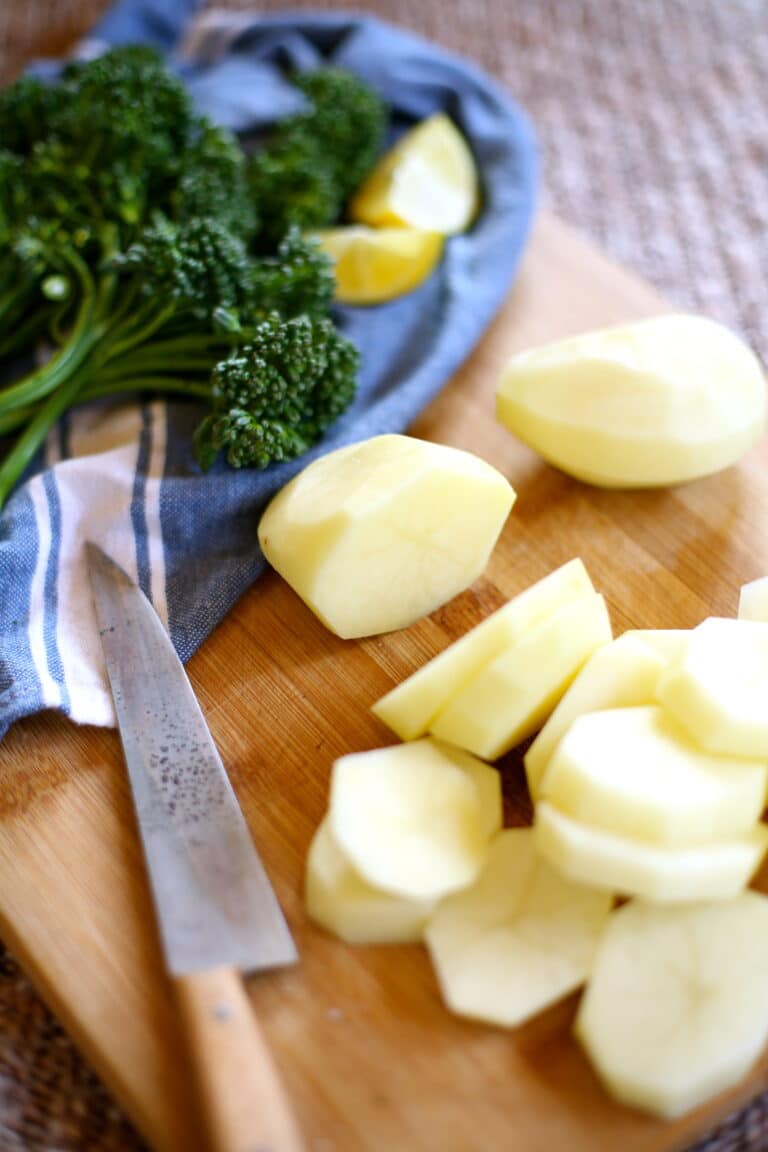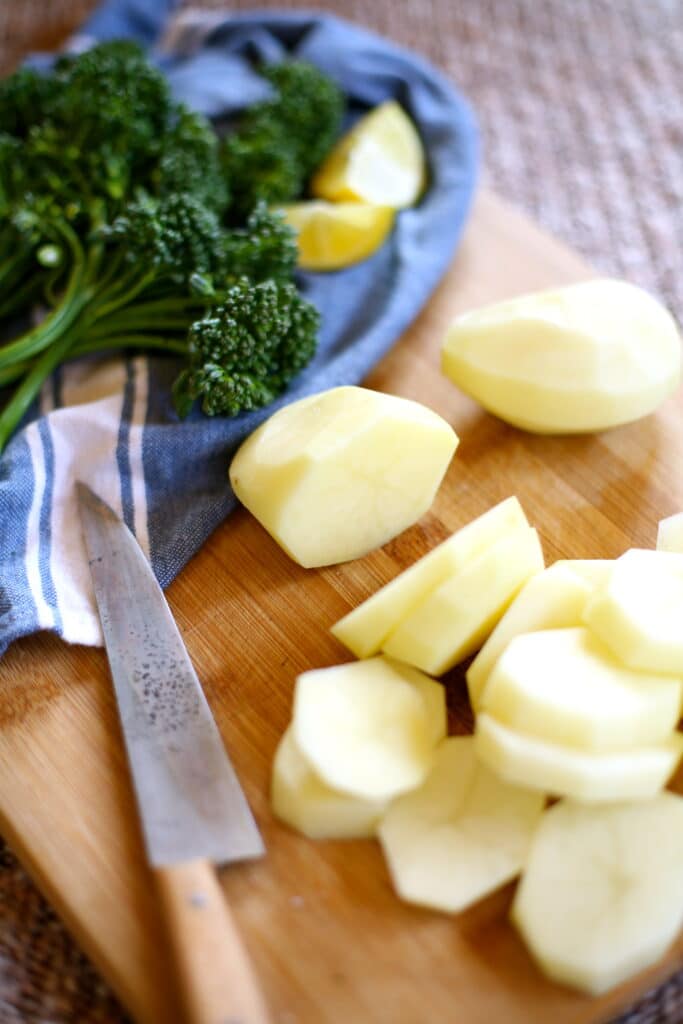 And the other day I saw my first ladybug!
The tiny little gal was hanging on for dear life on the edge of some concrete at the local CVS – straddled between the parking lot and the sidewalk – not a good place for a ladybug to be.
I spotted her somehow, just a tiny red speck, and as I held out my thumb, she jumped right on top.
I helped her tumble off into the safety of the nearby bushes, and walked back to my car feeling pretty good about myself.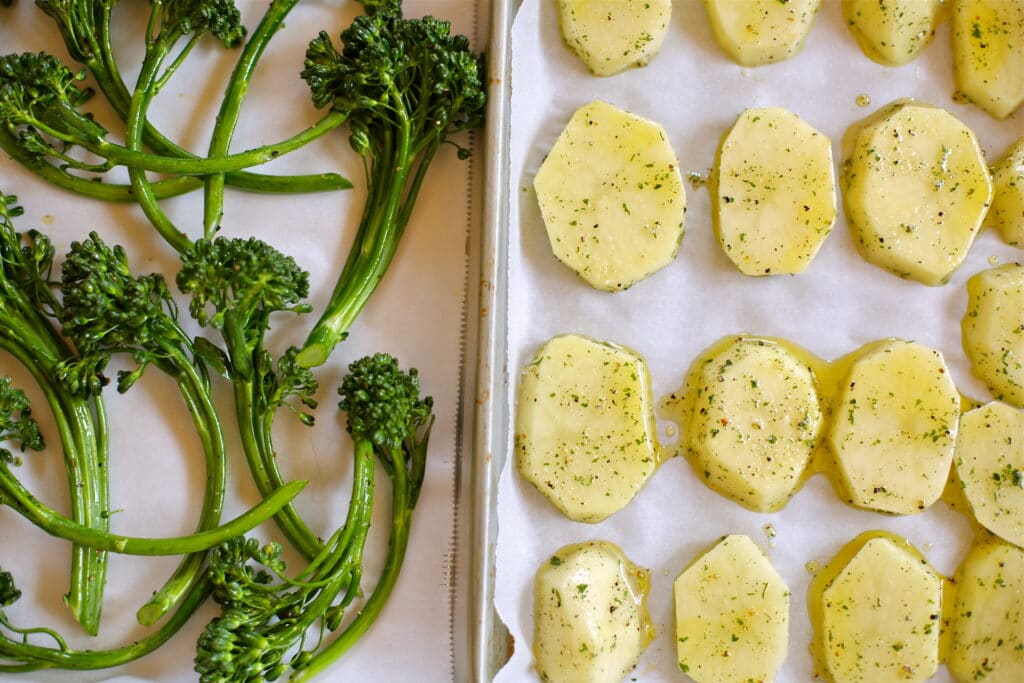 Later that day I went to lunch with my Mom, and when she went to the restroom, I ate most of her french fries. First time this calendar year, I'll have you know 🙂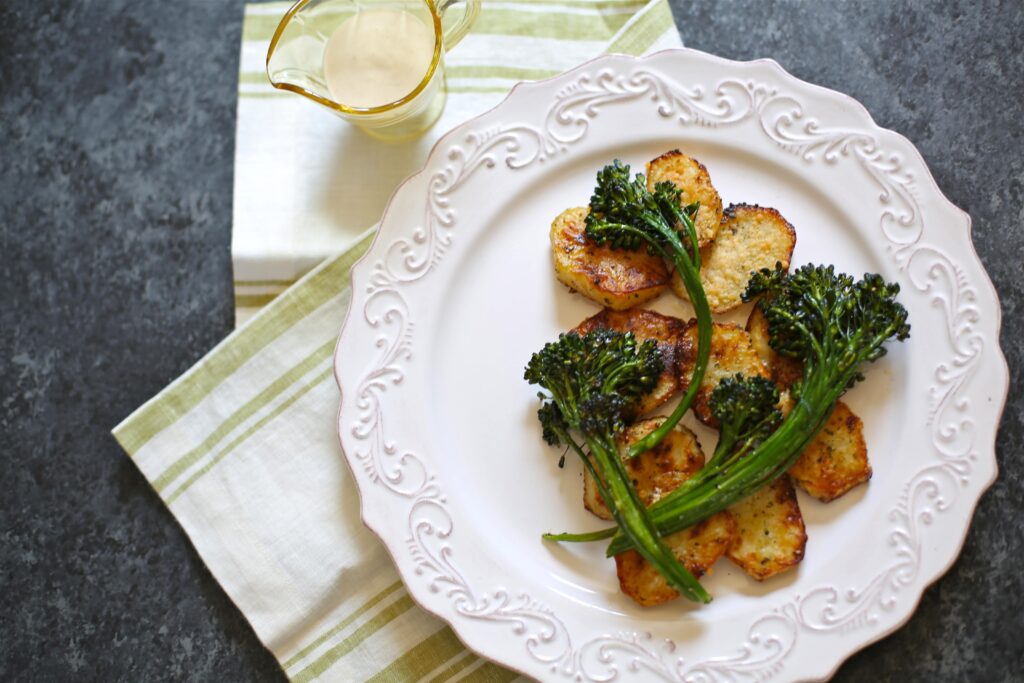 This vegetarian recipe came to me when there was "nothing to eat" in the house, and the combination is dead simple – small yellow potatoes are roasted in olive oil and finished with Parmesan cheese.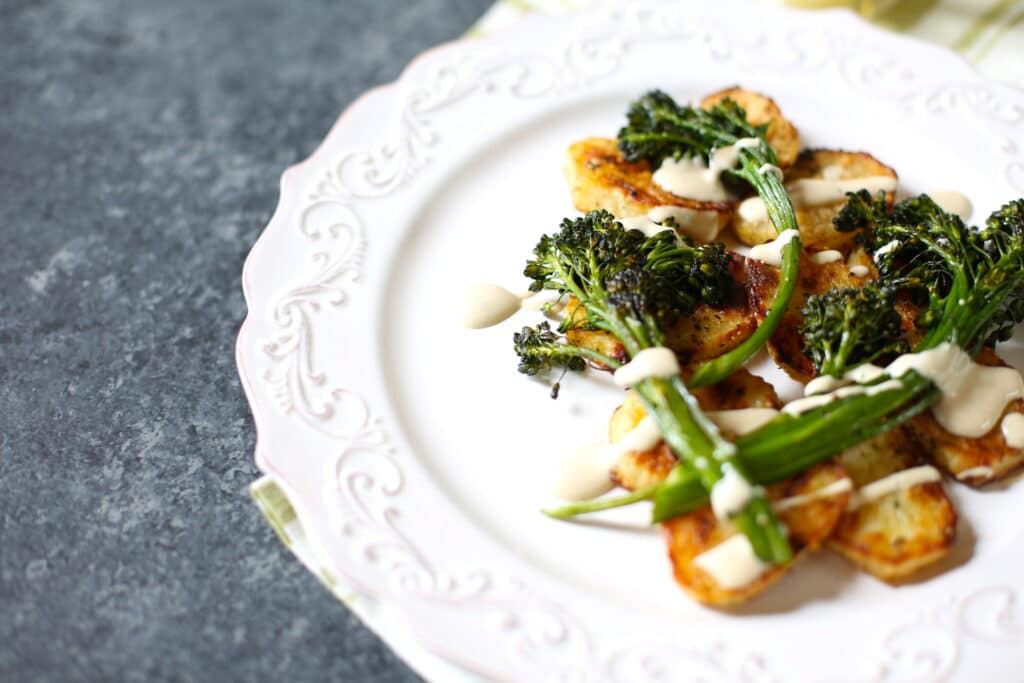 Broccolini – a vegetable similar to broccoli with smaller flowers and stalks – go in the oven too.  The edges get hot and crispy and this is a very good thing.
The roasted potatoes with Parmesan melt in your mouth, and the broccolini is crisp and fresh. Pull the whole thing together with a drizzle of light and lemony mustard sauce and you're all set.
As I'm sitting here telling you about it, I going to get in my kitchen and make it again – it's the perfect light dinner for spring.
Ingredients
1

bunch of broccolini

about 5 ounces washed and dried with ends trimmed and leaves removed. Note: Regular broccoli works well here too, just slice them length-wise.

1 1/2

pounds

yukon gold or other yellow potato

about 4 medium peeled and sliced into 1/4 " rounds.

Extra virgin olive oil

1/4

teaspoon

dried parsley flakes

1/4

graulated garlic powder

Parmesan Cheese

3-4 tablespoons

Sea salt and freshly ground pepper

SAUCE:

3

tablespoons

vegenaise or mayonnaise

1

tablespoon

dijon mustard

2

tablespoons

freshly squeezed lemon juice

Freshly ground pepper

1/8

tsp

dried garlic powder

1/8

tsp

kosher salt

1/8

tsp

dried parsley flakes
Instructions
PREPARE THE POTATOES

Heat oven to 400

Dry off the peeled and sliced potatoes with a paper towel and place in a medium sized bowl. Add some olive oil to coat the potatoes, about 3 tablespoons, and add the parsley, garlic powder, salt and pepper.

Place on a large baking sheet lined with parchment paper with the sliced potatoes laying flat next to each other.

Place in lower rack of oven and roast until lightly brown on the bottom, about 25 minutes. Carefully turn each potato slice over with tongs. Return to oven for another 10 minutes or so, until the edges begin to get crispy and brown. Remove from oven, sprinkle with 3-4 tablespoons of Parmesan cheese and set aside for a few minutes while you prepare the brocolini.

PREPARE THE BROCCOLINI

Place the prepped broccolini spears in the same medium bowl you used for the potatoes, and drizzle with a tablespoon or so of olive oil, a few grinds of fresh pepper, and a 1/2 teaspoon of sea salt.

Place flat on a baking sheet lined with parchment paper and place in the oven, bake for about 15 minutes. Turn with tongs and place both the potatoes and the broccolini back in the oven until the potatoes are lightly brown and the broccolini is crispy on the edges, about 5-10 minutes.

Plate some of each, and drizzle with the mustard sauce.

Makes about 4 servings.

FOR THE SAUCE:

Whisk all ingredients together with a fork until smooth.
Source: Studio Delicious