Here's a favorite salad recipe that's cool, creamy and crunchy all at the same time! Blackberry Salad with Toasted Hazelnuts uses a scattering of cooked grains, crumbled goat cheese, thin sliced radishes and plump, fresh blackberries, plus a drizzle of juicy lemon vinaigrette. Satisfying and amazingly delicious!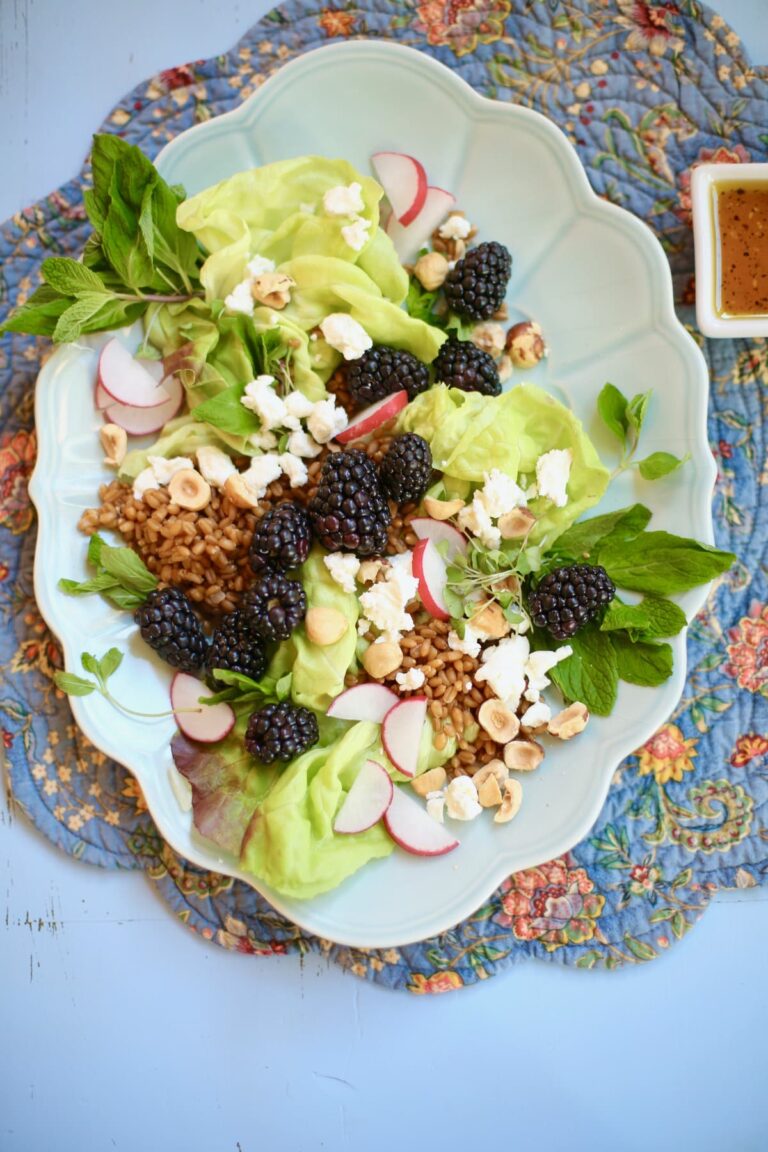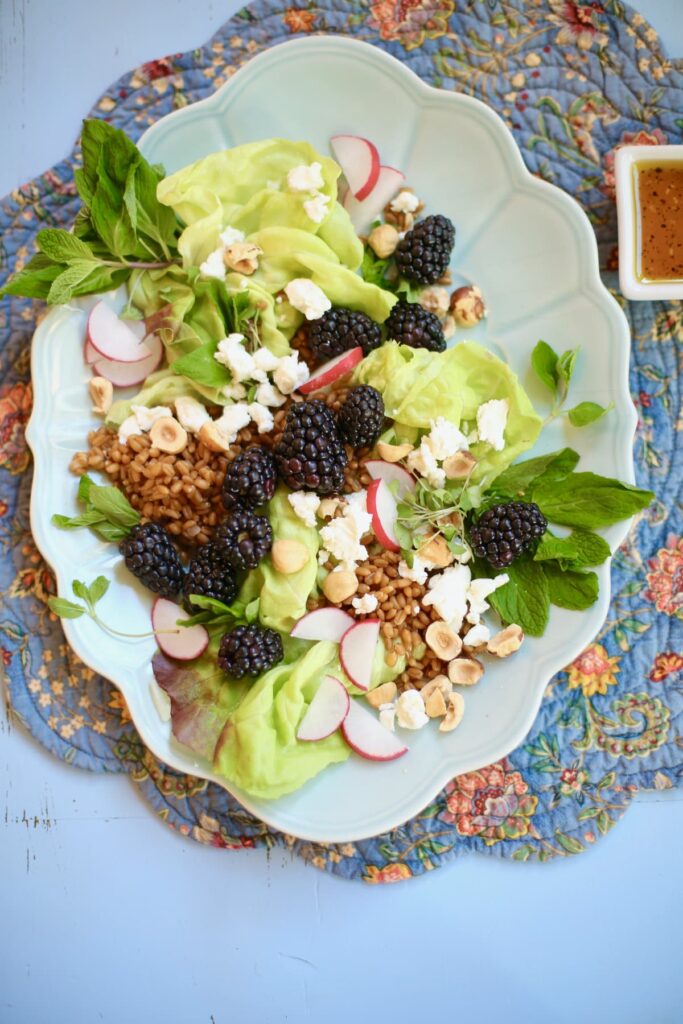 Blackberries are the star of the show here…the big, juicy, ripe kind.
This salad calls for Butter Lettuce (my very favorite- beautiful, tender and delicious) followed by toasted hazelnuts plus a whole bunch of other luscious ingredients:
Soft and creamy goat cheese
Thinly sliced radishes for a peppery little kick
Wheatberries or other leftover grains make this a chewy, substantial salad
Fresh herbs – Italian parsley and fragrant mint are the perfect combination
A bright and flavorful citrus vinaigrette rounds it all out, for drizzling alongside, the same one I use in this delicious Superfood Salad.
This a great salad to make for lunch or a light dinner by itself, or as a side to grilled chicken or fish. Start with my Lemon Artichoke Dip to start it all off.
Ingredients You'll Need for This Recipe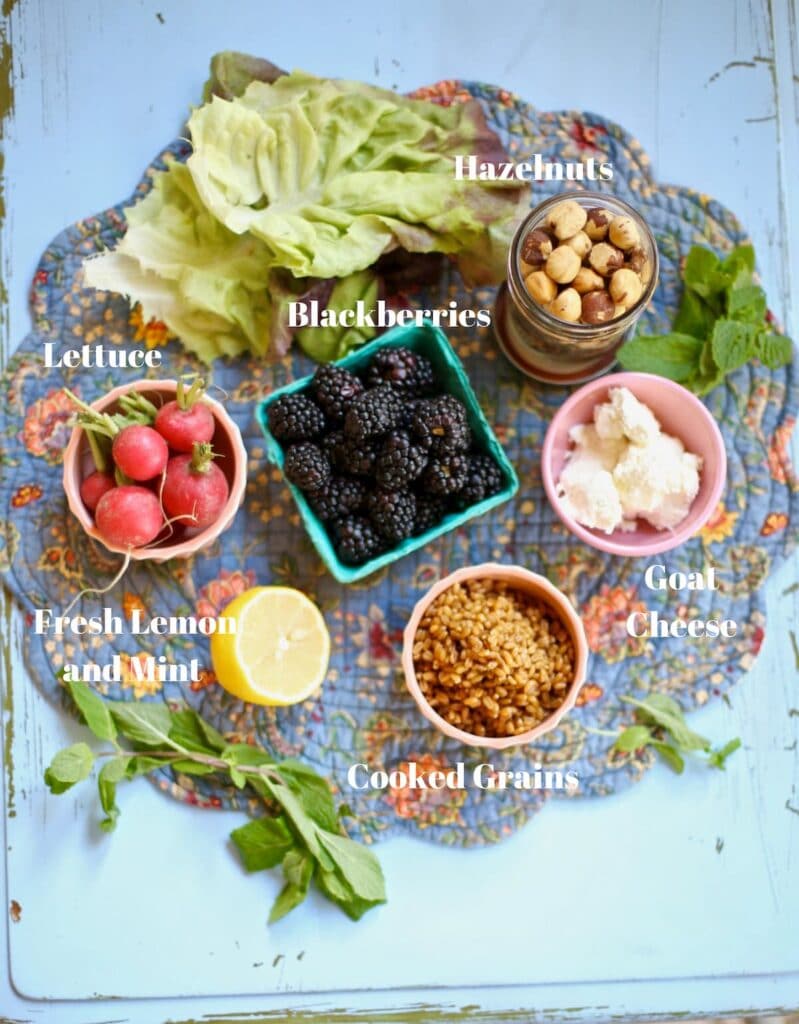 Note: This is a partial list of ingredients…for the full ingredient list, see the recipe card at the bottom of the post.
Cooked Grains: Almost any leftover cooked grains will work, wheatberries are my favorite for this recipe.
Butter Lettuce: So tender, so crunchy. Delicate, but substantial enough to stand up to the rest of the ingredients.
Hazelnuts: Buy them already salted and toasted to save time.
Radish: Thinly sliced and so pretty!
Italian Parsley and Mint: Both of these herbs add a fresh punch to the salad and are easy to find in the grocery store.
Goat Cheese: Just a crumble for a creamy texture that's delicious with the chewy wheatberries.
Lemon Juice and Seasonings: Use pantry staples like freshly ground pepper and flaky sea salt, plus rice vinegar and fresh lemon juice for an easy vinaigrette.
Step-by-Step Instructions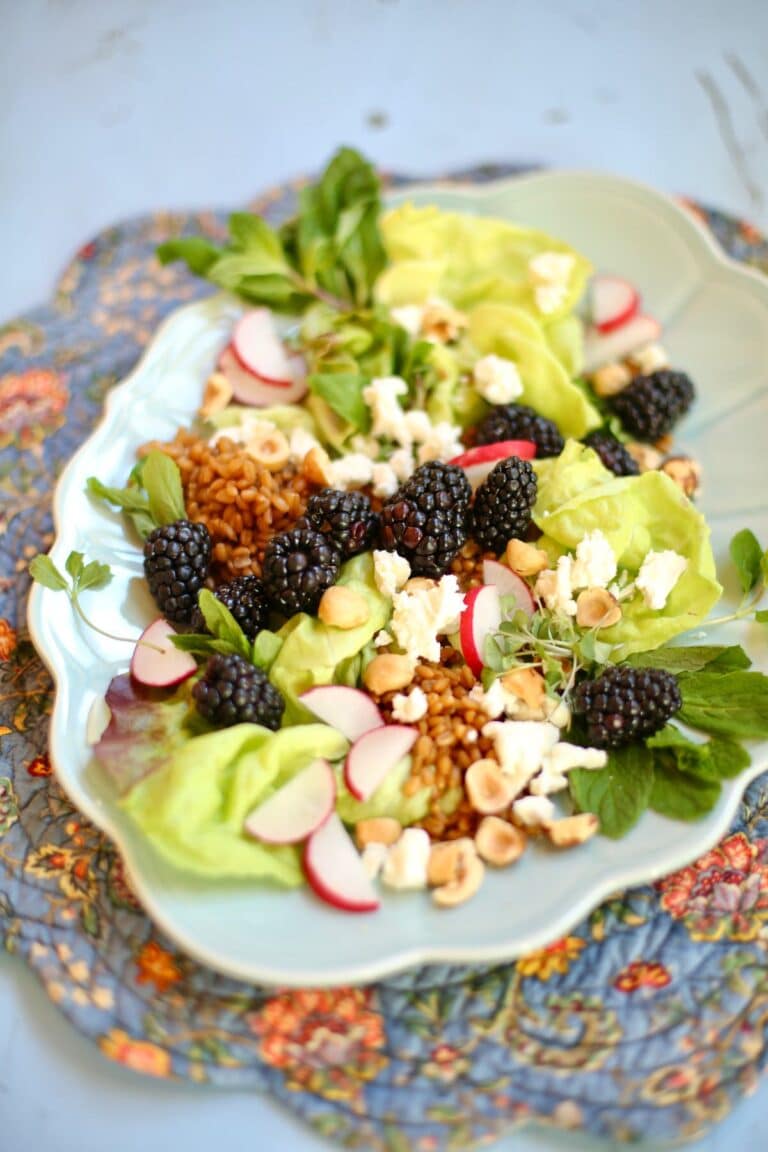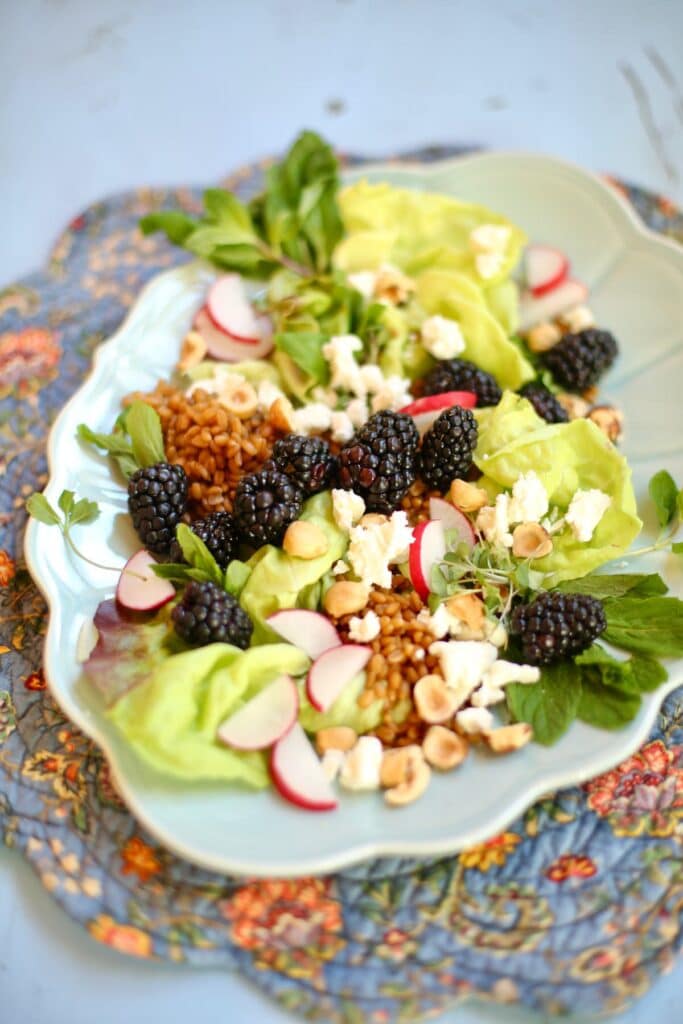 Cook the Wheatberries: Use leftover grains if you have them…rice, farro, bulgar or spelt berries, even couscous works! To cook your own, rinse the dried wheatberries and simmer for 20-30 minutes until the grains are chewy but tender.
Make the Vinaigrette: Use a simple canning jar with a lid..just add olive oil, lemon juice, rice vinegar and honey. Screw on the lid and shake, that's it!
Assemble the Salad: Lay the Butter lettuce on the plate, then divide the grains on top of the lettuce. Add the blackberries, hazelnuts, radish, parsley, mint and goat cheese.
Season: Sprinkle with a little flaky sea salt and freshly ground pepper.
Serve: Pass the Lemon Vinaigrette alongside for drizzling.
How to Select Perfect Blackberries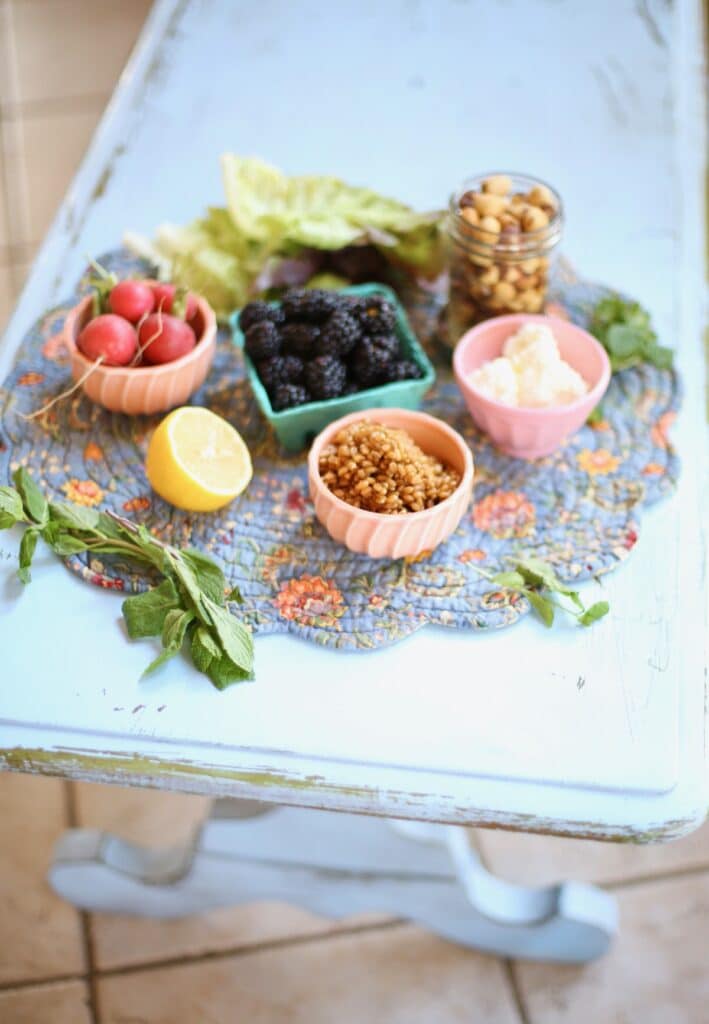 At the Farmer's Market there were baskets of fresh blackberries sitting on a rickety table with a crumpled yellow tablecloth next to a small, hand-lettered sign that said "picked today." SOLD. The fresher, the better.
Look for berries that are firm, fat, round, and juicy. Shiny, even. A proper blackberry is SO plump and sweet and amazingly wonderful you won't care if the seeds stick to your teeth 🙂
Check for ripeness by their deep black color and plump, full feel. Taste one if possible!
Buy in season and make sure no berries are smashed in the container. They'll mold faster if any are crushed.
Tips and Substitutions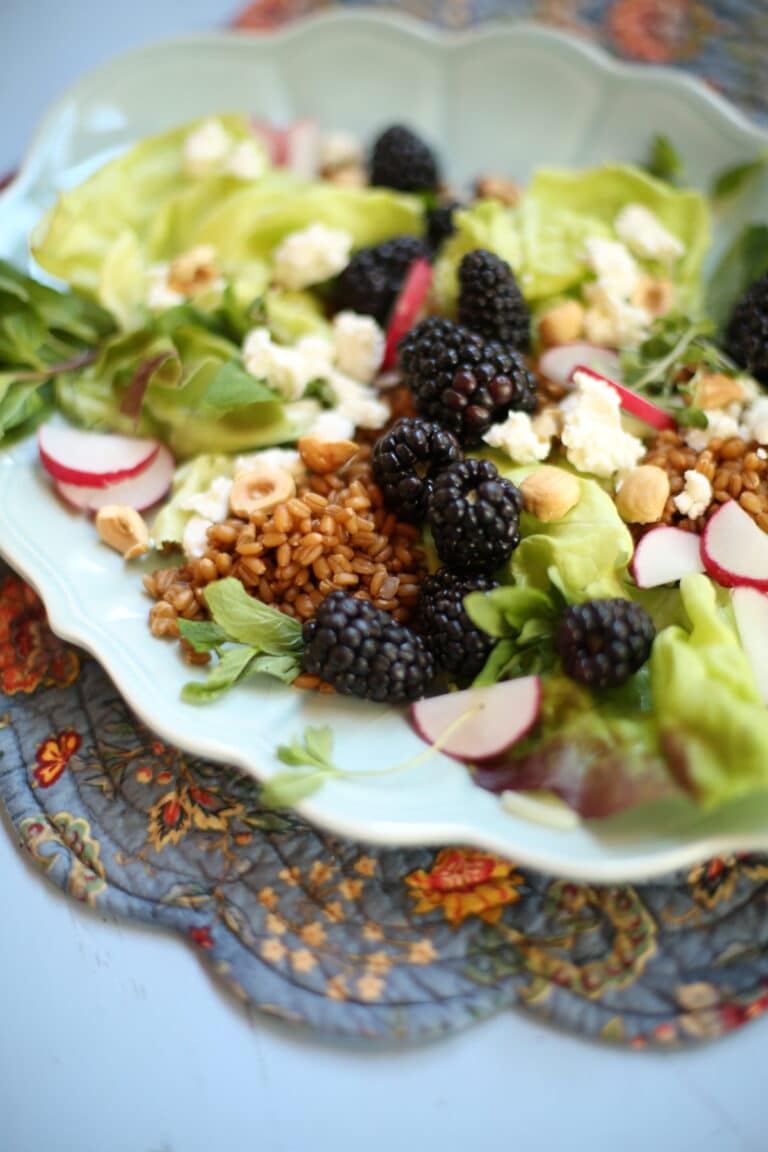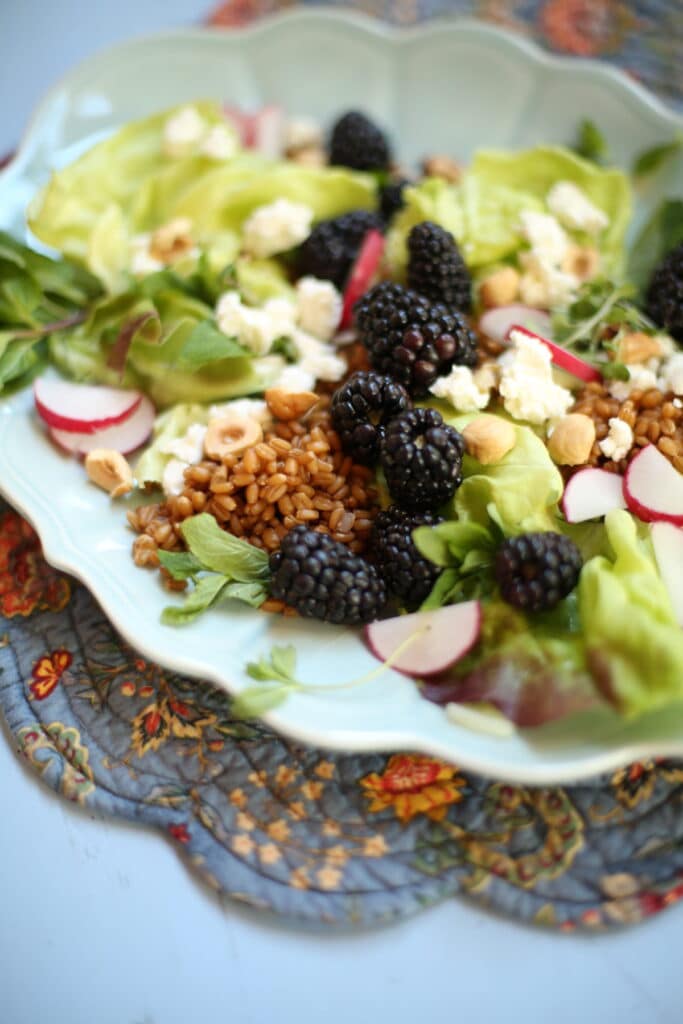 After all that fuss about how great blackberries are, you could totally use raspberries, strawberries or even fresh figs in this salad instead.
Don't have time to cook grains for this salad? Use leftover brown rice or other grains you may have on hand. Most any grain will work!
I love the soft crunch of butter lettuce, but other small, leafy spring greens will taste great too.
Hazelnuts–toasted, salted and roughly chopped, add a certain sweetness and can stand up to the other flavors in this recipe, but toasted pecans would be delicious too.
Cook the wheatberries yourself and also make this amazing Roasted Grape Hazelnut Breakfast Bowl.
Serving Ideas for This Recipe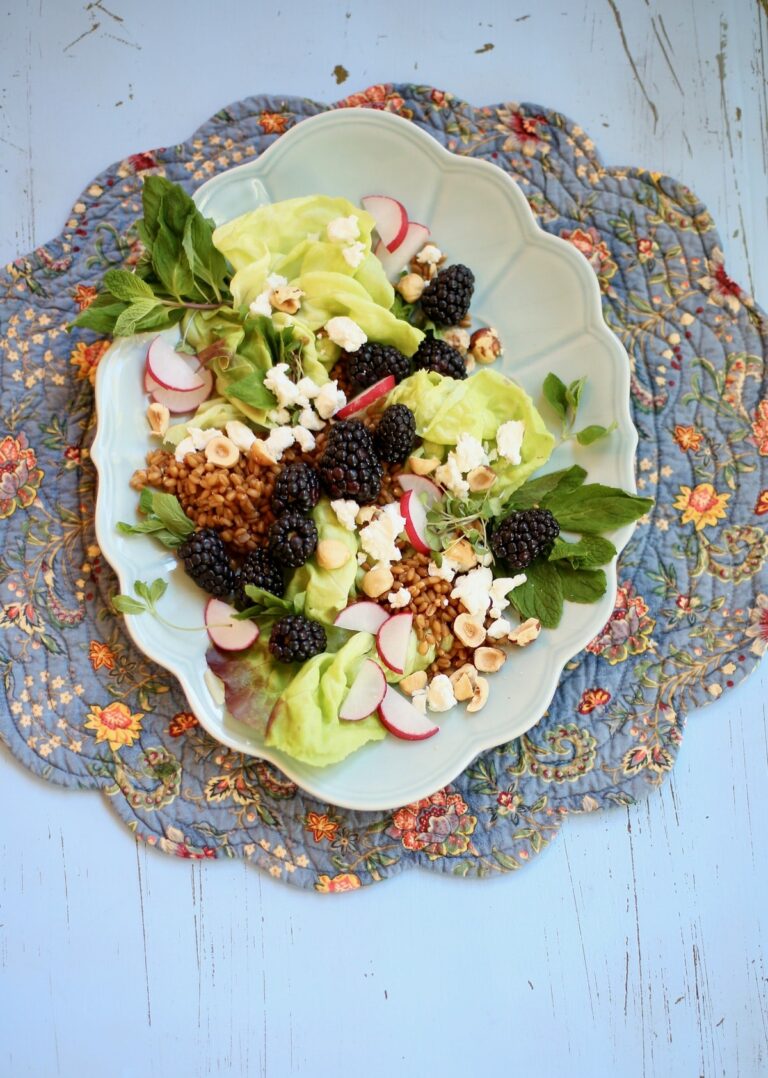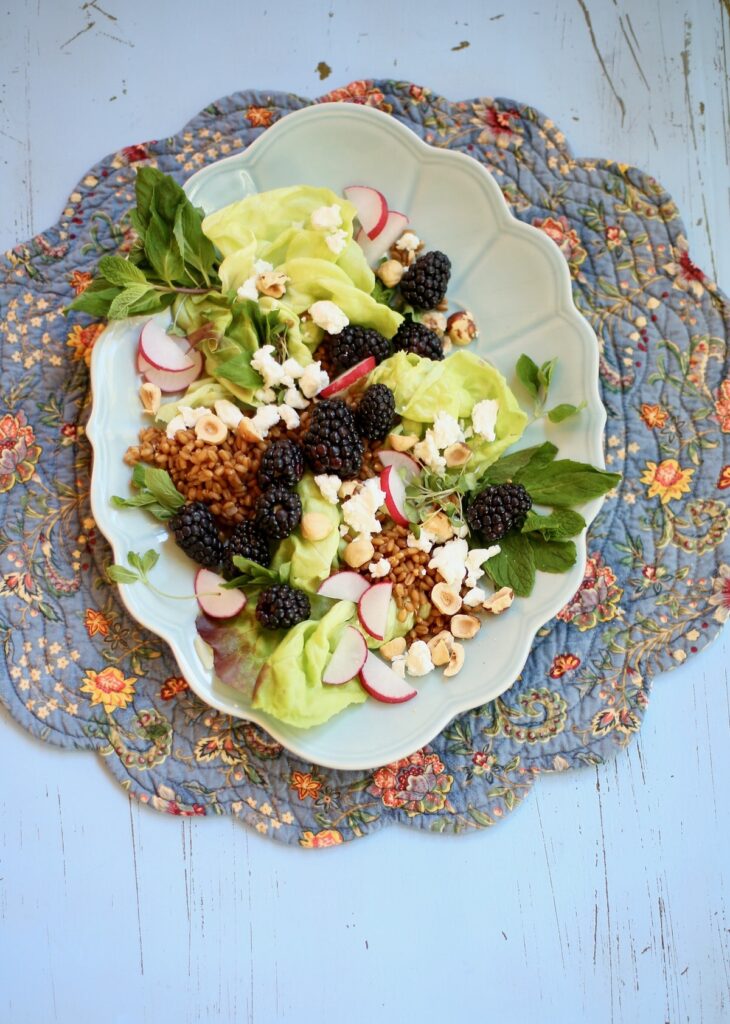 More Salad Recipes to Try:

Decorated Chocolate Covered Strawberries Great for dessert with this recipe!
Strawberry Asparagus Salad with Lemon Vinaigrette
If you've tried Blackberry Salad with Roasted Hazelnuts or any recipe of Studio Delicious, I'd love to hear about it in the comments below!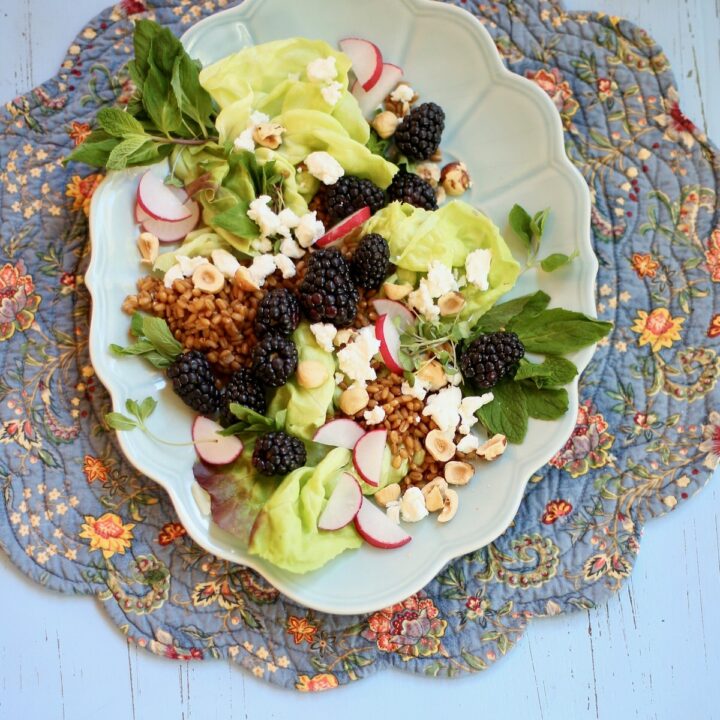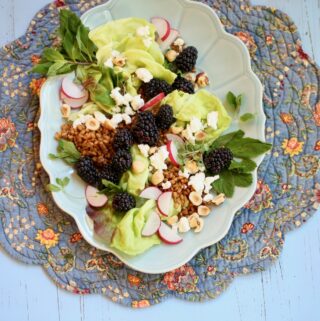 Blackberry Salad with Toasted Hazelnuts
Blackberry Salad with Toasted Hazelnuts is a deliciously satisfying salad that's cool, creamy, crunchy and easy to make!
Print
Pin
Rate
Ingredients
1 1/2

cups

Grains, cooked

4

cups

Lettuce, Butter lettuce preferred

1/2

cup

Hazelnuts, dry roasted, roughly chopped

1 1/2

cups

Blackberries, organic

1/4

cup

Radishes, very thinly sliced

1/4

cup

Italian Parsley, roughly chopped

1/4

cup

Mint leaves, fresh

1/2

cup

Goat Cheese, crumbled

1/4

tsp

Flaky sea salt and ground pepper
FOR THE VINAIGRETTE

1/4

cup

Olive Oil, extra virgin

1

tablespoon

Lemon juice, fresh squeezed

1

tablespoon

Rice Vinegar

1

tablespoon

Honey
Flake Sea Salt and lemon pepper
COOKED WHEATBERRIES

1

cup

Wheatberries, dried

3

cups

Water
Instructions
COOK THE WHEATBERRIES

Place rinsed and dried wheatberries in a medium saucepan with the water. Bring water to the boil, cover and reduce the heat to medium, simmer until water is absorbed, 20-30 minutes. Add a little more water if needed until the grains are tender and chewy. Remove from heat and cool before assembling the salad.

Can be made up to 3 days ahead and stored in the refrigerator.

MAKE THE VINAIGRETTE

Put the olive oil, lemon juice, rice vinegar and honey in a small jar with a lid and shake until combined. Alternatively, you can place the ingredients in a small bowl and whisk with a fork until combined.

ASSEMBLE THE SALAD

Lay the butter lettuce on the platter or plates and divide the grains on the plates.

Add/divide the hazelnuts, blackberries, radish, parsley, mint and goat cheese.

Season with the flaky sea salt and freshly ground pepper.

Serve the lemon vinaigrette alongside to drizzle on top.
Notes
Use 1 1/2 cups of any leftover grains you might have on hand, even rice!
Farro, bulgur wheat or spelt berries work well instead of wheat berries.
For gluten free, try brown rice, buckwheat, quinoa or millet.
If you can't find red butterleaf lettuce, regular butter lettuce is a good substitute
For the hazelnuts, chop them roughly with a sharp knife to break them down a bit. Or, place a clean kitchen towel over the top and lightly pound the hazelnuts with a kitchen mallet or the bottom of a sturdy glass jar (like a Ball jar.) You want uneven sizes and crumbles.
Nutrition
Serving:
4
g
|
Calories:
564
kcal
|
Carbohydrates:
74
g
|
Protein:
20
g
|
Fat:
23
g
|
Saturated Fat:
6
g
|
Cholesterol:
13
mg
|
Sodium:
121
mg
|
Potassium:
279
mg
|
Fiber:
17
g
|
Sugar:
7
g
|
Vitamin A:
1341
IU
|
Vitamin C:
21
mg
|
Calcium:
134
mg
|
Iron:
5
mg
Tips for Success with Every Recipe
Super important to read the whole recipe before you begin
Pay attention to the ingredient list and photos for the recipe
If possible, prep your ingredients a little before you start
Always use a sharp knife for safety
Use the size of pan called for in the recipe
For savory recipes, taste and season as you go
Buy fresh, organic ingredients, locally sourced whenever possible
SOURCE: Studio Delicious, Inspired by The Love and Lemons Cookbook. This recipe was originally posted August 2019 and was updated with new photos and text September 2020.