This Roasted Grape Hazelnut Breakfast Bowl is easily one of the best breakfast's I've eaten in a long time.  If you've never roasted a grape in your life, don't be put off – it's easy!  You'll fall in love with the variety of tastes and textures in this satisfying, healthy bowl.
It's not a good sign when your sweatpants are tight.
I think I speak for all of us who had a few too many butterscotch squares in recent weeks.
I miss those butterscotch squares with all my heart, but they are definitely not happening this month.
I came across a recipe for a roasted grape wheat berry bowl in the discontinued magazine Cooking Light.
I played around with the basic idea until this Roasted Grape Hazelnut Breakfast Bowl was born.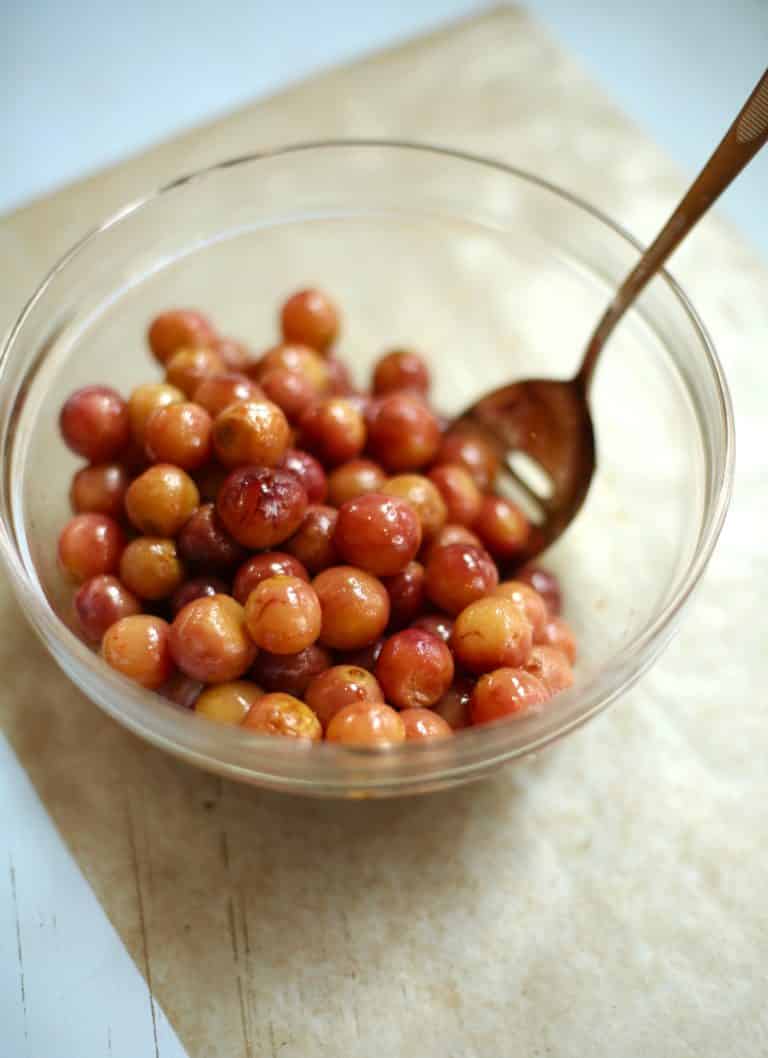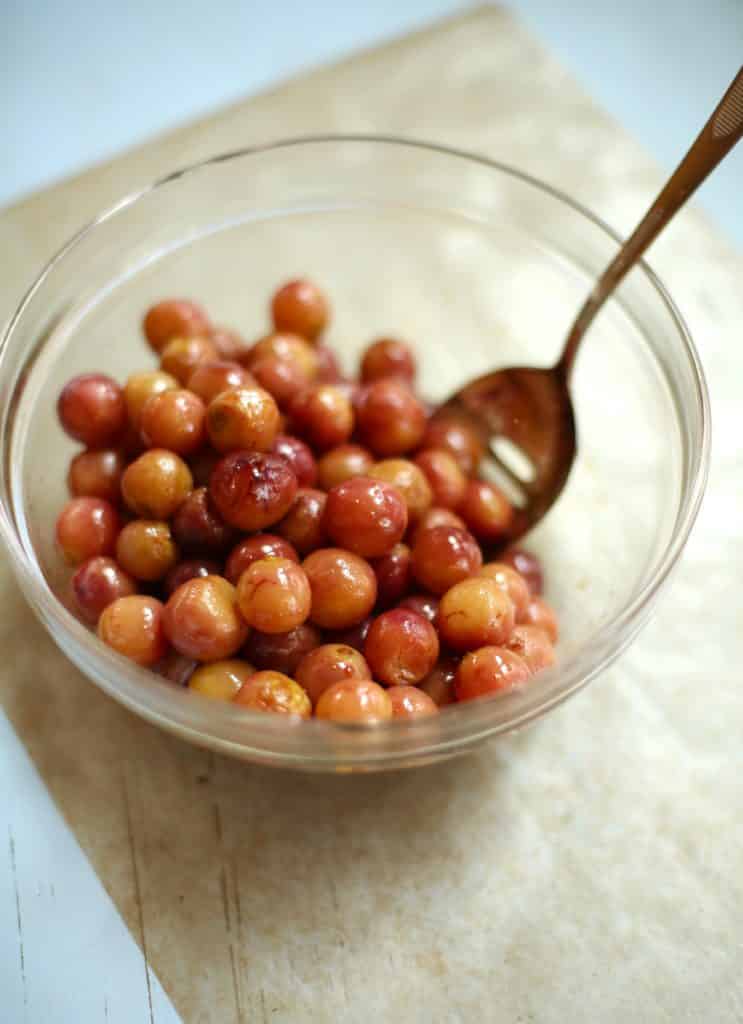 This nutrient-packed breakfast bowl comes together easily with a little prep.
Hey, and please just trust me on this roasted grape thing.
I wouldn't have believed it either, but all that's happening is good olive oil, flaky sea salt and the oven does the rest.
The grapes then get a tiny flourish of balsamic vinegar and like I said, just trust.
Personally, I was delighted with the warm, sweet juiciness of these succulent orbs 🙂
A COUPLE of COOKS NOTES….
Make the roasted grapes ahead! Reheat in the microwave before spooning into your bowl
Try other healthy grains like farro, spelt berries, brown rice or even cooked oats
Crumbled goat cheese instead of yogurt would be massively delicious
Swap toasted walnuts for the hazelnuts to change things up
Because the beauty of making a grain bowl is you are in the drivers seat 1000% and you have my permission to customize to your hearts content.
Also, that sort of rhymes if you say it fast.
AND ANOTHER THING!
This bowl screams HEALTHY and fills you up, too
Think cool, creamy, crunchy, chewy, nutty, juicy and sweet/savory. Yep, it's all that.
Also super satisfying and INDULGENT without a bad-for-you ingredient on the list
HELLO to a drizzle of local honey that sends the flavors over the edge 🙂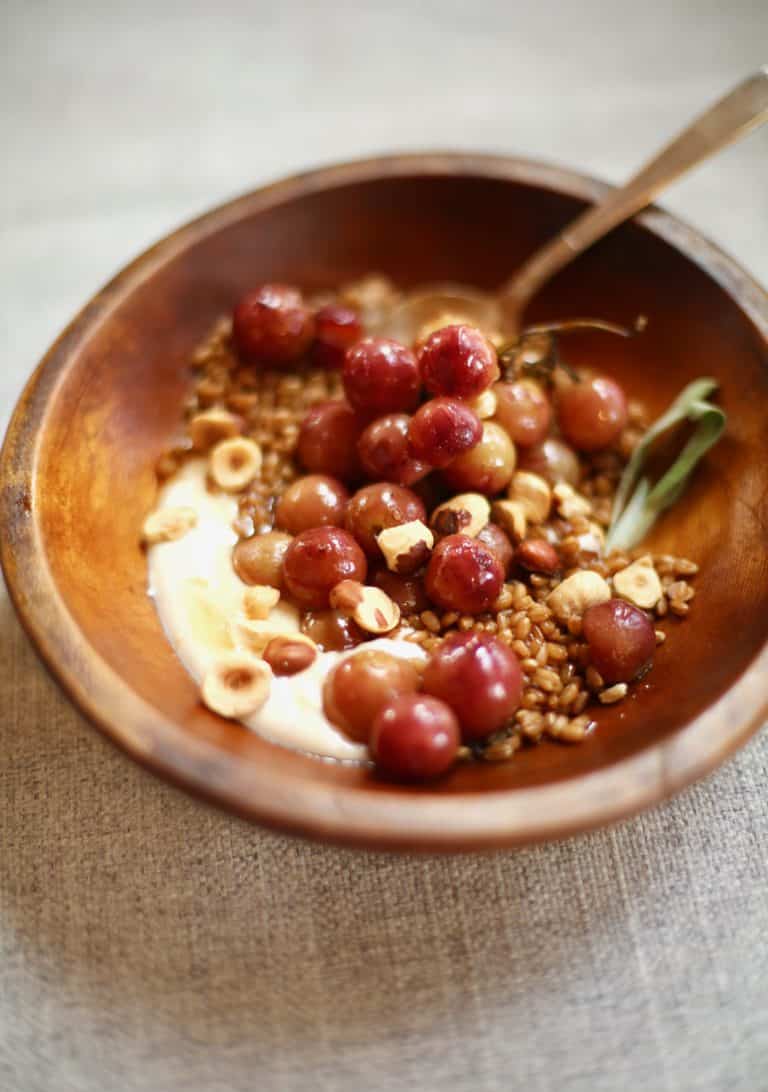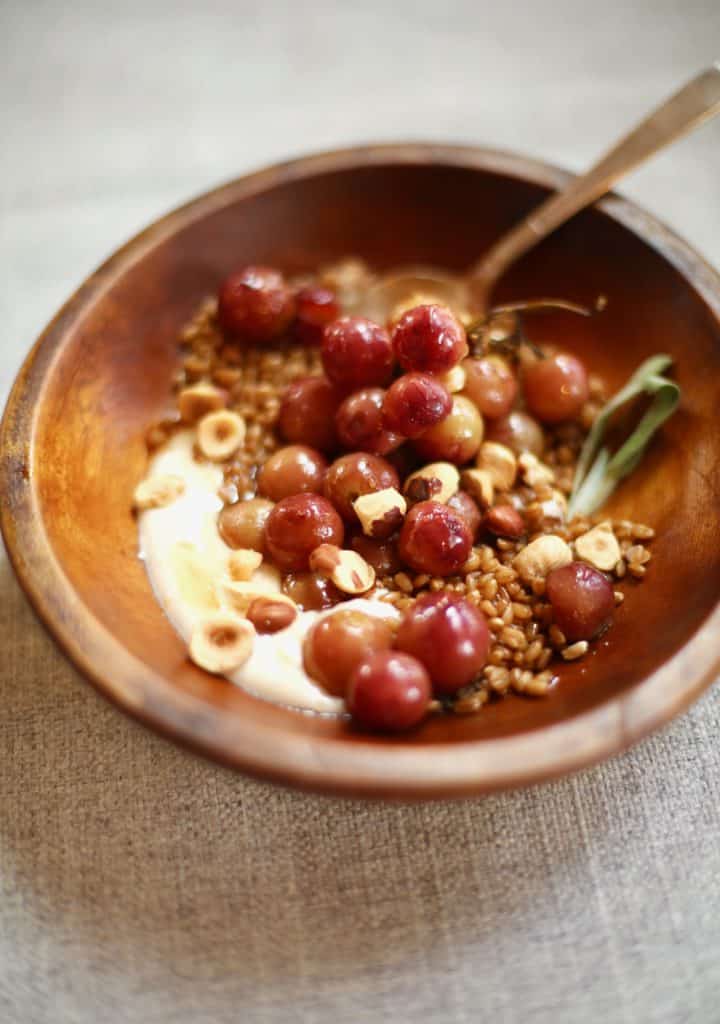 PIN This Recipe for Later
ROASTED GRAPE HAZELNUT BREAKFAST BOWL
This flavorful breakfast bowl comes together easily with a little prep. Make the grapes ahead and keep them in the fridge for up to 3 days.
Print
Rate
Ingredients
4

servings

FOR THE WHEAT BERRIES

1

cup

uncooked wheat berries

3

cups

water

.

.

.

FOR THE ROASTED GRAPES

Preheat oven to 400

1

pound

organic red grapes

2

tablespoons

olive oil

1/2

teaspoon

flake sea salt

or regular sea salt

1

teaspoon

balsamic vinegar

.

.

.

2

cups

vanilla yogurt

I use Kite Hill vanilla almond milk yogurt...you can use as much yogurt as you like, this recipe assumes 1/2 cup per person

1/4

Hazelnuts

roughly chopped

Honey

for serving

Fresh sage leaves

for serving
Instructions
PREPARE THE WHEAT BERRIES:

Rinse the wheat berries in a fine mesh strainer. Place the wheat berries and 3 cups water in a medium-sized saucepan with a lid. Bring the water and rinsed wheat berries to a boil,then cover and reduce heat to simmer for 25-30 minutes or until the water is absorbed and the wheat berries are tender.

PREPARE THE ROASTED GRAPES:

Wash and dry the grapes, removing large stems

In an oven-proof 12x 15" or equivalent sized baking dish, add the grapes and sea salt and toss gently to coat.

Roast in the oven for 15-20 minutes, gently shaking the dish occasionally. The grapes will start to blister and turn a paler color but retain their basic shape.

Remove from the oven and transfer to a bowl along with any juices that have accumulated, add the balsamic vinegar and gently toss to coat. Set aside until you are ready to build your bowl.

ASSEMBLE THE BREAKFAST BOWLS:

In four shallow bowls, place 1/2 cup each of yogurt and cooked wheat berries, top with some roasted grapes and one tablespoon of the chopped hazelnuts.

Drizzle with local (or other ) honey and sage leaves as desired.

Assemble each of the four bowls as follows:

* 1/2 cup vanilla yogurt

* 1/2 cup cooked wheat berries or other grain
Source: Studio Delicious