Here's a fantastic and easy to make recipe for the ultimate Dark Chocolate Trail Mix. Make some extra for snacking!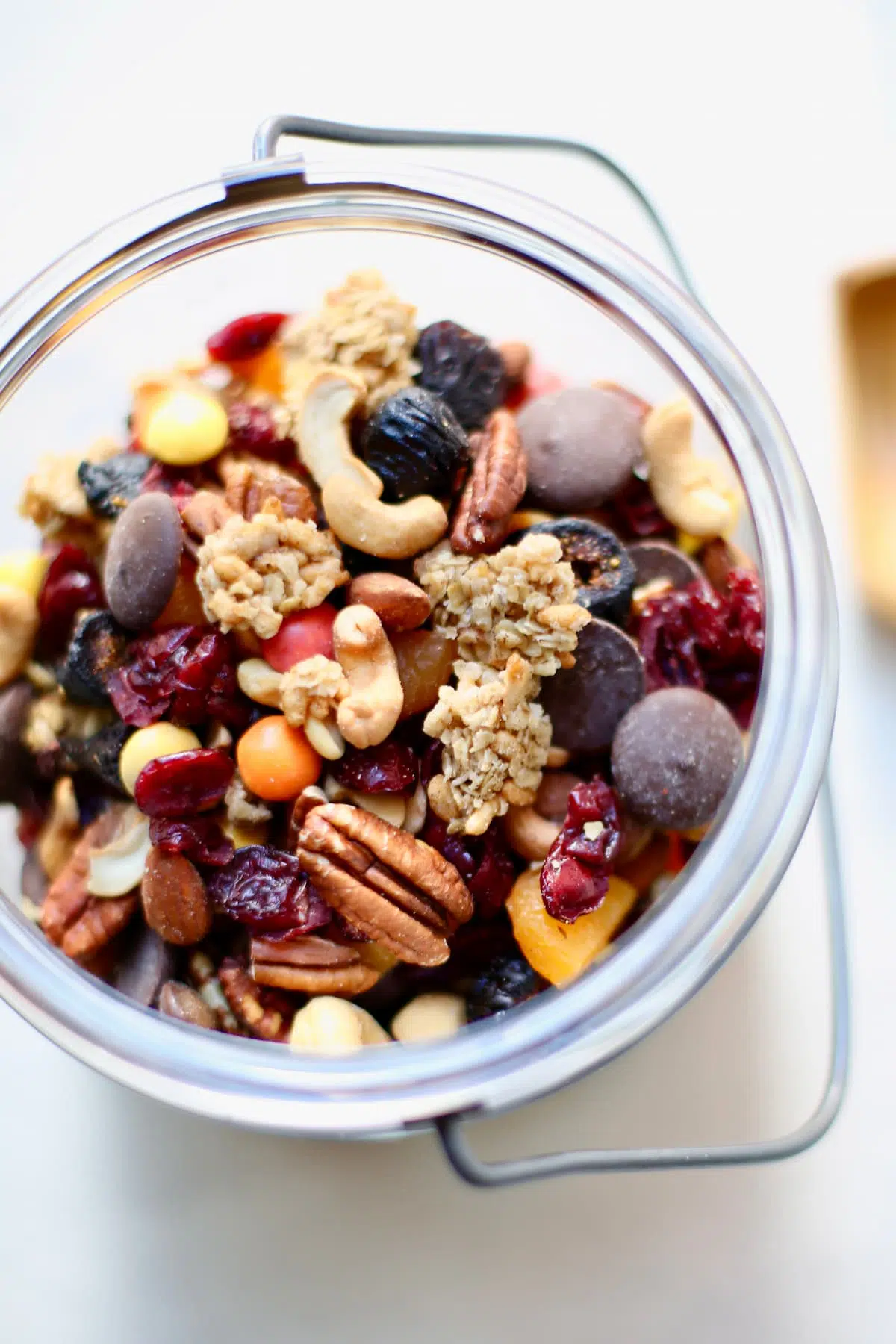 Jump to:
Why You'll Love This Recipe
Trail mix is one of those things that sounds sort of "meh" until you've had a good batch of it. Once that happens, you'll become sort of obsessed and who knows? Maybe it'll be one of your very favorite snacks too!
This trail mix recipe is a situation where homemade is definitely better, and I'll show you just how easy it is.
Trail mixes make quick snack for road trips, day trips or just a little pick me up you can store in your purse for the day
This stuff lasts a while! This perfect snack can be made it today and eaten for a week or two!
It's healthy-ish. Dark chocolate is good for you, right? 🙂 Try milk chocolate chips, white chocolate chips and even peanut butter chips for variation too!
This trail mix is nice at parties too. Serve a large bowl of it with a scoop and bags, it's a great snack along with some marinated olives, the Veggie Cups with Hummus, and these delicious Cauliflower Bites!
Ingredients You'll Need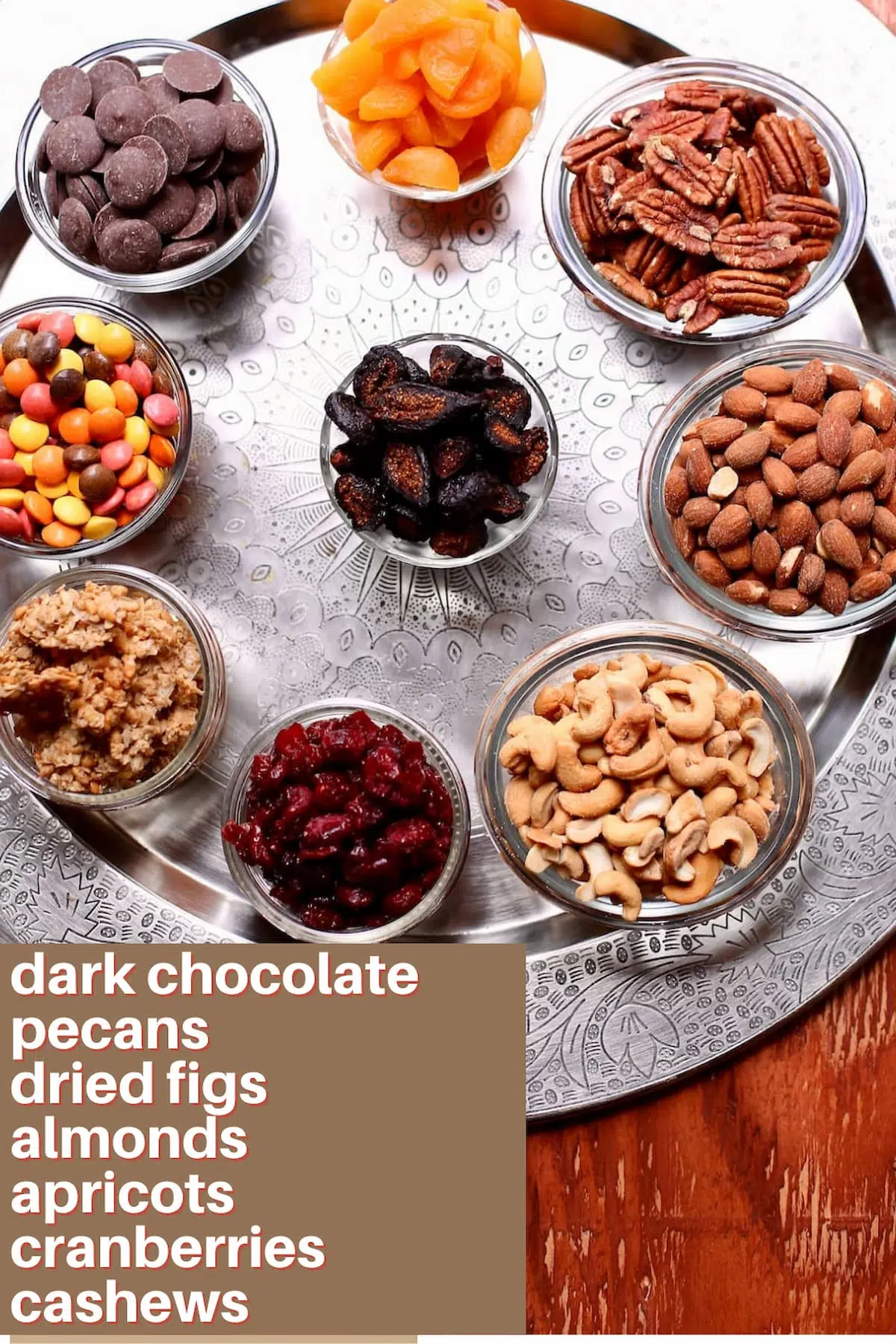 For the full recipe and list of ingredients, please scroll to the recipe card below.
Dark Chocolate: This is fabulous in trail mix, and we use two forms: dark chocolate drops (or dark chocolate chips) and wafers.
Pecans: Whole that we'll toast…they taste like caramel!
Dried Figs: Really great flavor with these, so I encourage you to try them if you never have.
Almonds: We'll use whole almonds, roasted, and salted.
Dried Apricots: For flavor and color
Dried Cranberries: The tartness is delicious with the chocolate…:)
Cashews: Whole, salted
Crispy Clusters: We'll make these, with a little left over.
Step-By-Step Instructions
For the full recipe and instructions, please scroll to the recipe card below.
To make the cereal oat clusters that go into this trail mix, here's all you do: Combine the oats, brown rice cereal, coconut, seasonings and maple syrup in a medium bowl
2. Gently toss together and place on a large baking sheet lined with parchment paper, like in the photo above.
3. Bake and cool, break into pieces to add to the trail mix
Tips for Making this Recipe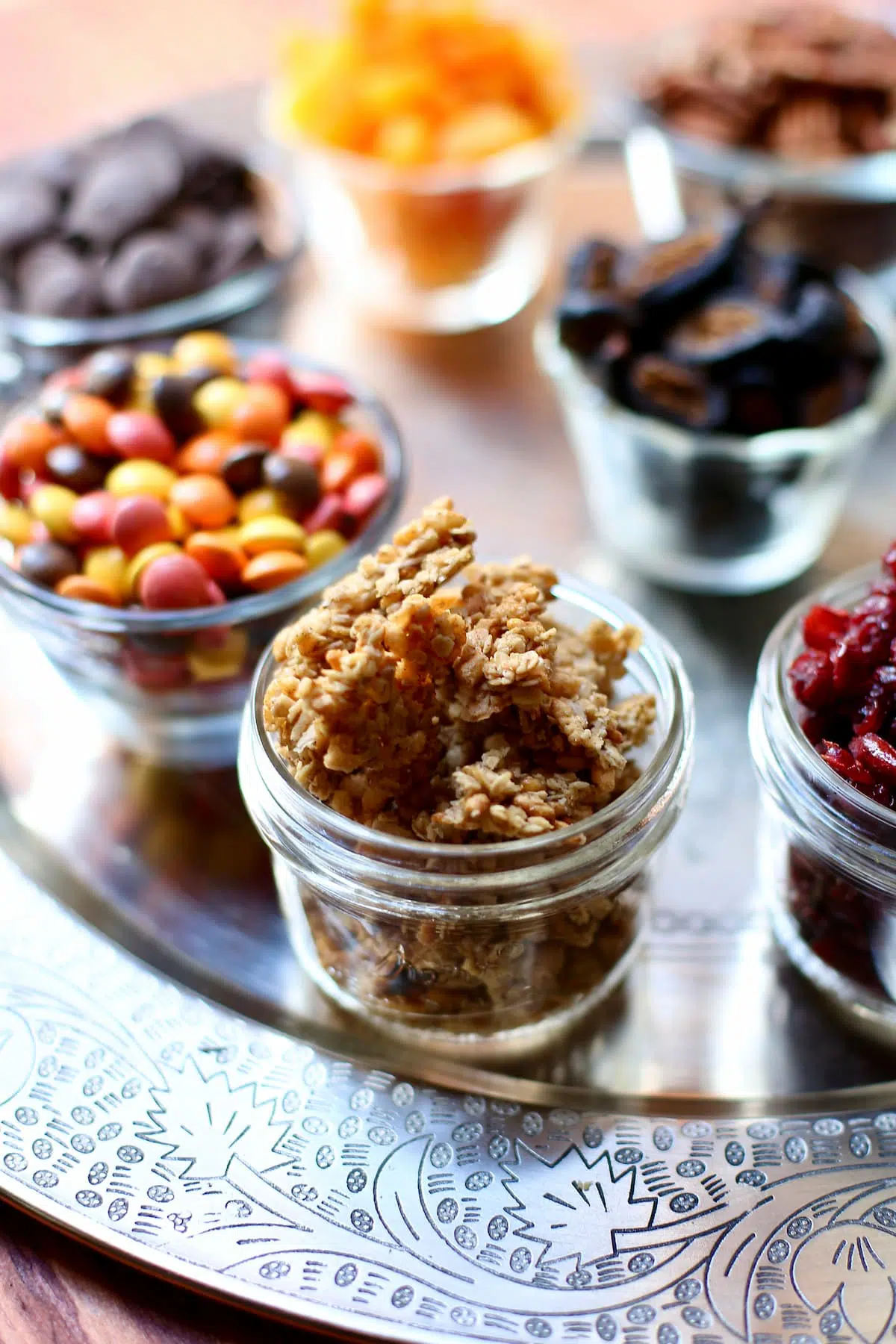 Measure out your ingredients first, this will make things quicker
Bake and cool the pecans when you start, the pecans have much more flavor when toasted.
There will be more Cinnamon Oat Clusters than you need for the recipe, but they're great for snacking or with yogurt, and they keep well for a couple weeks in a well-sealed container.
Try using milk, white or peanut butter chips in this recipe instead of dark chocolate.
Try adding some golden raisins too!
Serving Ideas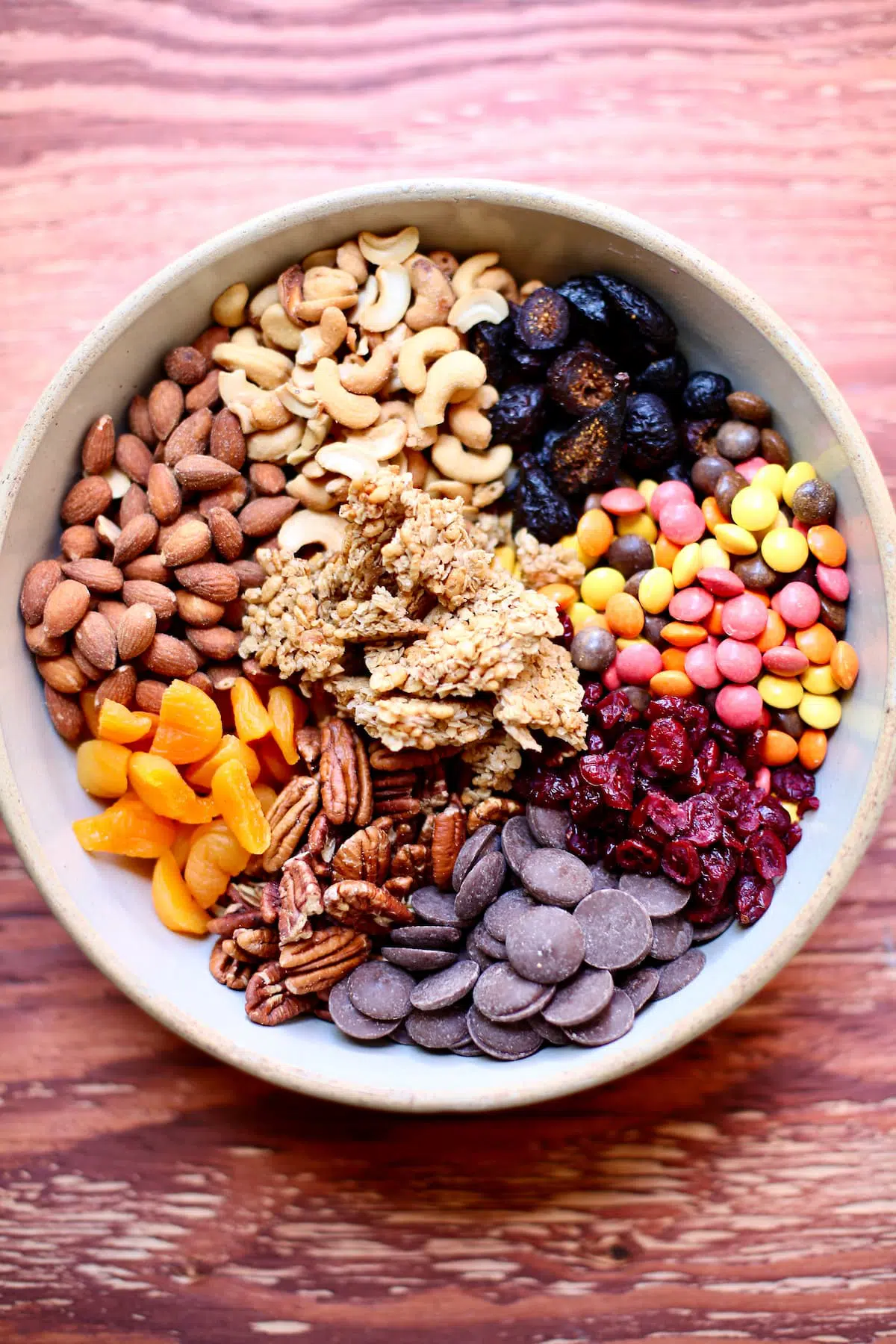 Trail mix is great on its own, or take some with for long car rides, afternoon snacks, or use a bowl to have some out with the chips and dips. People love trail mix!
Frequently Asked Questions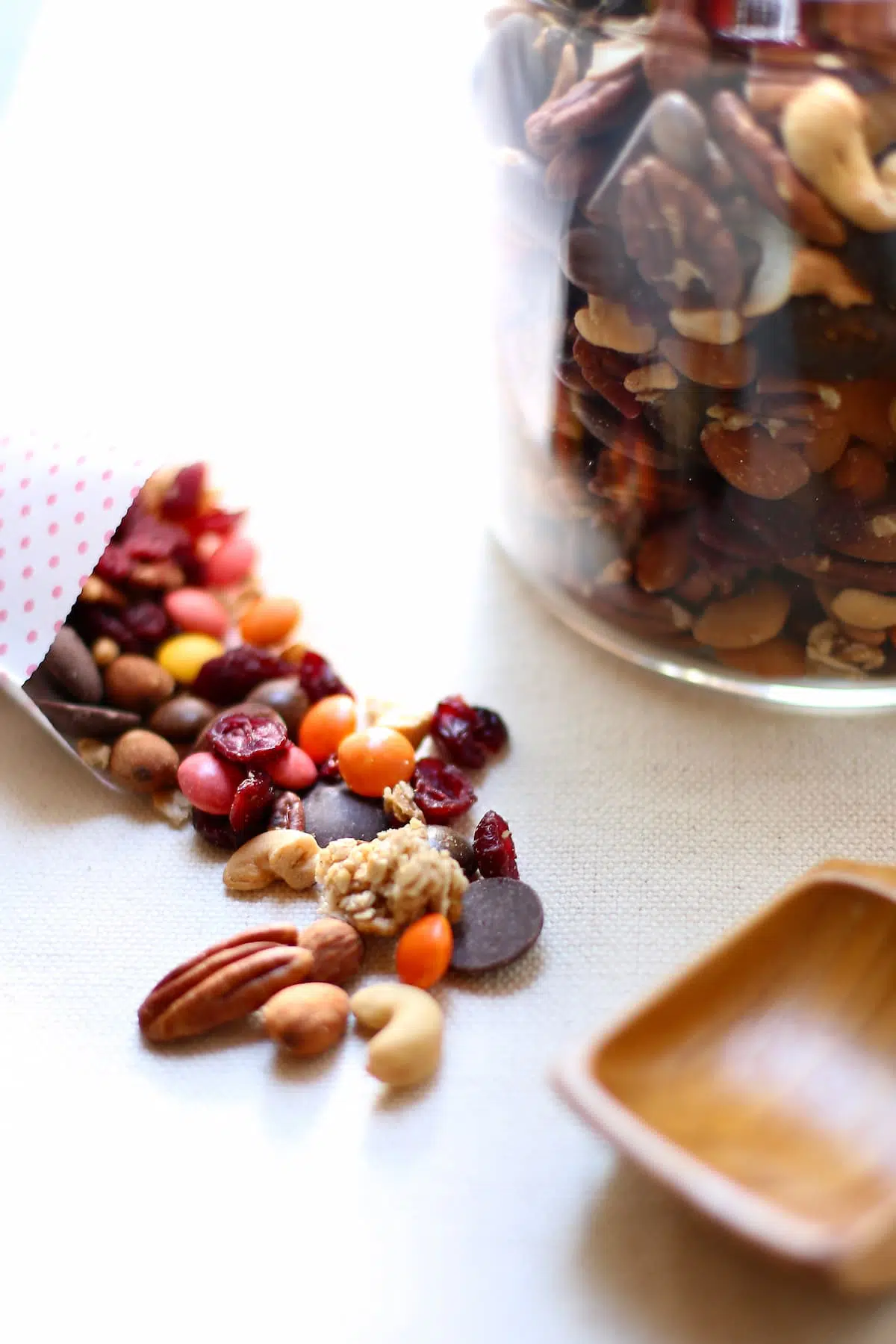 Can I make the trail mix in advance?
Yes! You can safely make this a couple of weeks in advance if needed! The ingredients will taste stale if not stored well, so be sure to use an airtight container.
Can I substitute some of the ingredients?
Yes! Use different nuts, such as walnuts. Use dried blueberries instead of cranberries, and try sunflower seeds, banana chips and other favorites to switch up this sweet snack.
More Recipes to Try:
Chocolate Chip Cookies with Pecans: Thick & soft with crispy edges
Chocolate Covered Popcorn: Easy and so good!
Fruit Toast: Really satisfying, really delicious!
Sweet and Spicy Almonds: A must-have for any gathering!
Dark Cherry Smoothie: Refreshing and not too sweet, this smoothie is awesome!
Summer Fruit Crisp: Just a delicious, classic summer dessert…
If you've made Dark Chocolate Trail Mix or any recipe on Studio Delicious, leave a recipe rating and tell me all about it in the comments below!
Looking for more tips and fresh, homemade recipes? Join my email list, tag and follow me on Instagram using #studiodeliciouseats, follow my boards on Pinterest, and see what I'm up to on Facebook and Twitter!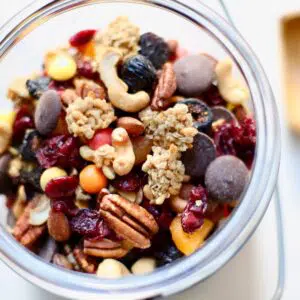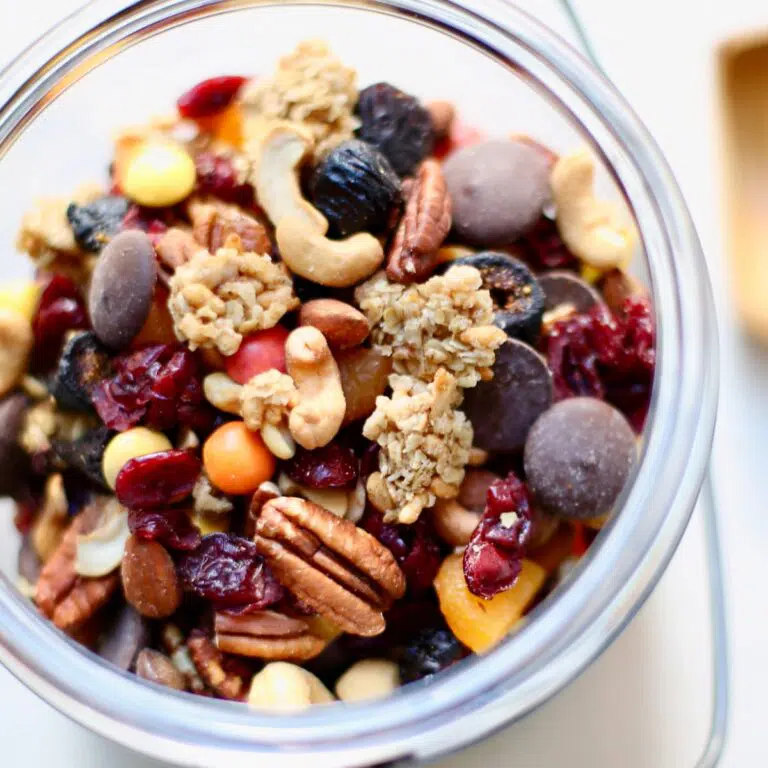 Dark Chocolate Trail Mix
This is a fantastic gourmet trail mix recipe that's sweet and salty and super versatile
Print
Pin
Rate
Ingredients
1

cup

California Mission Figs, cut in half

1

cup

Dried Apricots, cut in half

1

cup

Dark Chocolate Wafers

1

cup

Dark Chocolate Sun Drops

or other dark chocolate drop candy

1

cup

Dried Cranberries

2

cups

Whole Toasted Pecans

1 1/2

cups

Roasted and Salted Almonds

1 1/2

cups

Whole Salted Cashews

1 1/2

cups

Cinnamon Oat Clusters (recipe follows)

FOR THE CINNAMON OAT CLUSTERS

1 3/4

cups

Quick-Cooking Oats

1

cup

Crispy Brown Rice Cereal

1/4

cup

Flaked Coconut, unsweetened

1/4

teaspoon

salt

1

teaspoon

Cinnamon

1/2

cup, plus one tablespoon

Maple Syrup
Instructions
Preheat oven to 375, line a large baking sheet with parchment paper. Toast the pecans by placing them in a glass pie plate or on a baking sheet. Bake for 8-10 minutes. Set aside to cool.

For the Cinnamon Oat Clusters, combine the oats, brown rice cereal, coconut, salt, cinnamon and maple syrup in a medium-sized bowl. Gently mix all the ingredients together, tossing with your hands until combined. Form the oat mixture into a rectangle about 1/4 inch thick on the large baking sheet, patting the mixture down to keep it in place. Bake for 10-12 minutes, until the edges are golden. To not stir. Remove from oven and set aside to cool completely. Once cooled, break it into large clusters.

For the trail mix, combine the California Mission Figs, apricots, dark chocolate wafers, dark chocolate sun drops, cranberries, pecans, almonds, cashews, and oat clusters in a large bowl. Carefully toss the ingredients to combine, noting that that Cinnamon Oat Clusters are a bit fragile when combined with the nut mixture, so sprinkle them on top.

Store in an airtight container, makes about 11 cups.
Notes
There will be more Cinnamon Oat Clusters than you need for the recipe, but they're great for snacking or with yogurt, and they keep well for a couple weeks in a well-sealed container.
Measure out your ingredients first, this will make things quicker
Bake and cool the pecans when you start, the pecans have much more flavor when toasted.
Nutrition
Calories:
182
kcal
|
Carbohydrates:
20
g
|
Protein:
3
g
|
Fat:
11
g
|
Saturated Fat:
3
g
|
Cholesterol:
1
mg
|
Sodium:
19
mg
|
Potassium:
186
mg
|
Fiber:
3
g
|
Sugar:
12
g
|
Vitamin A:
122
IU
|
Vitamin C:
1
mg
|
Calcium:
39
mg
|
Iron:
1
mg
Tips for Success with Every Recipe
Super important to read the whole recipe before you begin
Pay attention to the ingredient list and photos for the recipe
If possible, prep your ingredients a little before you start
Always use a sharp knife for safety
Use the size of pan called for in the recipe
For savory recipes, taste and season as you go
Buy fresh, organic ingredients, locally sourced whenever possible
Don't Miss a Recipe!
This is the original text to this recipe:
The first time I ate trail mix, it was a revelation. Like, the clouds parted and everything. Let me explain. I was in my early twenties, and had just moved to a new town. Everything was new and exciting and strange and wonderful (and sometimes horrible.)
On weekly trips to the grocery store, I carefully added up the cost in my head of every item that went in my cart. I decided to try some trail mix from the bulk bin – it was cheap, and it was "health food" – I was intrigued. I bought a big tub of yogurt too – another exotic ingredient in the early 80's.
I drove home to my small apartment in my two-door red Nissan Sentra that had no air conditioning and only AM radio. I spooned some yogurt in a bowl and put a handful of trail mix on top. To say I couldn't get enough is an understatement. Like, my eyes were rolling in the back of my head I think 🙂
I had never tasted anything so addicting and delicious in my life. It hit all the boxes: creamy, cold, fruity, salty, sweet, crunchy and savory. After that, trail mix became a thing for me.
I'll tell you right now that what makes this Ultimate Trail Mix with Cinnamon Oat Clusters different is the homemade oat clusters. And the three very different types of dried fruit. And two kinds of chocolate. And the caramel-y taste of toasted pecans. And the deep salty flavor of cashews and almonds.
Please, please, PLEASE try this with your favorite yogurt!
###
This post was updated with new content and instructions March, 2022