This Apple Upside Down Cake from Cooks Illustrated proves that an exceptional tasting apple cake can be pretty and easy too.  The apples are quickly sauteed before being covered with an easy hand-whisked batter made extra tender with sour cream. 
I'm delighted and relieved we're talking about apple cake and not another summer tomato salad right about now.
Cake has been on my mind for like, two weeks and I'm ready to dig in.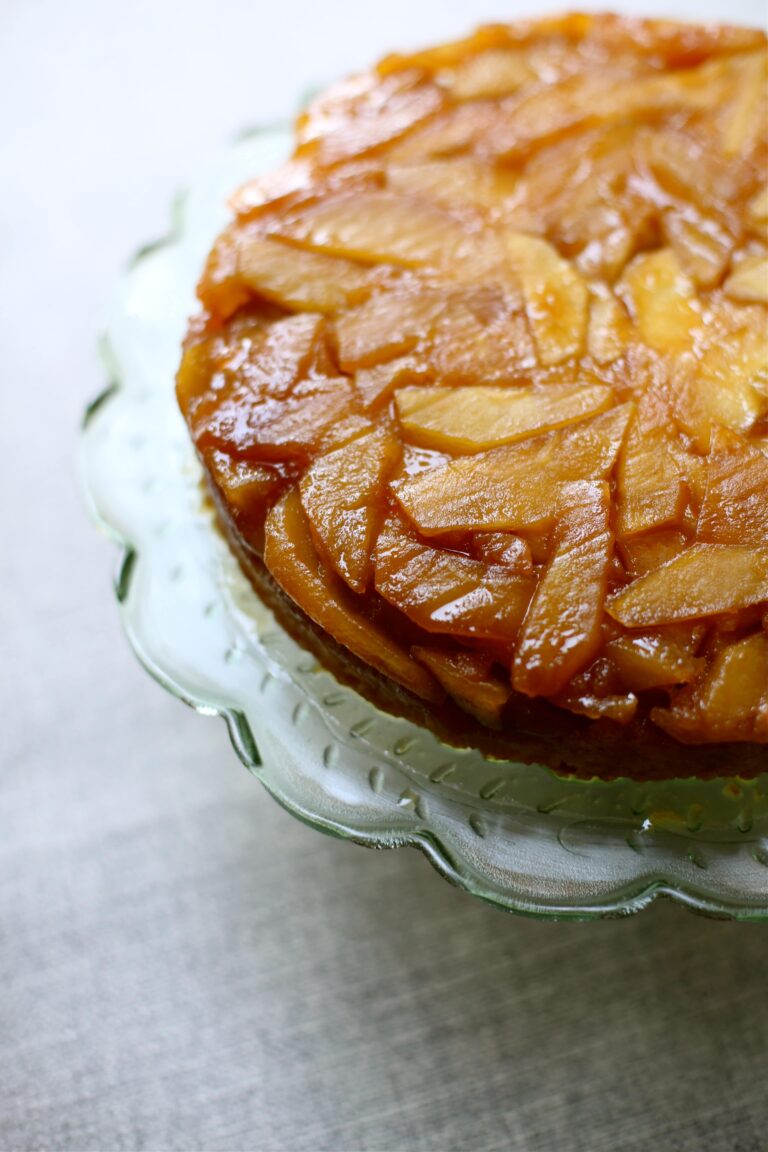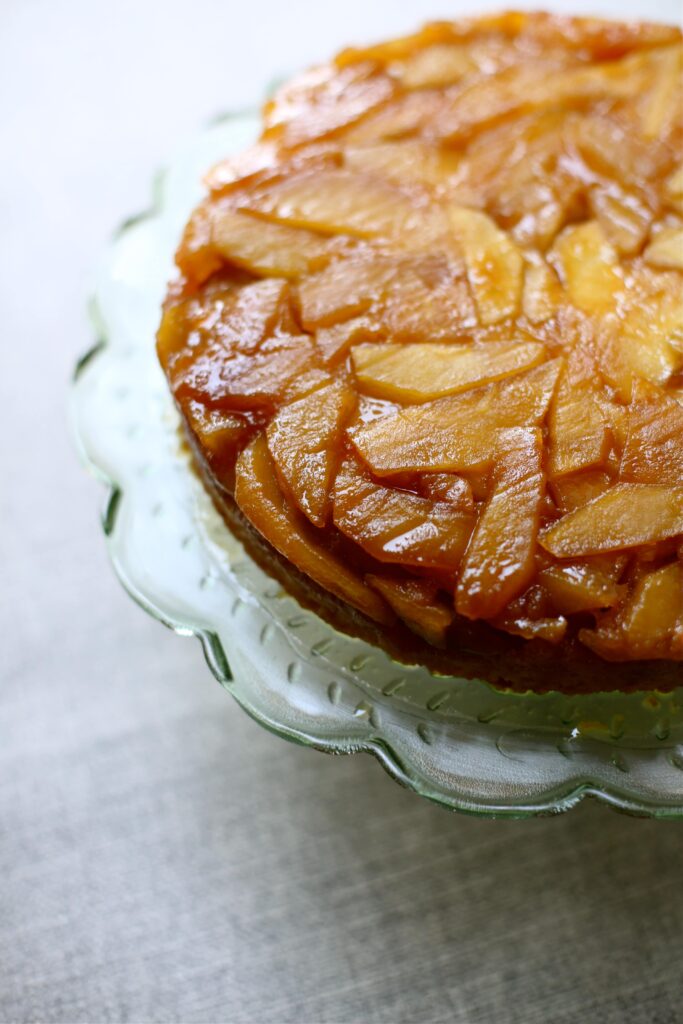 Thoughts of soft apples, warm cake and whipped cream have been swirling in my head.
It's kind of cold outside already with light gray Autumn skies and bright orange and yellow leaves on the trees.
I love it.
I've practically been a saint all month in the eating department, so things like Upside Down Apple Cake were not on the menu.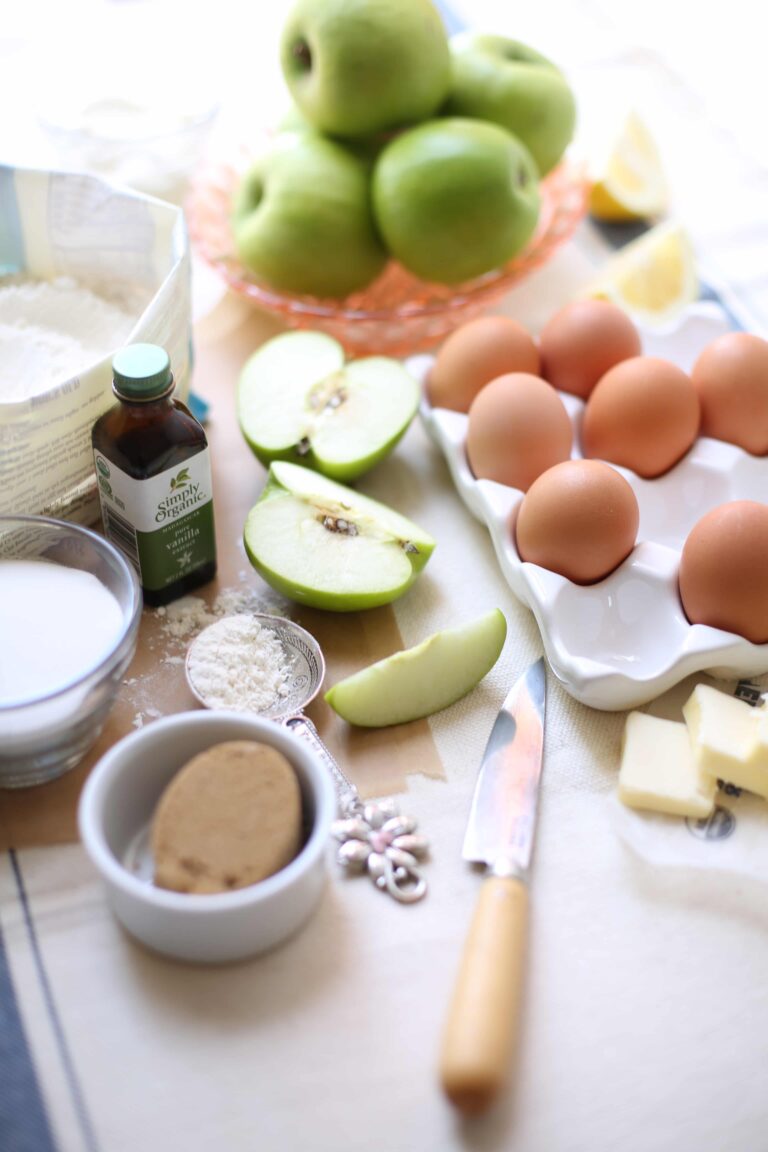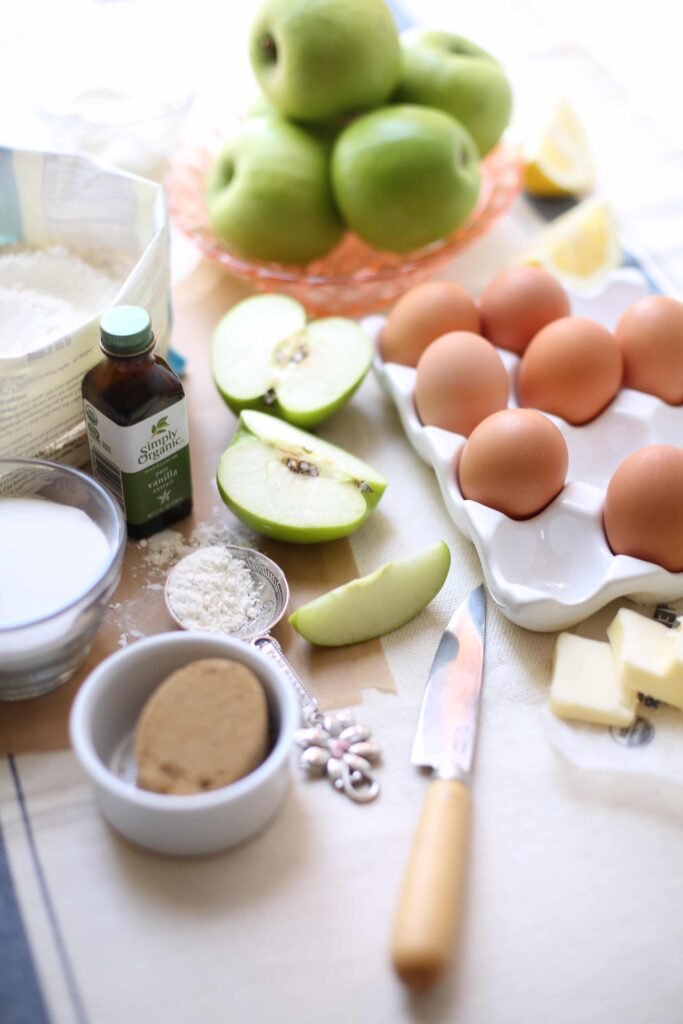 Have you been getting in the last push of summer produce before pumpkin spice season fully hits?
I've been grabbing every melon available at the Farmer's Market, no matter what kind they are.
And it was sad when I ate my last beloved nectarine just a few days ago.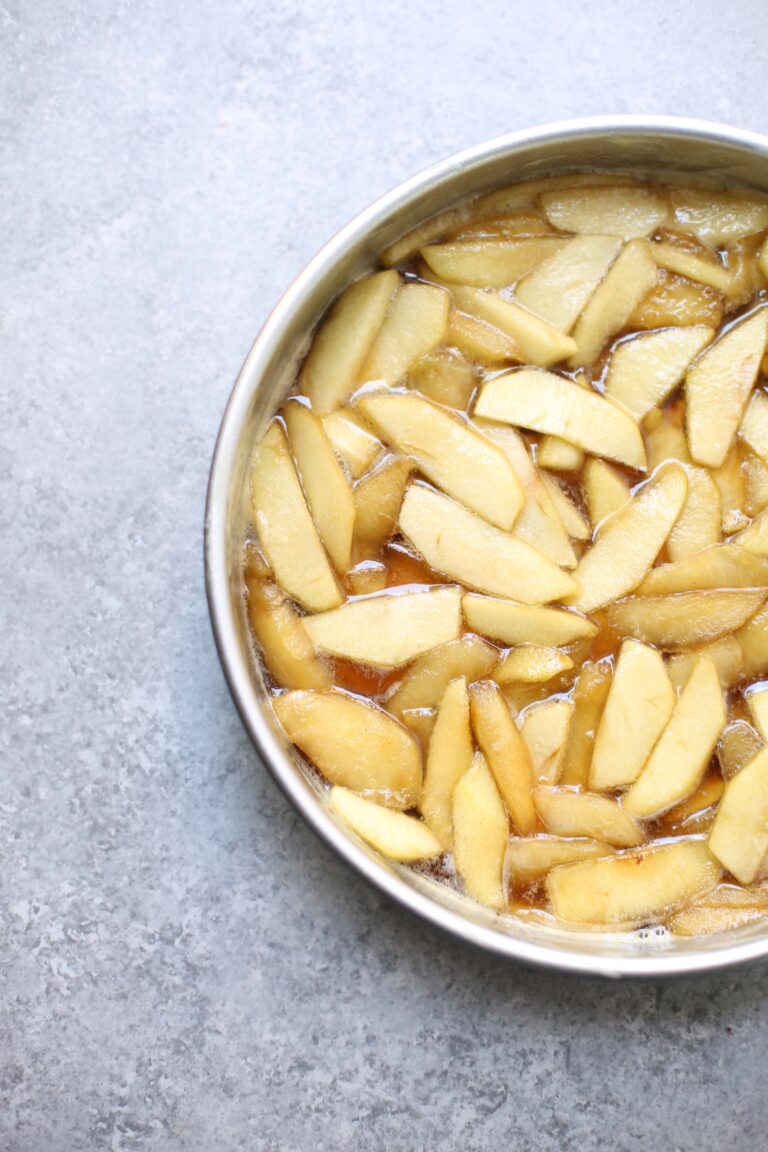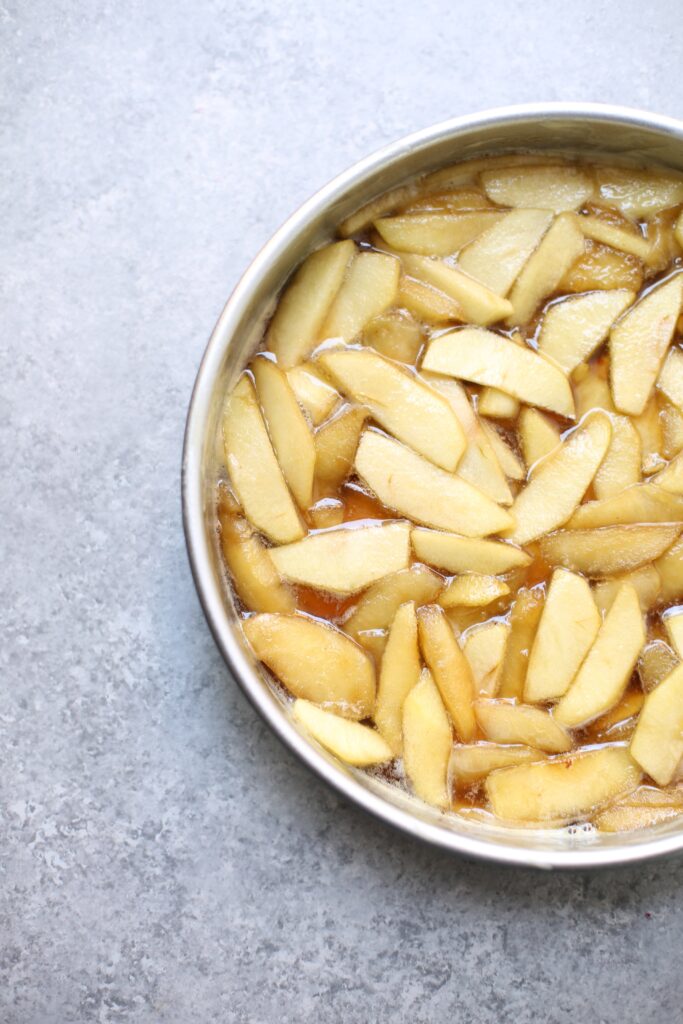 But nothing in the world cheers me up like a good, homey dessert, and Apple Upside Down Cake fits the bill perfectly.
This cake has outstanding flavor and a moist texture thanks to sour cream.
It's quick to pull together and looks pretty special considering the ingredients are so humble.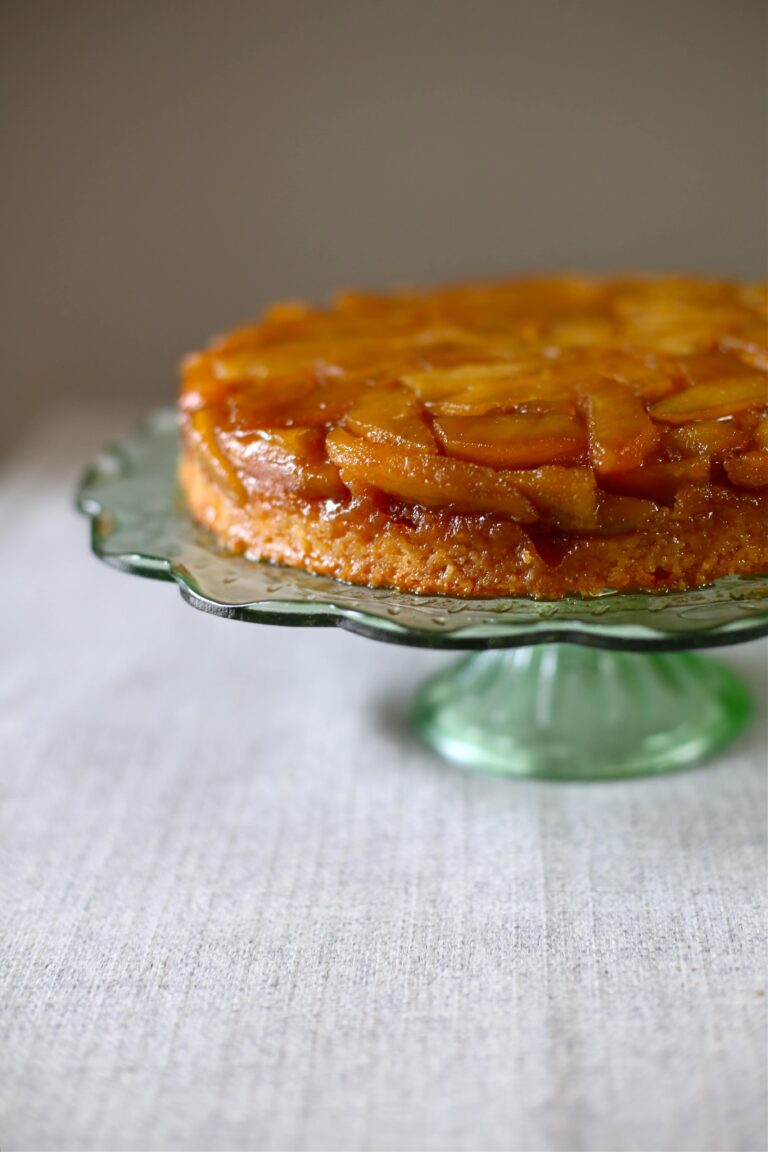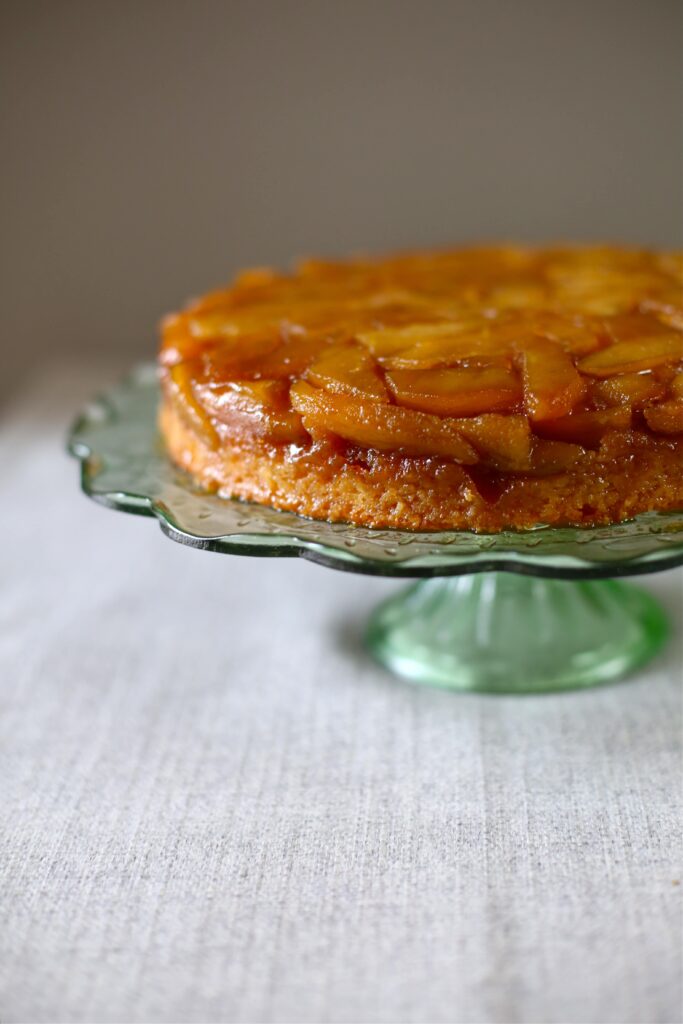 HERE'S WHAT YOU DO
The most important step is a quick saute of the apples so they won't shrink while baking.
This is followed by an easy, moist batter that comes together with a simple whisk.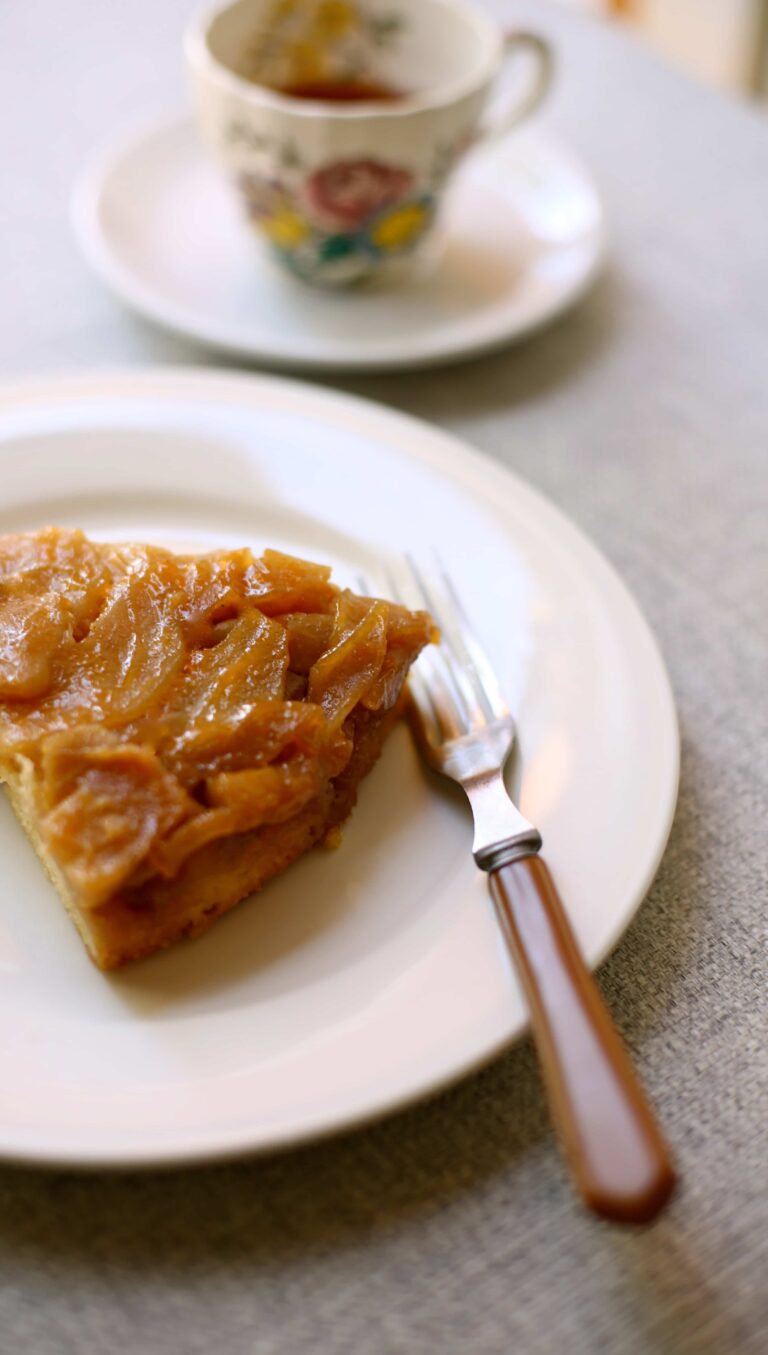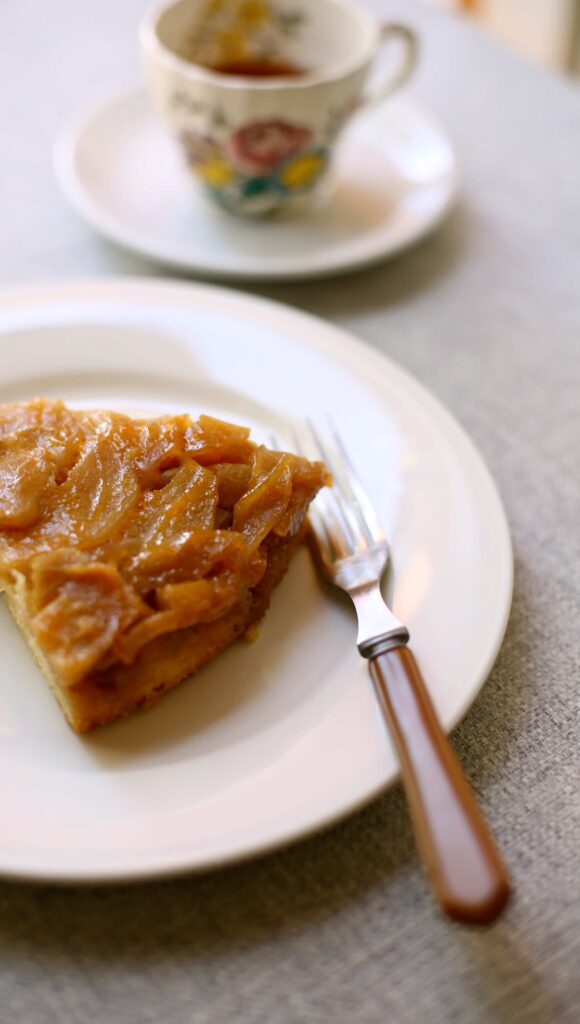 The apples go down first in a standard spring-form pan, then spoon the batter on top and bake.
Cool, slice, serve.
This is amazing with a little dollop of whipped cream on top too 🙂
Here's another recipe to try Cinnamon Sugar Apple Cake by Pinch of Yum
Want to save this recipe for later? Hover over photo and Pin it 🙂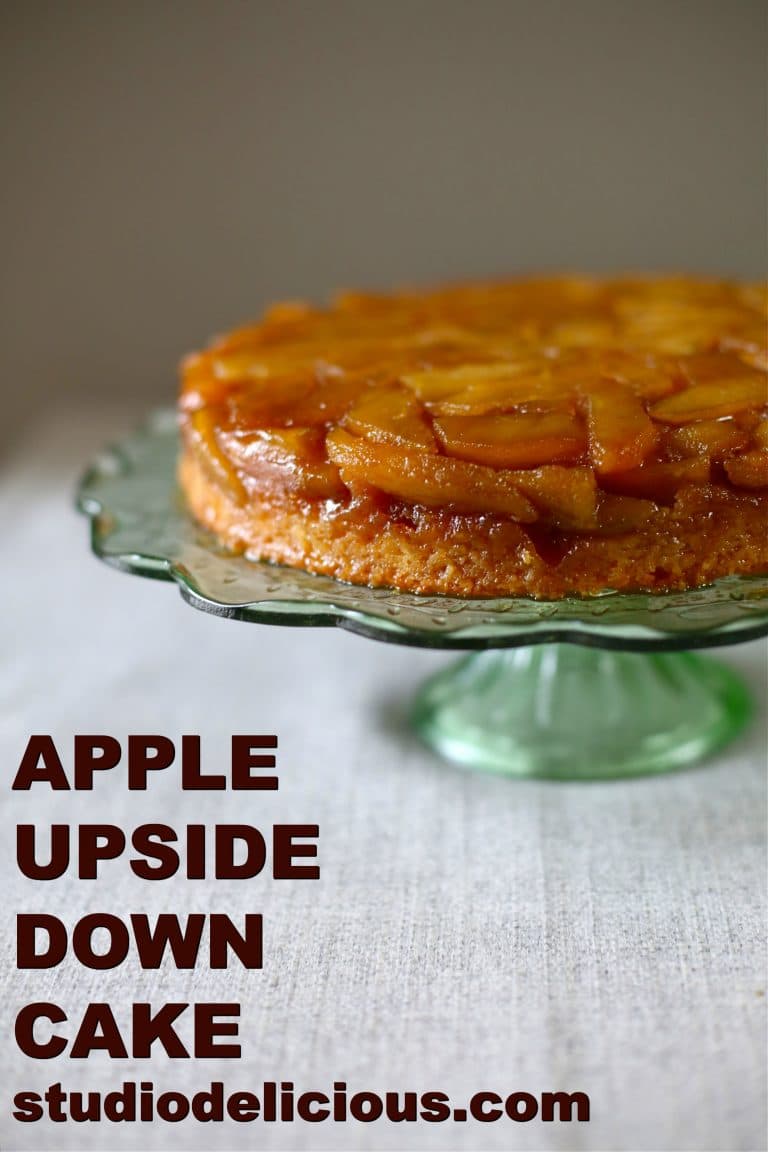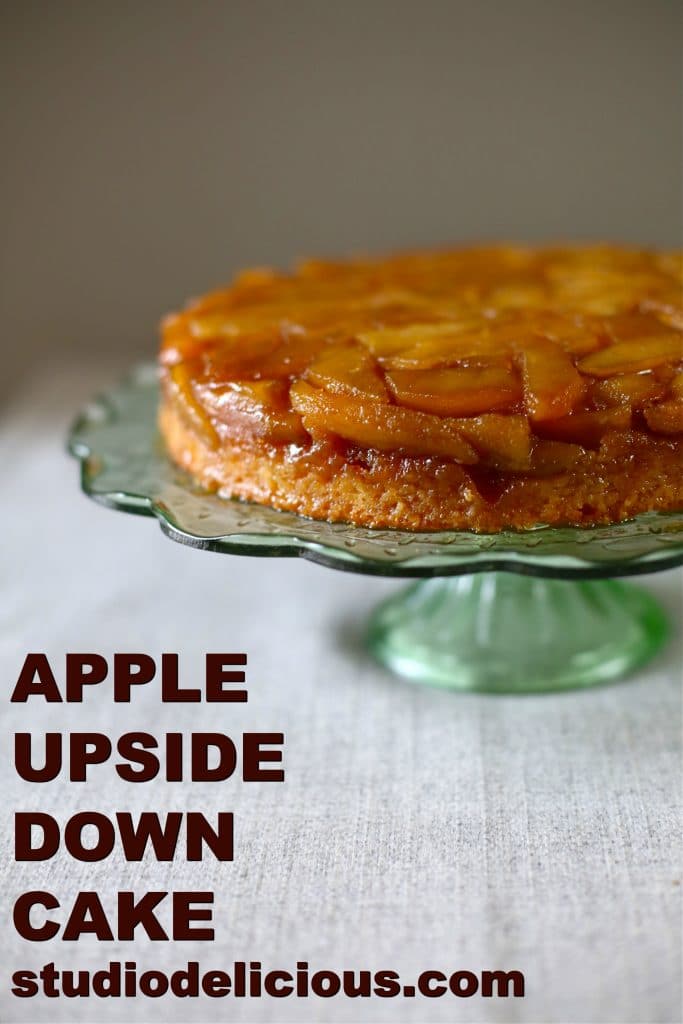 Ingredients
TOPPING

WHICH IS REALLY THE BOTTOM IN THE PAN

2

pounds

Granny Smith or Golden Delicious Apples

peeled and cored

4

tablespoons

unsalted butter

2/3

cup

light brown sugar

2

teaspoons

freshly squeezed lemon juice

CAKE

1

cup

5 ounces all-purpose flour

1

teaspoon

baking powder

1/2

teaspoon

salt

3/4

cup

5 1/4 ounces granulated sugar

1/4

cup

light brown sugar

2

large eggs

room temperature

6

tablespoons

unsalted butter

melted and cooled

1/2

cup

sour cream

1 1/2

teaspoons

vanilla extract
Instructions
9" non-stick cake pan, at least 2" tall on sides, greased and lined with a parchment paper round on the bottom, and then greased again with butter and a sprinkling of flour with excess lightly tapped out of the pan.

Heat oven to 350 degrees and adjust rack to lowest position.

MAKE THE TOPPING

You'll have either 4 of 5 apples to make 2 pounds, start by cutting two of the peeled apples in half, then cut them into 1/2 slices. Set aside.

Cut the remaining apples in smaller 1/4 slices, as evenly as possible.

Melt the butter in a medium non-stick skillet on medium-high heat. Add the 1/2" thick slices first into the pan with melted butter, and stir a couple of times to coat. Let these heat for about 5 minutes until they begin to caramelize, carefully stirring a couple of times, making sure they don't fully cook.

Add the rest of the apples to the skillet and combine, cooking for another minute.

Place the apples in the bottom of the prepared cake pan, and use the back of a spatula to evenly press them down in one layer.

MAKE THE CAKE

In a medium bowl whisk the flour, baking powder, and salt together.

In another large bowl, whisk the sugar, brown sugar and eggs together until thick and combined.

Slowly whisk in the cooled melted butter and then add the sour cream and vanilla and continue to mix just until combined.

Add the flour mixture, mixing just until combined and then pour it over the apples in the cake pan.

Bake until golden brown, about 35-40 minutes, a toothpick will come out clean when poked and removed from the middle.

Remove from oven and place on a wire rack for 20 minutes, then use a sharp knife to go around the edges and loosen them.

Using a cake plate or platter, invert the cake and pan together, lifting the cake pan off the right-side up platter to catch any drips.

If any fruit sticks, just position it on top of the cake.

Cool another 20 minutes and serve with whipped cream if you like.
SOURCE: Studio Delicious, adapted from Cooks Illustrated Baking Book