This recipe for Coconut Milk Rice Pudding with Rose Rhubarb has no dairy—it's creamy and old-fashioned and wonderful and everything is made on the stovetop. The rhubarb is softly flavored with a little rosewater….not a combination you see every day, but really special.

Coconut Milk Rice Pudding with Rose Rhubarb
Anyone who knows me is aware of my extreme dislike of germs.
I take a LOT of ribbing for this, but I'm right.
I hate to be sick, so what's wrong with a few extra precautions?
Yes, I've talked to a therapist about it 🙂
I'll have you know I'm an expert hand washer—lathering while humming "Happy Birthday" all the way through as recommended by germ specialists worldwide.
I keep a supply of disposable gloves in the car to use when filling my gas tank.
Doesn't everyone?
I'm not even remotely embarrassed to have a personal can of Lysol nearby most of the time, and disinfectant wipes are always handy in case of emergency.
The tie-in here is last time I made this Coconut Milk Rice Pudding with Rose Rhubarb I had a terrible cold.
Did I mention I hate to be sick?
A bowl of this stuff is perfect in every way if you need comforting.
When crunchy and hard are very bad.
And spicy, cheesy, stringy, chewy and sour sound awful.
Rice pudding—especially with a gorgeous pink rhubarb sauce gently flavored with rosewater—is just what the doctor ordered.
Rosewater adds a mysterious and wonderful quality to the rhubarb, but it's strong, so don't be tempted to add more than a little without tasting it first.
Hey, if you can't find rosewater or don't want to, just use a good quality vanilla instead.  Fabulous.
And please don't wait until you're feeling under the weather to try this one.
It's so good and homey and really is a perfect spring dessert.
Thanks for Pinning this Recipe!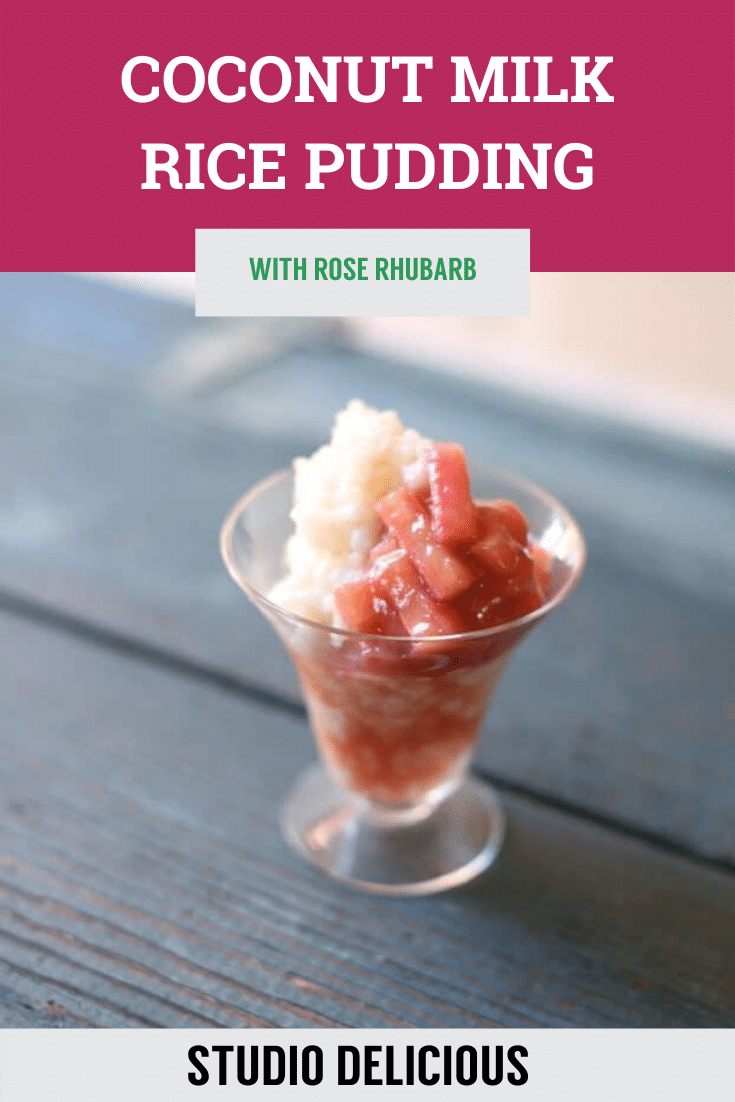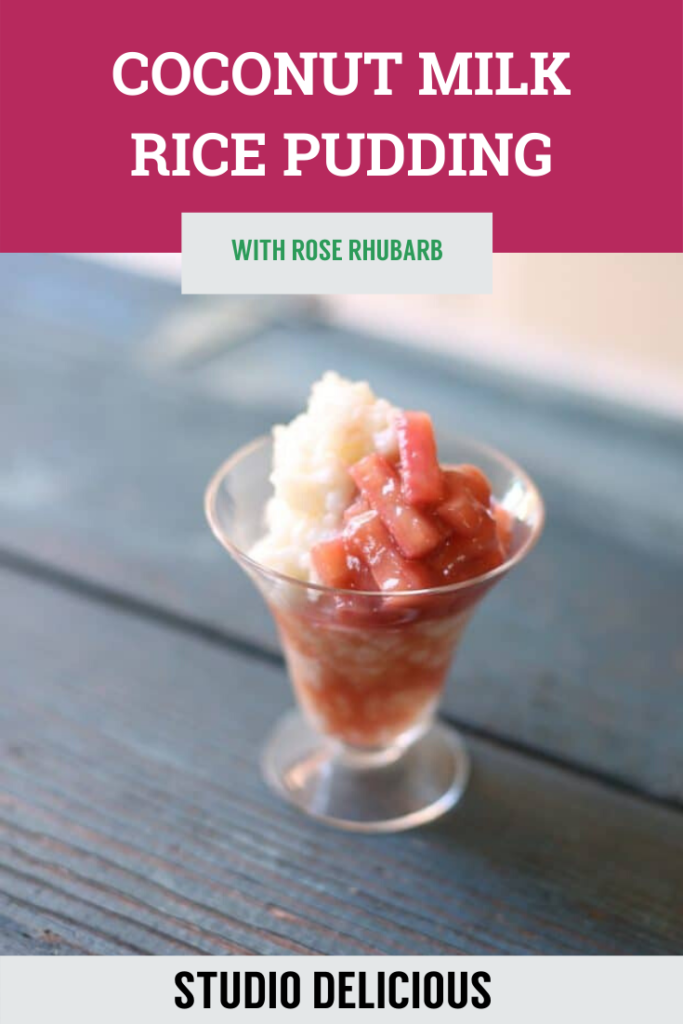 Coconut Milk Rice Pudding With Rose Rhubarb
Coconut Milk Rice Pudding with Rose Rhubarb is dairy-free with a creamy, old-fashioned flavor and is easy to make on the stovetop
Print
Pin
Rate
Ingredients
1/2

pound

Rhubarb Stalks, ends trimmed, thinly sliced

1 and 3/4 cups sliced rhubarb

1/3

cup

Water

1/3

cup

Sugar

1/4

tsp

Salt

1/2

teaspoon

Rose Water

3

cups

Water

2

tablespoons

Butter, unsalted

1 1/2

cups

White Rice, long grain, uncooked

1/4

teaspoon

Salt

1/2

teaspoon

Lemon Zest, freshly grated

2

14.5 oz cans

Coconut Milk, light

1

cup

Sugar

1/2

Vanilla Bean, split lengthwise, seeds removed
Instructions
FOR THE ROSE RHUBARB

Add the rhubarb to a heavy non-stick saucepan, reserving the leftover 1/2 cup of rhubarb for later.

Add the water, sugar and salt. Simmer on medium heat uncovered for about 8 minutes until rhubarb is tender.

Let this cool for 5 minutes. Carefully place the cooled mixture in a food processor or blender and process until smooth.

Return the rhubarb mixture to the saucepanAdd the reserved 1/2 cup of rhubarb, plus one tablespoon of water

Simmer on medium low heat until the rhubarb is tender, about 6 minutes. Add a tablespoon more water if the mixture is too thick. Remove off heat and stir in the rosewater (or vanilla, if using) and set aside to cool.

MAKE THE RICE PUDDING

Combine the 3 cups water, butter, uncooked rice, salt and lemon zest In a 2 quart heavy saucepan. Bring to a boil, then cover and lower heat to simmer until the water is absorbed and rice tender, about 15-20 minutes.

In another large, heavy saucepan combine the coconut milk, sugar and vanilla bean seeds and the whole vanilla bean, and simmer on low heat for 5 minutes, Add the cooked rice mixture to the coconut mixture continue to simmer on low heat uncovered until most of the liquid is absorbed, about 15-20 minutes, stirring occasionally. Remove and discard the vanilla bean.

Serve with the Rose Rhubarb sauce and whipped cream, if desired.
Notes
If the rice needs a bit more cooking time, its okay to add a bit more water and let it continue to cook and evaporate until the rice is tender. 
If you can't find rosewater or don't want to, use pure vanilla extract instead.
You can make 8 smaller servings from this recipe too. 
The rice pudding will stay fresh in the refrigerator for several days, keeping the rhubarb topping in a separate container than the rice pudding. 
Whipped cream topping is especially good with this pudding. 
This recipe was update in December 2019. 
Nutrition
Calories:
384
kcal
|
Carbohydrates:
83
g
|
Protein:
4
g
|
Fat:
4
g
|
Saturated Fat:
3
g
|
Cholesterol:
10
mg
|
Sodium:
239
mg
|
Potassium:
162
mg
|
Fiber:
1
g
|
Sugar:
45
g
|
Vitamin A:
155
IU
|
Vitamin C:
3
mg
|
Calcium:
49
mg
|
Iron:
1
mg
SOURCE: www.studiodelicious.com