This recipe for Coconut Milk Rice Pudding with Rose Rhubarb is made right on the stove top, and is unbelievably creamy and comforting without all the traditional dairy. With tender, cooked rhubarb flavored with rosewater to spoon over the top, this dessert is both nostalgic and totally delicious.


Years ago when I was living in a small apartment on my own, I made rice pudding regularly for nothing more than the nostalgic comfort and reminder of good times with my grandma.
Maybe you can relate to this, because "rice pudding" and "grandmother" are practically synonomous, don't you think? While I'll always love that classic combination of creamy rice and whisky-soaked raisins, this recipe is a fresh take on that idea, and the results are super delicious and worth a try sometime.
Here's why:
This recipe is seriously updated without all the heavy cream, eggs and milk. Use a vegan style butter to make the whole recipe non-dairy!
Rice pudding topped with a gorgeous pink rhubarb sauce gently flavored with rosewater is every bit as good as it sounds 🙂
The rosewater adds a mysterious and delightful flavor to the cooked rhubarb, but it's strong, so don't be tempted to add more without tasting it first.
Key Ingredients
Fresh Rhubarb: Long, rosy stalks are in grocery stores and farmers markets right now.
Rosewater: Use a culinary rosewater like Cortas, not the kind you put on your face 🙂
Butter: Regular unsalted is what we want for this recipe, but use a non-dairy version if you'd like
Rice: Regular long grain rice works great here, but you could also use Basmati, Arborio or Jasmine.
Lemon Zest: For freshness and extra flavor.
Coconut Milk: Use the light variety in this recipe
Sugar: Regular sugar is totally fine, but I always buy a superfine variety if I can find it.
Step by Step Instructions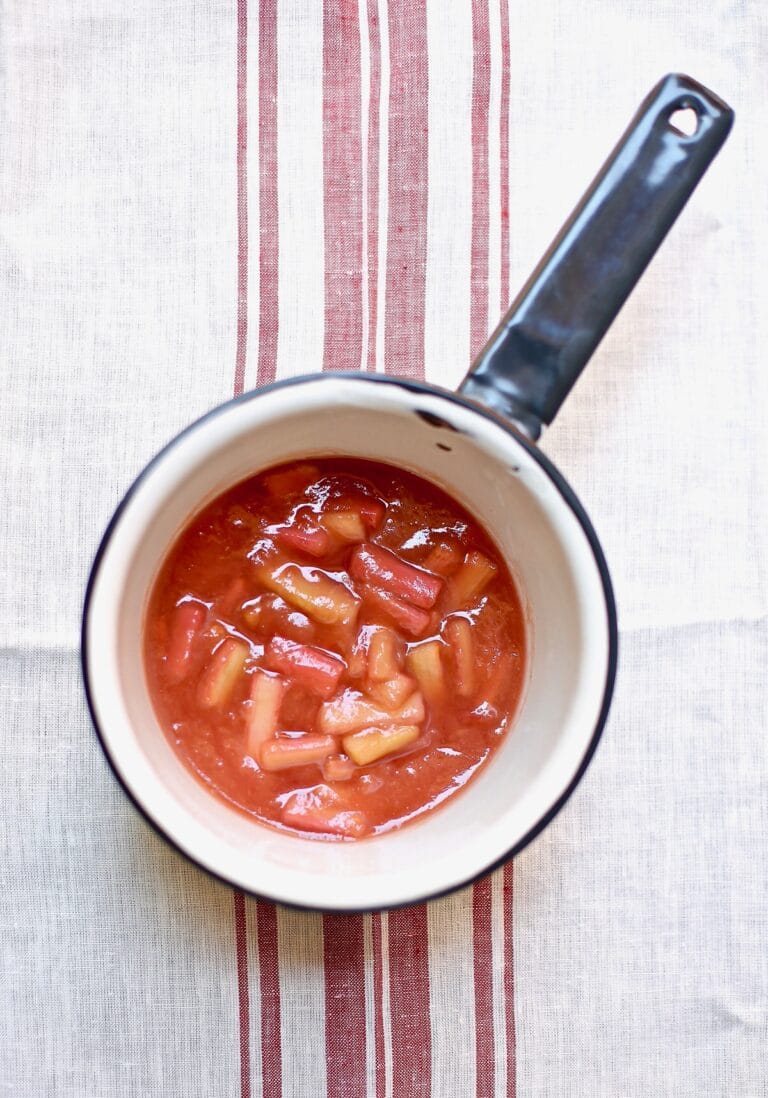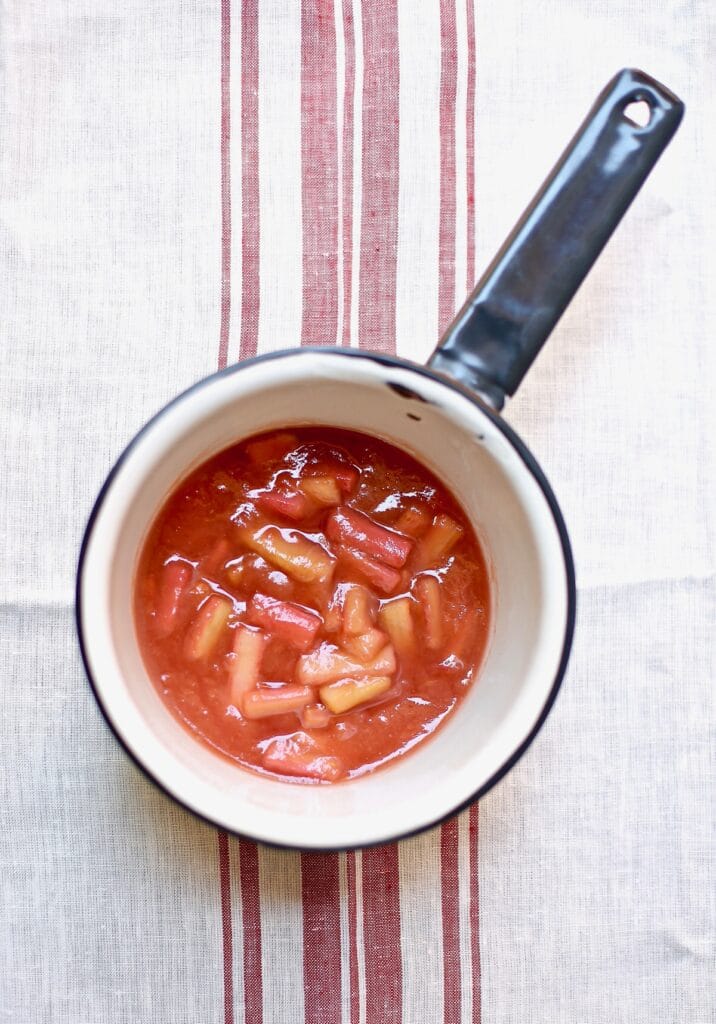 Make the Rose Rhubarb: All but a 1/2 cup of trimmed and sliced fresh rhubarb gets cooked in a non-stick saucepan with water, sugar and salt. Simmer, cool slightly, then puree it in food processor or blender, return to the saucepan with the reserved rhubarb and simmer until the big pieces are soft. This makes a saucy, delicious mixture that's easy to spoon.
Make the Rice Mixture: Combine the uncooked rice, water, butter, salt and lemon zest in a heavy saucepan until the rice is fully cooked and tender.
Combine the coconut milk, sugar and vanilla, then simmer together with the rice mixture until the flavors are combined and the liquids mostly absorbed
To serve – This recipe is best when chilled for an hour before first, but it's not necessary.
This recipe uses regular long grain uncooked white rice, but most any rice will work (you may need to adjust the cooking time slightly.)
That bowl of coconut milk rice would be fabulous on its own with a little cinnamon on top, but this is just an FYI 🙂
Tips and Serving Ideas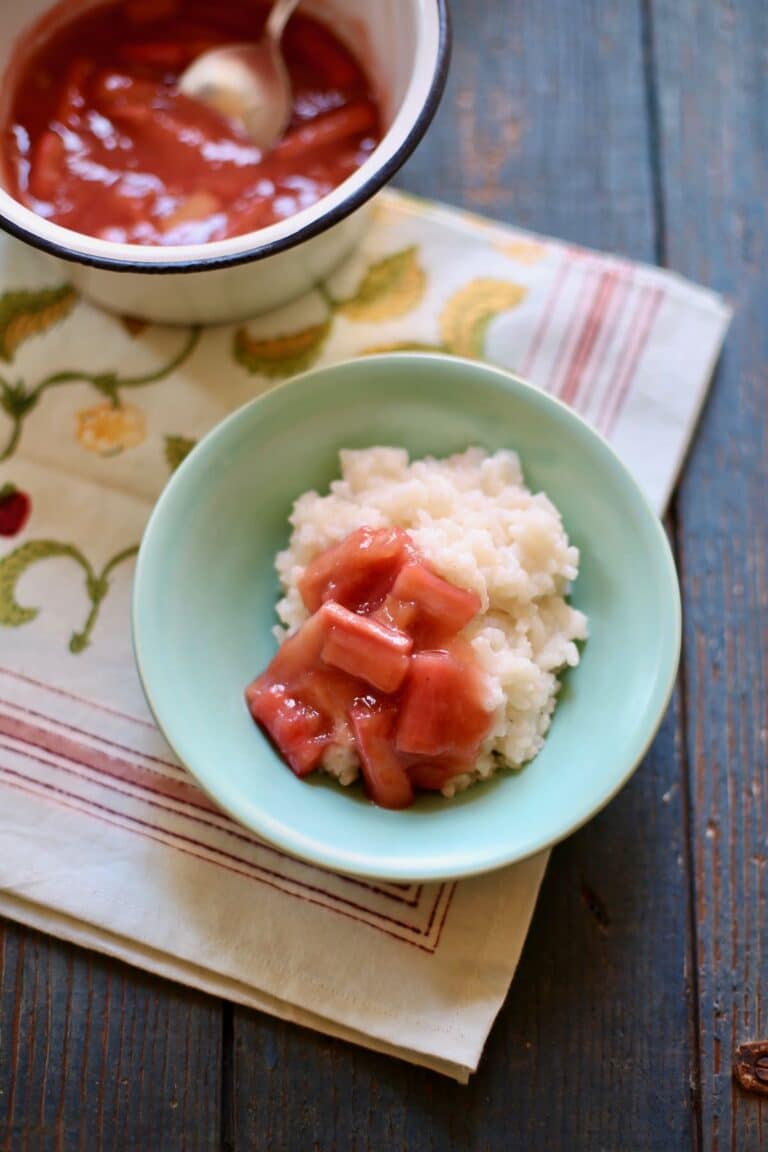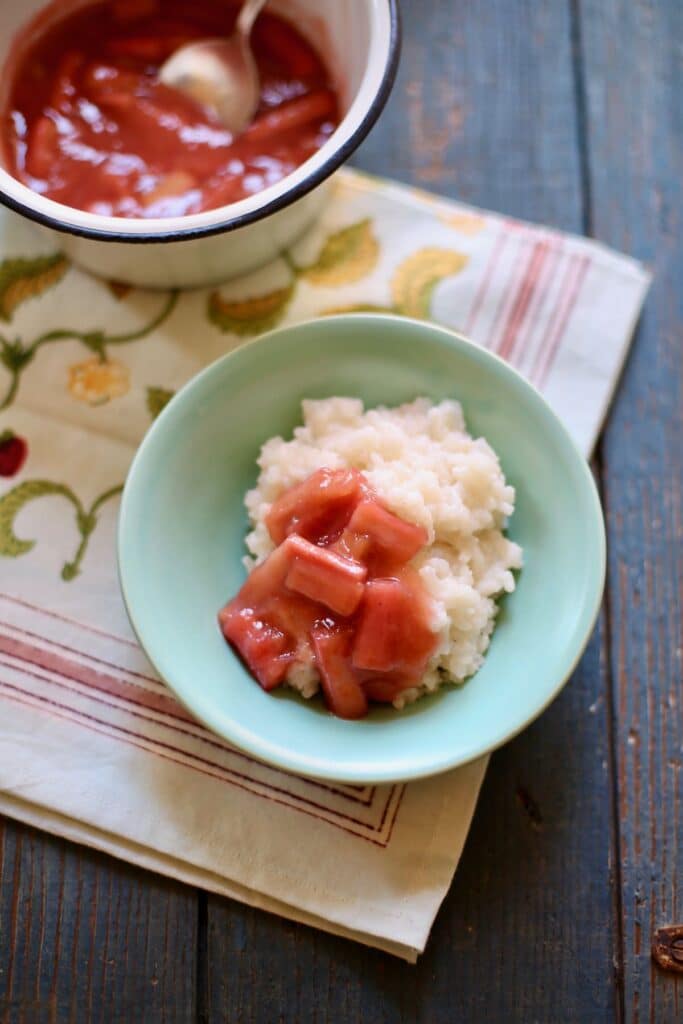 If the rice needs more cooking time because you notice the texture is still a bit chewy or hard, just add a tablespoon or so more water and keep the heat at medium, stirring occasionally until the water evaporates and the rice is tender. You can repeat this a couple of times if needed 🙂
Rosewater lends a subtle floral flavor to the cooked rhubarb, and it's absolutely delicious. If you can't find culinary rosewater or just don't want to, use pure vanilla extract instead. Fabulous!
The cooked ingredients will stay fresh for several days stored in the fridge, but keep the rhubarb and rice mixtures separate, and store both with a tight lid to keep out any unwanted flavors.
This dessert looks beautiful in small glasses served on a wooden tray with a side bowl of whipped cream for those who want it (like me). 🙂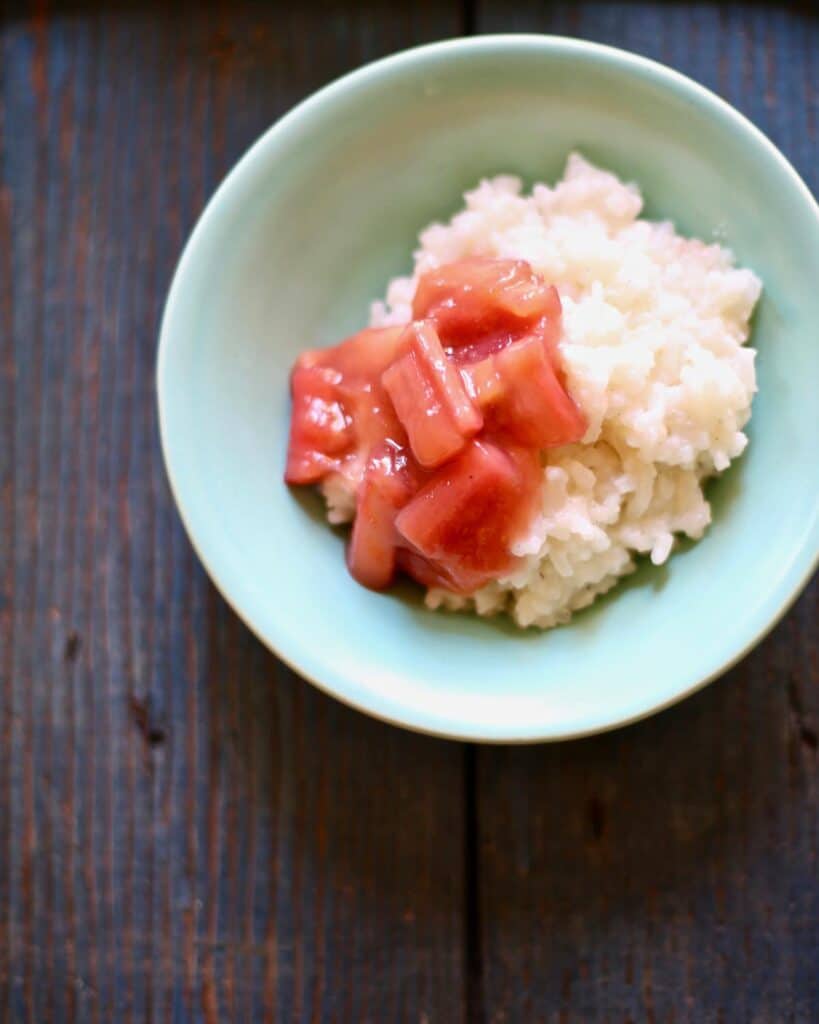 More Recipes to Try:

Roasted Nectarines with Caramel Sauce
Melon with Ice Cream & Caramel Sauce An all-time favorite!
Summer Fruit Crisp Everyone loves this one!
Boozy Fresh Cherry Blackbottom Milkshakes So fun for cookouts!
Strawberry Cheesecake in a Jar Reader favorite!
Melon with Ice Cream and Caramel Sauce Easy, fabulous and perfect for summer
Fresh Banana Cake A delicious dessert for all those ripe bananas
California Fig Banana Bread A unique twist on the classic
If you've tried Coconut Milk Rice Pudding with Rose Rhubarb, or any recipe on Studio Delicious, please tell me about it in the comments below!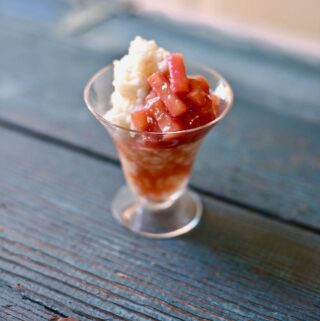 Coconut Milk Rice Pudding With Rose Rhubarb
Coconut Milk Rice Pudding with Rose Rhubarb is dairy-free with a creamy, old-fashioned flavor and is easy to make on the stovetop
Print
Pin
Rate
Ingredients
1 3/4

cups

Rhubarb stalks, ends trimmed, thinly sliced

About 1/2 pound

1/3

cup

Water

1/3

cup

Sugar

1/4

tsp

Salt

1/2

teaspoon

Rose Water

or pure vanilla extract

3

cups

Water

2

tablespoons

Butter, unsalted

1 1/2

cups

Rice, white long grain, uncooked

1/4

teaspoon

Salt

1/2

teaspoon

Lemon Zest, freshly grated

2

14.5 oz cans

Coconut Milk, light

1

cup

Sugar

1/2

tsp

Pure Vanilla Extract
Instructions
FOR THE RHUBARB MIXTURE

Add the sliced rhubarb to a heavy non-stick saucepan, reserving a 1/2 cup of it for later

Add the water, 1/3 cup sugar and salt to the saucepan with the rhubarb.Simmer on medium heat, uncovered for about 8 minutes until rhubarb is tender.

Let the mixture cool for 5 minutes, then put the mixture in a food processor or blender and process it until smooth.

Return the rhubarb mixture to the saucepan and add the reserved 1/2 cup of uncooked rhubarb, plus a tablespoon of water.

Simmer the mixture on medium heat, until the rhubarb pieces are tender, about 6 minutes. If the mixture is too thick, add another tablespoon of water. It should be syrupy but spoon-able. Remove from heat and stir in the rosewater (or vanilla, if using) and set aside to cool.

MAKE THE RICE MIXTURE

Combine the 3 cups water, butter, the uncooked rice, salt and lemon zest in a 2 quart saucepan. Bring to a boil, then cover the saucepan with a lid and and lower the heat to medium. Simmer the mixture until the water is absorbed and the rice is tender, 15-20 minutes. Set aside.

In another large saucepan, combine the coconut milk and remaining 1 cup sugar and simmer on low heat for 5 minutes until the sugar is dissolved. Add the cooked rice mixture to the coconut mixture and continue to simmer together on low heat, uncovered, until most of the liquid is absorbed, another 15 minutes or so. Stir the mixture occasionally so it doesn't stick to the bottom of the pan. Remove from the heat and add the vanilla extract, stir to combine.

For serving, divide the rice mixture into 6 small glass dessert glasses or bowls, and top with a couple of spoonfuls of the Rose Rhubarb sauce. Serve with whipped cream if desired, too.
Notes
If the rice needs more cooking time, it's okay to add a bit of water a tablespoon at a time, let it continue to cook and evaporate until the rice is tender.
If you can't find rosewater or don't want to, use pure vanilla extract instead.
You can make 8 smaller servings from this recipe instead of 6 if needed.
The rice pudding will stay fresh in the refrigerator for several days, just keep the rhubarb topping in a separate container than the rice pudding until ready to serve.
Whipped cream topping served alongside this pudding. Non-dairy varieties are easy to find in the freezer section of most grocery stores.
Nutrition
Calories:
384
kcal
|
Carbohydrates:
83
g
|
Protein:
4
g
|
Fat:
4
g
|
Saturated Fat:
3
g
|
Cholesterol:
10
mg
|
Sodium:
239
mg
|
Potassium:
162
mg
|
Fiber:
1
g
|
Sugar:
45
g
|
Vitamin A:
155
IU
|
Vitamin C:
3
mg
|
Calcium:
49
mg
|
Iron:
1
mg
Tips for Success with Every Recipe
Super important to read the whole recipe before you begin
Pay attention to the ingredient list and photos for the recipe
If possible, prep your ingredients a little before you start
Always use a sharp knife for safety
Use the size of pan called for in the recipe
For savory recipes, taste and season as you go
Buy fresh, organic ingredients, locally sourced whenever possible
This recipe was originally published May, 2018, and was updated with new tips and content May, 2020.