I pulled this recipe for Fresh Corn Chowder from a hand-written note in an old recipe box, and it's one of my favorites. Loaded with fresh, chunky vegetables, this is a great soup recipe to keep on hand for fresh or frozen corn.
Love soup? Try this Chicken Sausage Tortellini Soup …warming and delicious any time of year!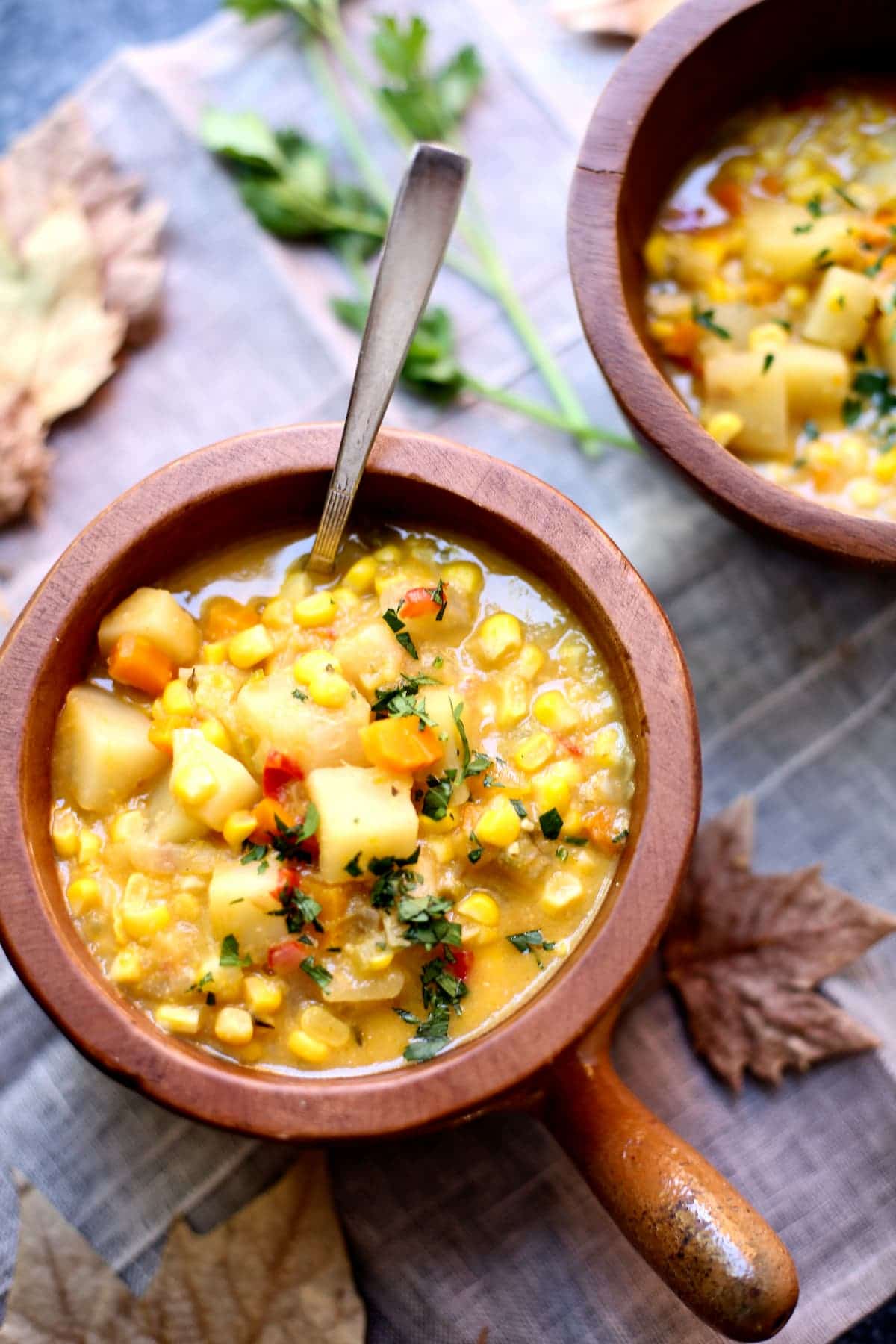 Why You'll Love this Recipe
It's officially soup season, and this hearty corn chowder recipe is packed with fresh vegetables and great flavor. Warm soups are really welcoming when the weather is a bit chilly.
Here are the things to love about this delicious recipe:
Ingredients You'll Need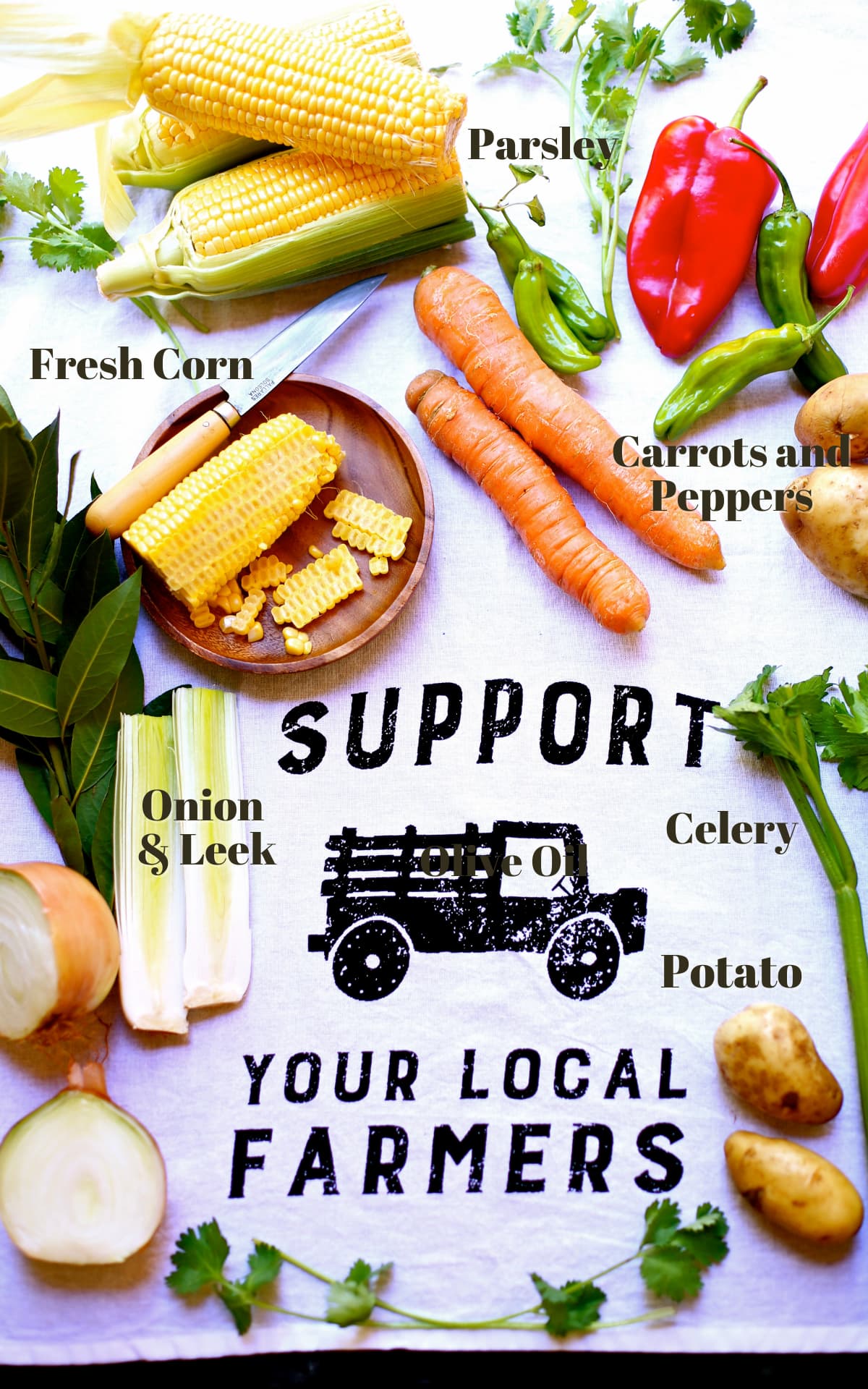 For the full ingredient list and directions, please scroll down to the recipe card below.
Butter: Unsalted is best
Onions: Both a yellow onion and a chopped leek.
Celery, Red Bell Peppers, Carrot: Chopped fine for color and flavor.
Potatoes: Red or gold, about 3 cups
Corn: Fresh, sweet corn with the kernels cut off the cob
Seasonings: Miso paste, garlic powder, salt, black pepper and don't forget a bay leaf!
Coconut milk: For a rich flavor in place of heavy cream
Italian Parsley: Chopped fine for serving.
Step-by-Step Instructions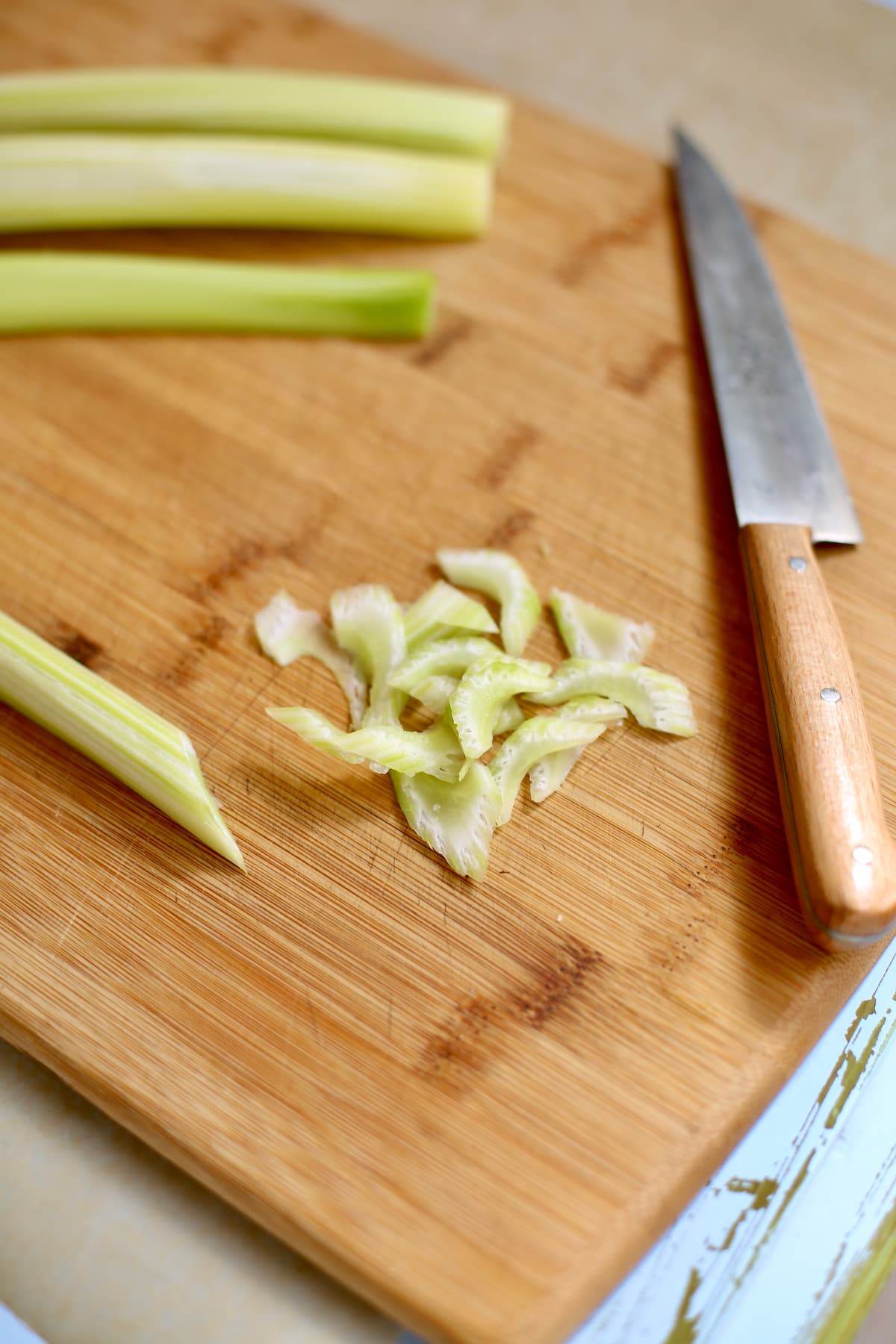 For the full recipe and instructions, please scroll to the recipe card below.
Cut the vegetables – celery, onion, leek, green, peppers, carrot and cook until soft
Add the chopped potatoes
Add the broth, fresh corn kernels and seasonings
Gentle simmer for a bit
Add the coconut milk
Process a little bit (a cup) in the blender or with an immersion blender for overall creaminess.
Garnish and serve!
Cook the Vegetables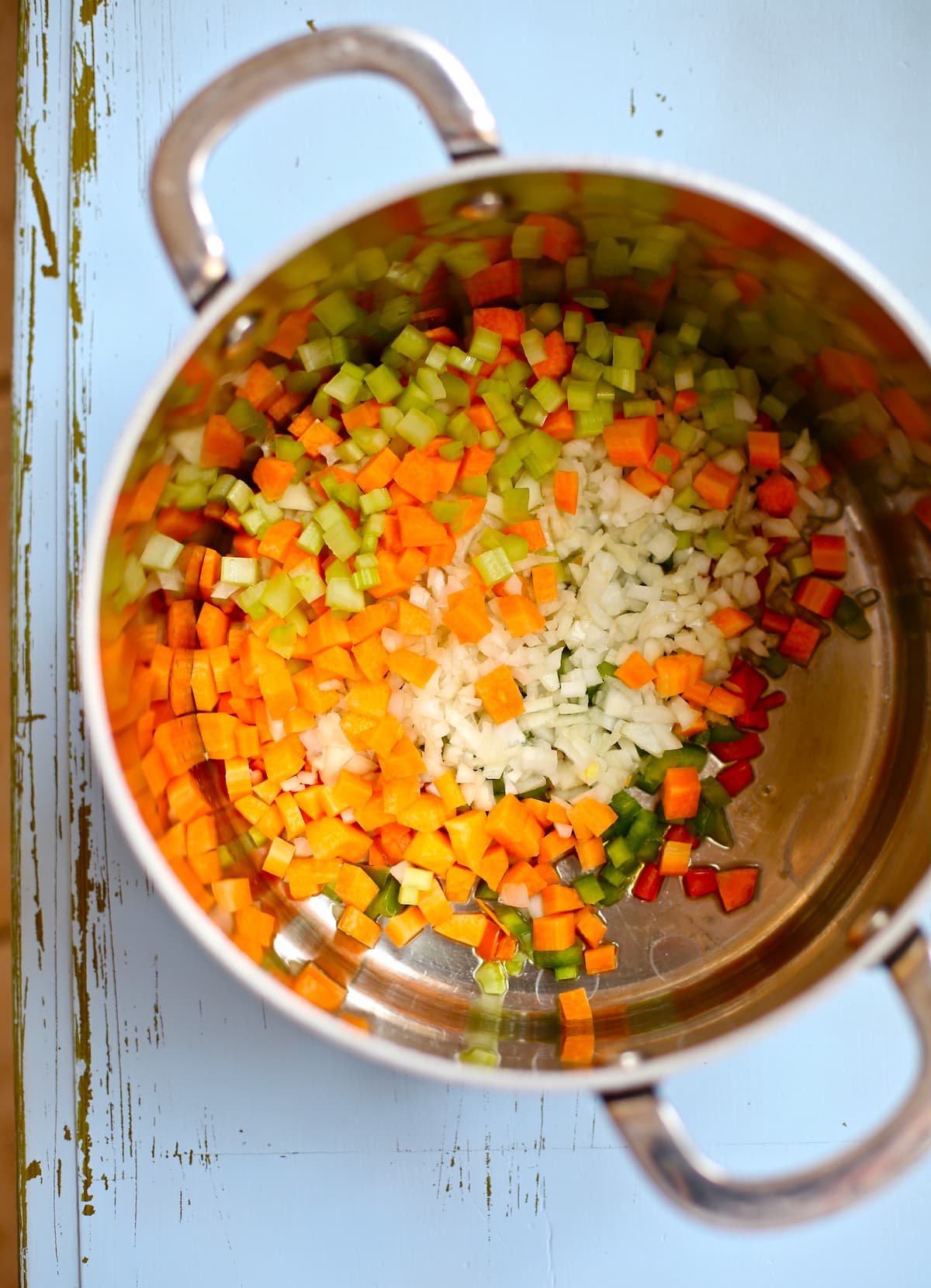 Make this simple corn chowder by adding the onion, leek and celery and cook on medium-high heat heat to a dutch oven until it starts to get soft, about 5 minutes.
Be sure to stir the bottom of the pan to scrape any bits, this is where much of the flavor is.
Add the chopped green and red pepper along with the carrots and continue cooking another 5 minutes or so until soft. Make sure the mixture doesn't brown.
Continue with the recipe by adding the vegetable broth and other ingredients.
Tips for Using Fresh Corn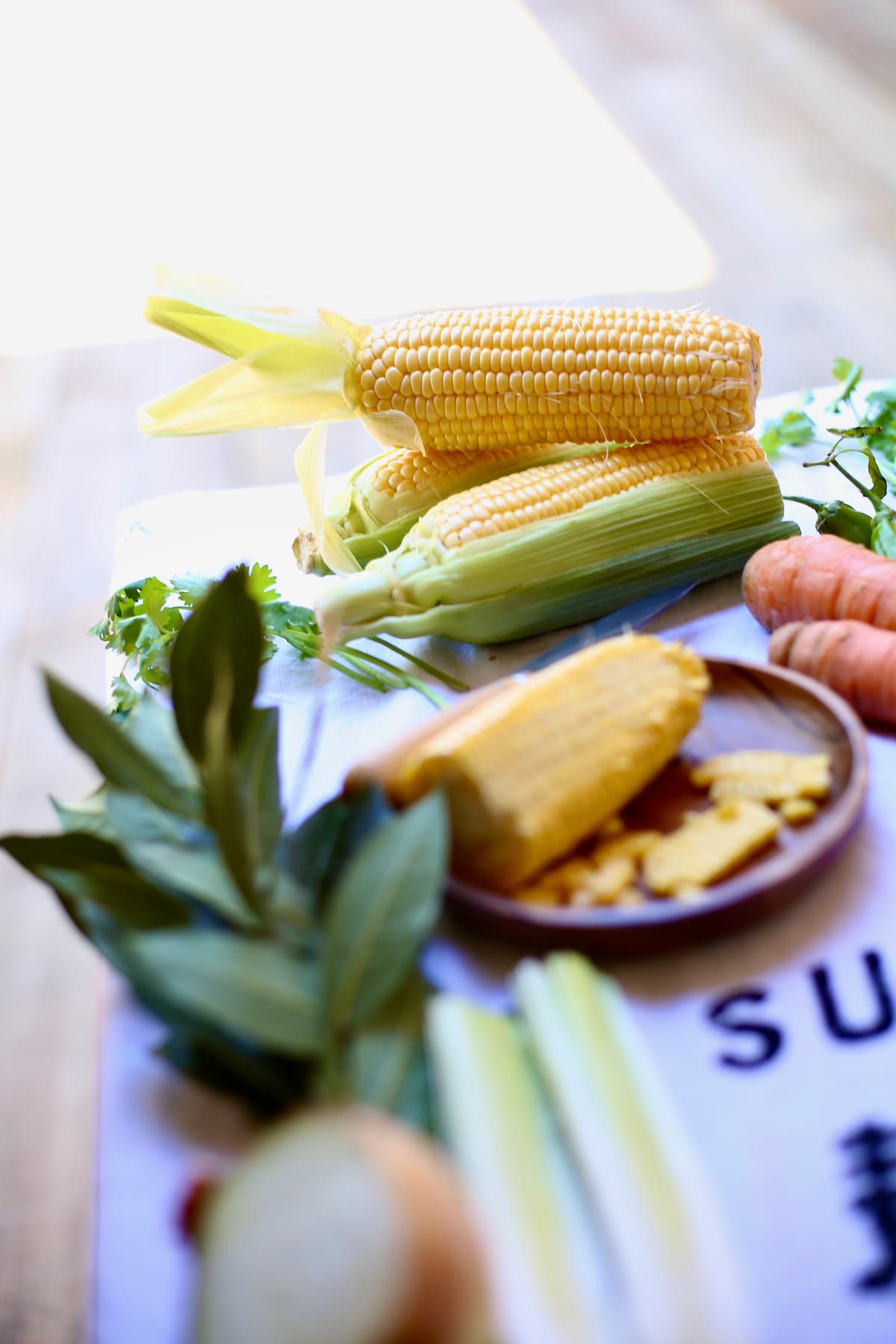 You can use sweet summer corn for this recipe, but frozen corn works great for this recipe too.
Here's some tips for cutting fresh corn off the cob:
Remove all the green outer leaves of the corn first, including the silky strings as best you can, then wash the ears and dry them with a clean kitchen towel.
Stand the corn cob ear up in a large bowl or cutting board with the bottom (larger end) down.
Cut the kernels off from the top to the bottom with a sharp knife, working on one side at a time.
Cut downward, as close to the base of the corn as you can.
The corn kernels are now ready to use
Expert Tips and Serving Suggestions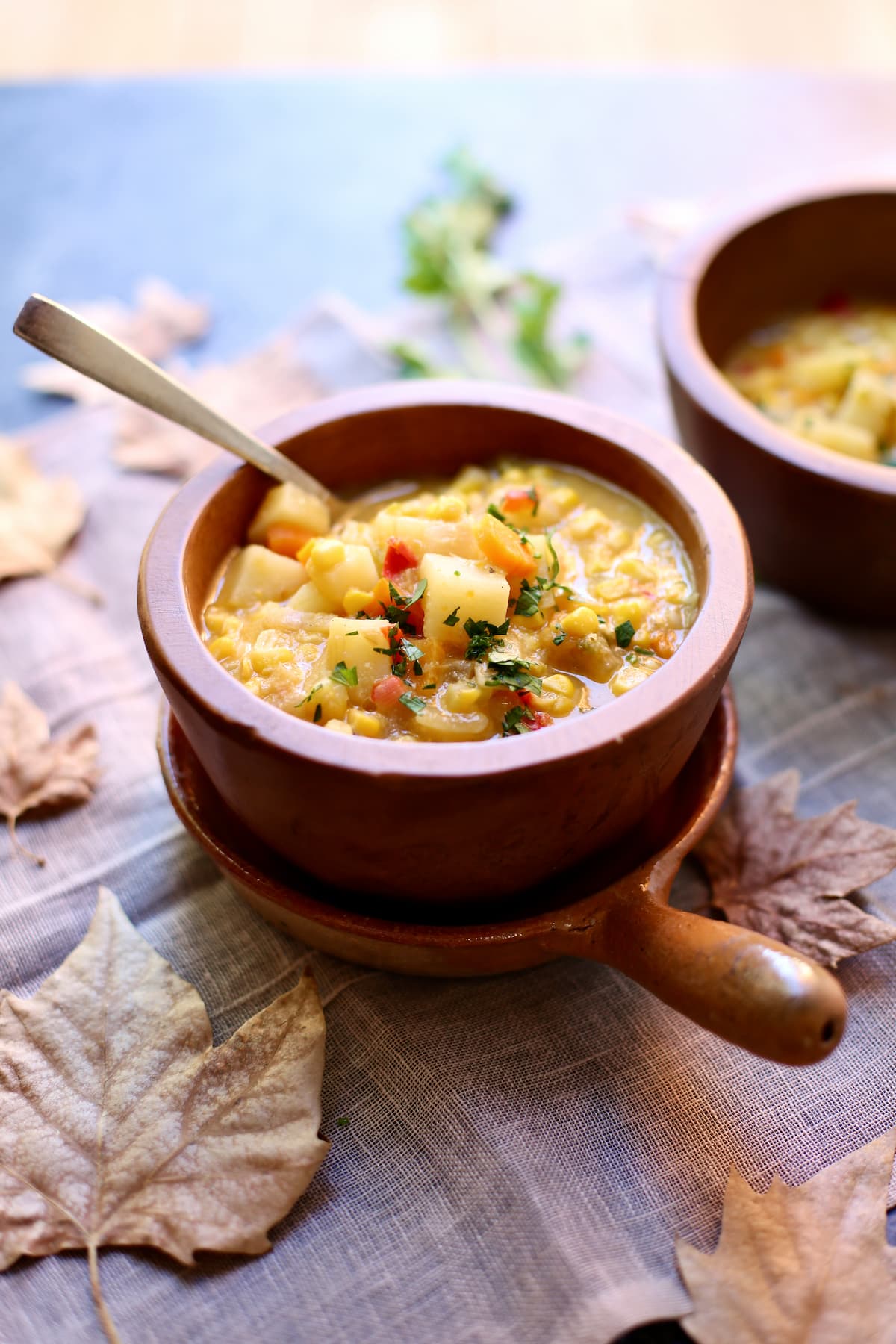 This chowder recipe is easy to make, and everyone I've ever served it to loves it. Here are some favorite ideas:
Frequently Asked Questions
Can I use frozen instead of fresh corn?
Yes, it will be great, too! If you can, buy organic frozen corn and follow the recipe as normal.
Can I add protein to the soup, if so, what kind?
Yes! Cooked, shredded chicken would be delish, and so would grated cheddar cheese. Cooked and crumbled bacon would also taste amazing on this soup.
If you've tried Chunky Corn Chowder, or any other recipe on Studio Delicious, please rate the recipe 5 stars and tell me about it in the comments below!
Looking for more tips and fresh, homemade recipes? Join my email list, tag and follow me on Instagram using #studiodeliciouseats, follow my boards on Pinterest, and see what I'm up to on Facebook and Twitter!
More Recipes To Try:
Superfood Salad: So good for you and super delicious too!
Apple Upside Down Cake: A seasonal favorite, and it's a keeper
Fresh Figs, Three Ways Be inspired with new ways to eat fresh figs!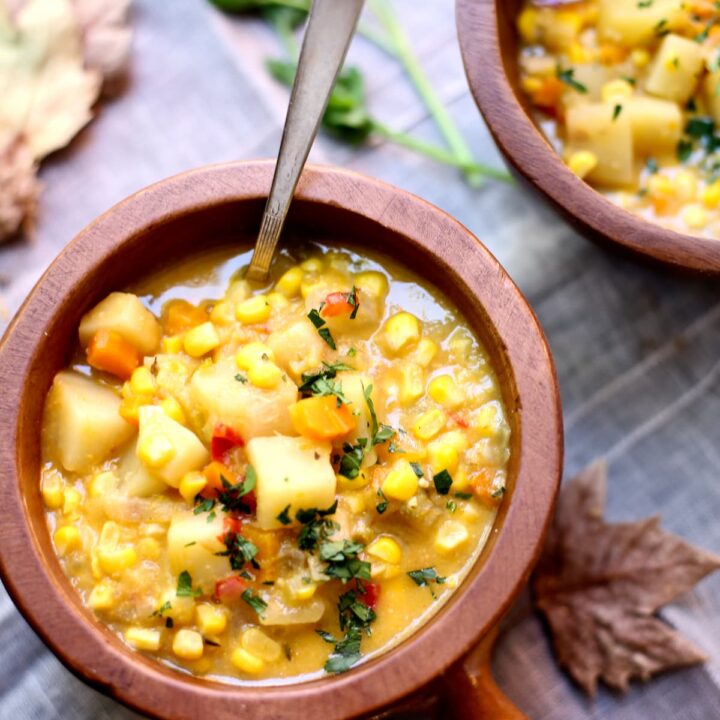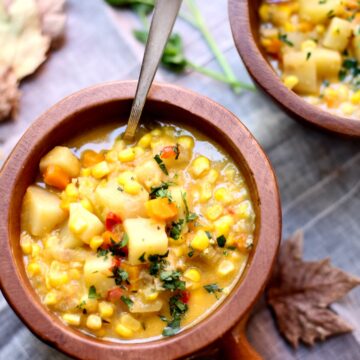 Chunky Corn Chowder
Fresh Corn Chowder is loaded with fresh vegetables and great flavor…this is a fall soup recipe to keep!
Print
Pin
Rate
Ingredients
3

tbsp

Butter, unsalted

1

medium

Onion, chopped

1

Leek, washed, dried, chopped (white part only)

2

Celery, washed, trimmed, sliced thin

1

small

Green Pepper, chopped fine

1/4 cup chopped

1

small

Red Pepper

1/4 cup chopped

1

Carrot, large, washed, peeled, cut in thin slices

about 1/2 cup

4

Potatoes, red or gold, washed, peeled, cut in 1" pieces

about 3 cups

4

cups

Vegetable Broth, low sodium

5

ears

Corn, kernels removed from cob

about 3 cups

1

tbsp

Miso Paste, white (mellow)

1/2

teaspoon

Garlic Powder

1 1/2

teaspoons

Salt

1/2

teaspoon

Lemon Pepper

1

Bay Leaf

1

tablespoon

Flour

1

teaspoon

Water

1

cup

Coconut Milk, refrigerated, unsweetened

1/4

cup

Italian Parsley, chopped, for serving
Instructions
COOK THE VEGETABLES

Melt the butter In a large dutch oven or heavy-bottom pot.Add the onion, leek and celery and cook on medium high heat until soft, about 5-6 minutes. Stir the mixture from the bottom so it does not brown.

Add the chopped green and red pepper and carrots, and continue cooking on medium high heat for another 5 minutes or until soft, stirring occassionally so the mixture doesn't brown.

Add the potatoes, and stir to combine.

Add the vegetable broth, corn, miso paste, garlic powder, salt, pepper and bay leaf. Stir the mixture to combine.

Simmer on medium heat, stirring occasionally for 20-25 minutes until the potatoes are fork tender.

Combine the flour and water in a small bowl to make a paste and add it to the mixture. Stir together until combined.

Add the coconut milk, and continue to cook on medium heat for about 5 more minutes.

Using a measuring cup, pull one cup of soup from the pot and process until smooth in a blender, then return it to the pot. Continue to cook on medium heat for 10 more minutes, stirring occasionally,

Remove bay leaf and garnish each bowl with chopped fresh parsley.
Notes
Don't let the number of ingredients scare you! They are easy to find and not difficult to prep.
This recipe was updated December 2019.
Nutrition
Calories:
194
kcal
|
Carbohydrates:
30
g
|
Protein:
5
g
|
Fat:
7
g
|
Saturated Fat:
4
g
|
Cholesterol:
15
mg
|
Sodium:
1402
mg
|
Potassium:
775
mg
|
Fiber:
6
g
|
Sugar:
6
g
|
Vitamin A:
3157
IU
|
Vitamin C:
49
mg
|
Calcium:
86
mg
|
Iron:
5
mg
Tips for Success with Every Recipe
Super important to read the whole recipe before you begin
Pay attention to the ingredient list and photos for the recipe
If possible, prep your ingredients a little before you start
Always use a sharp knife for safety
Use the size of pan called for in the recipe
For savory recipes, taste and season as you go
Buy fresh, organic ingredients, locally sourced whenever possible
This post was updated with new text and instructions September, 2021. Original post:
I have a sign hanging on my front porch that says "Dogs Welcome, Children Must Be On A Leash." The local Pop Warner kids came to the door selling tickets the other day and did not get the joke ("why do we have to be on a leash?") I haven't laughed that hard in months 🙂
Besides kids back in school fundraising for youth sports, there are signs of fall everywhere. People are tidying their yards, sweeping the garage and putting lawn furniture away. The dreaded Annual Garage Cleaning still needs to happen.
Yesterday morning I slipped on a warm jacket and went for a walk in the neighborhood, where I ran into a record number of neighbors who were friendly and chatty. Up here in the mountains, word of mouth is the primary source of news. We talked about neighborly things like getting our snowblowers serviced (there's a long wait this year) and trimming our trees and bushes before the snow flies.
I was sad to hear the neighbors down the street are moving south – this happens a lot before winter sets in – and while I don't blame them, I'll miss them and their dogs. All of this walking and talking and chilly air made me crave a warm bowl of Fresh Corn Chowder.
This version is lighter than most because of using coconut milk instead of heavy cream, and by pureeing a cup or so and adding it back to the pot. Most of these ingredients are at their peak right now, so seek them out and enjoy the fall glory 🙂