I pulled this recipe for Fresh Corn Chowder from an old hand-written note. I have no idea where it came from, but it's my all-time favorite.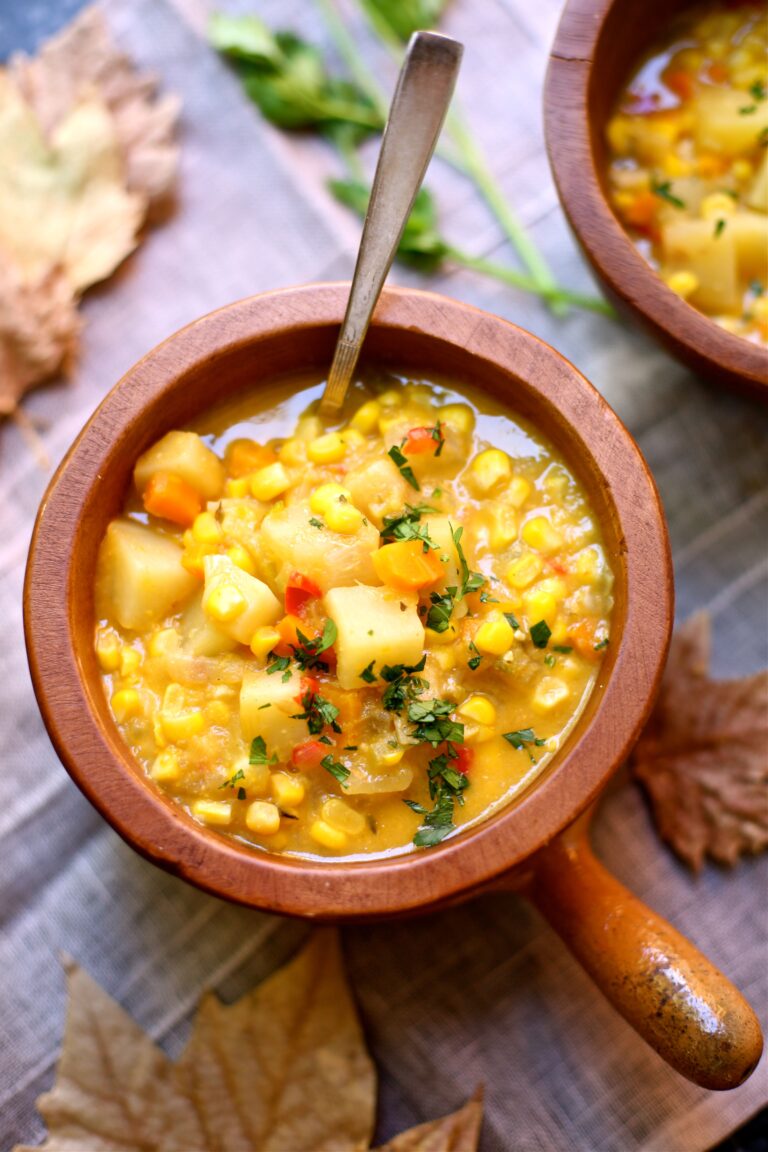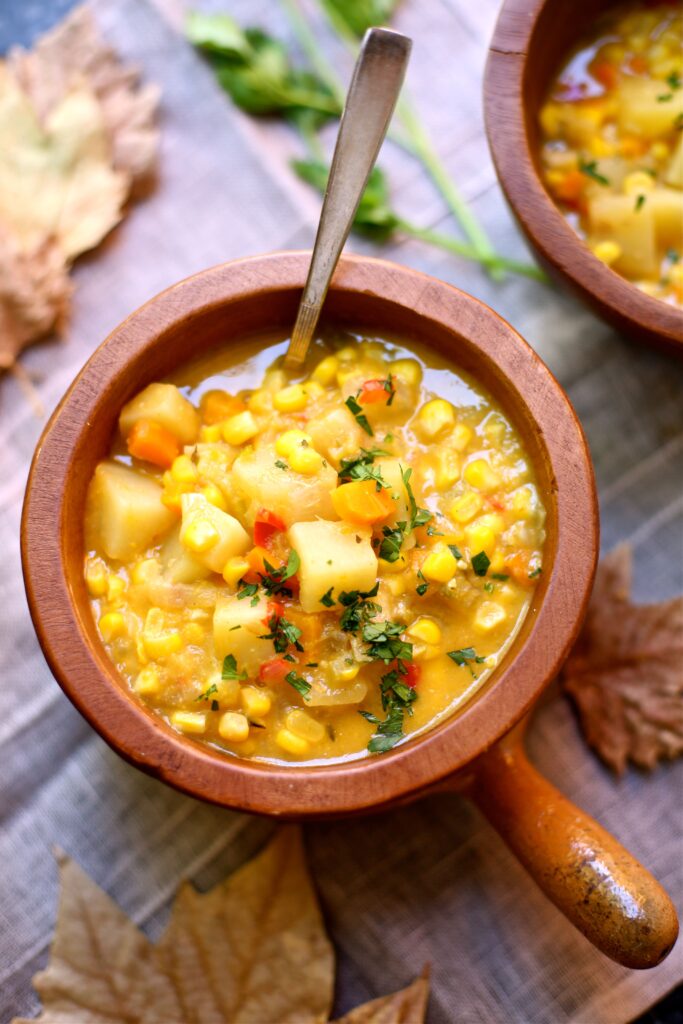 I have a sign hanging on my front porch that says "Dogs Welcome, Children Must Be On A Leash."
The local Pop Warner kids came to the door selling tickets the other day and did not get the joke ("why do we have to be on a leash?")
I haven't laughed that hard in months 🙂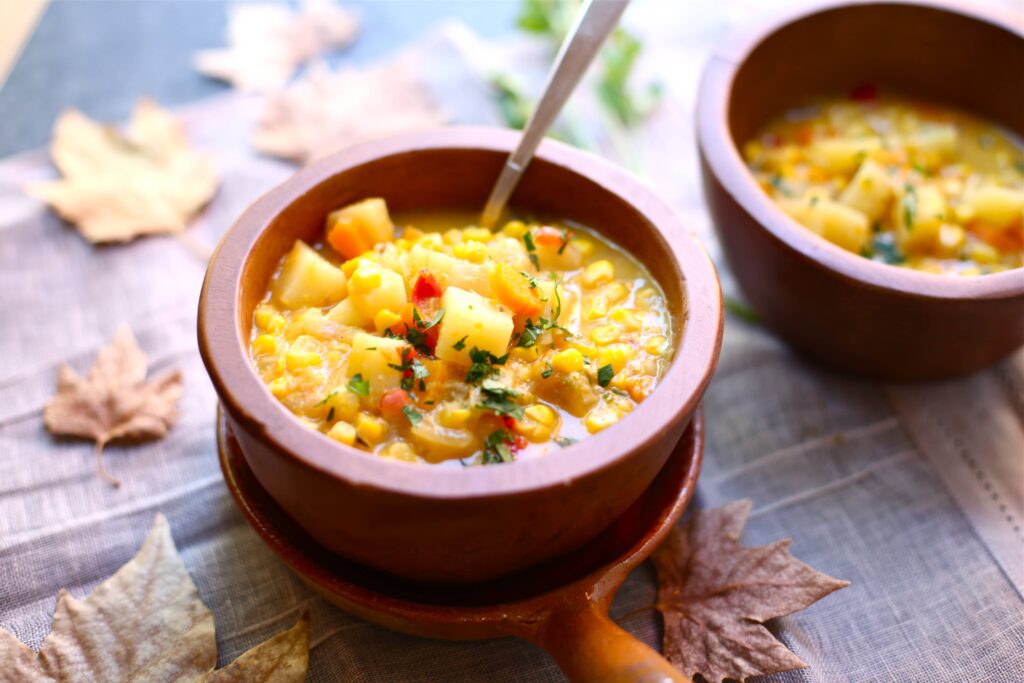 Besides kids back in school fundraising for youth sports, there are signs of fall everywhere.
People are tidying their yards, sweeping the garage and putting lawn furniture away.
The dreaded Annual Garage Cleaning still needs to happen.
Bleh 🙁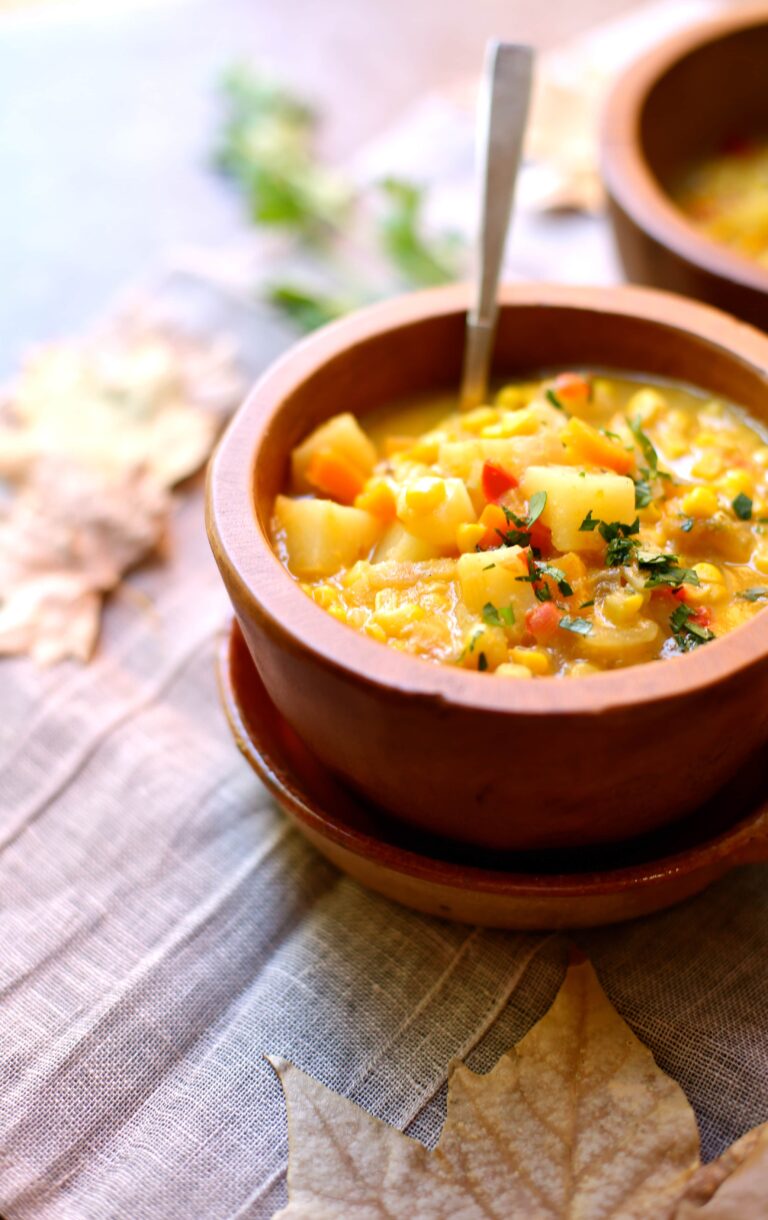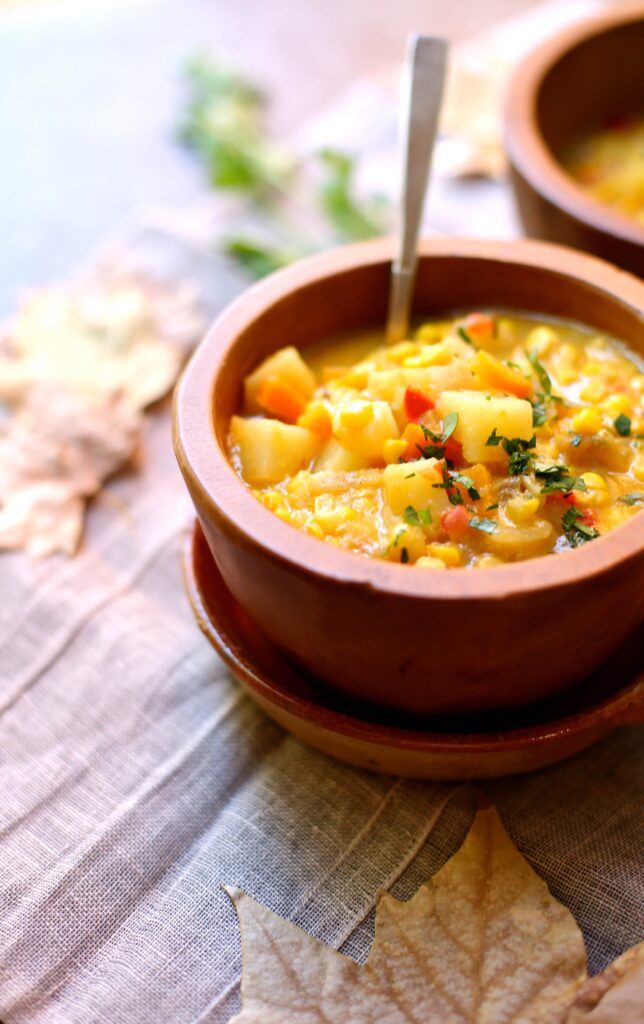 Yesterday morning I slipped on a warm jacket and went for a walk in the neighborhood, where I ran into a record number of neighbors who were friendly and chatty.
Up here in the mountains, word of mouth is the primary source of news.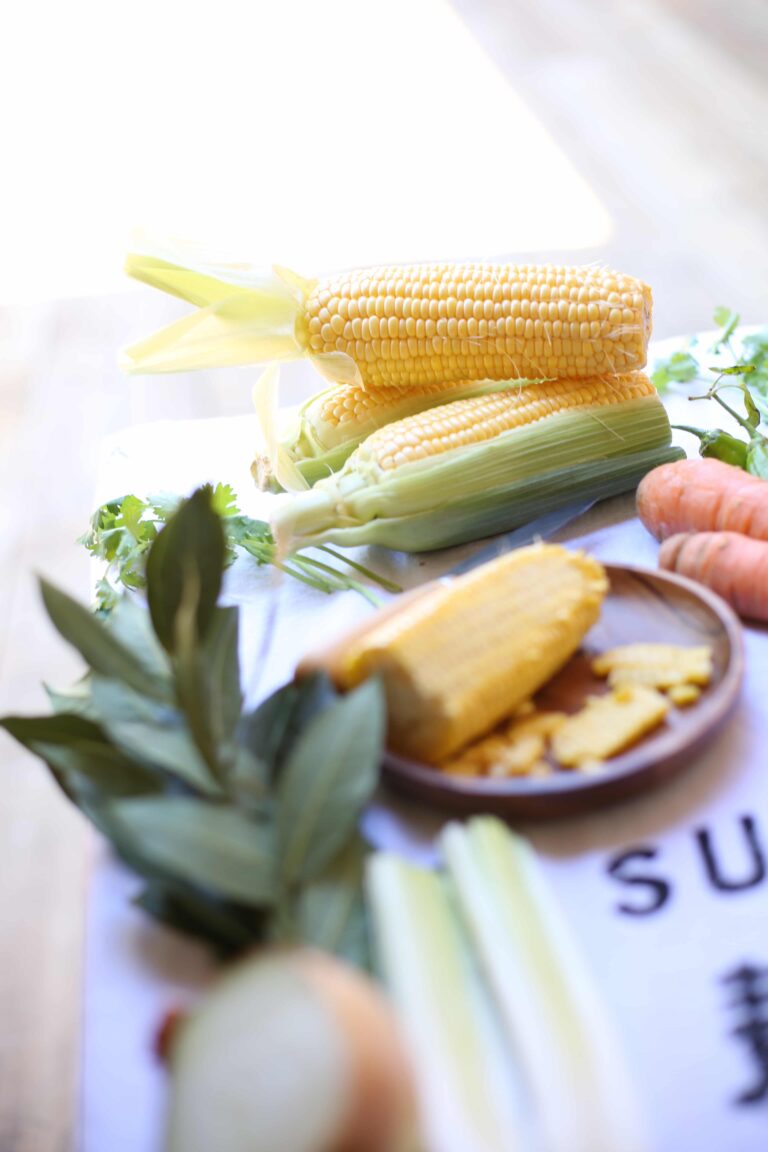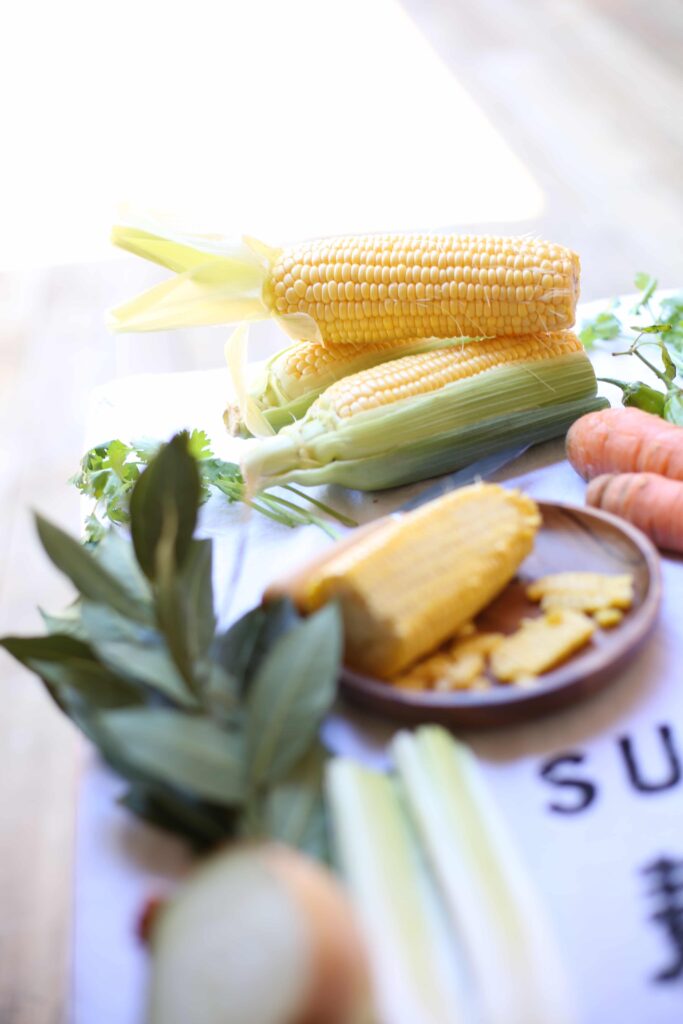 We talked about neighborly things like getting our snowblowers serviced (there's a long wait this year) and trimming our trees and bushes before the snow flies.
I was sad to hear the neighbors down the street are moving south – this happens alot before winter sets in – and while I don't blame them, I'll miss them and their dogs.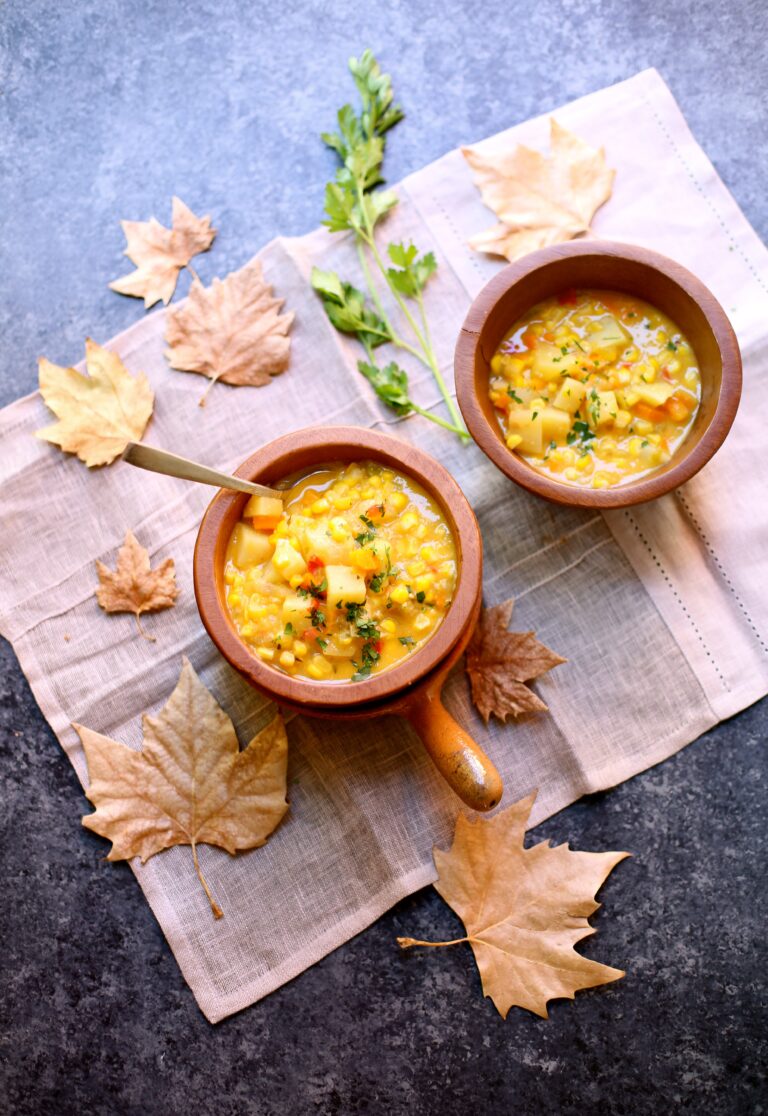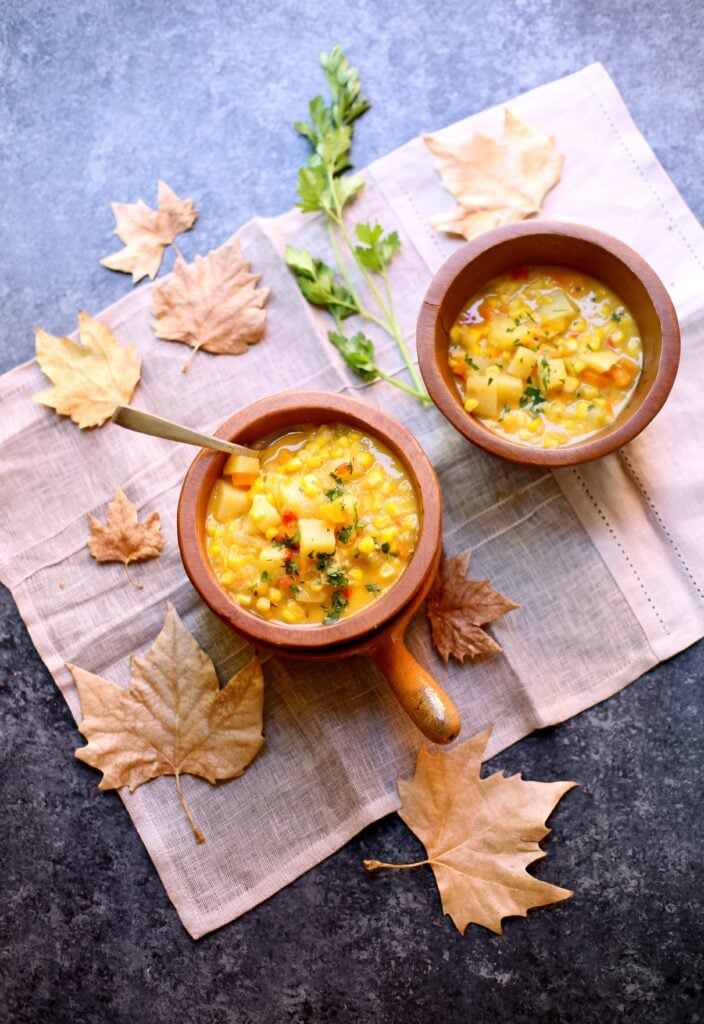 All of this walking and talking and chilly air made me crave a warm bowl of Fresh Corn Chowder.
This version is lighter than most because of using coconut milk instead of heavy cream, and by pureeing a cup or so and adding it back to the pot.
Most of these ingredients are at their peak right now, so seek them out and enjoy the fall glory 🙂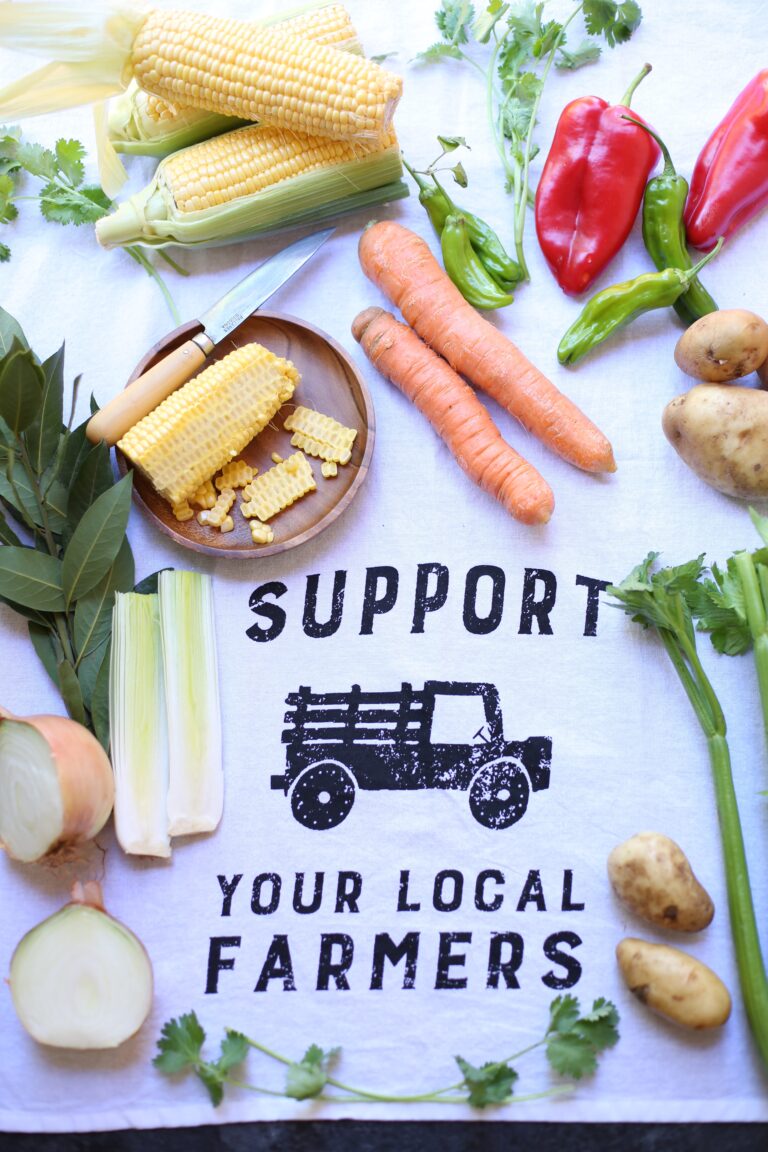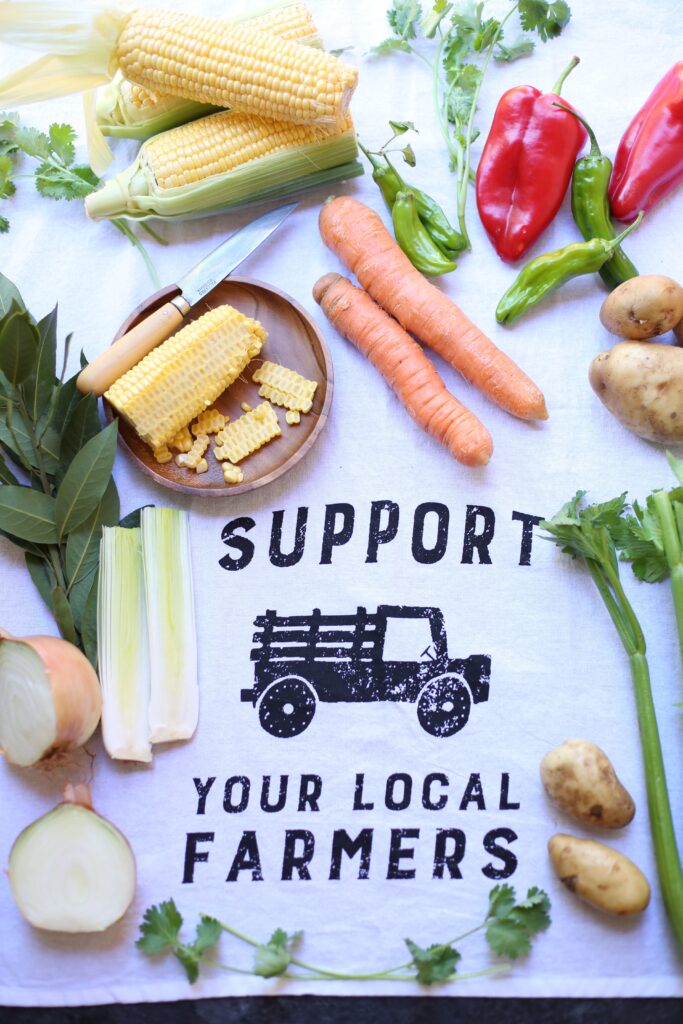 Here's another cozy soup recipe: Creamy Pumpkin Soup
HOVER OVER IMAGE AND PIN THIS RECIPE FOR LATER
Ingredients
3

Tablespoons

butter

1

medium onion

chopped

1

small leek

washed and chopped, white part only

2

stalks celery

washed and trimmed and sliced thin

1/4

cup

chopped fine green pepper

1/4

cup

chopped fine red pepper

1

large carrot

washed, peeled and cut into 1/2 pieces (about 1/2 cup)

3-4

gold

or red potatoes, washed and peeled and cut into 1" chunks. (about 3 cups)

4

cups

low-sodium vegetable broth

4 -5

ears of fresh corn

kernels removed (about 3 cups)

1

rounded tablespoon mellow white paste

1/2

teaspoon

garlic powder

1 1/2

teaspoons

salt

1/2

teaspoon

lemon pepper

1

bay leaf

1

tablespoon

flour

1

teaspoon

water

1

cup

unsweetened refrigerated coconut milk.

Fresh parsley

chopped, for serving (about 1/4 cup)
Instructions
START COOKING THE VEGETABLES

In a large dutch oven or heavy-bottom pot, melt the butter. Add the onion, leek and celery and cook on medium high heat until soft, about 5-6 minutes. Stir the mixture from the bottom so it does not brown too much.

Add the chopped green and red pepper and carrots to this mixture, and continue cooking together for on medium high heat for another 5 minutes or so, stirring regularly so the mixture doesn't brown. (A few brown edges are fine!)

Add the potatoes to the mixture, and combine all ingredients with a spoon.

Add the vegetable broth, the corn, the miso paste, garlic powder, salt, pepper and bay leaf.

Simmer on medium heat, stirring occasionally for 20-25 minutes until potatoes are fork tender.

In a small bowl, combine the flour and water to make a paste and add it to the mixture. Stir together until combined.

Add the coconut milk, and continue to cook on medium heat for about 5 more minutes.

Stir the mixture again, then pull one cup of soup from the pot and place in a blender or food processor. Pulse the cup of soup until completely smooth and return it to the pot.

Combine and continue to cook the soup for about 10 more minutes. With a clean spoon (using it once!) taste the soup and add more salt and pepper to taste.

Remove bay leaf and garnish each bowl with chopped fresh parsley.
SOURCE: Studio Delicious