This recipe for Roasted Nectarines with Caramel Sauce is a big summer favorite. Stone fruits like nectarines are wonderous when roasted, but this caramel sauce?  Not too sweet, and totally amazing.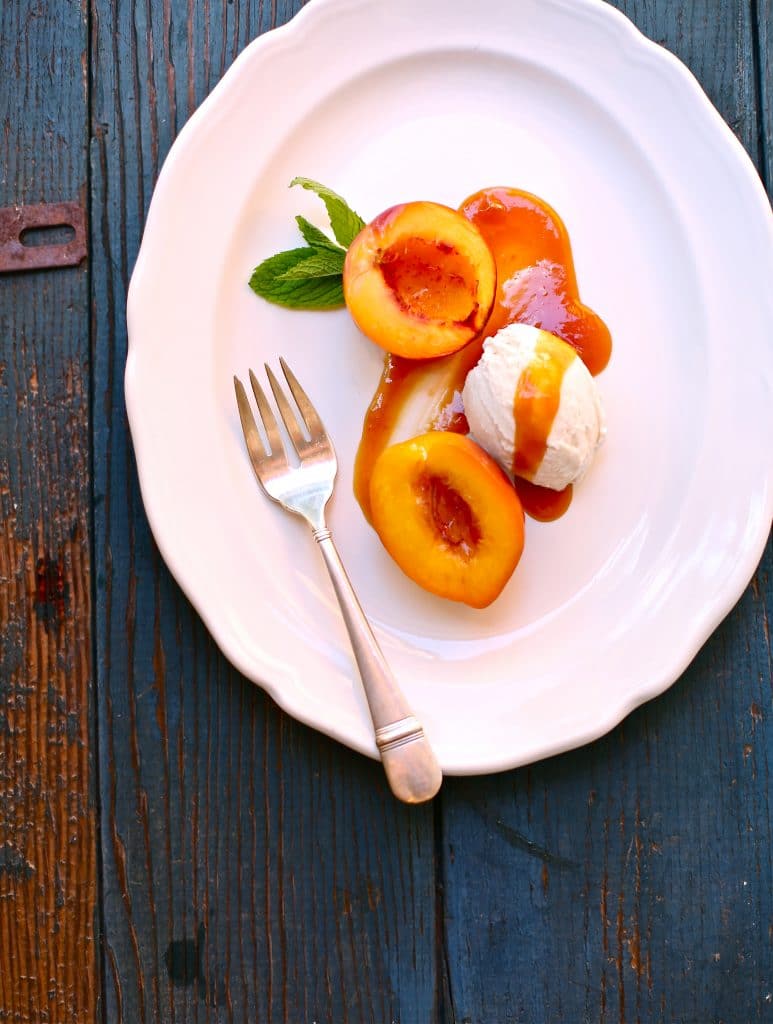 In an attempt to curb my ice cream consumption during this long, hot summer, I have a new trick where I take one hefty spoonful out of the carton at a time while standing in front of the freezer, then squirt a little store-bought caramel sauce right on top.
Most times I do this twice.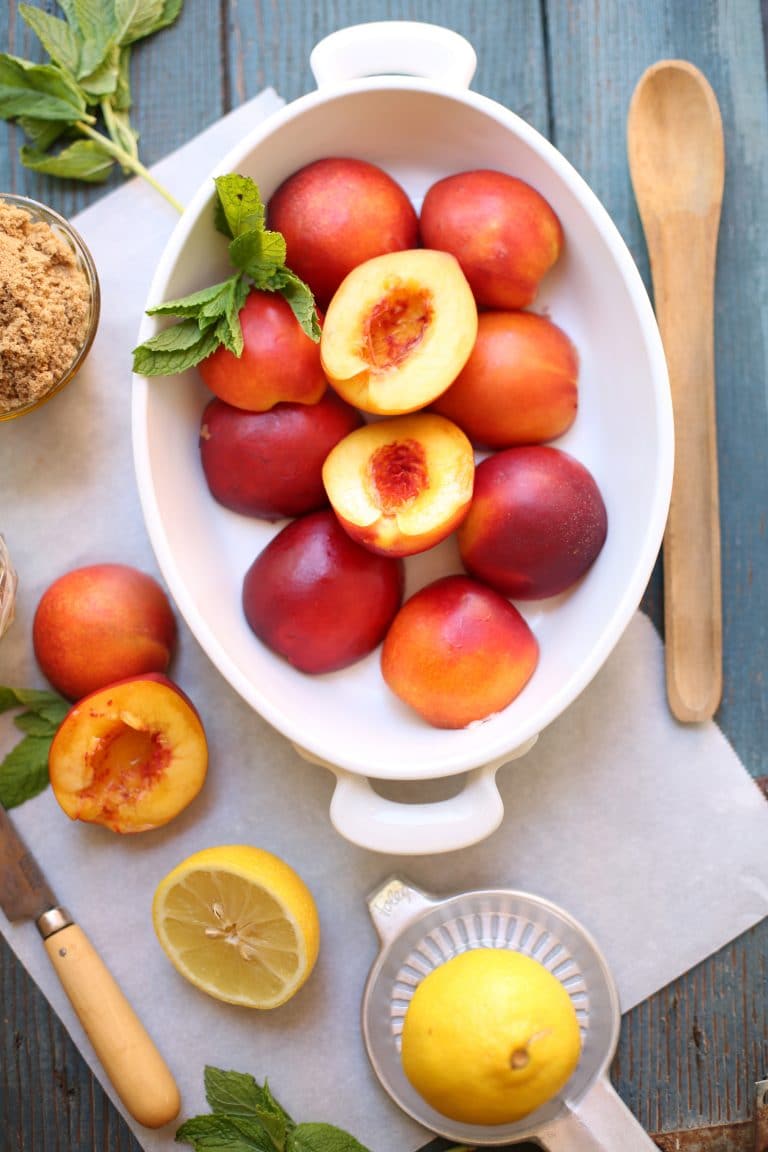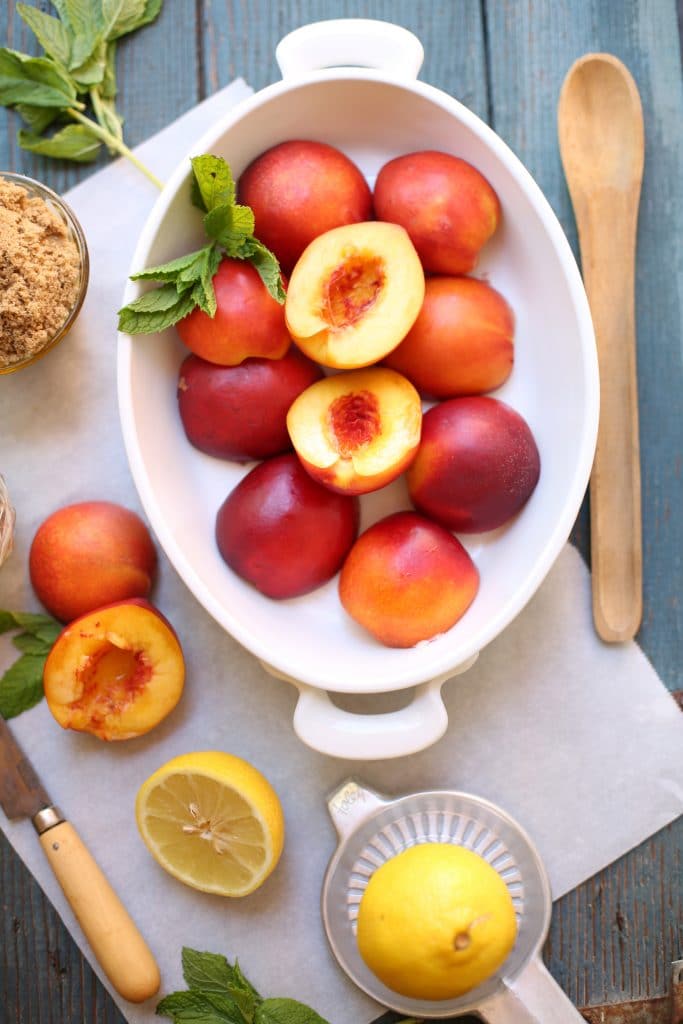 No one knows I'm doing it except the dogs, and they said it's fine 🙂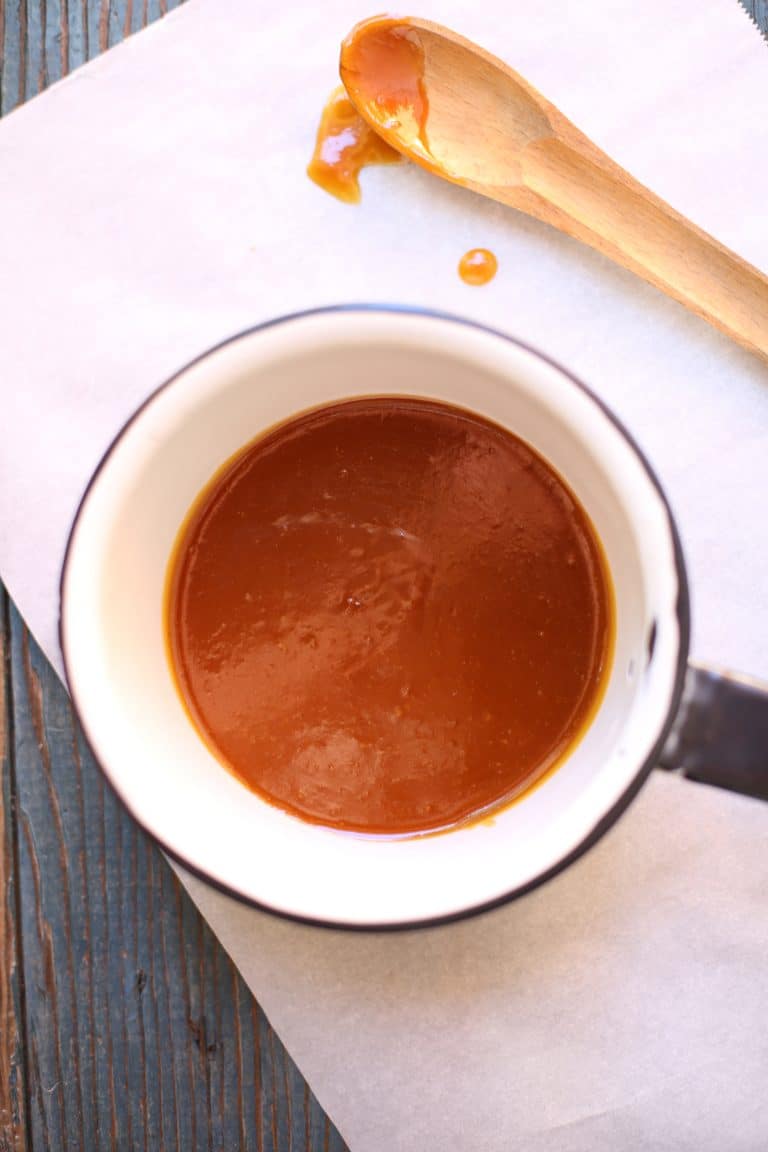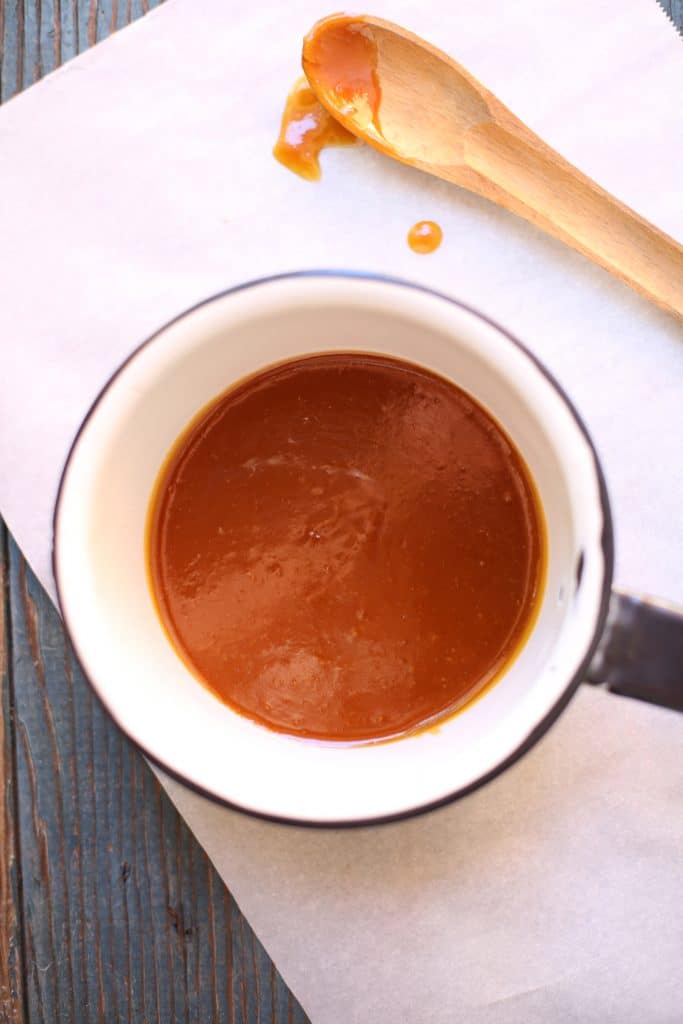 I strongly encourage you to try this important new technique for yourself 🙂
Let's get right to this recipe for Roasted Nectarines with Caramel Sauce, because I can't wait to tell you about it.
I stumbled on it one day in The Gourmet Cookbook, and it's one I would normally have skipped right over.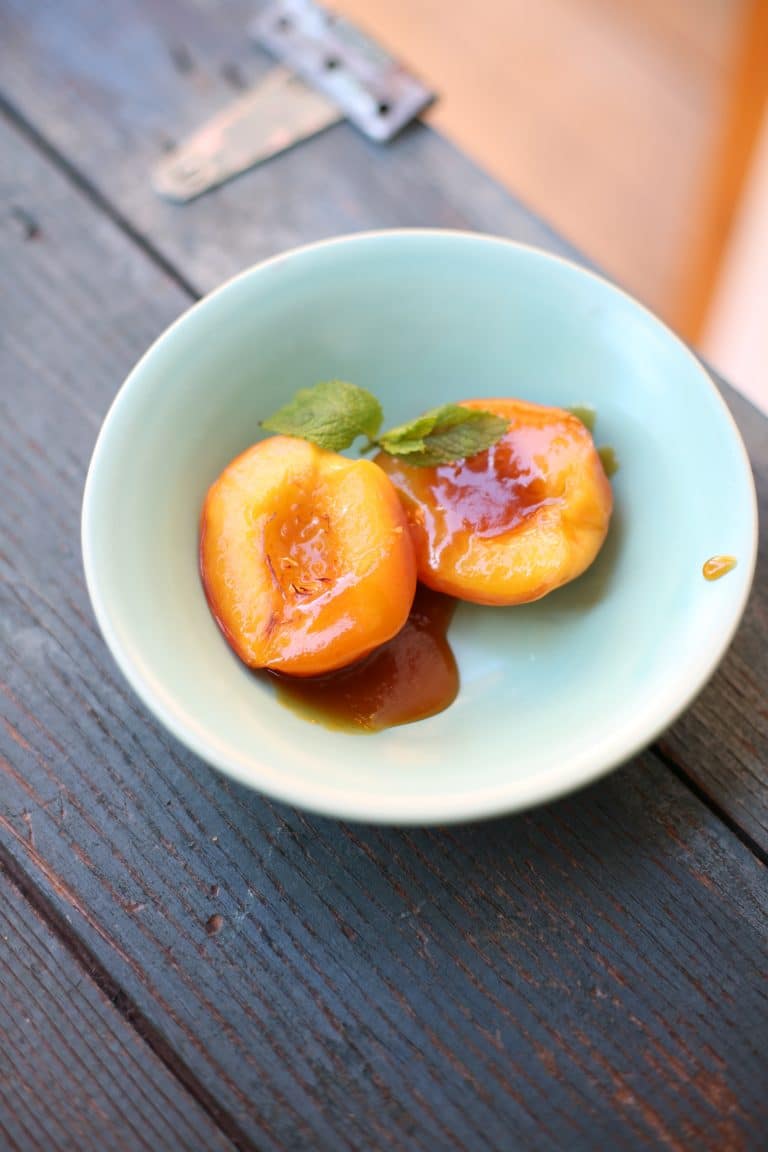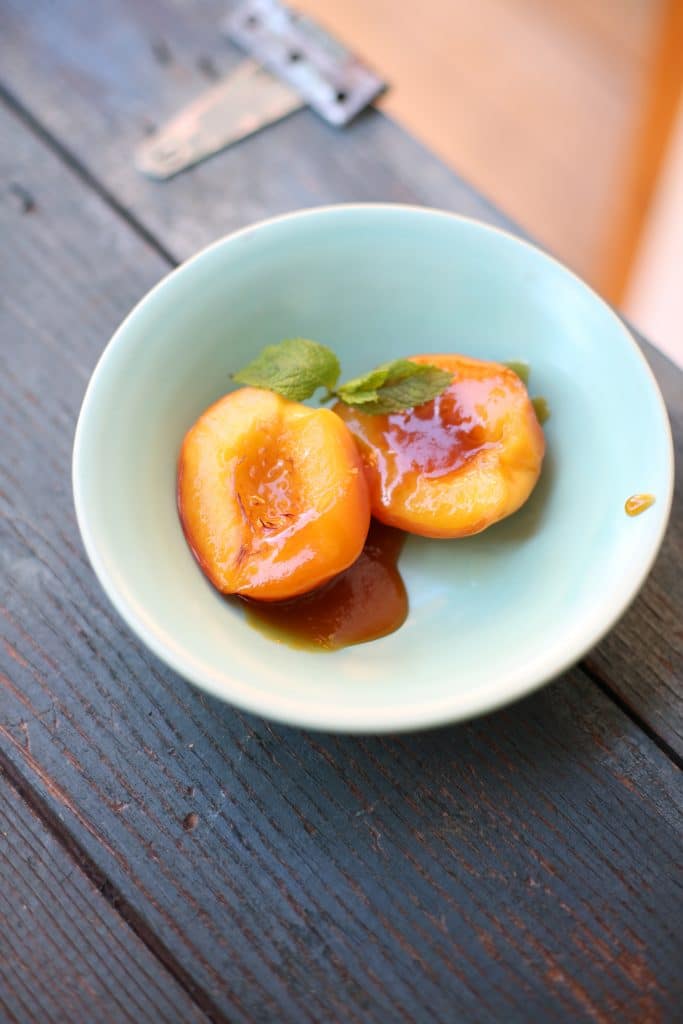 This might not be the first dessert you'd ever pick either, especially with other summery choices like Strawberry Shortcake Cookies or Ice Cream Cake with Peanut Butter Ganache.
What makes this so delicious—and I really mean it this time—is that perfectly ripe, juicy nectarines are incredible when roasted to intensify their flavor.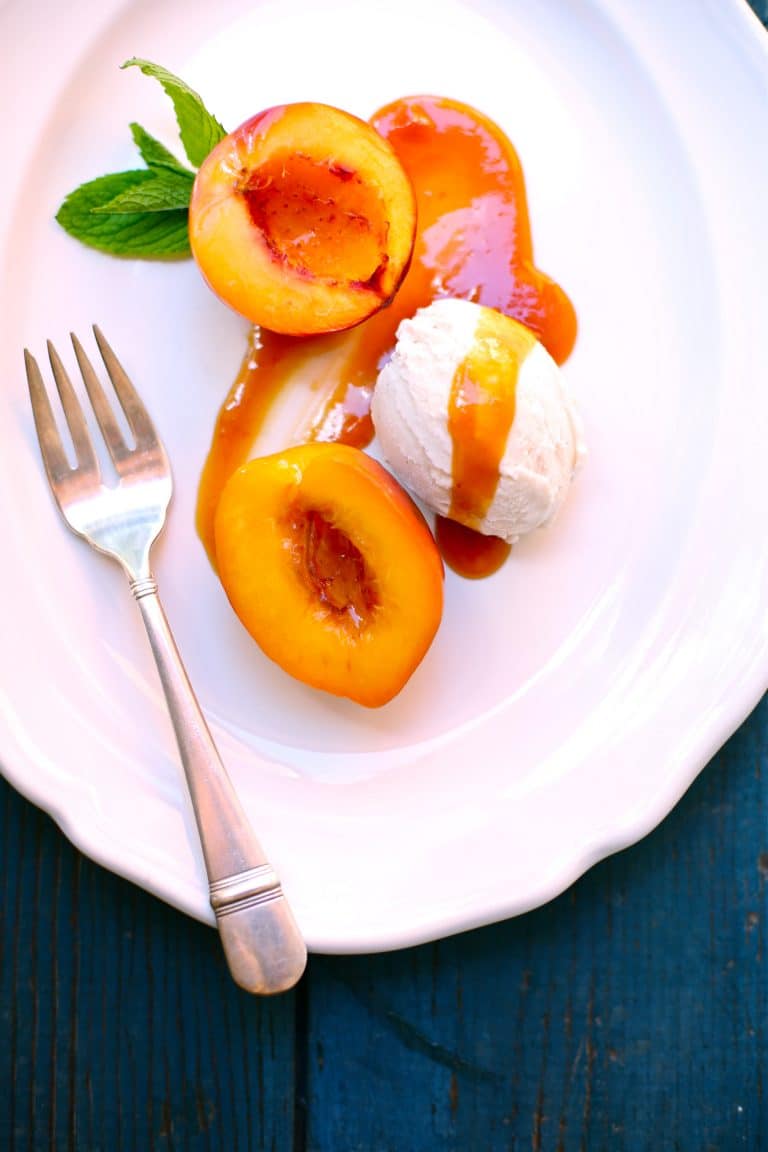 Then they're doused with a generous glug of homemade caramel sauce that's not too sweet,  thanks to pureed nectarine that gets swirled in at the end.
Then the meet-up with vanilla ice cream?
I mean, come on.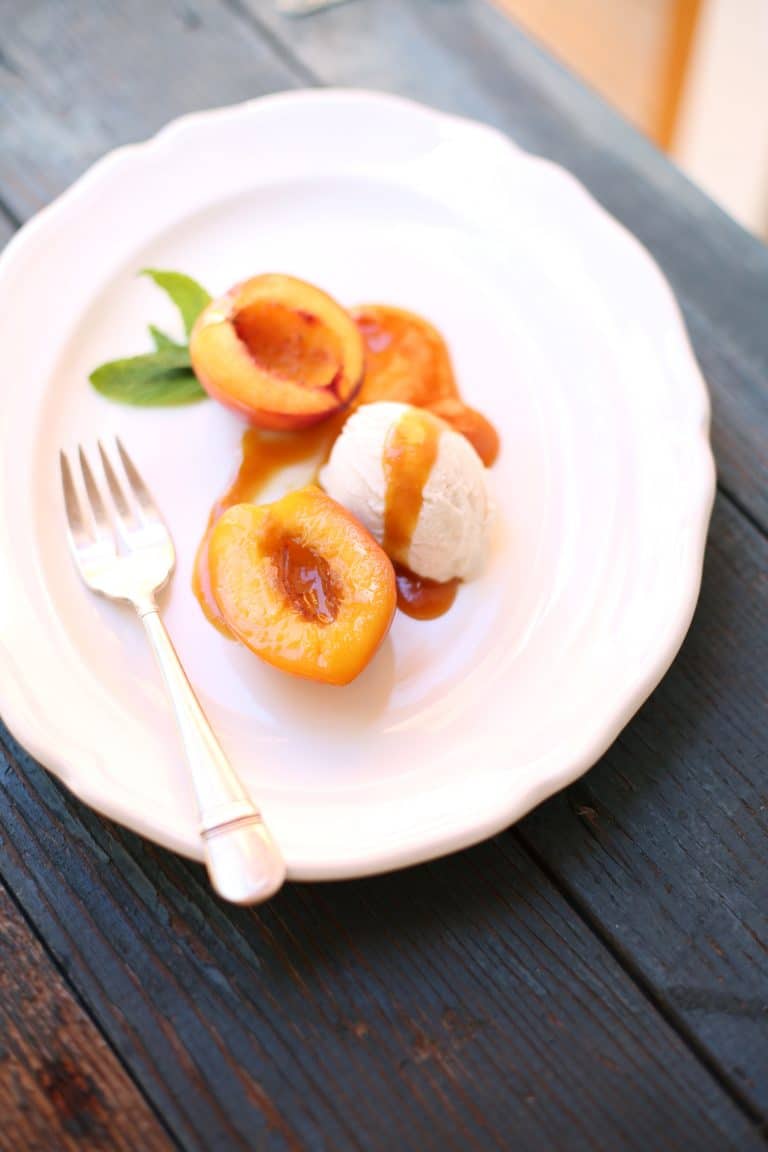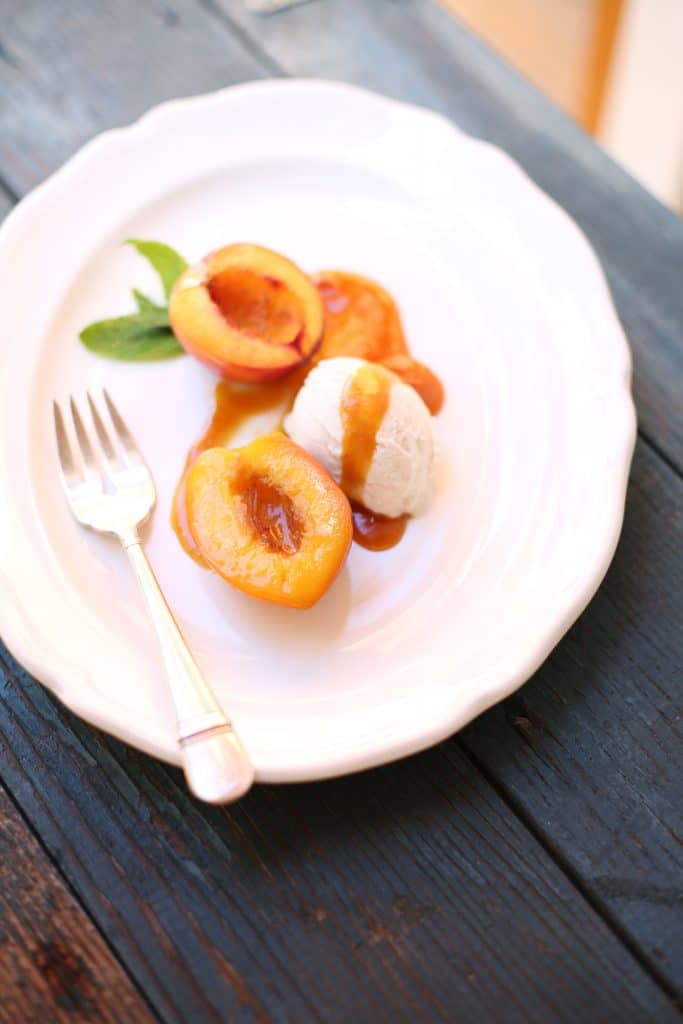 Hey, and don't let the idea of homemade caramel sauce worry you.
Trust me, you've got this.
This is a great dessert for a summer dinner party or barbecue, because it's kind of simple and special all rolled into one.
HOVER OVER PHOTO BELOW TO PIN FOR LATER
Ingredients
For 6 servings

2

pounds

nectarines

7 or 8, cut in half and pitted

Pinch

of sea salt

3/4

cup

white sugar

1/2

cup

heavy cream

1

teaspoon

fresh squeezed lemon juice

Garnish: fresh mint leaves

Vanilla ice cream or whipped cream for serving NOTE: I used So Delicious Creamy Vanilla soymilk dairy-free frozen dessert.
Instructions
Preheat Oven to 375

Place 12 nectarine halves, cut side down, in a buttered glass baking dish just large enough to hold them in one layer.

Place in the middle rack of the oven and roast until soft but still firm, 20 minutes.

Chop the remaining nectarine halves and place in a non-stick skillet, cooking over medium low heat, breaking them up as you stir with a wooden spoon. Continue this until the nectarines are very soft, between 8-10 minutes.

Transfer from the skillet to a blender or food processor and add the salt, puree until completely smooth.

In a medium size heavy coated saucepan, melt the sugar over medium heat, stirring with a wooden spoon until the sugar becomes a golden caramel color, which doesn't take long.

Carefully add the cream, the lemon juice and the nectarine puree, stirring with a wooden spoon. The caramel will harden and steam very quickly, and will be quite lumpy.

Do not panic, it will be okay.

Keep the heat on medium low and continue to stir until all the big lumps smooth out and melt (they will)...about 2-3 minutes. Be careful to keep your heat moderately low, you don't want burnt caramel! Remove and cover to keep warm.

To serve, place a little caramel sauce in each bowl or plate, top with two roasted nectarine halves, a scoop of ice cream, and top with more caramel sauce. About 2 tablespoons of sauce per serving. Garnish with mint springs.
Source: Studio Delicious, adapted from The Gourmet Cookbook