Make these Goat Cheese Toasts with Cranberry Compote any time you need a simple appetizer idea.  The cranberry compote is a great side dish on its own with roasted pork loin or sauteed chicken…or fabulous on a toasted cheese sandwich!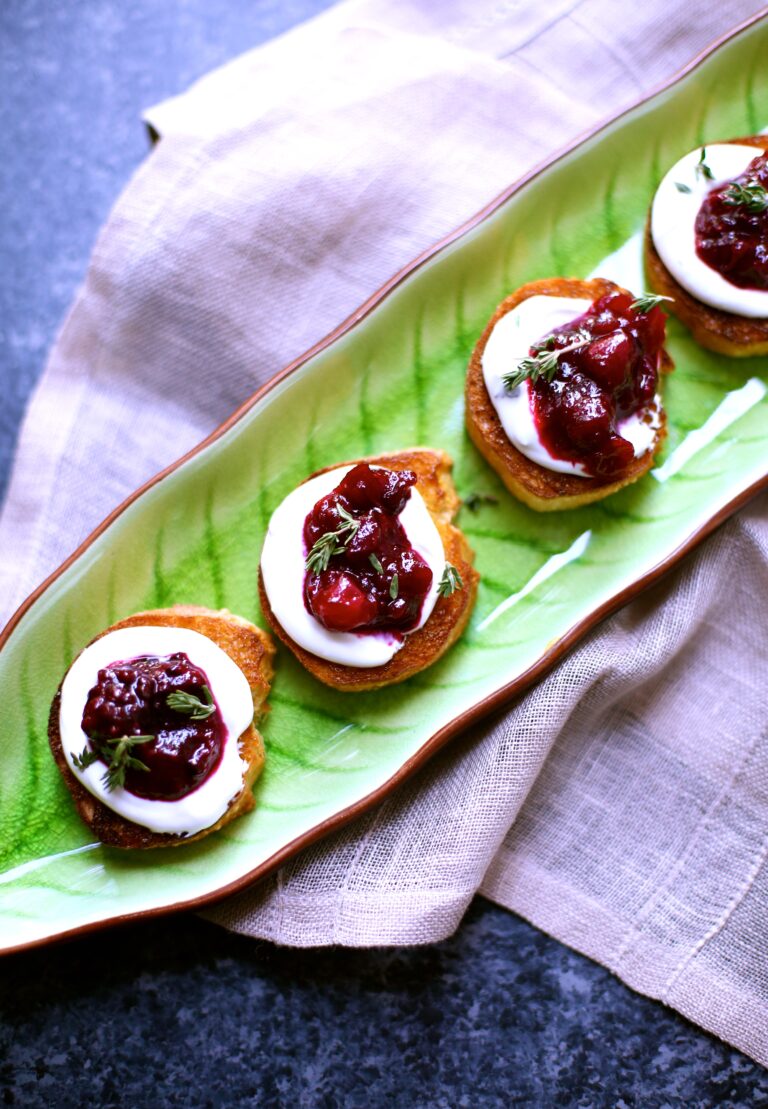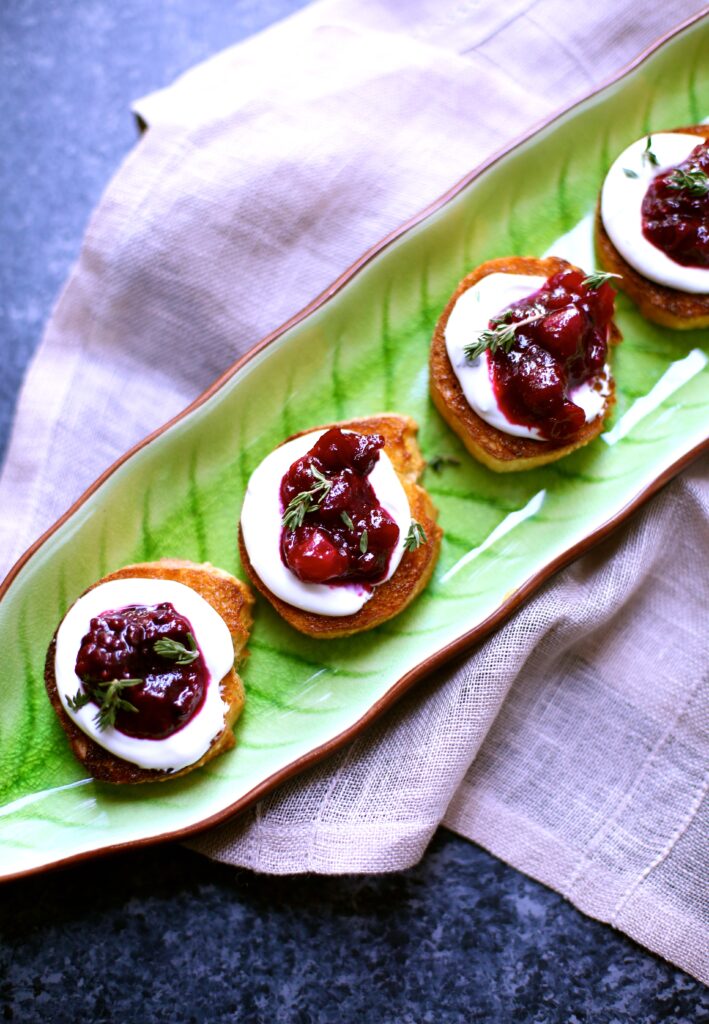 The holidays are in full-swing so it's time to bust out the appetizers.
Maybe you've got a few friends dropping in later, or you've got a potluck at the neighbor's house?
Goat Cheese Toasts with Cranberry Compote are a delicious solution, friends.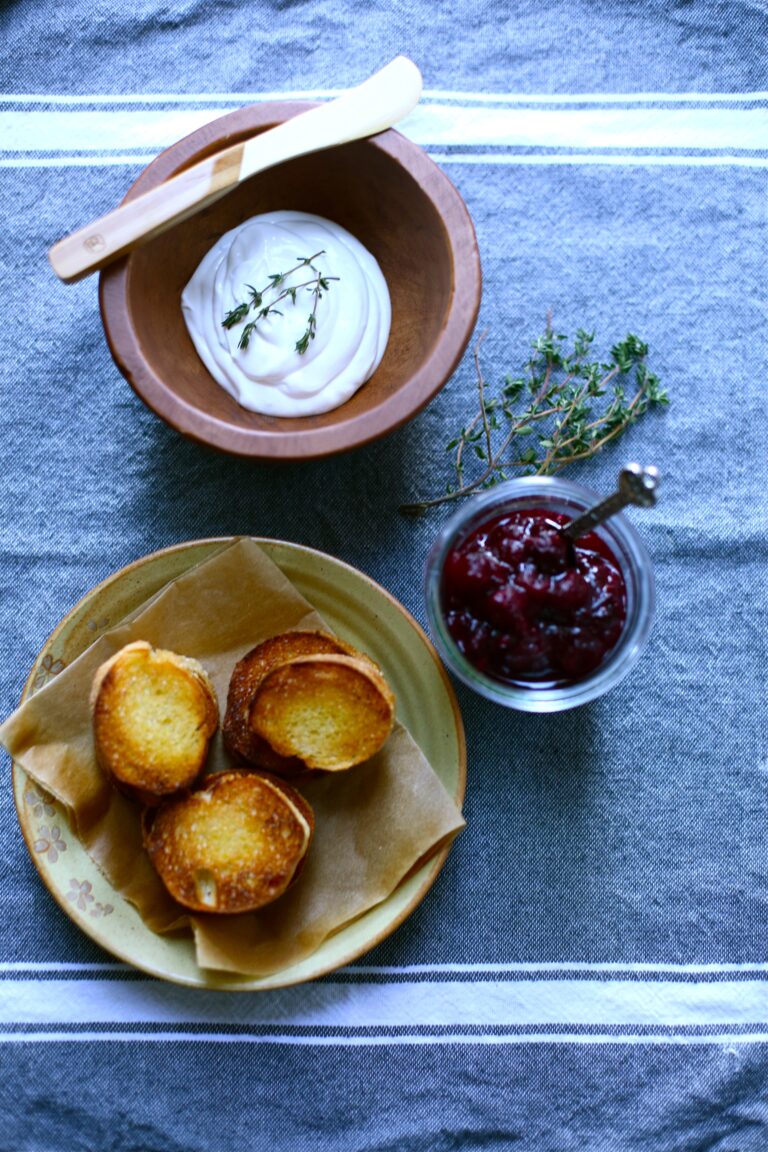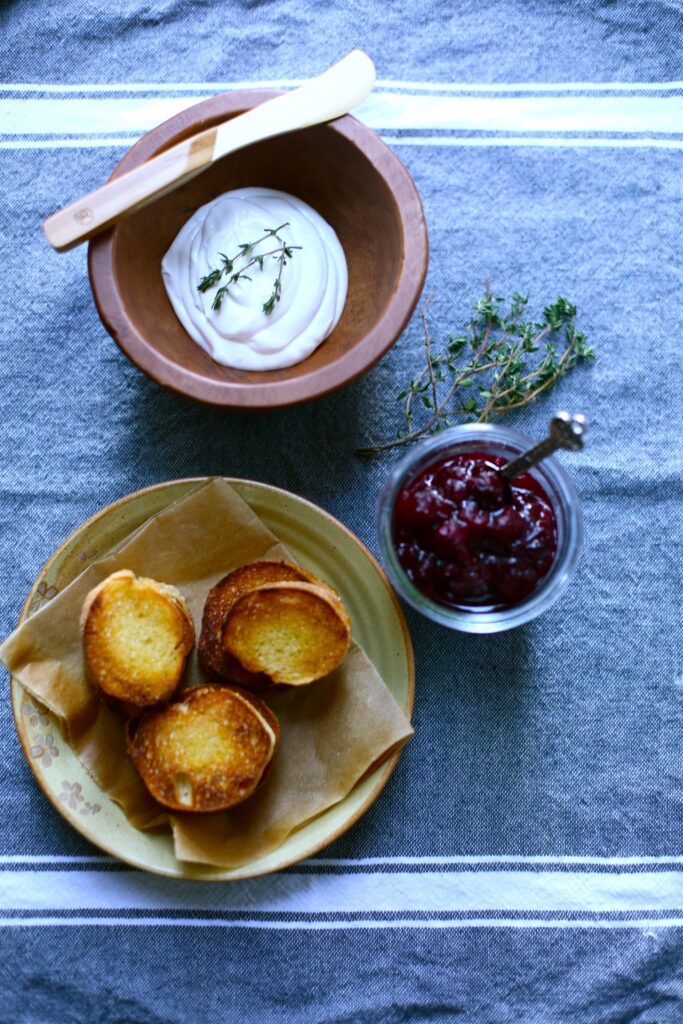 Right about now I've eaten waaaay more chocolate than a person should.
I can't conjure an excuse for this terrible behavior other than "it's the holidays."
So bring me another butterscotch square, and make it snappy.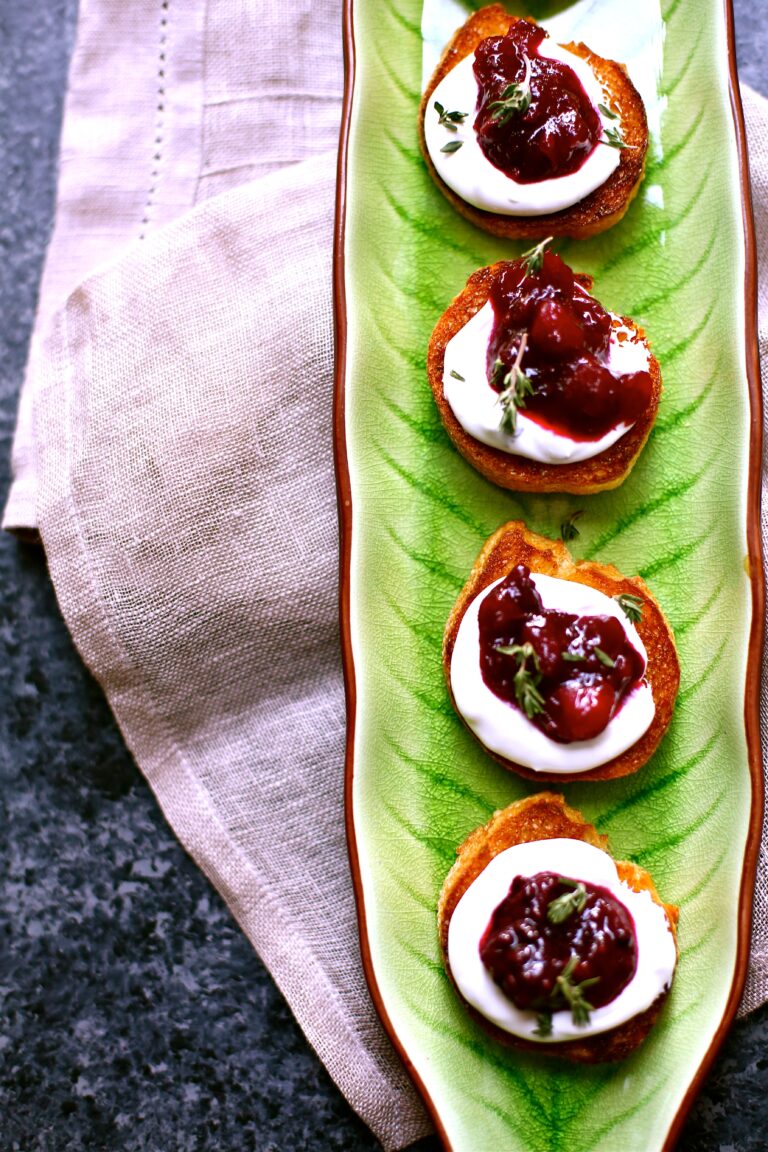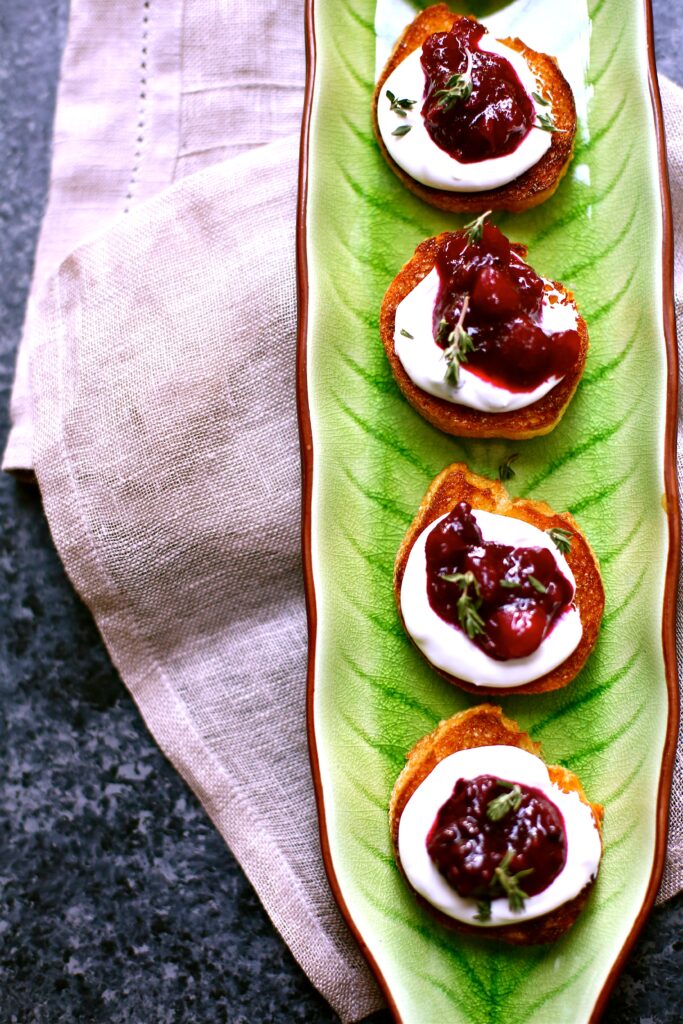 I can feel January creeping in, can't you?
And we all know what that means.
Celery sticks and no dessert for the foreseeable future.
There's an inevitable post-holiday letdown, and the dark gray skies don't help.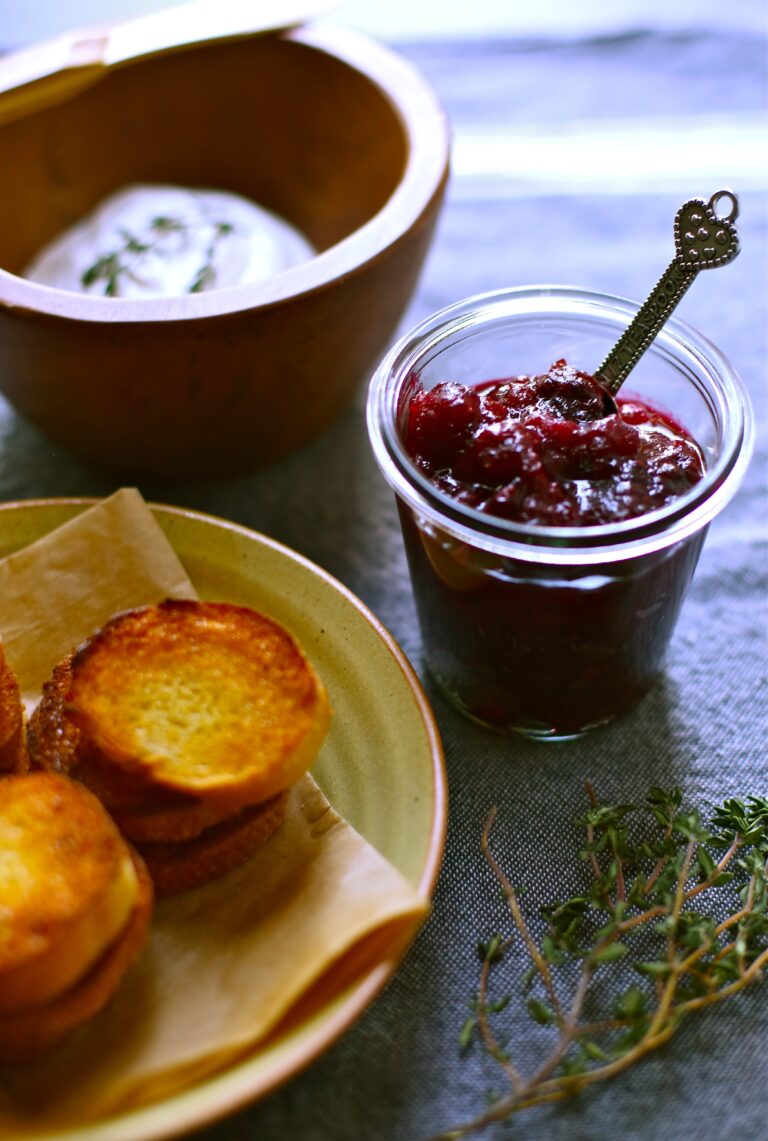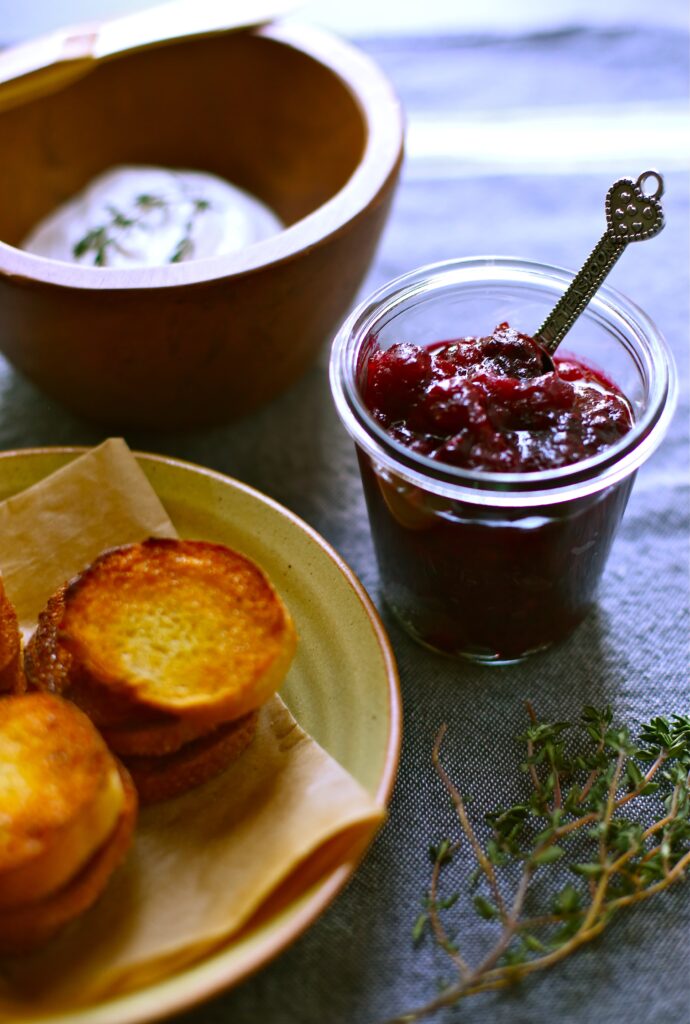 WHY MAKE GOAT CHEESE TOASTS WITH CRANBERRY COMPOTE?
Because they are pretty and tasty and I think you'll like them 🙂
The prep is not fussy at ALL. Not even close.
You can make lots of toasts or a few, and this flexibility is super handy.
They look great on almost any kind of serving platter because presentation is everything, agreed?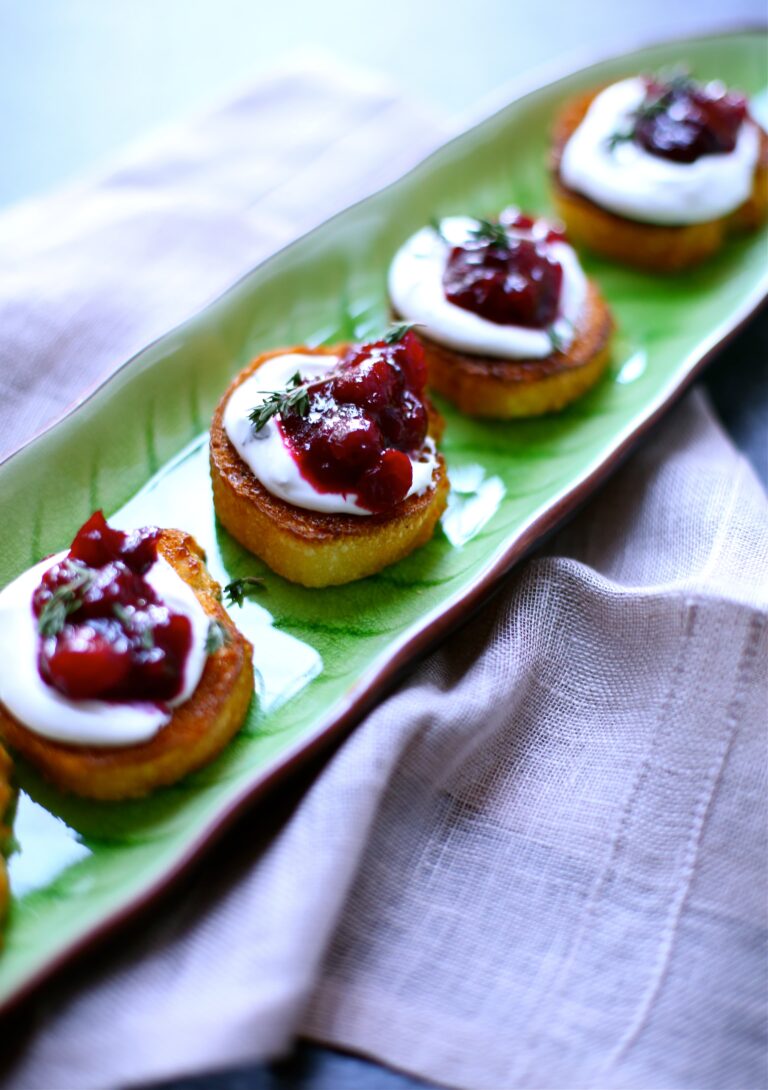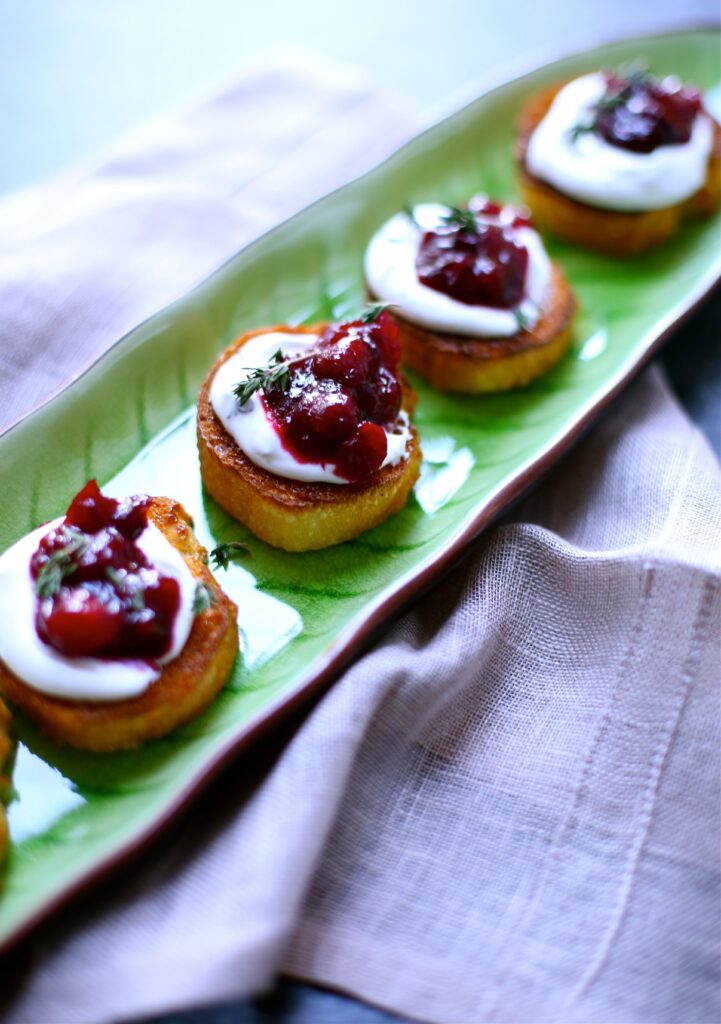 I've said it before, but please go grab a few extra bags of fresh cranberries and put them in your freezer now, now, now!
Because the cranberry compote alone is amazing on a sandwich with carved turkey and bakery-style bread (and mayo and butter lettuce, thank you very much).
It's also delightful on your morning oatmeal, especially if it's snowing.
MAKE GOAT CHEESE TOASTS WITH CRANBERRY COMPOTE IN THREE EASY STEPS
Cranberry Compote: Nothing more than a little water, sugar and cranberries cooked into jammy deliciousness.
Whip the Goat Cheese: Fresh lemon zest, a little honey and fresh herbs make this next-level.
Toast the baguette: Slicing, drizzling and toasting is all that's going on here.
Then just assemble the toasts, serve with a glass of something cold and enjoy 🙂
PIN THE RECIPE AND MAKE IT LATER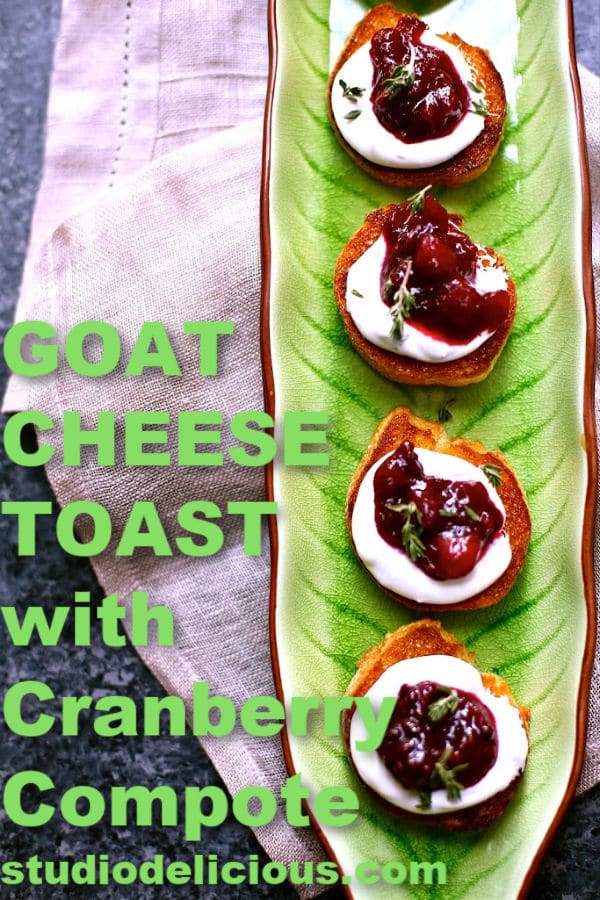 Another Appetizer to Try: Deviled Eggs with Candied Bacon and Fresh Dill
Ingredients
FOR THE CRANBERRIES

2

cups

fresh organic cranberries

1/2

cup

water

1/2

cup

dark brown sugar

lightly packed

1/3

cup

blackberries or blueberries

1 1/2

teaspoons

vanilla extract

2

tablespoons

raspberry vinegar

Pinch

of salt

1/8 teaspoon

FOR THE GOAT CHEESE

8

oz

1 cup goat cheese

1

teaspoon

freshly grated lemon zest

2

teaspoons

honey

1

teaspoon

fresh thyme

more for garnish

pinch

of salt

Sliced and toasted baguette.
Instructions
MAKE THE CRANBERRY COMPOTE

Place the cranberries in a medium nonstick saucepan with the water and sugar on medium heat. Bring to a light bowl stirring occasionally to dissolve the sugar.

Bring to a boil, stirring occasionally while the cranberries pop and sizzle, about 5 minutes.

Add the blackberries and raspberry vinegar and continue cooking with occasional stirring for 5-8 more minutes, until the liquid is mostly absorbed but still syrupy off the spoon.

Remove from heat and stir in the vanilla and pinch of salt, set aside to cool.

MAKE THE WHIPPED GOAT CHEESE

In a food processor or medium bowl using a handheld blender, place the goat cheese, lemon zest, honey, thyme and salt and pulse a couple of times to just combine. Slowly drizzle in the heavy cream, starting with one tablespoon and adding tiny amounts as needed. You are wanting the mixture to be light and fluffy and not too soft, so just put in enough cream to help whip the mixture lightly.

MAKE THE BAGUETTES

Buy a skinny baguette and slice it in 1/2 inch slices with a serrated knife. Drizzle some olive oil on top, place them on a baking sheet and and broil until the toasts are golden, about 2-3 minutes depending on your oven.

TO ASSEMBLE

Spoon a generous teaspoon of the cheese mixture on each toast, and top with a teaspoon or so of the cranberry compote. Adjust the amounts depending on the size of your toast. Garnish with a little chopped thyme.
SOURCE: Studio Delicious