Looking for an appetizer that's quick, easy and tastes amazing? Goat Cheese Toasts with Cranberry Compote have a tangy cheese base topped with a quick cranberry sauce to make the perfect bite!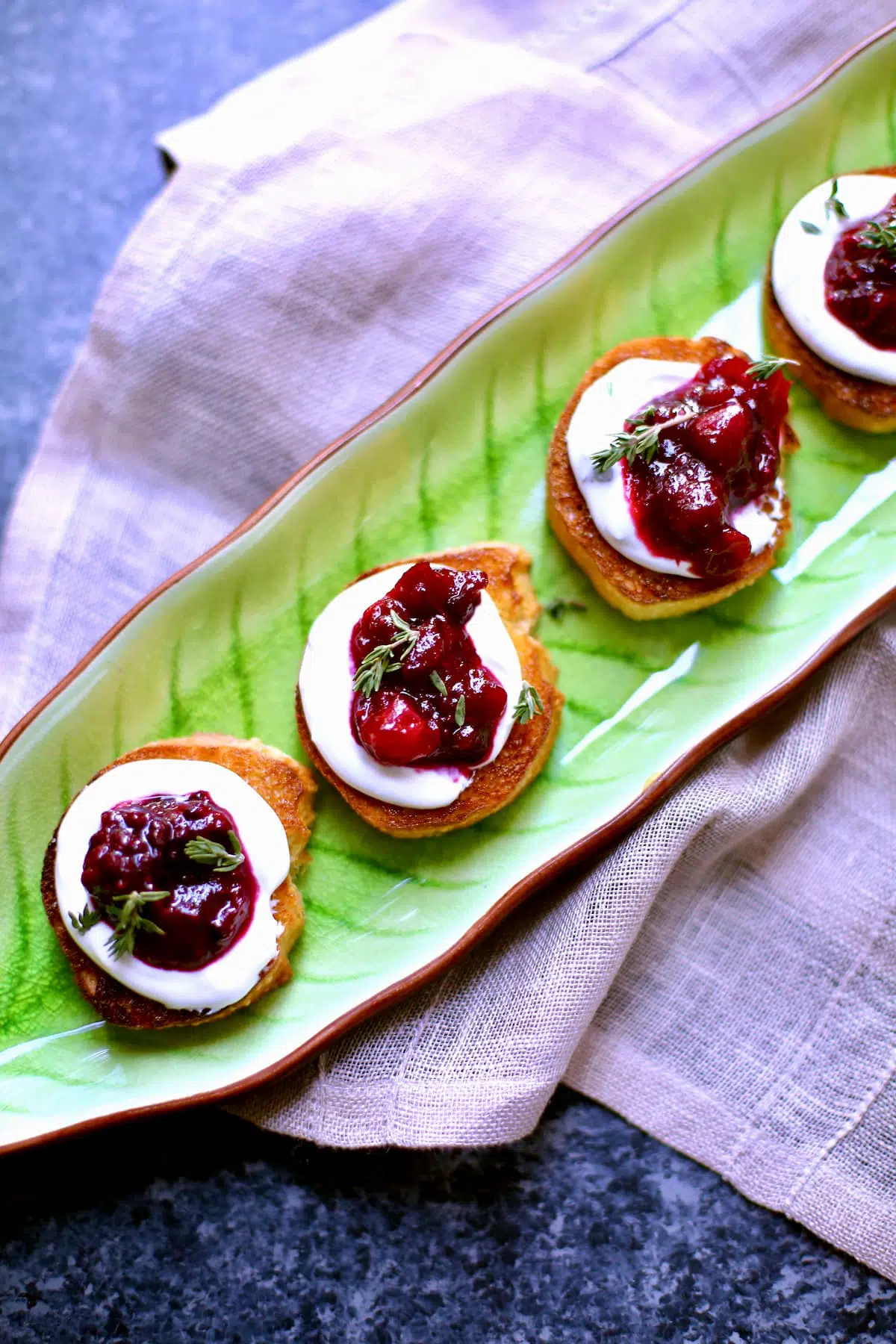 Jump to:
Why You'll Love This Recipe
I don't know about you, but I'm always on the lookout snack and appetizer ideas that look great on a serving platter, taste amazing and are super easy to put together.
These little cheesy toasts are a perfectly delicious solution for game night, or any size gathering with family or friends. Or just a few for yourself with a cold glass of something 🙂
Here's what I love about it:
This recipe is easy to prepare in your kitchen…it's totally no fuss but still looks fancy.
The quantity is super flexible, make a little or a lot!
Almost any serving platter will work for this appetizer, I've served this on small and large sized platters
Other easy appetizer ideas you could serve too are Party Olives and Crispy Cauliflower Bites(so delicious) and to round out the menu, you definitely want my Lemon Artichoke Dip (which I could eat the whole dish of by myself thank you very much).
This appetizer is wonderful with these Sweet and Spicy Almonds too!
Ingredients You'll Need
There's a full list of ingredients and instructions in the recipe card below, but here's a few notes on the main ingredients you'll need:
Goat Cheese: Tangy and creamy and with the flavor amped-up as the base

Thyme, Lemon, Honey, Cream: These simple flavors turn the goat cheese into a spreadable and fragrant mixture.

A Fresh Baguette: Get a long, skinny one! It'll be sliced, drizzled with olive oil and toasted under the broiler before it's all said and done, the perfect crunchy bite for the soft cheese and the bright compote.
Tips For Cooking Cranberries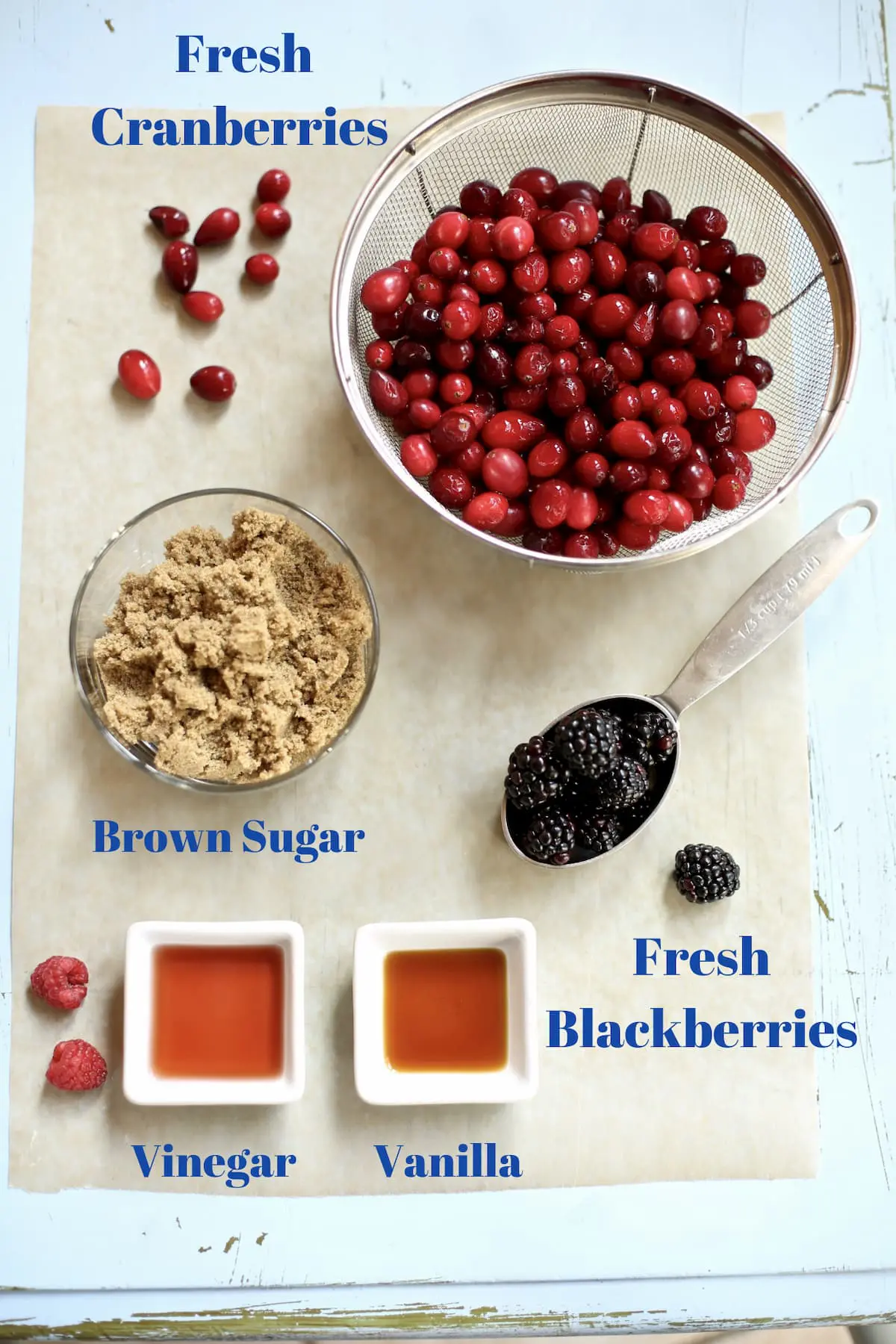 Fresh Cranberries: The kind in the bag in the produce section, and I always buy extra for the freezer because I make the sauce part of this recipe year-round for things like my Turkey Burger with Pepperjack and Cranberry.
Flavorings: Never heard of putting vanilla extract in your cranberry sauce? Life-changing!! Same with a little acidity such as raspberry or balsamic vinegar. Brown Sugar is another difference here, and it gives the sauce a deep deliciousness.
Blackberries or Blueberries: This is an unusual ingredient to pair with cranberries, but trust me – it makes the taste really special and pop with a juicy, berry flavor.
Step-By-Step Instructions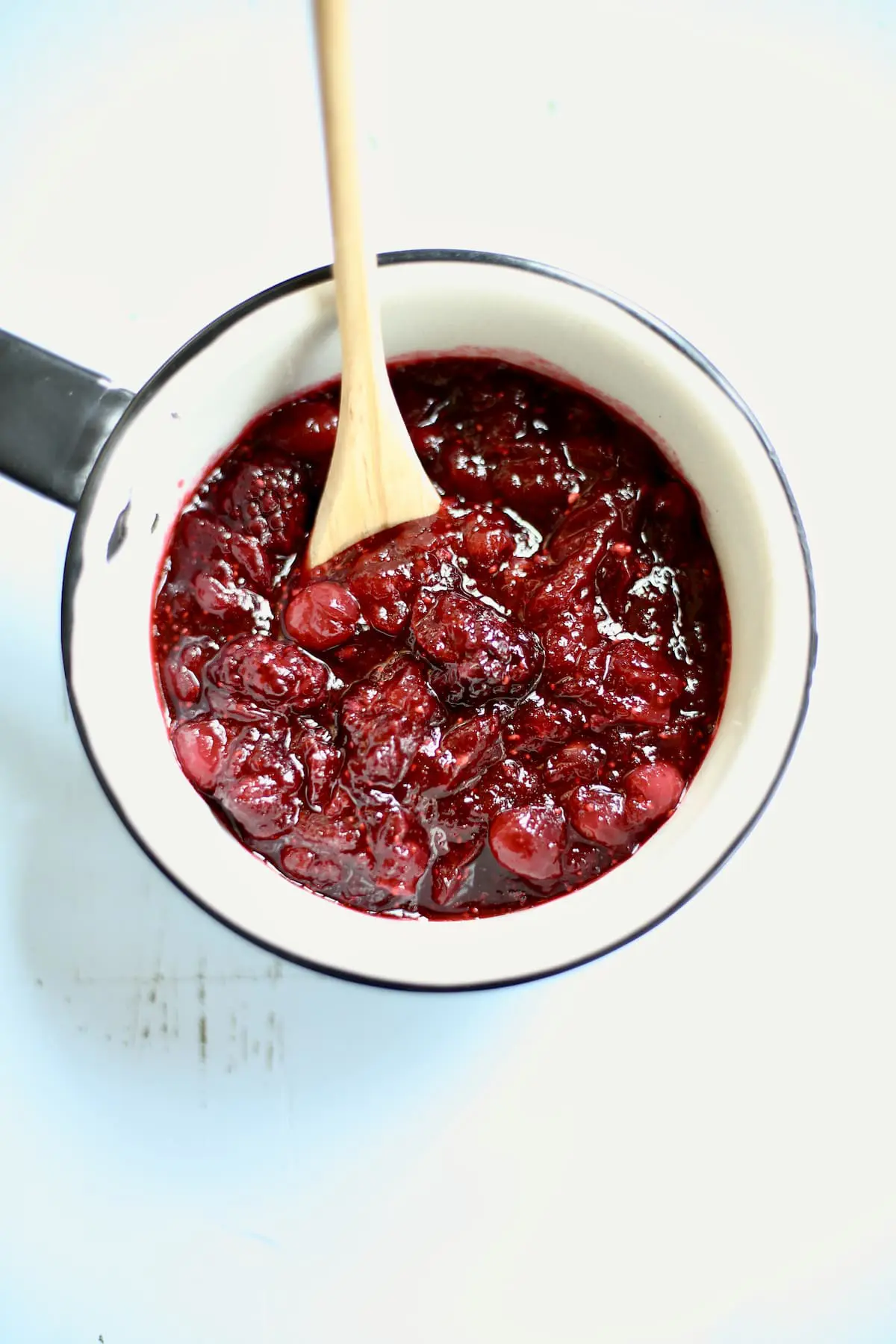 There are four basic steps to making these toasts (sometimes called "cheese crostini") and the prep can be done in 30 minutes.
Start with the cranberry mixture, as it needs to be completely chilled before using, so be sure to plan ahead. The steps are:
Combine: Water and brown sugar to dissolve.
Add: The whole cranberries and cook to a jammy consistency
Stir: Remove the mixture from the heat and stir in vanilla
Tips For Making the Cheese Mixture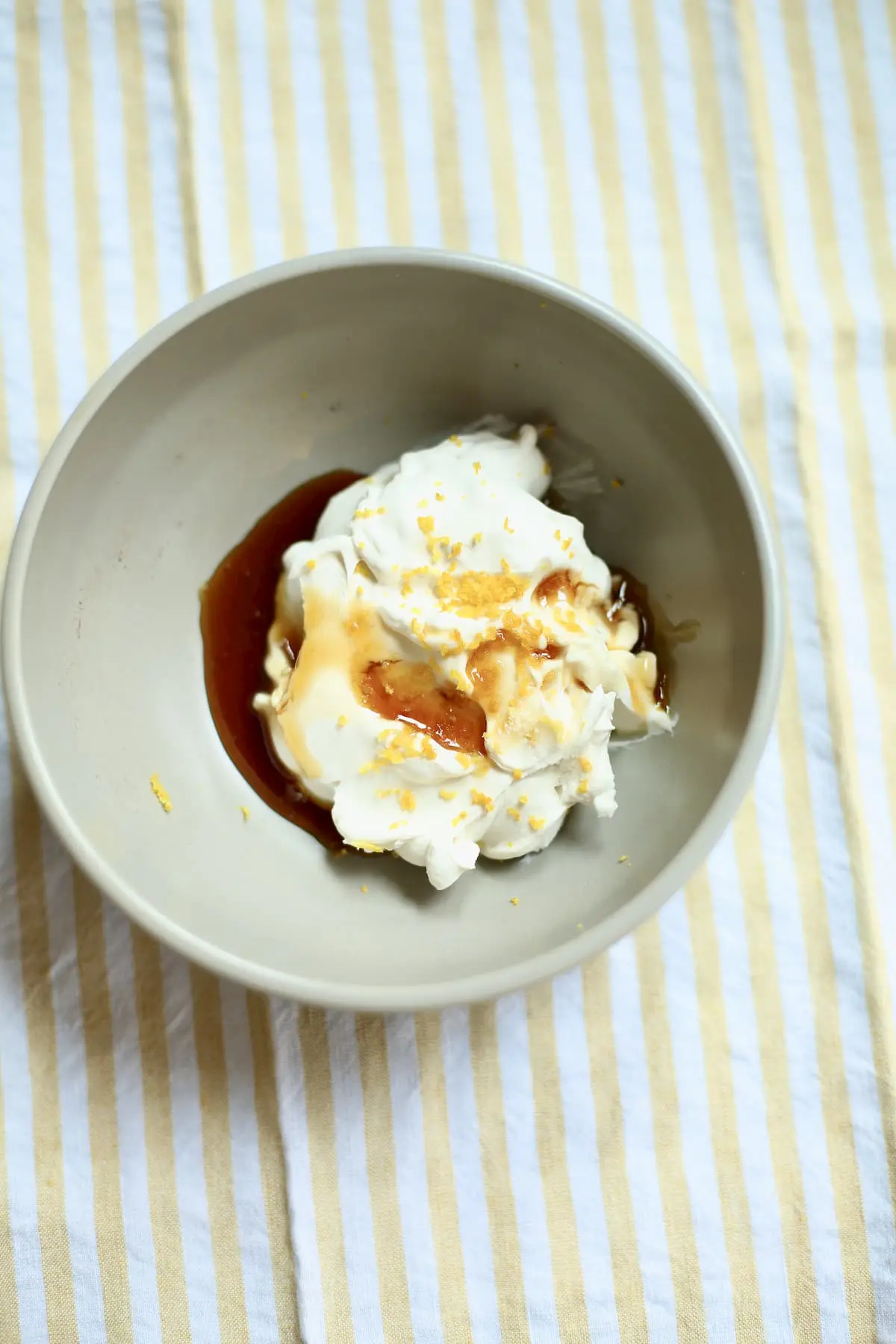 To make the whipped goat cheese, use a:
Food processor with blade
Hand-held electric mixer OR
Wooden spoon
We're just looking to soften the cheese up and make it really spreadable. Add some fresh lemon zest, honey and thyme and you've got spreadable deliciousness, ready to be spread on the toasts!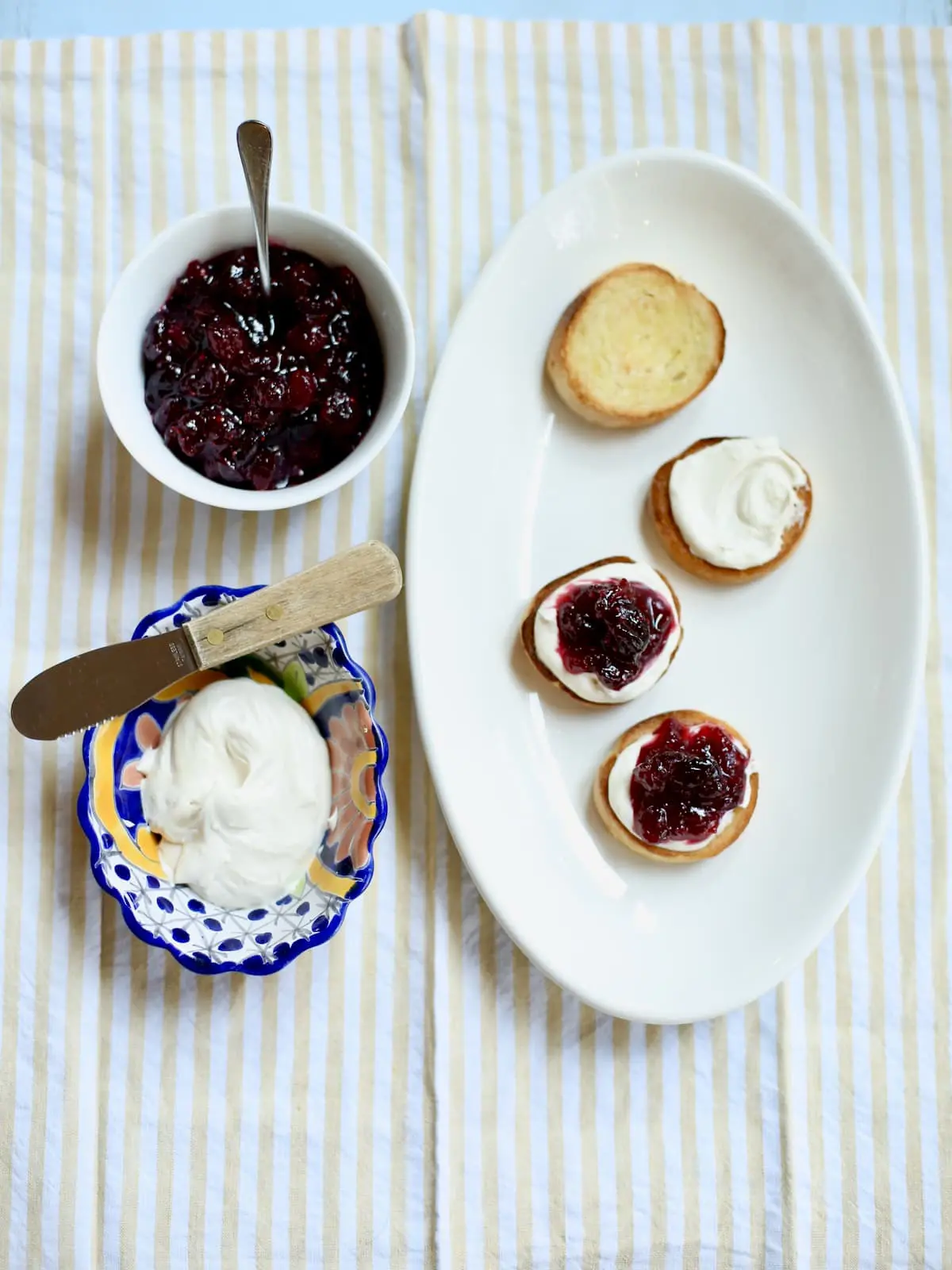 Spread some of the goat cheese mixture on bread that's been toasted under a broiler with a little olive oil, then top with the completely cooled cranberries and they're ready to put on a platter and serve!
Expert Tips and Possible Substitutions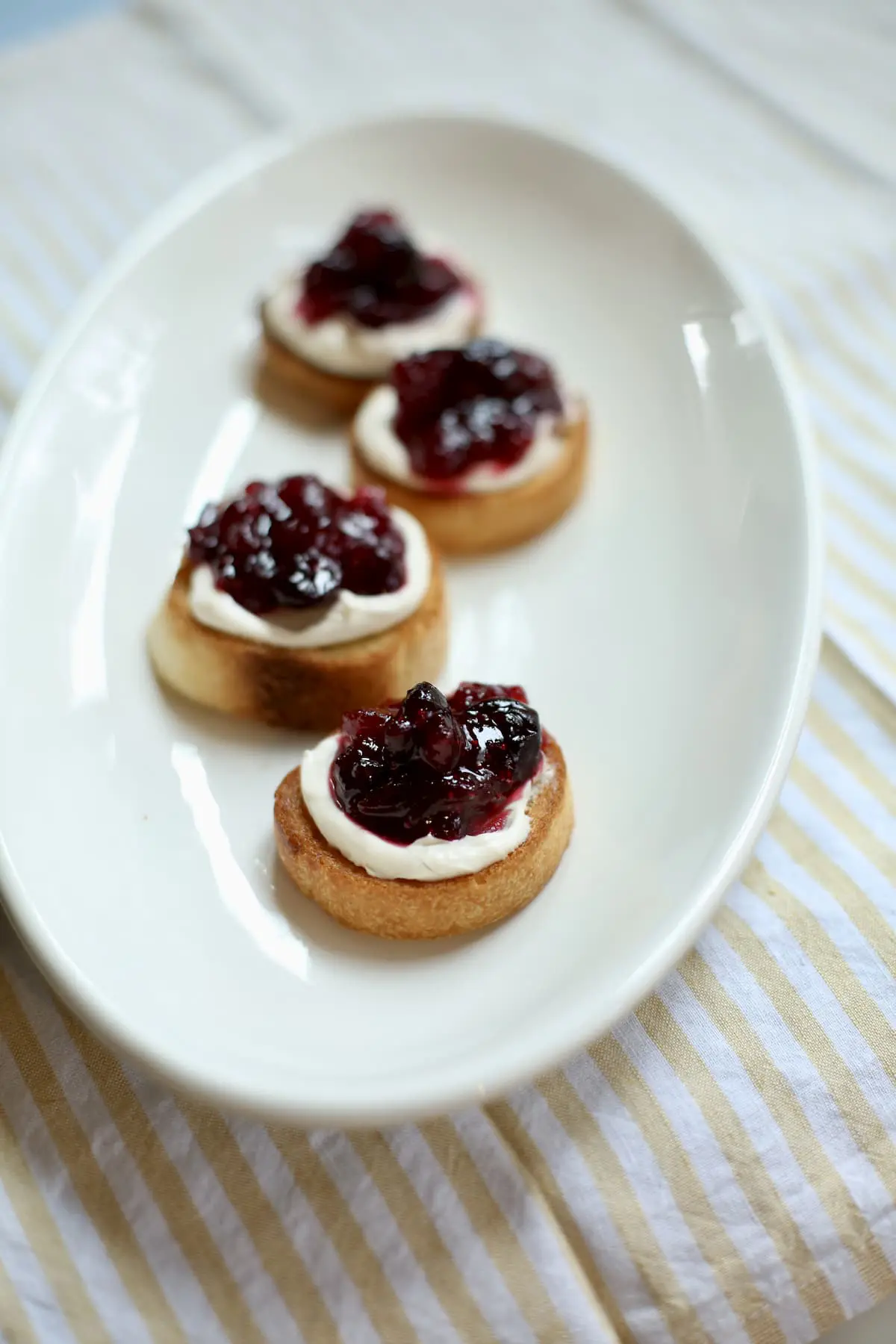 Do yourself a favor and buy an extra bag or two of fresh cranberries when you see them at the grocery store and keep them in the freezer. They'll keep well for at least six months.
Cranberry compote is great on its own, but its amazing on a grilled cheese sandwich or your morning oatmeal too.
Have absolutely no time? Use a canned whole berry cranberry sauce like this (not sponsored.)
Regular cream cheese will work fine instead of goat cheese, it's less tangy, but the texture is still creamy and spreadable.
Serving Ideas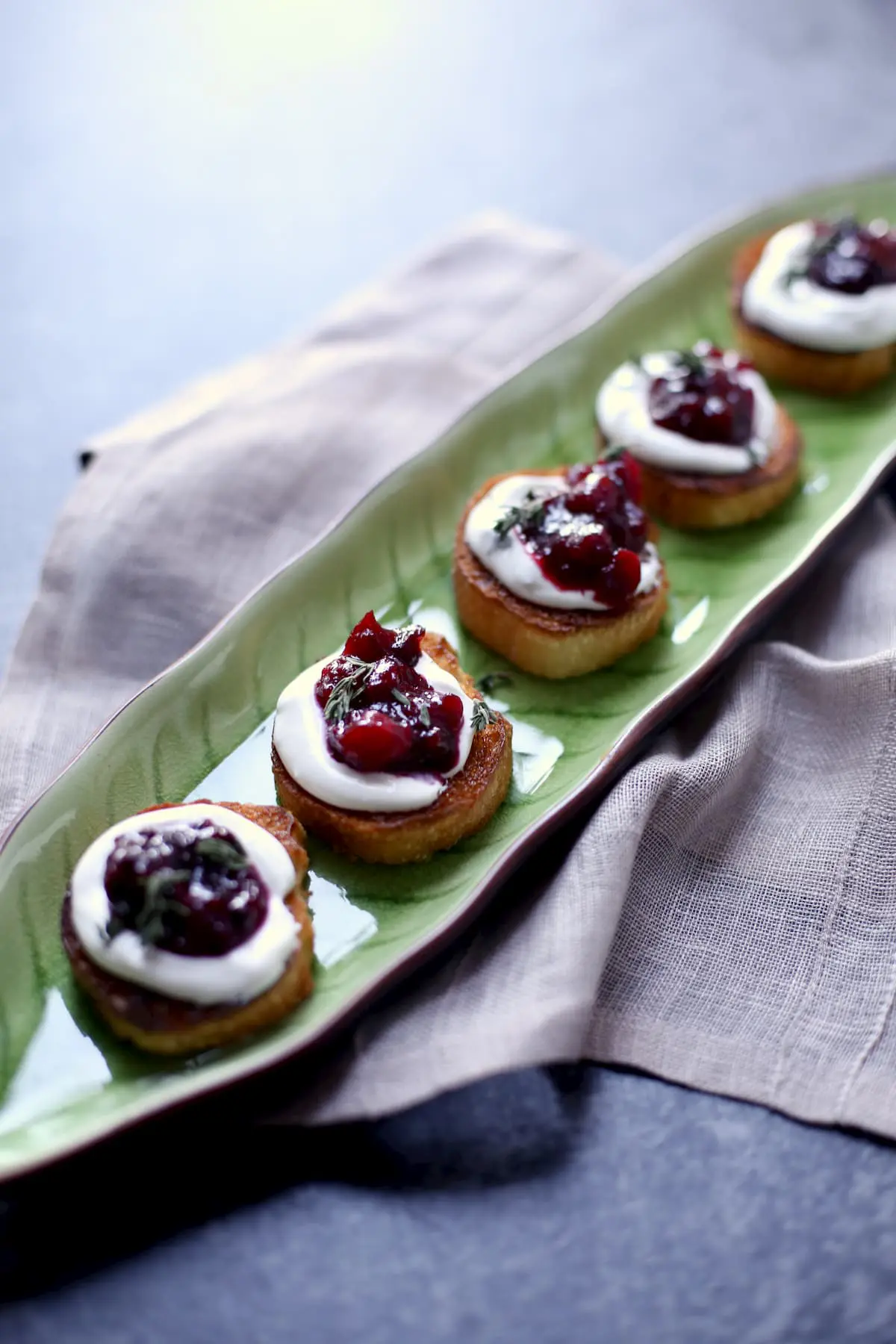 Frequently Asked Questions
Can I use non-dairy cream and cheese instead?
Yes! Use a non-dairy cream cheese and also creamer…easy to find both in well-stocked grocery stores.
What if I can't find Raspberry Vinegar or don't want to buy it?
No problem…just use a little balsamic vinegar instead.
How long will the cranberry sauce last and how to store it?
It'll be fine for 2-3 days refrigerated in an airtight container!
More Recipes To Try:
If you've tried this Goat Cheese Toasts with Cranberry Compote, or any other recipe on Studio Delicious, please rate the recipe and & I'd love to hear from you in the comments below!
Please be sure to follow me on Facebook, Instagram and Twitter, and if you've made Goat Cheese Toasts with Cranberry Compote, or any recipe on Studio Delicious, please rate it and send me a comment below…I'd love to hear from you!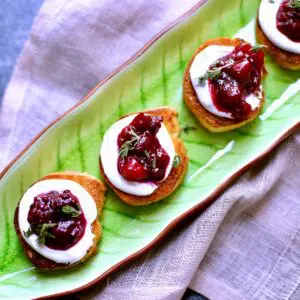 Goat Cheese Toasts With Cranberry Compote
Goat Cheese Toasts with Cranberry Compote are a tasty go-to appetizer for winter holidays or gatherings.
Print
Pin
Rate
Ingredients
FOR THE CRANBERRIES

2

cups

Cranberries, fresh, uncooked

1/2

cup

Water

1/2

cup

Brown sugar, dark

lightly packed

1/3

cup

Blackberries or blueberries

2

tablespoons

Raspberry vinegar

or Balsamic Vinegar

1 1/2

teaspoons

Vanilla extract

1/8

tsp

Salt

FOR THE GOAT CHEESE

8

oz

Goat cheese

1

teaspoon

Lemon zest, finely grated

2

teaspoons

Honey

1

teaspoon

Thyme leaves, fresh

plus more for garnish

1/8

Salt

1 1/2

tbsp

Heavy cream

1

Baguette bread, sliced to 1/2" thick
Instructions
MAKE THE CRANBERRY COMPOTE

Place the cranberries with the water and brown sugar in a medium nonstick saucepan on medium-high heat. Bring to a boil, stirring occasionally to dissolve the sugar.

Continue to cook at a simmer, stirring occasionally to prevent sticking. As the cranberries cook, they'll sizzle and pop, for about 5 minutes.

Add the blackberries or blueberries if using and the vinegar and continue cooking with occasional stirring for 5-8 more minutes, until the liquid is mostly absorbed but still syrupy and a little loose. (The mixture will thicken as it cools.)

Remove from heat and stir in the vanilla and pinch of salt, set aside to cool it down, then place in the refrigerator until completely cool and the mixture is set. Stir before using.

MAKE THE WHIPPED GOAT CHEESE

To whip the goat cheese, use a food processor with blade, or a handheld electric blender and a medium-sized bowl. You can also mix with a sturdy spoon, just make sure your cheese is softened a bit before starting.

To the food processor or medium bowl, add the the goat cheese, lemon zest, honey, thyme, and salt and pulse or blend with hand-held mixer to combine and lighten up the mixture, just mixing together until the ingredients are combined.

Slowly drizzle in the cream, starting with one tablespoon and adding tiny amounts as needed. You just want a light, spreadable consistency for a knife or a spoon.

TOAST THE BAGUETTES

Slice the baguette into 1/2 inch pieces with a serrated knife

Drizzle a little olive oil on top of each sliced piece, then place on a baking sheet lined with parchment paper.

Broil until the toasts are lightly golden, about 1-2 minutes depending on your oven.

ASSEMBLE THE TOASTS

Spoon a generously rounded teaspoon of the goat cheese mixture on each toast.

Spoon on a generous teaspoon of the cranberry compote on top.

Adjust the amounts to your liking depending on the size of your toast.

Garnish with a sprig of chopped fresh thyme leaves and serve!
Notes
Use bagged organic fresh cranberries that are approximately 12 ounces in weight and available in the produce department. Grab an extra bag or two for the freezer. (The cranberry compote is great on its own, on a grilled cheese sandwich or your morning oatmeal.)
Have absolutely no time? Use canned cranberry sauce, but not the jelled kind.
Use a non-dairy cream in place of a full fat cream instead if you'd like.
It's fine to use balsamic vinegar instead of raspberry vinegar, and it gives the cranberries and deep, satisfying flavor.
Nutrition
Calories:
81
kcal
|
Carbohydrates:
11
g
|
Protein:
3
g
|
Fat:
3
g
|
Saturated Fat:
2
g
|
Cholesterol:
6
mg
|
Sodium:
113
mg
|
Potassium:
30
mg
|
Fiber:
1
g
|
Sugar:
6
g
|
Vitamin A:
125
IU
|
Vitamin C:
2
mg
|
Calcium:
27
mg
|
Iron:
1
mg
Tips for Success with Every Recipe
Super important to read the whole recipe before you begin
Pay attention to the ingredient list and photos for the recipe
If possible, prep your ingredients a little before you start
Always use a sharp knife for safety
Use the size of pan called for in the recipe
For savory recipes, taste and season as you go
Buy fresh, organic ingredients, locally sourced whenever possible
Don't Miss a Recipe!
This post was updated with new text November, 2022.