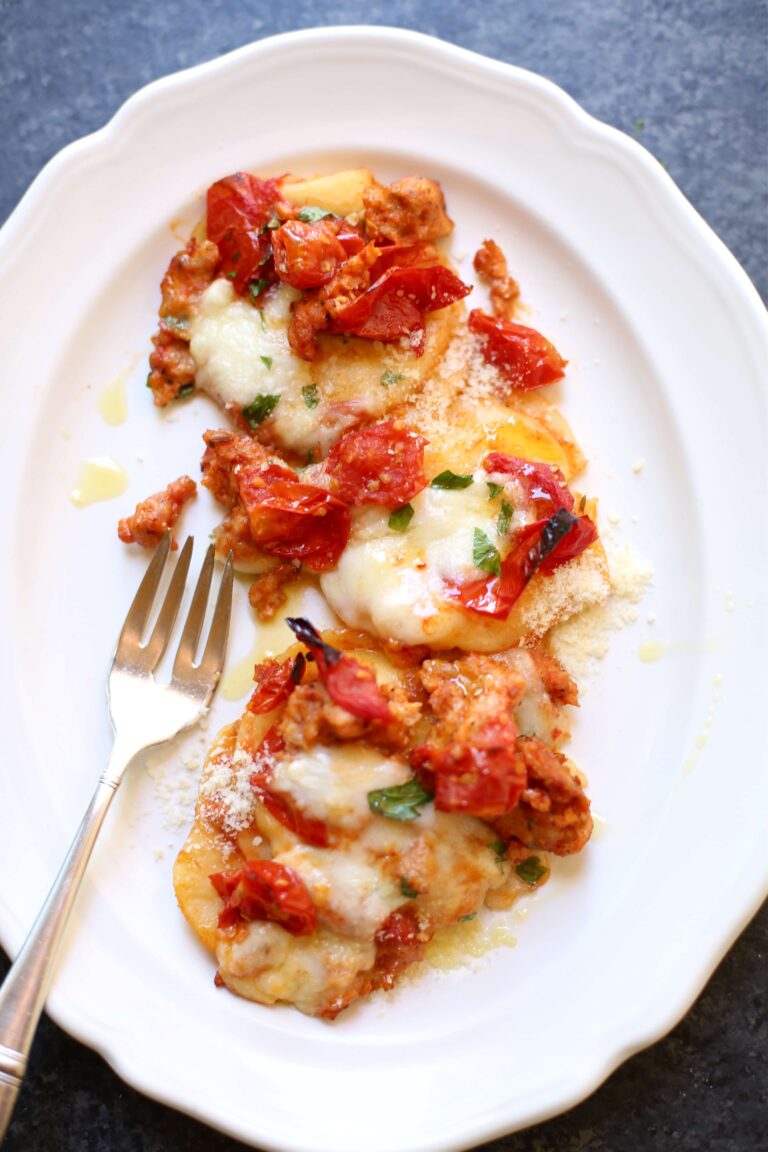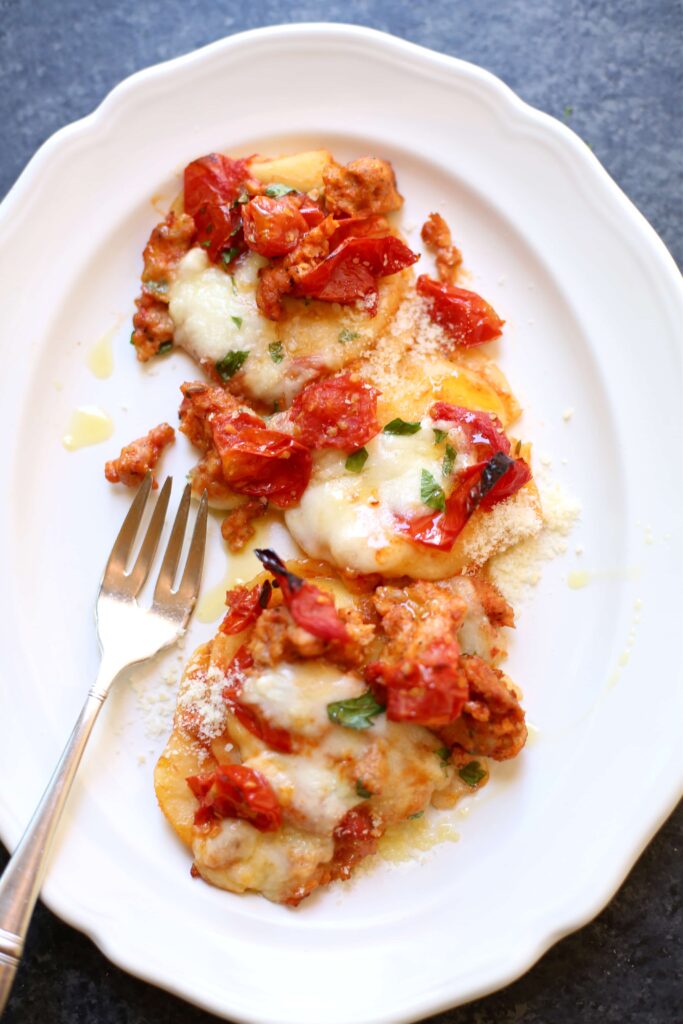 I'm kind of a freak, and I'm okay with it.
Glad we got that out on the table.
I say this because I am so, so deep in my annual apricot jam-making right now that you could say I'm obsessed.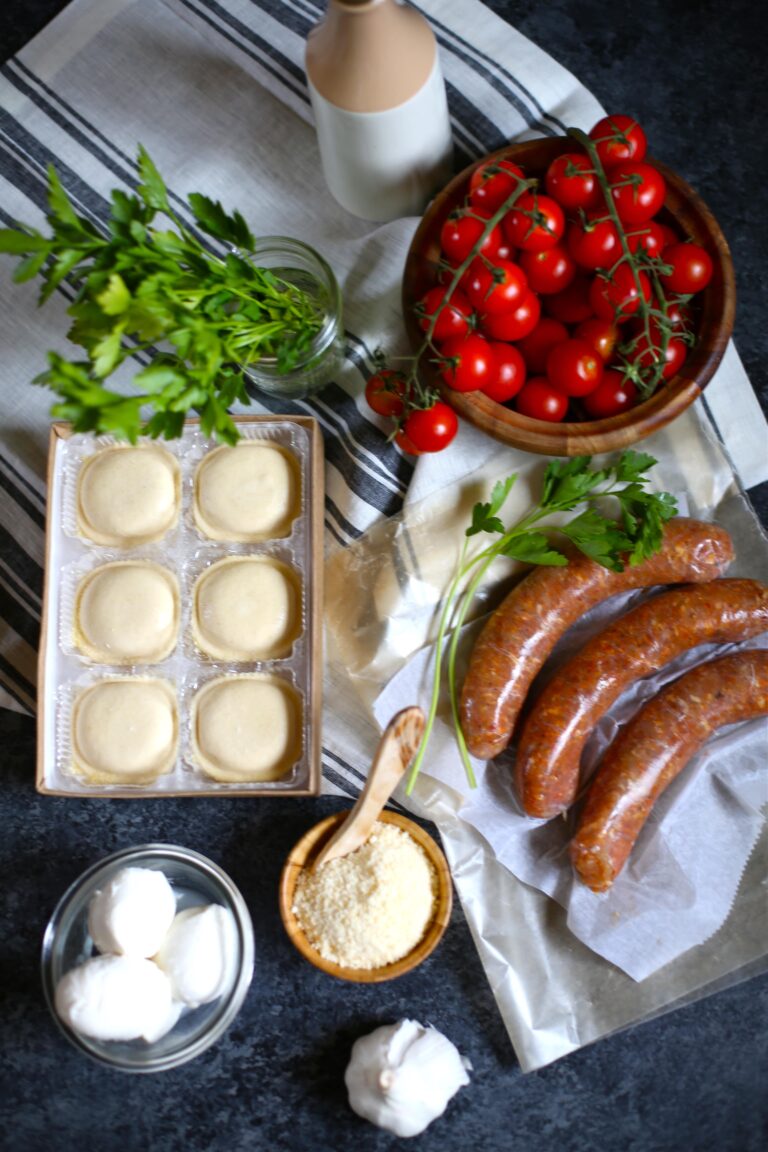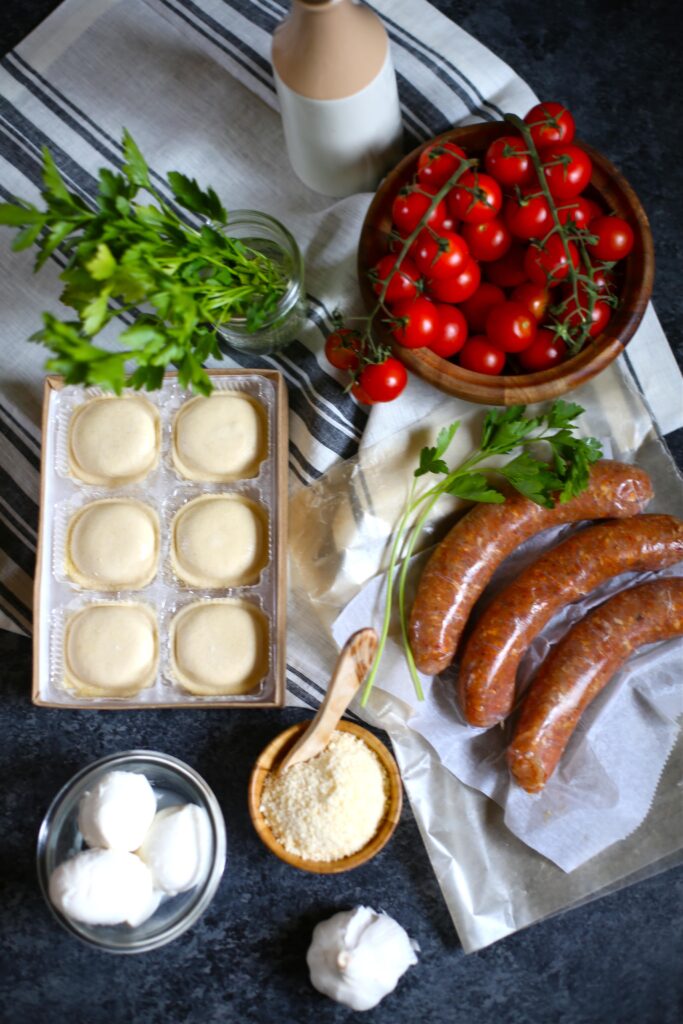 This is a project I plan carefully-  there are jars to wash, ingredients to measure and many pounds of fruit to chop.  It's a major undertaking that takes several weekends and many, many hours.
While other people are having summer fun on their sailboats or picnics with friends, I'm  sweating over a hot stove.
But I'm not complaining one bit….you see, to me, this is the perfect way to spend an afternoon.
There is nothing better in the whole wide world than a slice of toasted bakery bread with butter and a slather of homemade apricot jam – especially in the dead of winter.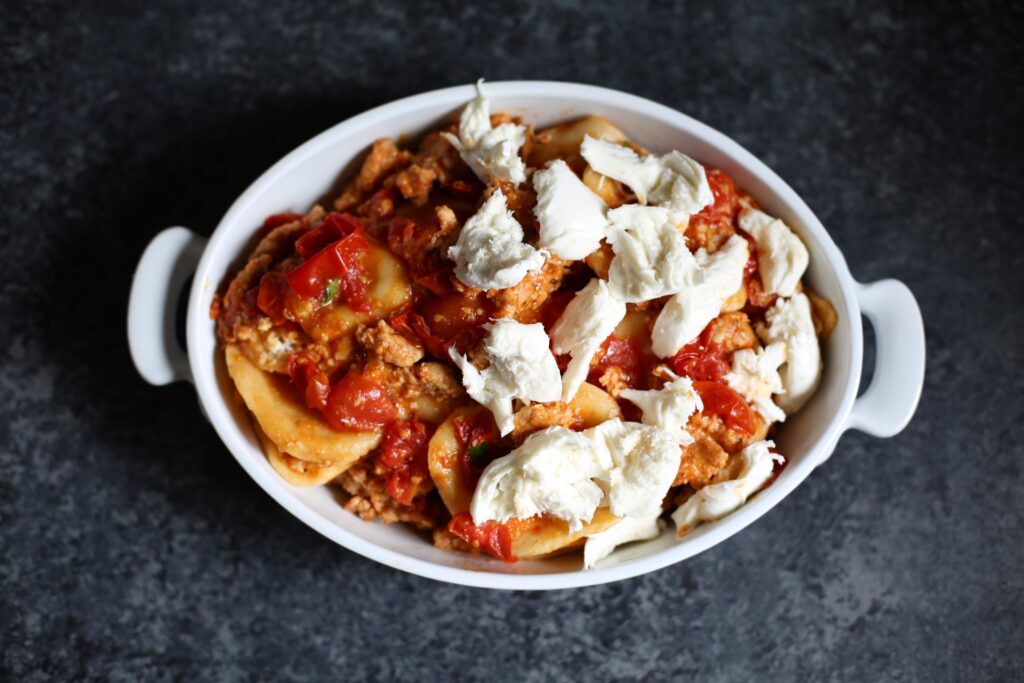 With all this domesticity going on there is still dinner to be made, and it needs to involve leftovers. Baked Ravioli with Chicken Sausage and Chunky Fresh Tomato Sauce is perfect for days like this.
I've been making this baked ravioli for years.  I think the recipe originally came from Martha Stewart's little magazine "Every Day Food" but I've adjusted it to my liking.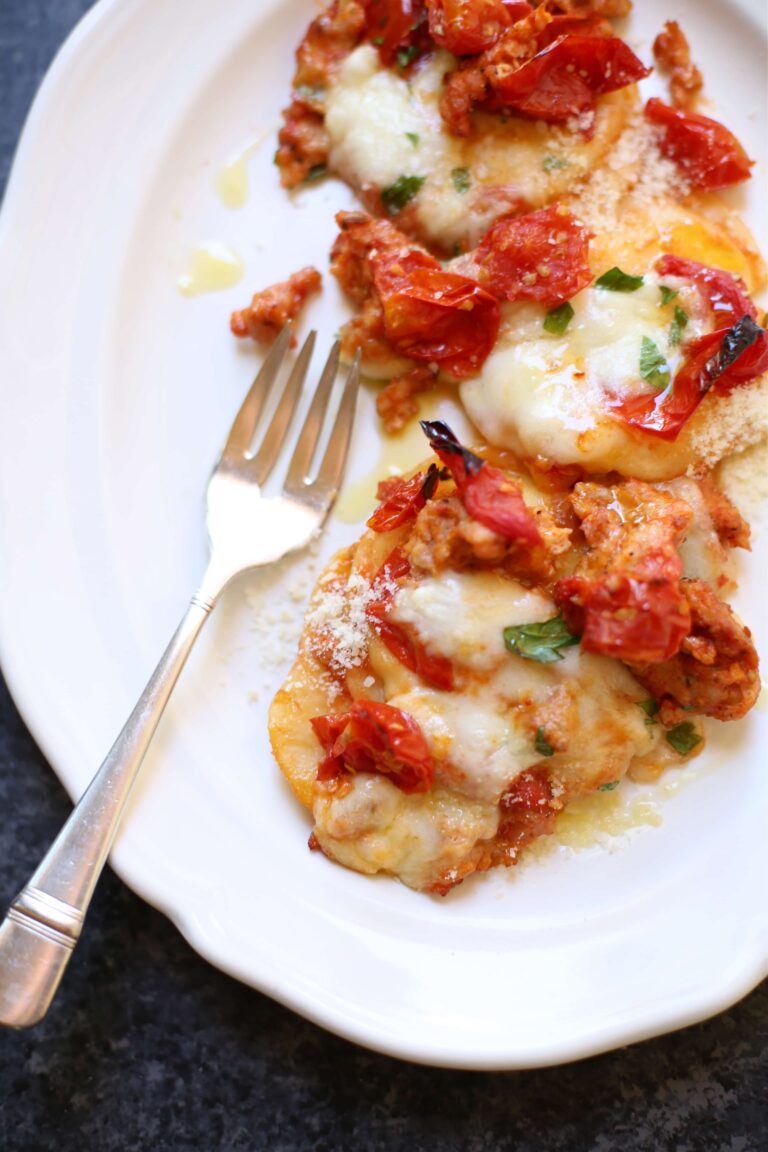 It's not too much trouble and the flavors are highly satisfying.
One night after all the canning supplies were put away I pulled a Nigella and snagged some cold ravioli for a late-night snack.
Pro tip: Pull the ravioli from the middle of the baking dish with your fingers so no one will notice 🙂
Ingredients
PREHEAT OVEN TO 350

Prepare a 9 x 13" oven proof baking dish or similar size by spraying the bottom and sides with non-stick cooking spray

or a tablespoon or so of olive oil spread with your fingers to cover the bottom and sides of the pan.

FOR SAUSAGE

1.25

pounds

of chicken or turkey sausage

I used spicy

1

teaspoon

olive oil

FOR THE TOMATO SAUCE

1

tablespoon

olive oil

1

small shallot

diced

2

garlic cloves

minced

1/2

teaspoon

red pepper flakes

1/2

teaspoon

each of salt and pepper

2 1/2

pounds

fresh tomatoes

roughly cut into 1" chunks

1

tablespoon

tomato paste

RAVIOLI

Two packages of cheese ravioli

each package approximately 13-16 ounces.

***

1/2

cup

grated Parmesan cheese

plus more for serving

16

ounces

of fresh mozzarella

2

tablespoons

fresh flat-leaf

Italian parsley, chopped

Extra virgin olive oil

for serving
Instructions
COOK THE SAUSAGE

In a large non-stick saute pan, add the teaspoon of olive oil and turn the pan on medium high heat. Remove the sausage from their casings if applicable, and cook until not pink anymore, breaking the mixture up with fork and stirring it around as you go. Remove from pan and set aside.

MAKE THE CHUNKY TOMATO SAUCE

In a large non-stick saucepan, heat the olive oil on medium high heat, add the shallot and garlic and stir with a wooden spoon frequently until soft and lightly brown around the edges, about 3-4 minutes.

Add the red pepper flakes, salt and pepper and chopped tomatoes, and cook until the tomatoes begin to release their juices and the mixture comes together making a sauce, about 15 minutes. Adjust the temperature of your stove if needed, the sauce should be simmering with a light bubbling action.

Add the tomato paste and continue cooking on a simmer for another 8-12 minutes. Overall cooking time is about 25 minutes for a chunky, but not watery sauce.

COOK THE RAVIOLI

In a large stock pot or dutch oven, cook the ravioli in water according to the directions on the package. Note that I add a generous teaspoon of salt to the water before adding the ravioli.

Drain the cooked ravioli and set aside in a large bowl. I drizzle a little olive oil on the ravioli so they don't stick together.

Add the tomato sauce and cooked sausage to the large bowl with the ravioli,the 1/2 cup of grated Parmesan cheese, and one tablespoon of the chopped parsley. Gently toss the ingredients together with a large spoon and place in the prepared baking dish.

Drain the mozzarella on a paper towel if needed to soak up any of the brine. Tear the mozzarella into rough-sized pieces, about 2" each, and place over the top of the ravioli mixture.

Drizzle a teaspoon or so of olive oil over the top and sprinkle with the remaining chopped parsley.

Place on lower middle rack of the oven and bake until the cheese is melted and the ravioli are warmed through, approximately 25-30 minutes.

Serve with additional grated Parmesan, if desired.
Source:  Studio Delicious