Here's a recipe that everyone raves about – Deviled Eggs With Candied Bacon. This are a favorite appetizer, the bacon tastes unbelievable, and everyone asks for the recipe!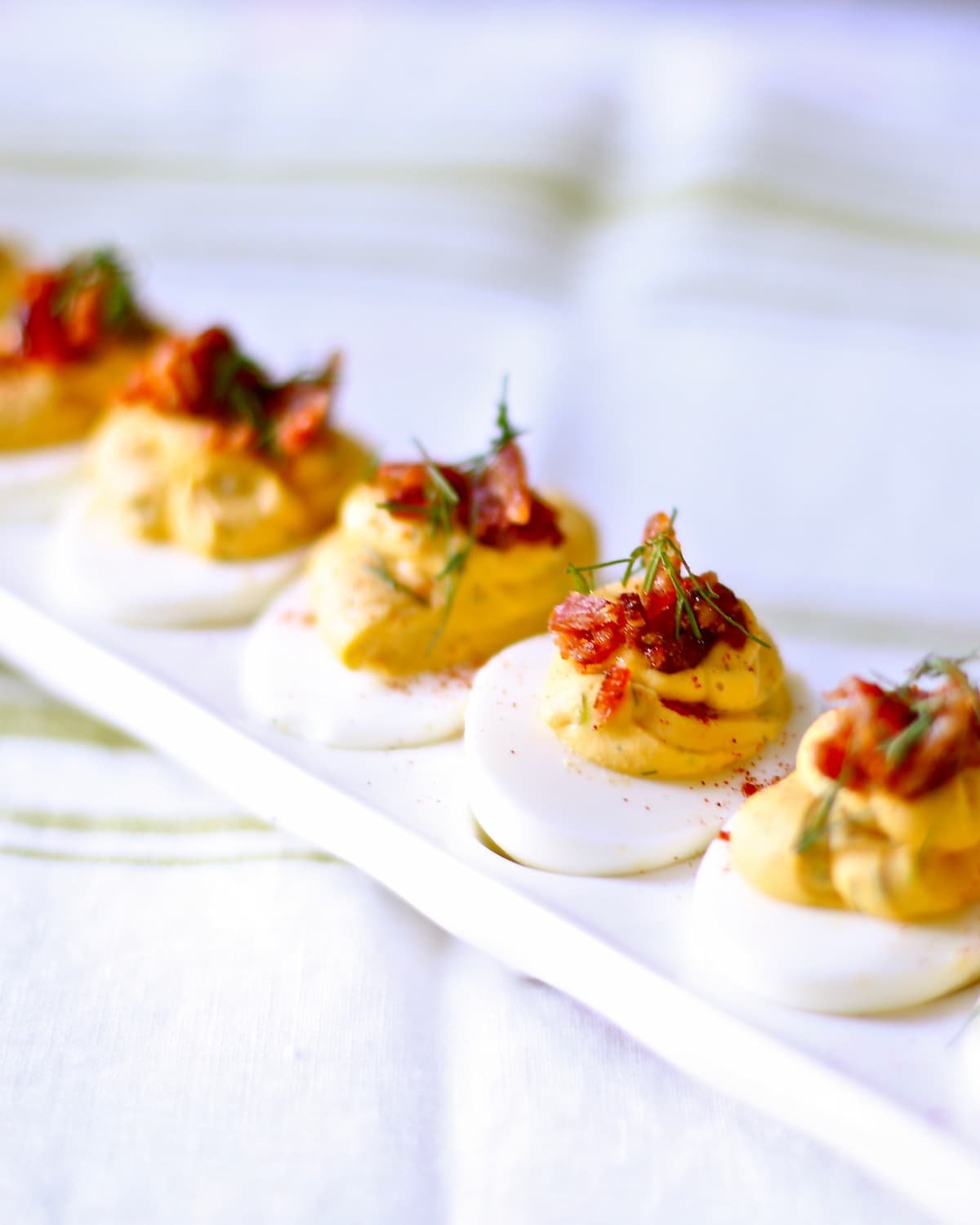 Jump to:
Why You'll Love This Recipe
There are about 8 million classic deviled eggs recipes out there. Friends, here's one more, and it's one of the best deviled eggs EVER. This one is a real stunner, I think it's the candied bacon sprinkled on top of the eggs that really sets it apart.
Here's why this recipe is so good:
Slices of bacon are candied with brown sugar and then baked (!!!!) chopped and sprinkled on the eggs along with some fresh dill.
Fresh dill adds a hit of freshness to these deviled eggs that's unbeatable.
Deviled eggs are a great appetizer year-round! Practically any holiday is a little better with deviled eggs, same with Easter, Mother's Day, graduation no matter the time of year.
If you're looking for other good appetizer recipes, bookmark these favorites for next time – Crispy Cauliflower Bites, Veggie Cups with Hummus, and Butternut Squash Bruschetta. Yum!
Ingredients You'll Need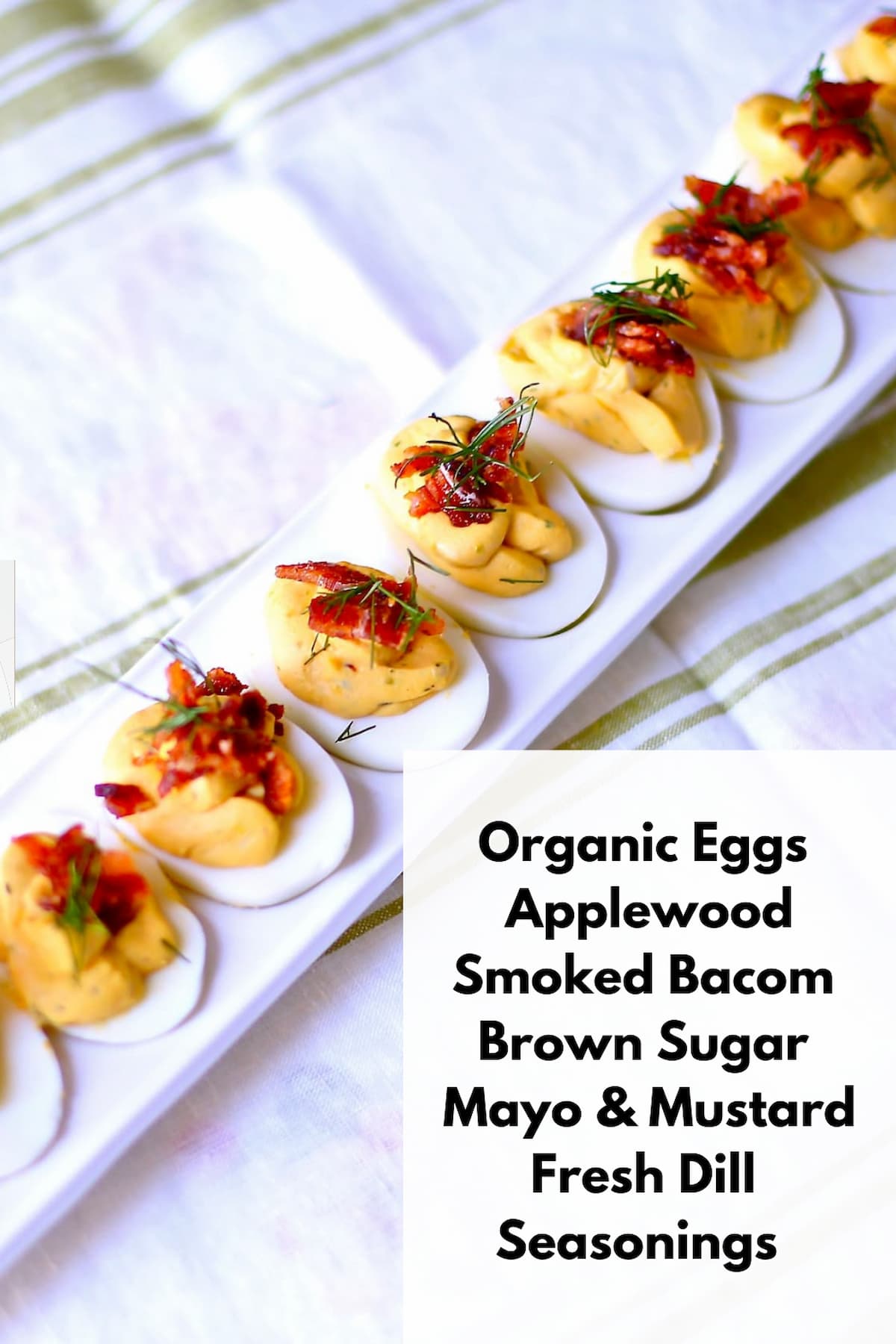 For the full list of ingredients and instructions, please scroll to the recipe card below.
Eggs: Organic if possible, large, and we'll need the egg whites and egg yolks for this recipe.
Bacon: Applewood smoked is preferred for its flavor.
Brown Sugar: Every slice of bacon is topped with a little of this before baking.
Mayonnaise and Mustard: Just enough, not too much.
Fresh Dill: For a pop of freshness.
Seasonings: Salt, black pepper plus a pinch of cayenne.
Step-by-Step Instructions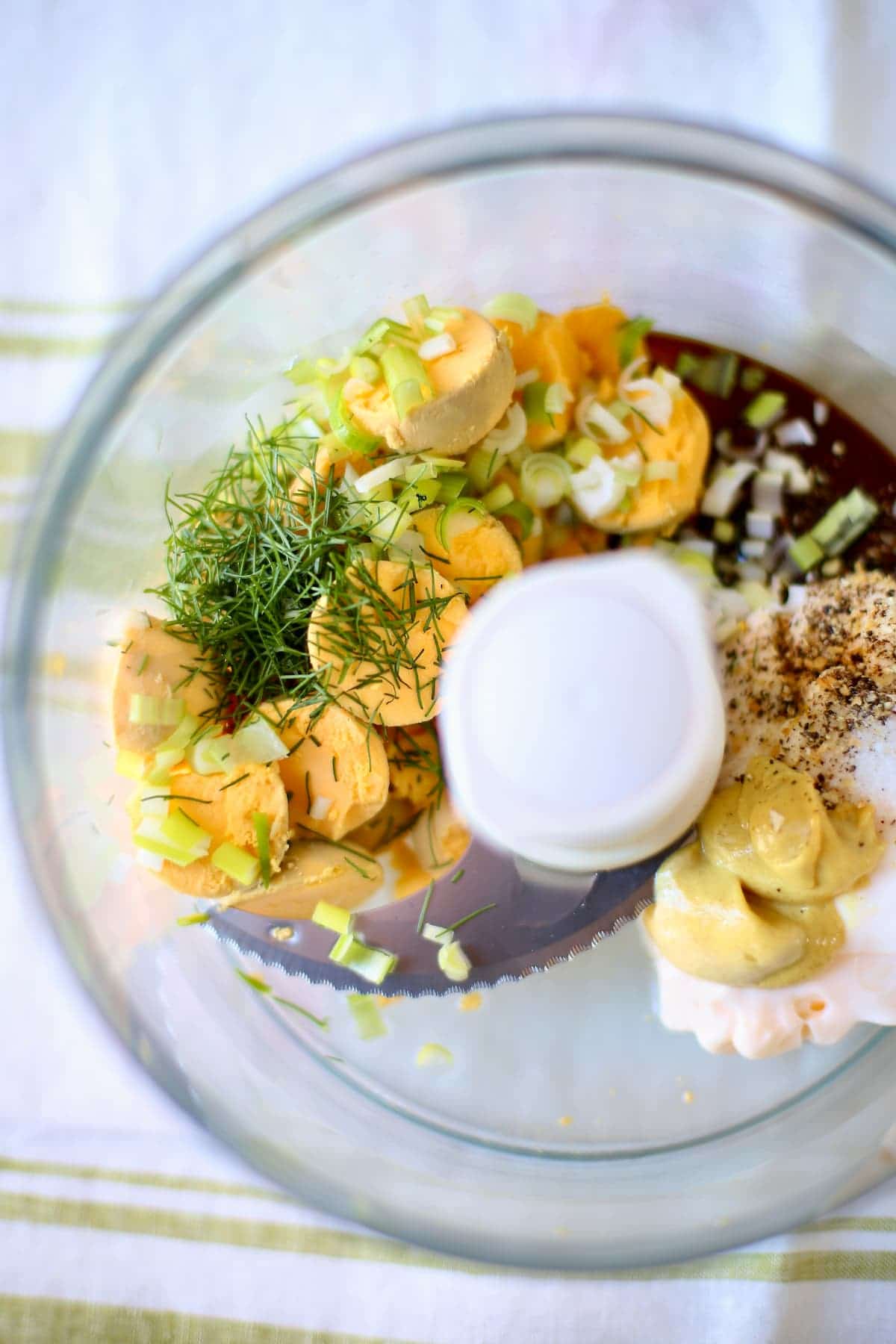 Boil Place eggs in cold water, then bring to a boil for 12-14 minutes.
Peel Cut the eggs in half, remove the yolk and set the egg white halves aside.
Mash Yolks, mayonnaise and seasonings get mixed together in a small bowl.
Cook Bacon slices in a single layer on an baking sheet, coat bacon with brown sugar topping.
Assemble Deviled eggs with a piping bag, pastry bag, or gallon-sized plastic bag.
Add minced bacon on top of the deviled egg mixture.
Garnish with fresh dill.
Serve and enjoy!
Expert Tips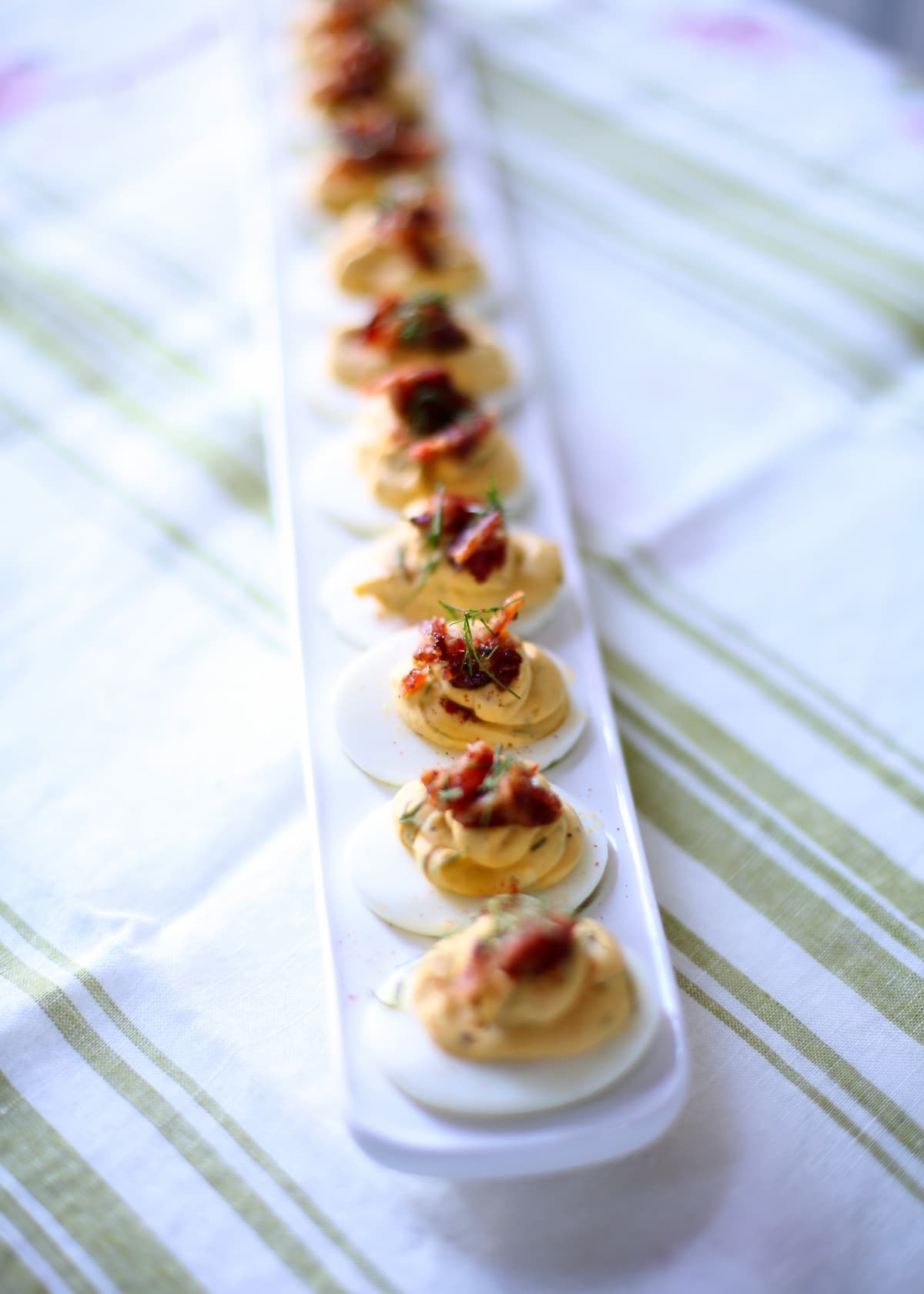 Use a large baking sheet to cook the bacon in the oven, and no need to use parchment paper this time. The fat that comes off the bacon will make the slices easy to lift after cooking
Take your eggs directly from the refrigerator and add them to a saucepan with at least an inch of water covering the eggs
Serve these eggs with brunch food! Some ideas are Waffles with Apples, a big & delicious Zucchini Potato Frittata, and Cherry Cheese Danish.
Serving Ideas
People go crazy for deviled eggs, at any kind of gathering. They are almost always the first thing to go….not sure why that is, but here are a few more recipes to serve with them to round out the menu:
Brownie Batter Hummus: Not really brownie batter, but this chickpea-based dessert platter is a major hit. Serve with fresh berries and assorted store-bought cookies.
Turkey Burger Sliders Recipe: These little burgers are so good, you better double the recipe (thankfully, they're easy!)
Orzo Asparagus Salad Recipe: This is a really good little pasta salad, packed with good stuff like fresh asparagus, toasted pine nuts, and feta cheese.
Frequently Asked Questions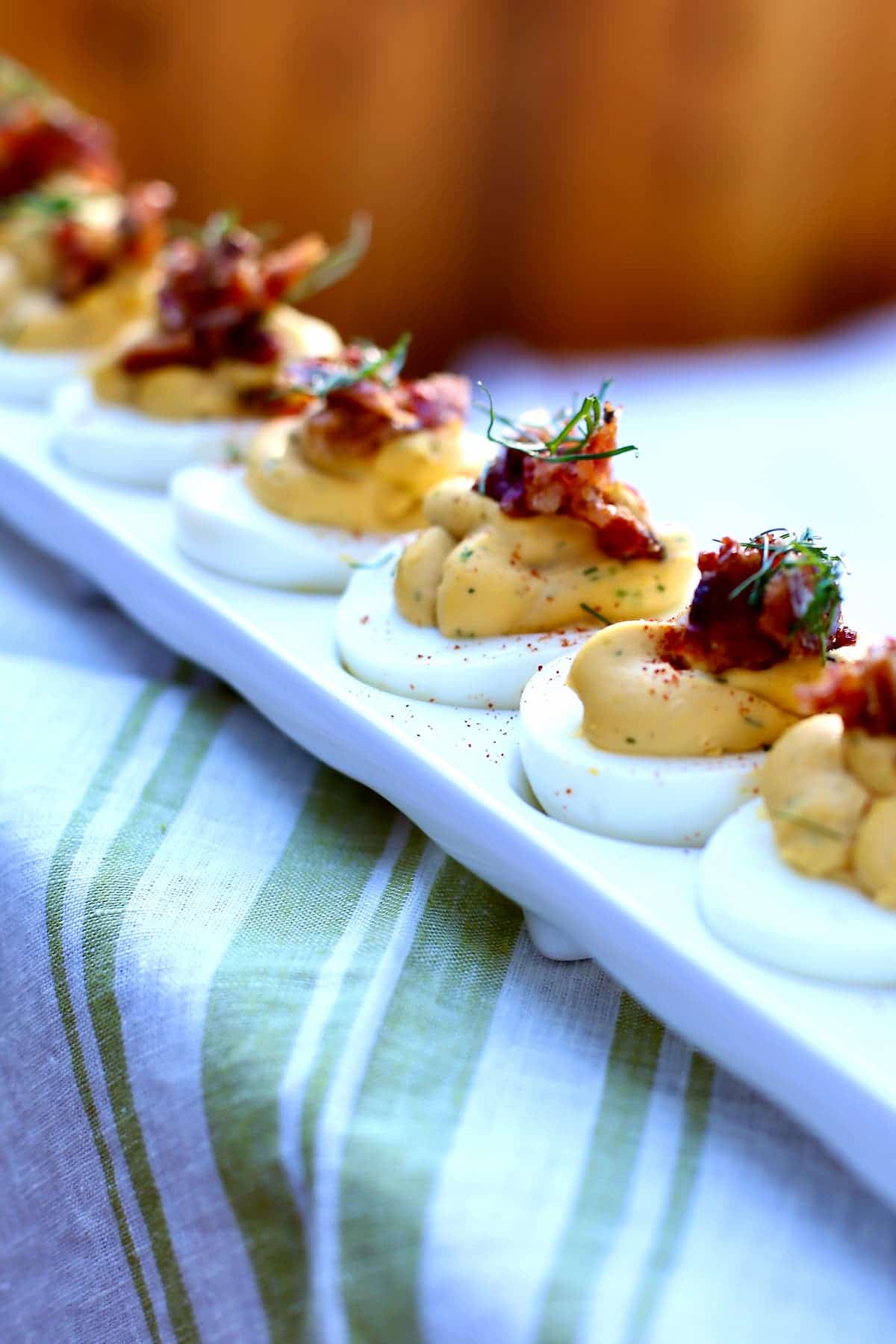 Can I make the deviled eggs in advance?
Yes, partially. You can boil the eggs and keep them in the refrigerator up to a week in advance. You can also prepare the yolk filling, and store well-wrapped or in an airtight container for 2-3 days. Same with the bacon. I would recommend assembling the eggs the day you're going to serve them.
Will leftover eggs keep well in the refrigerator?
They will definitely "keep", but they may not look as stellar as the day you assembled them. But totally edible for a couple of days after serving.
Do I have to use the bacon variety this recipe calls for?
Nope. While Applewood smoked bacon is a preferred because of its great flavor, but you can certainly swap it out for regular bacon.

More Recipes to Try:
If you've made Deviled Eggs With Candied Bacon, or any recipe on Studio Delicious, leave a recipe rating and tell me all about it in the comments below!
Looking for more tips and fresh, homemade recipes? Join my email list, tag and follow me on Instagram using #studiodeliciouseats, follow my boards on Pinterest, and see what I'm up to on Facebook and Twitter!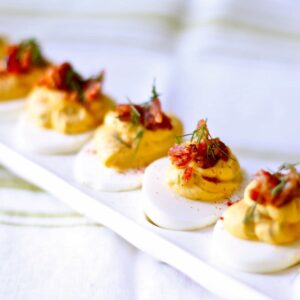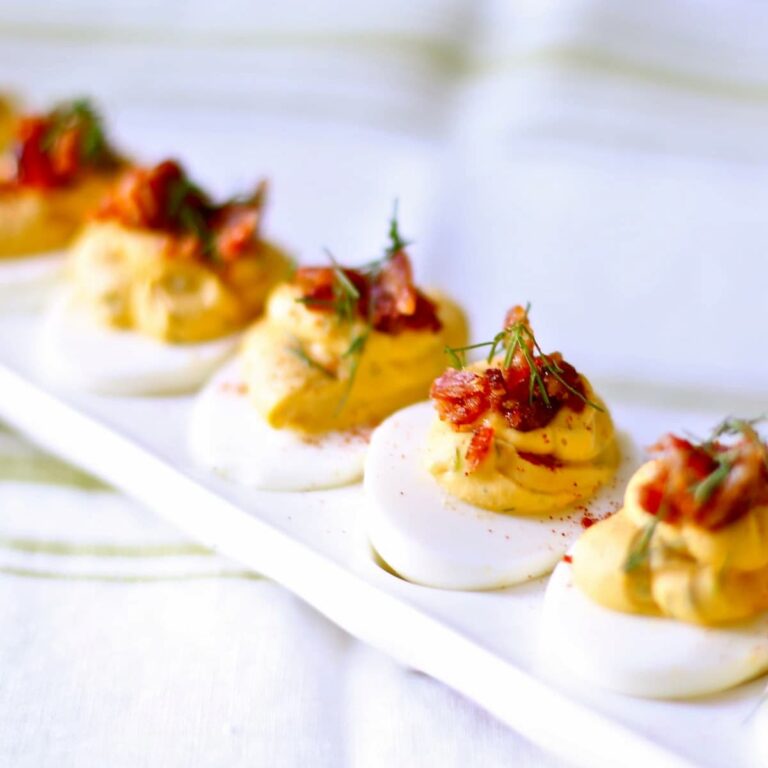 Deviled Eggs With Candied Bacon
Deviled Eggs Candied Bacon are knock-your-socks-off delicious. The bacon is candied with brown sugar, and the eggs are finished with fresh dill. Amazing!
Print
Pin
Ingredients
1 ½

tablespoons

Brown Sugar, light

Pinch

Cayenne Pepper

Pinch

Cinnamon

4

pieces

Bacon, thick cut, Applewood preferred

8

Eggs, large

⅓

cup

Mayonnaise

2

teaspoons

Dijon Mustard

1 ½

tablespoons

Dill, fresh

plus more for garnish

1

tablespoon

Cider Vinegar

1

teaspoon

Worcestershire Sauce

¼

teaspoon

Lemon Pepper

2

Green Onions, minced fine

½

teaspoon

Salt
Paprika

for garnish
Instructions
For the Candied BaconIn a small bowl, combine the brown sugar, cayenne and cinnamon. Place the bacon on a large baking sheet and sprinkle a teaspoon or so of the brown sugar mixture over each slice of bacon, using only half the total mixture.

Bake for 10-15 minutes until the edges are starting to brown. Turn the bacon over and sprinkle the rest of the brown sugar mixture on top and continue to bake until crispy, another 10-15 minutes. Remove and let cool.

For the EggsPlace the cold eggs directly from the refrigerator into the bottom of a medium size saucepan and cover with cold water, at least 1 inch above the eggs. Bring the water to a boil and let it go for 3 minutes.

Remove from the heat and cover with a lid, letting the eggs sit for another 12 minutes. They will continue to cook as they sit in the hot water. Drain the eggs and add cold water to the pan for a couple more minutes to lightly cool the eggs. Drain again and peel while warm. Set aside.

To Fill the Eggs In a medium-sized bowl, mix the mayo, mustard, dill, cider vinegar, Worcestershire sauce, lemon pepper, green onions and salt. Slice the eggs in half and gently remove the cooled and cooked yolk. On a plate, smash the yolks with a fork until smooth and there are no large lumps. Alternatively, use a food processor to make the egg yolk/mayo mixture.

Chop the bacon into small pieces and add one tablespoon of it to the egg yolk mixture. Reserve the rest of the bacon for garnish.

Place the egg/mayo mixture into a large plastic bag to pipe into the egg white shells. Tip: Set an unfilled plastic bag in an empty glass with a wide rim to make it easier to spoon the egg mixture inside. Twist the top of the bag and snip the end with scissors to make a hole. Pipe the filling into the egg white halves.

Sprinkle the filled eggs with the remaining candied bacon, more fresh dill and a light dusting of paprika for serving.
Notes
Use a large baking sheet to cook the bacon in the oven, and no need to use parchment paper. The fat that comes off the bacon will make the slices easy to lift after cooking.
Take your eggs directly from the refrigerator and add them to a saucepan with at least an inch of water covering the eggs.
Nutrition
Calories:
92
kcal
|
Carbohydrates:
2
g
|
Protein:
4
g
|
Fat:
8
g
|
Saturated Fat:
2
g
|
Cholesterol:
87
mg
|
Sodium:
181
mg
|
Potassium:
48
mg
|
Fiber:
1
g
|
Sugar:
1
g
|
Vitamin A:
134
IU
|
Vitamin C:
1
mg
|
Calcium:
14
mg
|
Iron:
1
mg
Tips for Success with Every Recipe
Super important to read the whole recipe before you begin
Pay attention to the ingredient list and photos for the recipe
If possible, prep your ingredients a little before you start
Always use a sharp knife for safety
Use the size of pan called for in the recipe
For savory recipes, taste and season as you go
Buy fresh, organic ingredients, locally sourced whenever possible
Don't Miss a Recipe!
This recipe and text were updated in March, 2022 below is the original text from 2018:
It's sort of obvious to talk about deviled eggs in April, since everyone is coloring them and hiding them and stuff.
In the small town where I grew up, Easter was a big deal. It involved ham and scalloped potatoes and asparagus and lots of cousins to play outdoor games with, and homemade pies and strawberry tarts and plenty of chocolate.
We always hunted for our pastel colored eggs at home early in the morning before the guests arrived and it was a mad dash to get the most.
Not that gathering them really mattered, because they were all surrendered for their next appearance as deviled eggs or egg salad to eat later in the day.
After the hunt there was either a big family buffet, or a trip to The Nugget for their annual spread – a revelation of carved meats and hot and cold side dishes.
The crown jewel of this feast was a giant dessert table with huge lemon pies swirled with meringue, little cream puffs and custards studded with fresh raspberries and a make your own hot fudge sundae bar. It was almost more fun than a little kid could handle.
Why is this deviled egg so deliciously different? In a word, candied bacon and fresh dill. That's actually five words 🙂
Whizzing the ingredients together and piping them into the egg is mildly impressive too, and requires no special technique beyond a plastic bag.
I take these deviled eggs to barbecues and baby showers, and always get asked for the recipe.
One nice lady I know still talks about them, though the party was 5 years ago.
This recipe is a perfect combination of spring flavors, and I had to share it with you, because this one is a keeper.
Adapted from The Food Network.