This is my take on a Superfood Salad — big, hearty and full of clean, healthy ingredients.  It works deliciously with a juicy lemon vinaigrette (recipe included) but just a drizzle of extra virgin olive oil, some flaky sea salt and freshly ground lemon pepper would taste great too.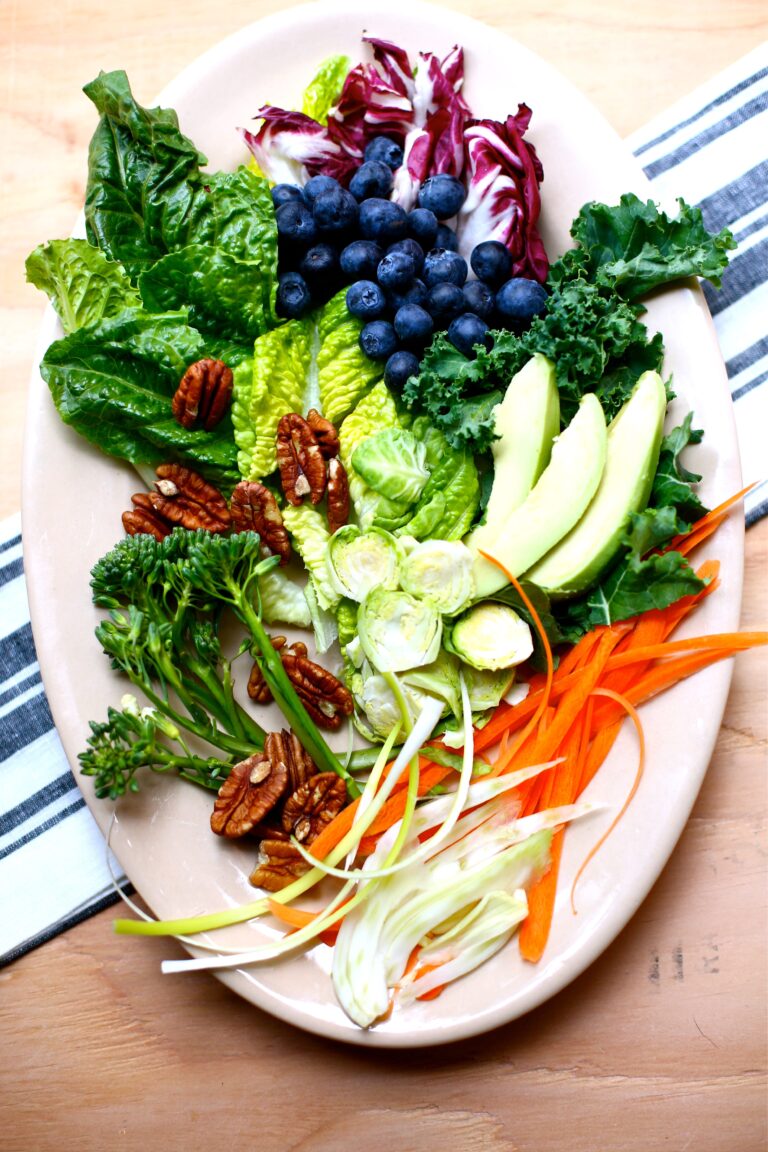 One of the dirty little secrets about January is that it's freezing or at least chilly most places, yet everywhere you turn someone is trying to shove a cold salad down your throat.
I guess it's because we're trying to detox from a month of chocolate fudge, cocktail sausages, cheese balls and eggnog.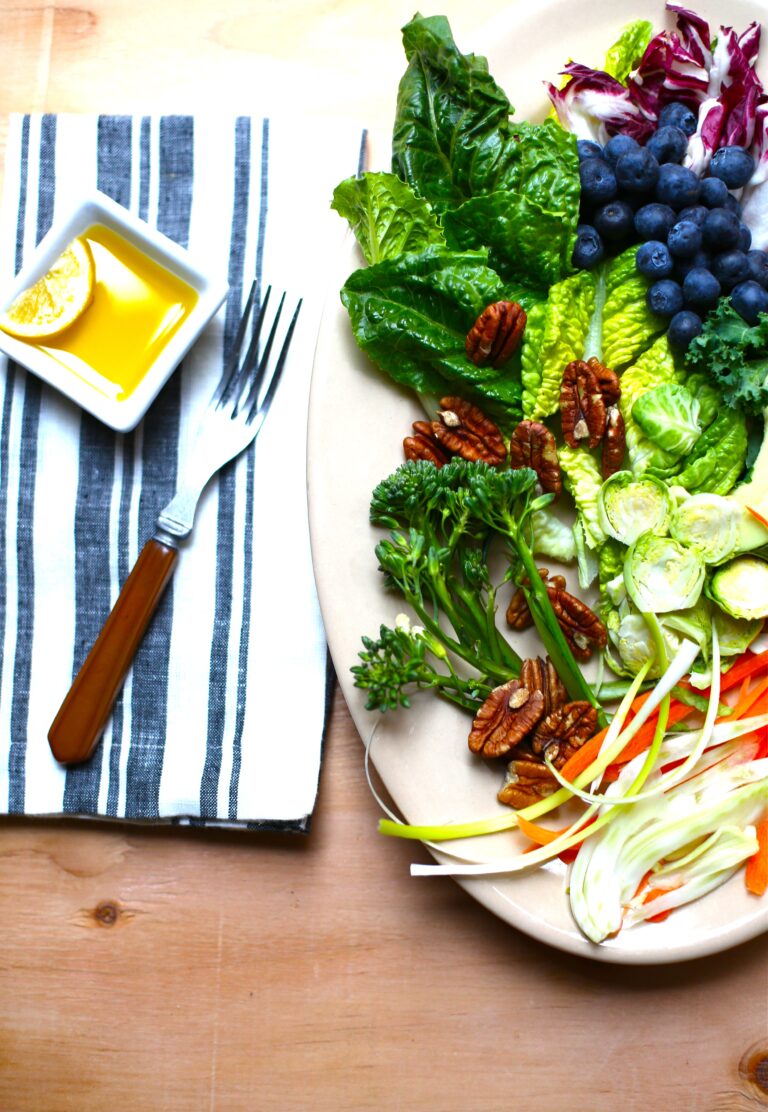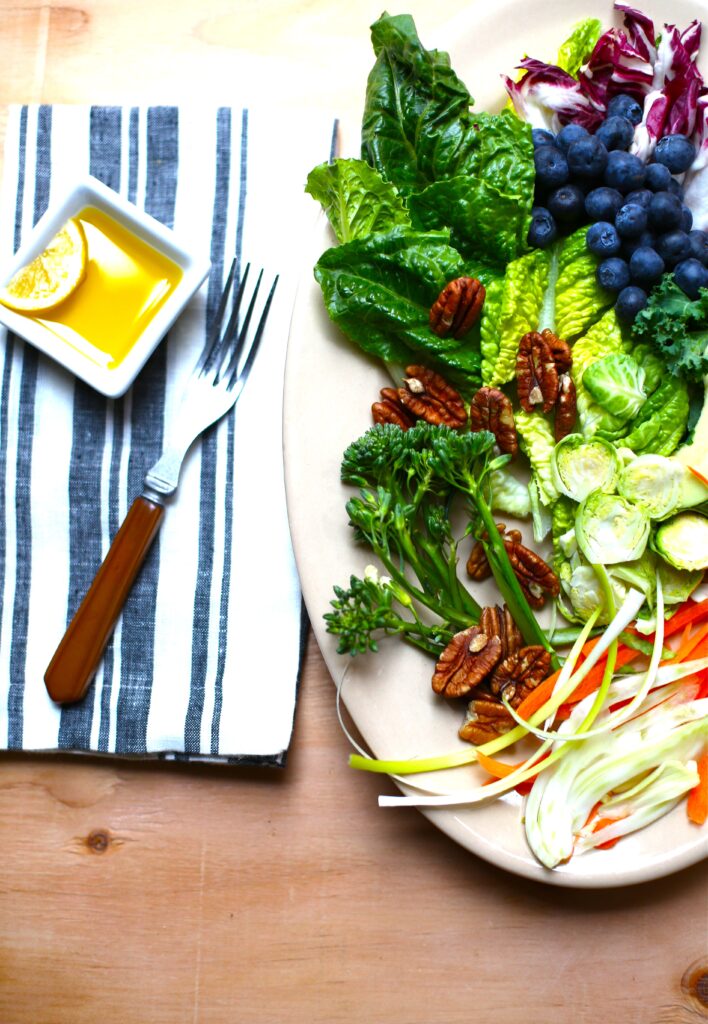 I'll tell you this, a Superfood Salad was the furthest thing from my mind when I finished off a pumpkin pie for breakfast the other day 🙂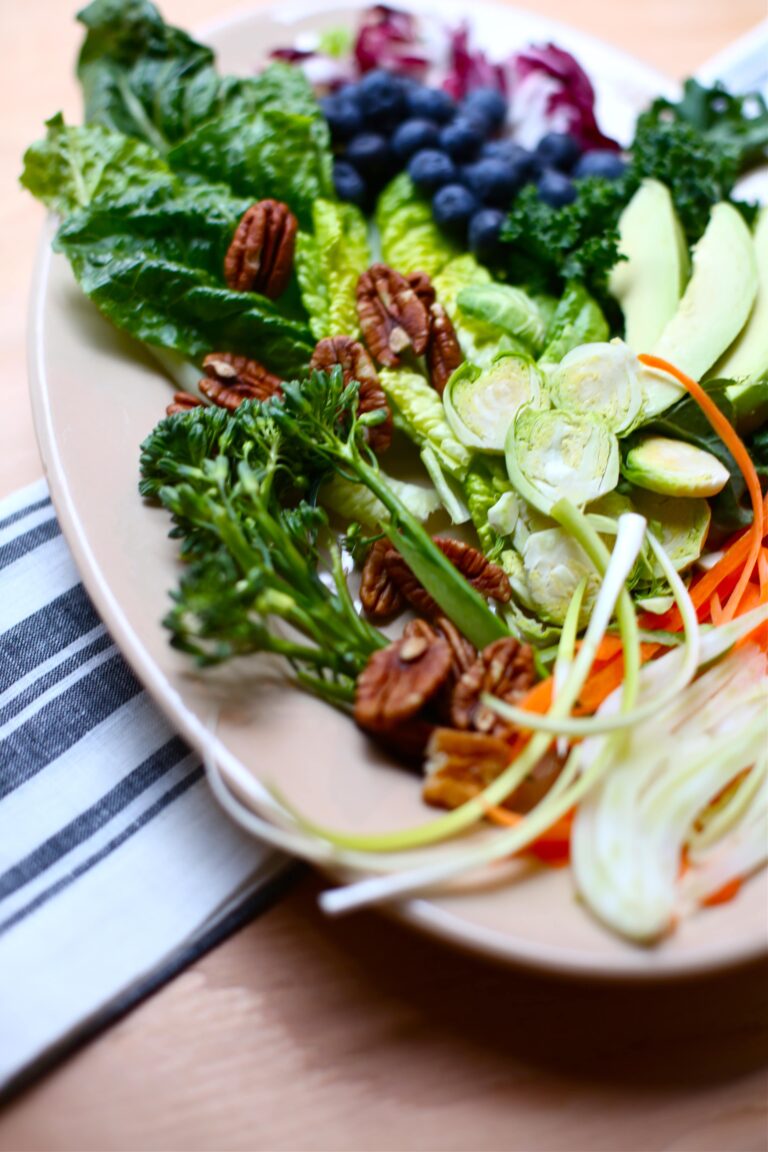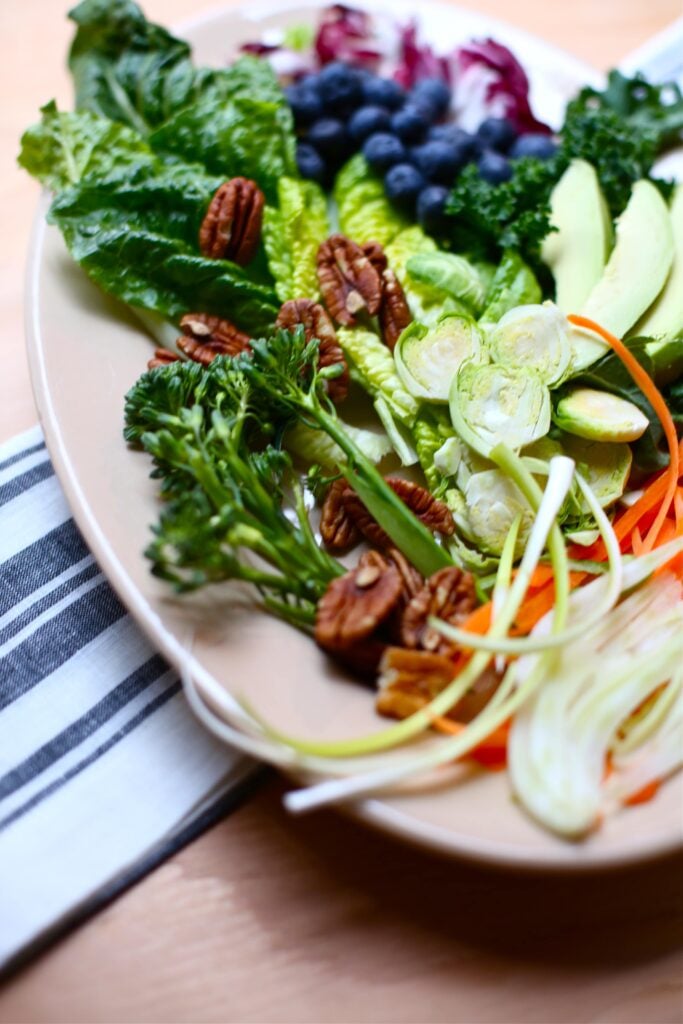 SO WHY EAT A SUPERFOOD SALAD NOW, PAIGE?
This salad will set you right, especially if you haven't seen a vegetable for a while.
It's crunchy, punchy, substantial and very satisfying.
I always feel a little smug after eating a good salad, don't you?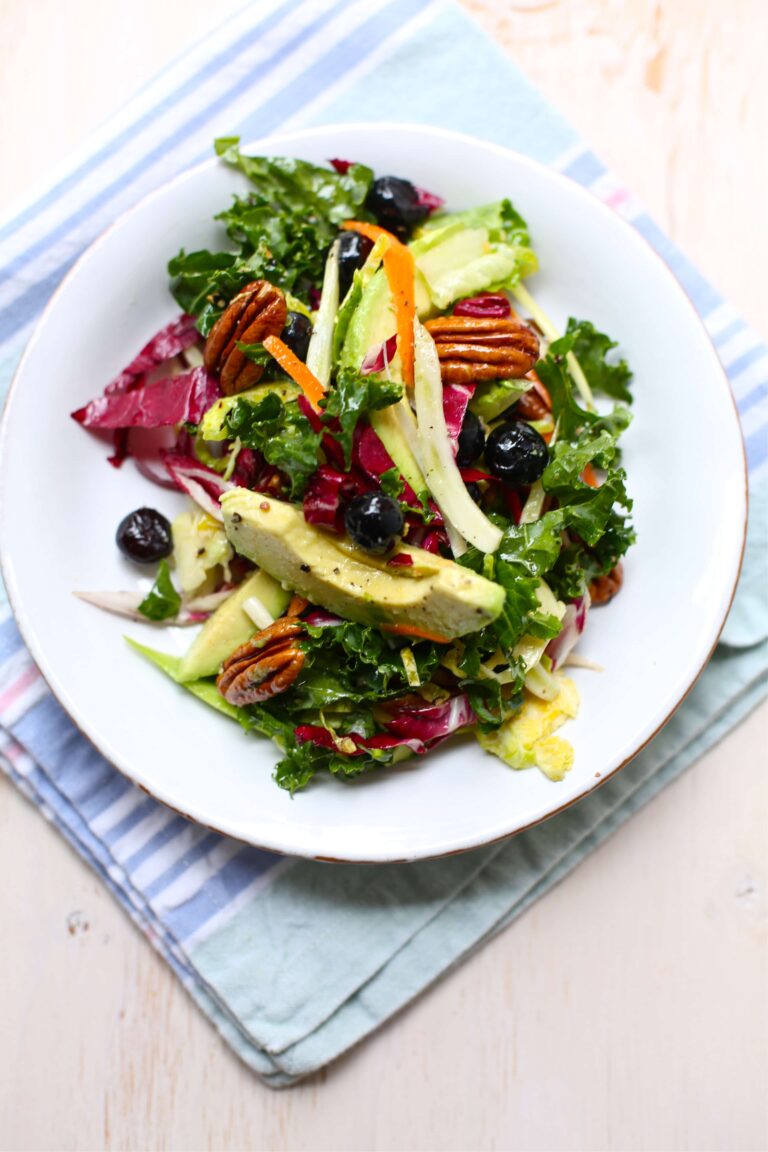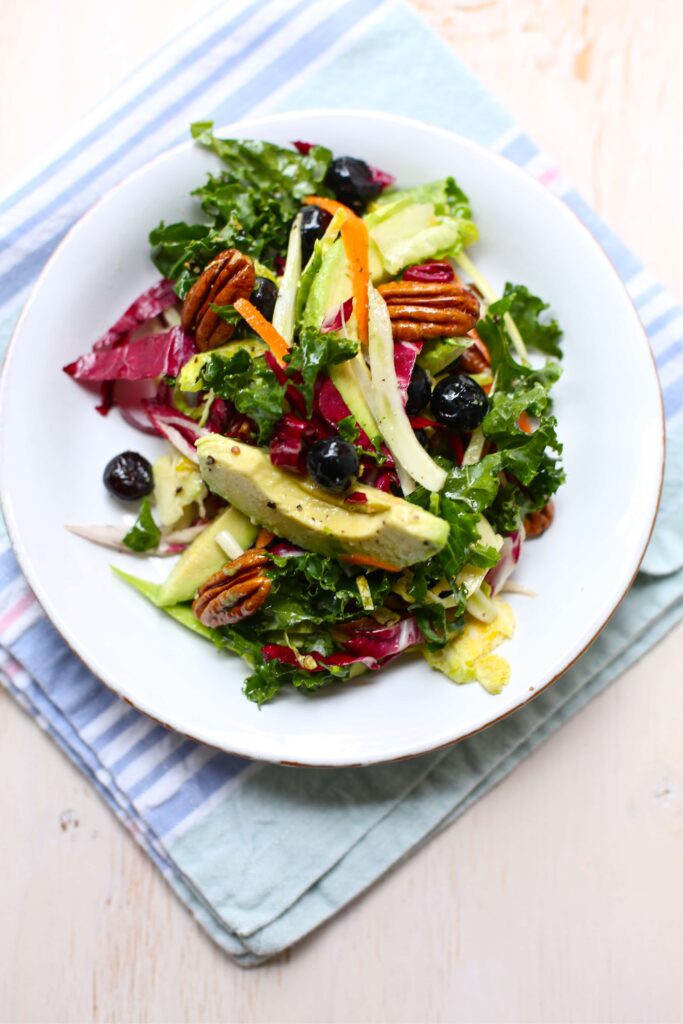 While this Superfood Salad is refreshing and tasty and wonderful on it's own, nobody's going to call the police if you have a big piece of toasty french bread slathered with a fatty substance served alongside 🙂

HOW TO PUT TOGETHER A SUPERFOOD SALAD:
Swap out the broccolini for thin-sliced zucchini!  Any kind of berry will work! Use what you have on hand!
The ingredient list is super flexible, so have some fun coming up with new, healthy combinations
Add a cooked, thinly-sliced warm chicken breast or some grilled shrimp for a satisfying addition to this salad
You can easily scale this recipe for more people – I love to set out a couple of big platters with the dressing served on the side for a crowd.
PIN THIS RECIPE FOR LATER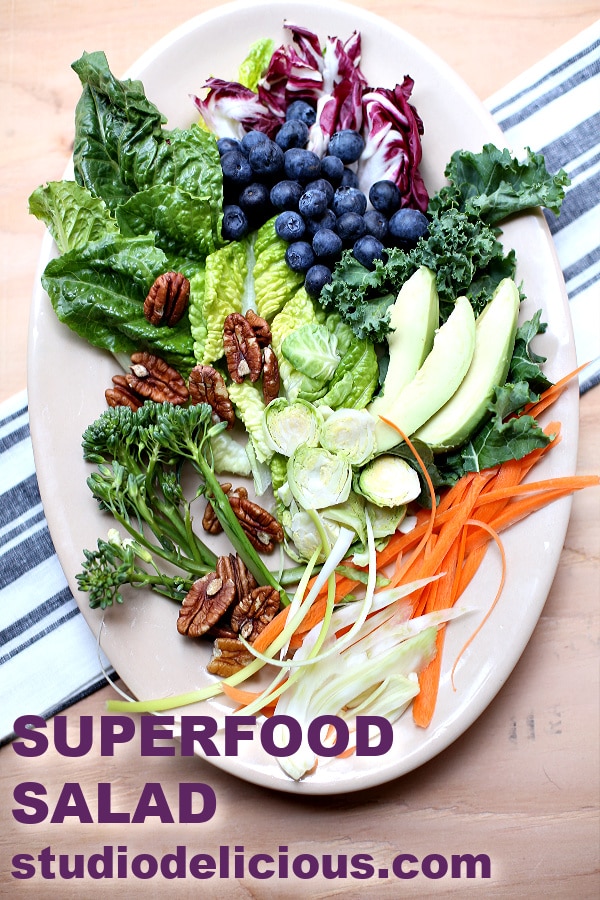 Ingredients
Four Servings

FOR THE SALAD

3

cups

romaine lettuce

(washed, dried) and cut in chunky pieces

1/2

head of radicchio

sliced in thin ribbons

3

big leaves curly kale

washed, spine removed and torn into pieces

1

carrot

shaved in ribbons (with a vegetable peeler)

Small bunch of broccolini

or broccoli, sliced thin

2

green onions

washed,ends trimmed and sliced thin length-wise

1

avocado

sliced in 1" pieces

6-8

brussel sprouts

ends trimmed and thinly sliced

1

fennel bulb

trimmed and thinly sliced

1/2

cup

fresh blueberries

washed and dried

1/2

cup

whole pecans

Flake sea salt such Maldon and freshly ground lemon pepper for serving

FOR THE LEMON VINAIGRETTE:

6

tablespoons

extra virgin olive oil

4

tablespoons

freshly squeezed lemon juice

I used Meyer lemon

3

teaspoons

honey

more or less depending how sweet you like it

1 1/2

teaspoons

dijon mustard

I use Maille Original Dijon

1 1/2

teaspoons

mayo or veganaise

I use Follow Your Heart brand

1/2

teaspoon

freshly ground lemon pepper

Trader Joes makes a good one

1/4

teaspoon

salt
Instructions
MAKE THE SALAD:

Prepare all the vegetables and arrange them on your choice of:

* four salad plates, tossed just before serving with the vinaigrette

* four medium-sized bowls, ingredients composed with the vinaigrette passed on the side

* one large platter with all the ingredients for a composed salad, served with the dressing on the side.

I've shown how I do it all three ways in the photos of this post for reference.

MAKE THE VINAIGRETTE:

In a medium-sized bowl with a whisk handy, put all the ingredients in together except the olive oil and whisk until smooth.

Drizzle in the olive oil slowly while whisking to combine and emulsify the mixture. Taste and adjust the seasonings to your liking - meaning you can add a bit more honey or salt if you like.
Notes
I buy organic vegetables whenever possible, and they are preferred here.
You can use regular broccoli instead of the smaller broccolini, just slice it thinly so it isn't a challenge to eat.
Try walnuts instead of pecans if you like!
Add 1/2 cup cooked grains like quinoa for an even heartier salad.
SOURCE: STUDIO DELICIOUS