Hey! It's me, Paige.
I'm new here.  So I baked us a cake. A fresh banana cake, swirled with lemon spiked cream cheese frosting, and dusted with sweet toasted pecans.
Cake has a way of breaking the ice. Ice is also very good in vodka, which I'll be drinking later.
It's my first post, remember, so I'm a little nervous.
I started working on this blog about one million years ago. Or maybe it was last June. In any case, I'm relieved to finally be here, and talking to you about cooking, baking and eating.
I love those three words.
Now about this cake. It can be prepared sort of fancy (baked in two 9″cake pans for two layers) or simple ( a 9 x 13" pan).  Just mix it, bake it, cool it, frost it, cut it, and eat it. (My favorite part.)
Here's what I know: it's very moist and flavorful, with a wonderful chewy texture. It works every time I've made it. I wouldn't hesitate to serve this at a dinner party, or to kids who just got off the school bus.
After I took these pictures, I ate a big piece with a mug of hot tea. I offered a few slices to friends, and everybody loved it. As cakes go, it's easy.
Okay. GOOD. First post OVER.
Meet me here Thursday. I've got more.
Adapted from Sweet Home-Rebecca Miller Ffrench
Yields 12
Fresh Banana Cake
The addition of fresh lemon zest and juice really adds flavor to the rich frosting. Use two well-greased 9" cake pans, or one greased 13x9" baking pan using baking spray.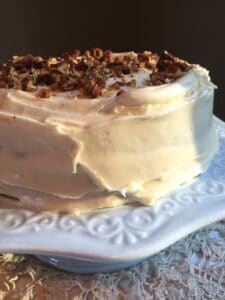 Ingredients
1 stick (8 tablespoons) unsalted butter at room temperature
1 cup firmly packed dark brown sugar
1/2 cup granulated sugar
2 large eggs, at room temperature
3/4 tsp. baking soda
1/2 tsp. baking powder
1/2 tsp.salt
1/3 cup buttermilk
1 1/2 cups all-purpose flour
3/4 cup rolled oats
1 cup mashed ripe bananas
1 tsp. vanilla
CREAM CHEESE FROSTING
1 stick (8 tablespoons) unsalted butter, softened
1 8 oz package cream cheese at room temperature
2 cups confectioners sugar
Pinch of salt
1 tsp. vanilla extract
1 tsp. fresh lemon zest
1 tsp. fresh lemon juice
Toasted chopped pecans, for dusting on the frosted cake (about 1/3 cup)
Instructions
Heat oven to 350 degrees
Cream the butter and both sugars in the bowl of a stand mixer fitted with paddle attachment, or use a hand mixer
Add the eggs, one at a time blending till incorporated
In a small bowl, mix the baking soda, baking powder, and salt into the buttermilk
Add some of the milk mixture, then some of the flour mixture into the creamed butter mixture, alternating in 1/2 cup increments, starting and ending with the flour until just incorporated.
Mix the oats together with the mashed bananas, beat on low for 30 seconds until
mixed
Pour the batter into prepared pan or pans if using two 9" size
Bake until the top is golden brown and a toothpick in center comes out clean, about 25 minutes
CREAM CHEESE FROSTING
In a bowl with electric mixer and paddle attachment, or a hand mixer, cream the butter and cream cheese until very smooth, about 3 minutes on high, taking care to scrape down the sides occasionally with a rubber spatula as needed.
Sift the confectioners sugar into the bowl, continue mixing for another 3 minutes
Add the lemon zest and juice and vanilla extract, beat for another minute or so until completely smooth.
Chill the frosting in fridge until cake is completely cool, then frost it and serve
7.8.1.2
1
https://www.studiodelicious.com/fresh-banana-cake/
Please don't reprint/copy and paste photos with recipes from Studio Delicious without prior permission as they are copyrighted. If you'd like to feature a recipe on your website, please rewrite the header and method of preparation in your own words and link back to this original post with Studio Delicious as the source.