Who feels a little nostalgic about homemade cake?  This Fresh Banana Cake has is super moist and easy to prepare, with a wonderful banana flavor. The oats in this recipe give the crumb a wonderful chewiness that tastes delicious, especially with an old-fashioned cream cheese frosting.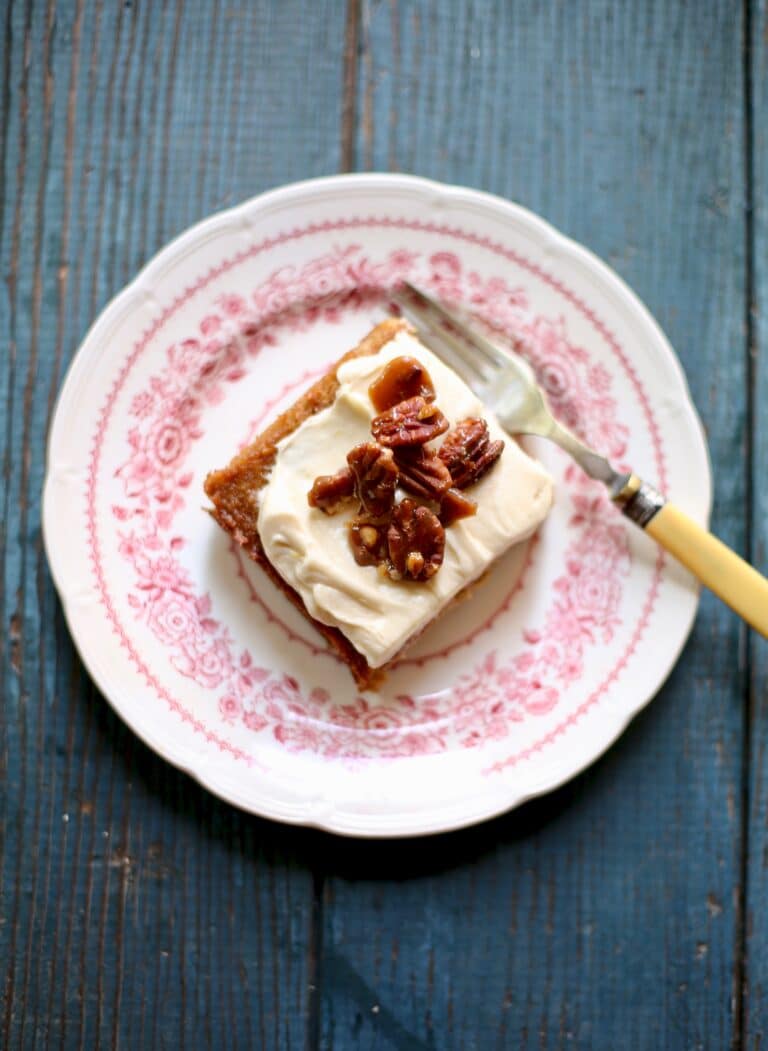 File this Fresh Banana Cake recipe under "things to bake this weekend" because it is everything you want in a homemade dessert.
What I love about this cake:

It's SUPER moist and with great big banana flavor, and a slightly chewy, melt-in-your-mouth texture
Lemon-spiked cream cheese frosting makes this cake EXTRA delicious
The gorgeous caramelized nuts on top are optional, but SO worth it.  Details below.
Ingredients You'll Need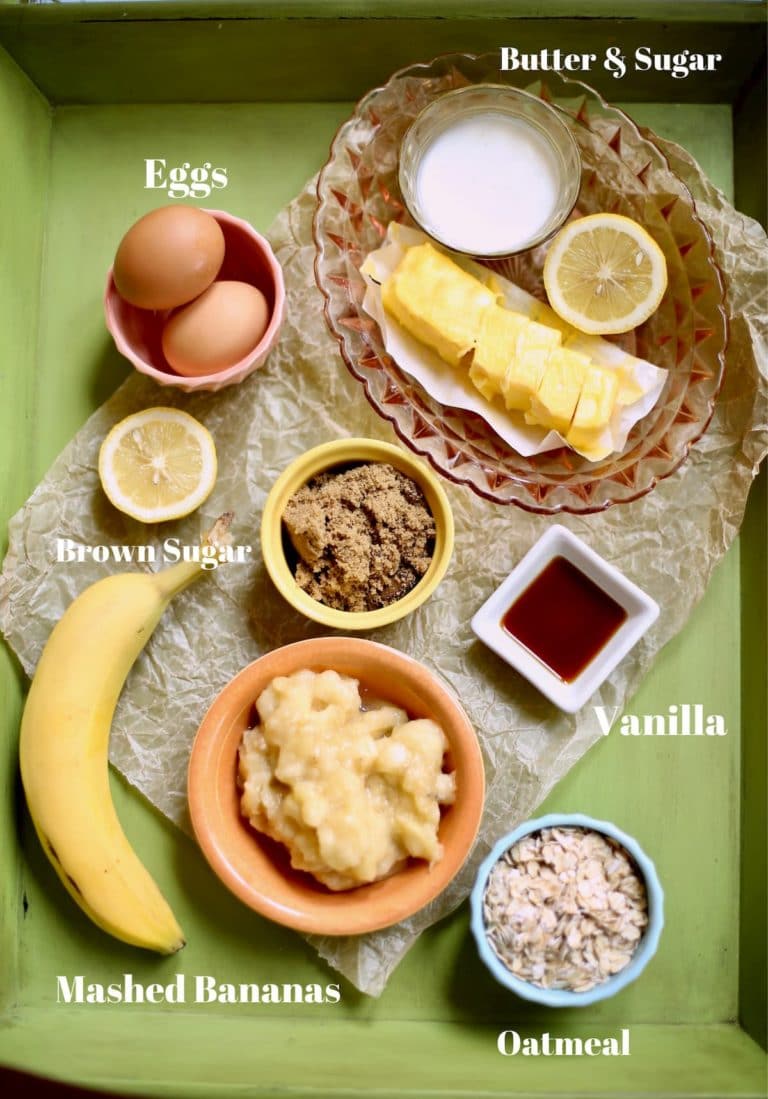 Fresh Bananas A full cup, mashed with a fork.
Butter Unsalted, and slightly softened at room temperature
Brown sugar (dark, please) plus a little Regular or Bakers Sugar 
Eggs, Buttermilk and Vanilla To guarantee moisture and flavor
Oatmeal For the slightly chewy texture we're after.
All-Purpose Flour, Baking Soda and Powder, Salt and Cinnamon  Essential ingredients for cake-making

Pecans and Cream Cheese  The pecans will be toasted and caramelized, the cream cheese whipped into frosting
How to Prep the Cake Pan

My favorite way to bake this cake is in a 9 x 13″ cake pan, lined with natural parchment paper.
TIP:  Spray the baking pan with a little non-stick baking spray, then place a large enough piece of parchment paper inside so it hangs off the sides of the pan – this little hack helps the parchment stick to the pan, and makes it super easy to lift the cake out after its cooled.
Spray more baking spray on top of the parchment paper just before adding the cake batter and baking.
Try using two 8″ non-stick cake pans for a two-layer cake!  Just check for done-ness at 22 minutes instead of 25.
Step by Step Instructions

Cream the butter and both sugars in a large bowl with an electric mixer
Add the eggs, baking soda, baking powder, salt, vanilla and buttermilk and mix to combine
Mix together with the flour, mashed banana and oatmeal
Pour into the prepared pan and bake
Frost the cake after it's completely cool and serve!
How to Make Candied Nuts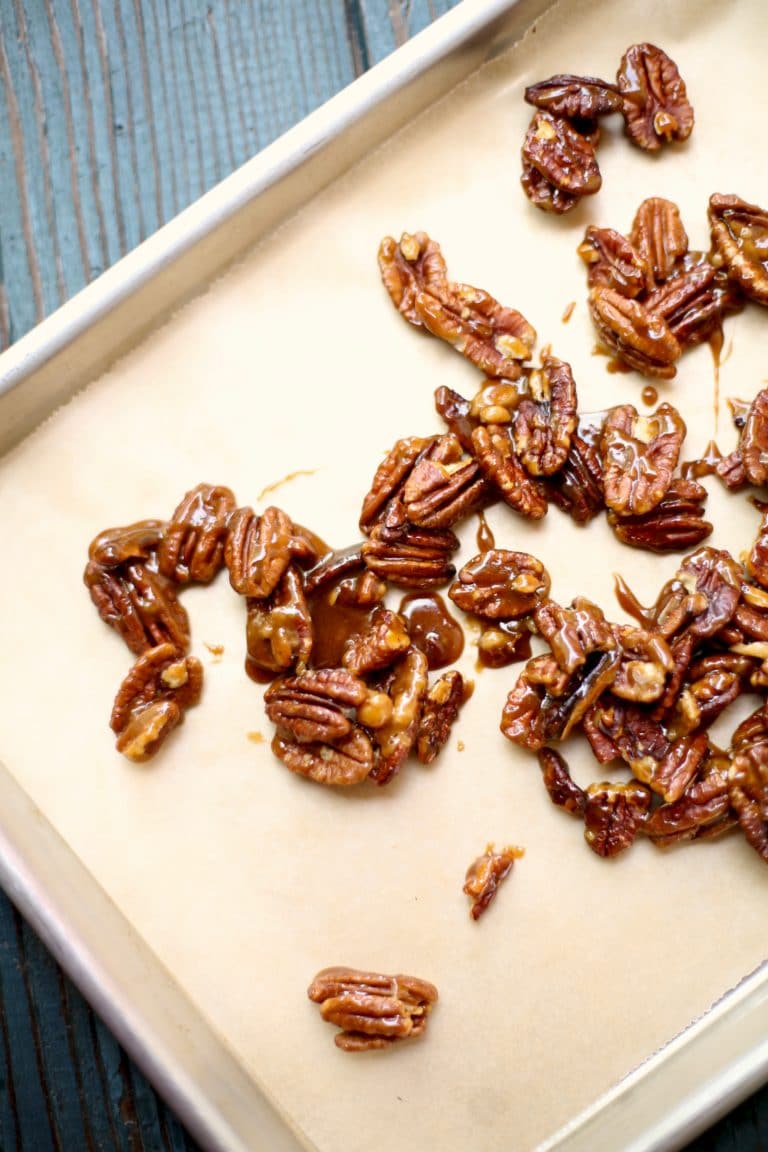 Make your own candied nuts and you won't regret it. WARNING:  These nuts taste FABULOUS on their own and are totally addicting – be sure to save some for your cake 🙂
To make candied nuts, you'll need:  
1 tablespoon of butter
1 cup raw pecans or walnuts
1/4 cup superfine or regular sugar
Melt the butter in a non-stick saute pan on medium heat, add the sugar and the nuts and stir gently to combine using a non-stick spatula
Cook and gently stir, adjusting the heat lower if needed to avoid burning.  The mixture should be dark and syrupy, so continue to toss to evenly coat all the nuts, about 5 minutes total.
Don't walk away while the nuts are cooking, this mixture will burn very easily, so you'll need to watch it closely
Transfer the nuts to a baking sheet lined with parchment or wax paper and let them cool until ready to use
Serving Suggestions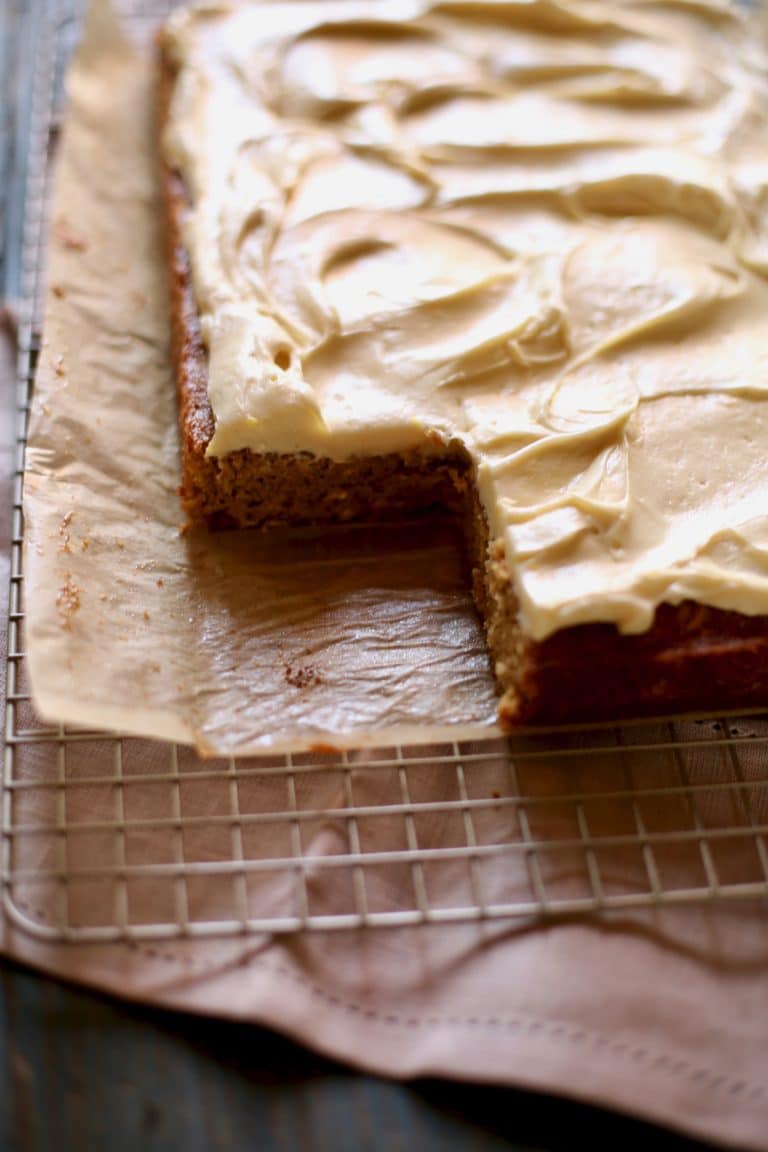 This cake tastes even better the next day, so it's great dessert choice to make a day ahead, including the frosting. TIP!  I usually frost the cake the day I'm going to use it, and stir the refrigerated frosting really well so it's smooth.
This cake is portable enough for potlucks, cookouts, after school snacks, casual dinners and birthday parties.
Take extra slices to the office and you're co-workers will love you 🙂
Tips For Making this Recipe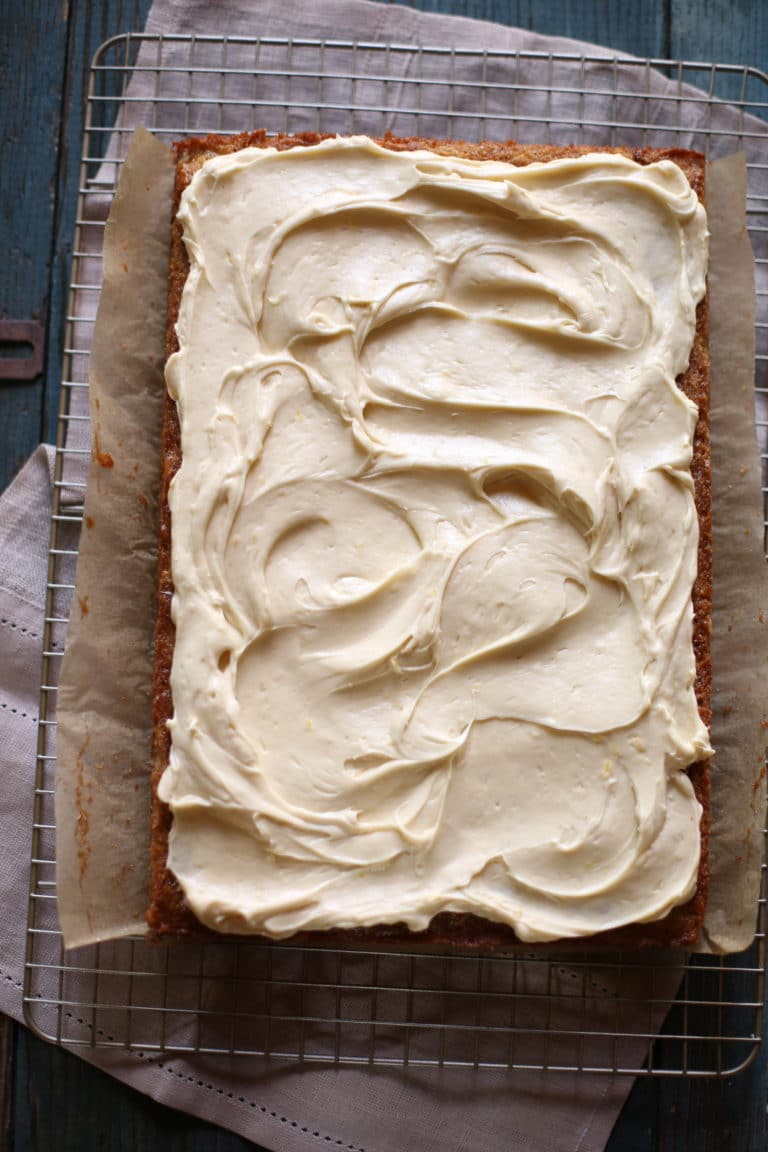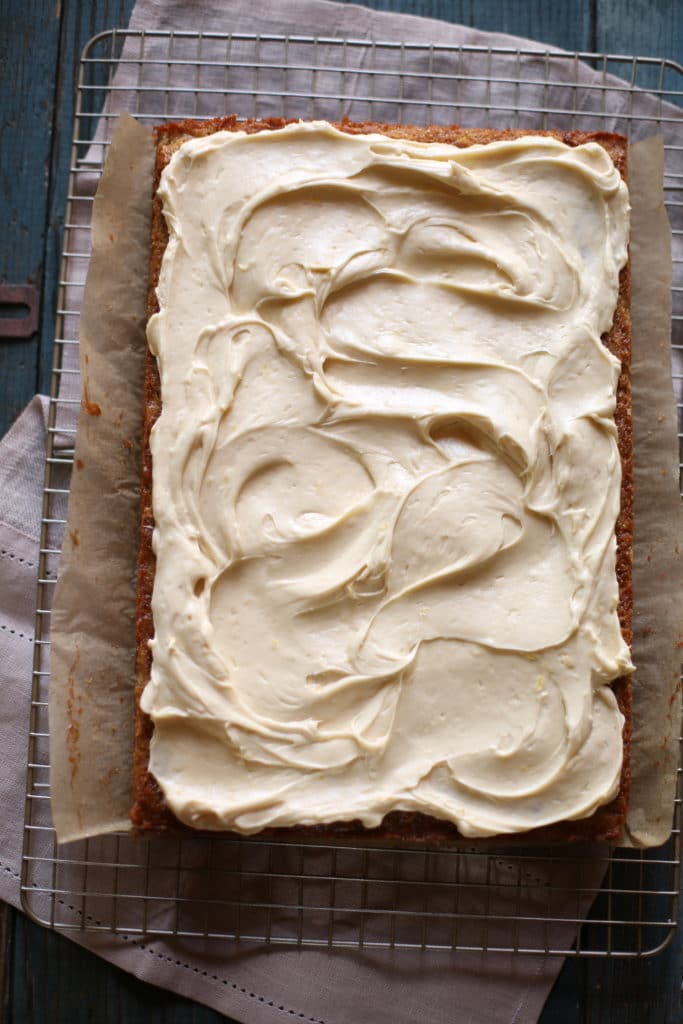 You can find superfine sugar in most grocery stores, often called Baker's Sugar.
Let the parchment paper hang off the sides of your baking pan before filling it with batter.  When the cake is totally cool, remove it by lifting it out with both hands to a cooling rack.
If you don't feel like making candied nuts, chop up some store-bought candied pecans (found in most grocery stores) instead.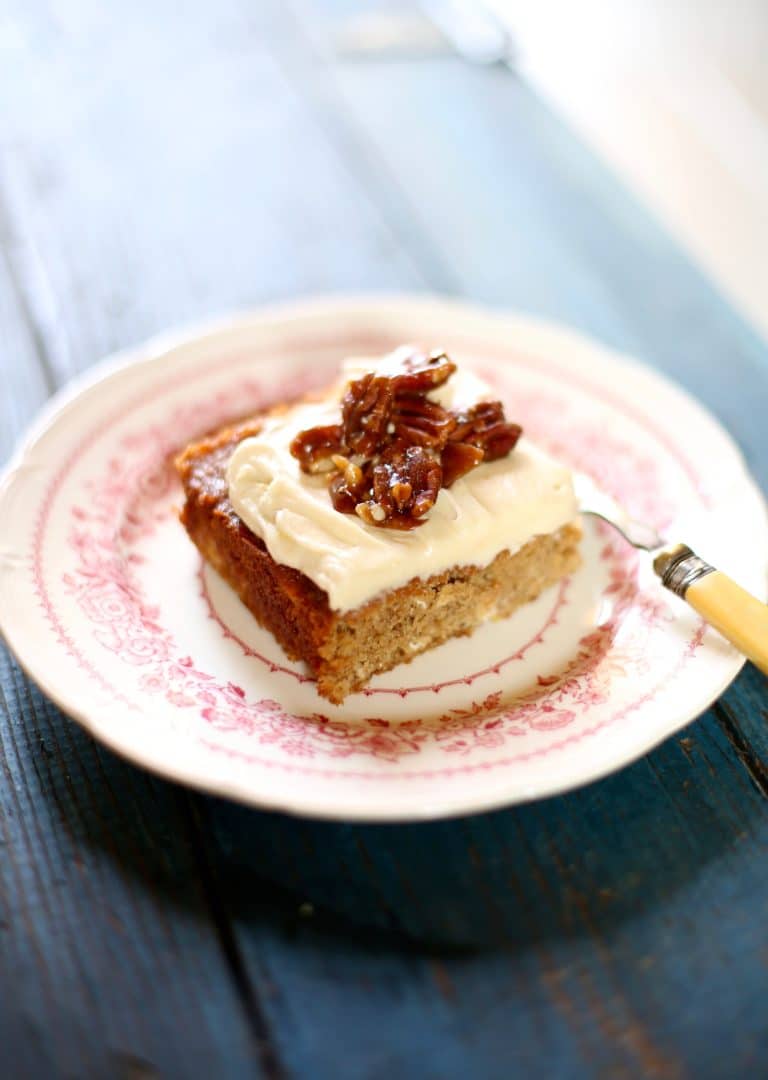 More Recipes To Try:
Coconut Milk Rice Pudding with Rose Rhubarb
Strawberry Cheesecake in a Jar
If you've tried this Fresh Banana Cake or any recipe on Studio Delicious, leave a comment below!  I'd love to hear from you.
FOLLOW ME on Facebook, Instagram and Pinterest for more recipes and inspiration 🙂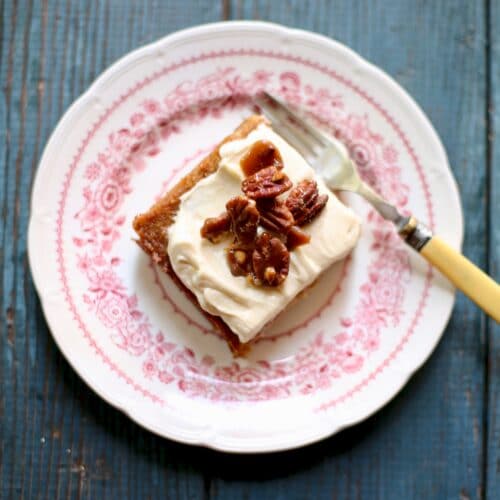 Fresh Banana Cake
Fresh Banana Cake has old fashioned flavor and is made from scratch, and it's easy to make! The fresh banana flavor tastes incredible with cream cheese frosting too
Print
Pin
Rate
Ingredients
1

Butter, unsalted, room temperature

1

cup

Brown Sugar, dark brown

1/2

cup

Sugar

2

Eggs, large

at room temperature

3/4

tsp.

Baking Soda

1/2

tsp.

Baking Powder

1/2

tsp

Salt

1

tsp.

Pure Vanilla Extract

1/3

cup

Buttermilk

1 1/2

cups

Flour, all-purpose

1/2

tsp

Cinnamon, ground

3/4

cup

Oats, rolled, not instant

1

cup

Bananas, ripe, mashed
CREAM CHEESE FROSTING

1

stick

Butter, unsalted, softened

1 8

oz

Cream cheese, softened

2

cups

Powdered Sugar

Pinch

Salt

1

tsp.

Pure Vanilla Extract

1

tsp.

Lemon Zest, freshly grated

1

tsp.

Lemon Juice, freshly squeezed
Pecans, toasted, chopped

for dusting on the frosted cake (about 1/3 cup)
Instructions
Heat oven to 350 degrees

Grease a 13 x 9" pan with baking spray, line with natural parchment paper, then spray with more baking spray just before adding the cake batter.

Cream the butter and both sugars in a large bowl using an electric hand held mixer for 4 minutes until fluffy. Alternatively, use a stand mixer with the paddle attachment.

Add the eggs one at a time, blending each time just until incorporated

In a small side bowl, dissolve the baking soda, baking powder, salt and vanilla into the buttermilk and stir to combine. Add this to the egg/butter/sugar mixture.

Add the flour a 1/2 cup at a time, and stir gently just to combine. Add the cinnnamon too, and stir to combine.

In a separate medium-sized bowl, combine the oats with the mashed bananas together, and beat on low with the electric hand mixer until combined, about 30 seconds. Add the oats and mashed bananas to the cake mixture and mix on low for another 30 seconds just to combine all the ingredients.

Pour the batter into the prepared pan.

Bake until the top is golden brown and a toothpick in center comes out clean, about 25 minutes

CREAM CHEESE FROSTING

In a medium sized bowl with electric hand mixer or stand mixer with paddle attachment, beat the butter and cream cheese until very smooth, about 3 minutes on high. Scrape down the sides occasionally with a rubber spatula.

Sift the confectioners sugar into the bowl, continue mixing for another 3 minutes or so until smooth.

Add the lemon zest and juice and vanilla extract, beat for another minute or so until completely smooth.

Chill the frosting in fridge until cake is completely coolFrost the cake and serveTop with Candied Nuts if desired - see recipe notes
Notes
This recipe can also be made in two 8" cake pans or an 8 x 13" square pan
You can find superfine sugar in most grocery stores, it's in a milk carton container called "Bakers Sugar"
Let the parchment paper hang off the sides of your baking pan before filling it with the batter.  When the cake is totally cool, remove by lifting it right out with both hands.
If you don't feel like making the caramelized nuts, you can buy candied nuts at the grocery store and chop them for similar delicious results.  
Nutrition
Calories:
425
kcal
|
Carbohydrates:
66
g
|
Protein:
5
g
|
Fat:
16
g
|
Saturated Fat:
9
g
|
Cholesterol:
72
mg
|
Sodium:
341
mg
|
Potassium:
173
mg
|
Fiber:
1
g
|
Sugar:
48
g
|
Vitamin A:
579
IU
|
Vitamin C:
2
mg
|
Calcium:
64
mg
|
Iron:
1
mg
Tips for Success with Every Recipe
Super important to read the whole recipe before you begin
Pay attention to the ingredient list and photos for the recipe
If possible, prep your ingredients a little before you start
Always use a sharp knife for safety
Use the size of pan called for in the recipe
For savory recipes, taste and season as you go
Buy fresh, organic ingredients, locally sourced whenever possible
Source: Studio Delicious, adapted from Sweet Home
This recipe was updated with new tips and content in February, 2020