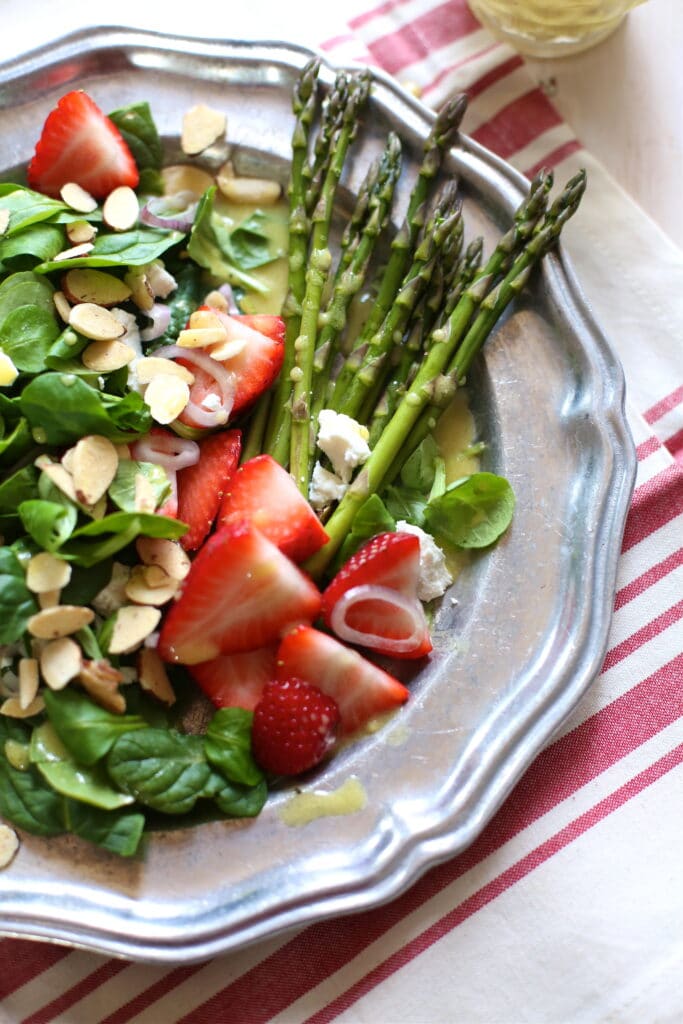 Spring is that special time when one can finally remove the snow boots, leggings and heavy sweaters and feel light and free again.
Until the realization hits that summer is coming, with its hot weather and shorts, sleeveless shirts and bathing suits.  (Insert horror movie scream here.)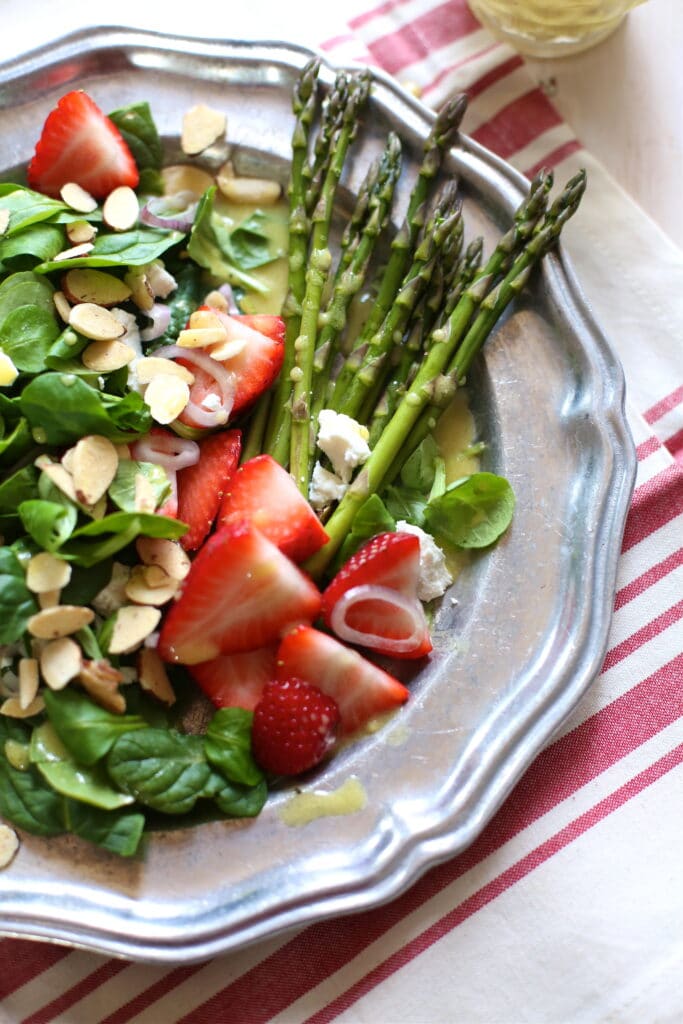 Here's the problem with leggings – when you've been wearing them every day since the weather got cold in late October, it can be a shock to put on your regular old pants.
Good bye Ben and Jerry.  I'll miss you.  We had fun, the three of us.
I've got to stop this bloat in its tracks.
I think I told you about my road trip last December, where I ate an exceptional fresh strawberry salad at a little cafe in the middle of nowhere.
They served it with a big, soft homemade dinner roll with butter.
I can't stop thinking about it.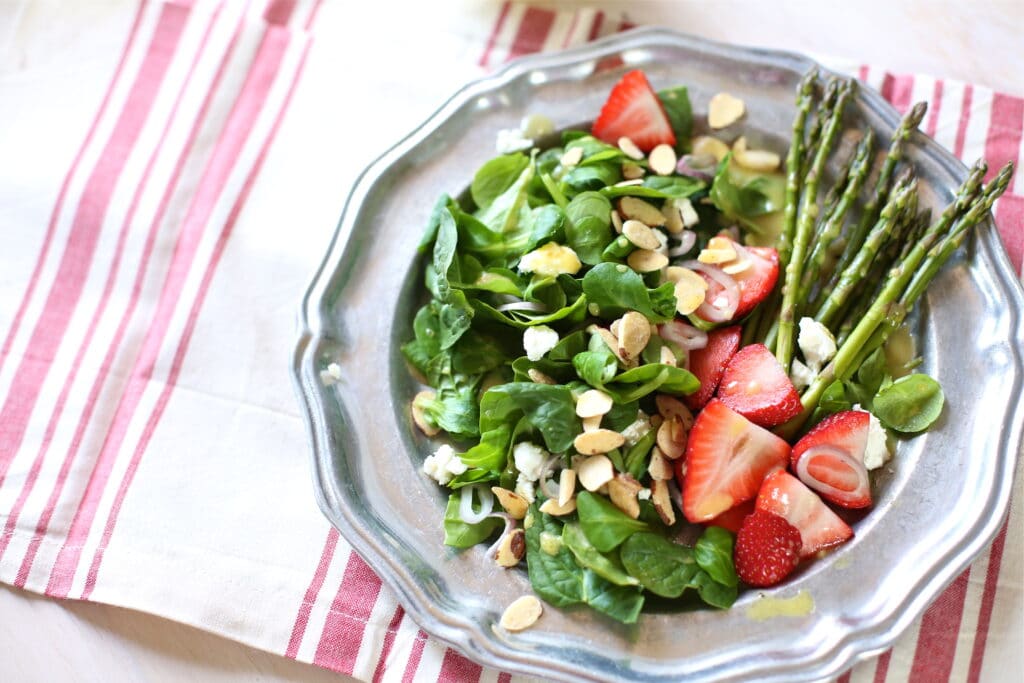 There are plenty of recipes out there for strawberry salad, but this one is different because of crisp, thin asparagus, crunchy sliced almonds and a little tang from the goat cheese.
A generous drizzle of honey-sweetened homemade lemon vinaigrette doesn't hurt either.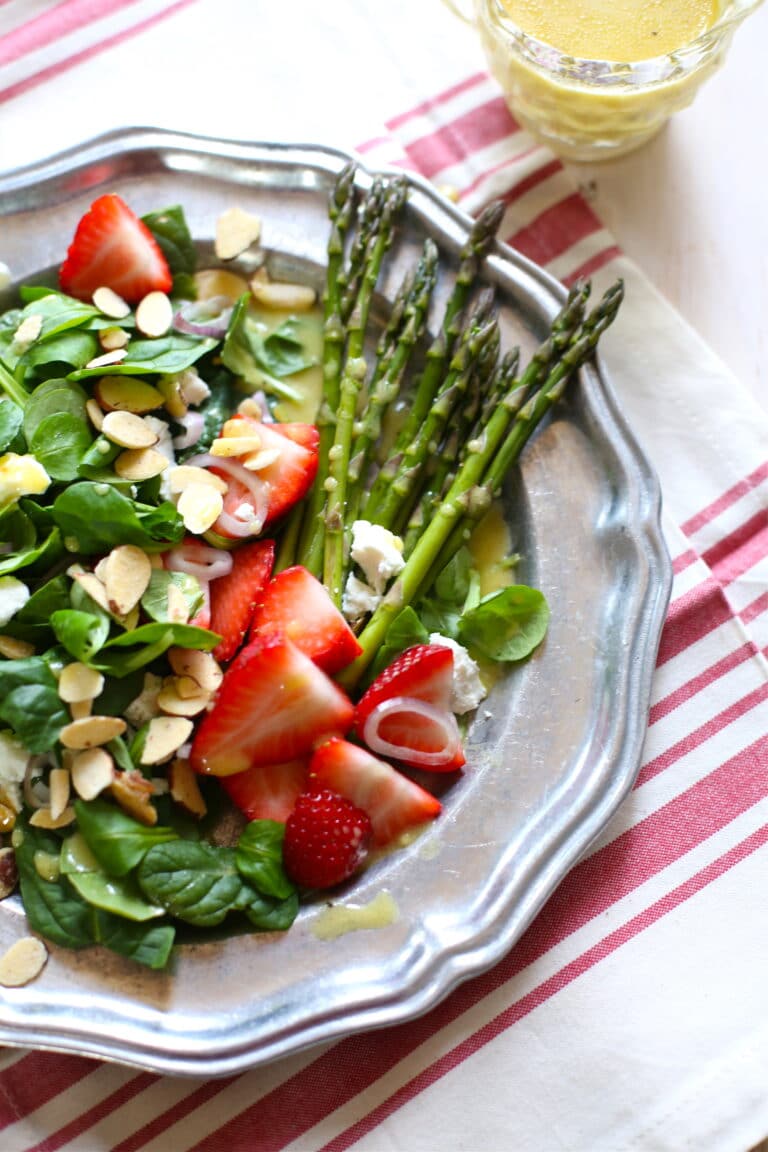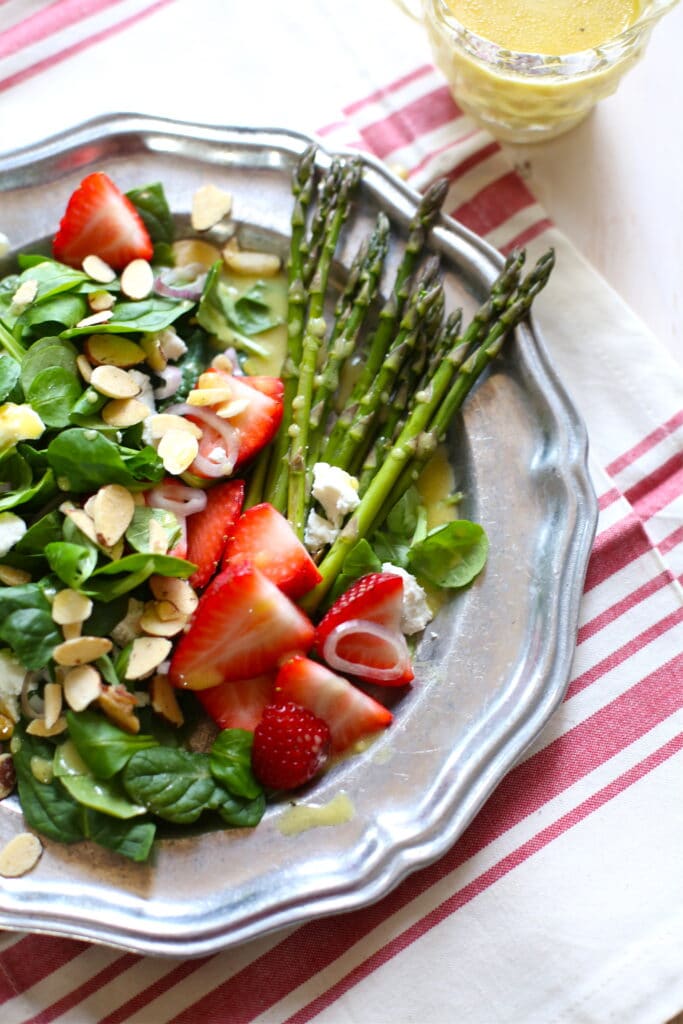 This is one of those simple salads you can customize to your own taste, with its balance of textures and sweet and savory elements. Swap out the cheese if you like!  Try butter lettuce instead of spinach and micro-greens too.
Only thing is I probably should have pulled this recipe together about a month ago, and skipped the Chunky Monkey.
Ingredients
For 4 Servings

4 1/2

cups

lightly packed fresh spinach that has been rinsed and dried

gently tearing the big pieces up with your fingers.

1 1/2

cups

lightly packed Mache

lambs ear lettuce or butter lettuce or micro green of your choice

1

pound

of thin asparagus

bottom woody part removed

2

tablespoons

shallot

sliced very thin

4

tablespoons

goat cheese crumbled

4

tablespoons

honey roasted or regular sliced almonds

2

cups

of organic strawberries

washed, dried and cut in slices

FOR THE LEMON VINAIGRETTE

6

tablespoons

extra virgin olive oil

4

tablespoons

fresh squeezed lemon juice

I used Meyer lemon since they are available now

3

teaspoons

honey

or more if you like it a little sweeter

1 1/2

teaspoons

french style mustard

I use Maille Original Dijon

1 1/2

teaspoons

mayonnaise or vegenaise

I use Follow Your Heart

1/2

teaspoon

fresh ground pepper

I use lemon pepper grinder from Trader Joe's

1/4

teaspoon

sea salt
Instructions
PREPARE ASPARAGUS

Remove the woody bottoms of the asparagus. Place in a medium saucepan with just enough water to cover the bottom. Add a pinch of salt. Turn heat to medium high and bring to a light boil. Cook till crisp and bright green, about 3 or 4 minutes.

Remove asparagus from pan and place in a bowl of cold water with some ice cubes in it to stop the cooking and retain the color. Let it sit in the cold water for about 5 minutes, then remove and dry on clean paper towels.

PREPARE THE VINAIGRETTE

Place all ingredients in a small bowl and whisk with a fork to completely mix together and emulsify. You can use a small Ball jam jar with a lid too, shaking it for several minutes until combined. Note: Taste the vinaigrette and adjust the seasonings if needed.

COMPOSE THE SALADS

On four plates, divide the greens evenly, then place a few spears of the asparagus on each plate too. Sprinkle a bit of sliced shallot on each plate, using it all, and a tablespoon each of the crumbled goat cheese and almonds per plate. Add about 1/2 cup of sliced strawberries and drizzle with a tablespoon or so of the vinaigrette for serving.
SOURCE: Studio Delicious