This Baked Pasta with Chicken Sausage first appeared here last winter and it totally checks all the comfort food boxes—creamy, cheesy and a tiny bit spicy. In other words, perfect.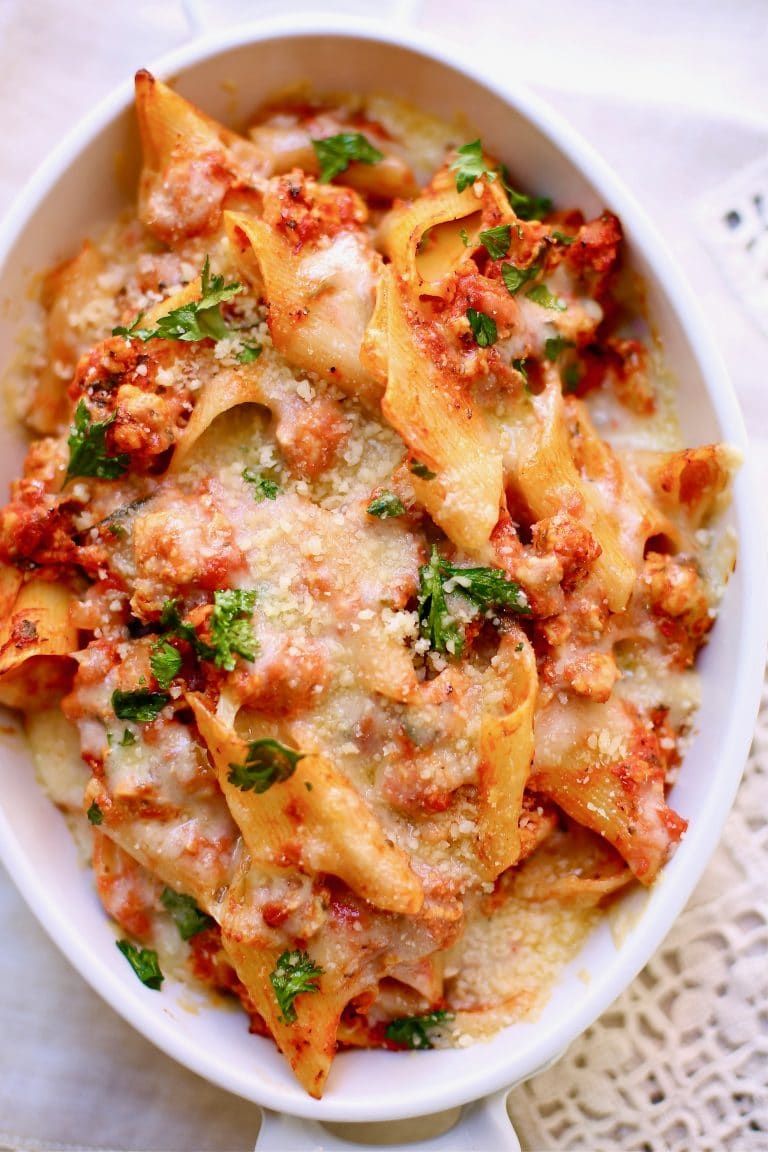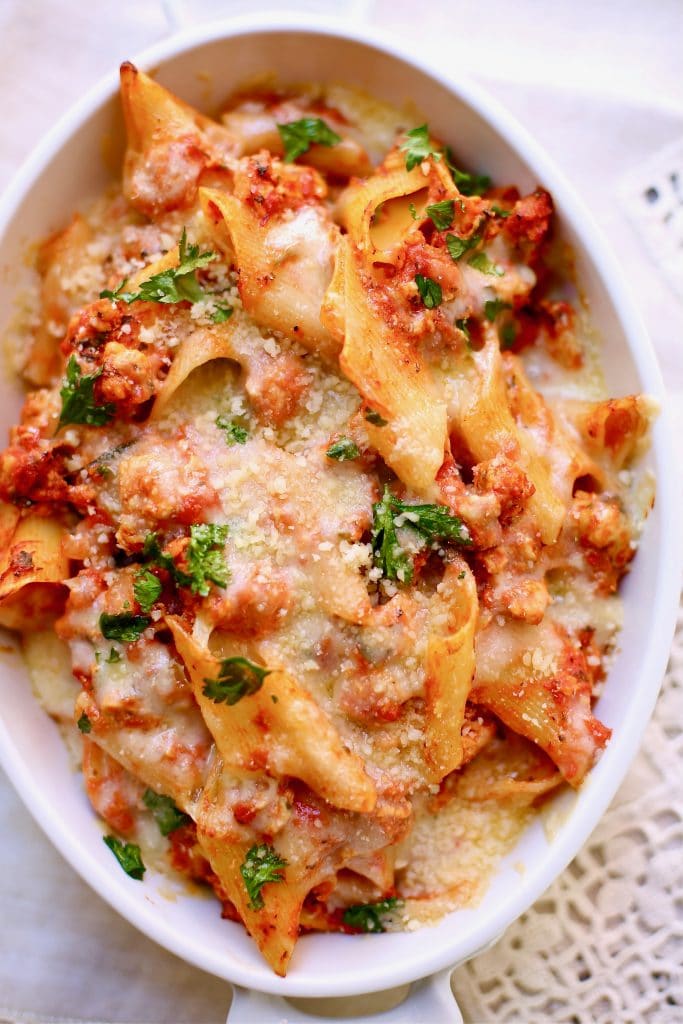 Well, the lunar eclipse certainly had its way with me.
I mean it's either that or everyone is taking crazy pills.
It's just been one thing after another.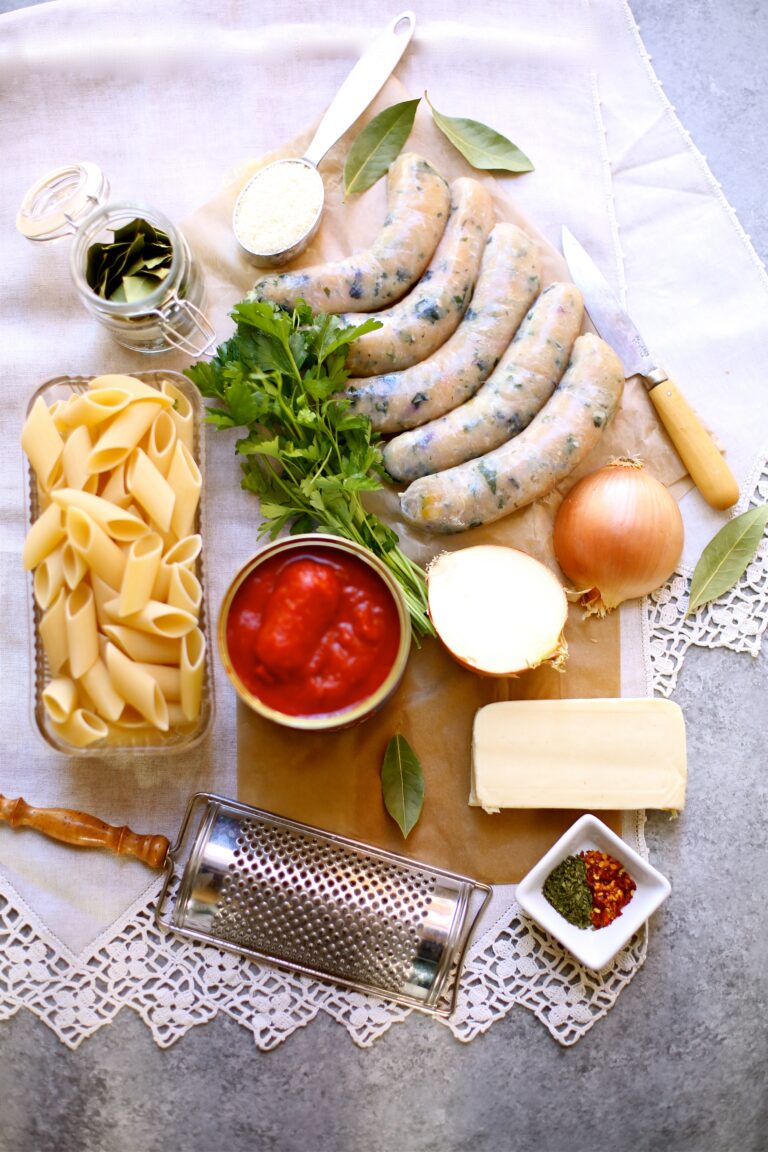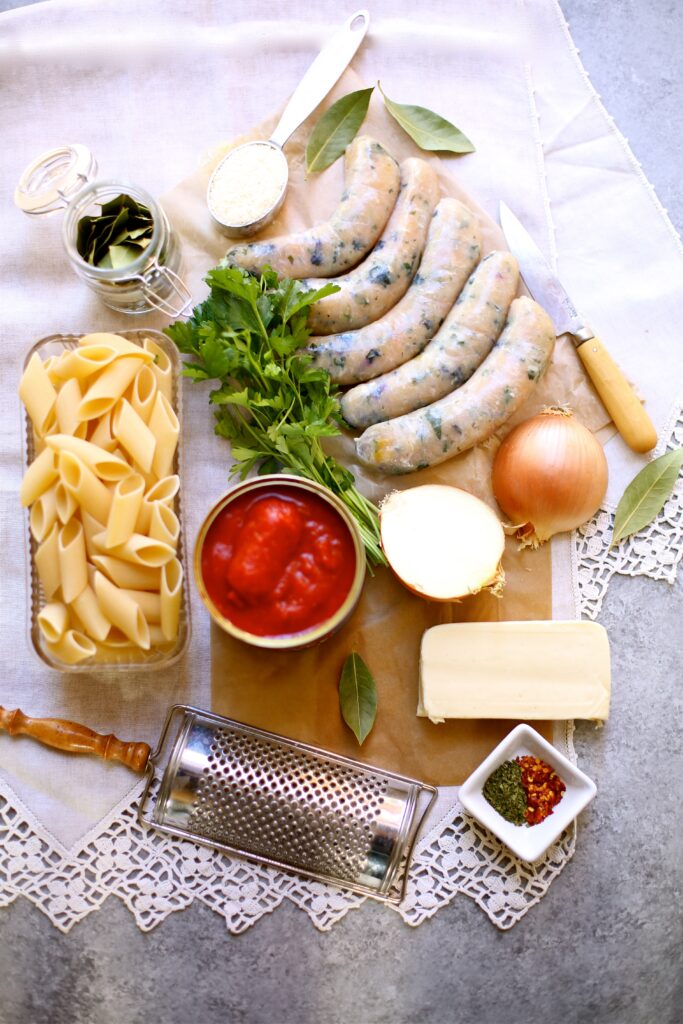 It started innocently enough, when a simple link I was posting for Superbowl appetizers wouldn't work even though I tried it 15 times.
I considered throwing the computer out the window, but decided that wouldn't be very adult of me.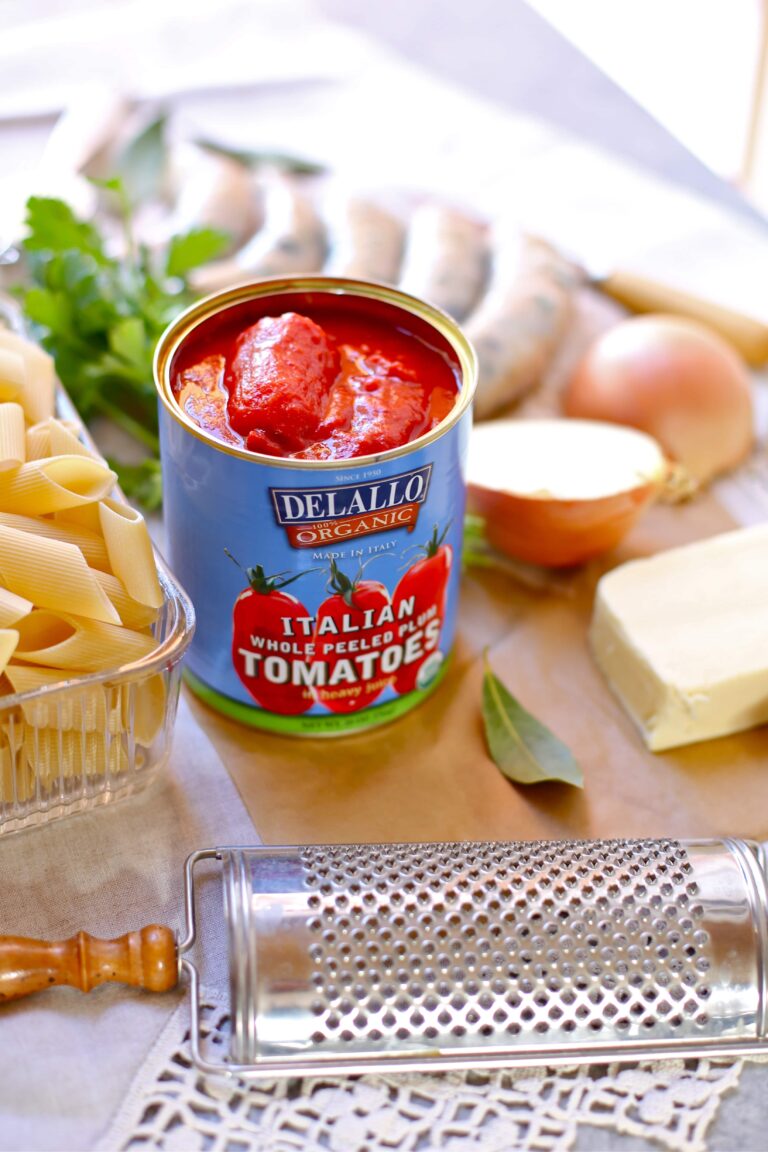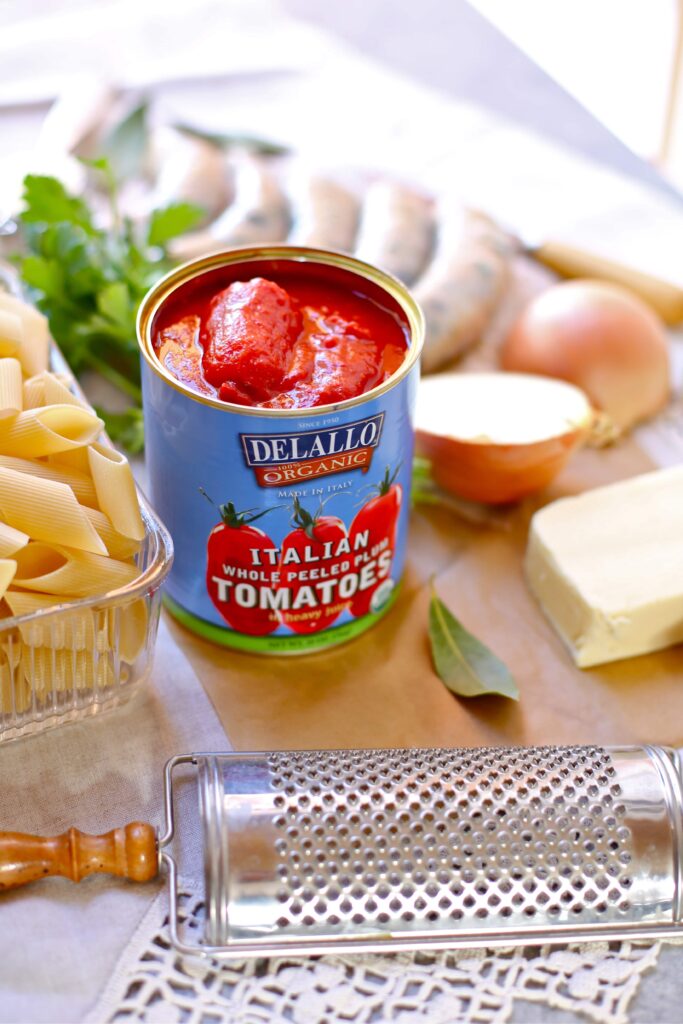 I've been clumsy and forgetting things and feeling generally whacked, punctuated with the occasional slamming headache which goes away when I drink water which I don't do enough of ever because I'm constantly jamming.
That sentence was exhausting.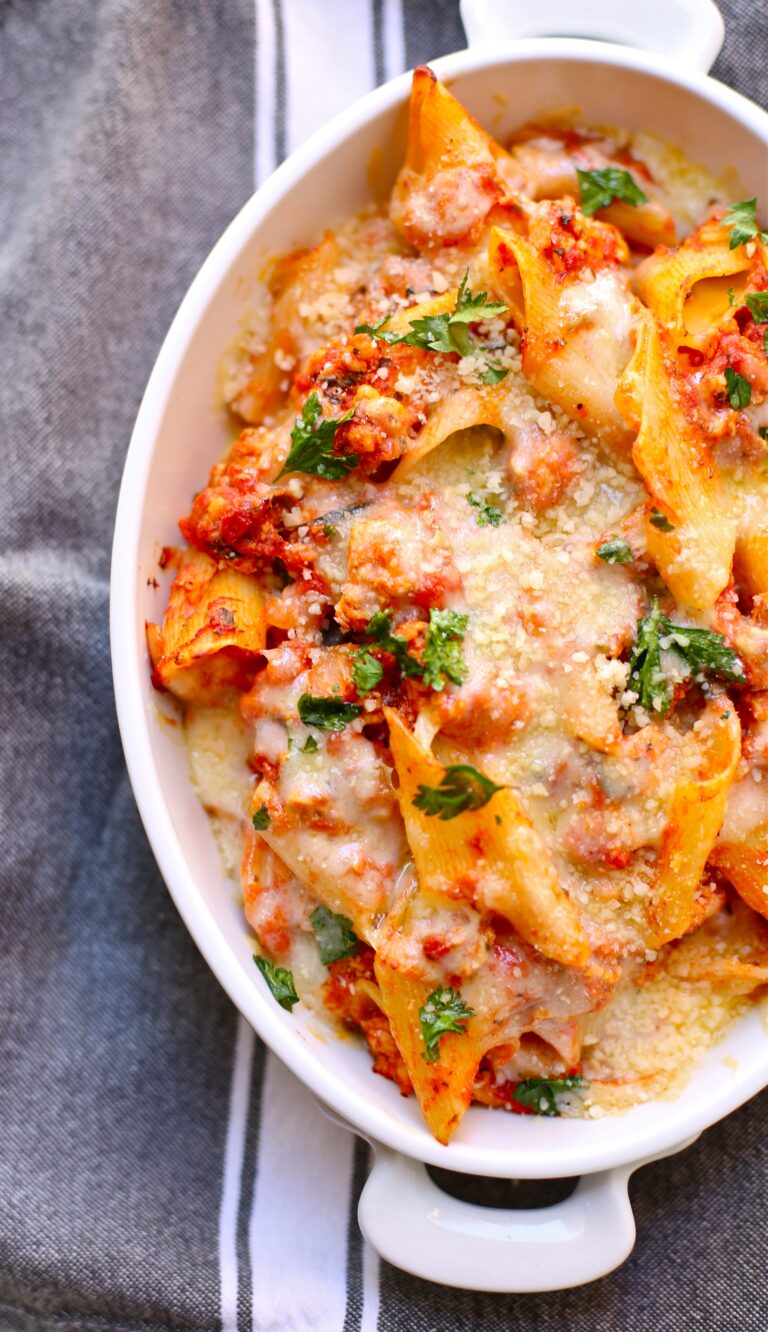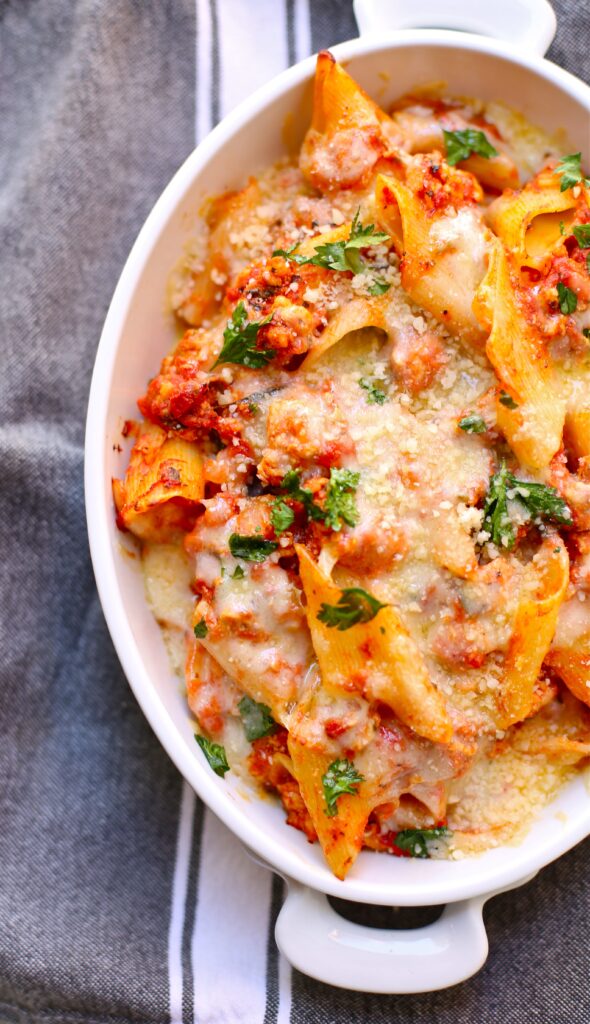 Things were further complicated when my sleeve snagged the half-opened bottle of a three month supply of magnesium oxide, making the very small pills fly the span of two rooms which was highly, highly annoying.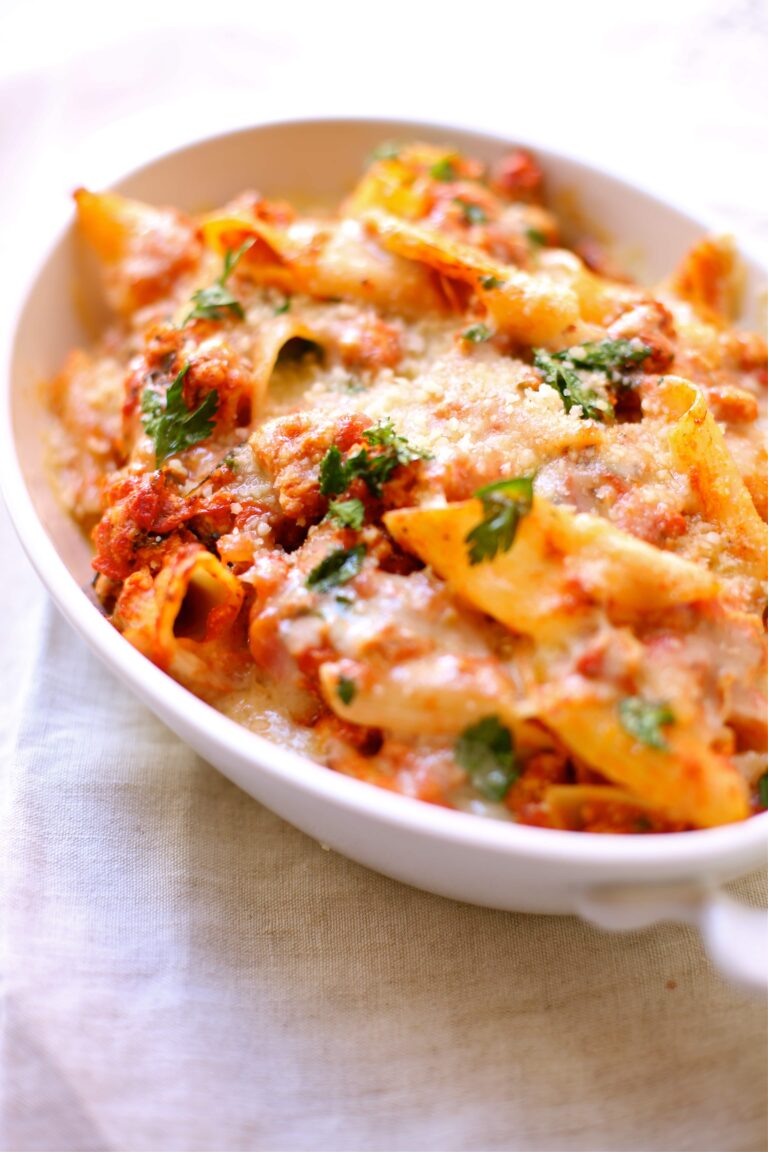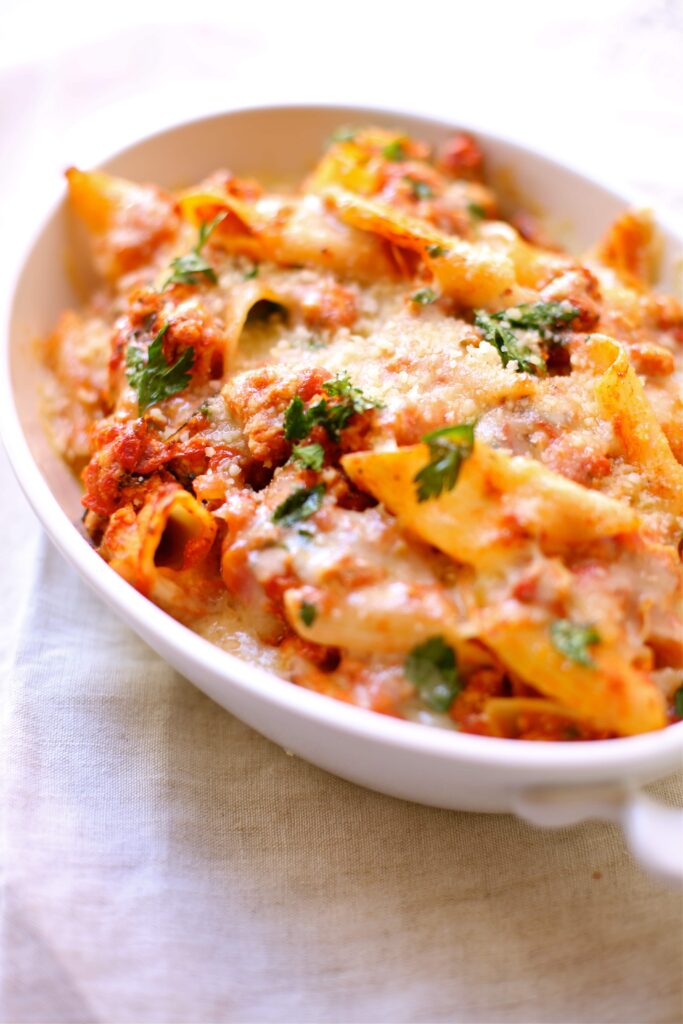 Suffice to say that when a container of miniature cherry tomatoes dislodged themselves from the shopping bag and tumbled out of the just-opened car door and rolled down the driveway—all 2000 of them—I was ready to snap.
It wasn't pretty, friends.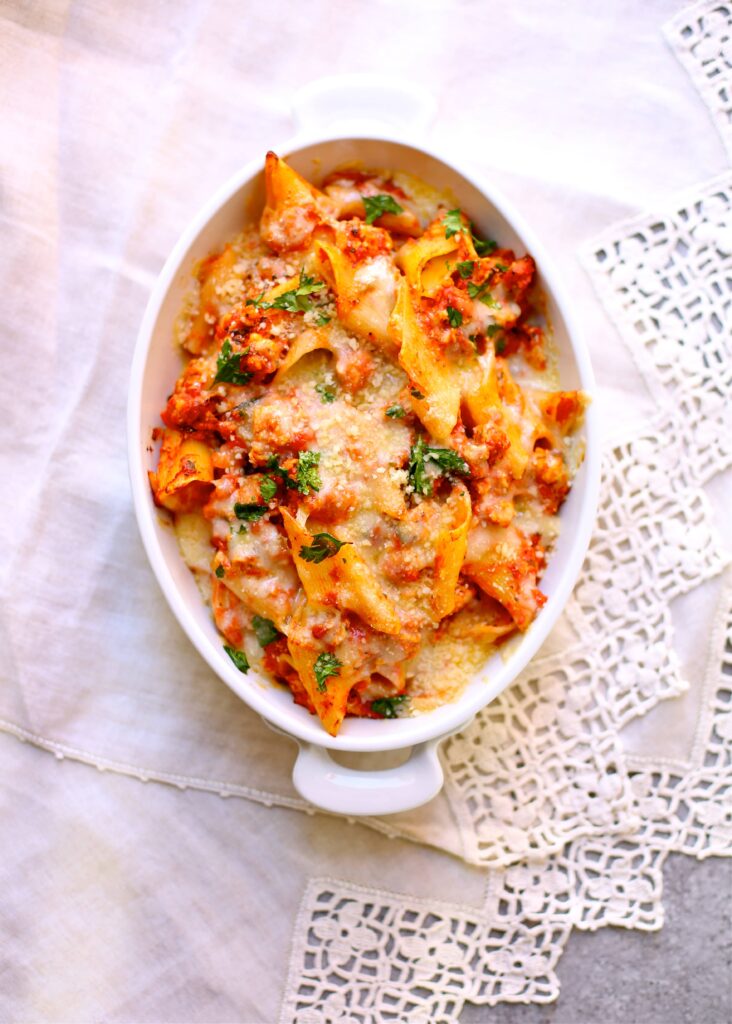 Then I got yelled at by a girl who told me I filled out a form wrong, even though I explicitly followed her instructions.
Ramming my knee into the pointy end of the coffee table was just the cherry on top.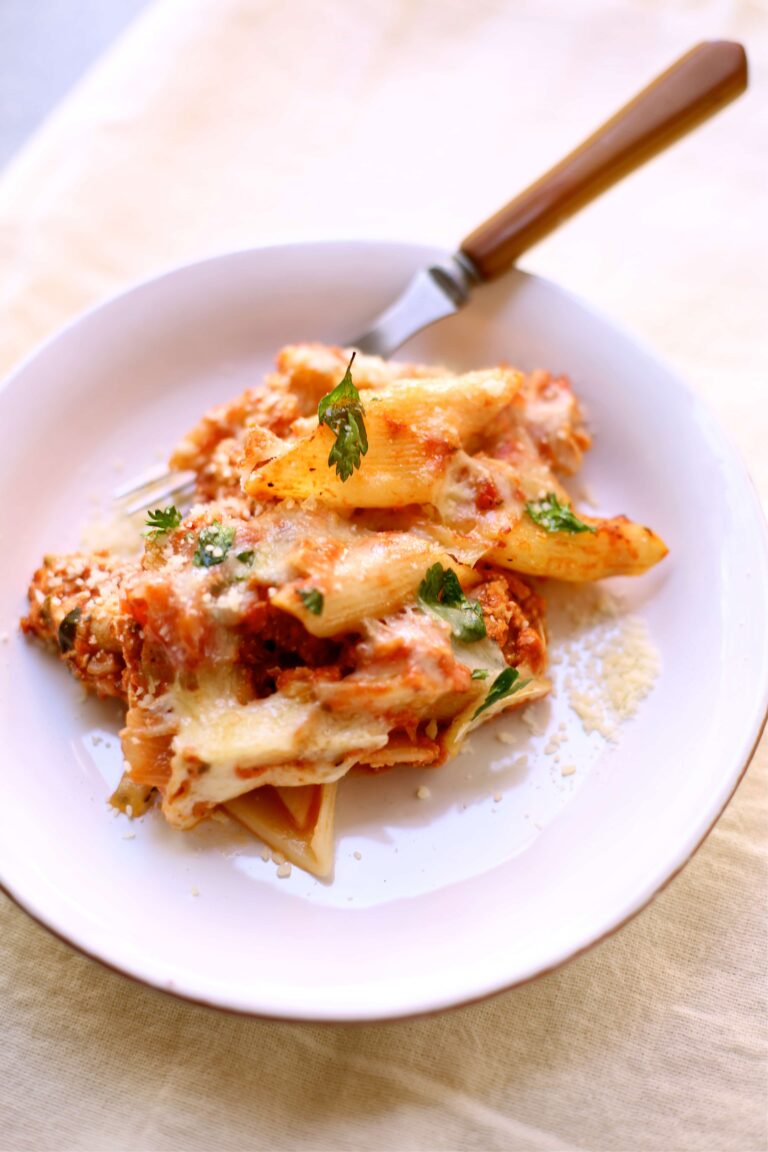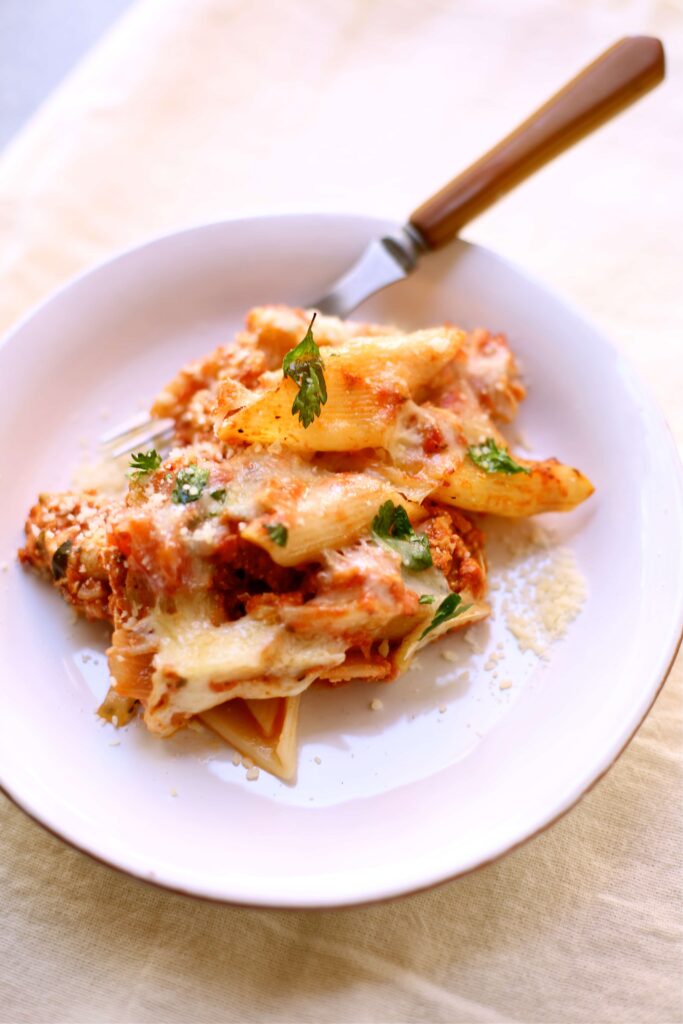 All this made me want to hide under the bed with a big, comforting bowl of Baked Pasta with Chicken Sausage.
This baked pasta is saucy and cheesy and full of warm, carby goodness.
My suggestion?
Enjoy it from the safety of your couch with a blanket, the TV and the fireplace.
PIN THIS RECIPE FOR LATER!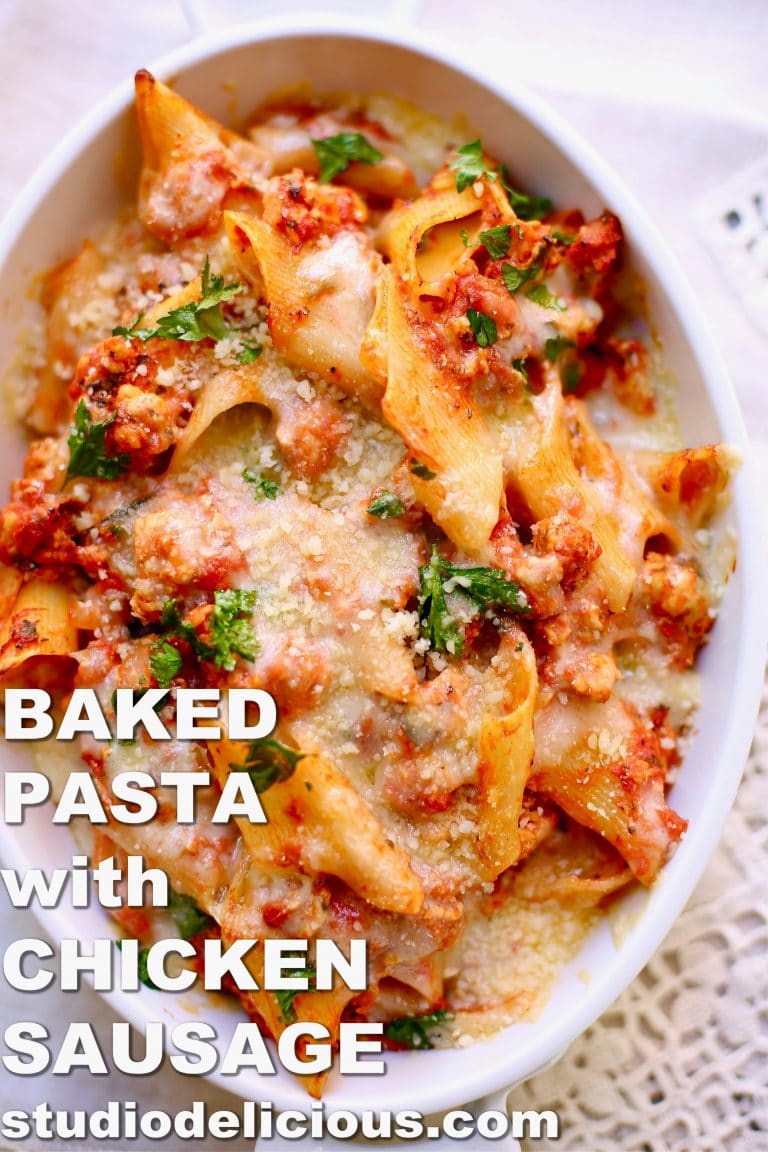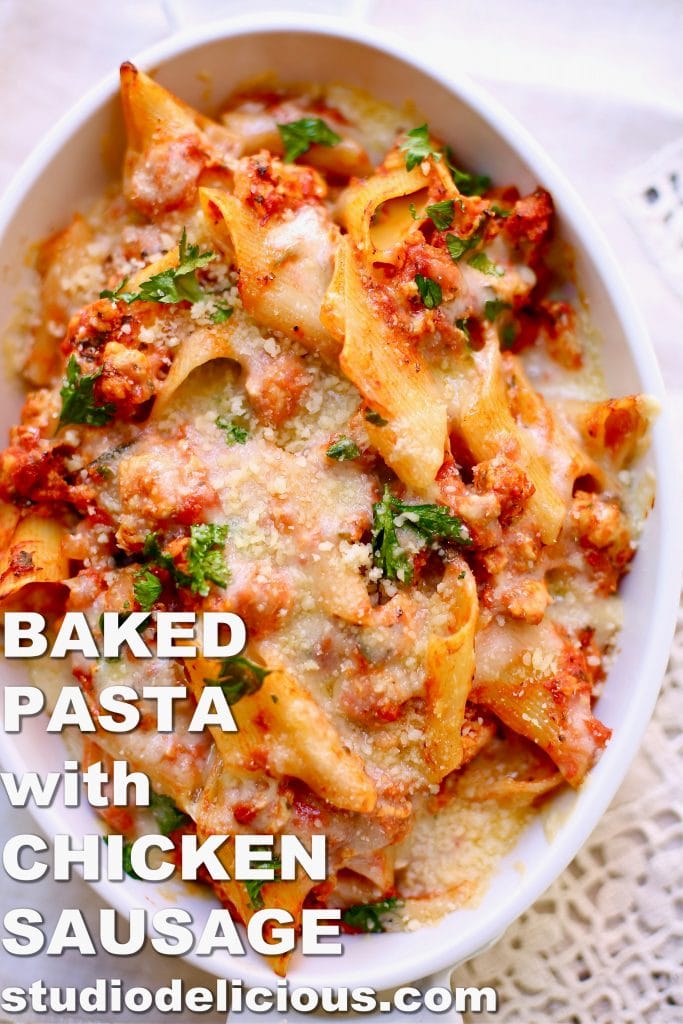 Ingredients
Heat oven to 350

2

tablespoons

olive oil

plus more for serving

1

medium yellow onion

diced

pinch

of salt

3

cloves

garlic

crushed

1 1/2

pounds

chicken sausage

uncooked, casings removed

1 28-

ounce

can Delallo whole peeled italian style tomatoes

I used organic

1 15

ounce

can diced tomatoes

I used organic

1/2

cup

water

1/2

teaspoon

each of oregano and crushed red pepper flakes

1

teaspoon

salt

1/2

teaspoon

or so of freshly ground pepper

3

tablespoons

fresh chopped flat-leaf

Italian parsley, plus more for serving

2

bay leafs

1

pound

penne pasta

1/2

cup

ricotta cheese

1/4

cup

grated Parmesan cheese

plus another tablespoon or two for the top

8

ounces

grated Havarti cheese
Instructions
MAKE THE SAUCE

In a dutch oven or large non-stick sauce pan, heat 2 tablespoons of olive oil and add the onions.

Add a pinch of salt and cook on medium high heat until the onions are soft, about 5-6 minutes.

Add the garlic and cook for another minute, stirring to make sure the garlic doesn't get brown.

Add the chicken sausage, breaking it up with the back of a wooden spoon until cooked through.

Add the whole peeled tomatoes, crushing the tomatoes with your fingers as you add them to the pan.

Add the chopped tomatoes too. And the water.

Add the oregano and crushed red pepper flakes, salt and pepper.

Add one tablespoon of the chopped fresh parsley.

Stir the mixture to combine and add the bay leafs.

Simmer on medium heat on the stove for 30 minutes, remove bay leafs.

In a large pot, prepare the pasta according to the directions, salting the water before adding the pasta, and removing the pasta about a minute before the final cooking time. You want al dente (a little bit firm still) pasta.

Drain the cooked pasta and add it back to the large pot. Add the chicken sausage mixture, the ricotta cheese and the Parmesan cheese and another tablespoon of the chopped parsley.

Mix gently to combine, and add to a large casserole dish (approximately 9x13" size, I used three smaller casserole dishes so I could freeze one for later)

Sprinkle the top with Harvarti cheese and another tablespoon or so of the Parmesan cheese, plus the remaining tablespoon of fresh parsley.

Bake for about 30 minutes until the cheese melts and everything is heated through.

Drizzle with a little bit of olive oil and Parmesan cheese for serving.
SOURCE: Studio Delicious