Comfort food is coming right up with this warm and inviting Baked Pasta with Chicken Sausage. Creamy, cheesy and just a little bit spicy, this dish is absolutely delicious!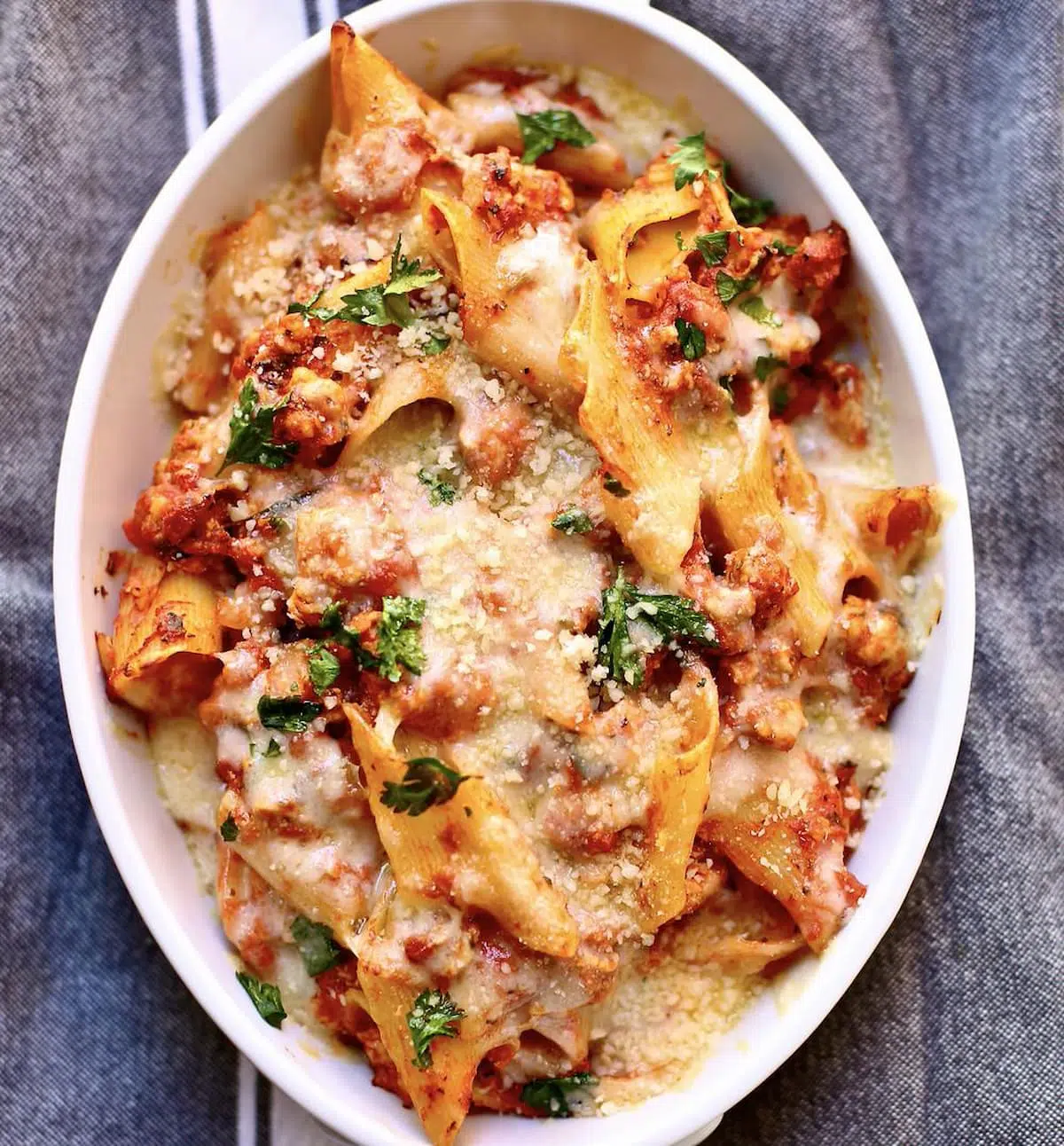 Jump to:
What You'll Love About This Recipe
Anything that's warm, cheesy and baked is what I want to eat right now. This chicken sausage pasta recipe is a great solution for weeknights and weekends. You can count on it for at least a dinner or two depending on how many are eating, plus leftovers for lunch. Why not make it tonight?
This recipe takes minutes in hand-on prep time, and it's easy to prepare.
Pantry ingredients like canned tomatoes and dried pasta might be in your cupboard right now! This is great news!
If you have some sausage in the freezer, you're one step closer to an absolutely delicious, cozy meal.
While everything bakes, make a salad like this easy and fresh Celery Salad with Hazelnuts or a Pan Roasted Pear Salad or a Blackberry Salad with Toasted Hazelnuts (and maybe a little hot garlic bread?) 🙂
Two more recipes to try: Baked Ravioli and this light Summer Pasta recipe (great year-round)...
Ingredients You'll Need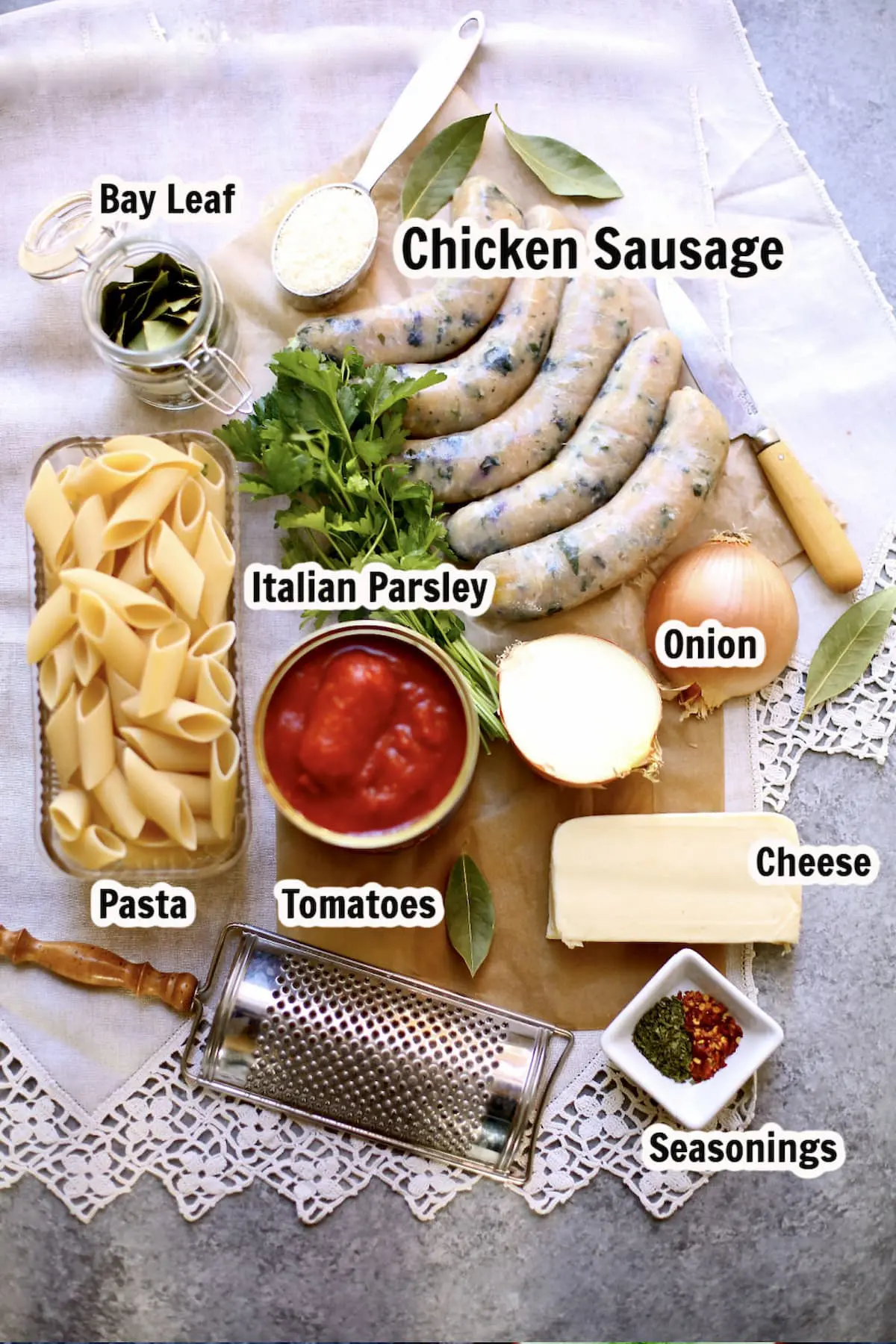 Here's a list of the key ingredients for this recipe, and for the full list plus instructions, please scroll to the recipe card below.
Chicken sausage: Raw sausage is often sold in bulk at the grocery store, or in casings, and often it comes pre-seasoned. Look for Italian sausage, chicken or turkey, either are great options.
Tomato sauce: Thick, chunky, quick and super delicious, I always buy whole canned tomatoes if possible, but diced tomatoes work too.
Cheese: Creamy, melty nutty Harvarti cheese fits the bill perfectly here, but mozzarella or Monterey Jack cheese do too.
Pasta: Old reliably delicious penne is best for this recipe, a perfect style to hold the delicious sauce.
Seasonings: All the usual suspects, plus a pinch of crushed red pepper flakes to amp up the flavors and add a mild spiciness.
A Word About Canned Tomatoes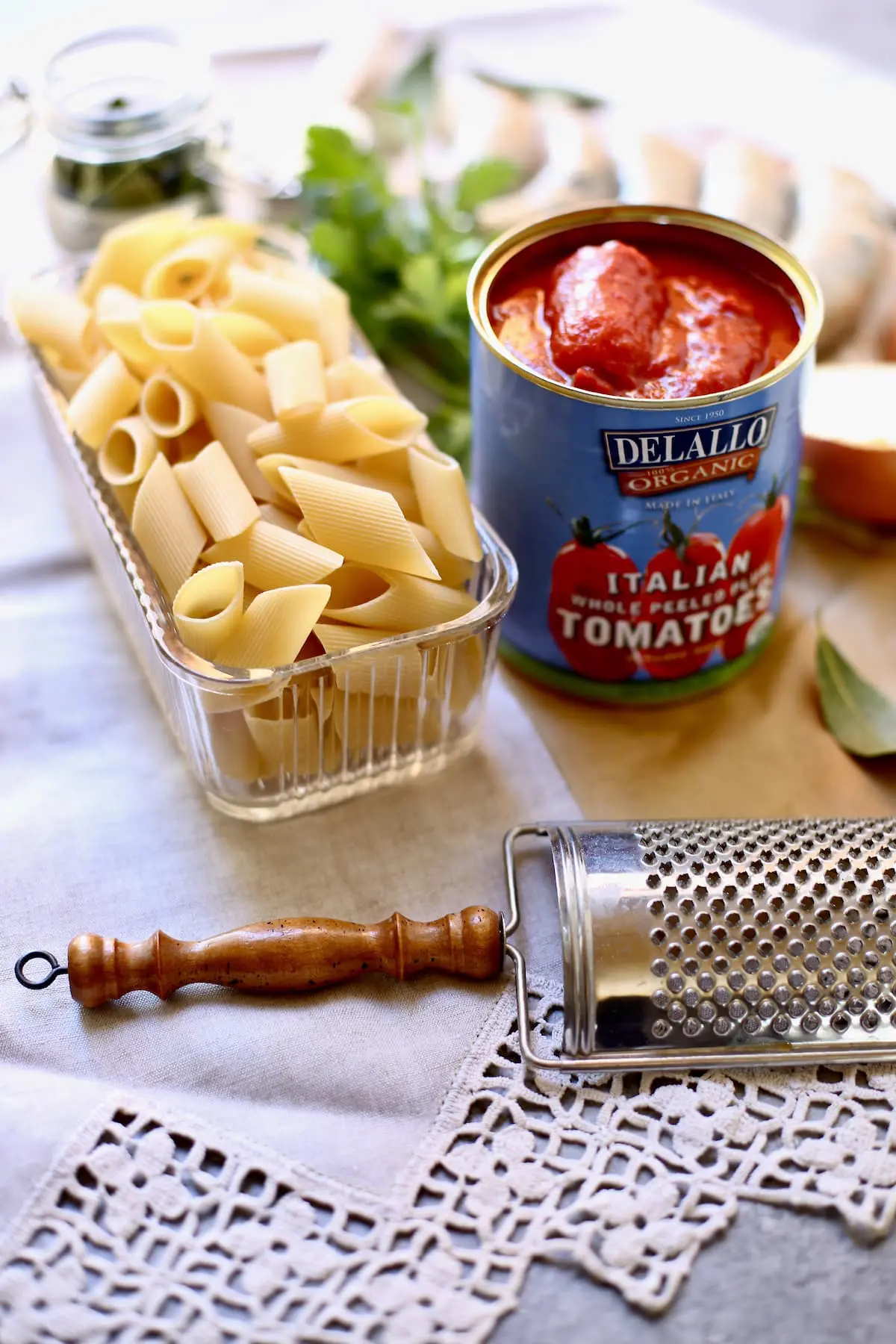 There's no doubt in my mind that crushing tomatoes whole from the can is far superior in flavor and texture than buying the tomatoes already crushed.
Crush the whole tomatoes into small pieces by emptying into a medium bowl and squishing them with your (clean) hands or using a wooden spoon.
Step-By-Step Instructions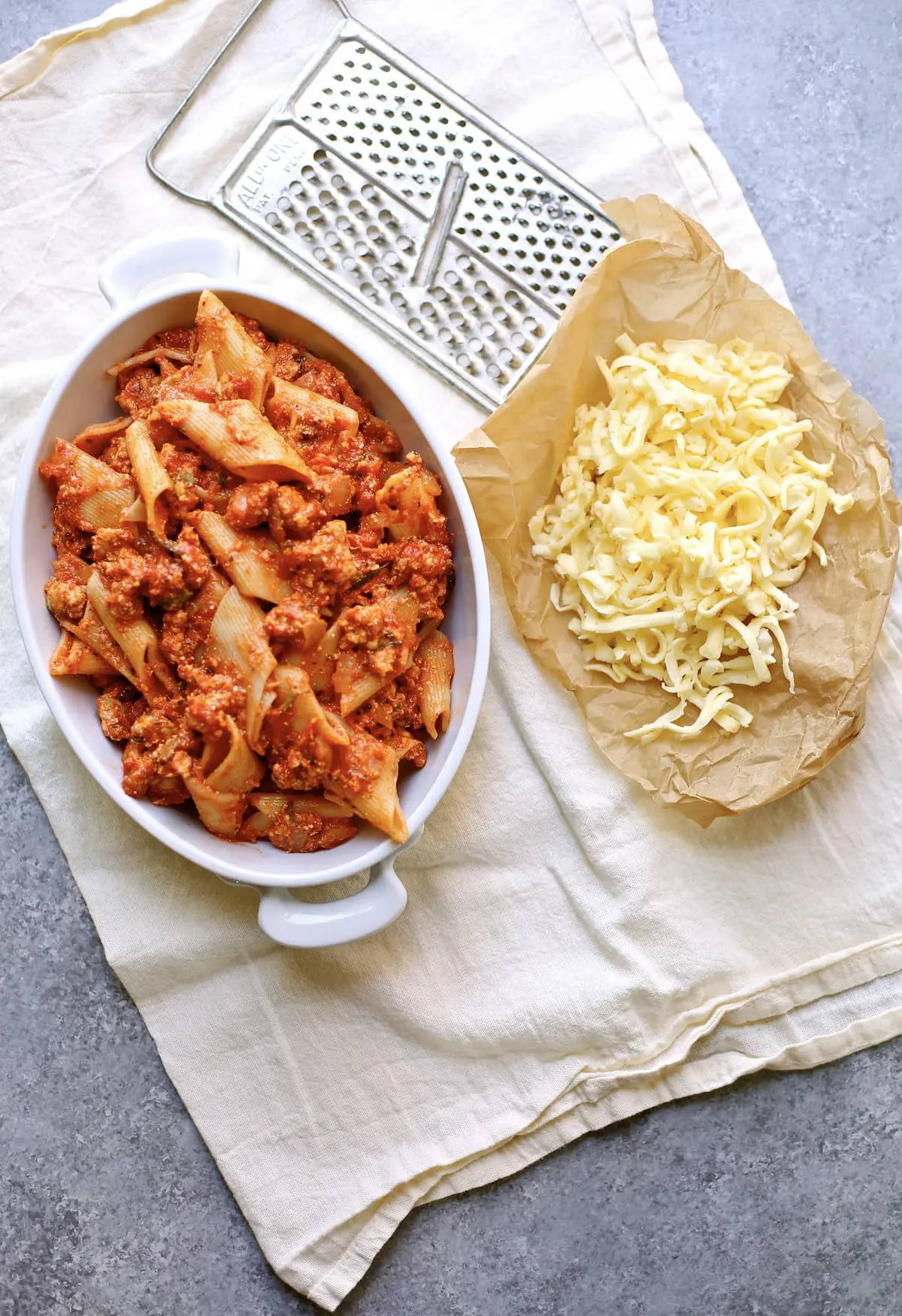 This is an easy recipe with a lot of pantry ingredients, some that you might even have on hand. Here's a quick run down on the steps, but scroll down to the recipe card for the full ingredient list and recipe instructions.
Make the sauce: This sauce comes together quickly.. just chop the onions and garlic, brown the sausage over medium high heat and carefully add the crushed tomatoes, pour into a large skillet or dutch oven. Add seasonings and let it gently simmer until most of the liquids are gone.
Cook the pasta: Add the pasta to a large pot of boiling water with a pinch or two of salt per directions on the package, but pull the pasta out of the water a full minute and a half before it's done – it'll continue to cook when you bake the pasta in the oven and be perfectly al dente. Drain pasta.
Mix to combine: Gently combine the the sauce and pasta together before placing in an ovenproof baking dish.
Add the cheese and plenty of it 🙂
Bake: The pasta is ready when the cheese melts and it's heated through, about 30 minutes.
Expert Tips and Serving Ideas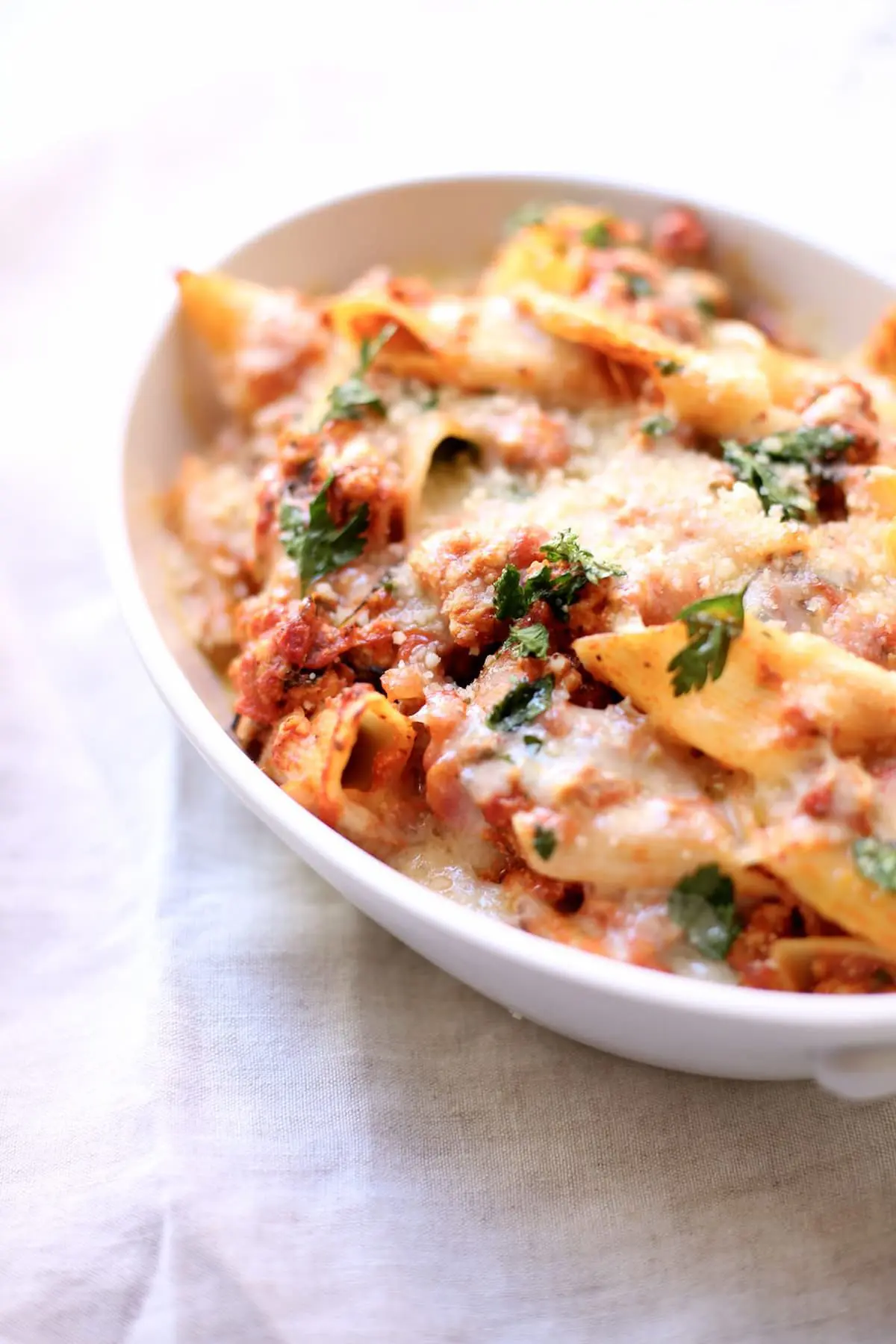 Make the pasta a day ahead if you'd like, and keep it covered in the fridge until ready to use.
I always place pasta dishes like this on a baking sheet lined with parchment paper before placing in the oven. (So much easier to grab a hot tray with an oven mitt.)
Ground turkey or pork sausage instead of chicken sausage totally works and is totally fine.
Use Monterey Jack or Mozzarella cheese instead of Havarti if you want, but it's worth seeking out for its amazing nutty flavor and extra melty consistency.
For serving, add a little drizzle of good olive oil and a dusting of freshly grated Parmesan cheese to the top of each plate to make this taste "extra extra extra" if you know what I mean. 🙂
This baked pasta would be amazing with a starter appetizer like Fresh Figs, Three Ways or Party Olives or Lemon Artichoke Dip.
For dessert, how about Decorated Chocolate Covered Strawberries or Butterscotch Shortbread Dipped in Chocolate? Some really good Chocolate Chip Cookies or a Pumpkin Spice Milkshake?
Frequently Asked Questions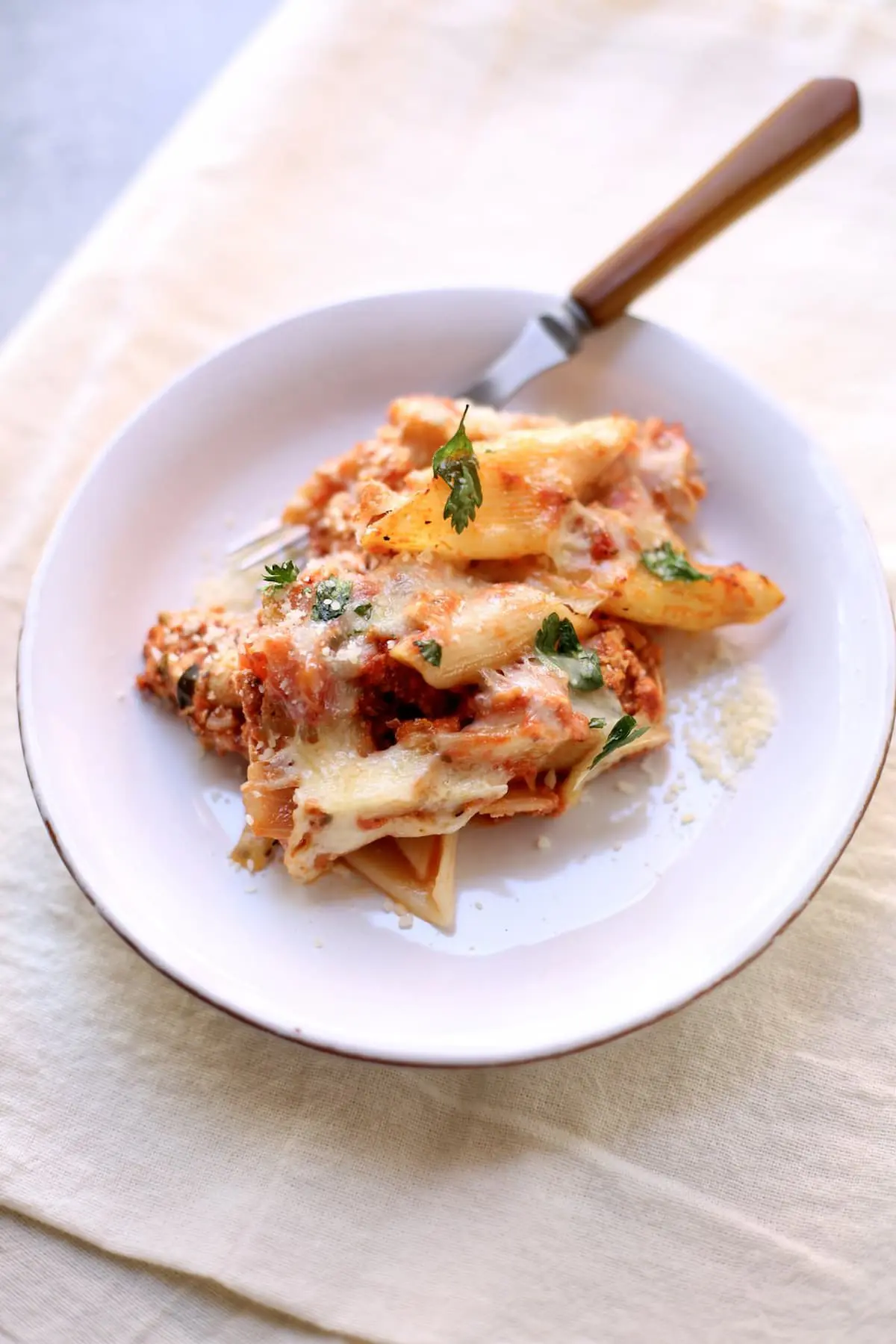 Can this dish be made in advance?
Absolutely! That's one of the best things about baked pasta…it's super convenient to make in advance. Just cover the dish well with parchment paper or foil (or like me, both) and store it in the refrigerator for up to two days.

Before baking, let it sit at room temperature for about 20 minutes before placing in a pre-heated oven on a baking sheet.
Is there a way to avoid mushy pasta?
Under-cook the pasta by a full minute and a half before proceeding with the recipe. It'll continue to cook as it bakes in the oven, and under-cooking is like a little insurance policy for this.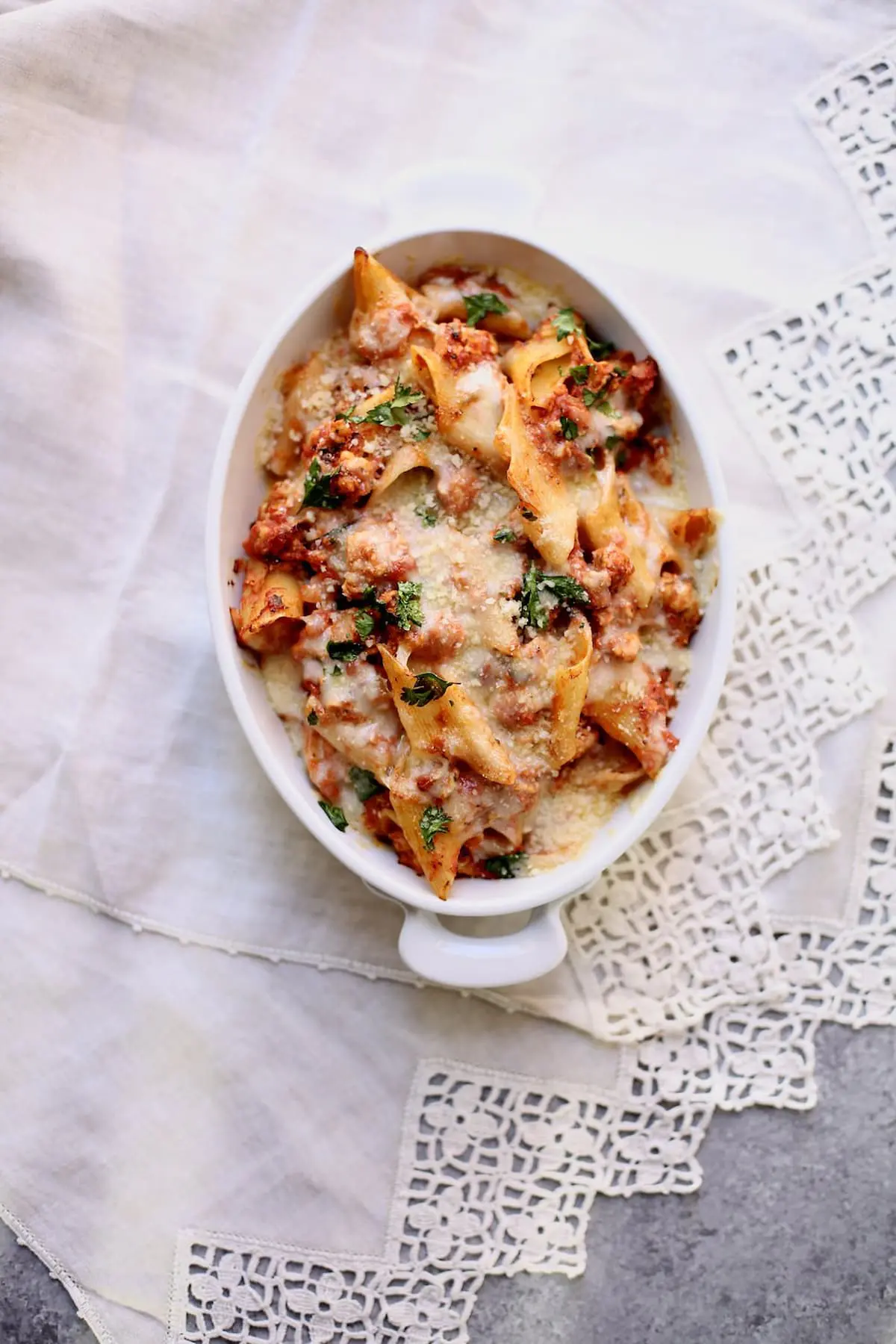 More Recipes

:

Spicy Roasted Sweet Potatoes with Yogurt Sauce: A favorite fall and winter side dish

Best Rotisserie Chicken Salad: My go-to for a delish, fresh chicken salad

Summer Pasta My year-round, go-to pasta

Chicken Sausage Tortellini Soup Calling all sausage lovers, this is a favorite!

Baked Ravioli with Chicken Sausage Another favorite, this one is SO good!

Parmesan Crusted Chicken with Cherry Tomatoes: So fresh and easy..

Citrus Chicken Thighs: Bursting with citrus flavor and so tender!

If you've tried Baked Pasta with Chicken Sausage, or any other recipe on Studio Delicious, please rate the recipe and & I'd love to hear from you in the comments below!

Looking for more tips and fresh, homemade recipes? Join my email list, tag and follow me on Instagram using #studiodeliciouseats, follow my boards on Pinterest, and see what I'm up to on Facebook and Twitter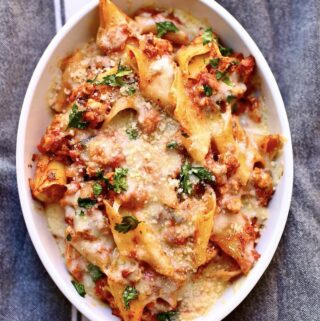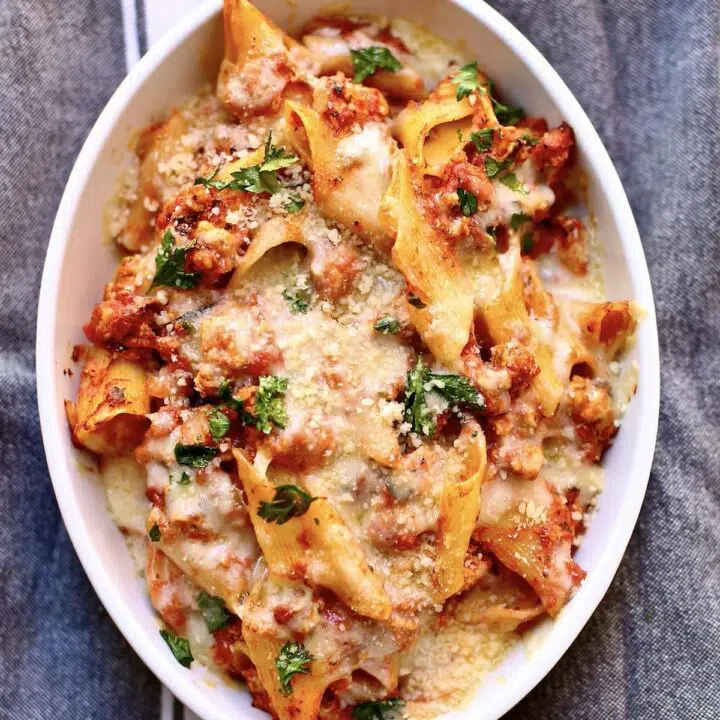 BAKED PASTA WITH CHICKEN SAUSAGE
Baked Pasta with Chicken Sausage is comforting, bold and delicious
Print
Pin
Rate
Ingredients
2

tablespoons

olive oil

1

medium

yellow onion, diced

1/2

tsp

salt

3

cloves

garlic, crushed

1 1/2

pounds

chicken sausage, uncooked, casings removed if any

1 28-

ounce

Italian style tomatoes, whole, peeled

1 15

ounce

tomatoes, diced in their juice

1/2

cup

water

1/2

teaspoon

oregano

1/2

teaspoon

crushed red pepper flakes

1

teaspoon

salt

1/2

teaspoon

freshly ground pepper

3

tablespoons

Italian (flat leaf) parsley, chopped

2

bay leaf

1

pound

penne pasta, dried

1/2

cup

ricotta cheese

1/4

cup

Parmesan cheese

plus more for serving

8

ounces

Havarti cheese, grated
Instructions
MAKE THE SAUCE

Heat 2 tablespoons olive oil a dutch oven or large non-stick sauce pan, and add the onions with the salt and cook on medium heat stirring occasionally until onions are soft, 5-8 minutes Add the garlic and cook for another minute, stirring to make sure the garlic doesn't get brownAdd the chicken sausage, breaking it up with the back of a wooden spoon until no longer pink, about 4 minutesAdd the whole peeled tomatoes, gently and carefully crushing the tomatoes with your fingers as you add them to the pan, then add the diced tomatoes and the water, oregano, crushed red pepper flakes, salt and pepper and one tablespoon of the chopped fresh parsley as well as the bay leafs. Simmer on medium heat on the stove for 30 minutes, remove bay leafs.Prepare the pasta according to the package directions on the box, salting the water with a tablespoon of salt before adding the pasta.Remove the pasta from the water a minute before the final cooking time, as you'll want the pasta to be a little bit firm before before baking.

MAKE AND BAKE THE PASTA Heat oven to 350 degrees Drain the cooked pasta from the water, then add it back to the pot you cooked it on. Add the chicken sausage mixture, the ricotta cheese, the Parmesan cheese, and another tablespoon of chopped parsley.Mix gently to combine everything, then and add to a large casserole dish that you've added a drizzle of olive oil to the bottom of. Casserole dish is 9×13" size. Sprinkle the top with Havarti cheese and another tablespoon of Parmesan cheese and the remaining tablespoon of fresh parsley.Bake for about 30 minutes until the cheese melts and everything is heated through.Drizzle with a little bit of olive oil and Parmesan cheese for serving.
Notes
Make the pasta a day ahead if you'd like, and keep it covered in the fridge until ready to use.
I always place pasta dishes like this on a baking sheet lined with parchment paper before placing in the oven. (Easier to grab.)
Ground turkey or pork sausage instead of chicken sausage is totally fine.
Use Monterey Jack cheese instead of Havarti if you can't find it, but it's worth seeking out for its amazing nutty flavor and extra melty consistency.
For serving, I like to add another little drizzle of some good quality, fruity olive oil and freshly grated Parmesan cheese right off the block.
Nutrition
Calories:
606.97
kcal
|
Carbohydrates:
60.87
g
|
Protein:
33.13
g
|
Fat:
27.26
g
|
Saturated Fat:
9.91
g
|
Cholesterol:
94.96
mg
|
Sodium:
1801.53
mg
|
Potassium:
661.74
mg
|
Fiber:
5.26
g
|
Sugar:
10.24
g
|
Vitamin A:
1124.13
IU
|
Vitamin C:
19.37
mg
|
Calcium:
316.3
mg
|
Iron:
3.83
mg
Tips for Success with Every Recipe
Super important to read the whole recipe before you begin
Pay attention to the ingredient list and photos for the recipe
If possible, prep your ingredients a little before you start
Always use a sharp knife for safety
Use the size of pan called for in the recipe
For savory recipes, taste and season as you go
Buy fresh, organic ingredients, locally sourced whenever possible
Don't Miss a Recipe!
This recipe was originally posted in 2019, and has been updated with new instructions, tips and FAQ's in 2021.