These Citrus Roasted Carrots are a light, bright addition to any holiday table…the colors are stunning too.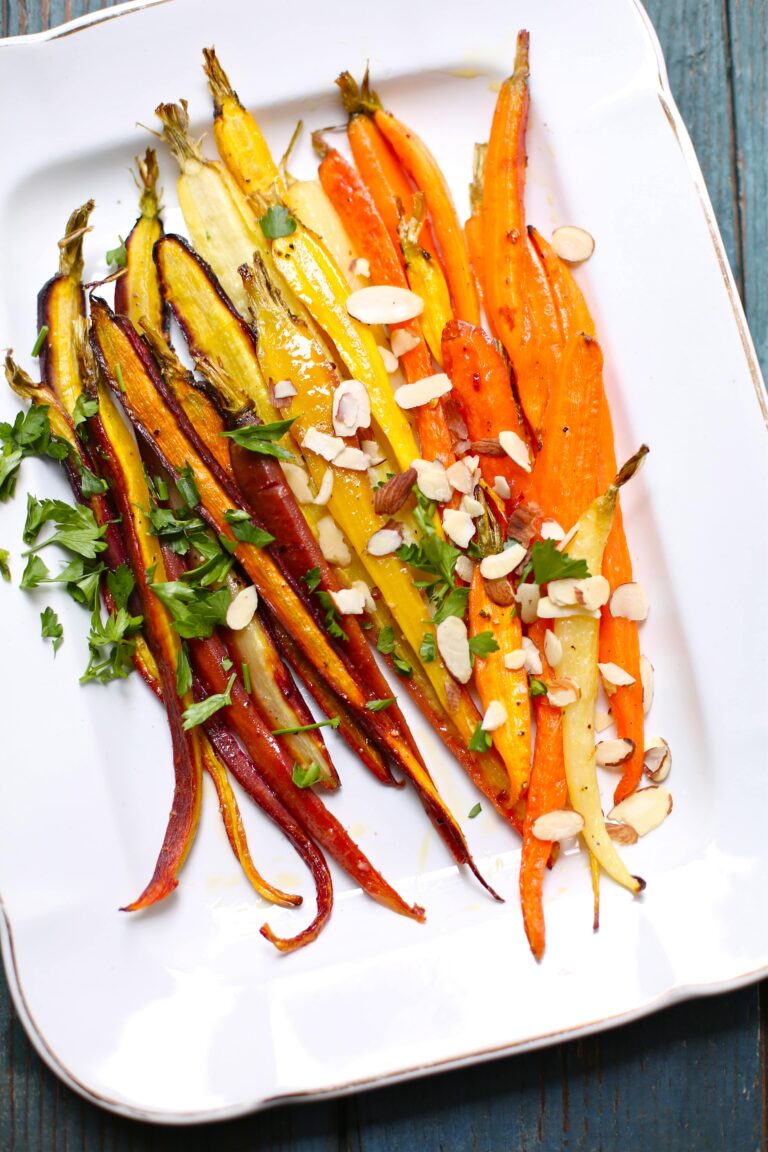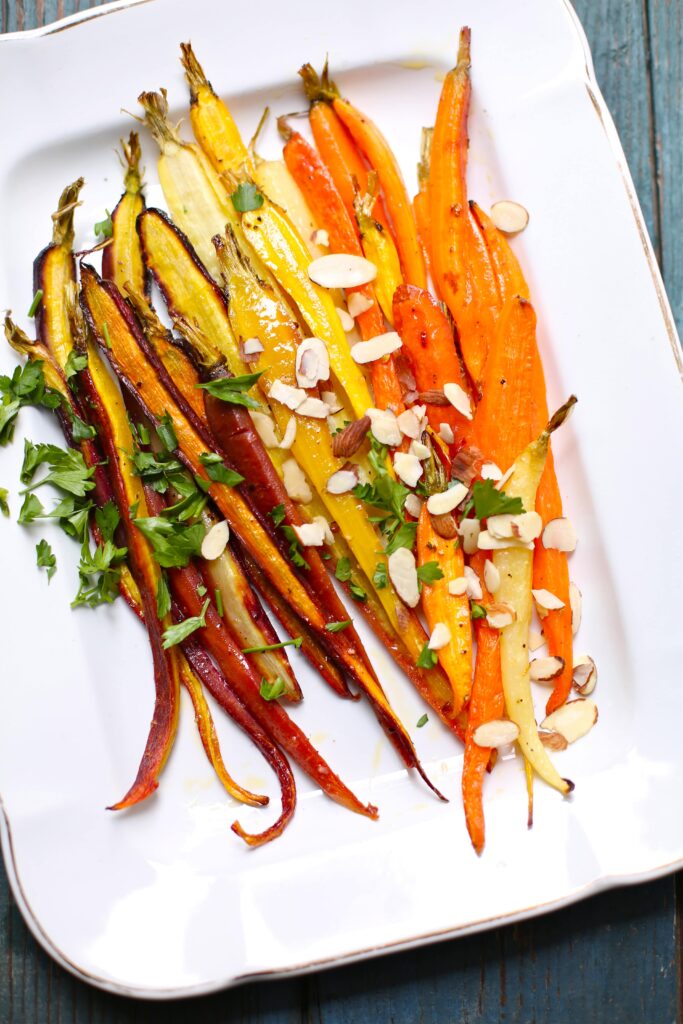 I'm guessing you have at least one photo from a celebration that showcases your beautifully set holiday table.
And a long, delicious spread of mostly brown food.
Alas, this is common, and we're going to fix that with these beautiful Citrus Roasted Carrots.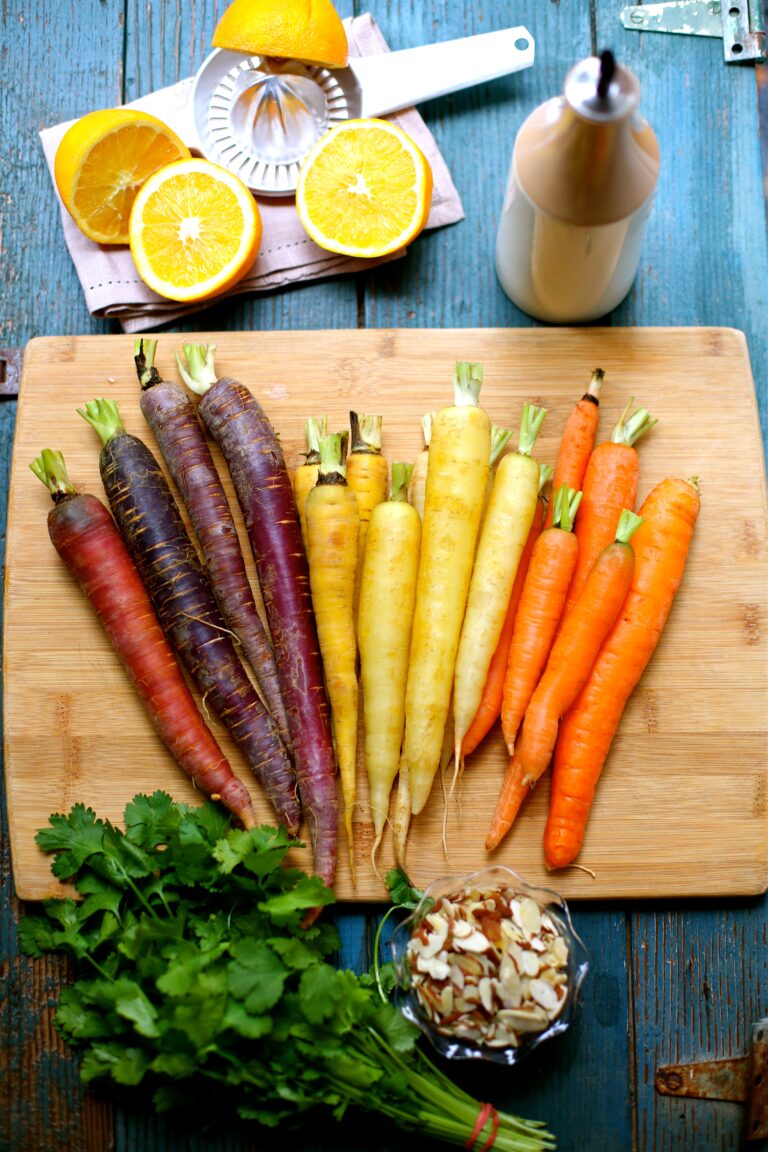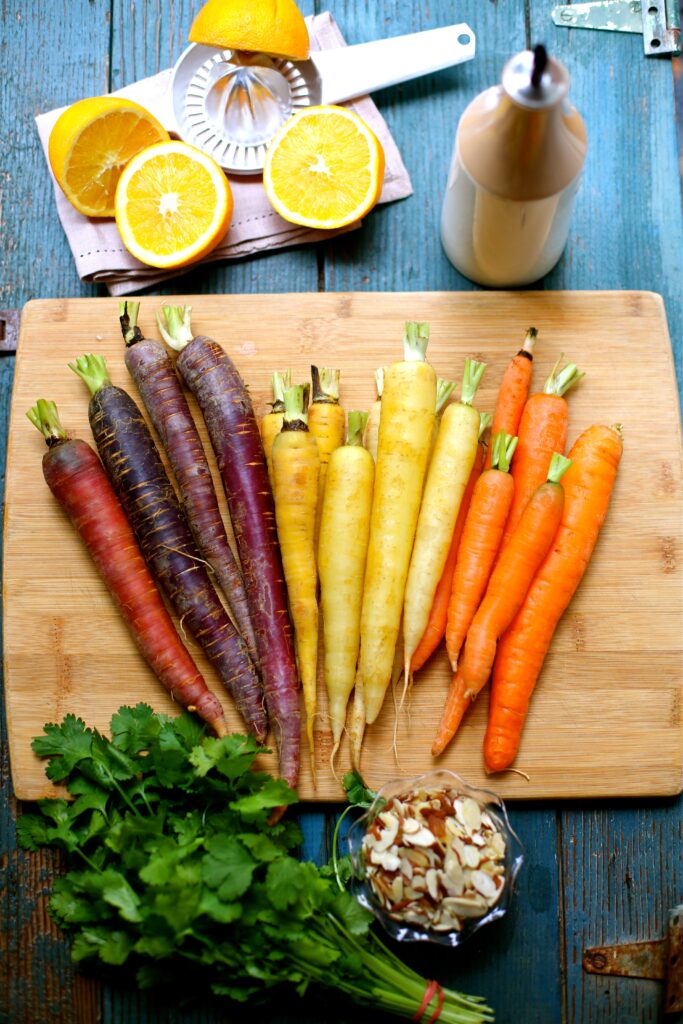 The turkey is a dull color of course, but lets face it – there are plenty of side dishes with crumbly brown toppings, and at least one mysterious-looking thing swimming in butter.
All the way down that table.
Even the pies are brown.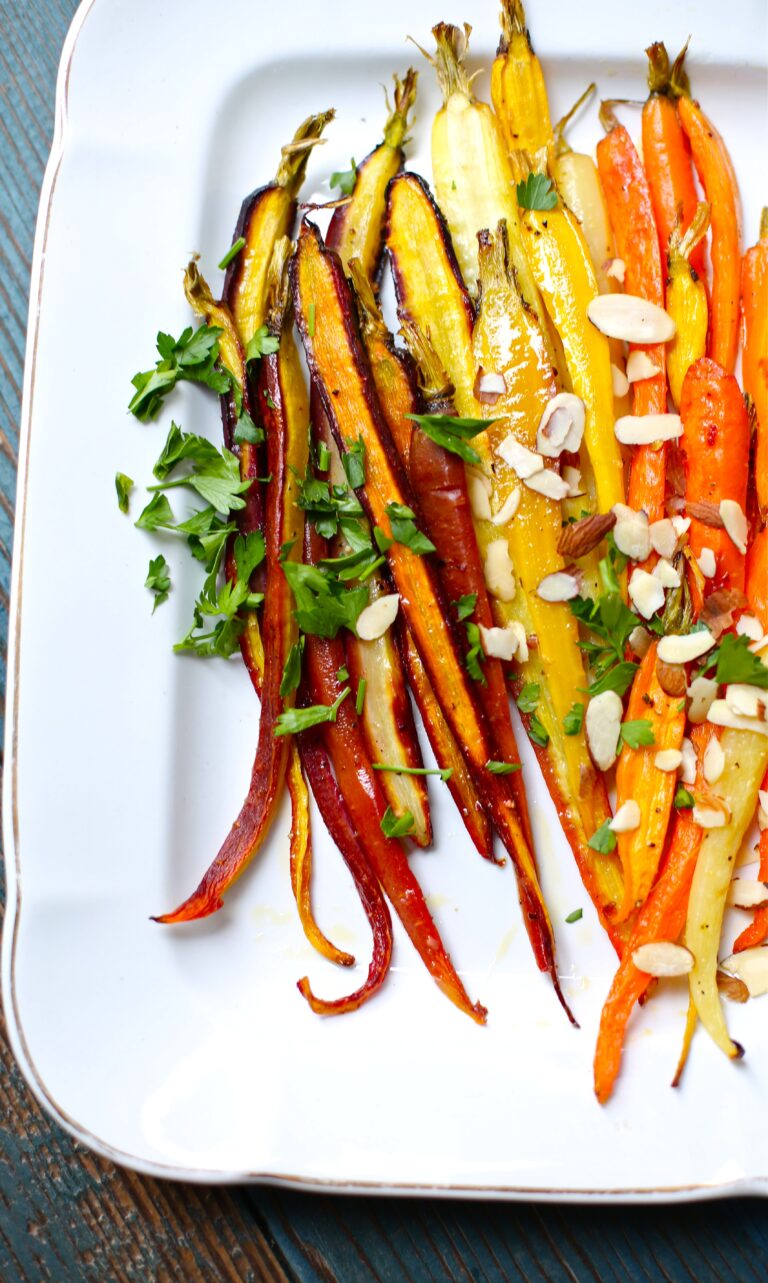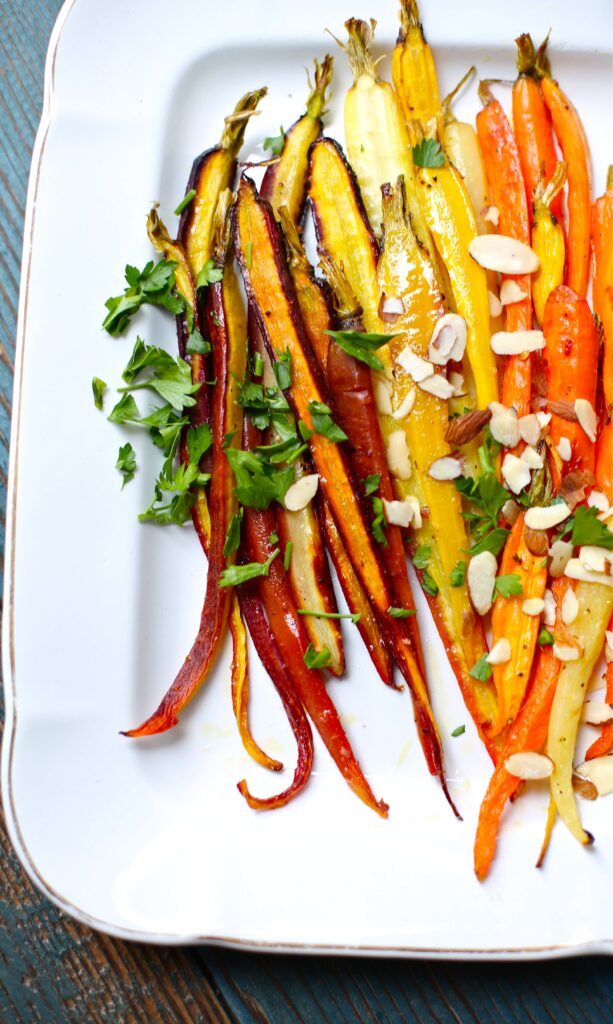 While most holiday food is fat-filled and creamy and so, so delicious, it can look less than stunning once it's all grouped together.
Perhaps the only green thing is Aunt Edna's jello mold with pineapple, celery and (gasp) walnuts with mini marshmallows suspended inside.
Citrus Roasted Carrots to the rescue.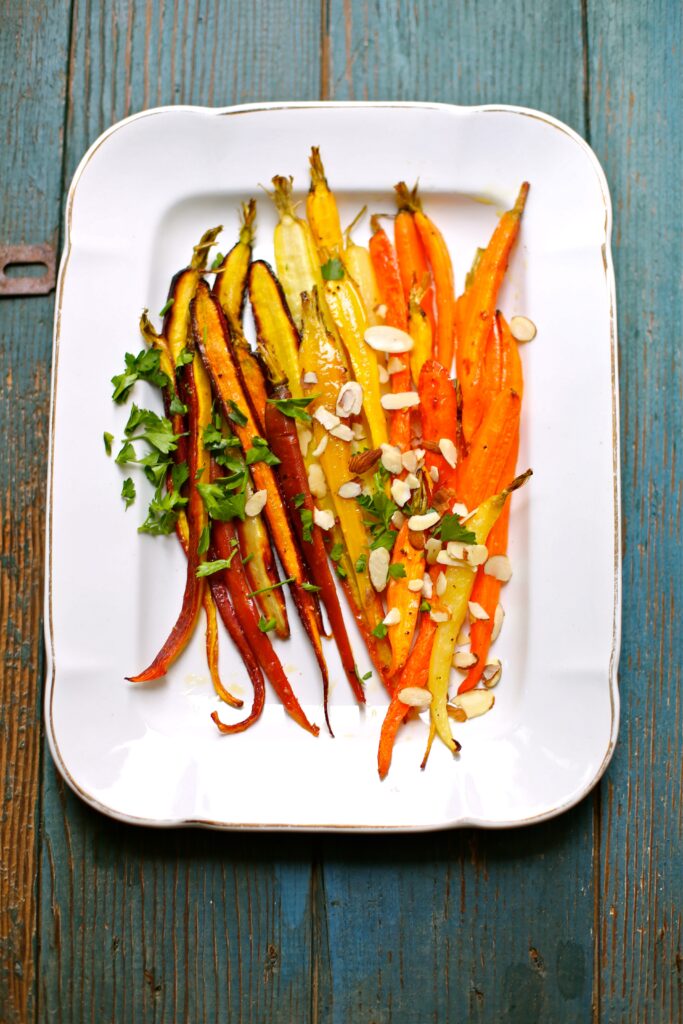 Lots of strange things are passed off as "special" during the holidays—stuff you'd never dream of eating the rest of the year.
I think Citrus Roasted Carrots are a modern addition, and they will brighten it up the table like nobody's business.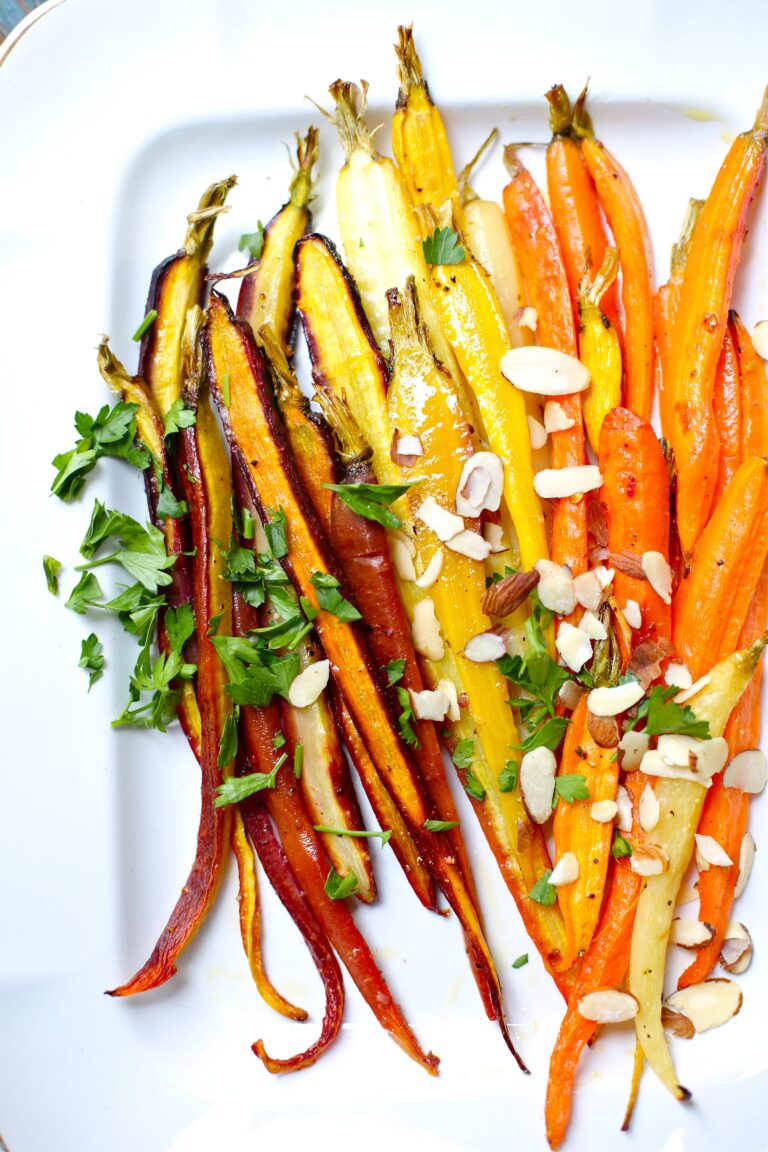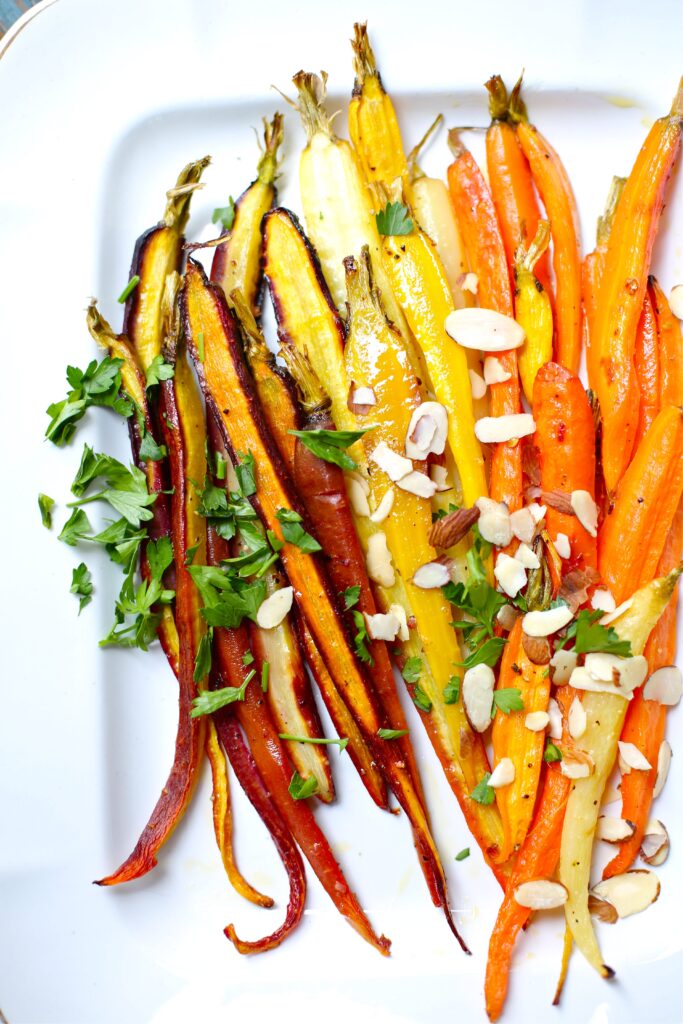 Don't worry! There's nothing too crazy or exotic happening here.
We definitely don't want to upset anybody.
These Citrus Roasted Carrots have simple ingredients like extra virgin olive oil, salt, pepper and fresh squeezed orange juice.
Pull them from the hot oven, arrange on a white platter and garnish with fresh parsley and toasted almonds.
Watch your oven time, since its different for everybody.
Once the carrots are fork-tender, they're done and ready for the holiday table.
Hover over image to pin this recipe for later: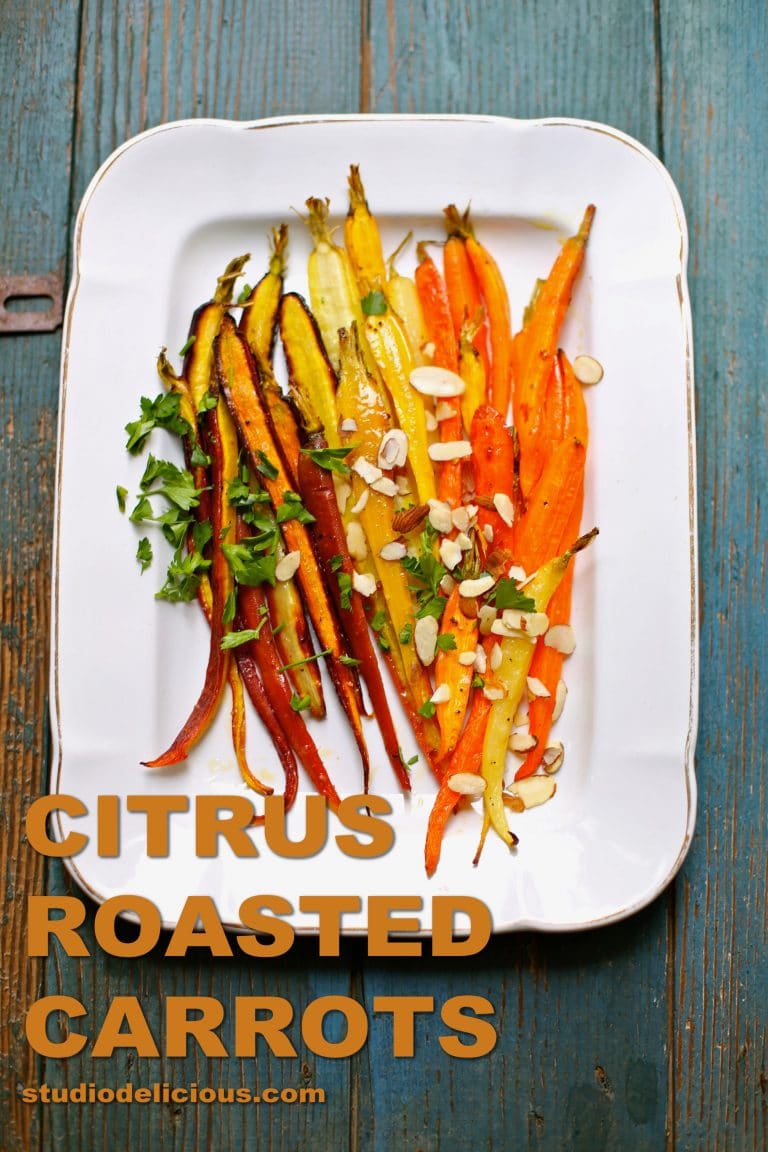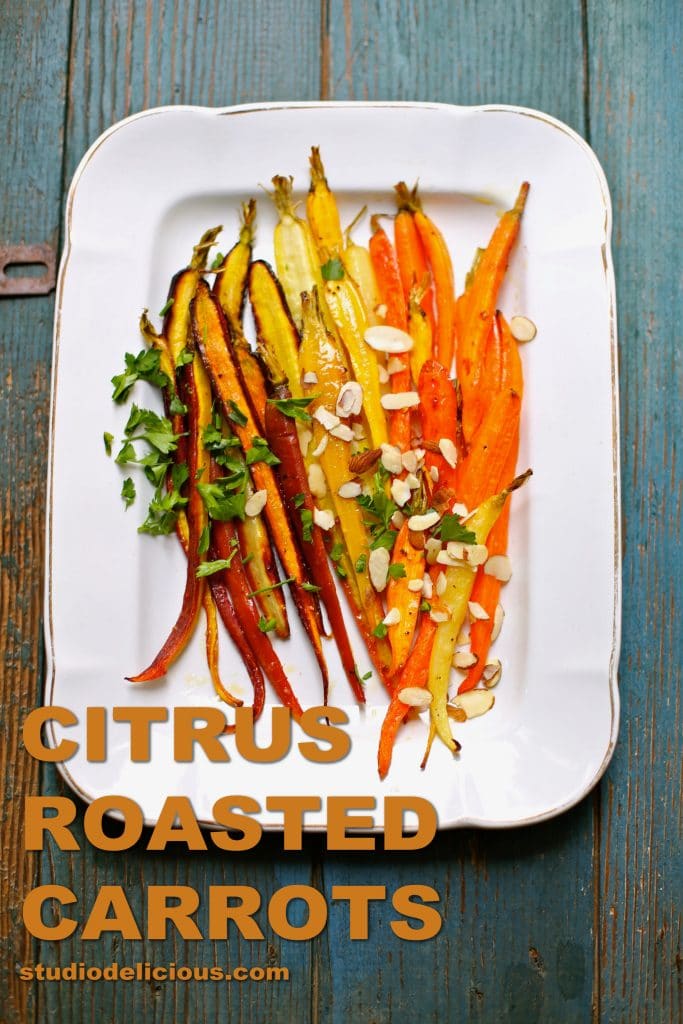 Some other fresh side dishes for the holiday table:
Crunchy Green Bean, Pea and Walnut Salad
Source: Studio Delicious
Ingredients
Serves 4-6

2 1/2

pounds

medium-sized carrots.

I like the organic multi-colored ones if you can find them, with the green stems still on

1/4

cup

extra virgin olive oil

1

teaspoon

freshly ground lemon pepper

or regular pepper

1

teaspoon

salt

2

tablespoons

freshly squeezed orange juice

1

tablespoon

chopped fresh flat leaf

Italian parsley, for garnish

1

tablespoon

sliced almonds

for garnish
Instructions
Heat oven to 375

Line a large baking sheet with parchment paper

Position oven rack to the lower third

Wash, peel, rewash and trim carrots.

Slice in half and quarters, if large, length-wise

In a large bowl, toss the carrots with the oil, salt, pepper and orange juice. Spread on the large baking sheet and pour any remaining liquid from the bowl on top of the carrots.

Roast vegetables, stirring occasionally until fork tender, 50-60 minutes (time will vary depending on your oven.)

Remove from oven and place on a platter, garnish with the fresh parsley and sliced almonds.