So many ways to use melon balls, so little time! Let me show you some tasty, pretty Melon Balls Recipes for an appetizer, a refreshing drink and a snack or breakfast!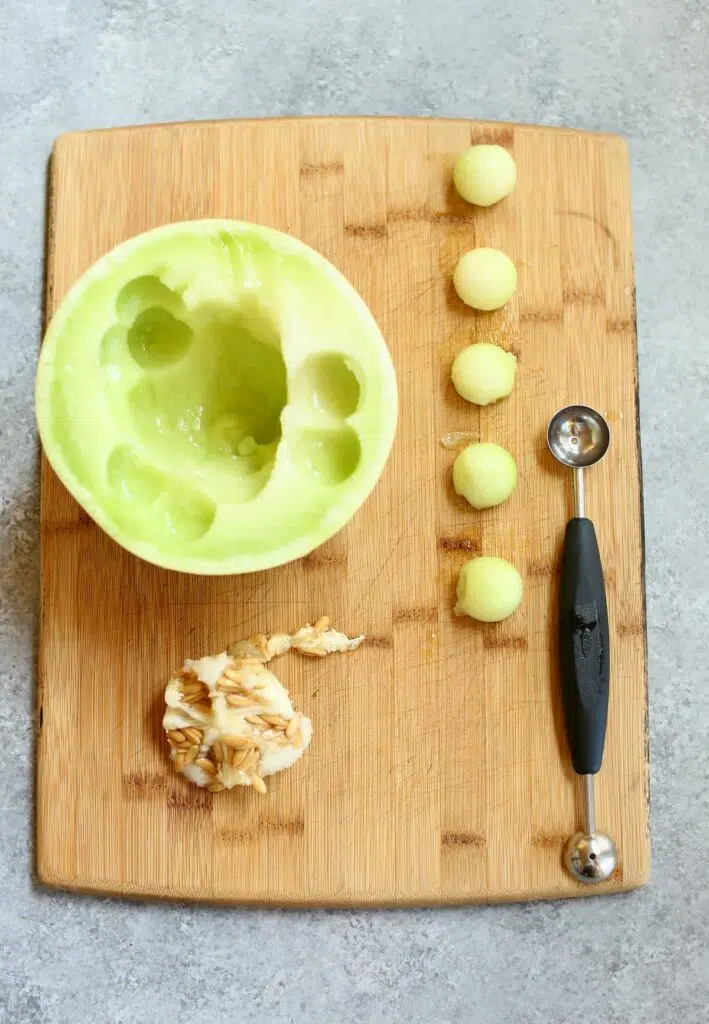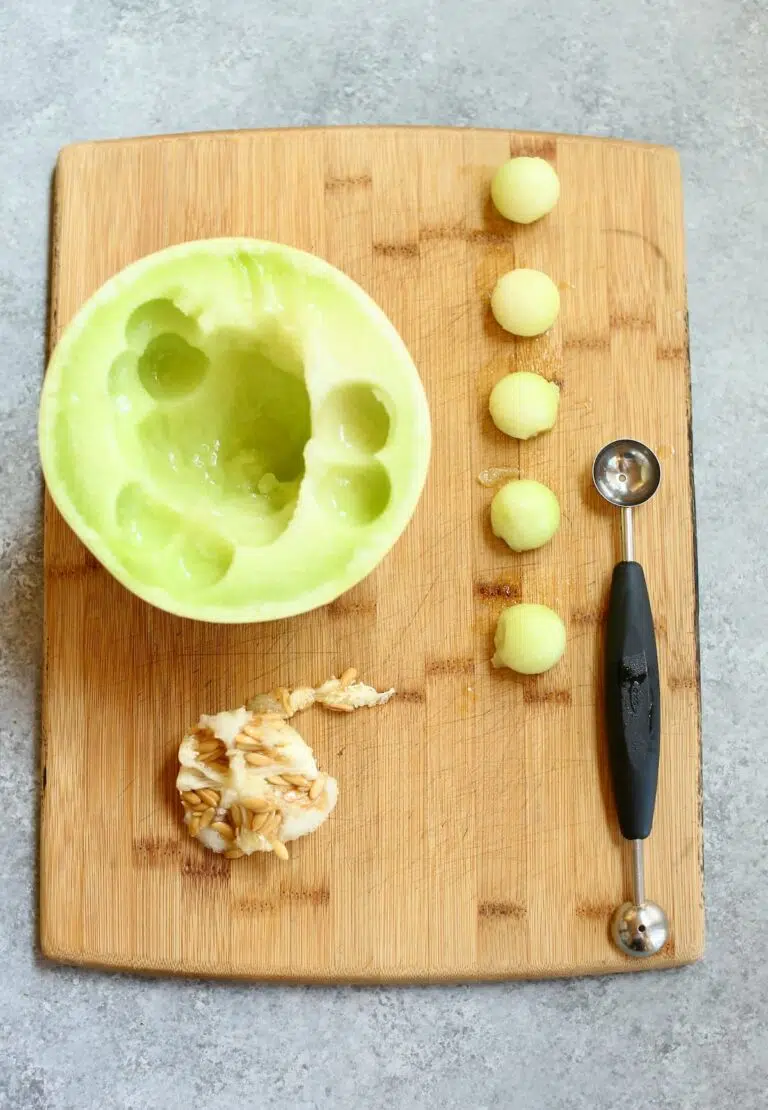 Jump to:
Why You'll Love These Recipes
Don't you love the time of year when the melons are ripe and ready to enjoy? There are so many things you can do with them, and besides being beautiful to look at, they elevate almost anything you serve them with.
Here's some good reasons to make these healthy recipes with fresh melons:
They are abundant in warm weather and easy to find at the grocery store and your local farmers market
Get yourself a melon ball scooper at the grocery store or online…the best way to make perfectly shaped balls 🙂
Melons are wonderful for breakfast, lunch, snacks and more!
Ingredients You'll Need for Melon Ball Skewers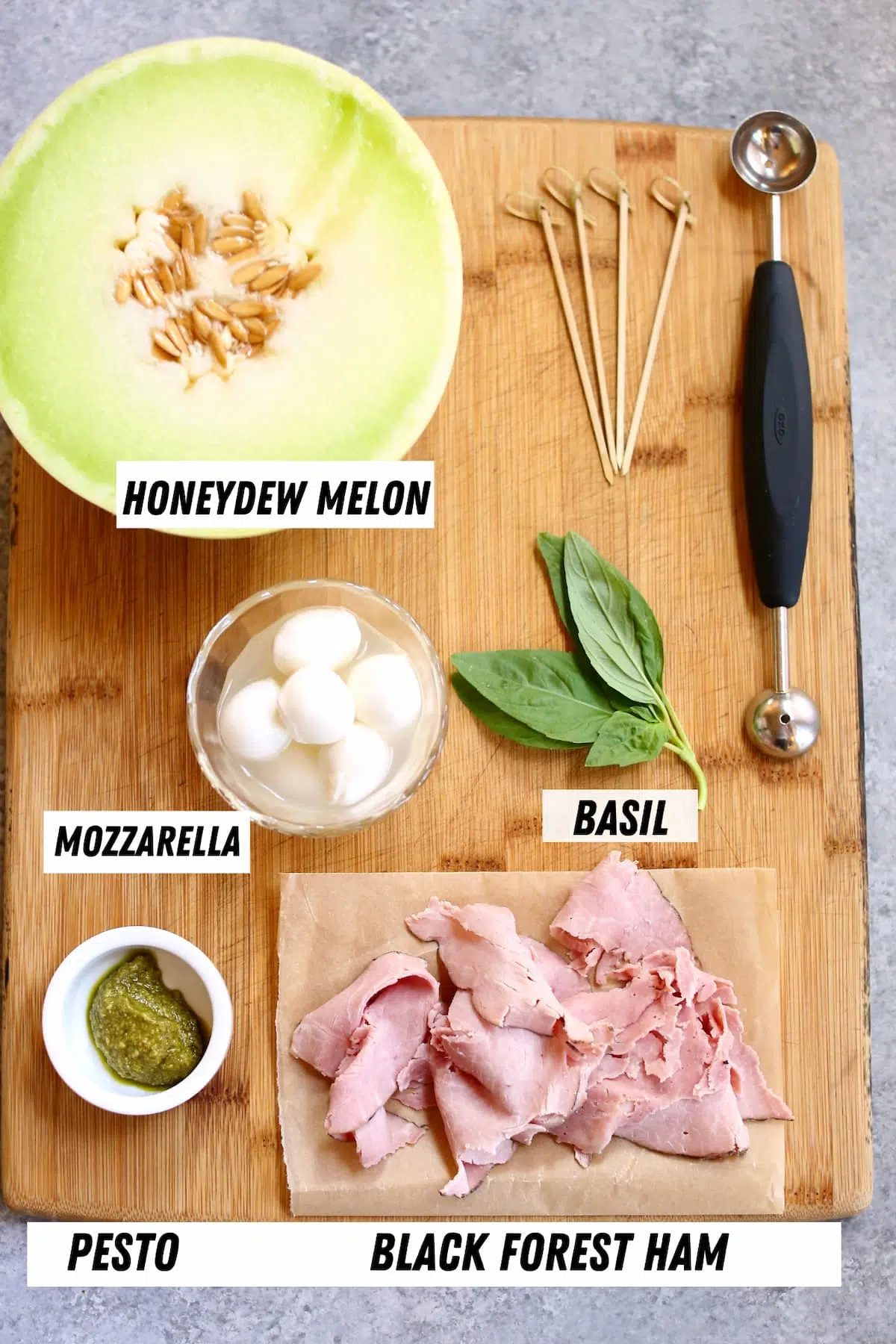 For instructions and ingredients for all three recipes, please scroll to the recipe card below
Honeydew melon: Honeydew melon balls are my favorite for these skewers, but use any white honeydew melon or even cantaloupe if you'd like
Pesto: Store bought to serve with the skewers
Black Forest Ham: Sliced thinly
Mozzarella Balls: Perfect for this kind of snacking
Fresh Basil: Adds a lot of flavor and visual appeal, use a spring of mint instead if you'd like
Step-By Step Instructions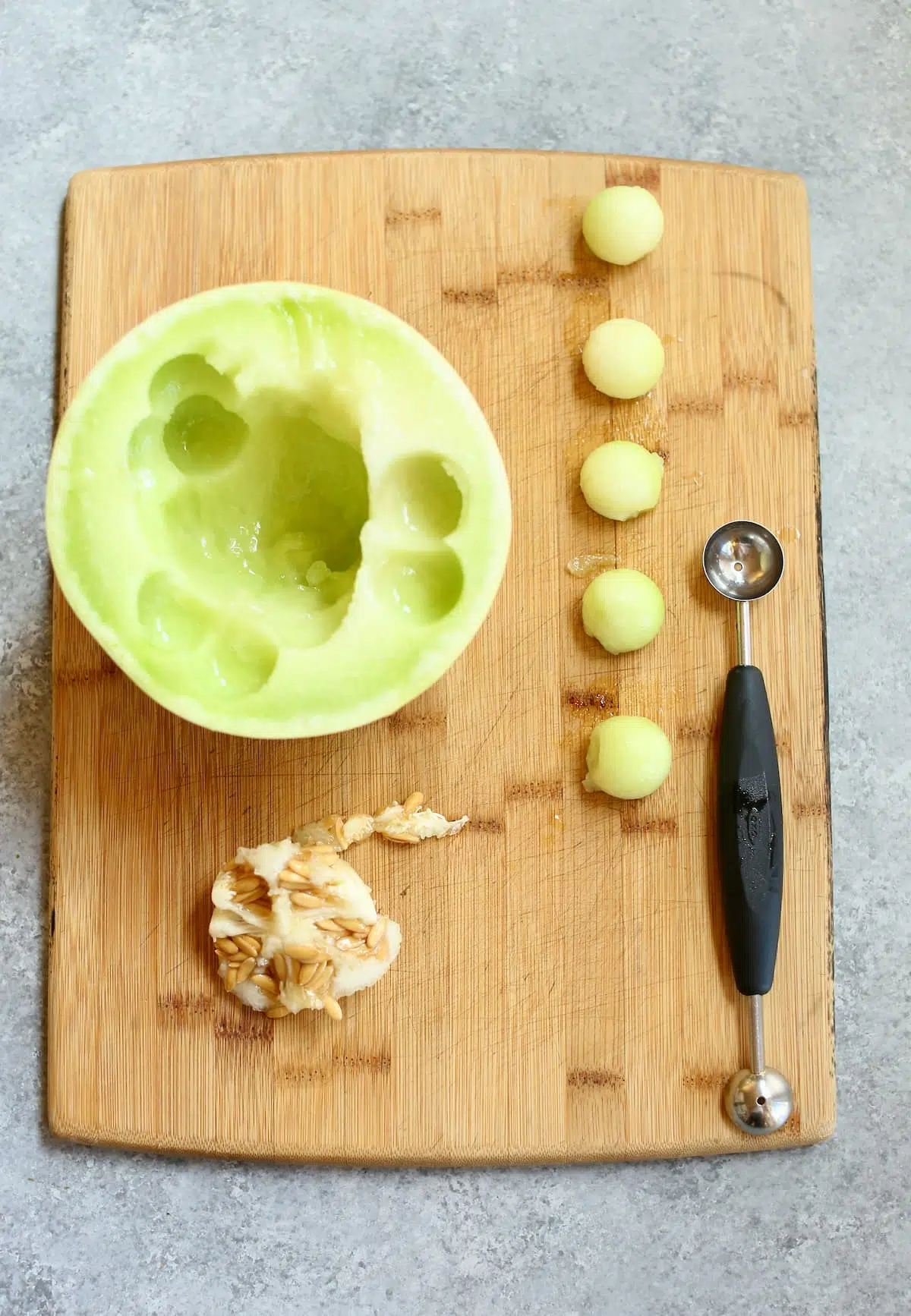 Start by cutting your melon in half and scooping out the seeds.
Next, scoop the melon balls by placing the open side of the scoop flat against the sliced side of the melon, then press it down gently (some juice will come out of the little hole in the scoop), then gently turn to create a ball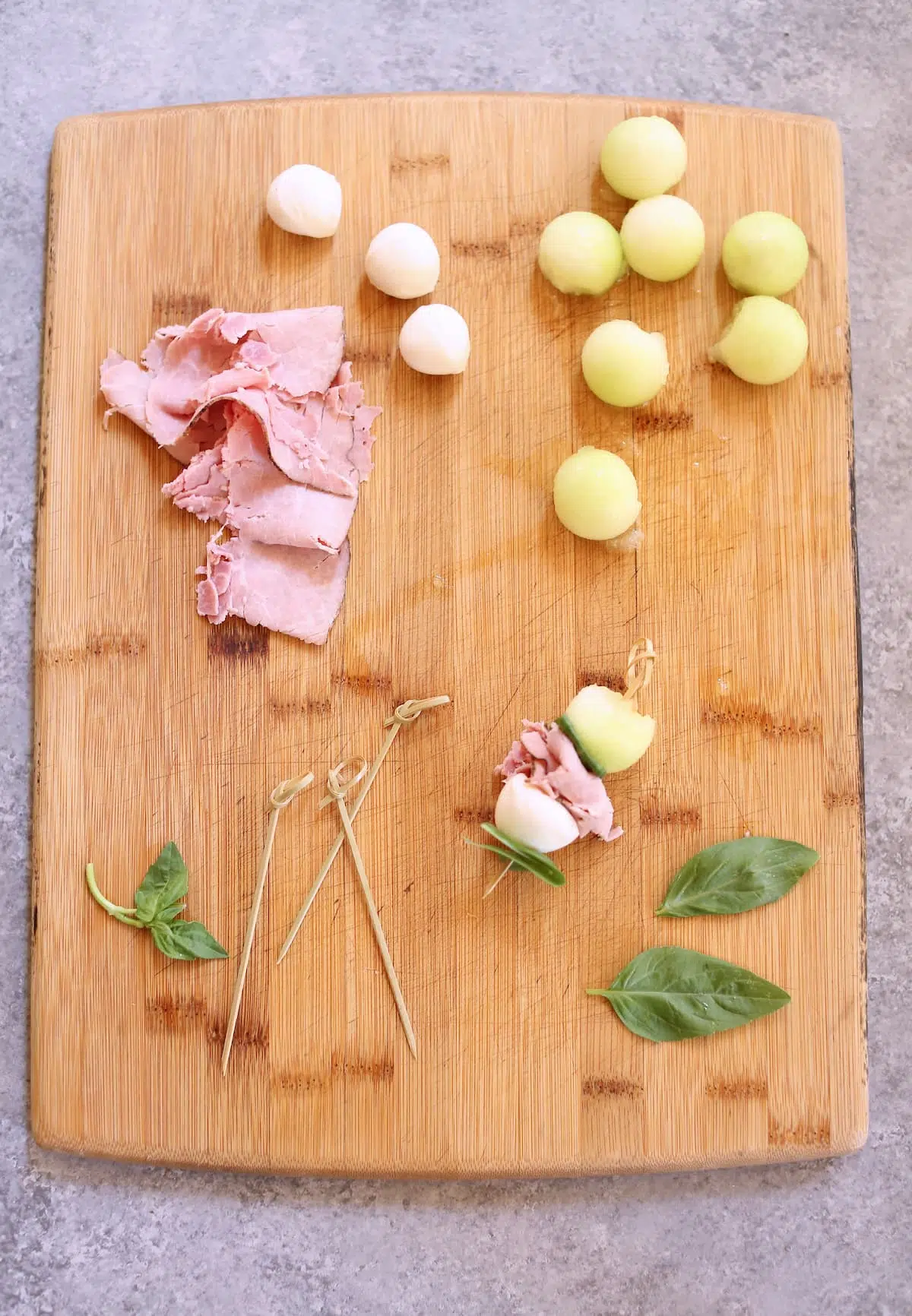 3. Next, take a skewer and thread one melon ball on first, then fold a basil leaf in half and thread it, pushing it to the top under the melon ball.
4. Gather a little ham and add it too, then a mozzarella ball, then another basil leaf.
5. Transfer the skewers to a platter with a small bowl of pesto on the side for serving.
Melon Ball Salad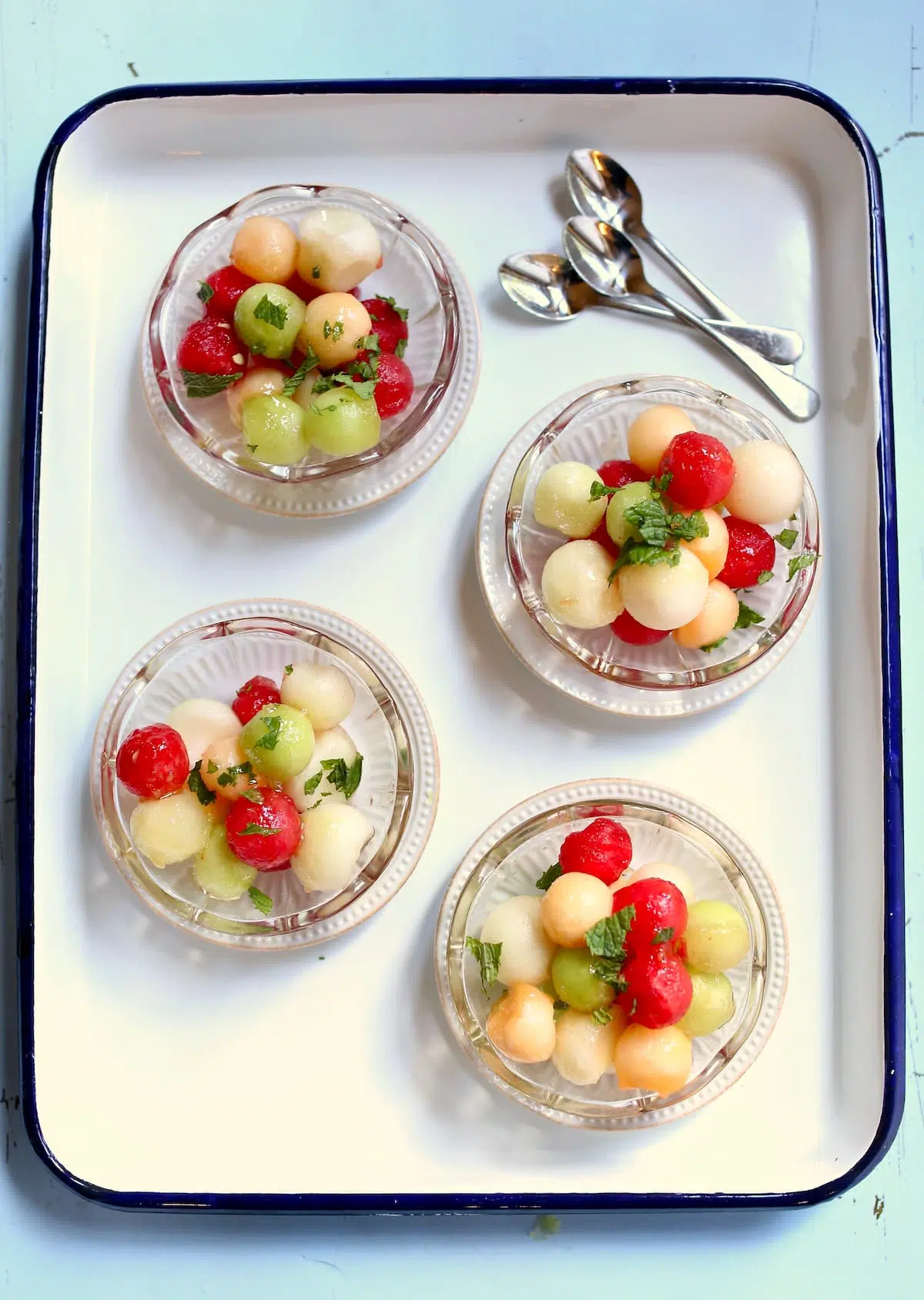 Here's a simple little melon ball recipe that makes for a healthy breakfast or snack. This is an easy recipe idea, and you just need a few simple ingredients too!
Ingredients You'll Need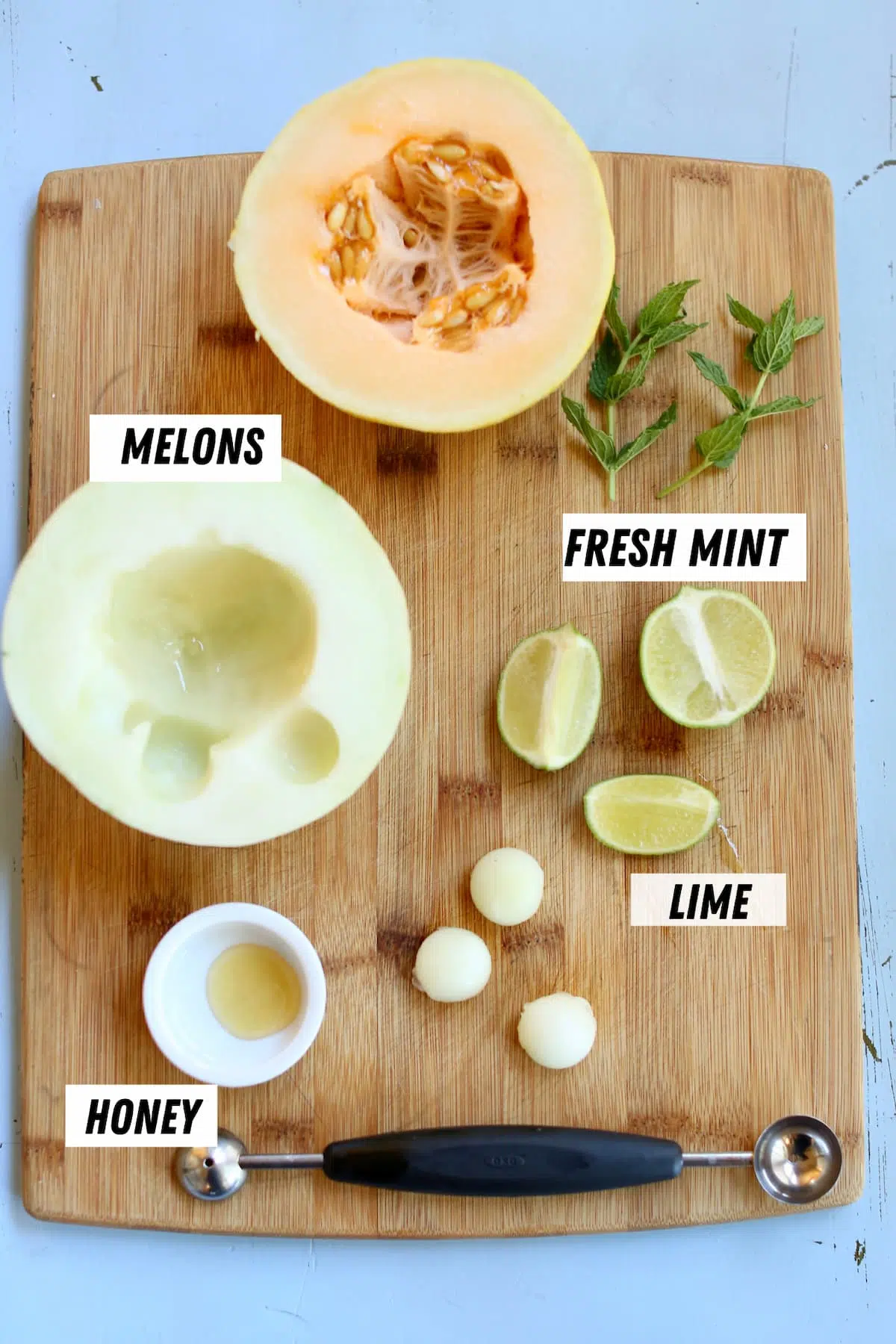 For full list of ingredients and instructions for all three recipes, please scroll to the recipe card below!
Assorted melons: About 6 cups of any varieties you'd like
Fresh Mint: Sprigs of mint add wonderful flavor to this "salad"
Honey: Just a tiny bit sweetens up any melons that may be bland
Lime: A squeeze of fresh lime juice really wakes up the flavors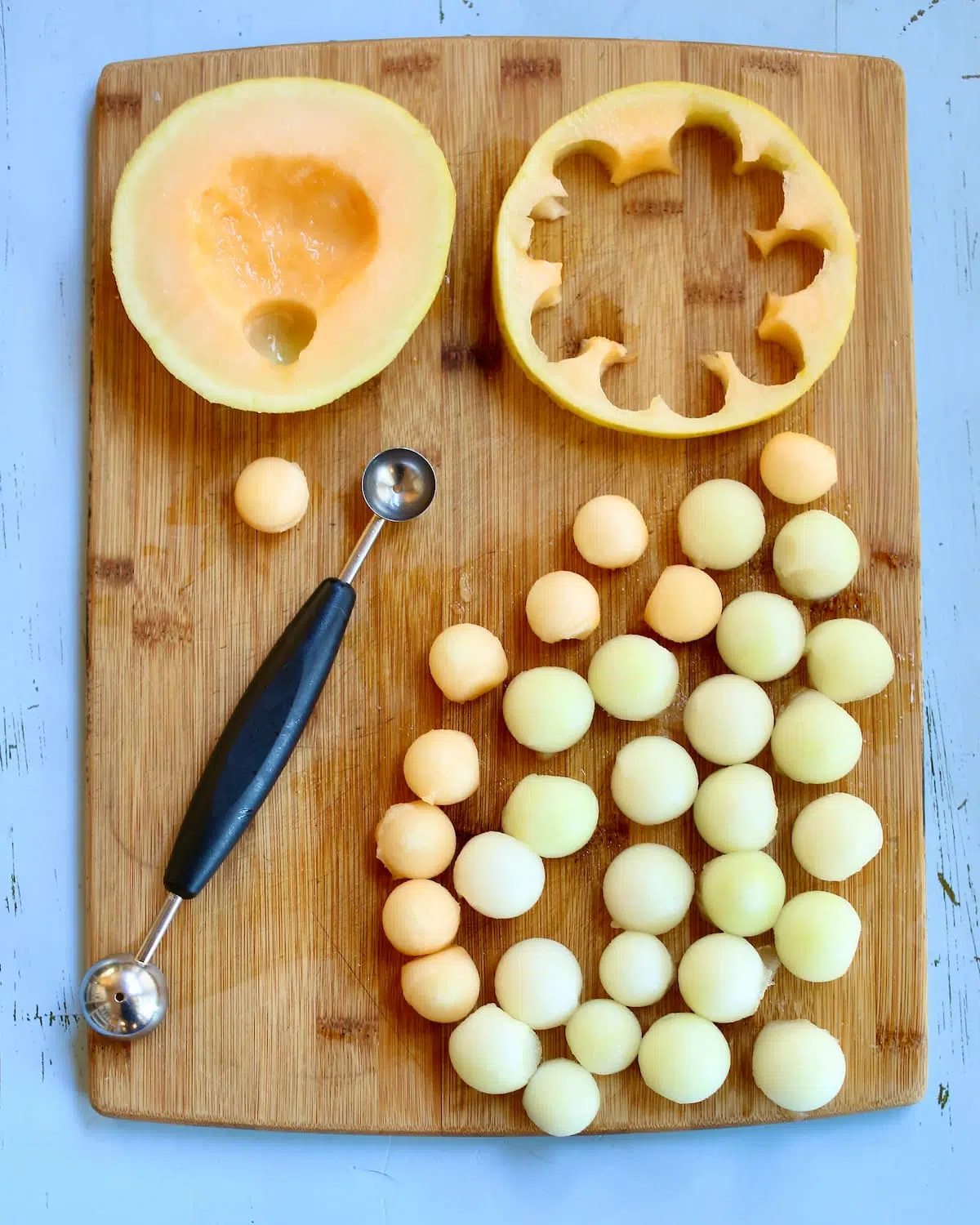 Cut a melon in half and scoop flesh
Use the small or large side of the melon ball scooper, and lay the open round side flat on top of the melon flesh.
Press straight down on the melon, then gently twist it to get a round ball shape.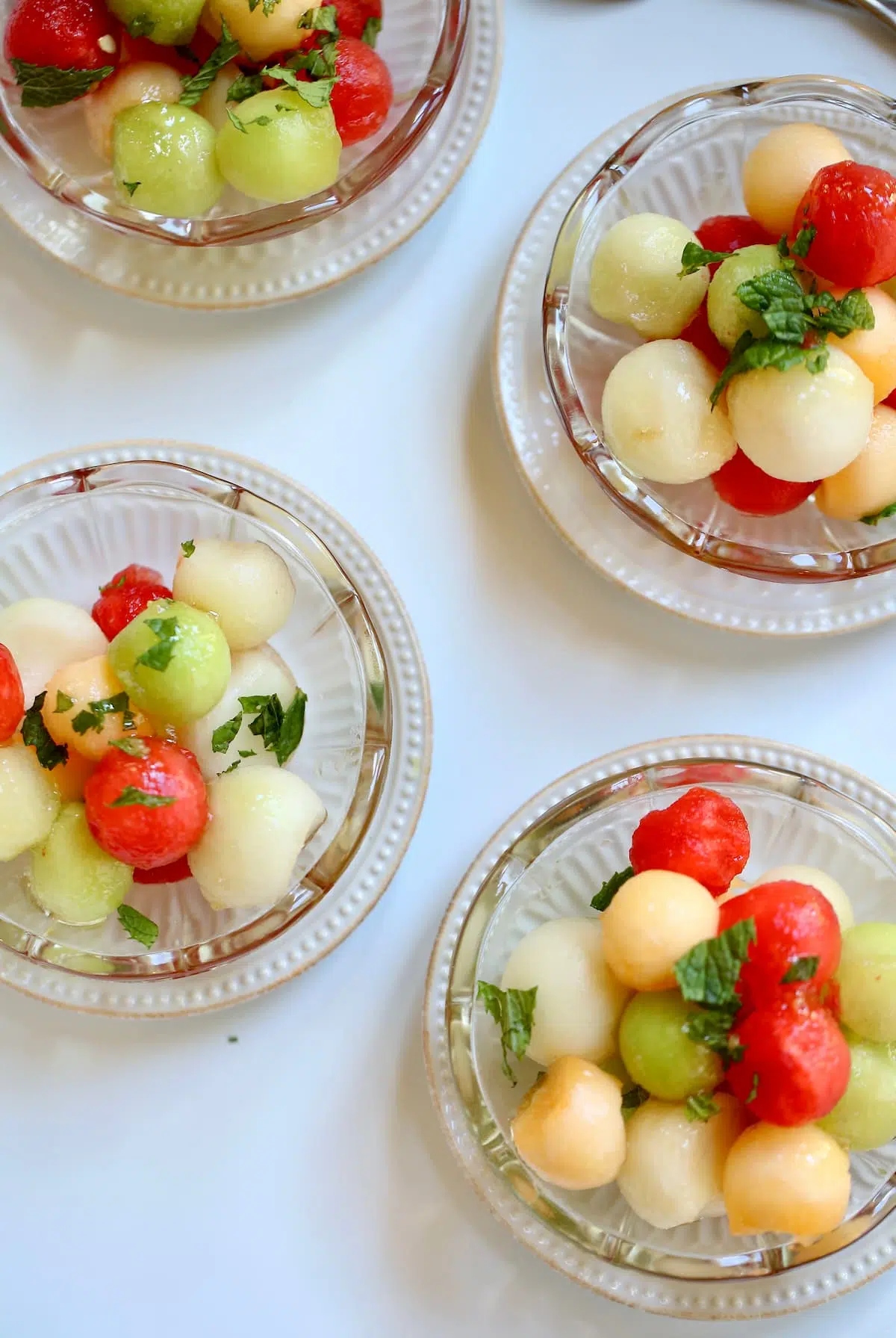 3. Scoop enough sweet melon balls for six cups, add to a large bowl.
4. Add a pinch of salt, a squeeze of fresh lime juice and a teaspoon of honey. Toss with some chopped mint and serve!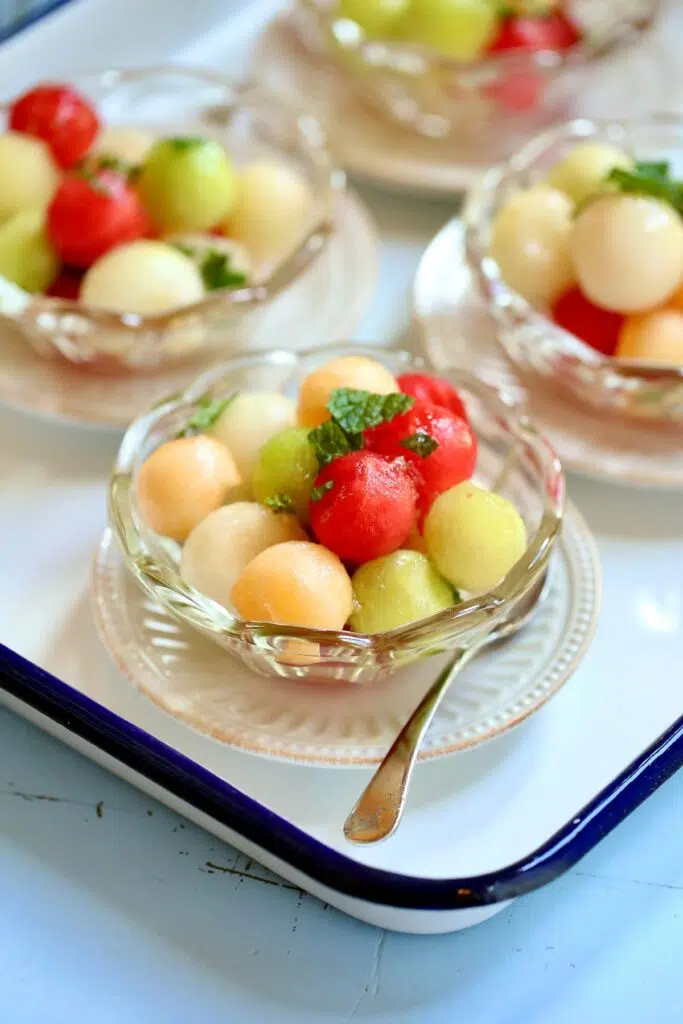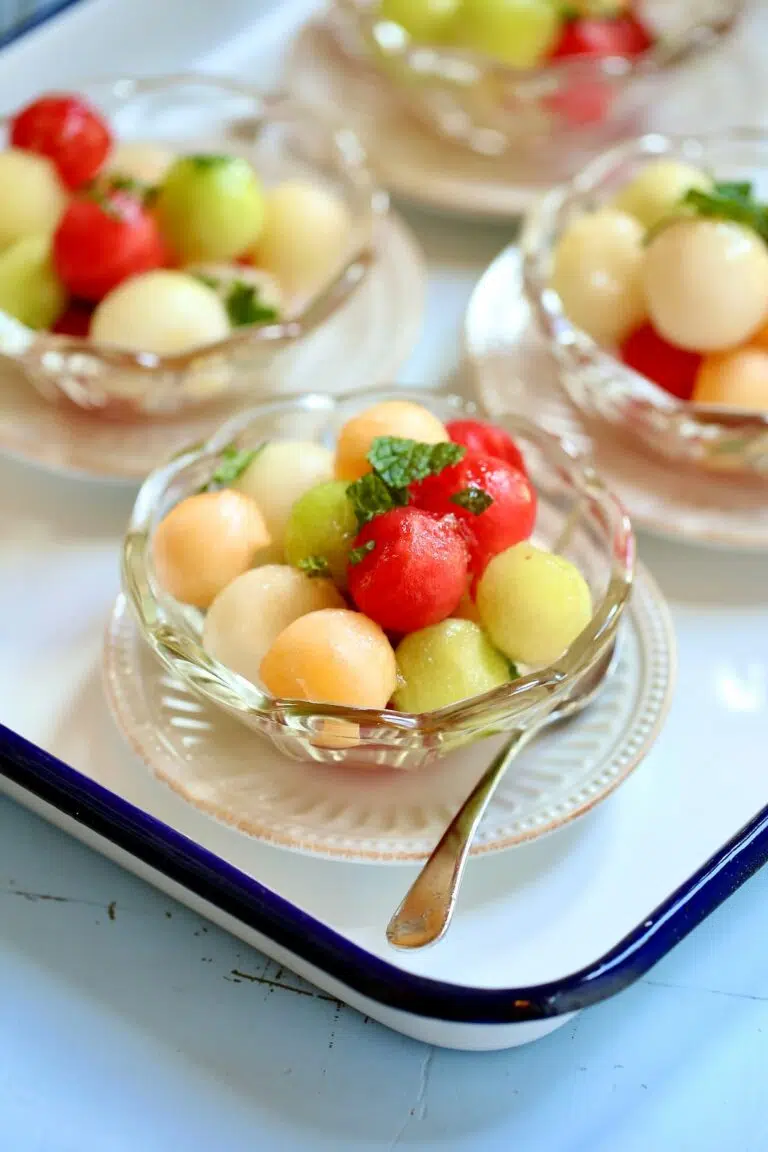 This melon ball salad would be great with a Zucchini Potato Frittata or with these strawberry pancakes.
Serve these in a martini glass or other tall glass for variation, with fresh mint leaves over the side. An easy idea and the perfect way to serve them on a brunch table!
Mint Cooler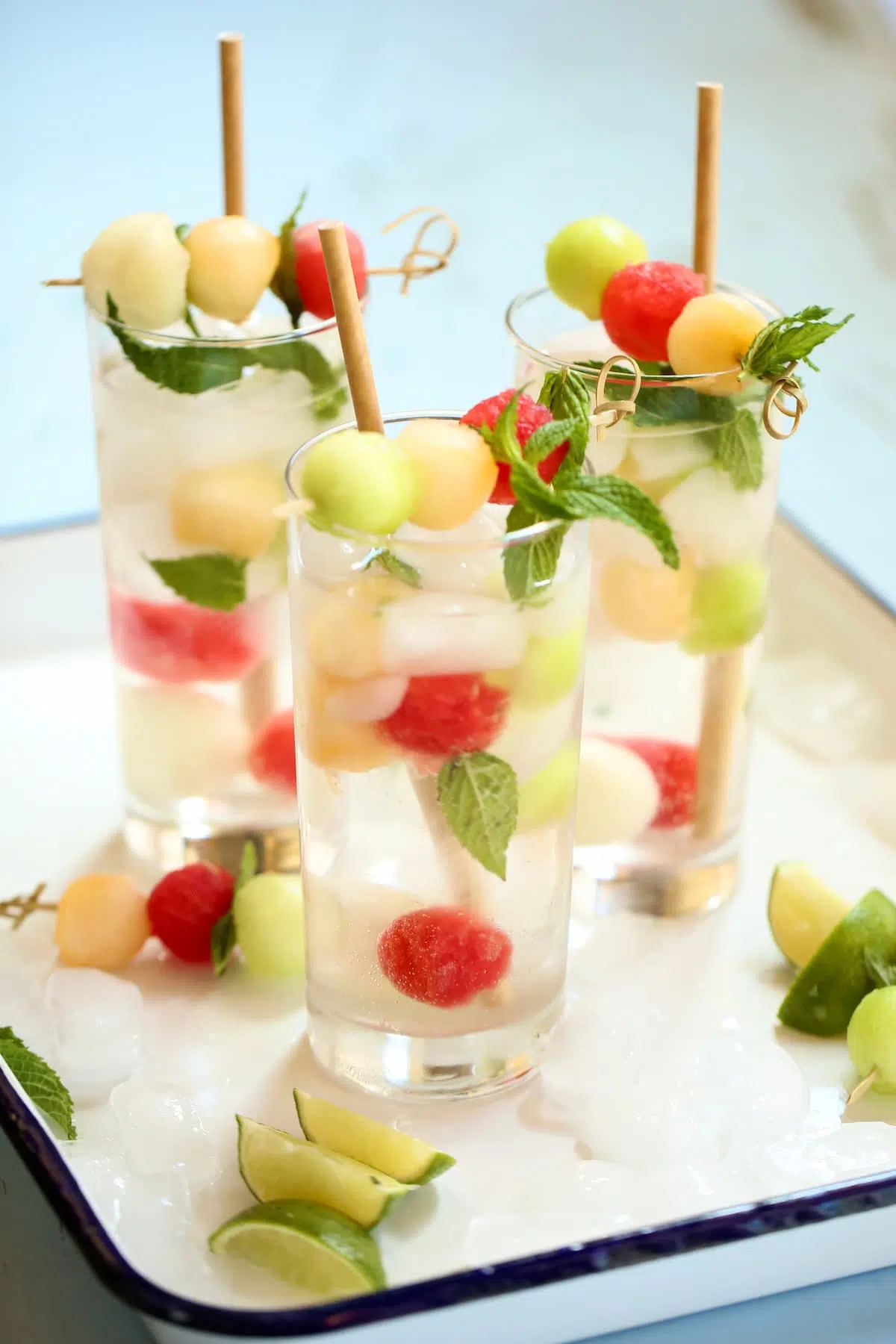 This fresh melon balls Mint Cooler recipe is super refreshing, and while it doesn't contain melon liqueur or need a cocktail shaker, it looks and tastes wonderful. This mocktail might be one of your new favorite cocktails!
Use sparkling water… plain, lemon or lime are all delicious if you like a slight tang and citrusy flavor
Upgrade this to cocktail hour by adding your favorite spirits like vodka shots 🙂
Add a fluid ounce of melon schnapps with a shot of vodka and add an orange slice for a fruity vodka shooter!
A little melon ball skewer on each drink makes them look special, easy too
Ingredients You'll Need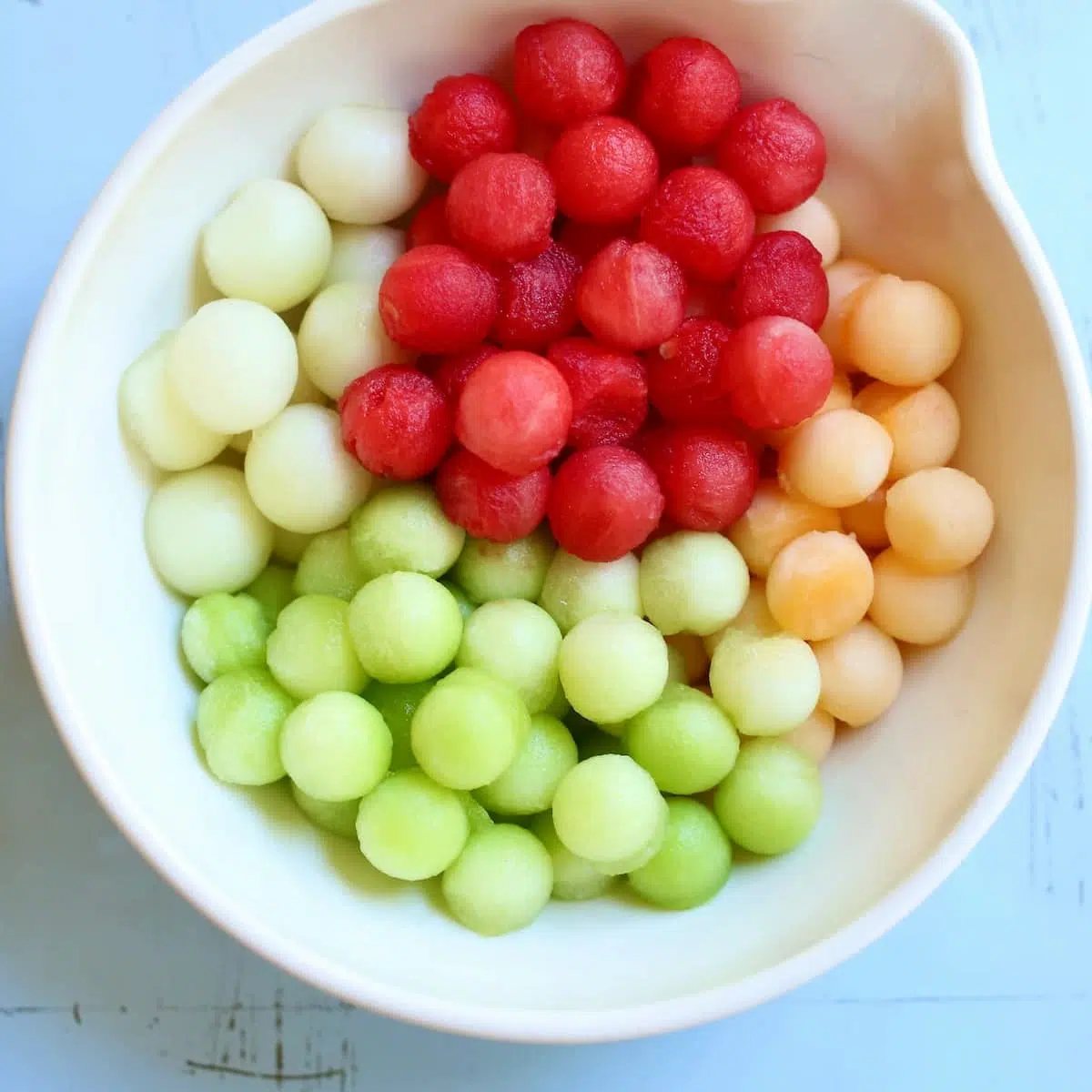 You guessed it, melon balls! Use any variety you'd like, or mix up a few different varieties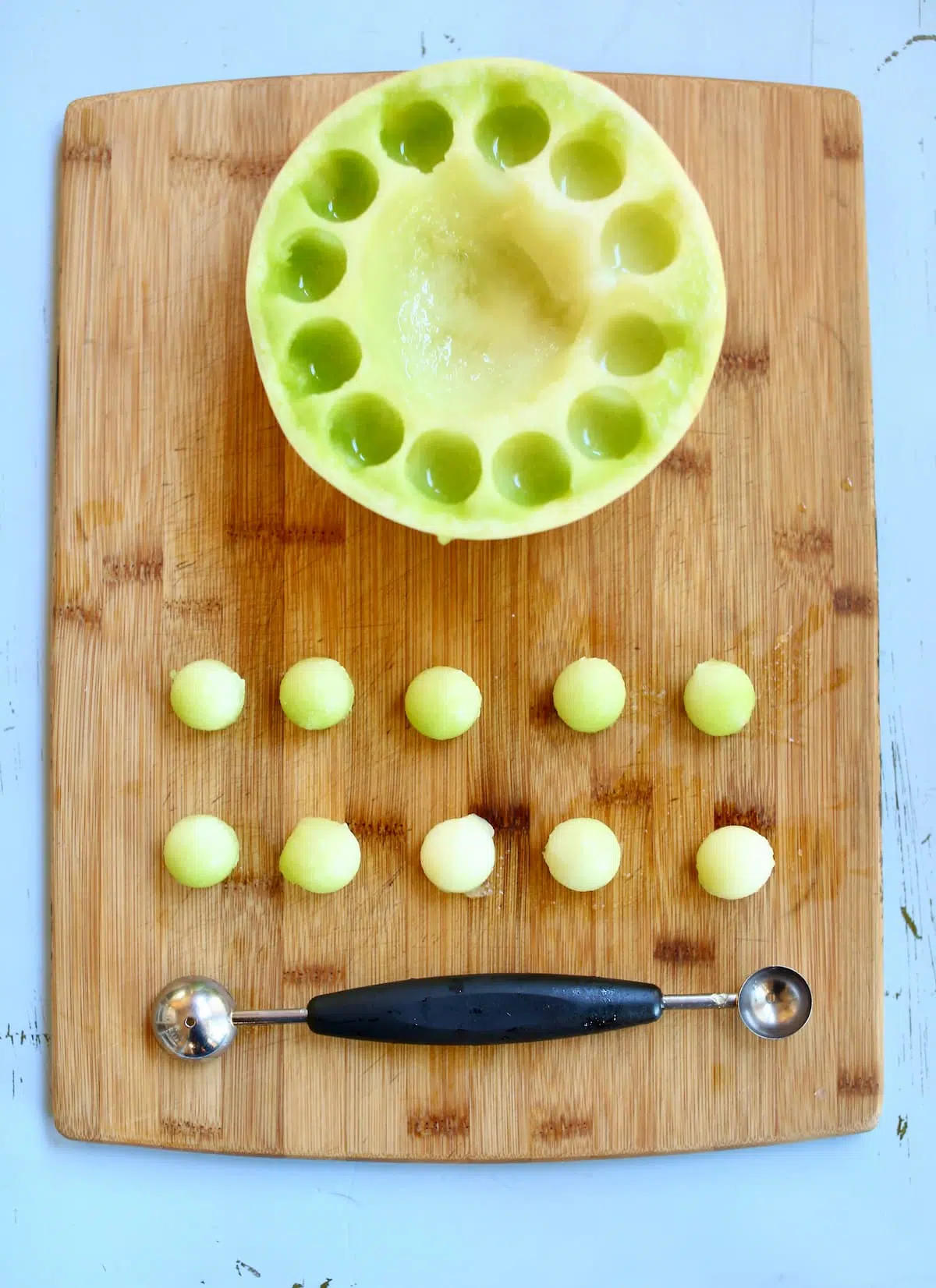 Use a melon ball scoop to make perfect, round balls. Put the scoop straight down on the cut side of the melon, push it down until the little hole squeezes out juice, gently twist to get a round ball. Easy!
Place melon balls on a skewer (I used three) with a sprig or two of fresh mint to garnish these coolers.
Expert Tips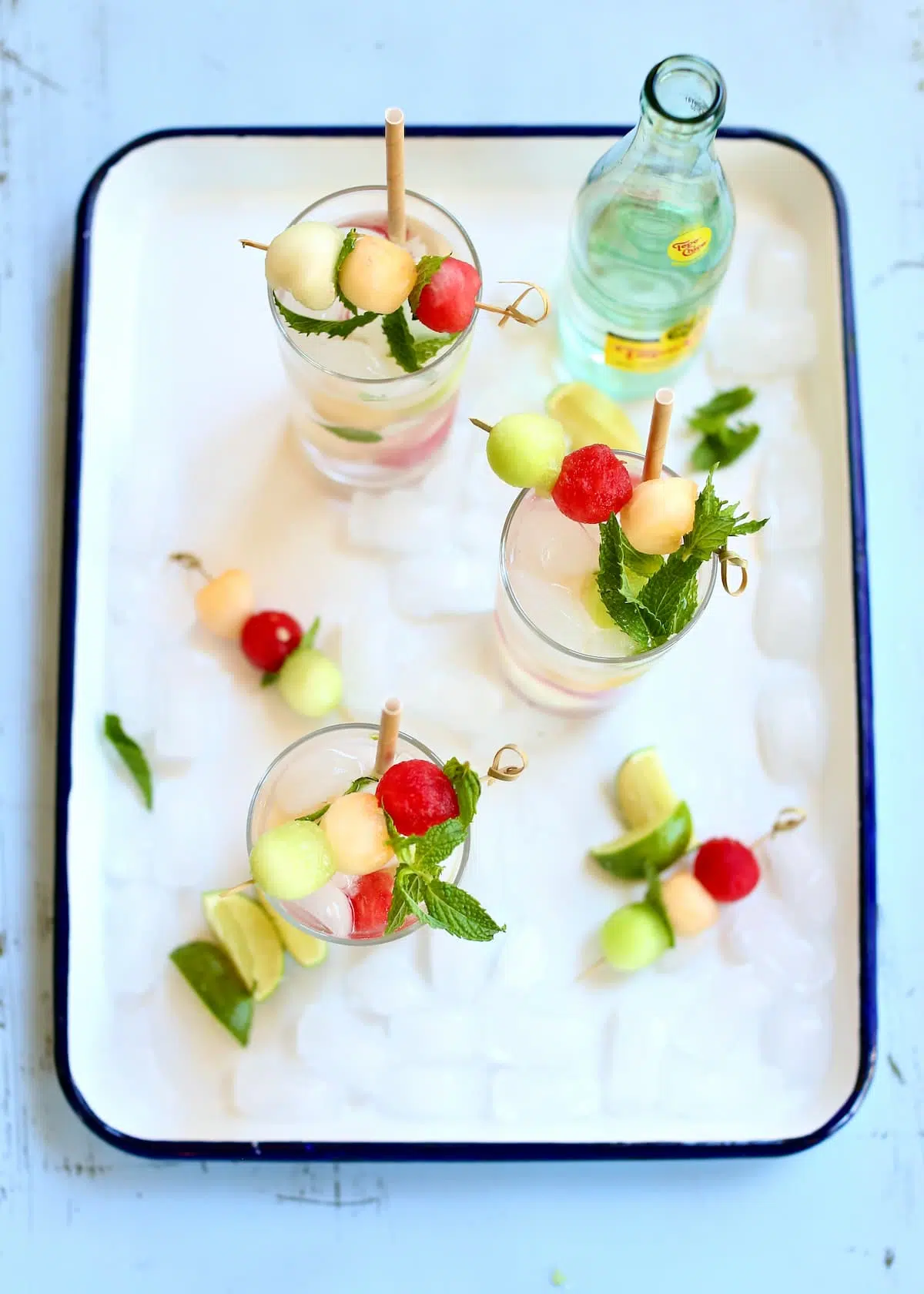 Use regular, lemon or lime sparkling water for the Mint Coolers
Use an assortment of different melons for these recipes, or just one or two
All three recipe ideas are easy to scale up or down
Serving Ideas
Frequently Asked Questions
How do I pick the best melon?
The best tip is to ask your farmer's market or grocery store. They'll usually know what is sweet and ripe and ready to eat, and often have samples.
Do I have to buy several melons for these recipes?
No! Just use one type of melon if you'd like, any variety will be good.
More Recipes to Try
If you've tried these Melon Balls Recipes, or any other recipe on Studio Delicious, please rate the recipe 5 stars and tell me how you liked it in comments below!
Looking for more tips and fresh, homemade recipes? Join my email list, tag and follow me on Instagram using #studiodeliciouseats, follow my boards on Pinterest, and see what I'm up to on Facebook and Twitter.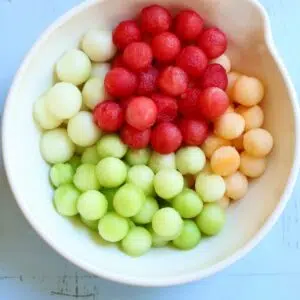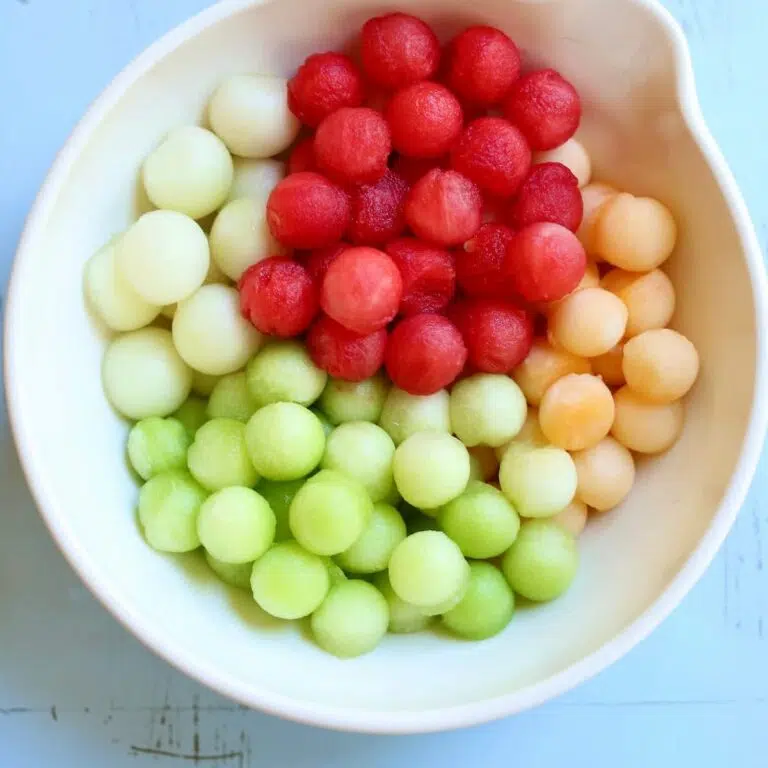 Melon Balls Recipes
Here's some fantastic Melon Balls Recipes ideas..all you need is a melon baller and fresh fruit..perfect for long hot days!
Print
Pin
Rate
Ingredients
FOR THE MELON BALL SALAD

6

cups

Assorted types of melon balls, watermelon cantaloupe, honeydew, casaba

5

large

Fresh Mint Leaves

¼

teaspoon

Kosher Salt

1

teaspoon

Honey, or more to taste

FOR THE MELON BALL SKEWERS

1

medium

Honeydew Melon

8

ounces

Mozzarella Balls in brine

You'll use about half of the container

16

leaves

Fresh Basil

8

slices

Black Forest Ham

¼

cup

Pesto, store bought

8

4 inch

skewers

FOR THE MINT COOLER

4

wooden skewers, 4 inch

4

cups

Melon Balls

assorted or one variety

8

Fresh Mint Leaves

4

cups

Ice

1

Fresh Lime, cut in small wedges

2

bottles

Sparkling Water

Lemon flavored sparkling water is okay
Instructions
FOR MELON BALL SALAD – 4 servings

Use an assortment of melons if you'd like to make 6 cups of melon balls. Add them to a large bowl, and toss with one of the fresh mint leaves that's been finely chopped. Reserve the rest for garnish.

Add the pinch of salt and honey, toss gently and transfer to serving bowls and garnish with fresh mint leaves.

FOR MELON BALL SKEWERS – 4 servings (2 skewers per serving)

Scoop 8 melon balls from the honeydew and set them aside in a small bowl.

Let 8 of the mozzarella balls drain on a paper towel to absorb any excess brine from the container.

Start by adding a melon ball to a skewer, followed by a basil leave, folded in half if needed, then a piece of Black Forest Ham, folded, then a mozzarella ball, and finally one more fresh basil leave. Serve with fresh pesto on the side.

FOR THE MINT COOLER – 4 servings

Make four melon skewers, each with three melon balls and one fresh mint leaf. Set aside, these are garnish for the coolers.

Using four tall glasses, alternate adding ice and the remaining melon balls to the glass, about ¾ of the way full. Squeeze a little lime juice in each glass, then fill the glasses with regular or lemon or lime sparkling water. Garnish with a melon skewer and another fresh mint leaf and serve.
Notes
Use regular sparkling water or lemon or lime flavored for the Mint Coolers.
Use an assortment of different melons for these recipes, or just one or two.
All recipe ideas here are easy to scale up or down
Be sure to blot the mozzarella balls
Please note nutrition calculations are approximate and calculated based on a total of 12 servings.
Nutrition
Calories:
175
kcal
|
Carbohydrates:
23
g
|
Protein:
9
g
|
Fat:
7
g
|
Saturated Fat:
2
g
|
Polyunsaturated Fat:
1
g
|
Monounsaturated Fat:
1
g
|
Cholesterol:
17
mg
|
Sodium:
367
mg
|
Potassium:
520
mg
|
Fiber:
2
g
|
Sugar:
21
g
|
Vitamin A:
4751
IU
|
Vitamin C:
36
mg
|
Calcium:
102
mg
|
Iron:
1
mg
Tips for Success with Every Recipe
Super important to read the whole recipe before you begin
Pay attention to the ingredient list and photos for the recipe
If possible, prep your ingredients a little before you start
Always use a sharp knife for safety
Use the size of pan called for in the recipe
For savory recipes, taste and season as you go
Buy fresh, organic ingredients, locally sourced whenever possible
Don't Miss a Recipe!