This recipe for My Favorite Cranberry Sauce is super versatile.  Don't shy away from using the blackberries!  The flavors are deep and delish and it works great as a side dish.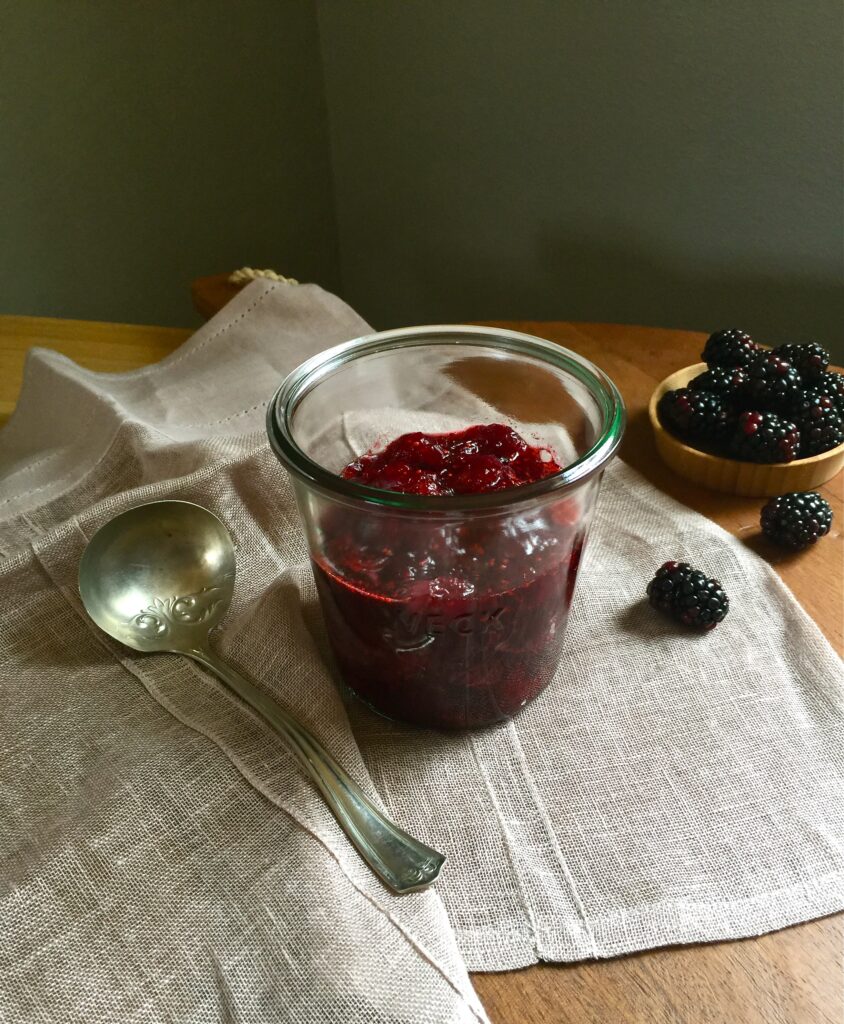 Let me start by saying cranberry season isn't over because it's February.
No, no, and no.
In fact, please stop what you're doing, get in the car, drive to the store, grab all the bags of cranberries you can find, go home, and put them in your freezer.
You'll be happy for this later.
During the holidays when I was a kid, cranberry sauce was the absolute last thing I cared about. It was right up there with not caring about black olives on the relish plate.  If cranberry sauce was to be consumed, only the canned jellied kind would do.
My Mom always made a wonderful cranberry raspberry jello mold for these special dinners. It was pretty and impressed everyone, with its unique middle layer of whipped cream cheese and finely chopped toasted pecans.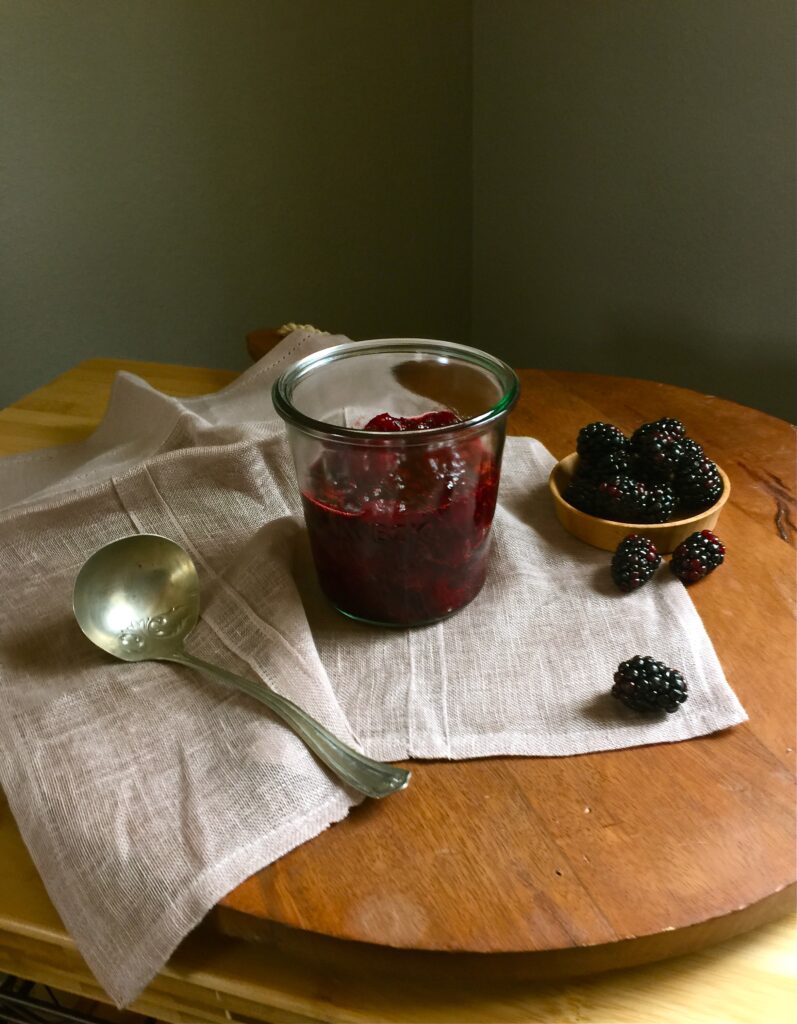 I don't recall eating it much myself, because mashed potatoes and gravy – and lots of it – were my highest priority. Unfortunately, this is still the case.
You'll find this cranberry blackberry sauce delightful on your morning oatmeal, beautious on your greek yogurt, a succulent side to your Sunday supper, and an unexpectedly wonderful addition to your turkey or veggie burger.  Eating it with a spoon right out of the jar is totally okay by me.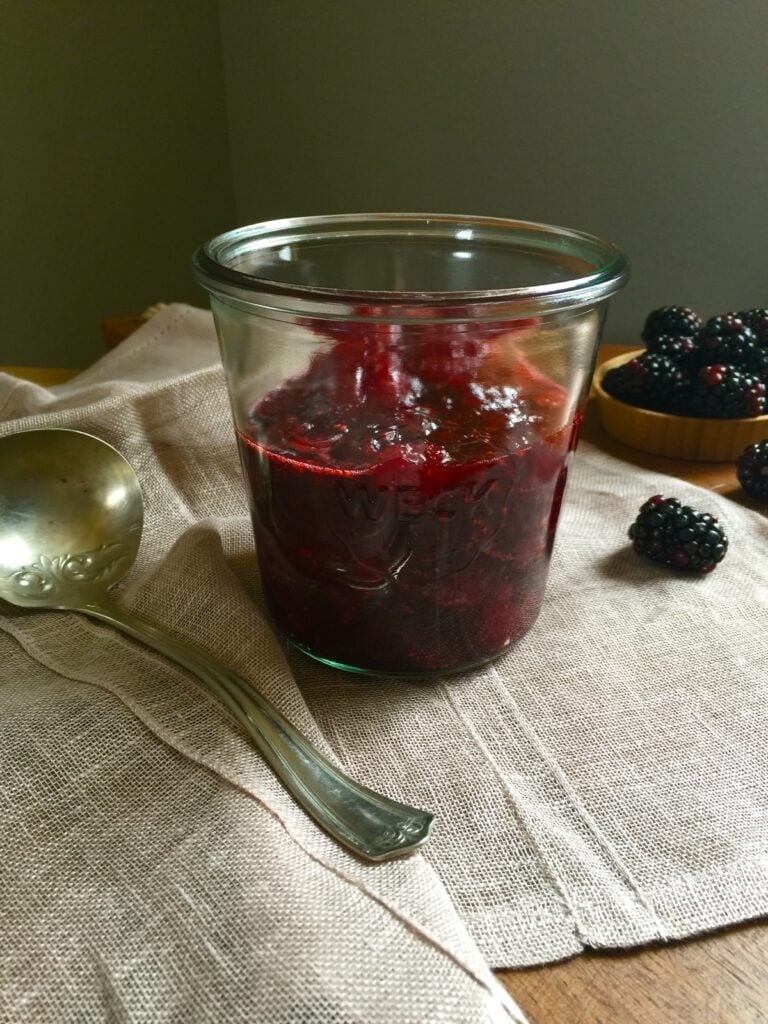 I've made this many times with fresh raspberries instead of blackberries and highly recommend it. But give the blackberries a try, they are readily available at grocery stores in winter and are worth the purchase. Frozen berries work well too, just drain off any excess liquid first.
Oh, and don't skip the vanilla extract.  It adds a little sweetness and depth that tastes amazing.
Ingredients
2

cups

fresh organic cranberries

1/2

cup

water

1/2

cup

dark brown sugar

1/3

cup

fresh blackberries

or raspberries

1

tsp.

vanilla extract

2

tbsp.

raspberry vinegar
Instructions
Place cranberries in a medium saucepan with the water and sugar on medium heat. Stir to help dissolve the sugar. Bring to a boil until the cranberries pop and sizzle, about 5 minutes. Add the blackberries and raspberry vinegar and continue boiling on a medium heat, with occasional gentle stirring for about 5-8 more minutes, until the liquid is syrupy. Remove from heat and stir in the vanilla.

Cool and serve. Store in the refrigerator in a sealed container ( I use a Weck glass container) for up to 5 days.
Source:  Studio Delicious