This Strawberry Cheesecake in a Jar is a fun and easy dessert, that's no-bake and and easy to put together too.  Use the prettiest berries you can find, which isn't difficult this wonderful time of year.

My first attempt at Strawberry Cheesecake in a Jar was awful.
For one thing, there was entirely too much crust.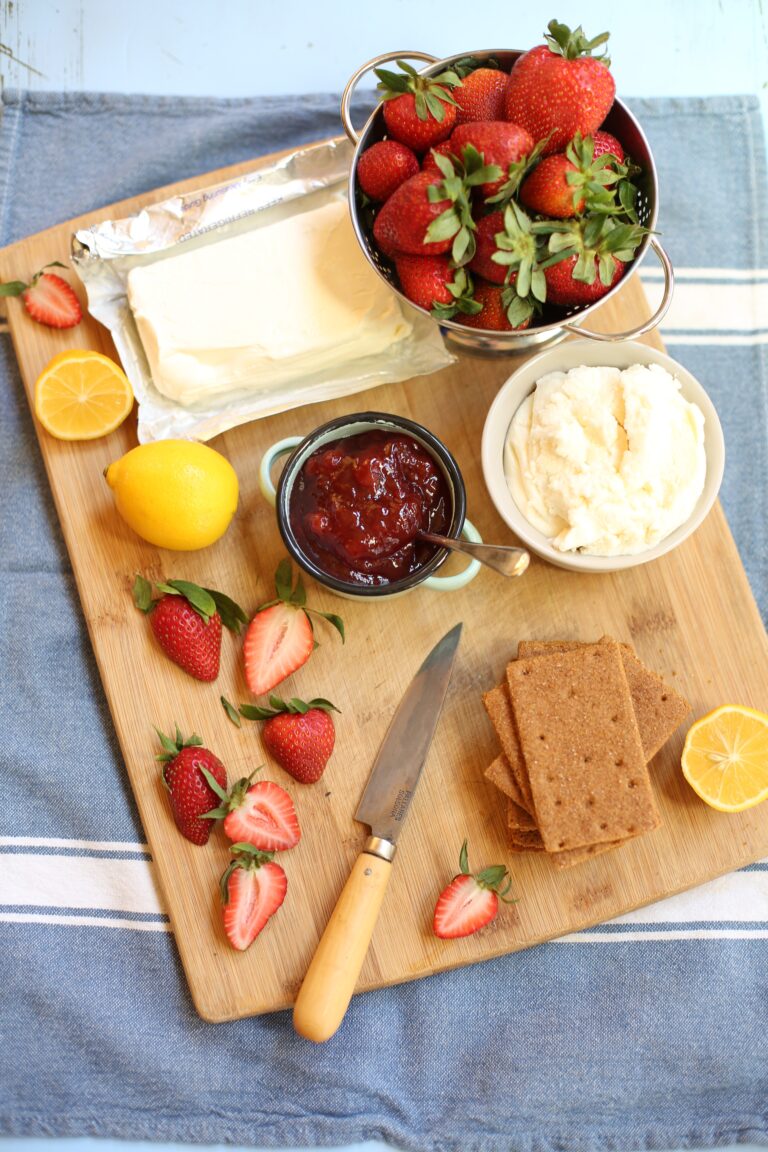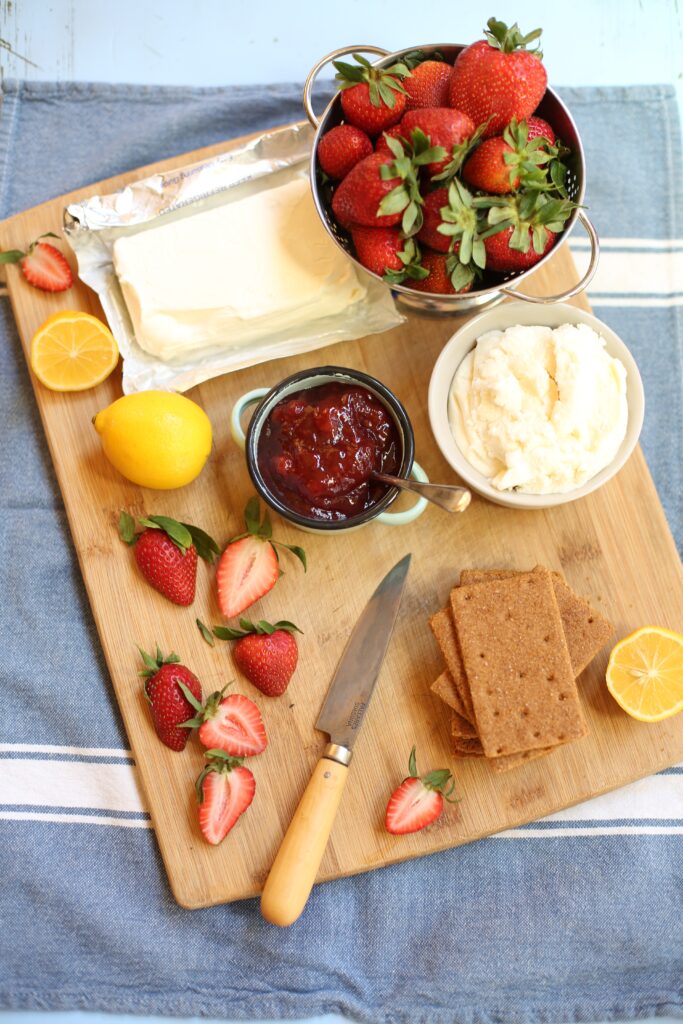 And the middle layer was like biting into a block of cream cheese, which exactly no one likes to do.
The rough draft for this recipe was to pair chunks of fresh rhubarb with perfect spring strawberries, cook them into a loose jam with sugar and lemon juice, and top it on the cheesecakes.
The process was a lot of trouble for little return on investment.
Plus the whole thing was way too sweet.
I inflicted a batch of the sugary test-runs on some poor, unsuspecting people who were very gracious but gently confirmed my findings.
It wasn't terrible, but a few important tweaks were in order.
First, I ditched the rhubarb entirely, but if you're interested, there are a couple of good recipes where it's the star of the show here and here.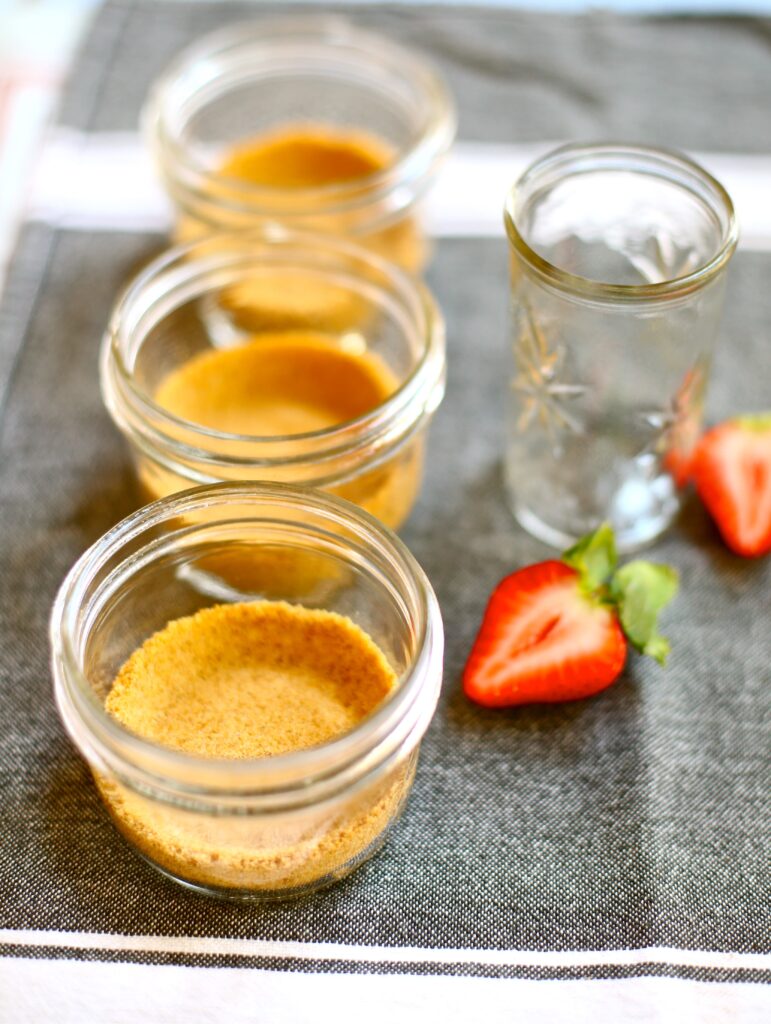 The middle layer was made lighter and brighter thanks to both cream and ricotta cheese, and a hit of fresh lemon zest and extract for extra lift.
The strawberry's get a gentle toss in some good-quality strawberry jam instead of all that fuss on the stove.
I whizzed up some Biscoff cookies for the base layer, which lends texture and an almost savory, caramelized flavor.
All of this makes for a delightful single-serving strawberry cheesecake that's no-bake and portable enough for a picnic.
Bonus points that it's pretty and full of great flavor.
Make this one several hours in advance and serve them on a tray at your next BBQ 🙂
More Dessert Recipes to Try
Outrageous Chocolate Dipped Strawberries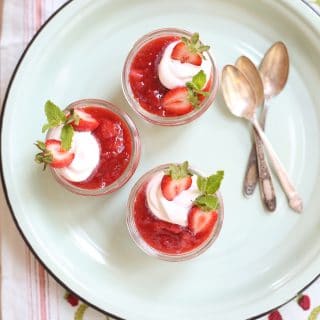 STRAWBERRY CHEESECAKE IN A JAR
Strawberry Cheesecake in a jar is a fun way to eat dessert. It's easy to put together and no-bake, so use the prettiest berries you can find.
Print
Pin
Rate
Ingredients
FOR THE CRUST

1 1/2

cups

Graham cracker crumbs

1/2

teaspoon

cinnamon

1

tablespoon

sugar

FOR THE CHEESE LAYER

1 8

ounce

light cream cheese

softened

1 8

ounce

light ricotta cheese

1/4

cup

sugar

1

teaspoon

freshly grated lemon zest from one lemon

1/2

teaspoon

lemon extract

FOR THE STRAWBERRIES

1/4

cup

strawberry jam

1/2

teaspoon

water

2

cups

fresh strawberries (organic preferred)

sliced in 1/4" pieces

whipped cream, for serving

plus additional slioced strawberries and fresh mint if desired, for serving
Instructions
CRUST

Make graham cracker crumbs by adding enough graham crackers to a food processor to make 1 1/2 cups of crumbs. This is approximately 8 sheets of graham cracker, plus a quarter. Alternatively, you can make crumbs by using a blender in the "crush" mode or equivalent, or by placing the graham crackers in a large plastic freezer bag and using a rolling pin to crush to a sandy consistency.

Combine the graham cracker crumbs with the tablespoon of sugar and 1/2 teaspoon of cinnamon and set aside.

MAKE THE CHEESE LAYER

Mix the cheeses using a hand mixer or the food processor you just made the graham cracker crumbs in. Place the cream cheese and ricotta cheese in a medium-sized bowl and blend until the two ingredients are combined. Don't mix too long or the cheeses will be too heavy and dense.

Add the sugar to the cheese mixture and mix until just combined

Add the lemon zest and lemon extract and stir gently with a spoon to combine

PREPARE THE STRAWBERRIES

Combine the strawberry jam and the 1/2 teaspoon water in a medium-sized bowl, and stir together to loosen the jam before adding the fresh strawberries. Gently toss the strawberries in the jam mixture to evenly coat.

ASSEMBLE THE CHEESECAKES

Lightly pat 1/4 cup of the graham cracker mixture into the bottom of each jar using your fingers or a small spoon

Spoon 1/2 cup of the cheesecake mixture on top of the crust

Divide the strawberry mixture between each cup and garnish with a tablespoon or more of whipped cream, a fresh strawberry sliced in half, and some fresh mint if you'd like.
Notes
Use half-pint canning jars for this recipe, or small disposable plastic cups
You can make this recipe into 6 servings instead of 4 by dividing the ingredients equally in smaller plastic cups.  Just eyeball this to distribute the ingredients.
Strawberry Cheesecake in a Jar can be served in long stem glasses too - such as a wide-mouth red wine glass - this presentation looks especially pretty.
The cheesecakes travel well in the canning jars shown.  Great for picnics! 
Nutrition
Serving:
4
g
|
Calories:
493
kcal
|
Carbohydrates:
68
g
|
Protein:
15
g
|
Fat:
18
g
|
Saturated Fat:
9
g
|
Cholesterol:
54
mg
|
Sodium:
595
mg
|
Potassium:
420
mg
|
Fiber:
3
g
|
Sugar:
40
g
|
Vitamin A:
597
IU
|
Vitamin C:
45
mg
|
Calcium:
309
mg
|
Iron:
2
mg
SOURCE: Studio Delicious