If you're looking for an amazingly delicious side dish that's also easy to prepare, look no further than Roasted Spring Vegetables with Vinaigrette. Cooked on sheet pans at high heat to intensify their flavors, the vegetables are finished with a drizzle of vinaigrette for a punch of extra flavor.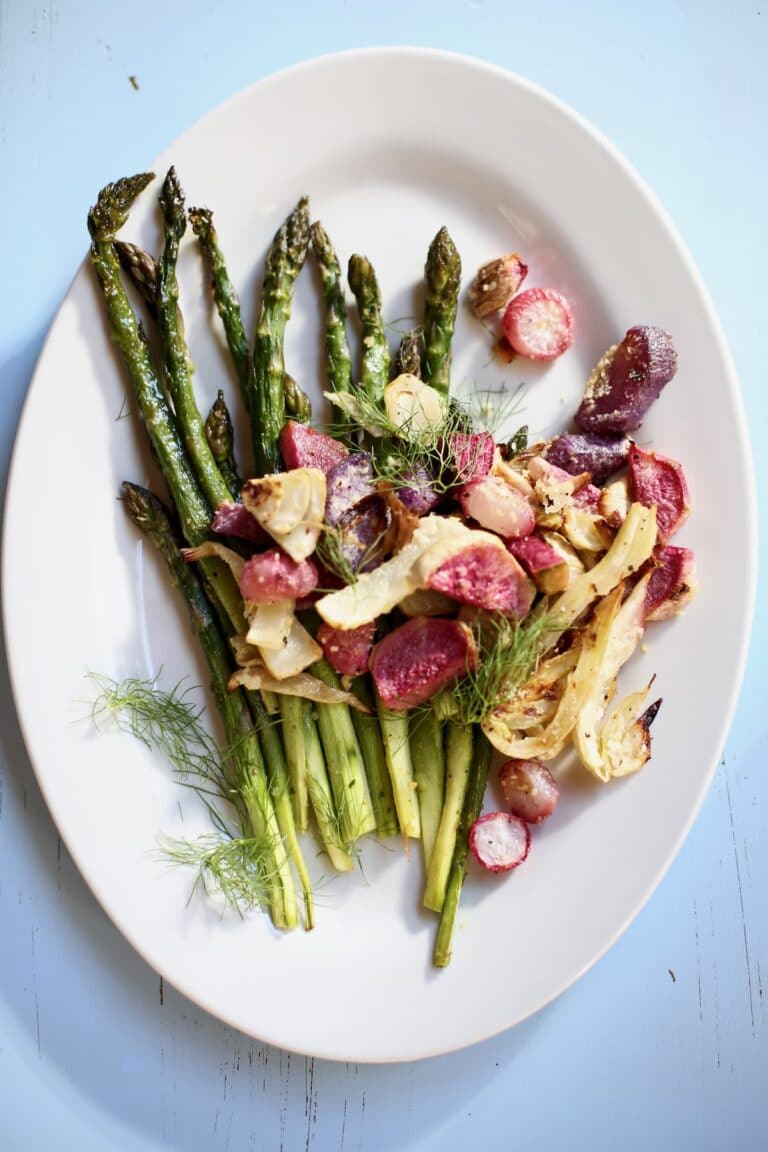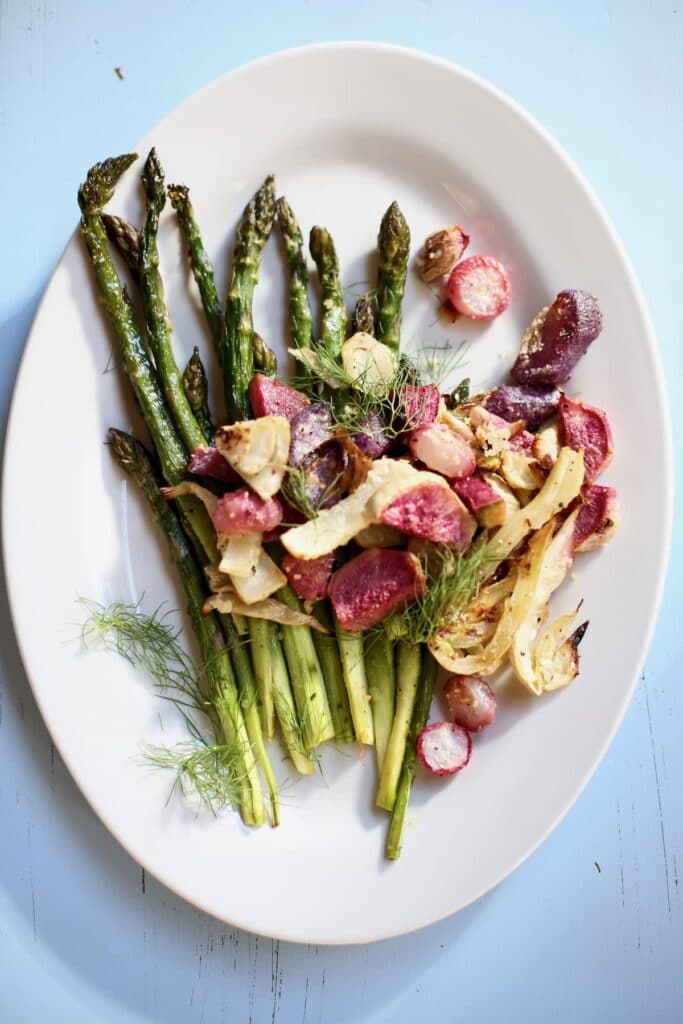 If you've never had a roasted radish, prepare yourself. I'm not even kidding, it's like the best thing you've ever eaten in your life. Even if you aren't a fan, trust me, they become a whole new, totally delicious thing when you roast them in the oven.
Here's more:
Roasting instead of steaming or sauteing delicate spring vegetables completely changes their flavor and texture in the BEST way.
Everything is sweeter when roasted, with a soft, carby texture. Sold, right?
Radishes are the star of the show here, with supporting roles played by fresh fennel and asparagus.
The roasted vegetables are even better with a dusting of Parmesan cheese added right at the end of the cooking time.
Key Ingredients For This Recipe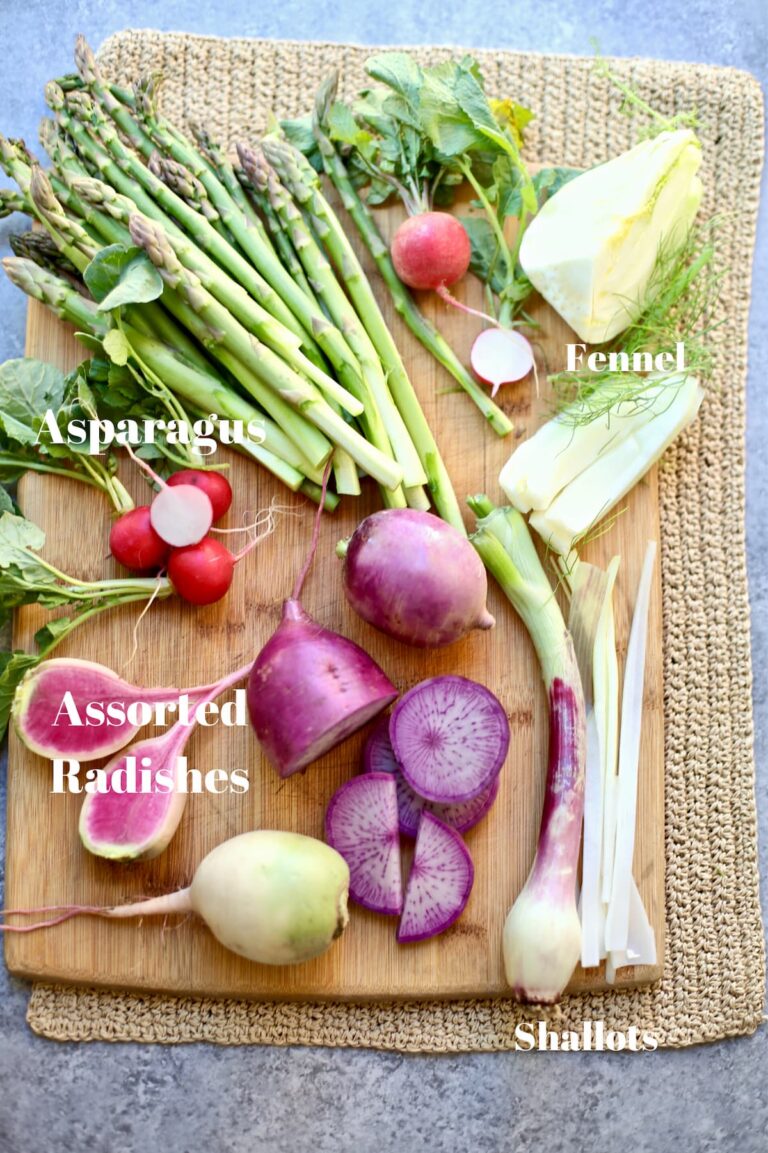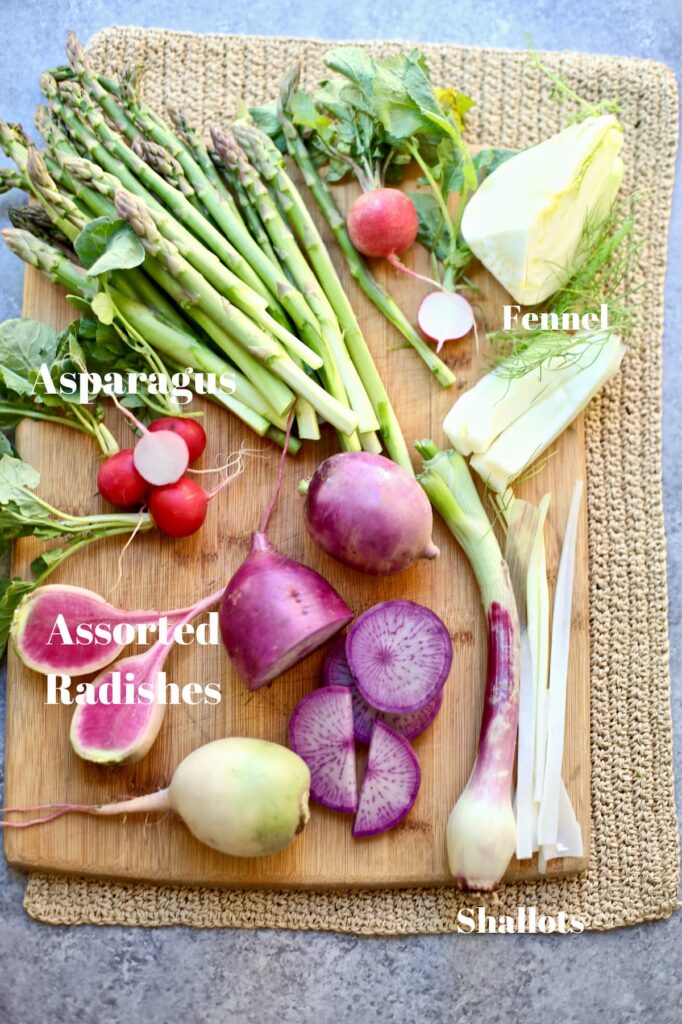 Radishes: Any combination of red, watermelon or purple daikon radish will do.
Fennel: Just one bulb of this sweet, anise-scented wonder is what we need for the recipe.
Asparagus: One pound, trimmed at the base for a pretty presentation.
Shallot: Sweet and mild with a hint of garlic flavor, shallots are a perfect flavor combination.
Seasonings: Just salt and pepper, olive oil and a little Parmesan cheese to finish.
Vinaigrette: We whip up a fresh and easy vinaigrette made with olive oil, lemon juice, honey, Dijon mustard, salt and freshly ground pepper.
Step-by-Step Instructions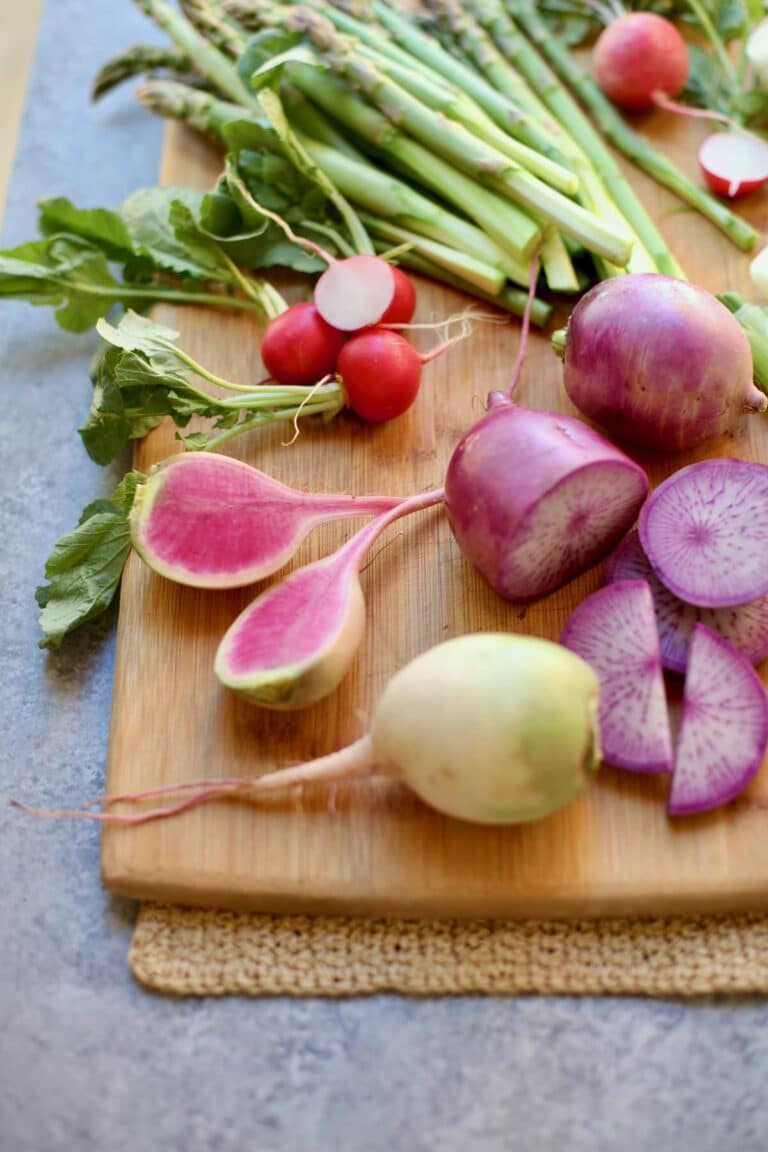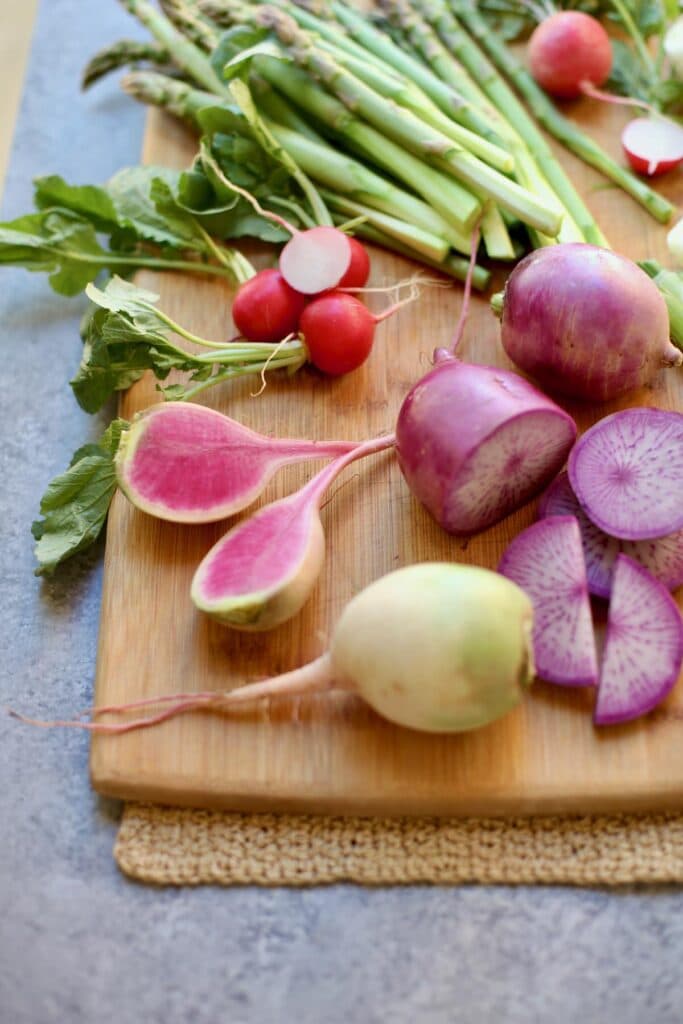 Prep two large baking sheets: Line the baking pans with natural or regular parchment paper.
Prep the Asparagus: Snap or cut the woody bottom end of the asparagus with a knife, then shave 2-3″ of the outside ends with a vegetable peeler.
For the radishes: Remove the leaves and wash and trim the ends, then cut in half in 1/2″ pieces
For the fennel: Remove the stalks and stem with knife, cut in half, then half again. Quarter the pieces into about 1/2″ slices.
For the shallot: Remove the skin and trim the ends, then cut in half lengthwise, thinly.
Make the vinaigrette: Olive oil, fresh lemon juice, honey, Dijon mustard, freshly ground pepper and salt are put in a canning jar with a lid and shaken til' combined.
Tips for Prepping Vegetables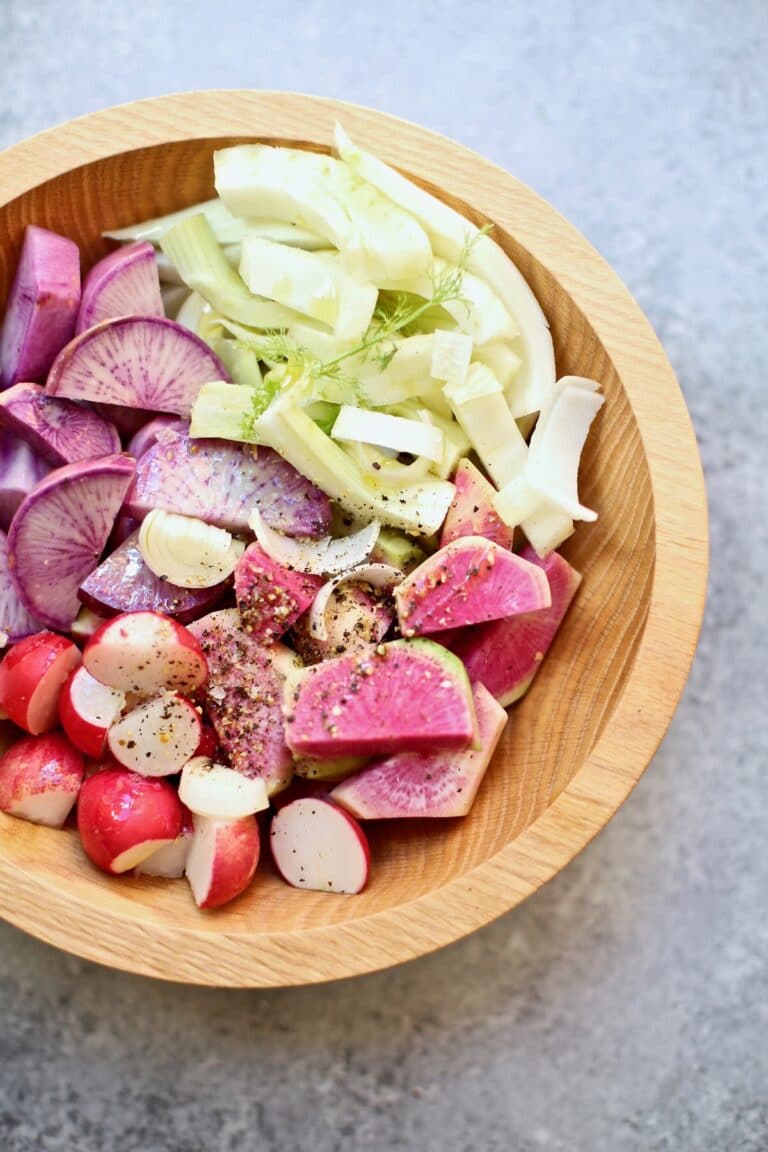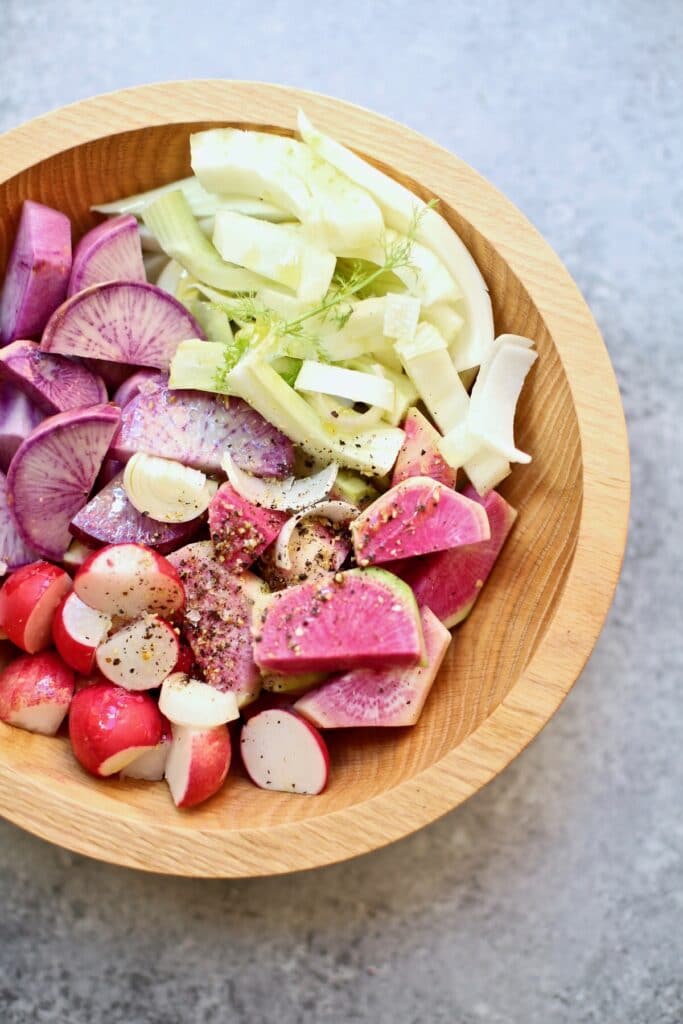 Some tips for prepping the vegetables:
Wash and dry the vegetables first.
Secure your cutting board on the counter by laying a wet paper towel flatly underneath it.
Always use a sharp knife! It's safer, and a good, clean cut makes a big difference in the final presentation.
Tips for Roasting Vegetables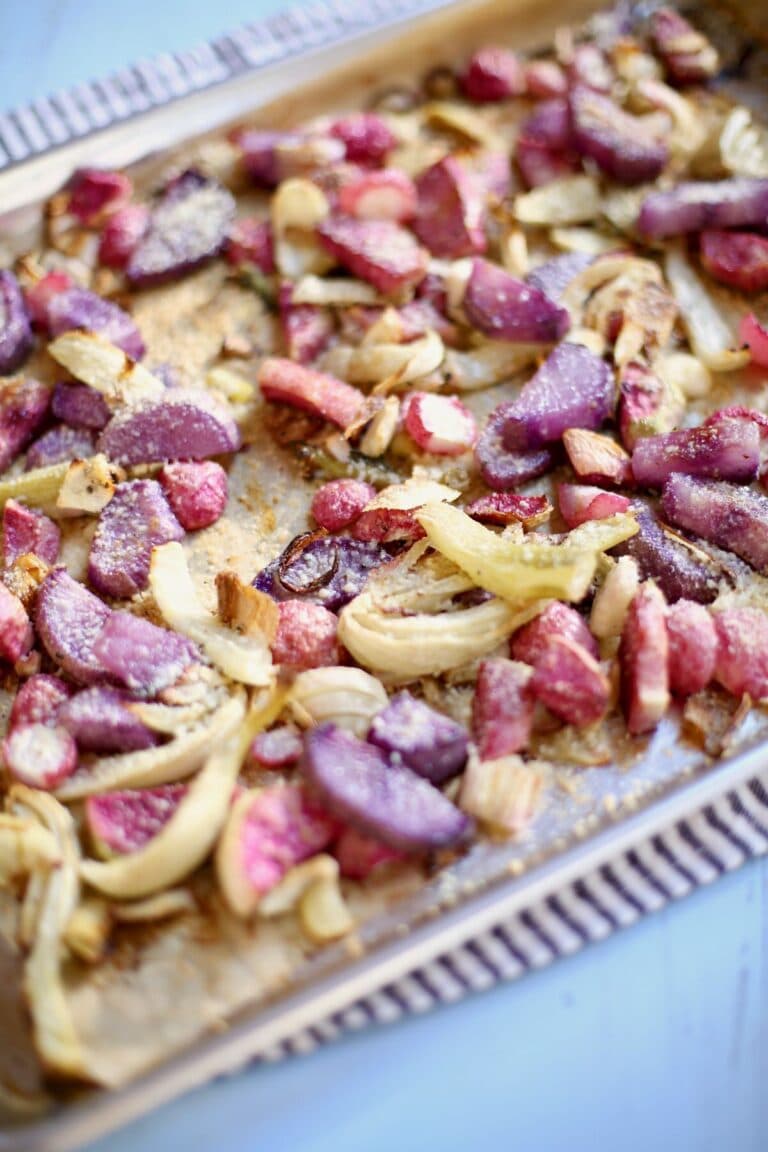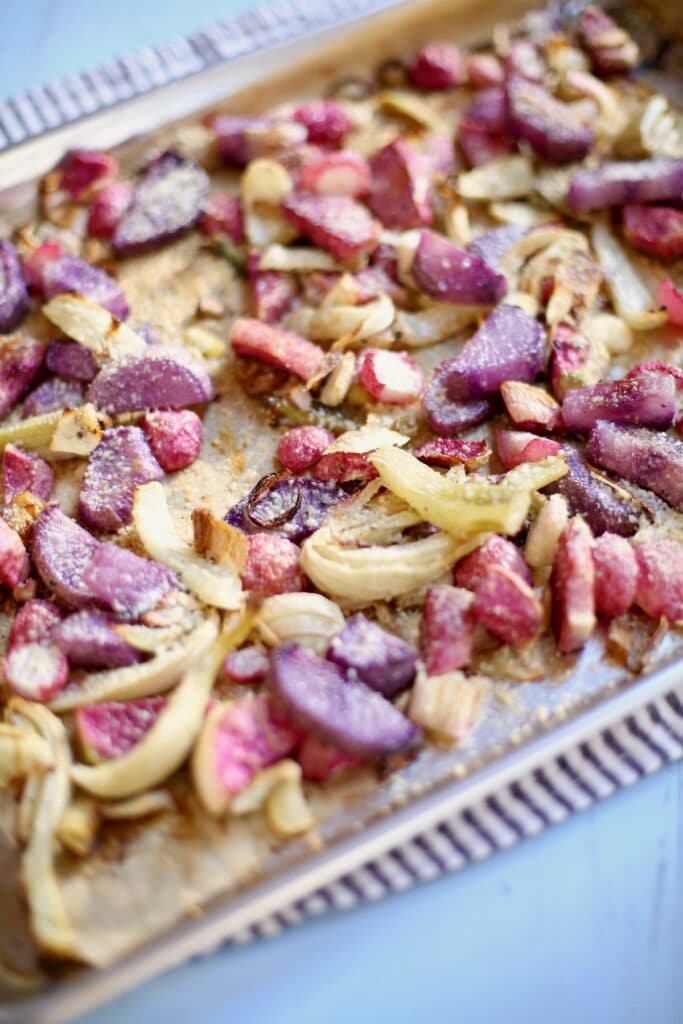 Whenever I roast vegetables, this is what I do:
Use a large baking sheet pan, or in this case, two sheet pans.
Use a hot oven, in this case 425 degrees
Line the pans with natural parchment paper so nothing sticks. TIP: Foil doesn't work as well!
Make sure all of your ingredients are laying as flat as possible on the tray.
Drizzle a little more olive oil (a teaspoon or two) over the vegetables when you remove them from the oven for turning.
Turning the veg part way through the cooking time is easier with a sturdy, long spatula.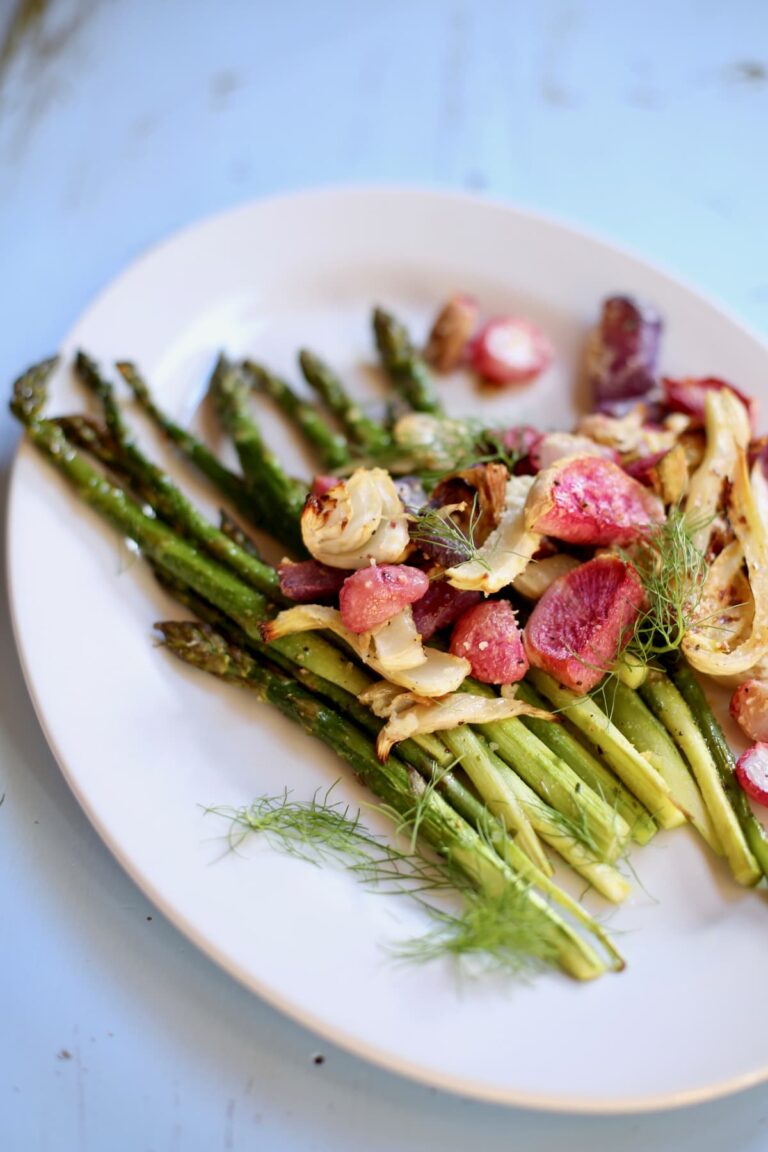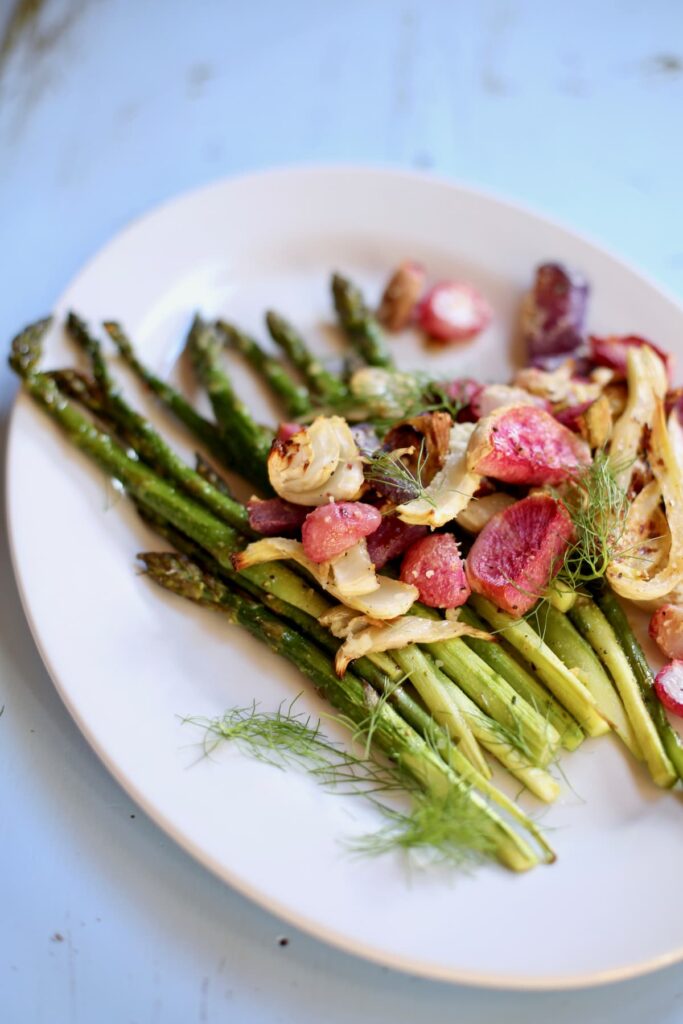 See those little crispy edges? SO GOOD. Everyone loves this recipe, and it's so pretty too!
Serving Tips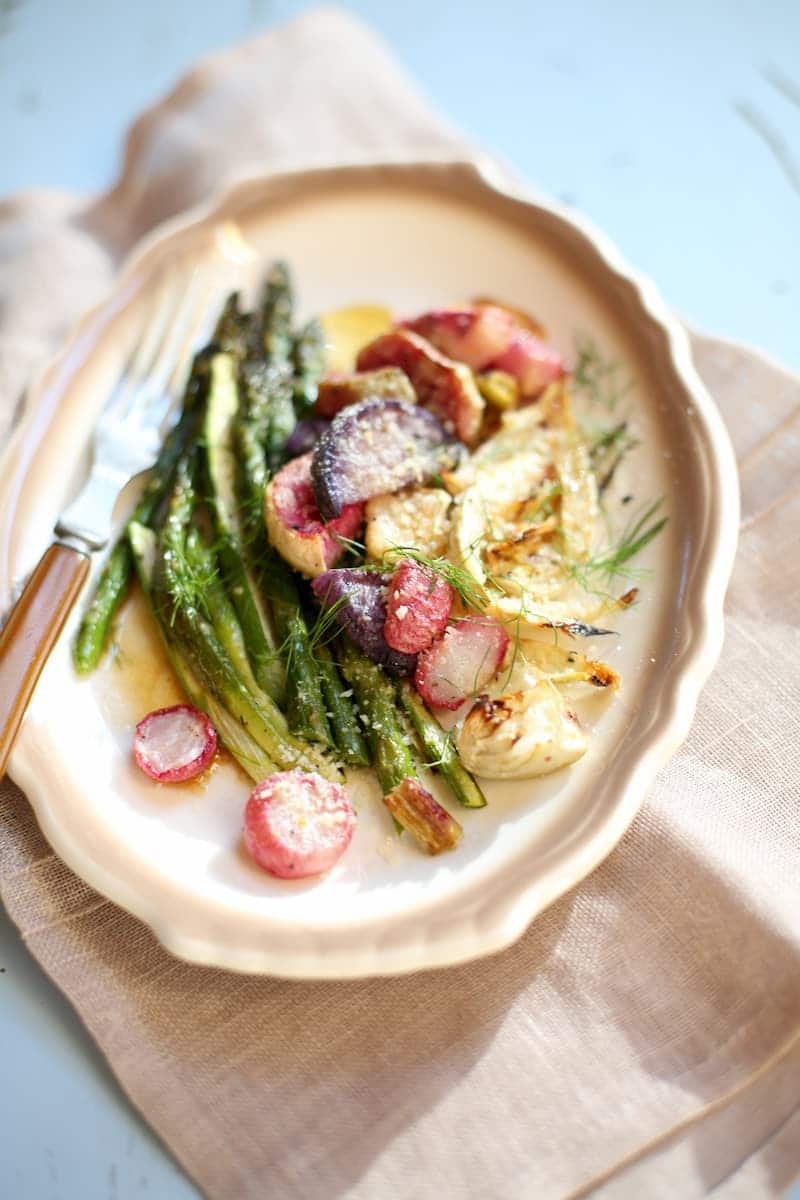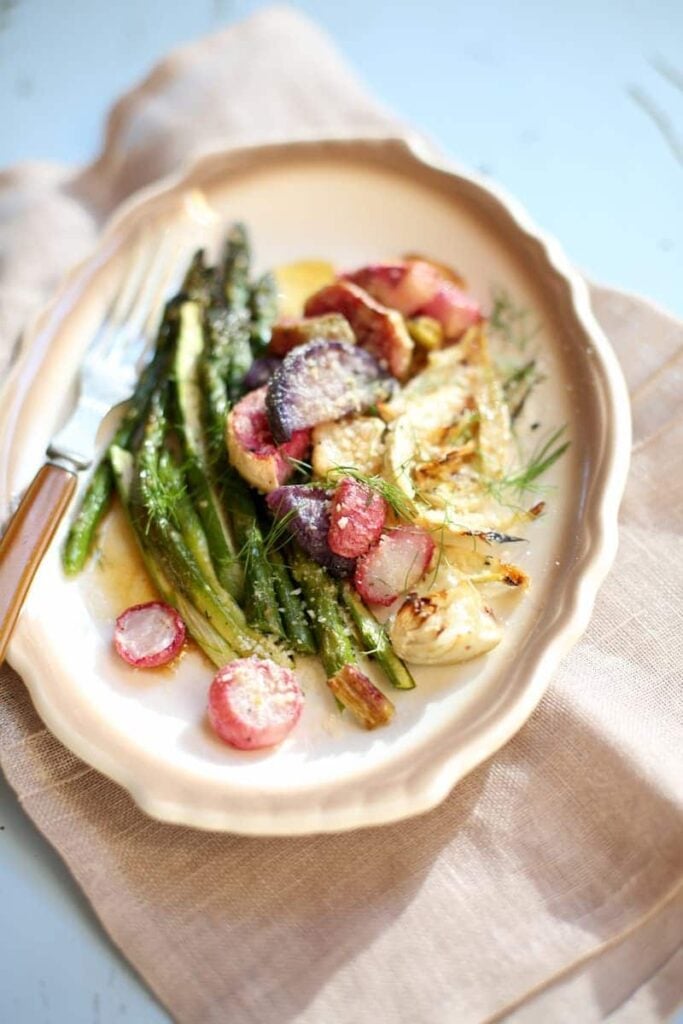 I love to plate these roasted vegetables on a big, white serving platter. Drizzle just a little of the vinaigrette on the top, and serve the rest alongside.
When plating, start with the asparagus on the bottom, then scatter the radish and fennel mixture over the top. Use the same process to plate it individually, too.
This would make a great starter or side dish for grilled meats or fish, or as a side to this recipe for Summer Pasta. Try Roasted Nectarines with Caramel Sauce for a light and wonderful dessert!
More Recipes to Try:



Ice Cream Cake with Peanut Butter Ganache
Roasted Grape Hazelnut Breakfast Bowl
Parmesan Potatoes with Roasted Broccolini
Strawberry Salad with Lemon Vinaigrette
Maple Roasted Squash with Goat Cheese
If you've tried Roasted Spring Vegetables with Vinaigrette, or any recipe on Studio Delicious, please tell me about it in the comments below!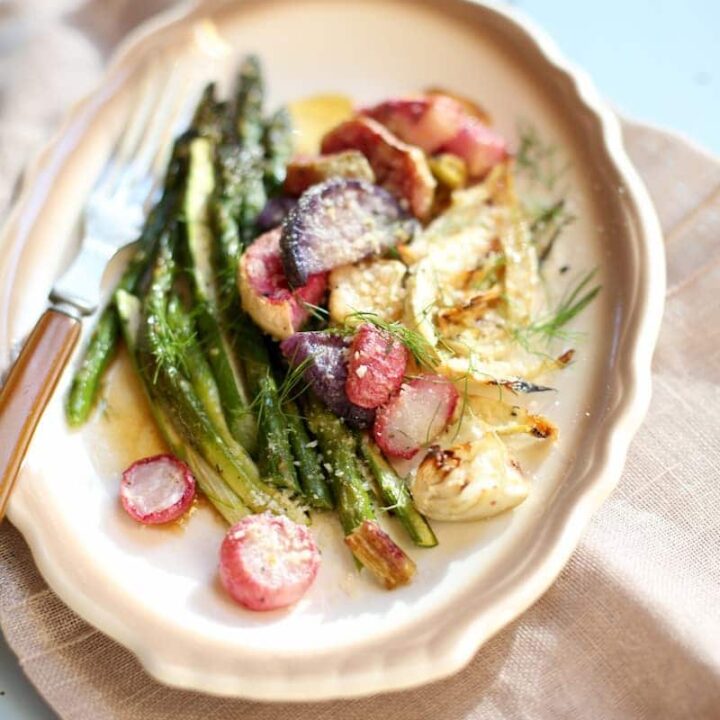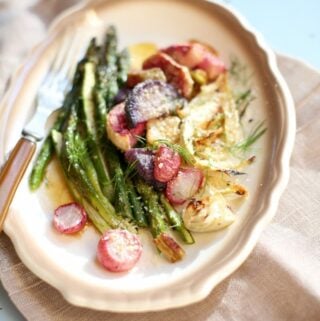 ROASTED SPRING VEGETABLES WITH VINAIGRETTE
Roasted Spring Vegetables with Vinaigrette are a beautiful, healthy side dish made on a sheet pan, that taste as good as they look!
Print
Pin
Rate
Ingredients
1

pound

asparagus

Trim off and remove several inches of the bottom woody stem with a knife, then shave the bottom 2-3" of the outside of each stem with a vegetable peeler

2

bunches

radishes, multi-color or red

Use red or multi-colored radish, washed with leaves and tips removed. Cut in half, and if large - quarters about 1/2" size

1

pound

watermelon radish or purple daikon

Wash and remove ends. Cut in half, then half again into 1/2 inch pieces

1

large

fennel bulb

Remove stalks and bottom stem. Cut in half and then half again, then quarter and slice into 1/2" long pieces

1

large

shallot

slice thinly lengthwise, about a 1/3 cup total

1/4

cup

olive oil
salt and pepper

2

tbsp

Parmesan cheese, grated

Plus more for serving

VINAIGRETTE

6

tablespoons

extra virgin olive oil

4

tablespoons

lemon juice, freshly squeezed

3

teaspoons

honey

1 1/2

teaspoons

Dijon mustard

I use Maille Original Dijon

1/2

tsp

freshly ground pepper

I use lemon pepper

1/4

teaspoon

salt
Instructions
PREHEAT OVEN TO 425

Line two large baking sheets with parchment paper

FOR THE ASPARAGUS:

Place the prepared asparagus on one of the lined baking sheets. Drizzle with 2 tablespoons of the olive oil, then sprinkle with a little salt and pepper. Set aside.

FOR THE RADISH AND FENNEL:

Combine the prepared radishes in a large bowl with the watermelon radish, purple daikon, fennel and shallots.

Add the other 2 tablespoons of olive oil, or a little more if needed, and toss to completely coat the vegetables with the oil.

Add a teaspoon of freshly ground pepper and 1 1/2 teaspoons of kosher or sea salt. Toss together to combine.

Put the radish/fennel mixture on the second parchment-lined baking sheet, and spread the mixture out as evenly as possible for even roasting. Place the tray on the lower rack of the oven for 30 minutes. Remove from oven and gently turn the vegetables over with a spatula.

Return the radish/fennel tray back to the oven on the lower rackNow put the baking sheet of asparagus in the oven too, on the middle middle oven rack - and roast both trays for about 15 minutes.

Remove just the baking sheet with the radish/fennel mixture, and gently turn the mixture over once more with a spatula. This is to make sure the vegetables roast evenly. Sprinkle the radish/fennel mixture with the Parmesan cheese and a little more olive oil, then return the pan to the oven for another 10 minutes.Remove both trays from oven for serving.

NOTE: The total roasting time is approximately 55 minutes for the radish/fennel mixture, but can vary depending on your oven. The vegetables are done when they are fork tender and a little blistered in appearance. Note that the total cooking time for the asparagus is about 20 minutes, which is why the cooking times are staggered so they come out of the oven at the same time.

To Serve, transfer the asparagus to the serving tray or individual plates, then top with the radish and fennel mixture and a little more Parmesan cheese if you like. Use some of the fennel leaves for garnish, if desired. Serve with the vinaigrette alongside to drizzle over the top.

MAKE THE VINAIGRETTE

Combine all of the vinaigrette ingredients in a small jar with a lid and shake to combine.

Taste and adjust with a bit more salt, if needed.
Nutrition
Serving:
4
g
|
Calories:
404
kcal
|
Carbohydrates:
20
g
|
Protein:
5
g
|
Fat:
36
g
|
Saturated Fat:
5
g
|
Cholesterol:
2
mg
|
Sodium:
293
mg
|
Potassium:
830
mg
|
Fiber:
7
g
|
Sugar:
10
g
|
Vitamin A:
957
IU
|
Vitamin C:
40
mg
|
Calcium:
118
mg
|
Iron:
4
mg
Tips for Success with Every Recipe
Super important to read the whole recipe before you begin
Pay attention to the ingredient list and photos for the recipe
If possible, prep your ingredients a little before you start
Always use a sharp knife for safety
Use the size of pan called for in the recipe
For savory recipes, taste and season as you go
Buy fresh, organic ingredients, locally sourced whenever possible
This recipe was originally published April 2019 and updated with new content June, 2020