Roasted Spring Vegetables with Vinaigrette and are amazingly delicious and also easy to prepare. A medley of vegetables are roasted in the oven on sheet pans at high heat which intensifies their flavors –they're perfect with a bright lemon vinaigrette served alongside.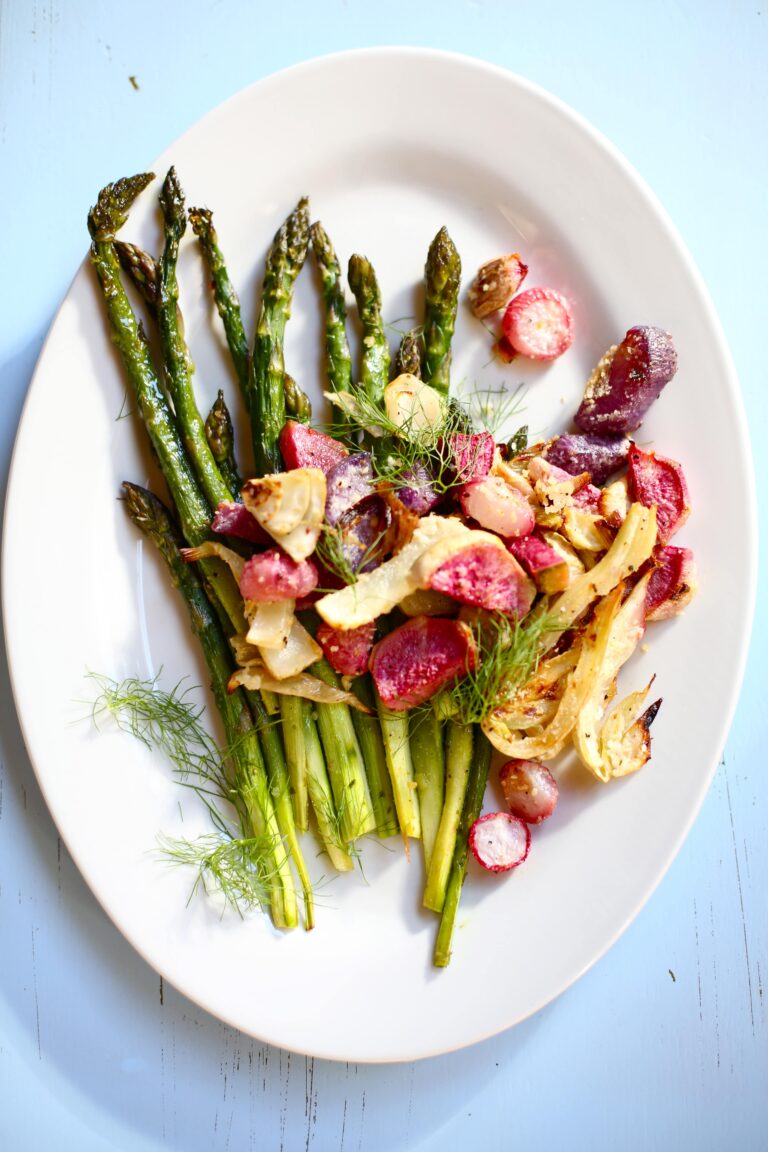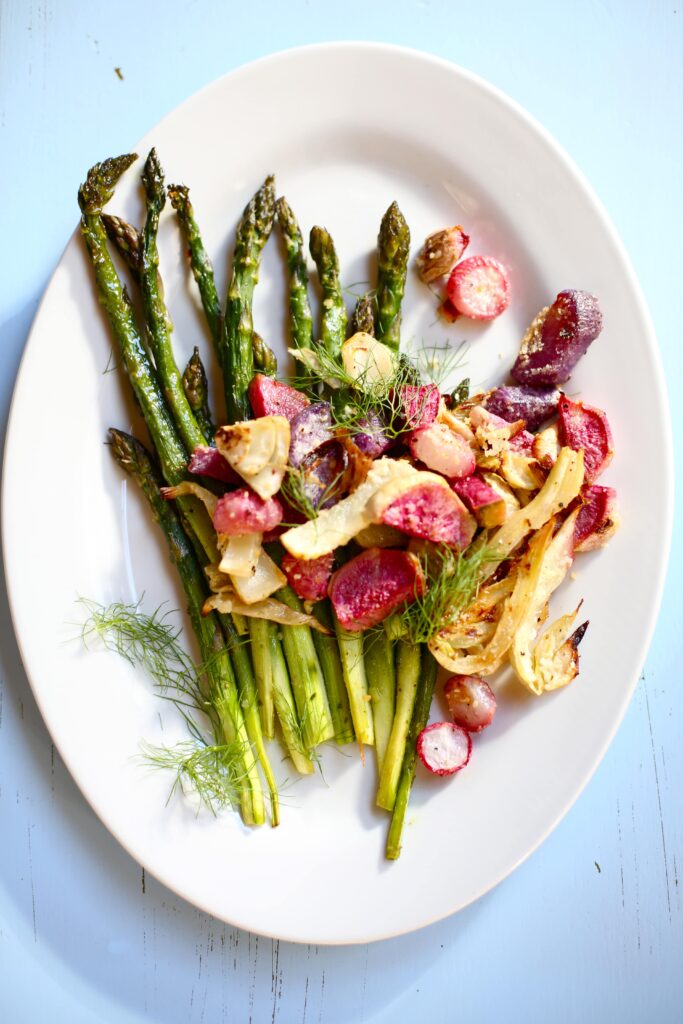 Things are heating up around here and by that I mean both my birdhouses have brand new residents and the chipmunks and squirrels are here in full force.
The robins are back too (my favorite) and I'm sooo excited.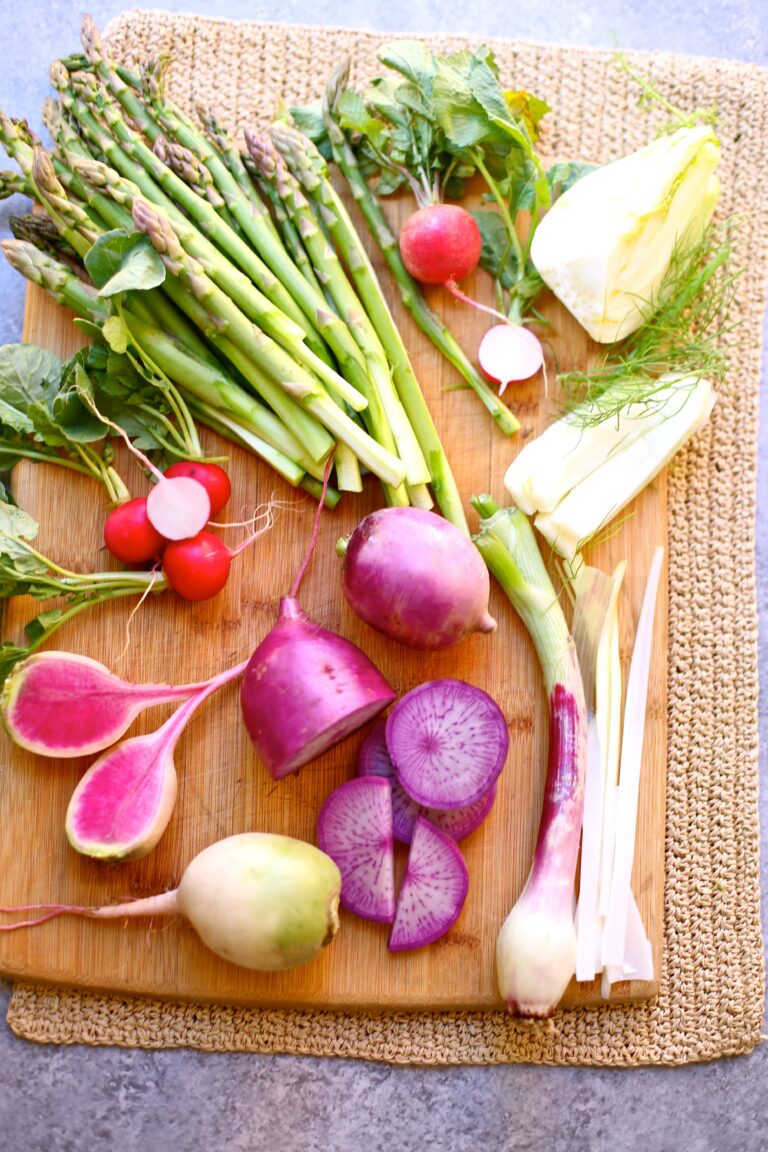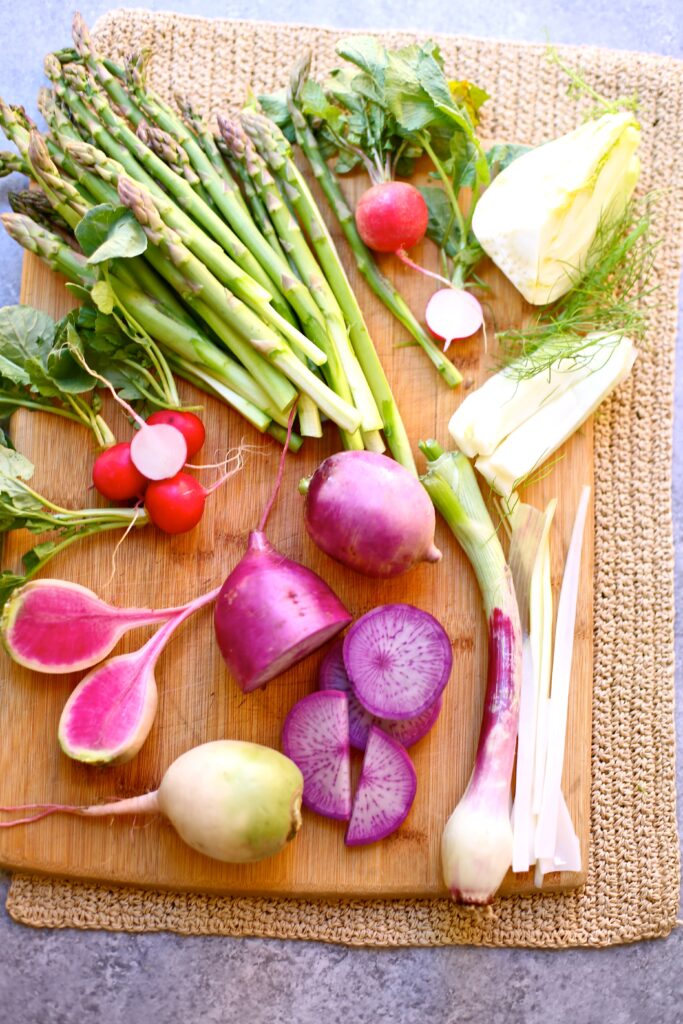 YEE HAW spring has finally sprung, and I think she's staying this time.
Every morning the buzz of sweet little chirps and tweets gets louder and louder and it just sounds happy, doesn't it?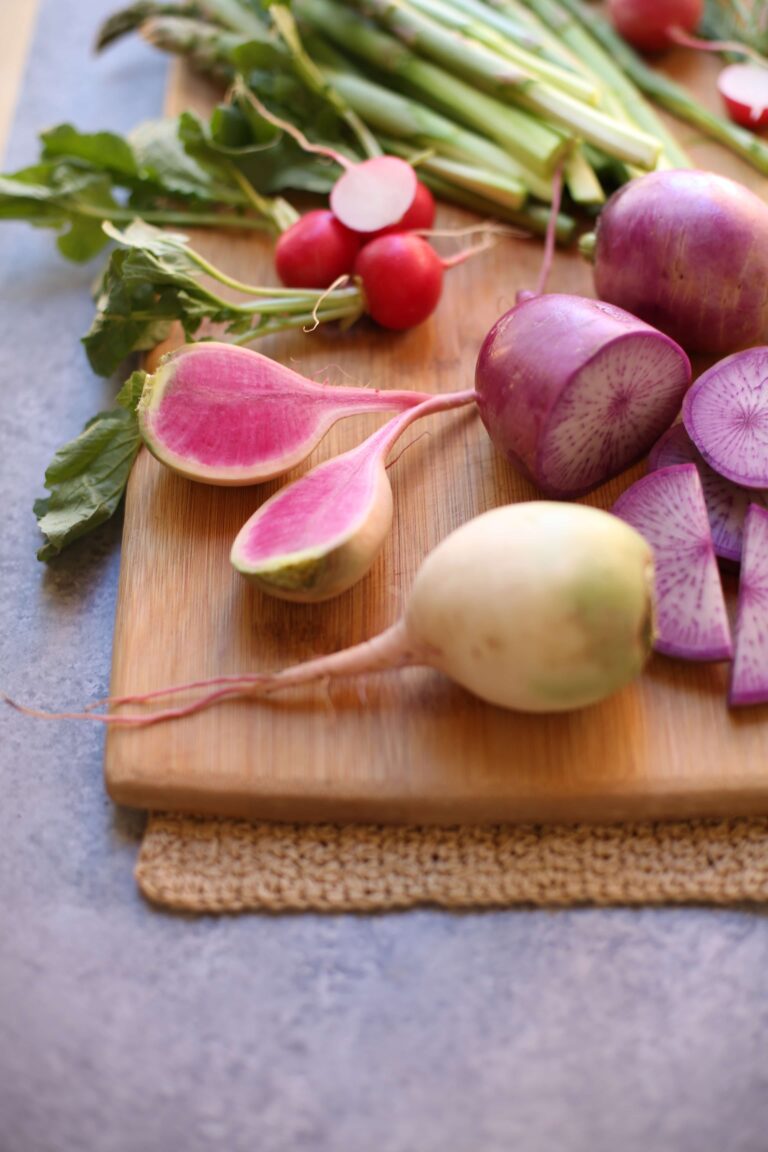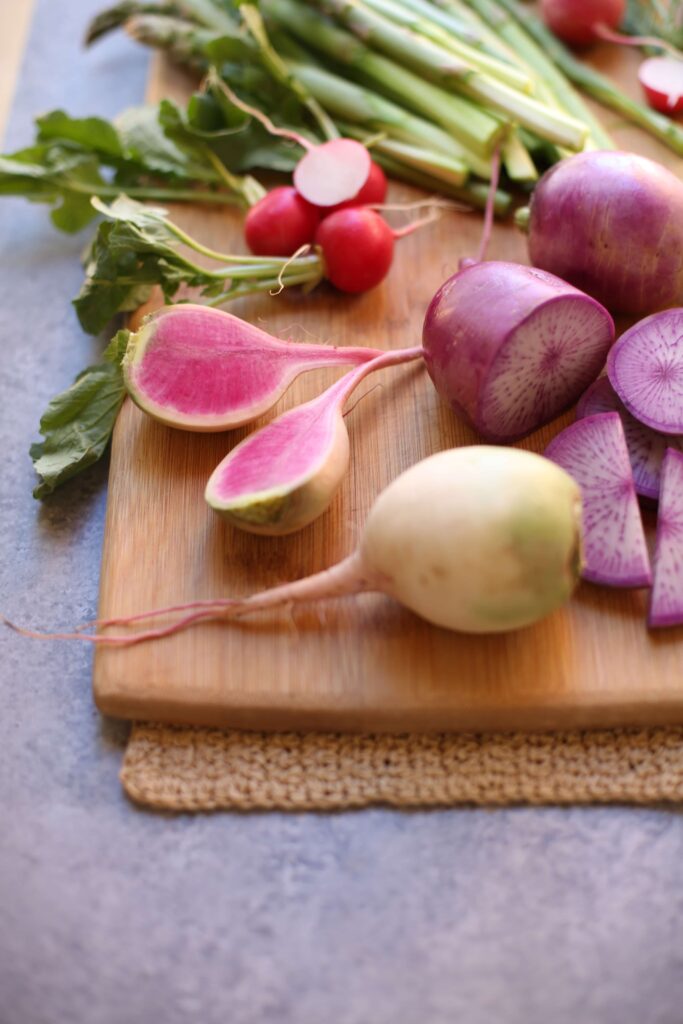 Tulips and bright yellow daffodils popping out everywhere don't hurt either.
Sure, I could rant about how the bag packers at the grocery store need MUCH better training, but who cares? 🙂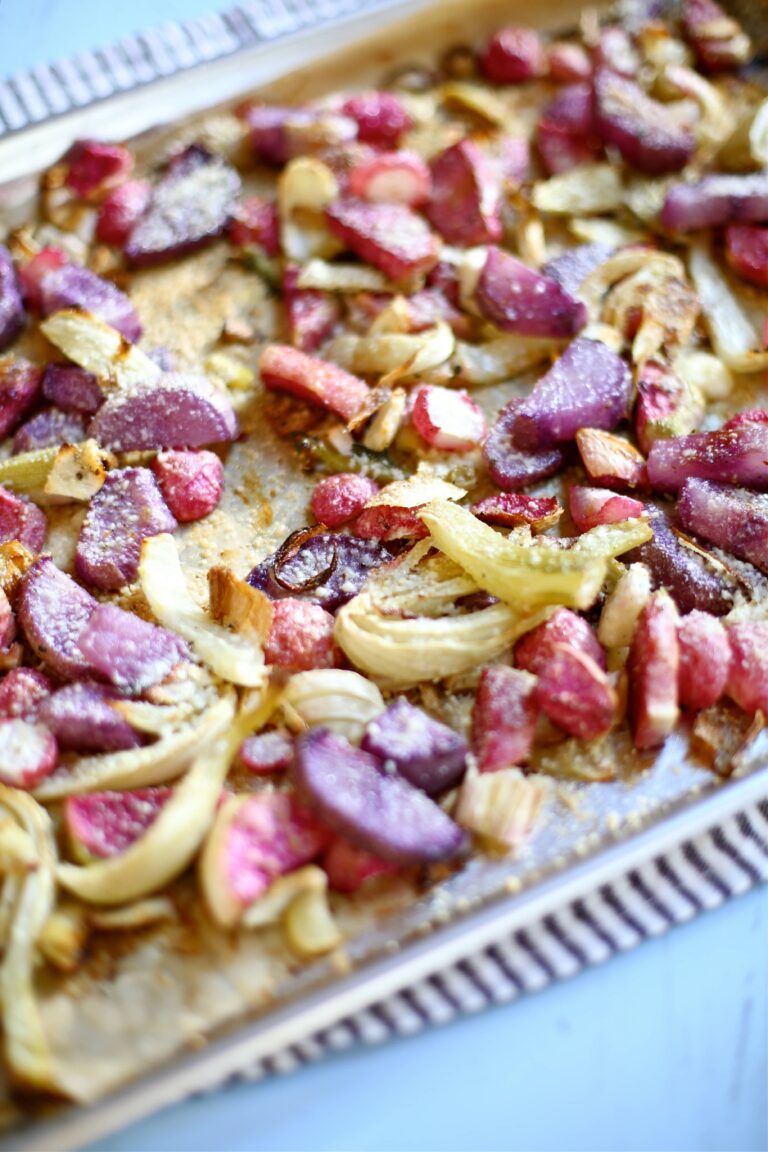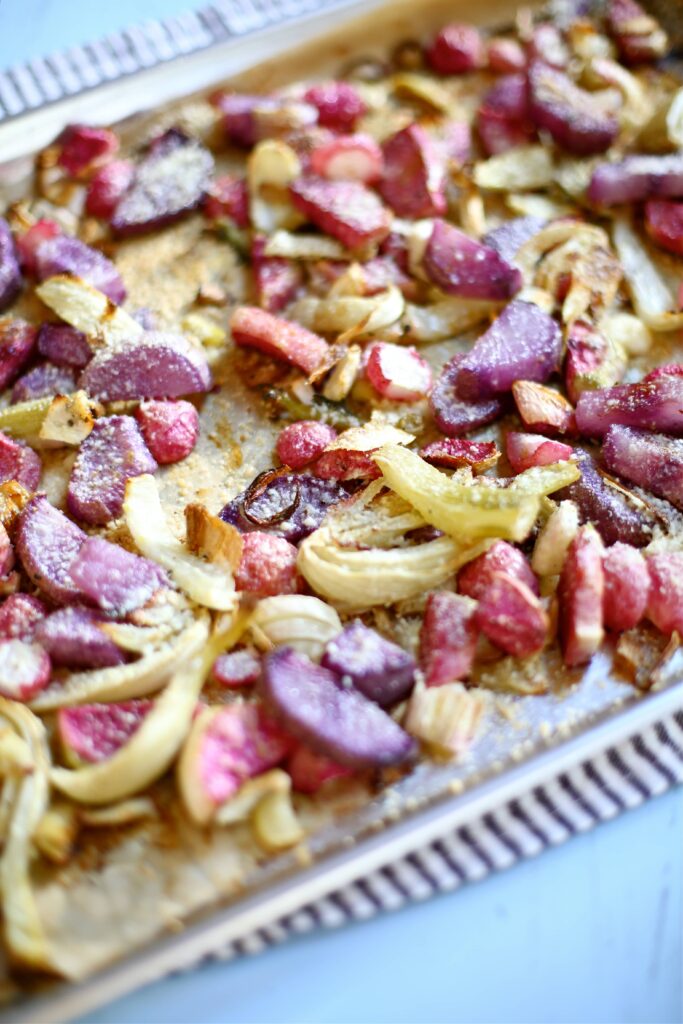 I doubt I'm the only one feeling a bit disoriented with the new routines of the season. Deciding what clothes to wear is MAJOR and then sweater? Or no sweater?
My workouts have been hit and miss too, which makes me feel like garbage.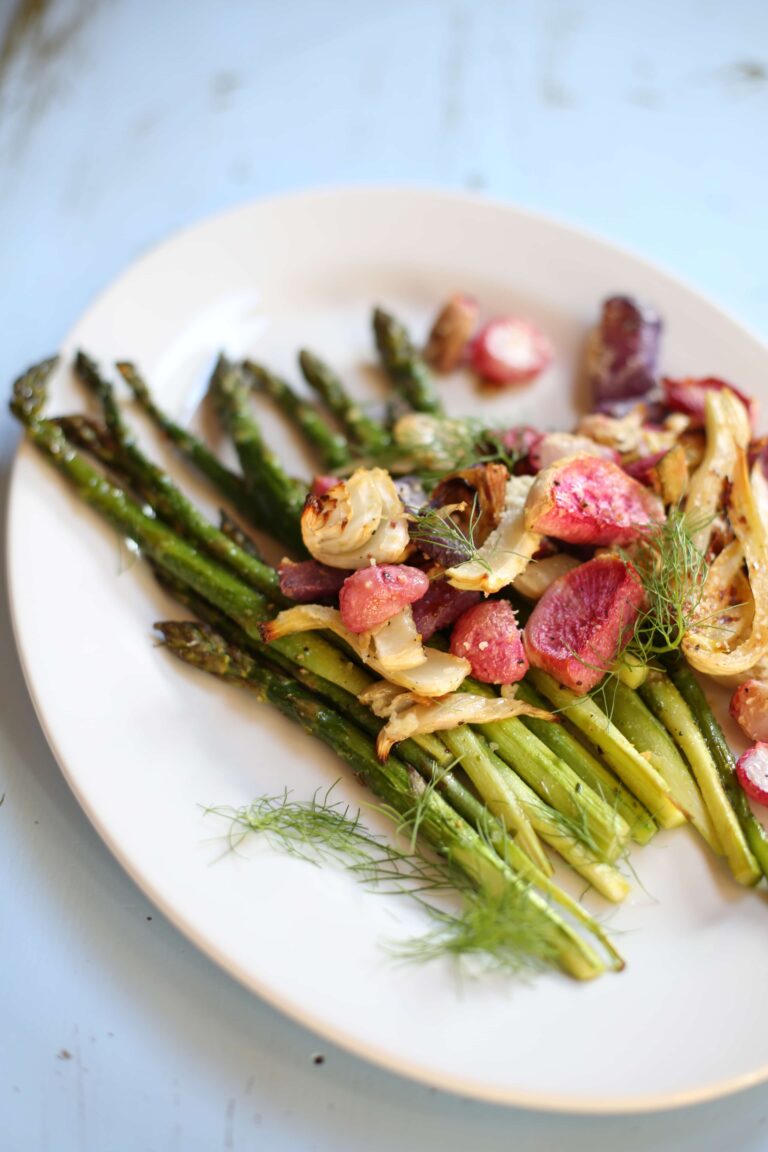 Going on a nice little walk most evenings is uplifting— the neighborhood looks so different during these magical hours than from my morning jaunt.
And Roasted Spring Vegetables with Vinaigrette are a surprising change of pace too, since roasting changes their flavor completely.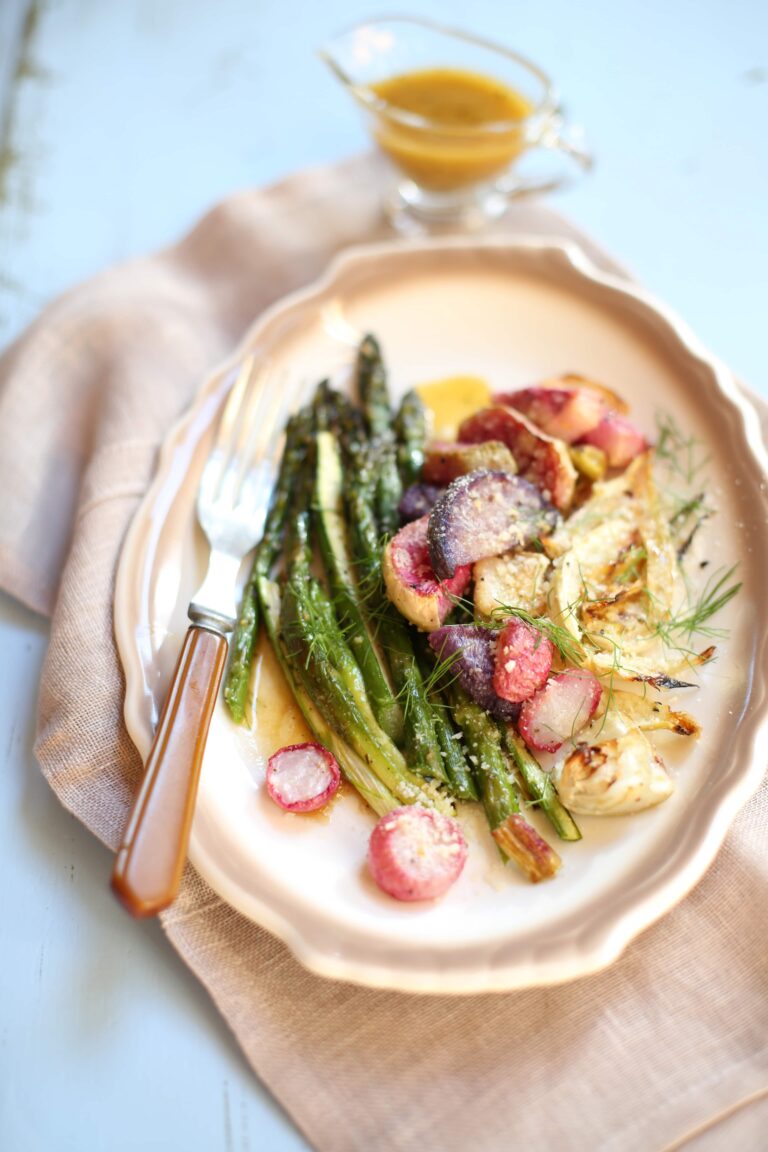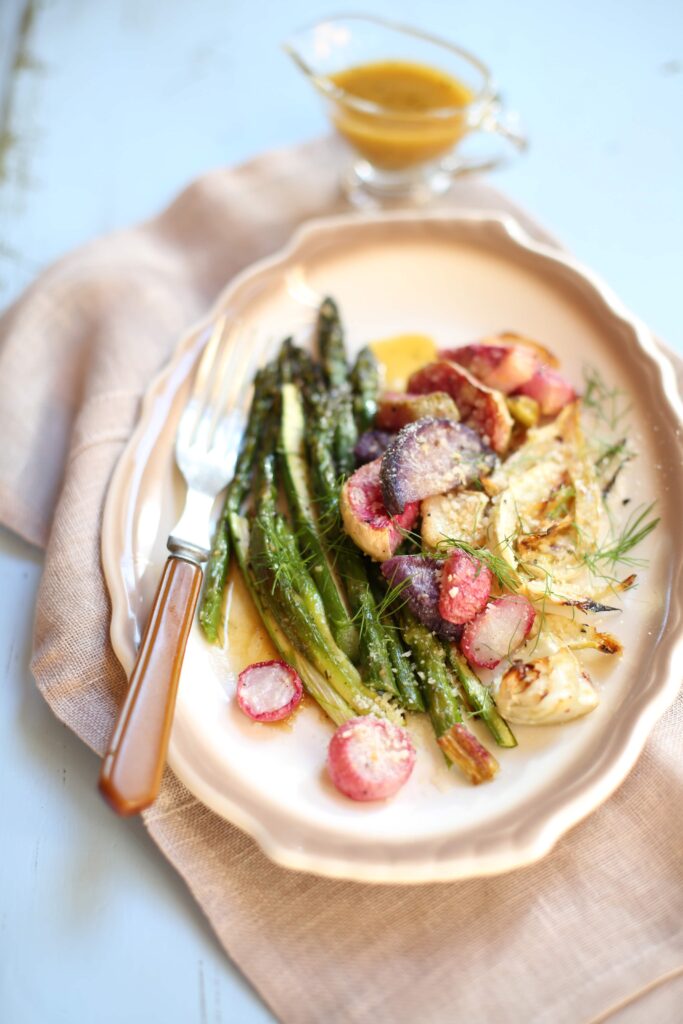 The radishes are sweet with a soft, carby texture that tastes amazing—thanks to a dusting of Parmesan cheese added right at the end of the cooking time.
Serve family style on a big platter with the asparagus on the bottom and the radish and fennel scattered over the top.
The vinaigrette is best on the side, and a drizzle is bright and next-level delicious.
HERE'S ANOTHER ROASTED VEGETABLE RECIPE TO TRY:
Lemon Herb Sheet Pan Roasted Vegetables
PIN THE RECIPE FOR LATER!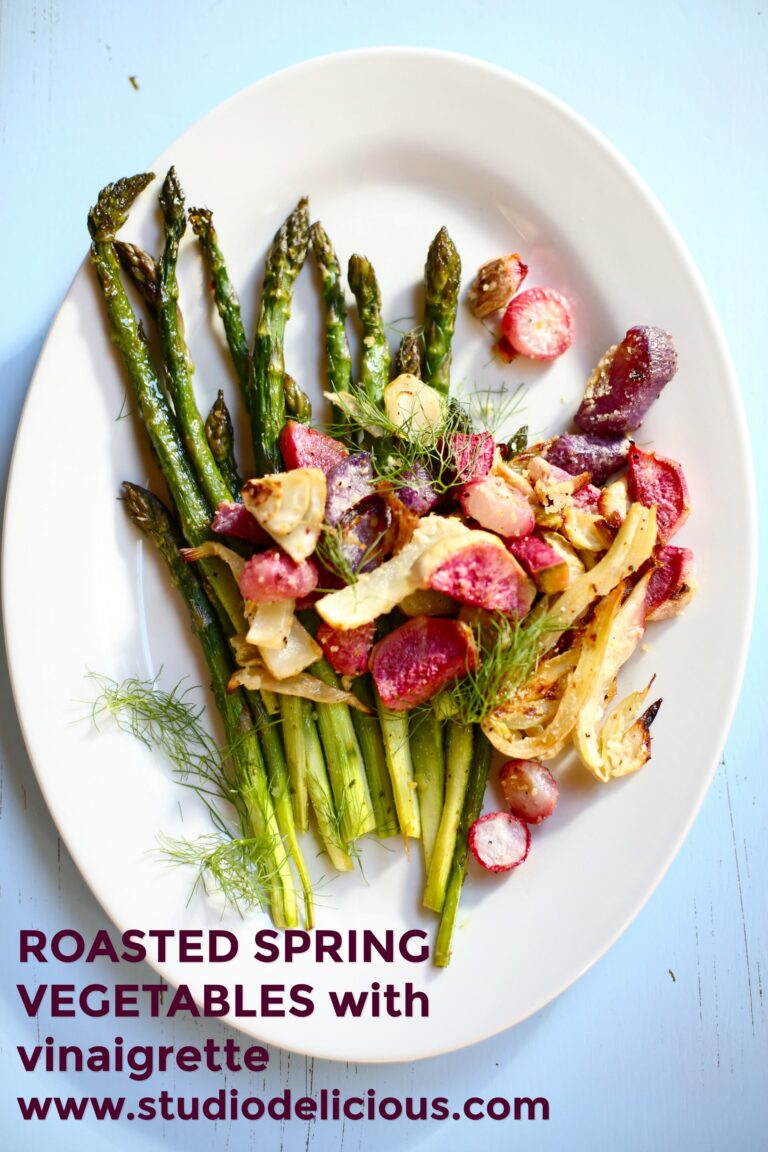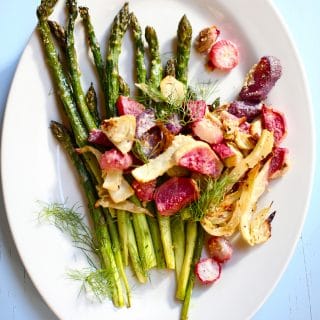 ROASTED SPRING VEGETABLES WITH VINAIGRETTE
Roasted Spring Vegetables with Vinaigrette are an easy, healthy side dish to make on a sheet pan. They and look and taste amazing served with a fresh lemon vinaigrette.
Print
Pin
Rate
Ingredients
1

pound

asparagus

Trim a few inches of the bottom woody stem with a knife, and then shave the outside of each stem with a vegetable peeler.

2

bunches

radishes

Use red or multi-colored radish, washed with leaves and tips removed. Cut in half, and if large - quarters about 1/2" size

3-4

Watermelon radish

about a pound total. Washed with leaves and ends removed. Cut them in half then slice in chunky 1/2 inch pieces (note: it's okay if the weight is a little more than a pound, I used 2 of each variety- 2 watermelon radish and 2 purple daikon radish.)

1

large or 2 small fennel

stalks and bottom stem removed. Cut in half and then half again, then quarter and slice into 1/2" long pieces.

2

spring onions or one shallot

sliced into 1/2 pieces, about a 1/3 cup total.

Olive oil

Salt and pepper

Grated Parmesan cheese

about 2 tablespoons, or more if desired

LEMON VINAIGRETTE

6

tablespoons

extra virgin olive oil

4

tablespoons

freshly squeezed lemon juice

3

teaspoons

honey

1 1/2

teaspoons

Dijon mustard

I use Maille Original Dijon

1/2

freshly ground pepper

I use lemon pepper

1/4

teaspoon

salt

Combine the vinaigrette ingredients in a small jar with a lid and shake to combine. Taste and adjust with a bit more salt if needed.
Instructions
PREHEAT OVEN TO 425

You'll need two baking sheets lined with parchment paper.

FOR THE ASPARAGUS:

Place the prepared asparagus on one of the baking sheets lined with parchment paper. Drizzle with olive oil-just enough to coat, and then sprinkle with a little salt and pepper. Set aside.

FOR THE RADISH AND FENNEL:

In a large bowl, combine the prepared radishes, watermelon radish, purple daikon, the fennel and the spring onion or shallots.

Add enough olive oil to completely coat the vegetables, about 1/3 cup.

Add a teaspoon of pepper (I use lemon pepper) and 1 1/2 teaspoons of salt, and toss with a large spoon or your hands to coat.

Pour the vegetables evenly and flatly as possible on the other baking sheet lined in parchment and place on the lower rack of the oven for 30 minutes. Remove from oven and gently turn the vegetables over with a spatula.

Return the radishes to the oven on the lower rack, and also the asparagus on the middle upper middle rack.

Continue baking with both pans in the oven for 15 minutes. Remove the baking sheet with the radish mixture and gently toss with the spatula once more, then sprinkle with 2 tablespoons Parmesan cheese and a little more olive oil and return to oven for another 10 minutes.

Total roasting time is about 55 minutes. This can vary depending on your oven. Vegetables are done when they are fork tender and a little blistered in appearance.

Transfer the asparagus first to the serving tray, topped with the radish and fennel and serve with the vinaigrette to drizzle over the top if desired alongside.
Notes
If you can't find the pretty watermelon radishes, you can substitute purple or regular daikon radish, or just use a few more regular radishes.
SOURCE: Studio Delicious