This is my Favorite Chicken Salad recipe, and what makes this different is the fresh red grapes for a burst of freshness and also toasted almonds for crunch and flavor. So delicious on toasted bread, or just a big scoop for lunch on butter lettuce.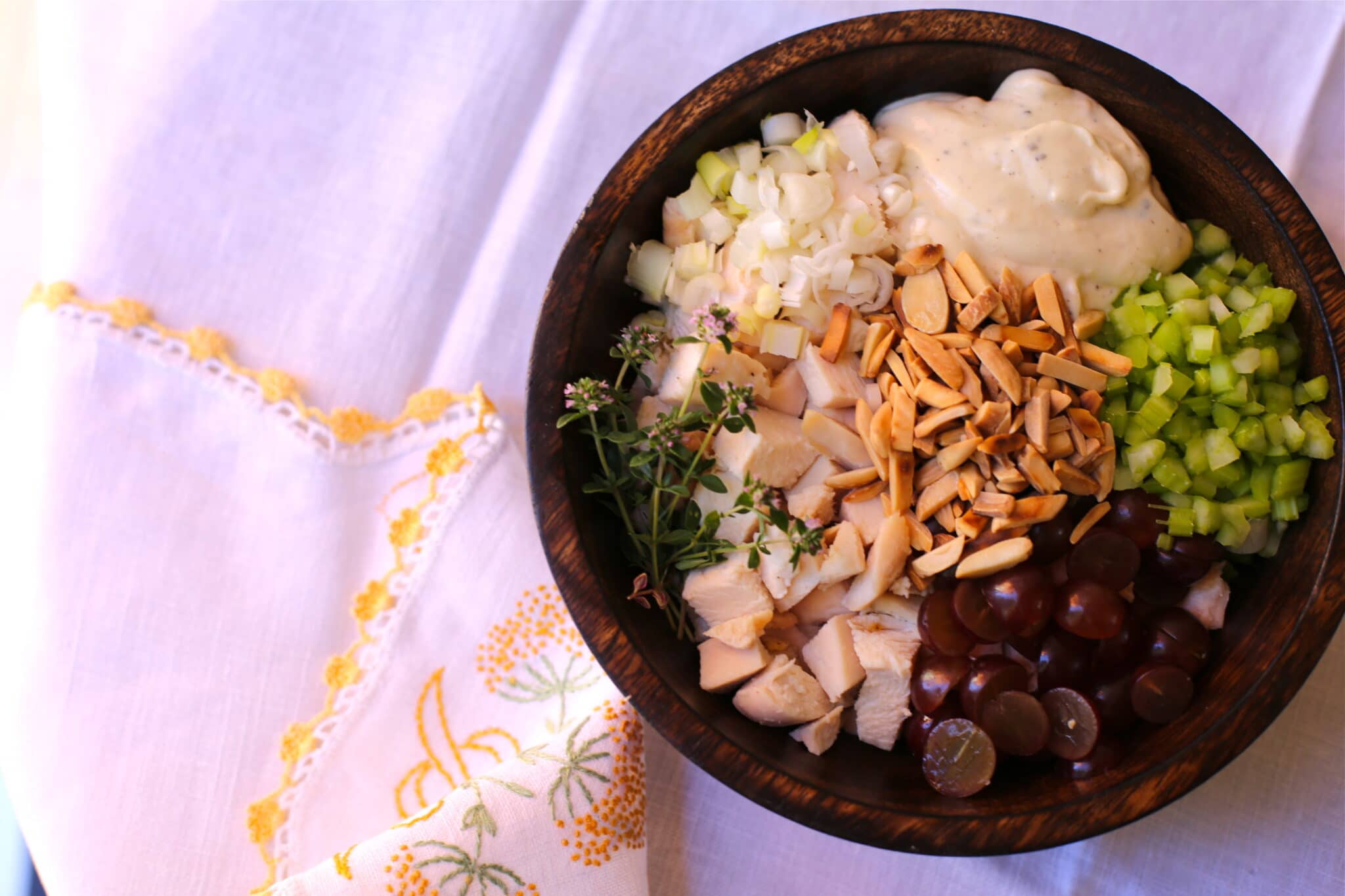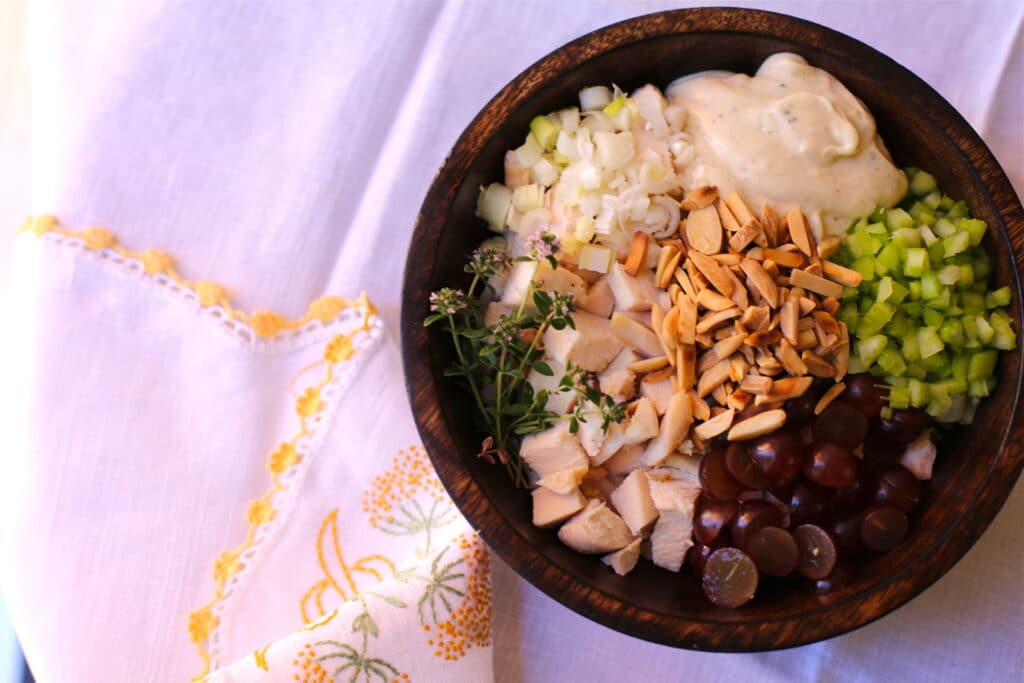 I'll get right to the point.
Last night for dinner I ate a leftover oatmeal cookie and a handful of bar mix – you know, the salty, crappy mystery snack served in little bowls that other people have touched.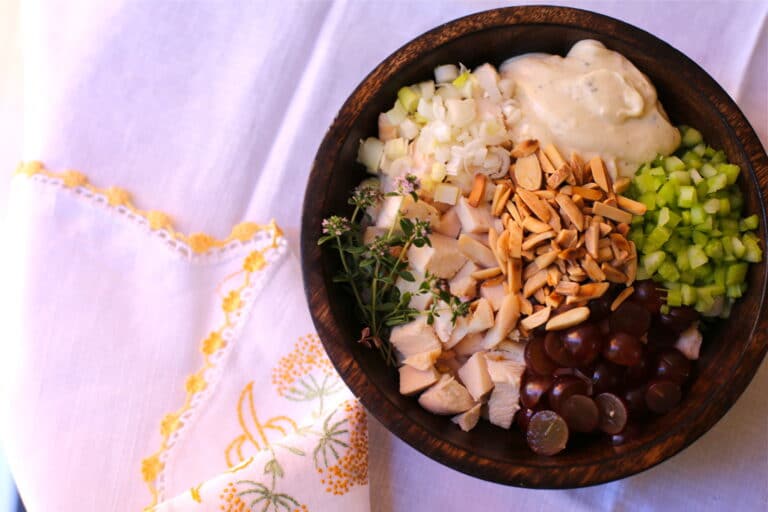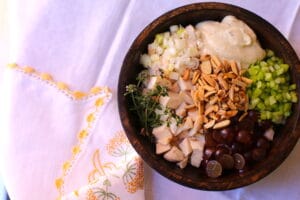 Mine was from a plastic container at least, and I dumped as much as I could hold into my hand and shoveled it in my mouth as if I'd never eaten before in my life. That was dessert and dinner, in that order.
I know what you're thinking.
How does this happen to a person like me? Don't I have a souffle hanging around? Couldn't I just whip up something fabulous?
No.
Because, I'm TIRED.
It was late and I was lazy.
Just like you, I bet.
There's a million things going on, always.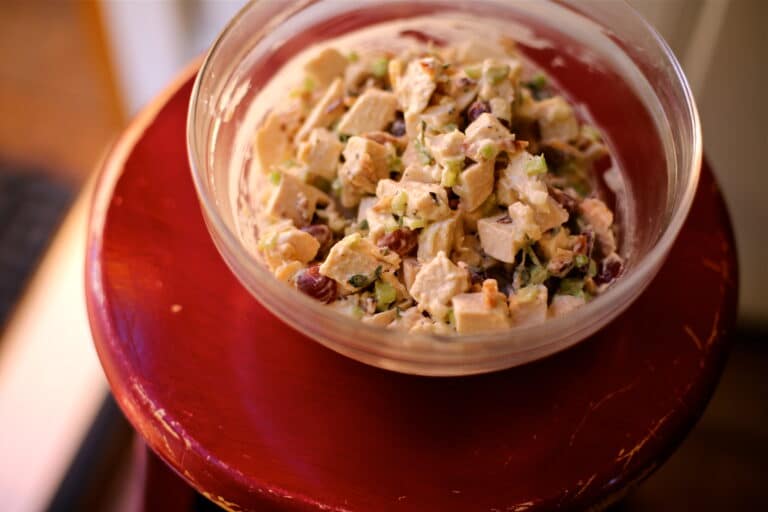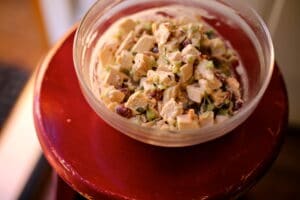 What we all crave is something simple, but really tasty. Something familiar. And fresh but not fussy. Something that can sit in the fridge for a day or two, waiting for you when you need it.
There are lots of recipes out there for chicken salad. This is my Favorite Chicken Salad, one I've been making it since my twenties. Which was only a year or two ago.
Not really.
Roasted chicken breast, crunchy celery, a little spring onion, juicy red grapes, and fresh thyme, folded together with a mustard-spiked mayo. Toasted almonds sprinkled on top makes it extra wonderful.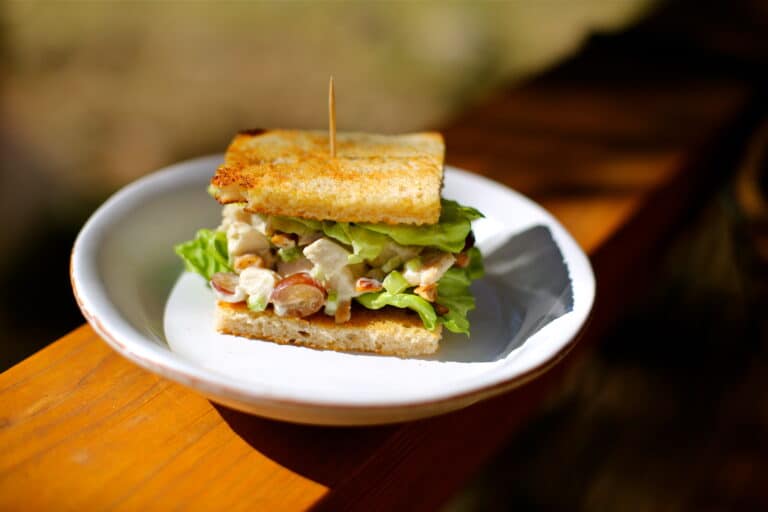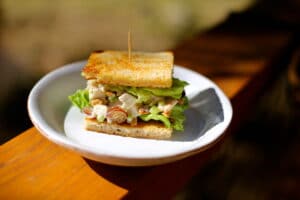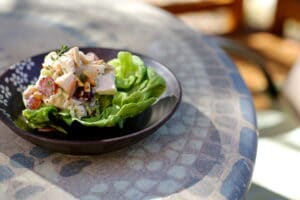 Store-bought rotisserie chicken or leftover turkey works well too. Just separate the breast meat, cut into big chunks and you're good to go.
This chicken salad is really delicious on buttered toast – crusts cut off, of course.
Or scoop it directly on a big leaf of butter lettuce for a light, quick bite.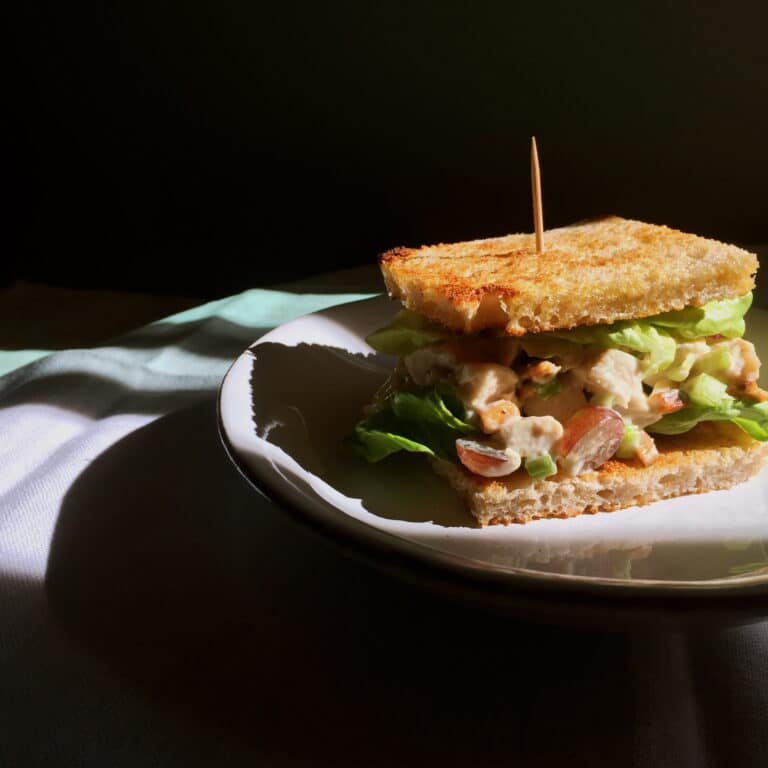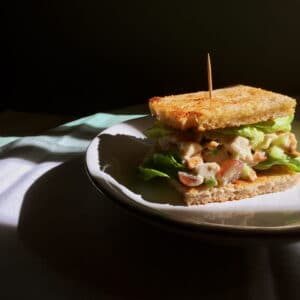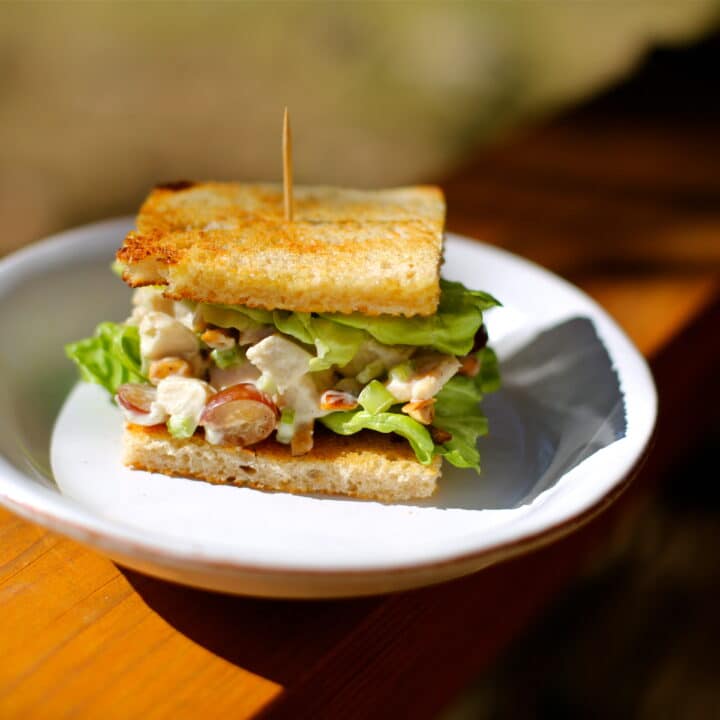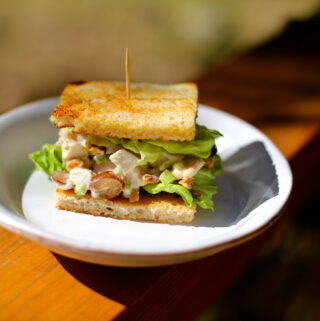 Favorite Chicken Salad
This is my Favorite Chicken Salad recipe, with fresh red grapes and toasted almonds for crunch and flavor. So delicious!
Print
Pin
Rate
Ingredients
2

Chicken Breasts,boneless, skin on

1

tbsp.

Olive Oil

1/2

tsp

Salt

1/2

tsp

Pepper

1/4

cup

Almonds, slivered, toasted

1/3

cup

Red Grapes, cut in half

1/3

cup

Celery, sliced very thin

2

Green Onions, sliced thin

1/3

cup

Light Mayonnaise

1

tsp

Dijon Mustard

1/4

tsp

Lemon Pepper

1/4

tsp

Salt

1/4

tsp.

Garlic Powder

1

tsp.

Lemon Juice, fresh squeezed

1

tsp.

Thyme, fresh
Instructions
COOK THE CHICKEN

Rub olive oil over chicken breasts and season with salt and pepper

Place on a cookie sheet lined with parchment paper and bake at 350 for about 35 minutes.

Let cool completely, then remove skin and cut into chunks. You should have about 2 1/2 cups of cooked, cubed chicken.

TOAST THE ALMONDS

Put the almonds in a medium sized non-stick pan on medium high heat, stirring regularly for 2-3 minutes. Continue stirring and as soon as the almonds start to turn brown, remove from heat. They will continue to cook at little after removing from heat.

MAKE THE DRESSING

Combine the mayonnaise, Dijon mustard, lemon pepper, sea salt, garlic powder, fresh lemon juice and fresh thyme in a small bowl and combine. Add more fresh lemon juice if needed to thin out the dressing.

MAKE THE SALAD

In a large bowl, combine the cubed chicken, almonds (reserve a little to garnish the top) grapes, celery, green onion, dressing (mayo) mixture and fresh thyme.

Toasted and buttered bread, crusts removed (optional)

Butter lettuce, a scoop of chicken salad inside

Add a sprig or two of fresh thyme on top, and extra toasted almonds
Notes
Serving ideas:
On toasted, buttered bread with the crusts removed and butter lettuce.
A big scoop on top of butter lettuce.
A scoop on butter lettuce with some crackers on the side
Nutrition
Calories:
261
kcal
|
Carbohydrates:
7
g
|
Protein:
26
g
|
Fat:
14
g
|
Saturated Fat:
2
g
|
Cholesterol:
75
mg
|
Sodium:
729
mg
|
Potassium:
528
mg
|
Fiber:
1
g
|
Sugar:
3
g
|
Vitamin A:
203
IU
|
Vitamin C:
6
mg
|
Calcium:
36
mg
|
Iron:
1
mg
Tips for Success with Every Recipe
Super important to read the whole recipe before you begin
Pay attention to the ingredient list and photos for the recipe
If possible, prep your ingredients a little before you start
Always use a sharp knife for safety
Use the size of pan called for in the recipe
For savory recipes, taste and season as you go
Buy fresh, organic ingredients, locally sourced whenever possible