Summer Pasta is a tasty, meatless delight bursting with fresh flavor.  It's also a just a good, classic recipe to have on hand that relies on simple ingredients – juicy, ripe tomatoes, fresh herbs, mozzarella and pasta.  Make this quick and easy dinner or side dish using the best summer vegetables you can find.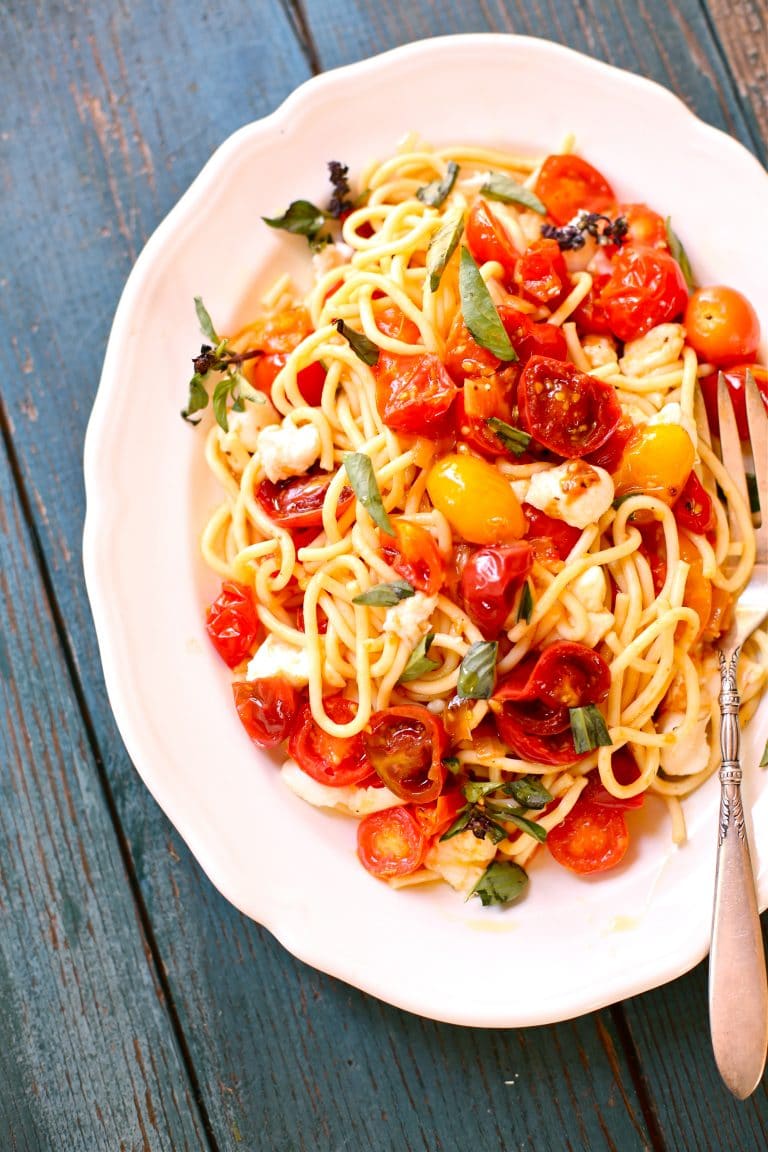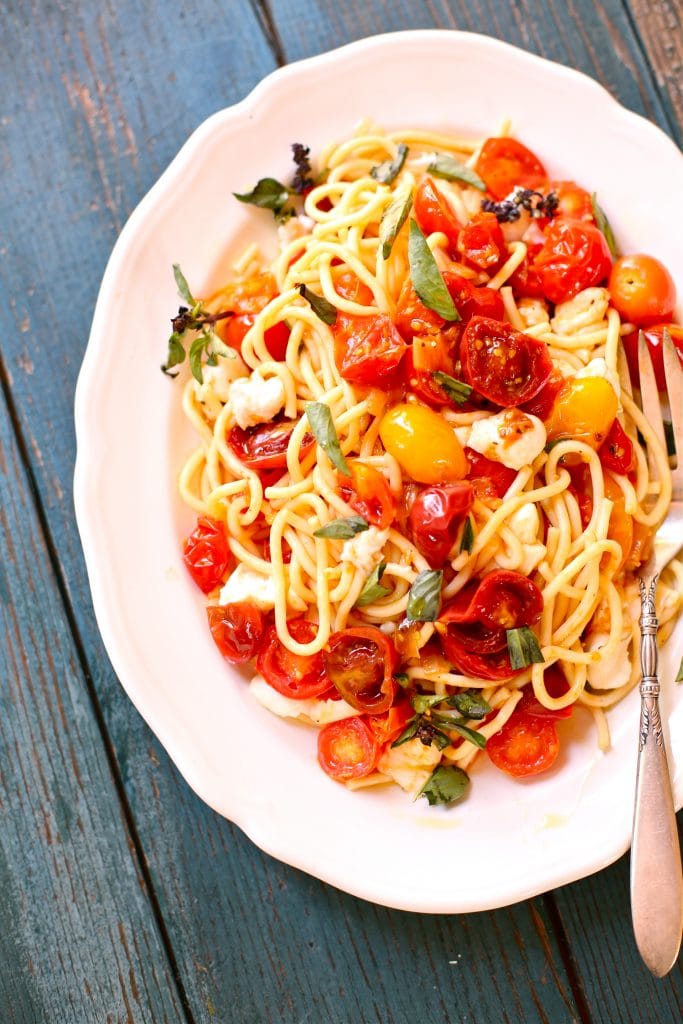 Summer Pasta is a meatless wonder: simple and easy to prepare, versatile enough to serve as dinner alongside a crisp, green salad with vinaigrette or for dinner with grilled chicken or fish.
This pasta recipe focuses on a late summer staple – ripe, flavorful tomatoes that are bursting on the vine right now.
Stop at any roadside stand or Farmer's Market and see what looks good to you! Cherry and small heirloom tomatoes are super easy to find and the beauty is, most any kind will work.
Add torn chunks of creamy, fresh mozzarella cheese and herbs, some simple seasonings, good olive oil and cooked pasta of course, and you've got summer on a plate, friends.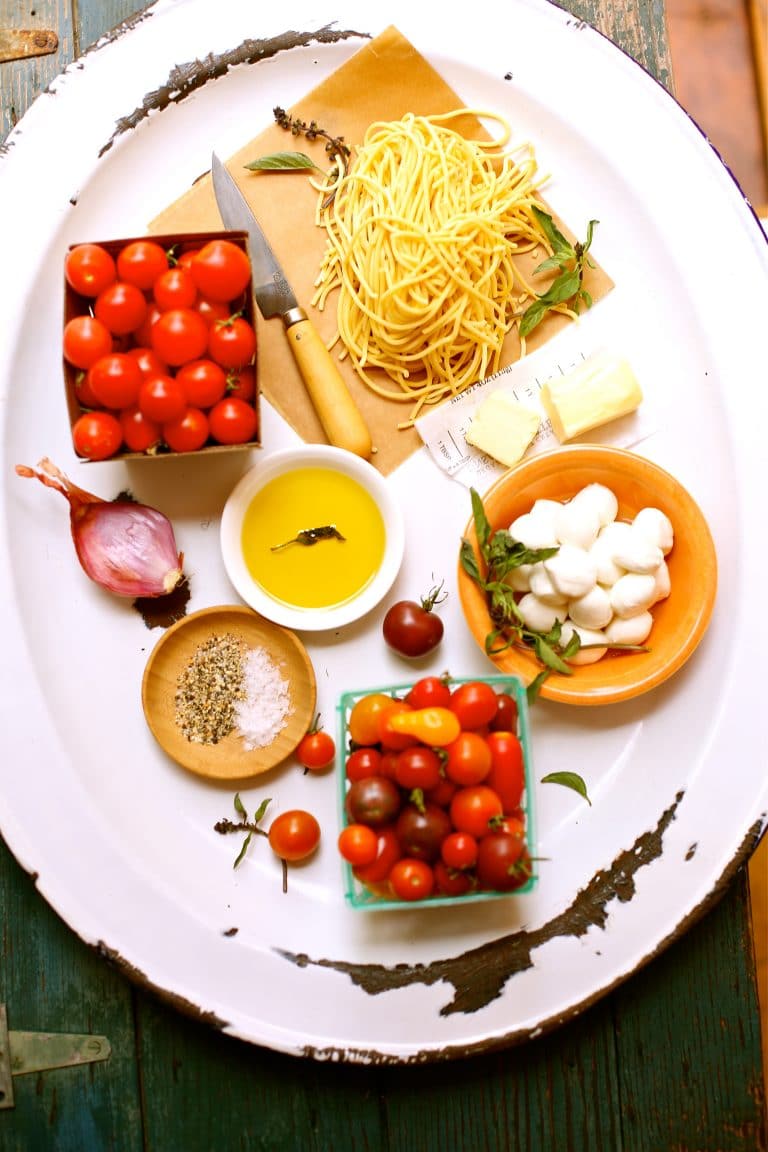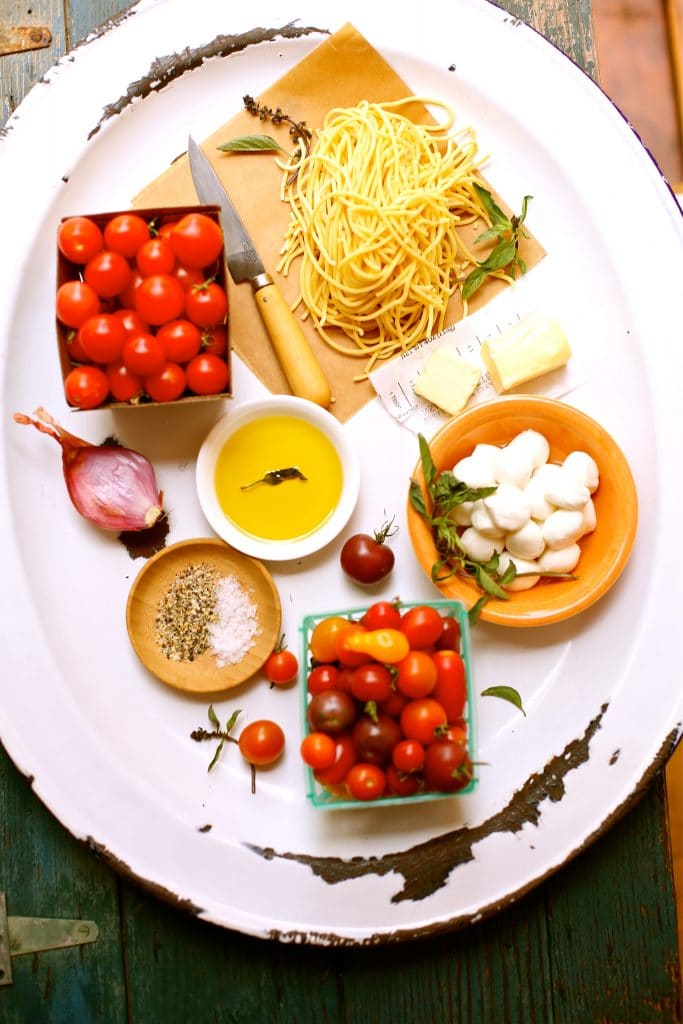 SUMMER PASTA STARTS WITH GREAT INGREDIENTS

Get the very best (ripest, most flavorful) little tomatoes you can find, any variety you'd like, about four generous cups.
This is a somewhat loose and highly forgiving recipe, meaning we-don't-have-to-measure-every-little-thing-perfectly for this pasta.
A little bit of diced shallot does magical wonders for the overall flavor of the clean-tasting tomato sauce.
Use fresh mozzarella cheese here! Yes, the kind in the watery, liquid whey bath is the only one that will do.
A handful of fresh basil, fruity olive oil plus a little butter, a pinch of red pepper flakes and a squeeze of lemon juice rounds the pasta and tomato sauce nicely.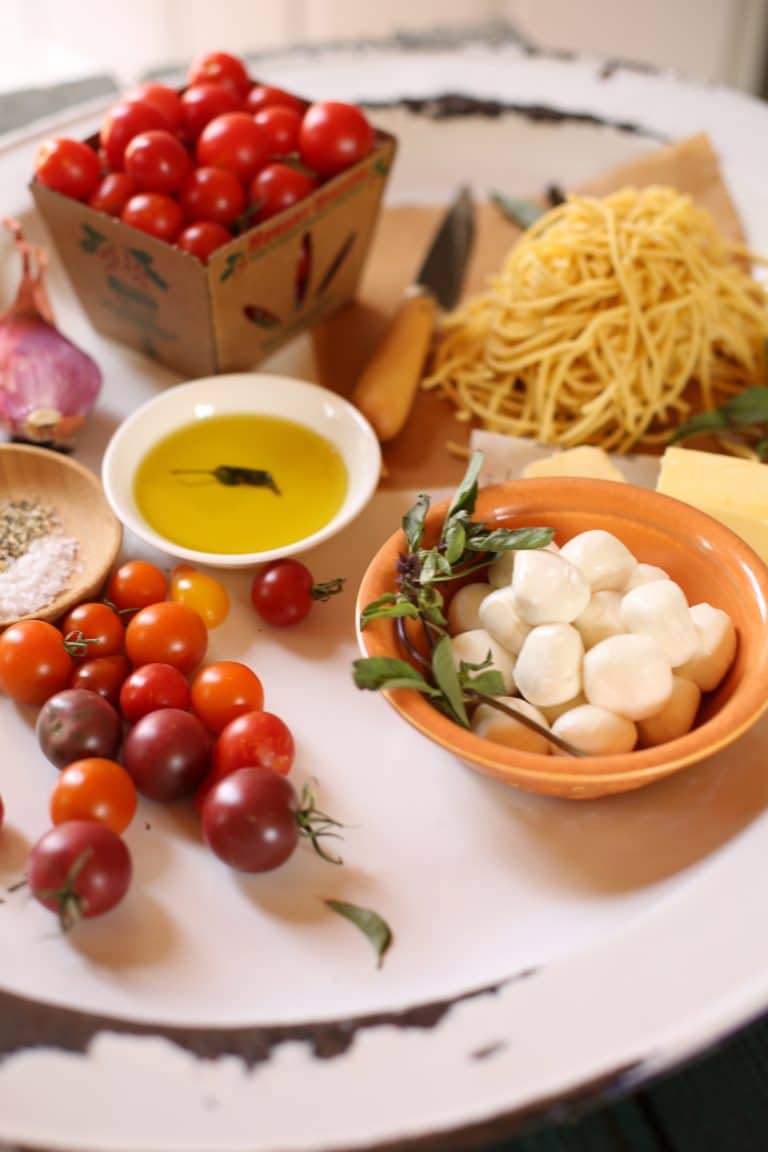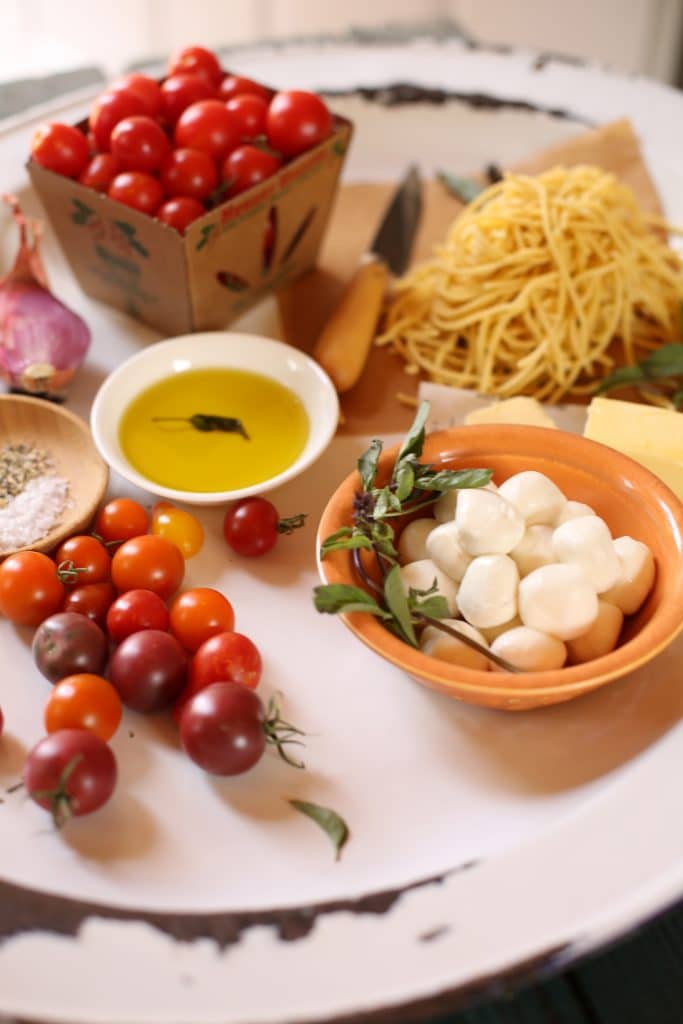 TIPS FOR CHOOSING THE RIGHT PASTA
Here's the deal:
There is no "wrong" choice of pasta for this recipe, but some are better than others.
Here's a handy little How Much Pasta? guide I stumbled on if you're interested.
Any long pasta is a great match for this sauce, and you'll need roughly five cups of the cooked stuff.
My absolute favorite pasta in the universe right now is a fresh gluten free spaghetti that's refrigerated and often found in well-stocked grocery stores.
Feel free to use dried long pasta instead, or regular refrigerated fresh pasta. Bring on the gluten!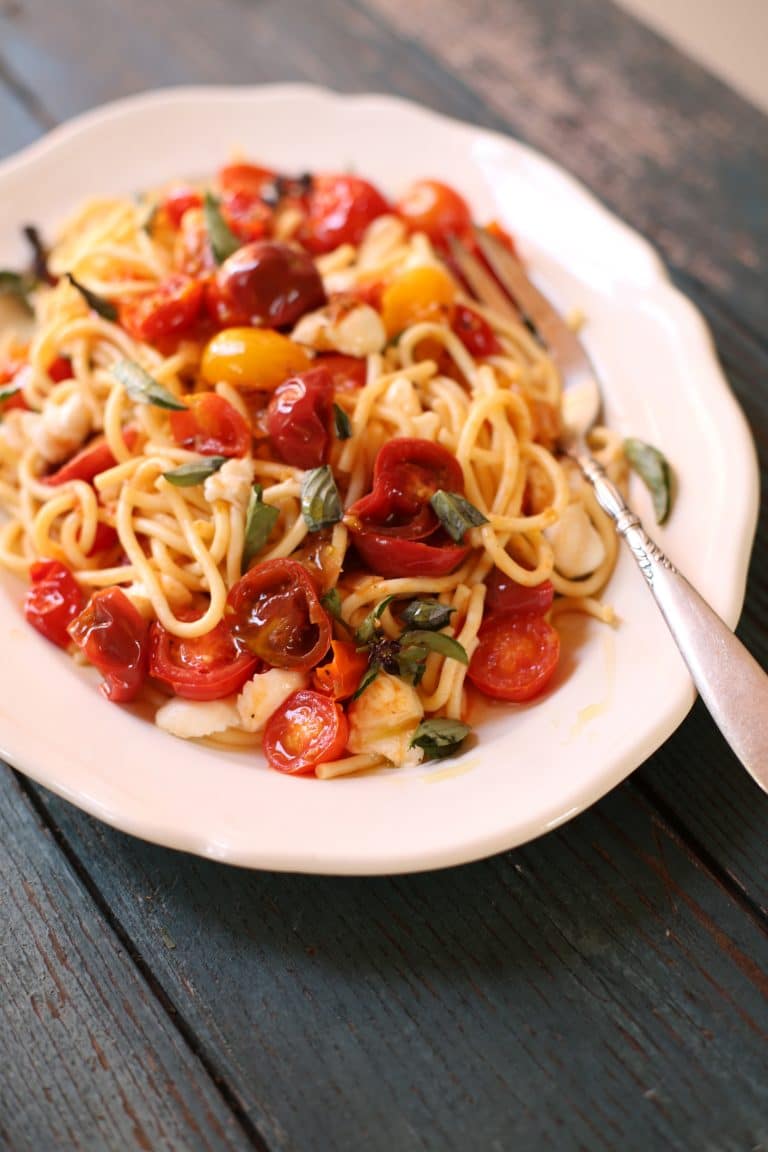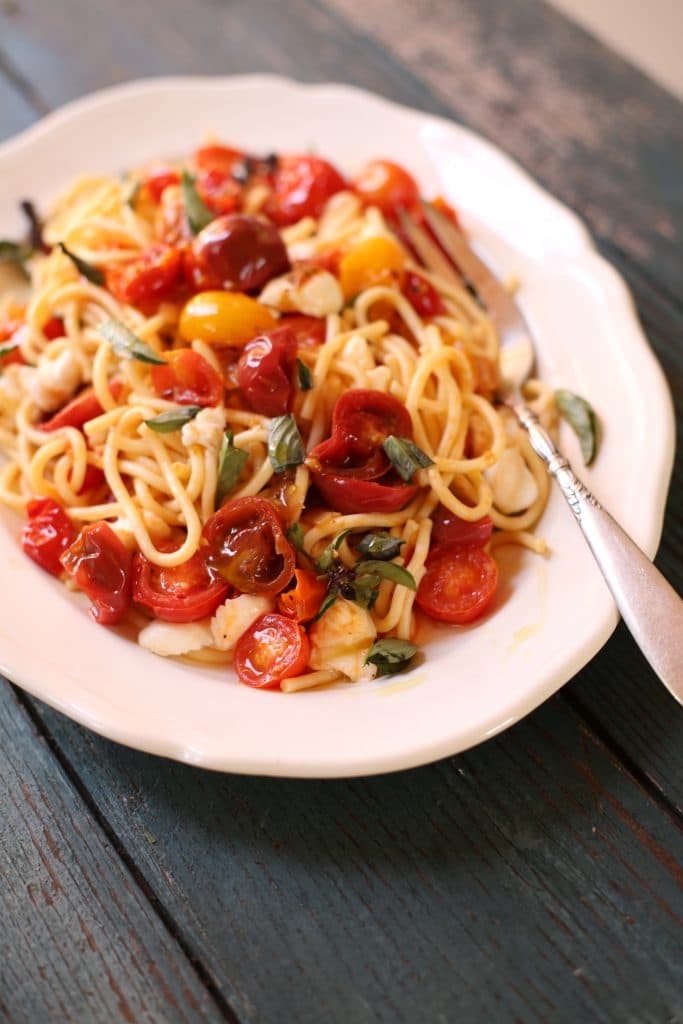 FOUR FAVORITE THINGS ABOUT SUMMER PASTA
Summer Pasta is secretly delicious any time of year, and this should be noted and placed on your annual calendar immediately.
It's super easy to scale this pasta recipe up or down with very little fuss.
Hello, buffet table!  Great as a main course or side. Leftovers are awesome for lunch.
Did I mention Summer Pasta is equally tasty served warm or at room temperature too?
I must confess I've been eating summer food in earnest these past few weeks, trying to get in as much strawberry rhubarb pie as possible.
Bring me cold, perfect seafood salads with plenty of louie dressing before the pumpkin spice storm hits.
My summer included more than one serving of strawberry shortcake with whipped cream, I'm afraid.
My advice is do it while you can 🙂
                                                                        Summer food is the BEST food, isn't it?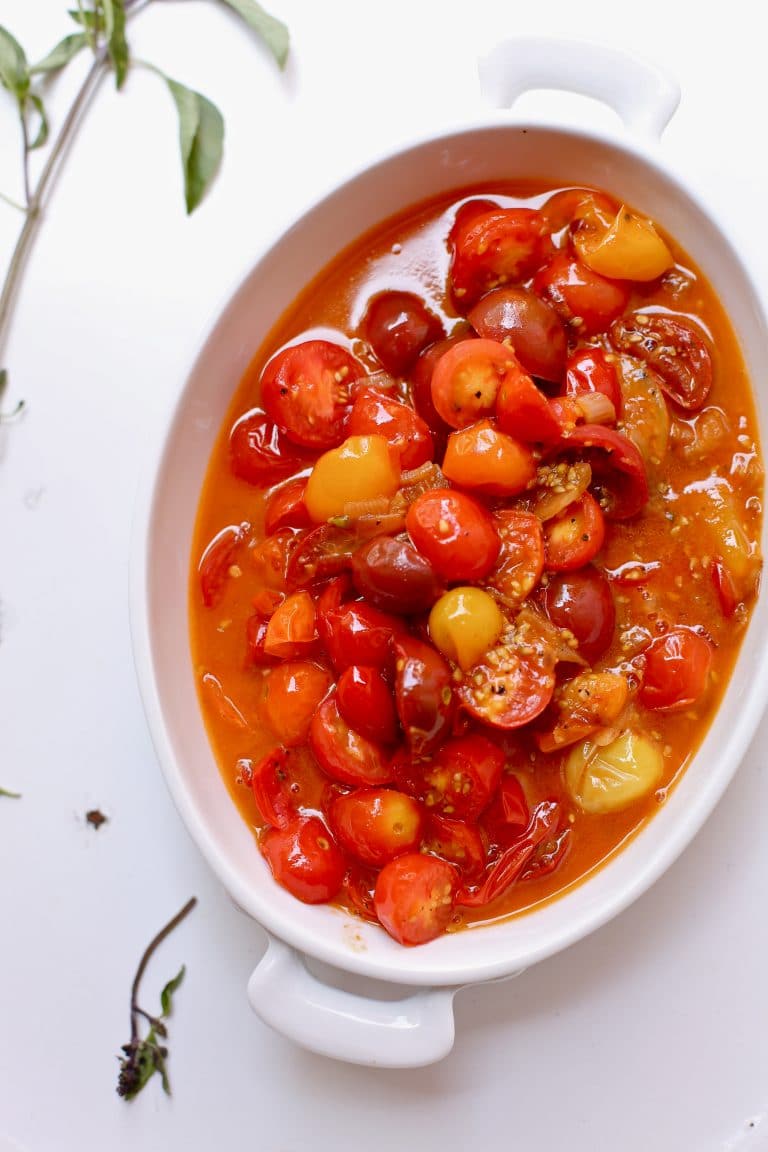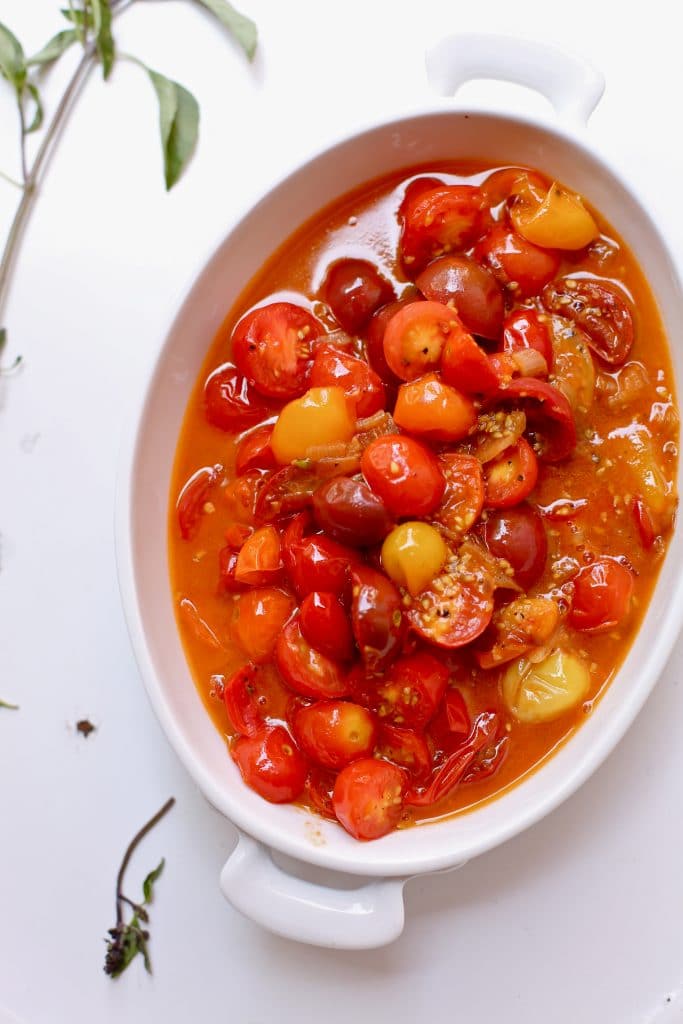 I'll tell you right now the thing that makes this easy pasta recipe so wonderfully juicy, slurpy and tasty is the big, chunky tomato sauce you make fresh as the base.
This technique for fresh tomato sauce came to me years ago from a co-worker and I admit I didn't really believe it was possible.
Up to that point, all the tomato sauce in my life up came out of a glass jar with a label on it, so I couldn't WAIT to make it from scratch.
The difference is huge, of course, and you'll want to taste the difference yourself.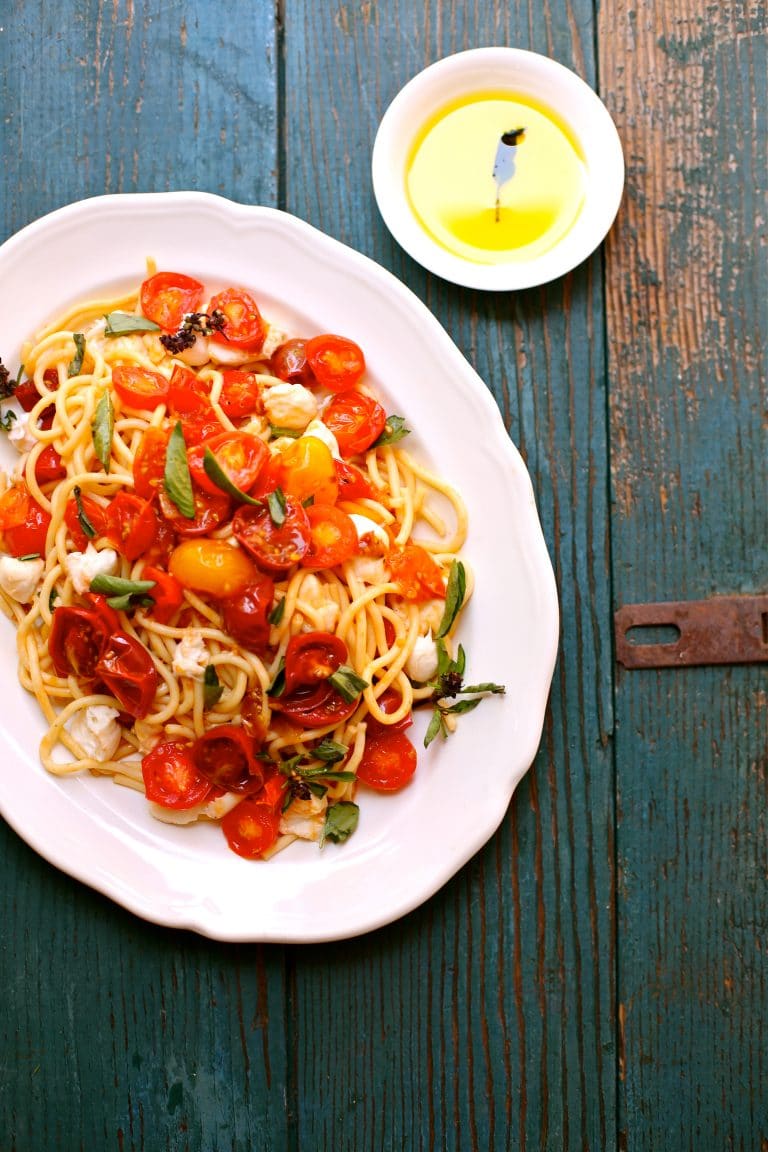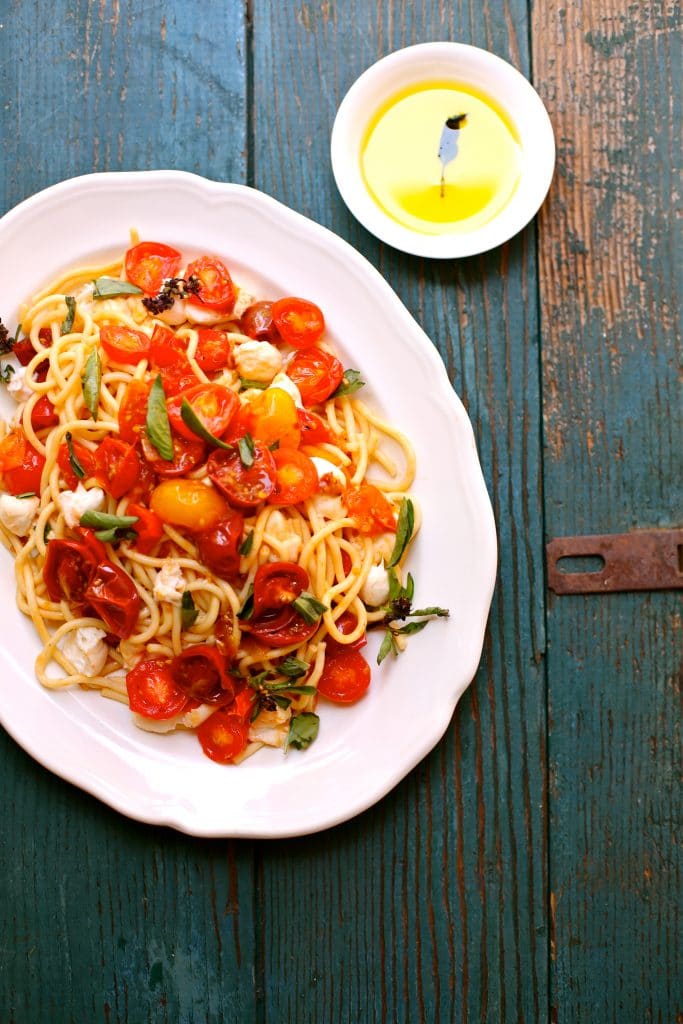 HOW DO YOU MAKE TOMATO SAUCE FOR SUMMER PASTA? IS IT HARD?

Nope, not even.
Here's what has to happen:
Cherry tomatoes get cut in half and quickly sauted in a hot skillet with olive oil and chopped shallots to break them down a bit.
It doesn't look like there's ANY way this situation will work at this point of cooking, but it will – promise.
After seasoning, the ingredients are rounded out with fresh lemon juice and a knob of butter – don't skip this part, it makes a huge difference in the final flavor.
Tear up some fresh mozzarella chunks and fresh basil, toss with hot pasta and enjoy the last days of summer!
HERE'S ANOTHER SUMMERY RECIPE TO TRY:
Crunchy Green Bean, Pea and Walnut Salad
THANKS FOR PINNING!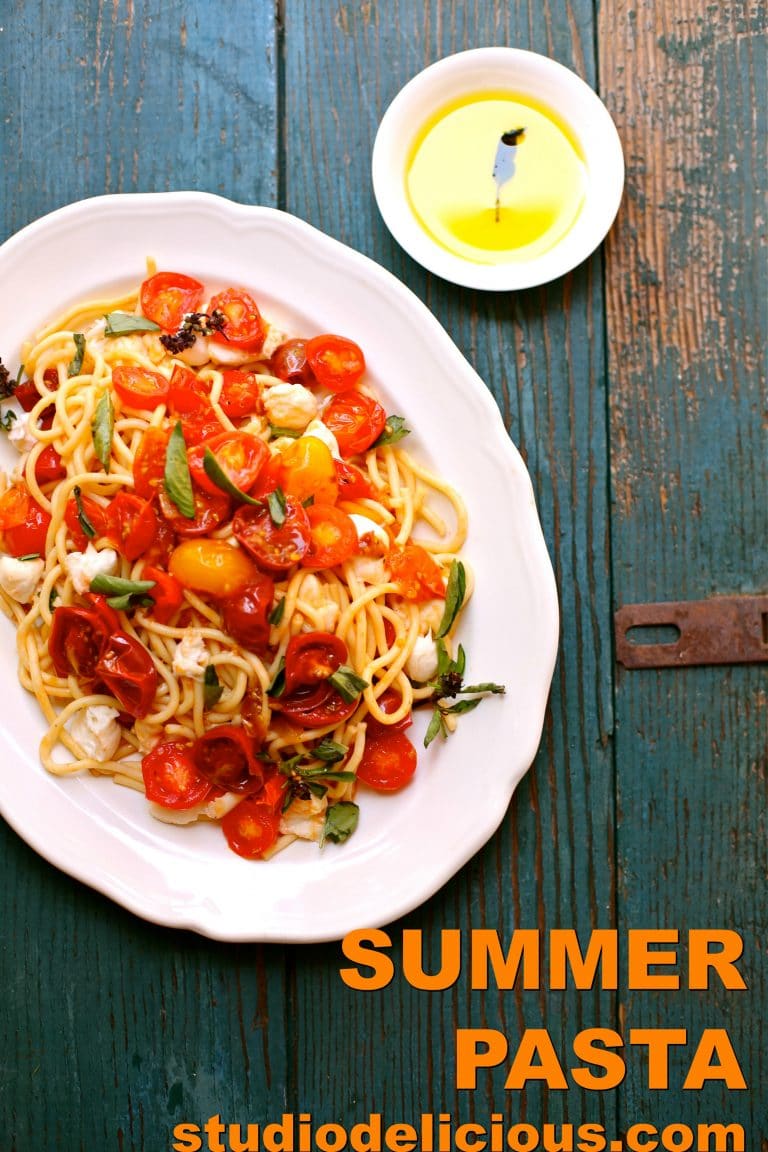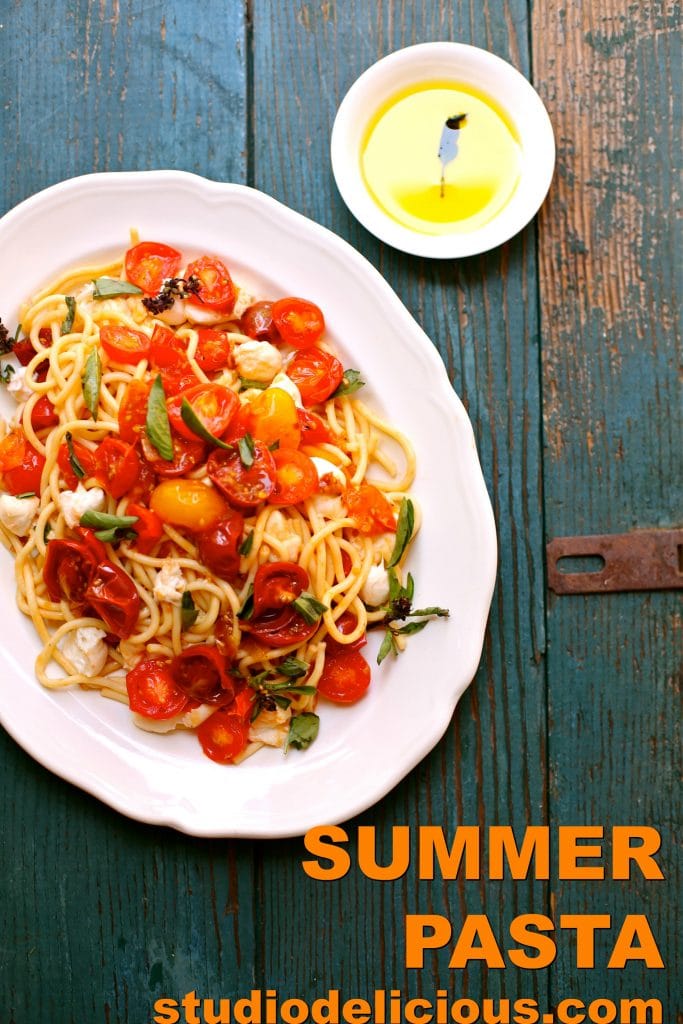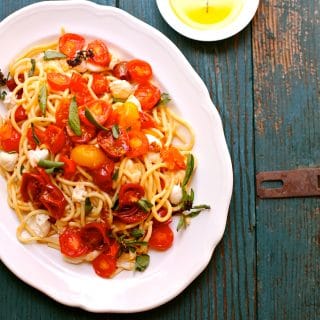 SUMMER PASTA
Summer Pasta is a tasty, meatless delight bursting with fresh flavor.  It's also a just a good, classic recipe to have on hand that relies on simple ingredients - juicy, ripe tomatoes, fresh herbs, mozzarella and pasta.  Make this quick and easy dinner or side dish using the best summer vegetables you can find.
Print
Pin
Rate
Ingredients
1

tablespoon

olive oil

1

shallot

diced (about 3 tablespoons)

4

cups

cherry tomatoes

any variety, sliced in half

1

teaspoon

salt

1

teaspoon

pepper, freshly ground

1/8

teaspoon

red pepper flakes

1

teaspoon

lemon juice

1

tablespoon

unsalted butter

3

tablespoons

basil leaves

torn in pieces

1

cup

mozzarella, fresh variety in water

torn in pieces

9

ounce

spaghetti, fresh or 5 cups cooked long pasta, dried variety

Olive oil for serving
Instructions
In a large non-stick saute pan, add the olive oil and diced shallot, cook on medium high heat until soft, 3-5 minutes.

Add the sliced cherry tomatoes to the pan, stirring to gently coat the tomatoes with the olive oil and shallots. Cook until the tomatoes start to break down and release their juices, about 4-5 minutes.

Add the salt, pepper, red pepper flakes and continue to cook on medium high heat until the mixture is soft and juicy, another 5-7 minutes.

Add the lemon juice and butter, stirring gently to combine. Continue cooking for another minute or two to absorb some of the liquid just added.

Keep the sauce warm with a lid on the saucepan pot or by keeping on the low setting of your stove while you cook the pasta.

Cook according package directions, adding a generous teaspoon of salt to the pasta water before bringing to the boil. Before draining the pasta, reserve 1/4 cup of the pasta water and set aside in case it's needed to loosen up the pasta and sauce once you combine them together.

Add the pasta to the skillet with the tomato sauce, using a little of the pasta water if needed to keep the sauce a little loose. Using kitchen tongs or a large spoon, toss the pasta and the sauce together gently until combined.

Remove the pasta from stove and add in the torn mozzarella and fresh basil leaves.

Add a pinch more salt and pepper to taste. Serve each portion with a drizzle of your best olive oil on top.
Notes
Fresh, refrigerated pasta (found in well-stocked grocery stores) works great here, and my current favorite is Manini's Gluten Free Spaghetti. Any long variety of dried pasta works great too. 
You can scale this recipe up or down, just figure a generous cup of tomatoes to make the sauce per person.  You can totally eyeball this....because:
Leftovers are great cold or reheated for lunch the next day 🙂
I love to serve this alongside salmon or other grilled fish, a chicken breast or add cooked shrimp to the pasta for a twist on the original!
This post was originally published in August 2018 and has been updated 🙂
Nutrition
Calories:
274
kcal
|
Carbohydrates:
28
g
|
Protein:
12
g
|
Fat:
13
g
|
Saturated Fat:
6
g
|
Cholesterol:
30
mg
|
Sodium:
776
mg
|
Potassium:
395
mg
|
Fiber:
3
g
|
Sugar:
5
g
|
Vitamin A:
1103
IU
|
Vitamin C:
35
mg
|
Calcium:
165
mg
|
Iron:
2
mg
Tips for Success with Every Recipe
Super important to read the whole recipe before you begin
Pay attention to the ingredient list and photos for the recipe
If possible, prep your ingredients a little before you start
Always use a sharp knife for safety
Use the size of pan called for in the recipe
For savory recipes, taste and season as you go
Buy fresh, organic ingredients, locally sourced whenever possible
SOURCE: Studio Delicious