Spicy Roasted Sweet Potatoes with Yogurt Sauce are a delicious balance of sweet and spicy with a cool hit of lime-infused yogurt drizzled over just prior to serving.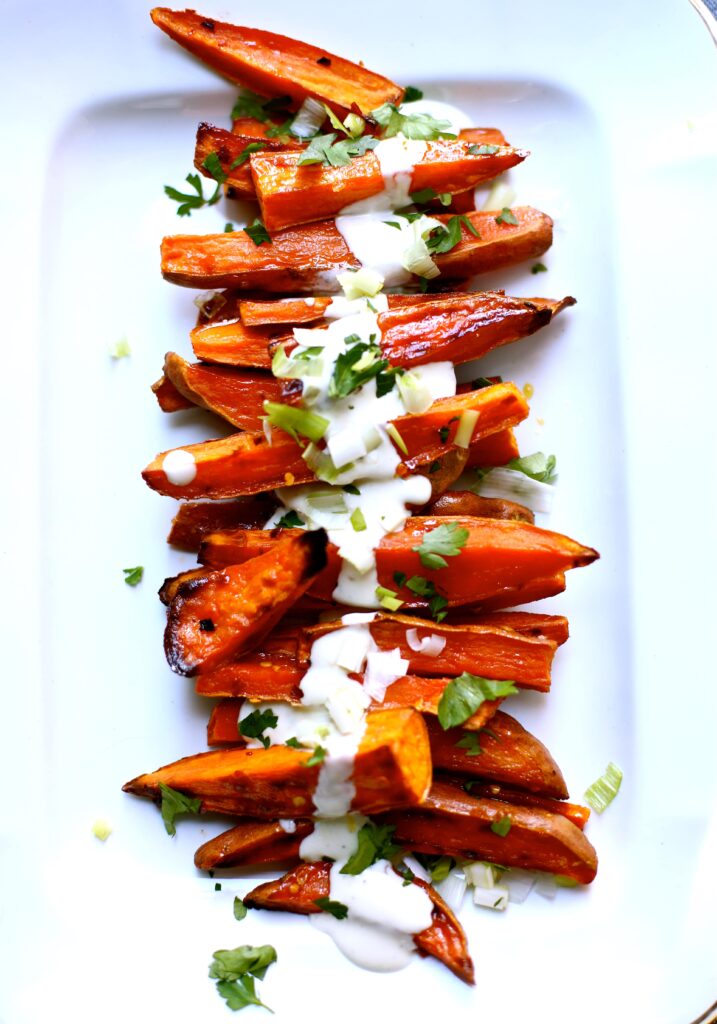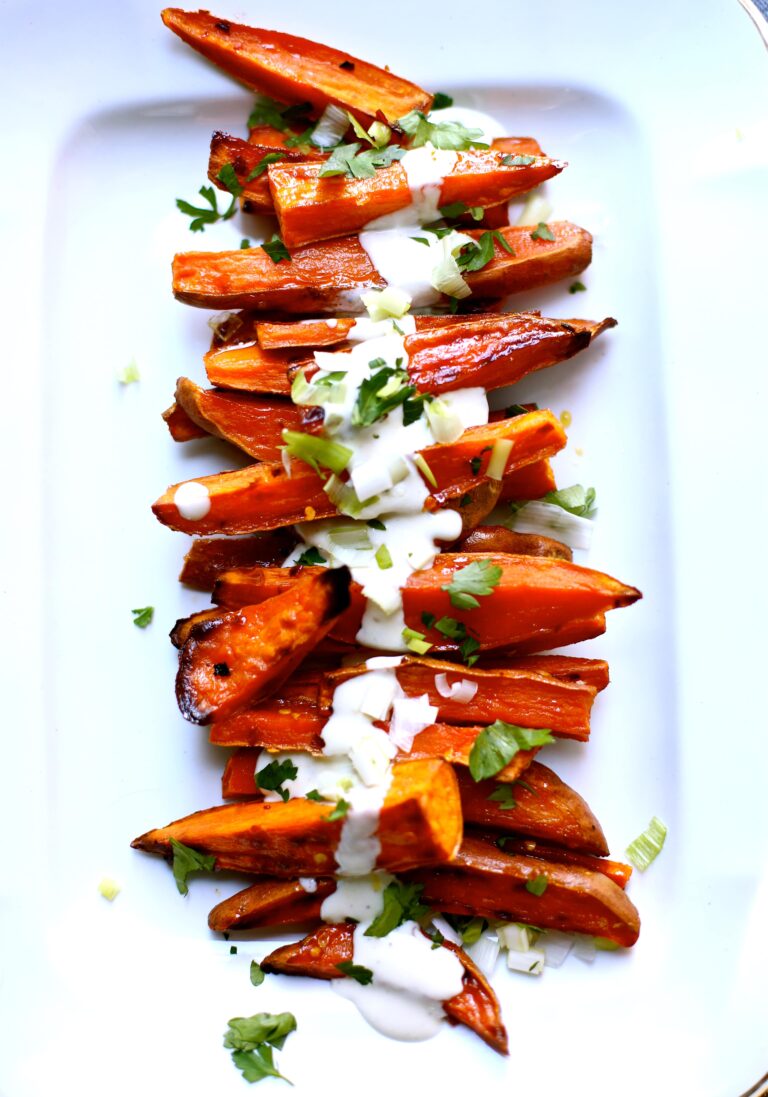 I used to run myself completely ragged with preparations for the holidays.
There was really no task too small or too Christmas-y for me.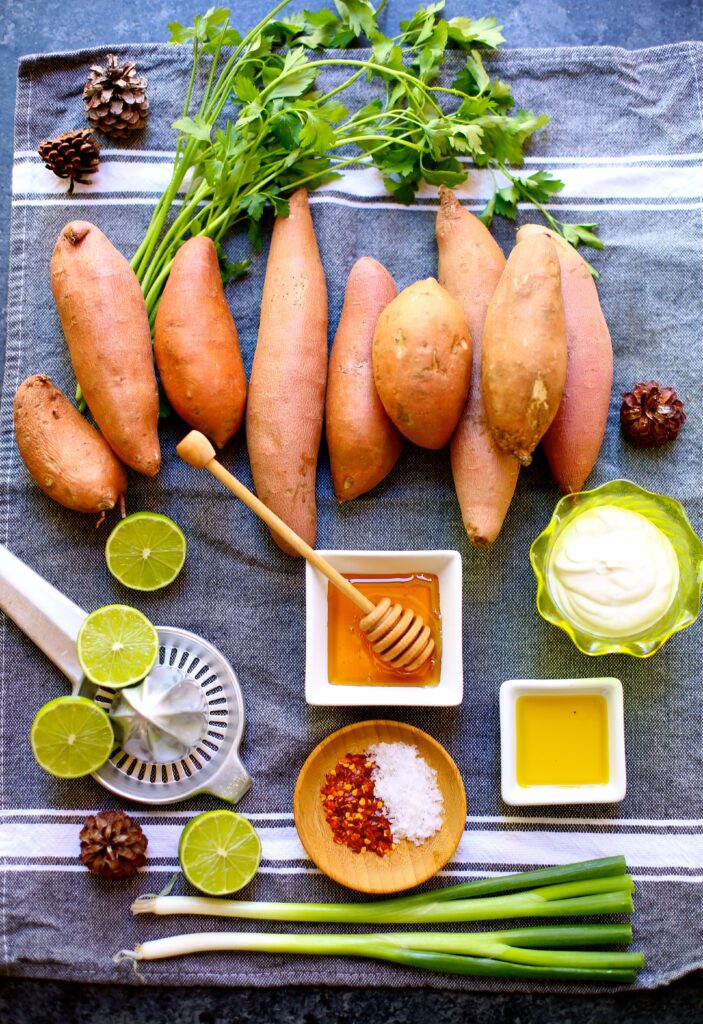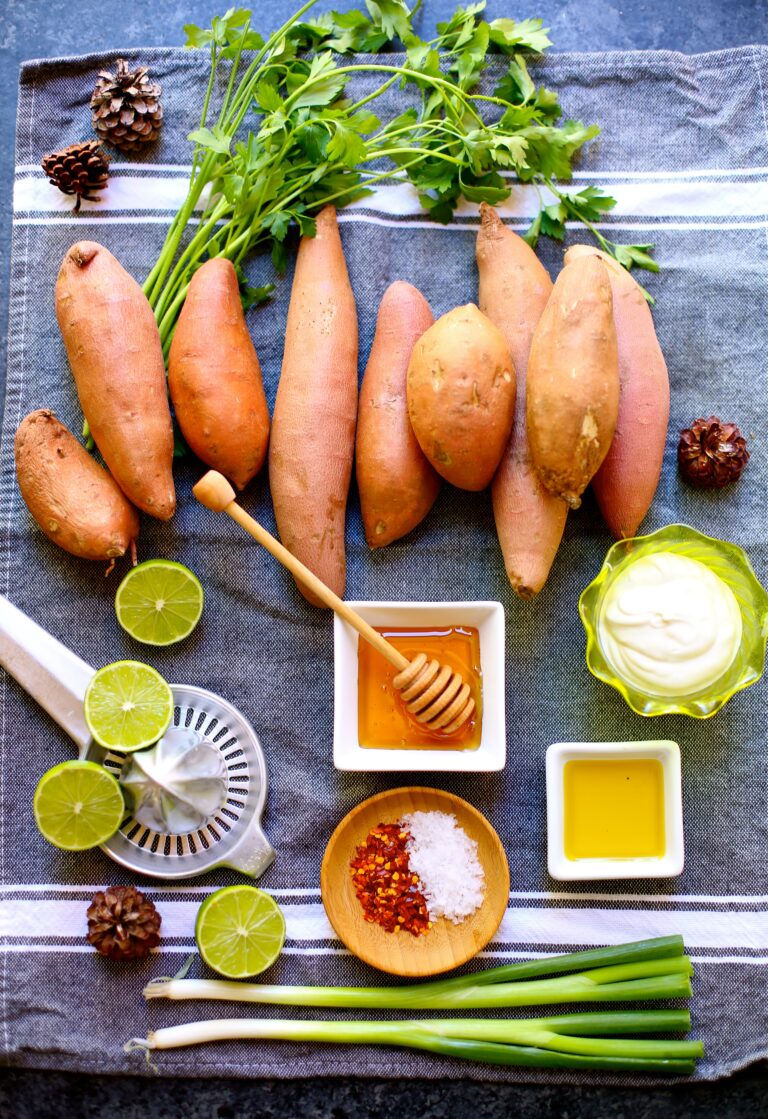 Decorate every inch of the house including all the bathrooms?
Yes.
Go to at least one party every week between Thanksgiving and New Years, with a lot of eating, drinking and talking way too loud?
Oh, yes.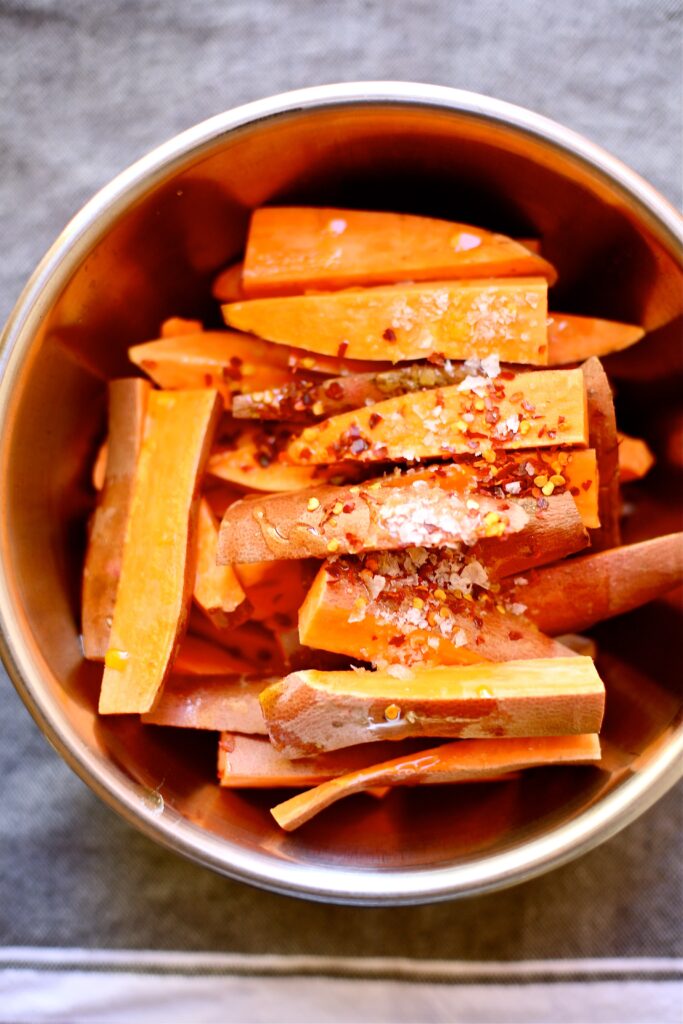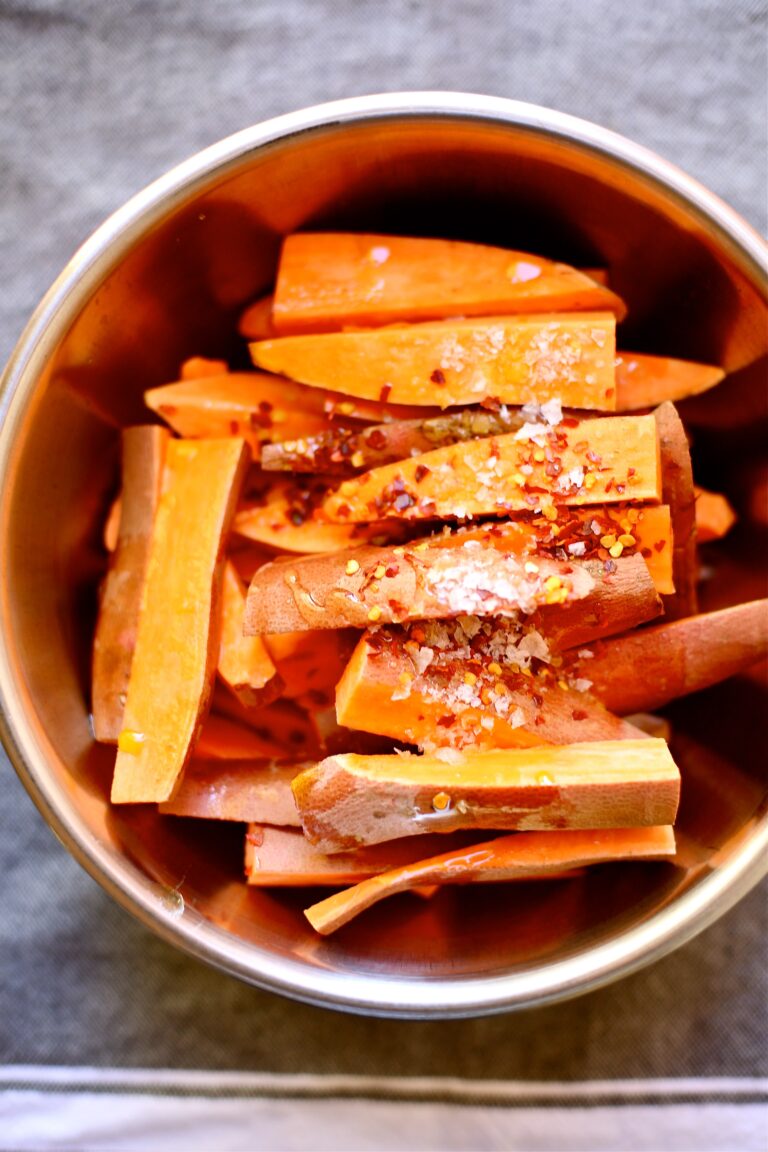 Spend more than one day cooking, cleaning and wrapping gifts — sometimes until very late at night — and in between make multiple pounds of homemade candy from scratch?
That was me.
Yes, folks, I'm a recovering English Toffee making addict 🙂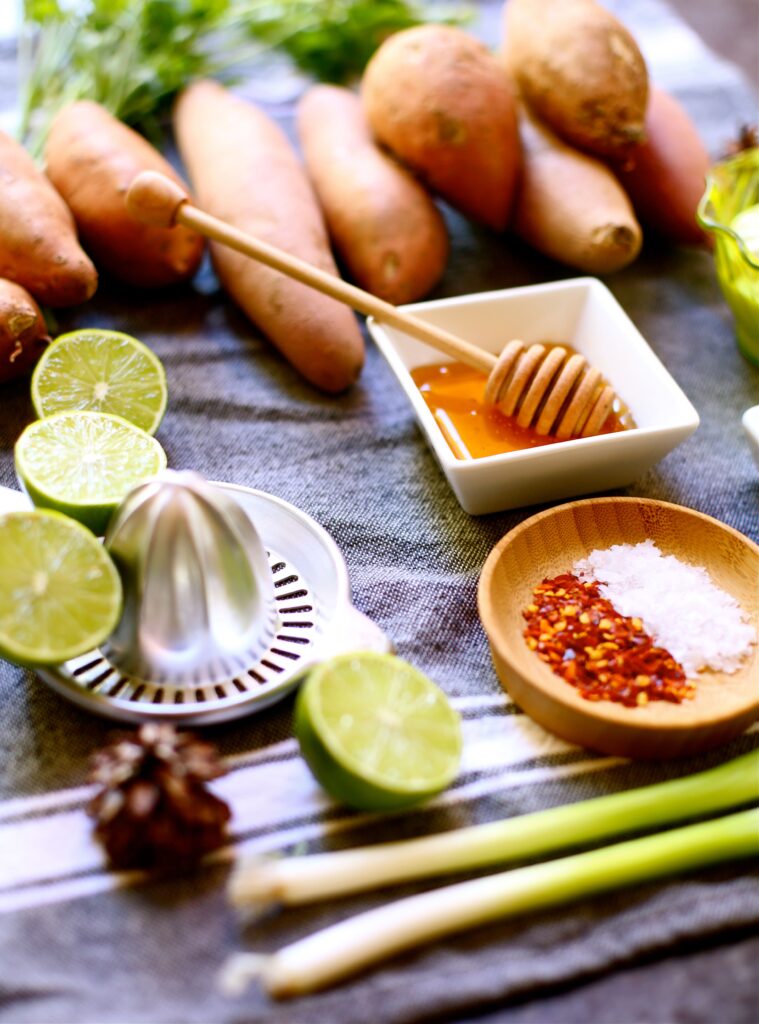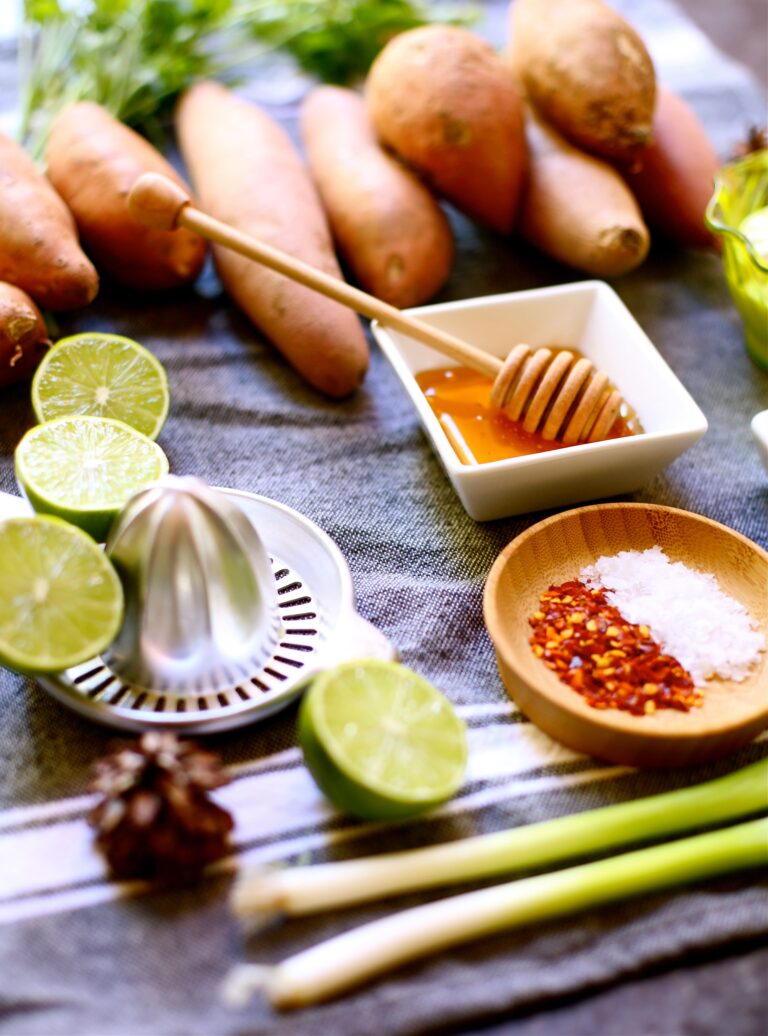 I'm so over all that rushing around now.
My idea of a perfect holiday season is lunch in a fun restaurant or coffee house exchanging small gifts with a couple of close friends, and going to at least one big, juicy, dressy party where there is a festive punch and those little hot dog things.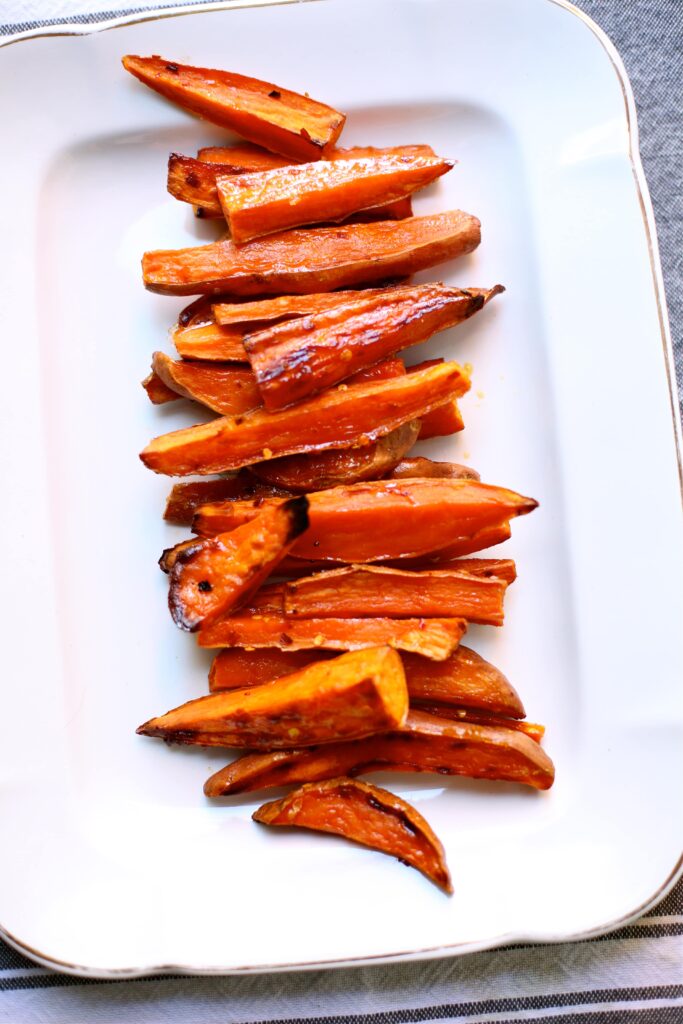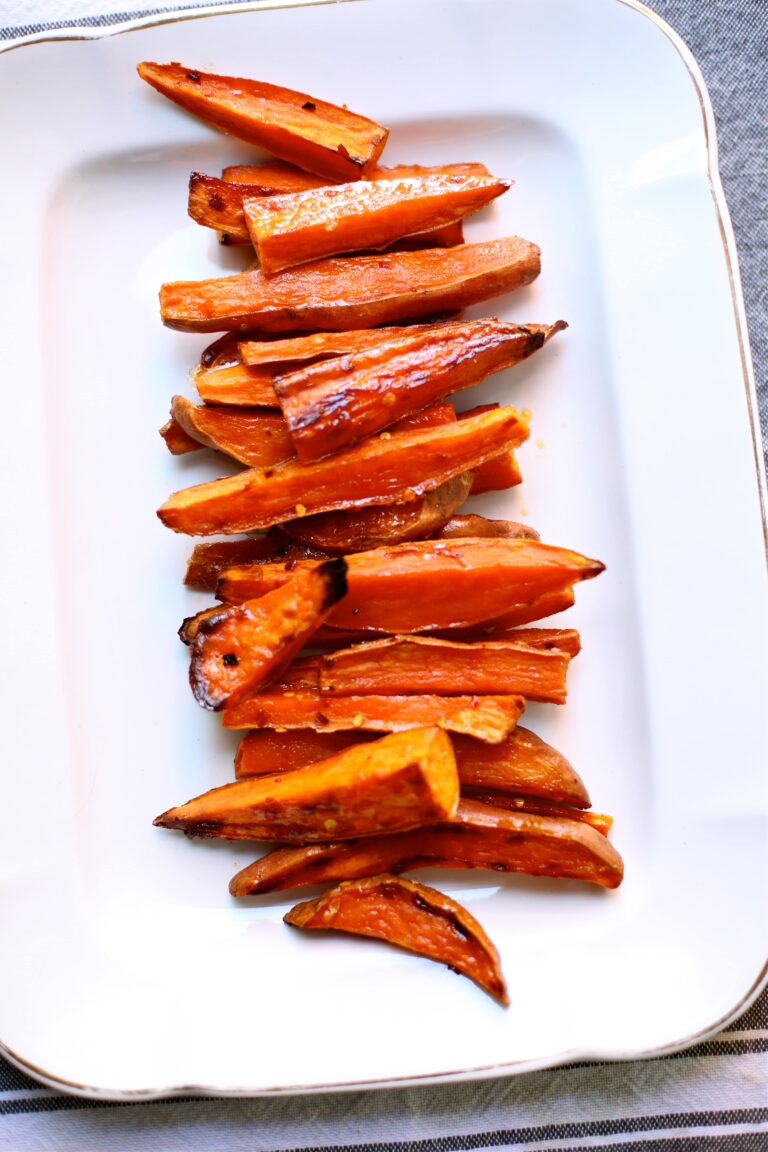 The rest of the month is reserved for staying close to home and going to bed early.
Maybe some hot chocolate with almond milk, too.
While watching TV or reading a book with my feet up.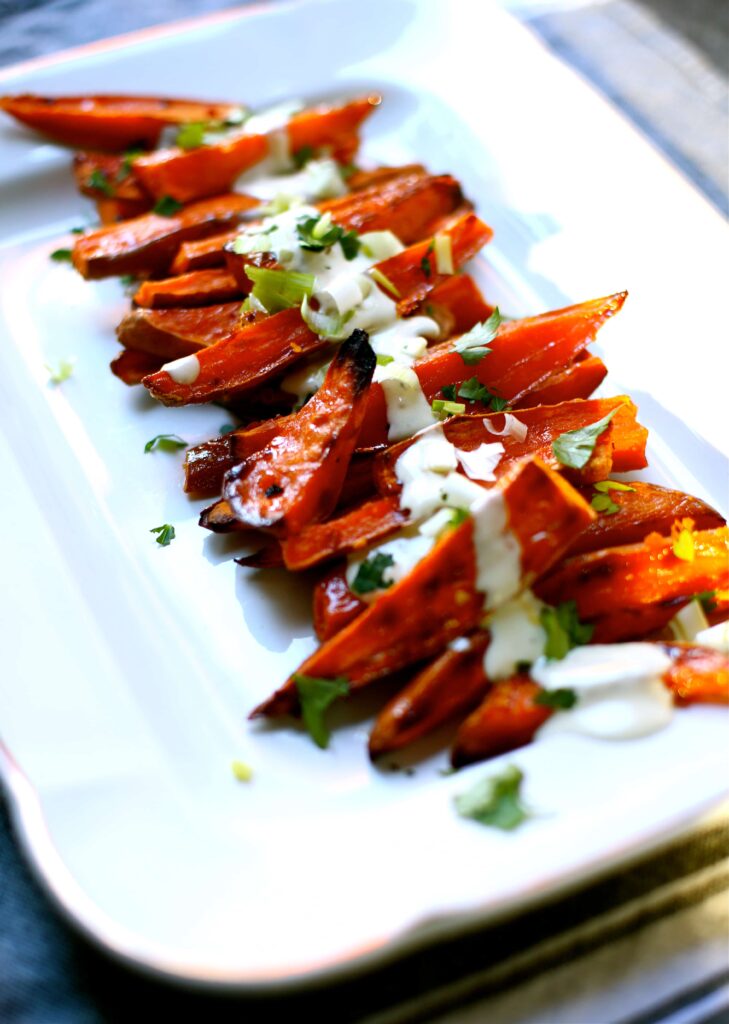 With this unfussy new attitude in mind, I submit to you these Spicy Roasted Sweet Potatoes with Yogurt Sauce.
This cozy vegetable side dish is just as comfortable on a holiday table as it is alongside roasted chicken or piece of grilled fish for a casual dinner.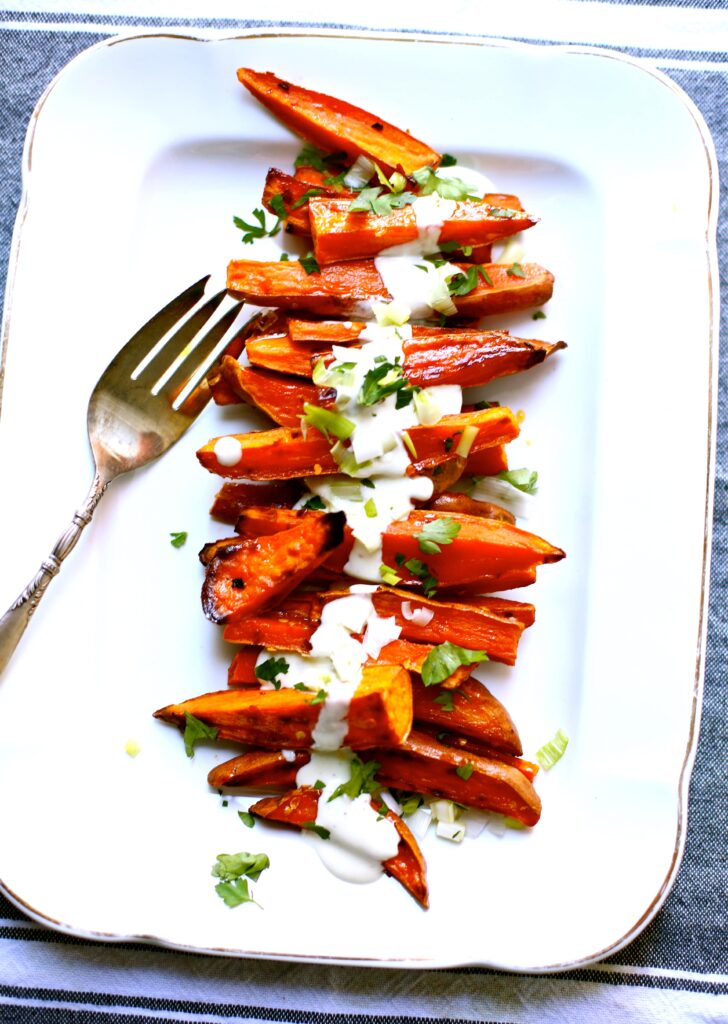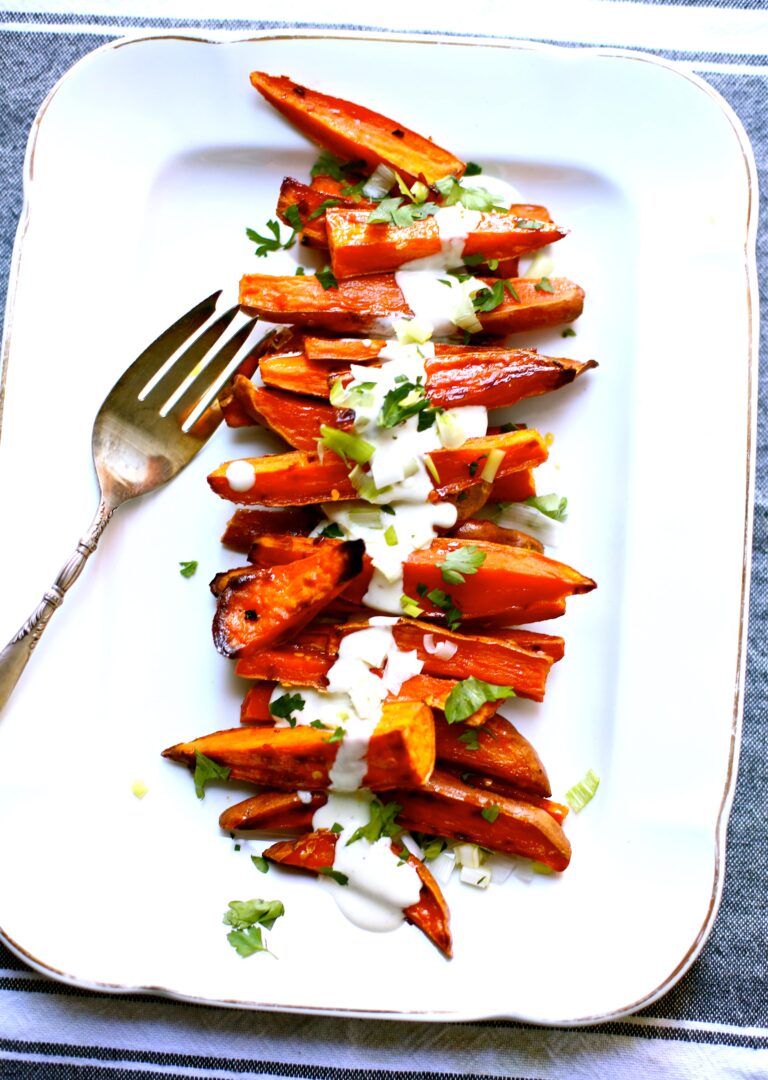 My personal favorite is mashing the leftovers with a fork and a small handful of Parmesan cheese, then folded in a flour tortilla and pan-fried with olive oil for a rather fancy quesadilla.
Extra fabulous with the leftover yogurt sauce drizzled on top.
SPICY ROASTED SWEET POTATOES WITH YOGURT SAUCE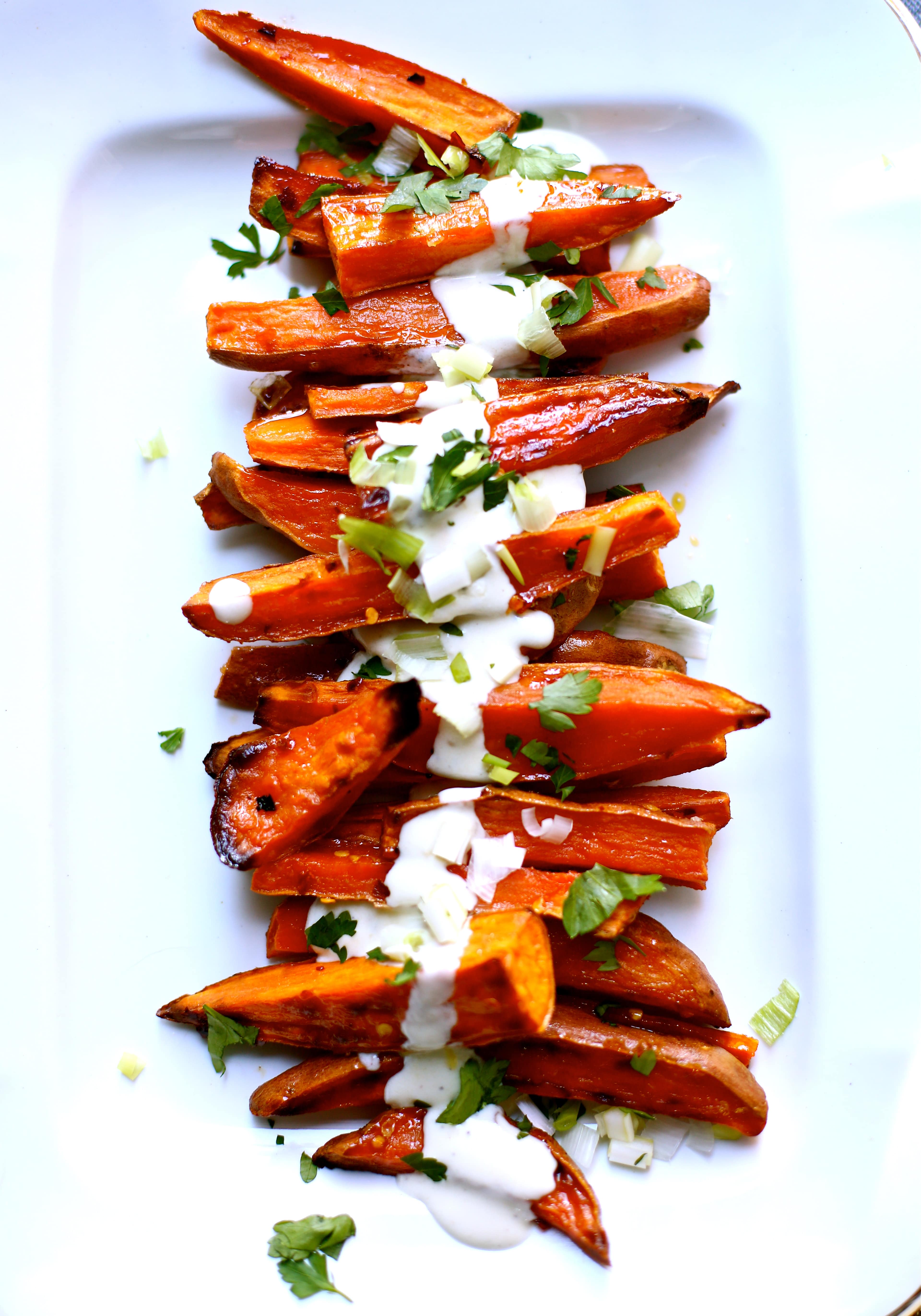 Ingredients
Heat Oven to 425
Line a large baking pan with parchment paper
2 pounds sweet potatoes
2 tablespoons honey
3 tablespoons olive oil
1/4 teaspoon crushed red pepper flakes (or a little more if you like it spicier)
1/2 teaspoon salt
YOGURT SAUCE
1/2 cup plain yogurt
2 tablespoons fresh squeezed lime juice
1 tablespoon extra virgin olive oil
1/2 teaspoon each of salt and pepper
Flat leaf (Italian) parsley, chopped fine
Green onion, white part only, sliced thin
Instructions
PREP THE SWEET POTATOES
Wash, scrub and trim the ends off the potatoes, then cut in half length-wise. Cut each piece into two or three wedges and place in a large mixing bowl.
Add the honey, olive oil, crushed red pepper and salt, and toss till combined.
Place the potatoes on the baking sheet lined with parchment paper and scrape any of the olive oil mixture on the baking sheet too.
Roast on the bottom rack of the oven, gently turning once half-way through, for 35-45 minutes. Note: The time will differ depending on your oven. You want fork-tender wedges that are slightly brown and crispy on the edges and sides.
Remove from oven, place on platter and serve with yogurt sauce.
MAKE THE YOGURT SAUCE
Combine Yogurt, lime juice, olive oil and salt and pepper in a small bowl and mix.
GARNISH
Sprinkle with chopped parsley and green onion.
7.8.1.2
63
https://www.studiodelicious.com/spicy-roasted-sweet-potatoes-yogurt-sauce/
Please don't reprint/copy and paste photos with recipes from Studio Delicious without prior permission as they are copyrighted. If you'd like to feature a recipe on your website, please rewrite the header and method of preparation in your own words and link back to this original post with Studio Delicious as the source.