Here's a really delicious appetizer or light meal when squash is abundant. This Roasted Butternut Squash Crostini Recipe tastes decadent with a tumble of sweet, crispy shallots and sage on top.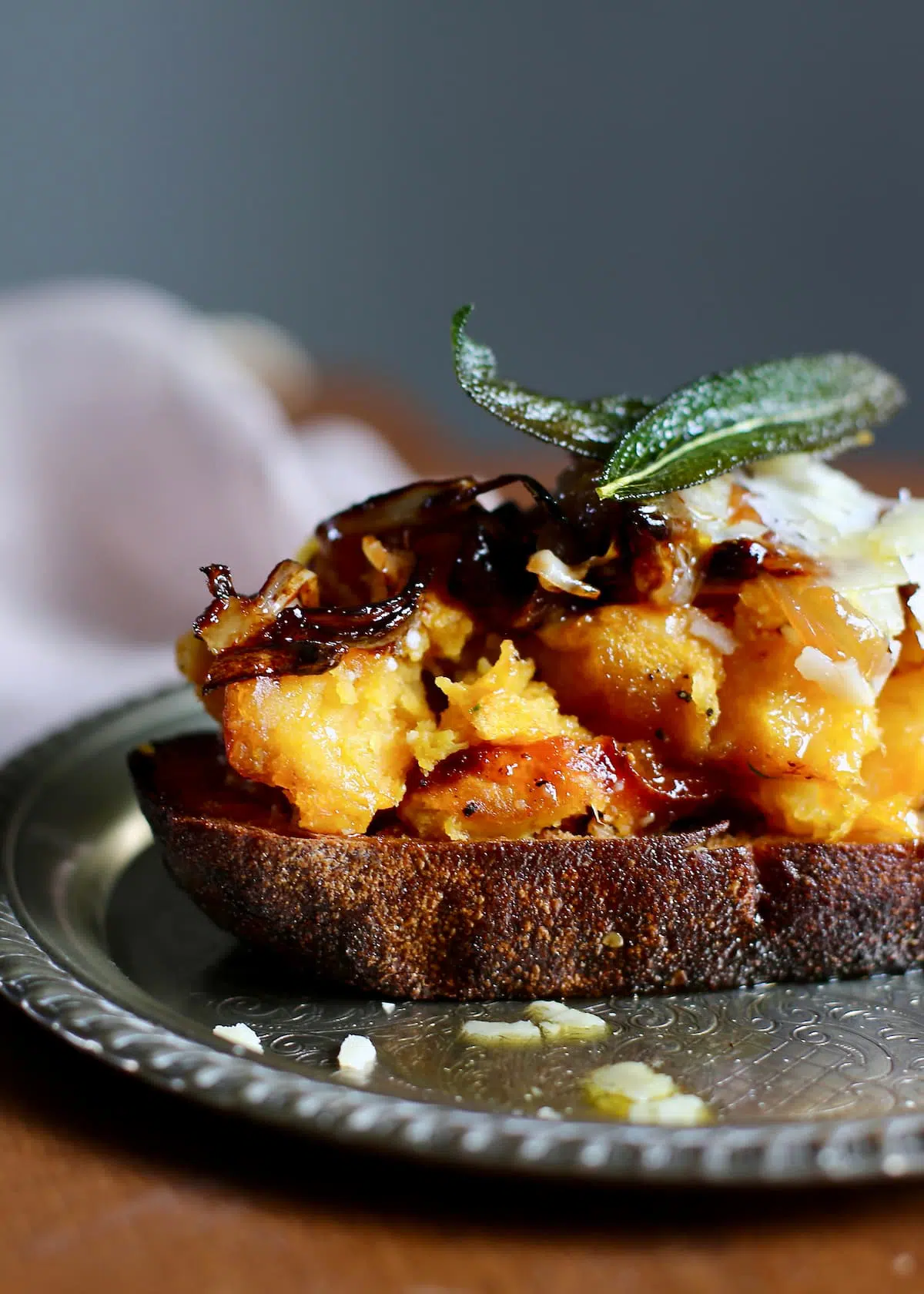 Jump to:
Why You'll Love This Recipe
Once upon a time, I made way too much roasted squash, and had a pretty good-sized bowl of leftovers.
Yes, I could have cubed them for a salad with some greens and a little vinaigrette, but since I graduated from the school of Everything Is Better On Toasted Bread, I came up with this recipe for Butternut Squash Crostini, and trust me, it's a keeper.
Here's why you should try this delicious thing:
Lunch, dinner, snacks. Yep, it's all that. This recipe is a great option for any of those occasions.
The squash is warmed, the shallots are crispy, the parmesan shaved. This is a delicious twist on toast.
The sage leaves are quick-fried and optional, but worth seeking out.
Toasts like this are good for so many occasions – when the weather's warm, try this incredible Fruit Toast, and when you've got friends coming, make these very good Goat Cheese Toasts with Cranberry.
There's this wonderful toast with fresh figs too. (Bookmark and give them a try!)
Ingredients You'll Need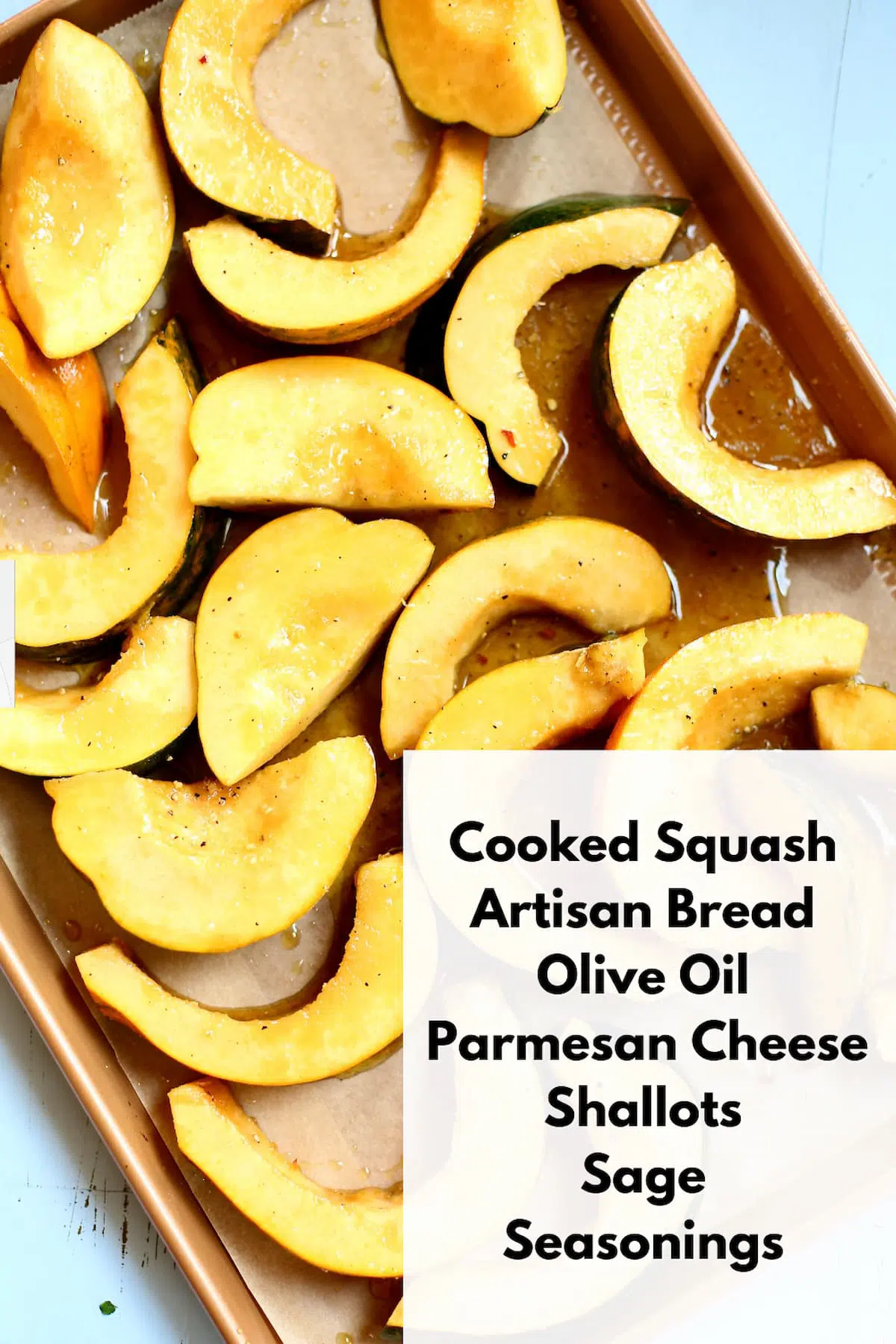 For the full recipe, ingredients, and instructions, please scroll to the recipe card below.
Cooked squash: I tested this recipe with Butternut and Acorn squash, and both were outstanding. I think almost any variety would work, really.
Bread: Get a nice round of sourdough or other plain artisan type of bread. Avoid those with extra ingredients like garlic or olives.
Thick, one inch slices is what we're after, drizzled with olive oil and toasted under the broiler for a couple minutes, or until the edges are lightly browned.
Olive Oil: Good quality EVOO adds a lot of flavor you won't get anywhere else.
Parmesan Cheese: Just the perfect flavor for this squash toast. Perfect.
Shallots: Sweet and savory, and pan fried just until the edges are crispy.
Fresh Sage: Yes, get the fresh kind at the grocery store. If you've never tasted sage that's flash fried, well, we really need to change that.
Seasonings: Kosher salt and freshly ground black pepper is all you need to elevate the flavors of this toast.
Step-By-Step Instructions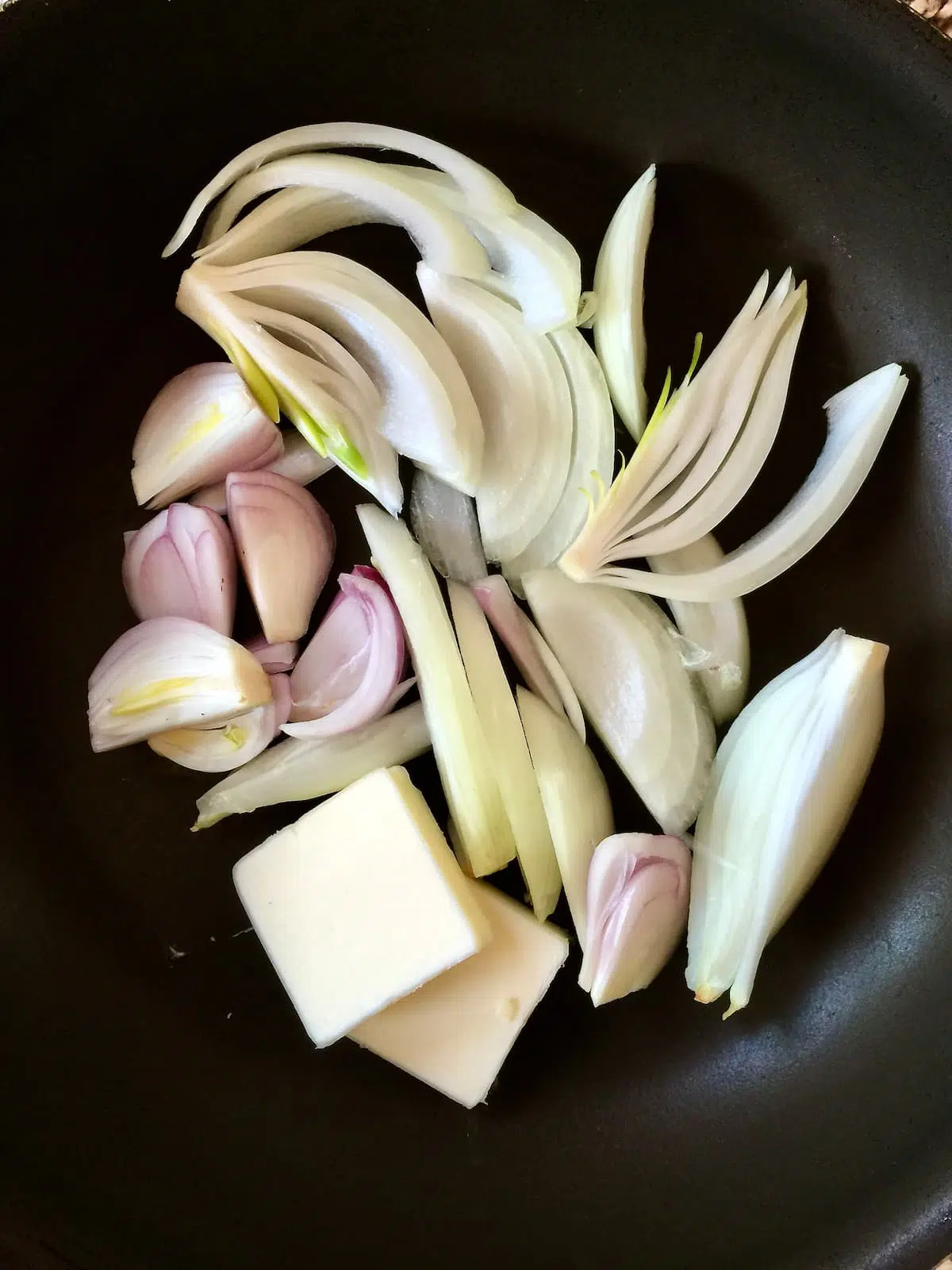 For the full recipe, please scroll down to the recipe card below.
To prepare the cooked shallots, here's all you do:
Add the sliced shallots and two tablespoons of butter into a large non-stick skillet, single layer with salt and freshly ground pepper.
Cook on medium high heat until they start to sweat, about five minutes.
Add a tiny bit of sugar to the shallots, then lower the heat a bit and continue cooking for about twenty minutes or until golden brown on the edges.
Remove from the pan and set aside until you're ready to assemble the toasts.
Tips For Prepping Squash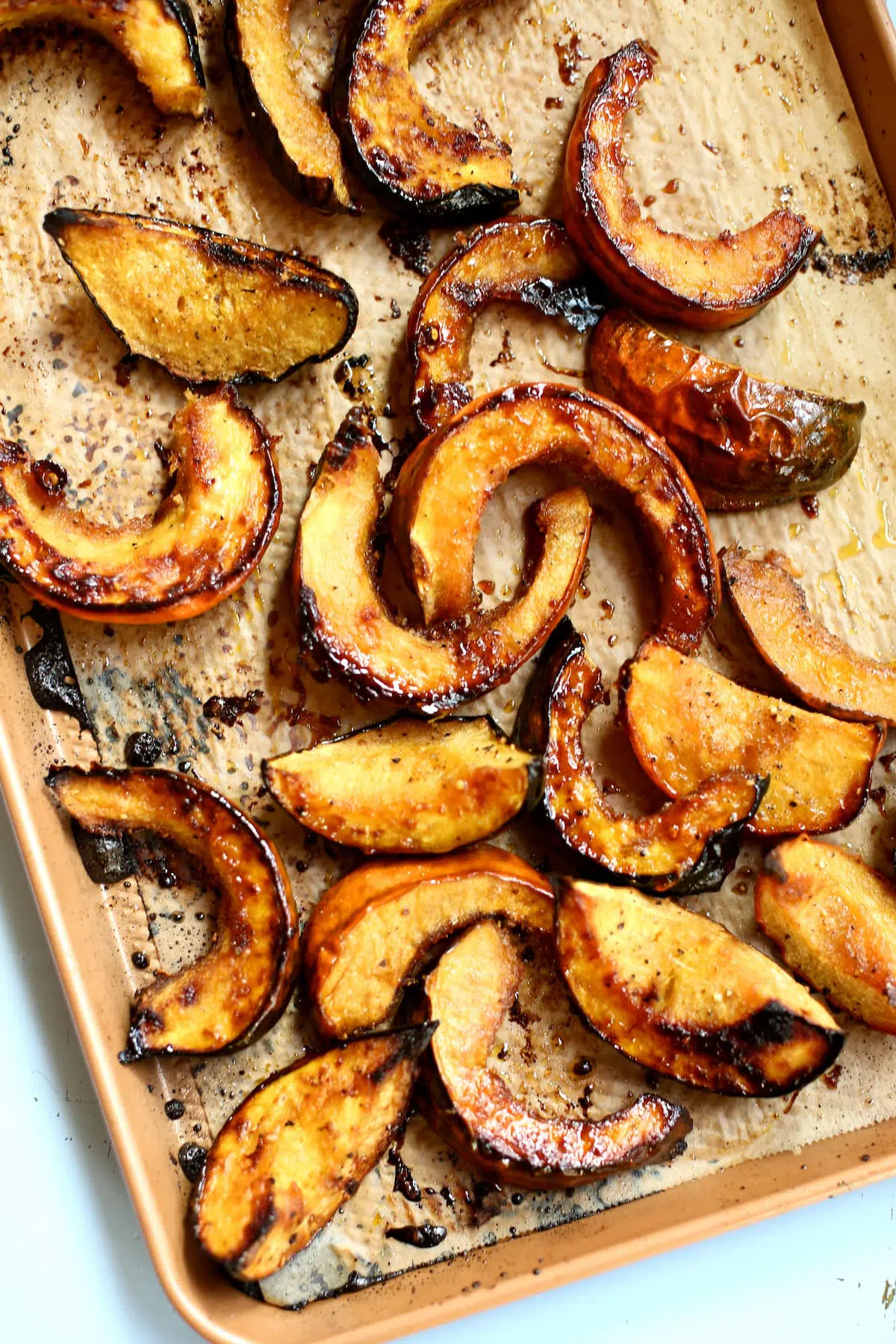 For the squash part of this recipe, you're options are:
Roast Your Own: Here's a good recipe for this. Leave the maple syrup out (unless you want your toasts a little bit sweeter). You can bake either acorn or butternut squash on a sheet pan.
Buy It Frozen: Squash usually comes pureed or cubed in the freezer section. Go with cubed, defrost, then smash with the back of a fork in a large bowl before proceeding with the recipe.
Tips For This Recipe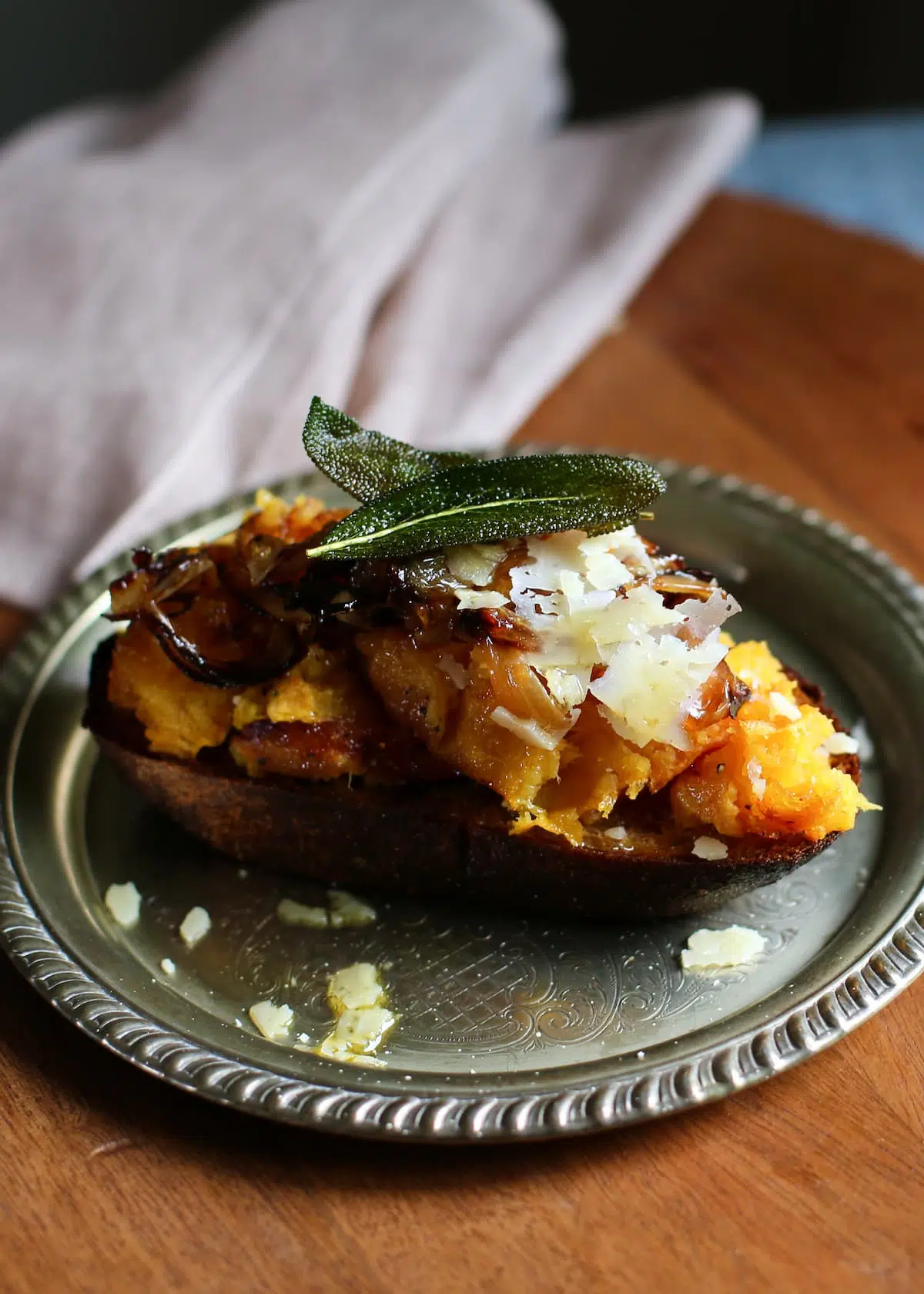 When cooking the shallots, start on medium high heat, then go for a lower setting. You have to gently coax onions of any kind to caramelize them. Be sure to slice them thin, and adding a little bit of sugar that the recipe calls for helps this process along.
This recipe calls for two medium shallots. Sometimes there's only small shallots at the grocery store, so be sure to grab several!
Use a plain artisan round loaf for this recipe, not sandwich bread. You'll need the sturdiness of a loaf that's cut an inch thick to stand up to these ingredients and flavors.
Use any variety of cooked squash you'd like, but keep it chunky, not pureed.
Serving Ideas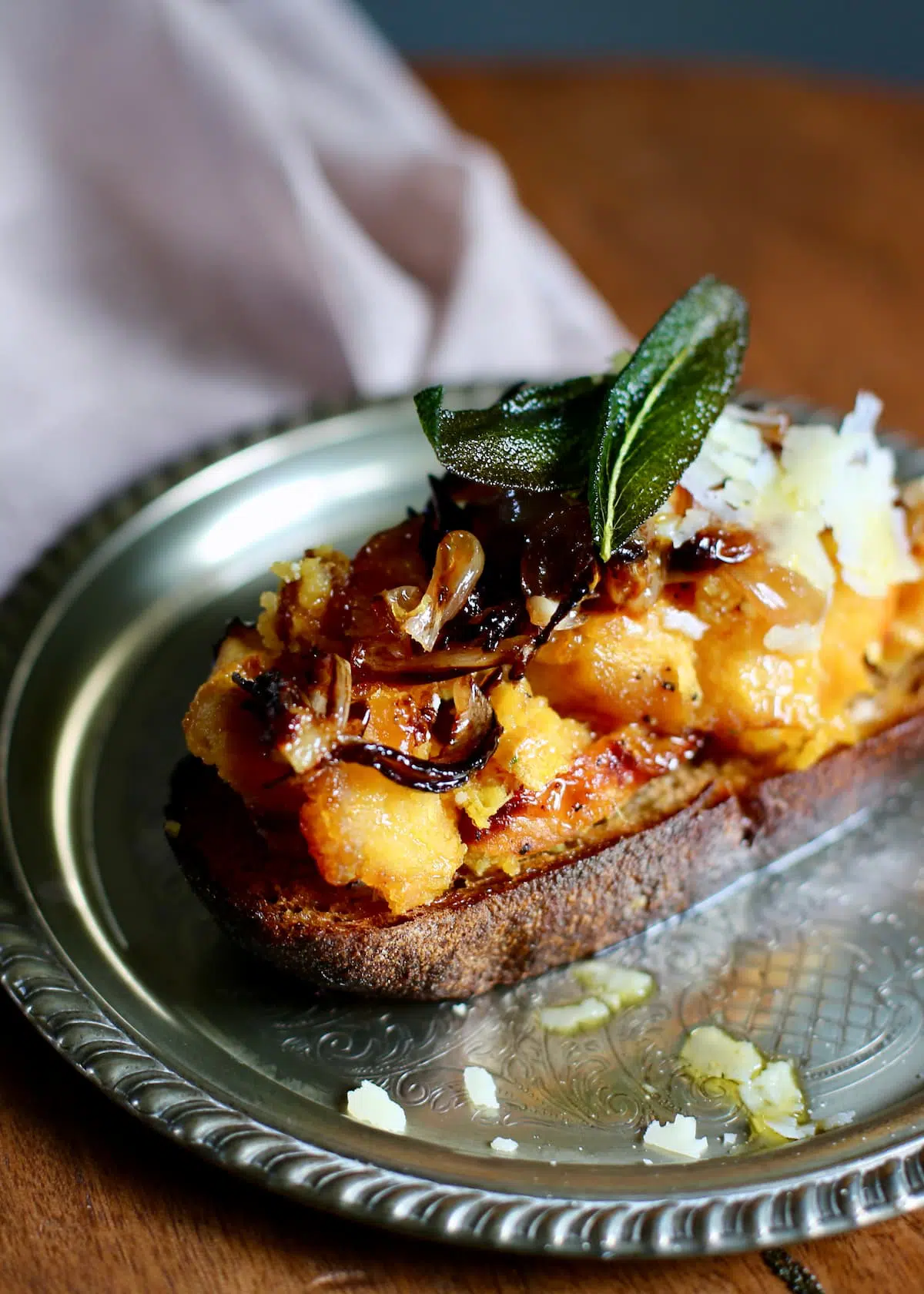 I love a toasty crostini with a steaming cup of soup. You could serve this Chicken Sausage Tortellini Soup, or this easy & creamy non-dairy Pumpkin Soup, a chunky, delicious Corn Chowder, or this warm and tasty Creamy Chicken Enchilada Soup Recipe that's made in a slow cooker.
If you have some on hand, try a drizzle of balsamic glaze on top of these squash crostini.
Serve some Goat Cheese Toasts with Cranberry and maybe a tray of these easy Crunchy Crab Sushi Rolls too. This veggie-packed favorite is also very nice.
A simple mug of Hot Chocolate would be nice for dessert. Followed by a nice, fluffy bed.
You can add a salad to the mix here too. Start with this roasted pear salad, or a refreshing celery, hazelnut and Parmesan salad. This simple and tasty Italian Green Bean salad always works, or go for greens and vinaigrette like in this Superfoods Salad.
Cookies make an easy dessert, and some soft, delicious Lemon Shortbread would be outstanding, or these Macadamia Shortbread Cookies that have a drizzle of white chocolate on top.
You could also make some of the best Rice Krispy treats you've ever had (according to my neighbor.)
Or go all-out and make these cozy baked apples, or these very cute, very good Mini Caramel Apple Pies, or take a look at these other apple desserts.
Frequently Asked Questions
Can I use other types of squash in this recipe?
Yes, almost any kind would work. I tested this with both Acorn and Butternut varieties, and both were very good.
How to do I store leftovers?
Just make enough toasts for the amount of people you are serving. If you have leftovers, keep them separate (don't assemble the toasts, the bread will get soggy). Store the cooked squash in an air-tight container in the refrigerator for a couple of days.
Can I leave the sage and onions off this recipe?
You can! But please try them first, they are wonderful and add a lot of flavor to the finished toasts. If you want to try canned crispy onions instead of cooking the shallots, try it and let me know how it turned out!
More Recipes To Try:
If you've tried Roasted Butternut Squash Crostini Recipe, or any other recipe on Studio Delicious, please rate the recipe 5 stars and & tag me or leave me a comment below!
Looking for more tips and fresh, homemade recipes? Join my email list, tag and follow me on Instagram using #studiodeliciouseats, follow my boards on Pinterest, and see what I'm up to on Facebook and Twitter!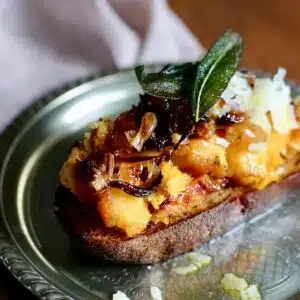 Roasted Butternut Squash Crostini Recipe
Here's a luscious toast with roasted squash, crispy shallots, sage and cheese. Outstanding!
Print
Pin
Rate
Ingredients
2

medium

Shallots, sliced thin

2

tablespoons

Butter, unsalted

½

teaspoon

Salt

½

teaspoon

Pepper, freshly ground

1

teaspoon

Sugar

2

cups

Butternut Squash, cooked & mashed

Can use acorn squash instead.

¼

cup

Water

4

slices

Sourdough Bread, cut in ½" slices

2

tablespoons

Olive Oil

Or more

1

teaspoon

Flaky Sea Salt

2

tablespoons

Olive Oil

8

Fresh Sage Leaves, whole

¼

cup

Parmesan Cheese

Flaky Sea Salt
Instructions
Start by cooking the shallots in two tablespoons of butter with salt and pepper in a medium-sized non stick skillet. Cook on medium-high heat until soft, about five minutes.

Add the sugar and stir and continue cooking on low heat, stirring often for about 15-20 minutes until the shallots are brown on the edges and soft. Remove from skillet and set aside.

Place 2 cups of cooked squash in a medium-sized, non-stick skillet with the ¼ cup of water.

Turn the heat to medium and let the squash heat through until the water is absorbed and the squash is warmed, about 4 minutes.

Drizzle or brush the olive oil over the four slices of sourdough bread and sprinkle each with a pinch of salt.

Place the bread on a sheet pan lined with parchment paper and toast the bread in your broiler on the middle rack of the oven until crispy and slightly brown around the edges. Set aside to prepare the fried sage.

Using the same pan as the shallots, add two tablespoons of olive oil to the pan on medium heat, and just as the oil heats up, add the sage, frying it until bubbling and crispy, gently turning them over once with a fork about 2-3 minutes total.

Remove from oil and gently place on paper towels to drain any excess oil.

To assemble the toasts, place about a half-cup of warmed squash on top of each warmed piece of toast, followed by a generous tablespoon of caramelized shallots, a good sprinkle of parmesan cheese and a couple of the fried sage leaves.

Drizzle each toast with a little olive oil and a pinch of flake sea salt before serving.
Notes
When cooking the shallots, use a low stove setting, and slice the shallots thin. The small amount of sugar in the recipe will help them crisp up on the edges.
This recipe calls for two medium shallots. Sometimes there's only small shallots available at the store, so double it and get four.
Use a plain artisan round loaf for this recipe, not sandwich bread. You'll need the sturdiness of a loaf that's been cut an inch thick to stand up to these ingredients and flavors.
Use any variety of cooked squash you'd like, be sure to keep it chunky, not pureed.
Nutrition
Calories:
450
kcal
|
Carbohydrates:
53
g
|
Protein:
11
g
|
Fat:
23
g
|
Saturated Fat:
7
g
|
Cholesterol:
19
mg
|
Sodium:
1358
mg
|
Potassium:
540
mg
|
Fiber:
4
g
|
Sugar:
6
g
|
Vitamin A:
12798
IU
|
Vitamin C:
26
mg
|
Calcium:
164
mg
|
Iron:
3
mg
Tips for Success with Every Recipe
Super important to read the whole recipe before you begin
Pay attention to the ingredient list and photos for the recipe
If possible, prep your ingredients a little before you start
Always use a sharp knife for safety
Use the size of pan called for in the recipe
For savory recipes, taste and season as you go
Buy fresh, organic ingredients, locally sourced whenever possible
Don't Miss a Recipe!