My version of Chicken Sausage Tortellini Soup is perfect spring comfort food.  Loaded with big, chunky bites, this is a soup you'll want to make again and again.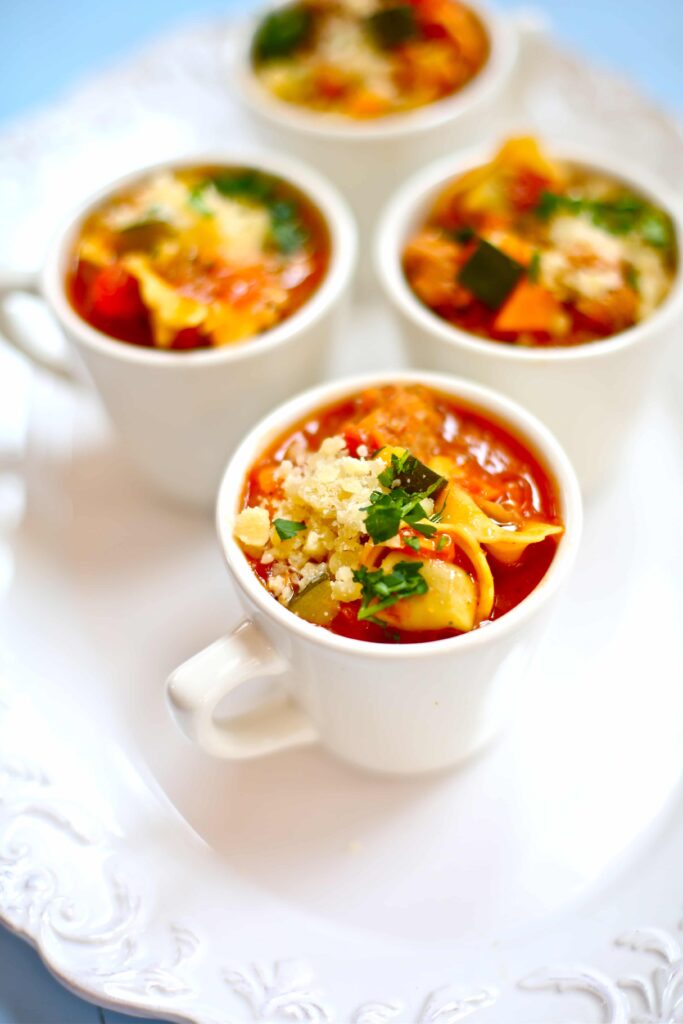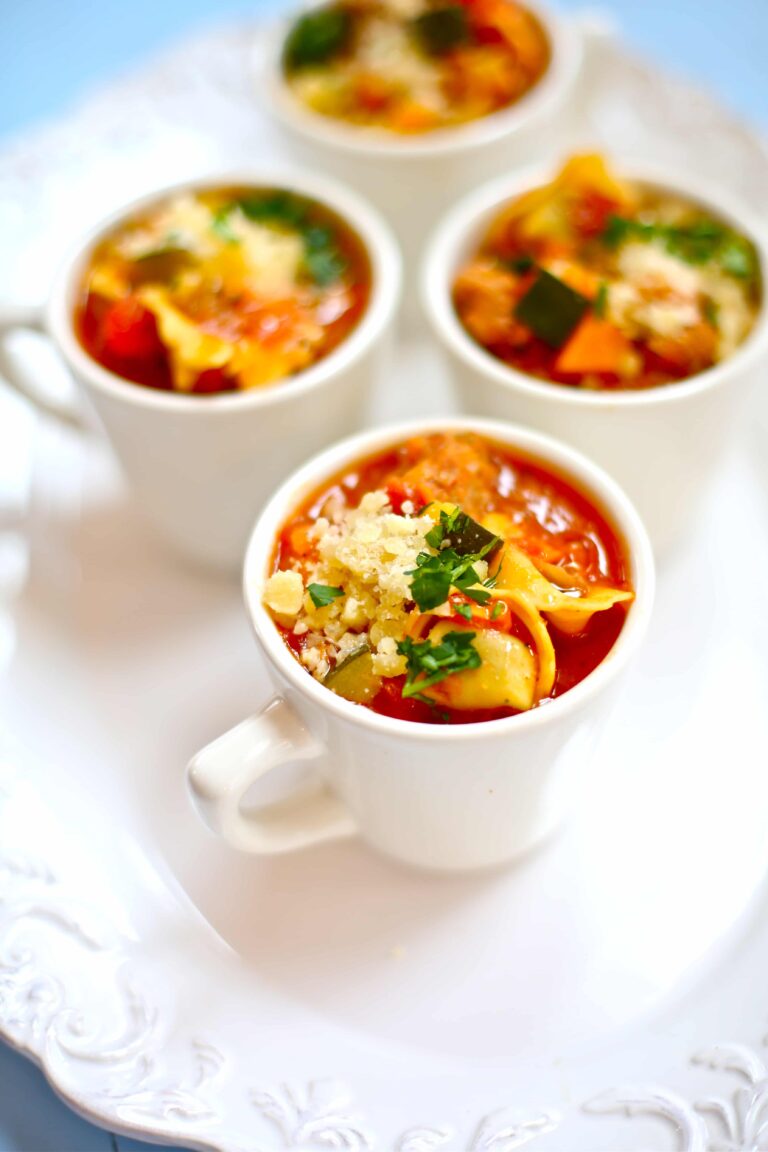 One thing that's fun to think about this time of year is what to eat, exactly.
I mean, that is if you're a nerd like me, and I think you are (in the very best way.)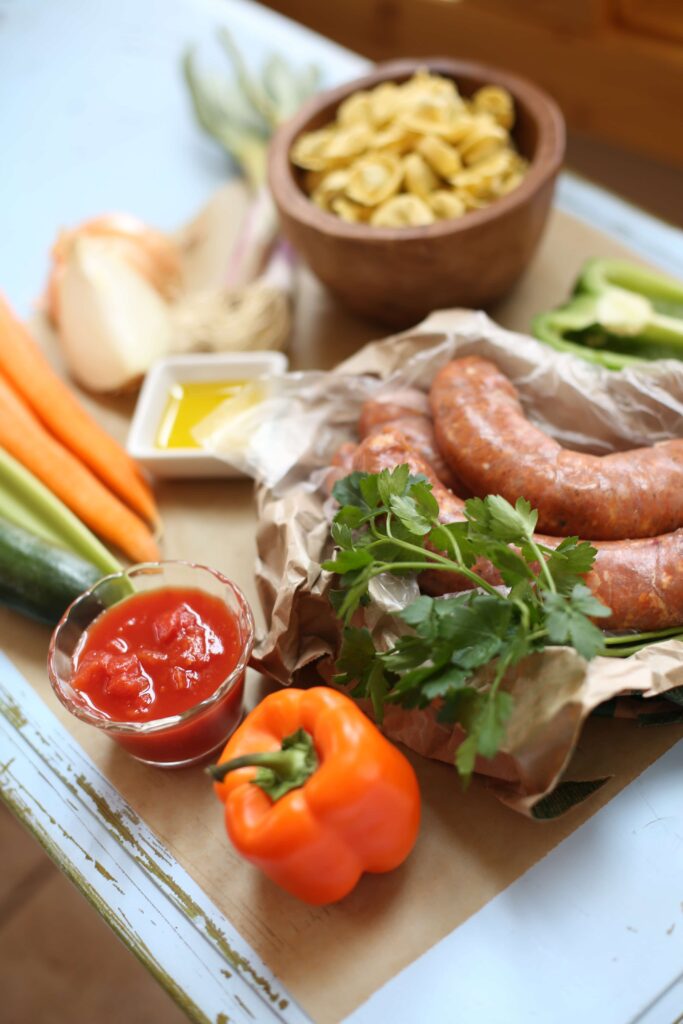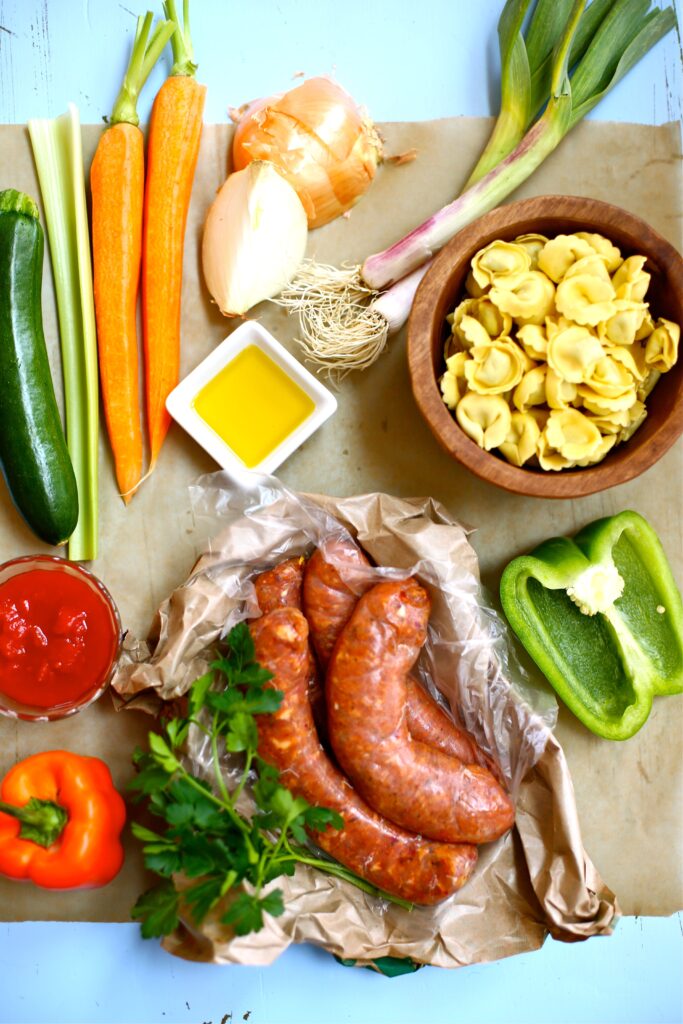 What I mean is, should we continue down the meatloaf and mashed potatoes path for a little while longer?  Or dial up the salads?
I've been wearing black stretch pants and long sweaters for many months now, and the thought of putting on real clothes like a pair of shorts, is deeply frightening 🙂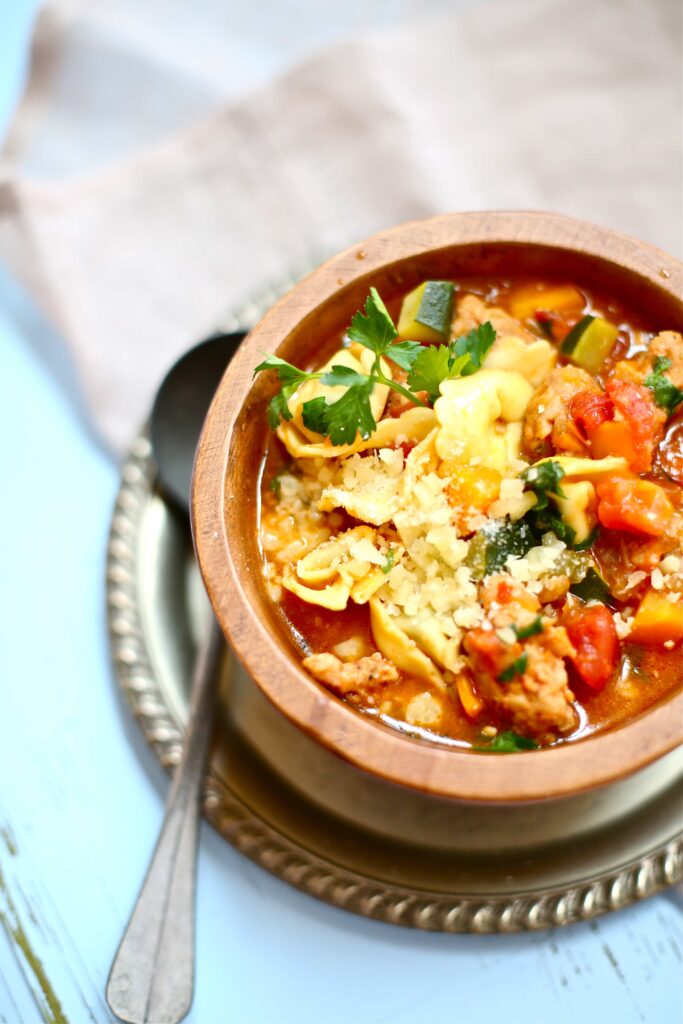 There are nagging spring cleaning projects that need to happen soon too.
Like straightening out the kitchen drawer that is currently home to 350 pens and inexplicable little pieces of paper, old receipts and crappy lip balms.
There are plenty of things I'd rather do, like go to Paris and take pictures of eclairs.
Not even happening, tho, dang it.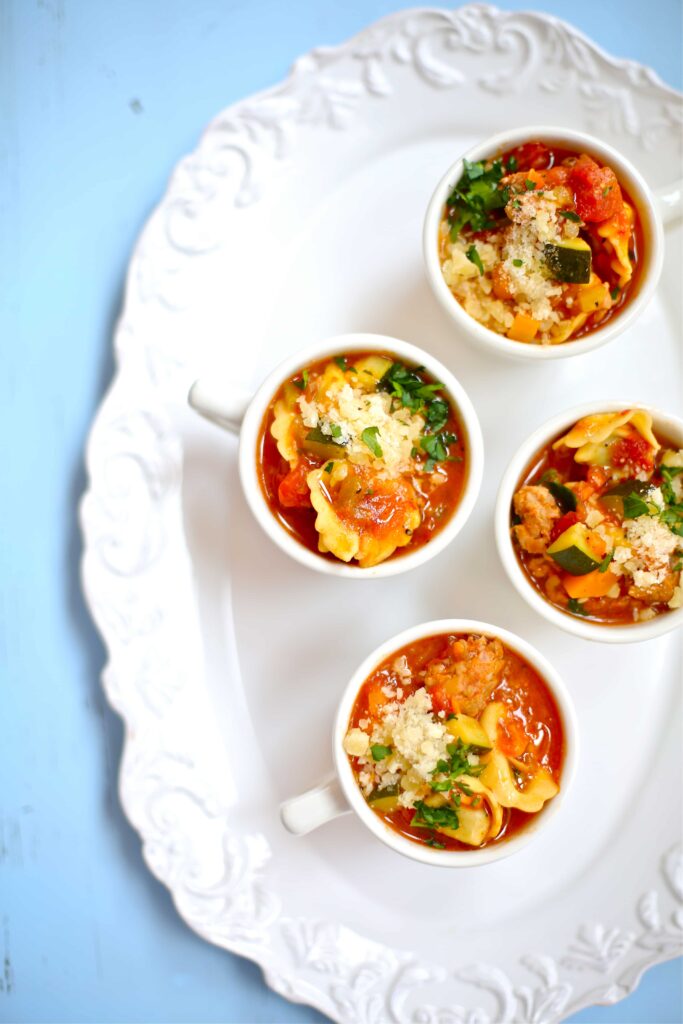 I've been making this Chicken Sausage Tortellini Soup for years, but I've updated it a bit and wanted to share it with you.
The original calls for red wine and dark beef broth, both replaced with low sodium vegetable broth instead.
Chicken sausage—the best quality and freshest you can find in the casing, is used instead of pork.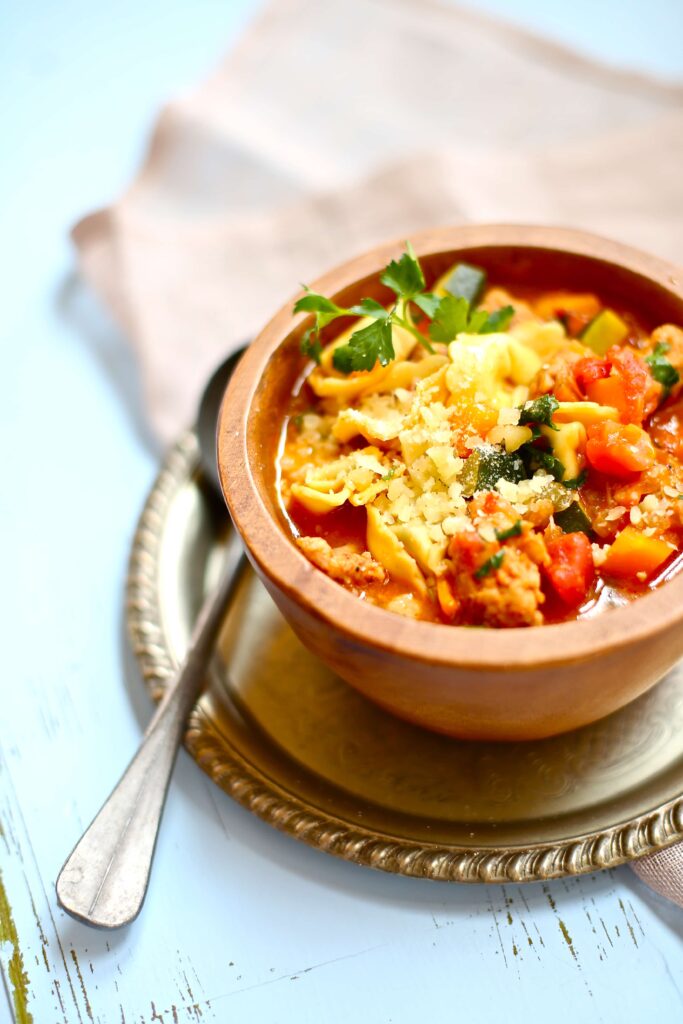 And mellow white miso paste is my favorite secret weapon for a deep, satisfying all-day cooked taste without the all-day part.
The tweaks make for a fresher version overall, and that makes me very happy.
This makes a big pot of soup, and I froze a couple of portions for those early spring days that can still feel like winter.
Another spring recipe to try: Parmesan Potatoes with Roasted Broccolini by Studio Delicious
CHICKEN SAUSAGE TORTELLINI SOUP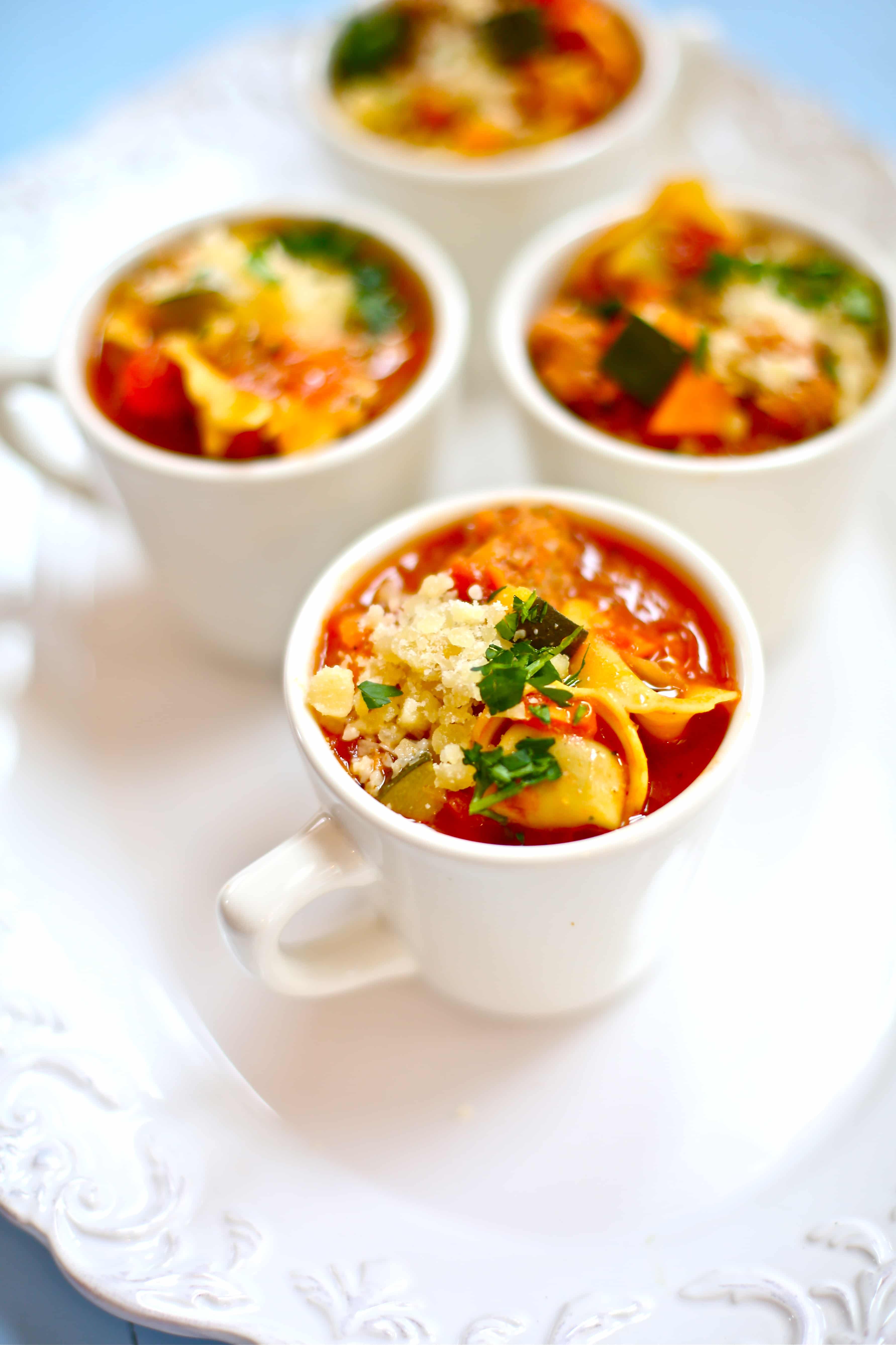 Ingredients
2 tablespoons olive oil
1 large rib of celery, finely chopped
1 medium-sized yellow onion, finely chopped
2 medium-sized carrots, peeled and quartered and sliced in 1/4 pieces
One small green pepper, seeded and chopped in 1/2" pieces
One small orange pepper, seeded and chopped in 1/2" pieces
3 cloves of garlic, smashed and finely chopped
1 1/2 pounds chicken sausage, casings removed
26oz can of chopped tomatoes
32oz container of low sodium vegetable broth
1/2 teaspoon red pepper flakes
1/2 teaspoon freshly ground pepper (I use Trader Joe's Lemon Pepper)
1 cube low or no salt vegetable bullion cube
1/2 cup water
1 medium zucchini, quartered and seeded and cut in 1/2" pieces. (quarter the zucchini length-wise and run your knife down the rib of the seeds to remove them)
8oz package of cheese tortellini
1/4 cup fresh flat leaf (Italian) parsley, plus additional for serving
2 rounded tablespoons mellow white miso paste
Freshly grated Parmesan cheese, for serving
Olive oil, for serving
Instructions
MAKE THE SOUP
In a large pot, add the olive oil and celery, yellow onion and carrot. Cook on medium heat until soft, about 7 minutes. A little browning on the edges is fine and adds flavor, but stir occasionally to make sure the mixture doesn't burn on the bottom of the pot.
Add the chopped green and orange peppers and a pinch of salt and continue to cook, stirring occasionally to make sure there's no sticking, about 3 more minutes.
Add the garlic and continue to cook for one minute, stirring to make sure it doesn't burn.
Add the chicken sausage to the pot, breaking it into big chunks with your fingers. Use the back of a wooden spoon to continue breaking the sausage down into large chunks, cook for 6-8 more minutes until the sausage is no longer pink.
Add the chopped tomatoes and container of vegetable broth to the mixture.
Add the red pepper flakes, the ground pepper, the vegetable bullion cube (break it up with your fingers) and the water. Stir together with a spoon and increase to medium high heat.
Bring to a steady simmer (not rolling boil) for 20 minutes.
Add the zucchini, cheese tortellini and parsley and continue cooking on medium high heat for 20 more minutes, stirring occasionally.
Mix the miso paste with a little water and add it to the pot. Stir it into the soup.
Taste the soup broth with a clean spoon and check the seasonings. You can add a bit more miso paste or pinch of salt and a few grinds of pepper if needed.
Add the 1/4 cup of parsley, and stir to combine.
Serve with grated Parmesan cheese, more chopped parsley and a drizzle of olive oil.
NOTE: This is a thick and chunky soup. You can add a bit more vegetable broth or water to loosen it up, tasting it to adjust the seasonings as needed.
If I reheat the soup the next day, I add a 1/4 cup of water or vegetable broth and a few turns of lemon pepper before warming it slowly on medium heat before serving.
7.8.1.2
73
https://www.studiodelicious.com/chicken-sausage-tortellini-soup/
Source:  Studio Delicious
PIN THIS RECIPE FOR LATER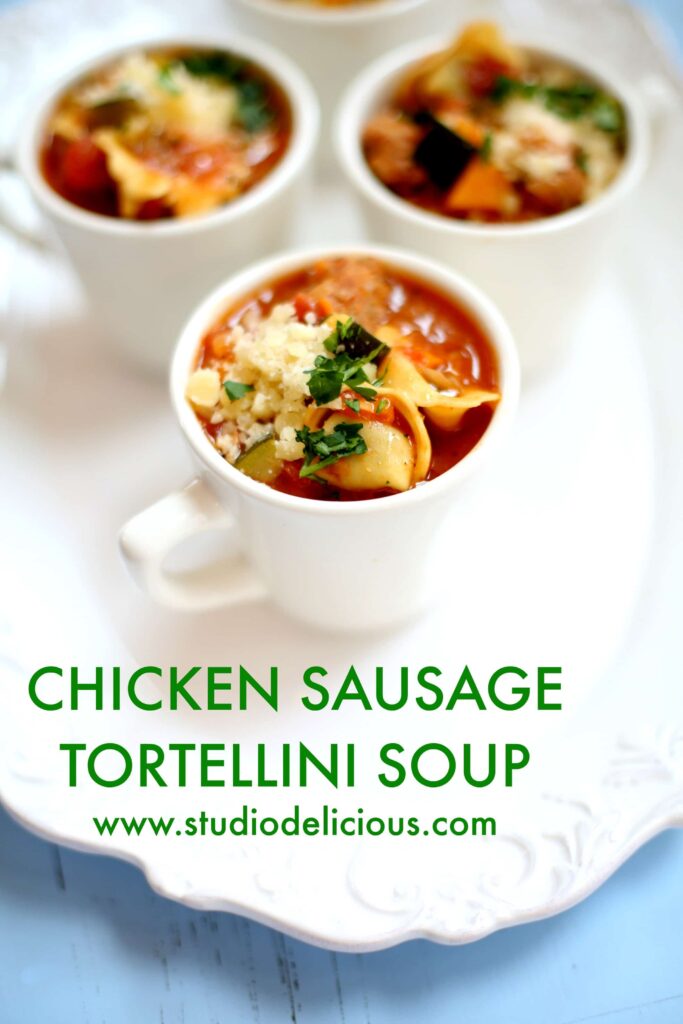 Please don't reprint/copy and paste photos with recipes from Studio Delicious without prior permission as they are copyrighted. If you'd like to feature a recipe on your website, please rewrite the header and method of preparation in your own words and link back to this original post with Studio Delicious as the source.