If you're looking for the ultimate comfort food and potato recipe side dish, look no further than these Baked Potatoes and Broccoli. Such a delicious, easy recipe!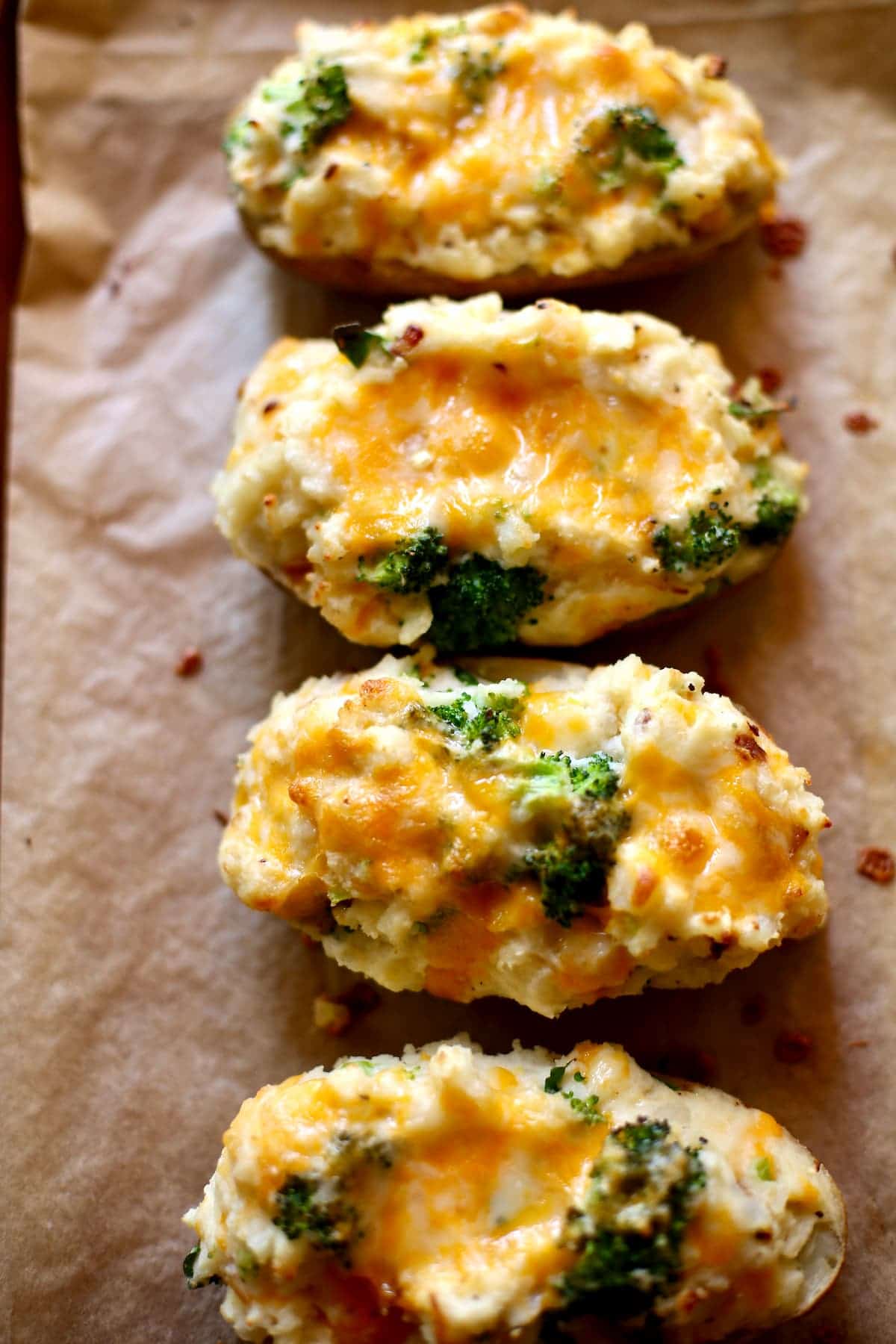 Jump to:
Why You'll Love this Recipe
These Baked Potatoes and Broccoli are twice stuffed with cheddar cheese, and are a perfect side dish, or just by themselves. Eat these with a grilled steak or chicken breast, or with a salad. Some ideas for this would be a Lemon Shrimp Salad, or a Blackberry Goat Cheese Salad, Noodle Salad with Peanut Sauce, or just a simple Celery Salad with Hazelnuts. Start off with an easy app like goat cheese toasts and yum!
More things to like about this recipe:
Broccoli cheese is a favorite flavor combination, and makes a delicious and simple side dish or main dish with a side salad.
This recipe can easily be doubled
This is a baked potato recipe that can be made ahead of time and prepped in a baking dish, ready when you need it!
Ingredients You'll Need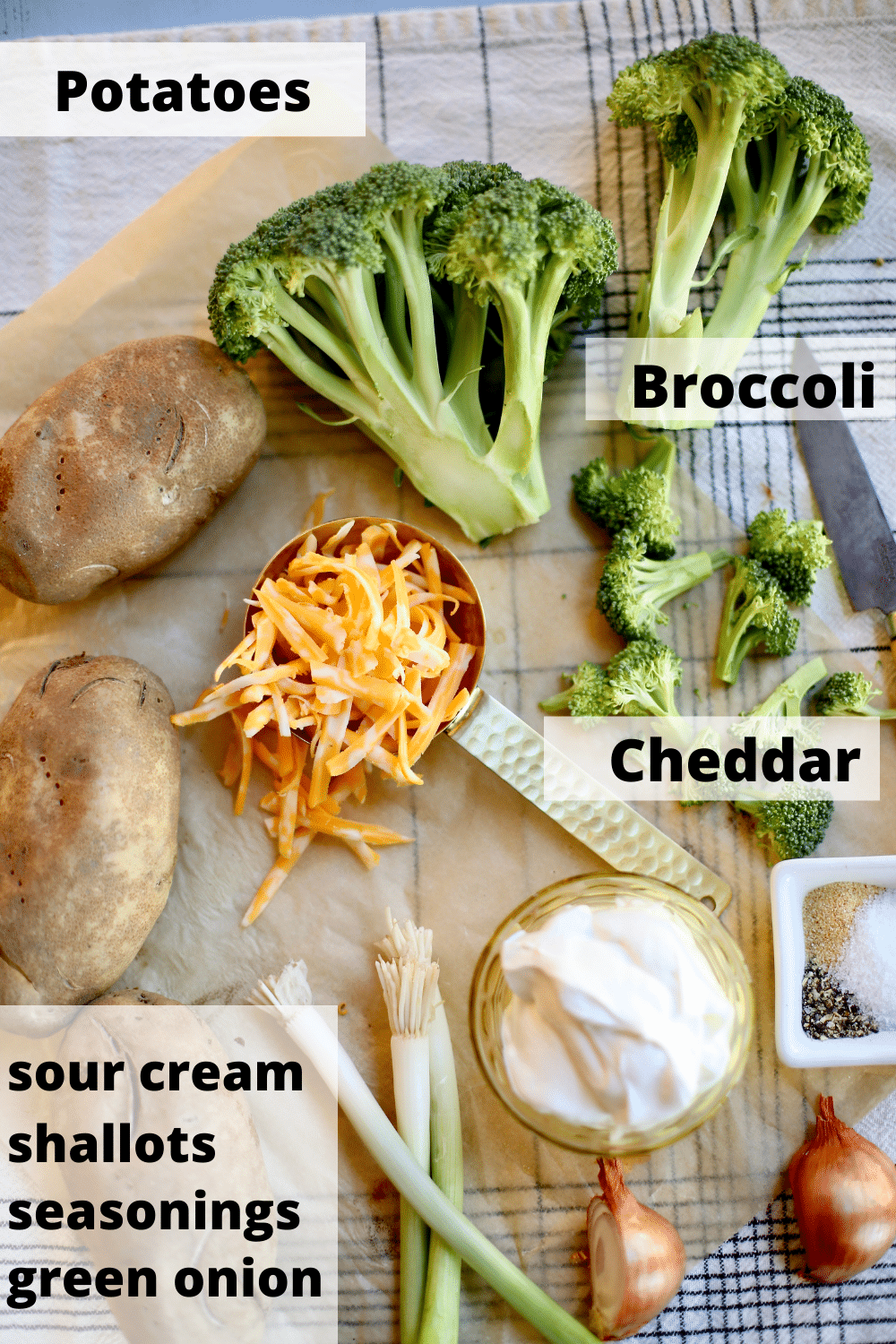 For the full recipe and list of ingredients, please scroll down to the recipe card below.
Russet Potatoes: They are the best variety for this recipe. Scrub them well with warm water before pricking them in several places with a fork and then on a baking sheet.
Sour Cream: We're ditching the heavy cream usually in this recipe and subbing sour cream for its rich flavor
Vegetable Broth: You can use 2% milk instead, but I love the lighter flavor of vegetable broth.
Broccoli florets: Fresh broccoli is washed and cooked and chopped into small pieces.
Shallots: Diced and cooked until soft, these bring a depth of flavor to the potatoes that is outstanding.
Cheese: One sharp cheddar cheese, or mild if you like – like plus some Parmesan. Save a little cheddar for the top.
Green Onion: Just a little, and only the white parts (save the rest for a later use.)
Butter and Olive Oil: Just a little of each.
Seasonings: The basics – a teaspoon of kosher salt, some freshly ground pepper and a little garlic powder.
Step-By-Step Instructions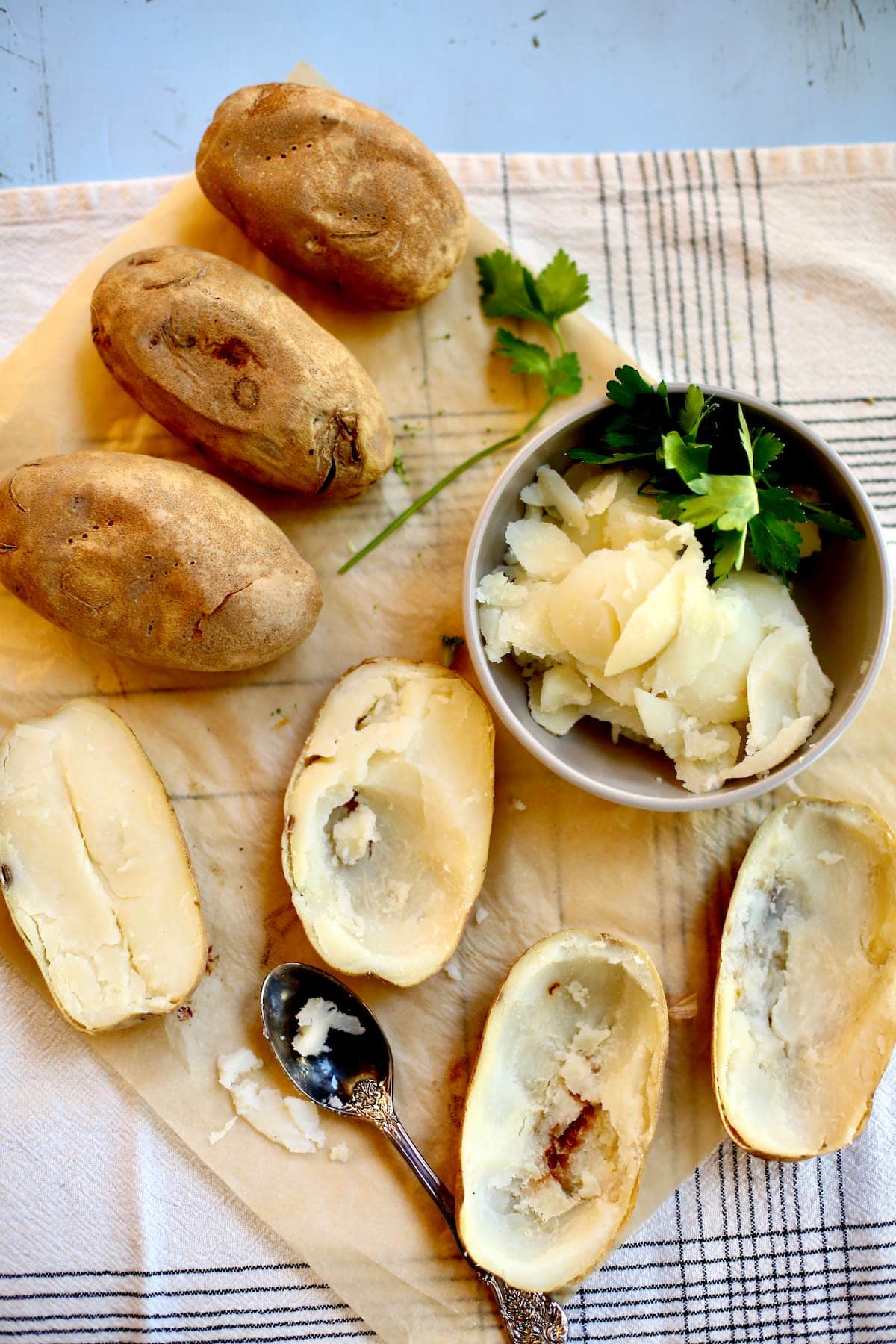 For the full recipe and instructions, please scroll the the recipe card below.
Bake the potatoes until soft.
Slice potatoes in half lengthwise.
Scoop the potato flesh out of each potato skin, leaving 1/4 – 1/2 " inch of thickness inside the skin. This will leave you two potato halves per potato.
Mash the flesh of the potatoes with a hand-held potato masher. Add the remaining ingredients, including vegetable broth, sour cream, butter, and a teaspoon salt and black pepper.
Mix in the cooked and chopped broccoli, a cup of the cheese, the Parmesan cheese, and sliced green onion. Spoon the potato mixture into the potato halves.
Top with remaining cheese and parsley, then set the potatoes on the prepared baking sheet for the second time (twice baked!) and serve!
Chop the Shallots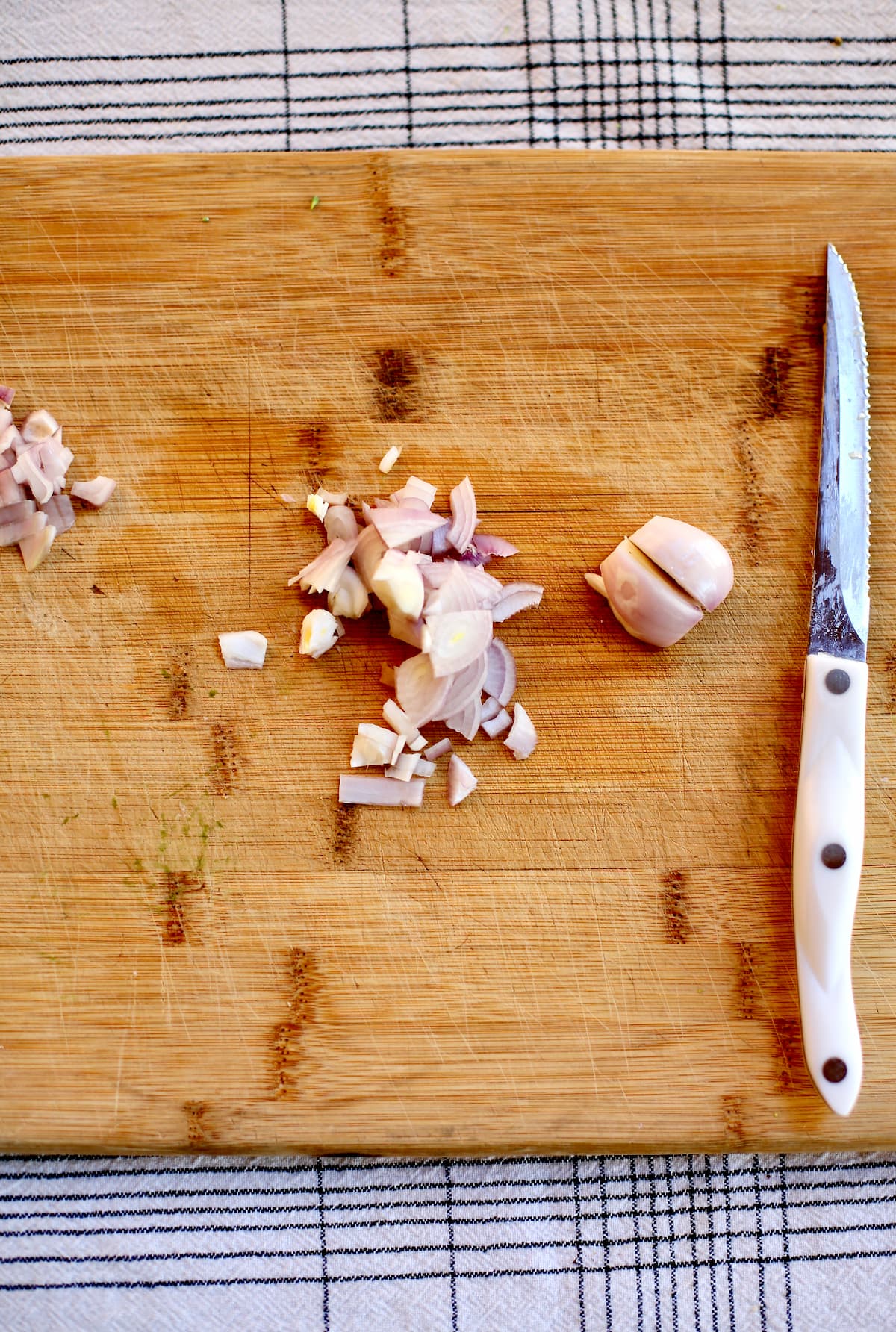 To chop a fresh shallot, here's all you do:
Remove the outside papery skin
Cut in half length-wise.
Use a sharp knife to cut a small, thin slices
Tips for Mixing the Ingredients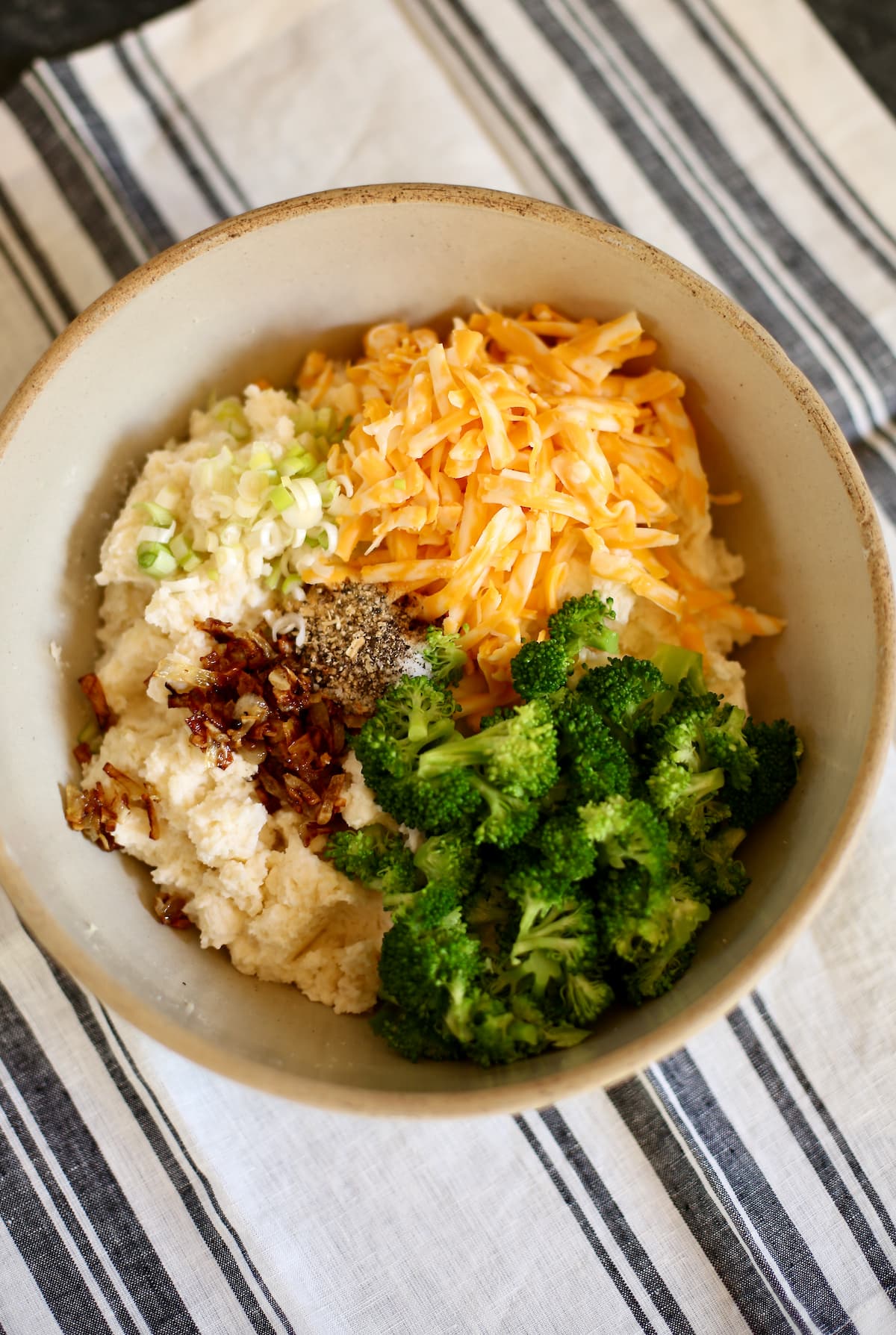 To mix the potato filling, here are a few tips for success:
Start with a large bowl. You'll need plenty of room here!
Use a large spoon and stir all the way from the bottom, bringing the mixture up and then rotating the bowl. Continue until everything is evenly combined.
The mixture will be stiff! This is good! We don't want mashed potato consistency in the mixture, because once they bake, the mixture will soften considerably while still retaining it's shape.
The final result will be creamy, puffy, cheesy, veggie-stuffed potatoes. Yum.
Tips for Stuffing Potatoes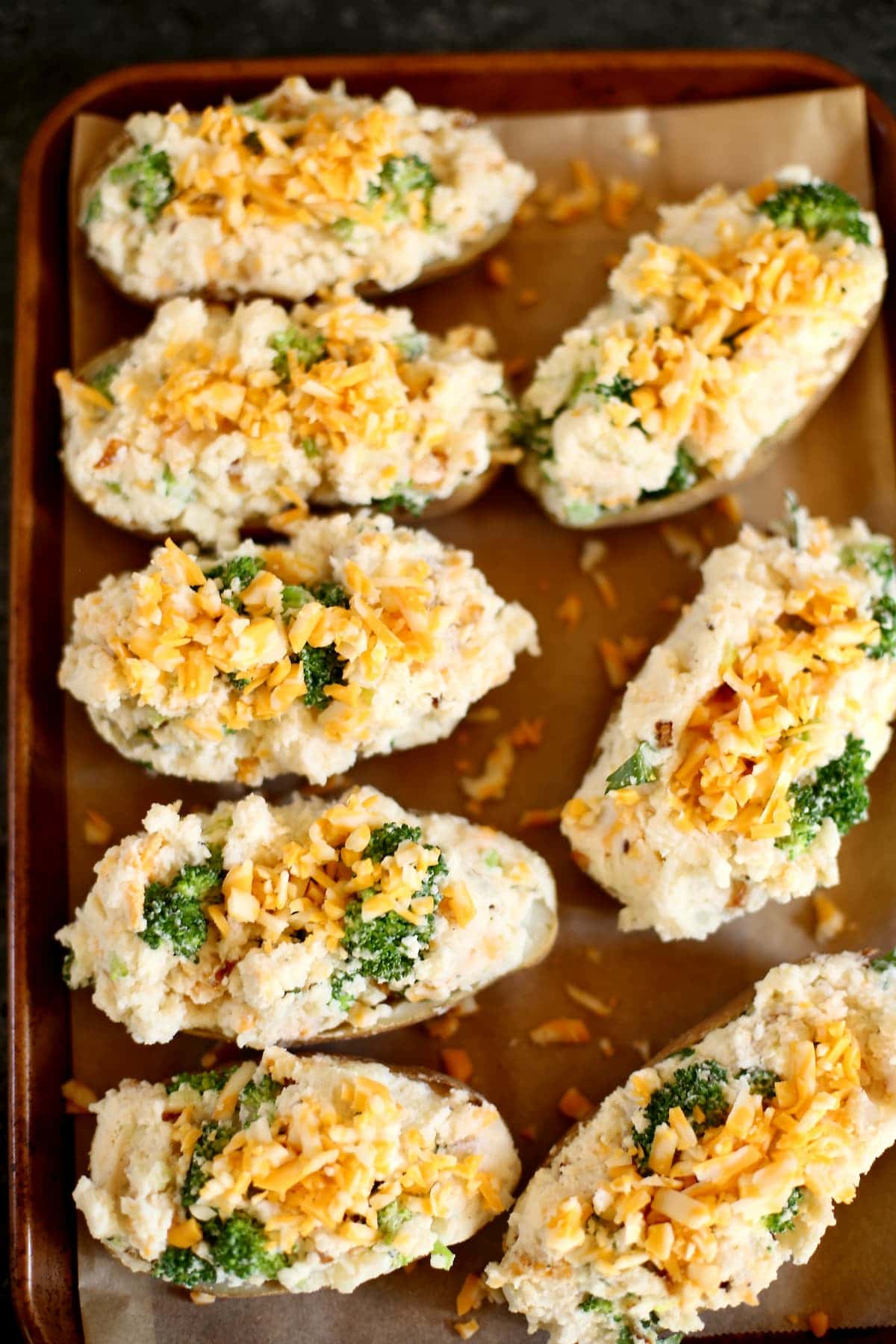 Holding the potato halves/shells carefully in your hand, spoon some potato mixture inside each one, mounding them up in the middle. (They will go down a bit with baking.)
Add more cheddar cheese on top of the potatoes, and also some chopped Italian Parsley.
Set them on a large baking tray lined with parchment paper and then into the oven.
More Tips and Serving Ideas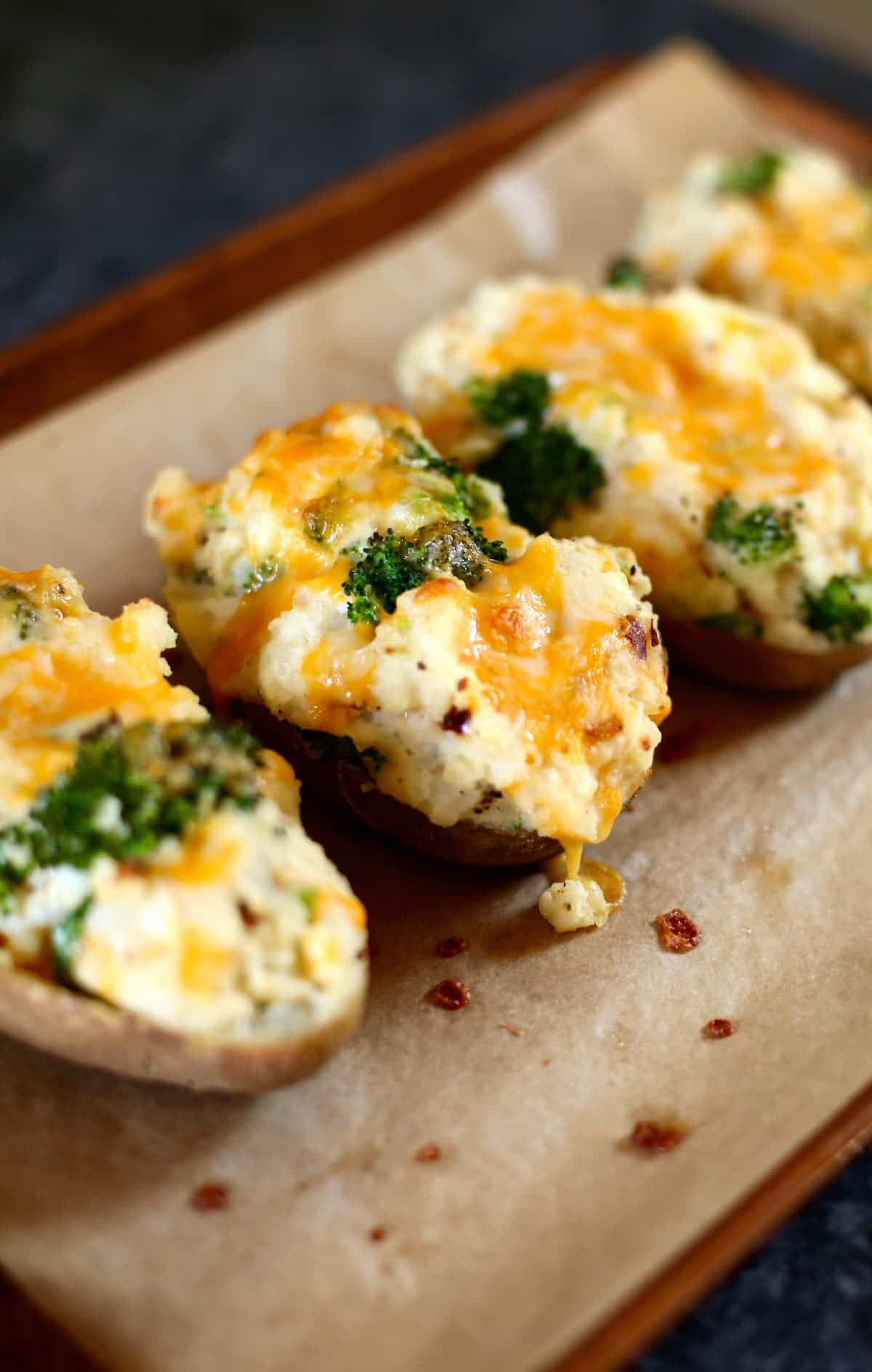 I like using vegetable broth in this recipe because there's also sour cream for creaminess, but feel free to use 2% milk instead if you like, or a combination of both.
You can use non-dairy sour cream or full-fat plain Greek yogurt in this recipe instead of regular sour cream.
Use a clove of crushed fresh garlic instead of garlic powder if you'd like.
You can easily use frozen chopped and defrosted broccoli instead of fresh, just defrost and squeeze it completely dry with paper towels before using.
A good starter for this side dish, whatever you decide to eat it with, is this creamy, easy Pumpkin Soup!
Try these potatoes with a simple dinner like Tin Foil Baked Chicken and Vegetables!
Frequently Asked Questions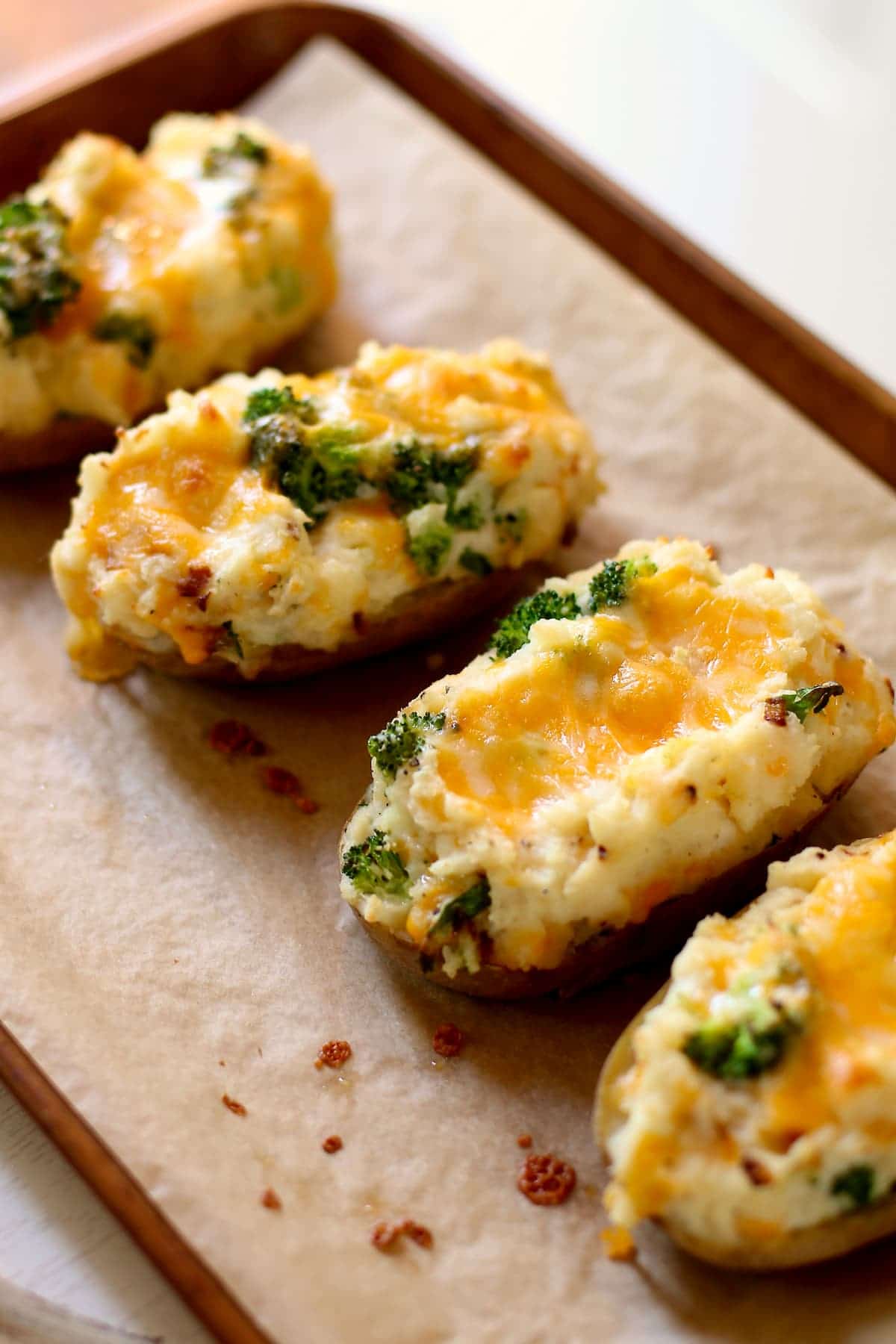 Can I use another type of cheese if I don't like cheddar?
Yes! Try a good melt-y cheese, like Gruyere or Jarlsberg, or even a creamy, good quality Monterey Jack.
Can I use a different type of potato than russet?
I would recommend russets for this particular recipe, but you can certainly experiment with smaller potato varieties. Russets are sturdy, and that's what we need for all the fillings.
Can I use something besides sour cream in this recipe?
Use regular or non-dairy sour cream, or full-fat plain Greek yogurt if you'd like. All delicious!
How do I cook the broccoli if I'm using it fresh?
Wash and chop it into small florets, then transfer to a medium bowl. Cook in a medium saucepan on medium heat, with shallow water and a teaspoon of salt for 6-8 minutes until tender. Drain and dry with paper towels before using.
How to store the leftover potatoes?
Use an air-tight container to keep them fresh until the next day,or up to three days.
Can I add other ingredients to the recipe, like bacon?
Sure can! Add a few cooked bacon pieces to the top of each potato. Make sure to pat the bacon fat off with a paper towel first.
More Recipes to Try
Taco Pie with Crescent Rolls: A really delicious, easy meal!
Cast Iron Skillet Pizza: Crispy crust, soft middle, just like take out!
Roasted Potatoes with Broccolini: A really delicious side dish recipe!
Chocolate Hummus Dessert Tray: Great for parties, everyone loves this!
Spicy Roasted Sweet Potatoes with Yogurt Sauce: A reader favorite for good reason!
Zucchini Potato Frittata: Easy, versatile and absolutely delicious!
Parmesan Potatoes with Roasted Broccolini: Another great veggie side dish to try..
Shredded Chicken Burrito Bowl: A super delicious, super fast dinner or lunch
If you've made Baked Potatoes and Broccoli or any recipe on Studio Delicious, leave a recipe rating and tell me all about it in the comments below!
Looking for more tips and fresh, homemade recipes? Join my email list, tag and follow me on Instagram using #studiodeliciouseats, follow my boards on Pinterest, and see what I'm up to on Facebook and Twitter!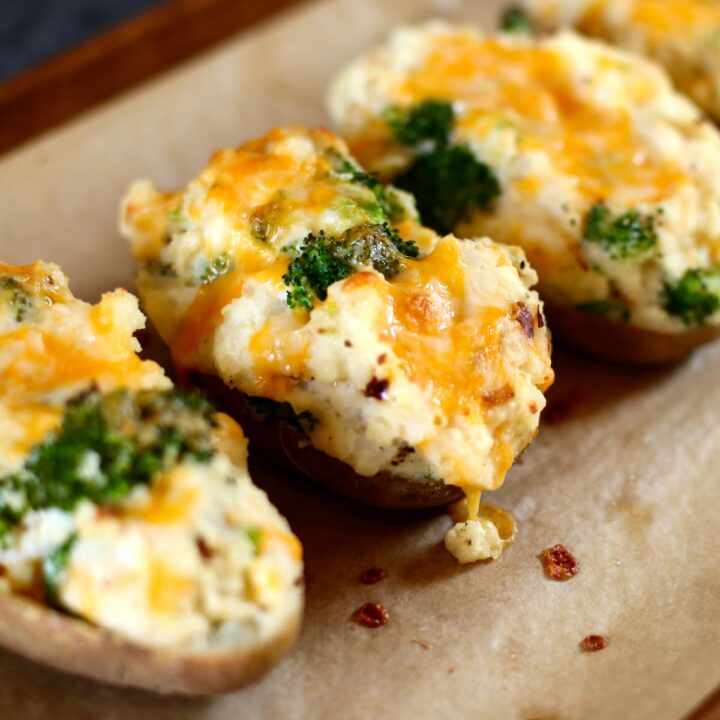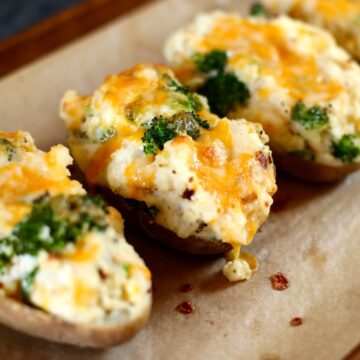 Baked Potatoes and Broccoli
Stuffed with potato filling, cheddar cheese and broccoli florets, Baked Potatoes and Broccoli are comfort food at its finest.
Print
Pin
Rate
Ingredients
4

large

Russet Potatoes, scrubbed and dried

1

medium

Shallot, diced fine

1

tablespoon

Olive Oil

1

tablespoon

Butter, unsalted

1

cup

Vegetable Broth

or milk

3

tablespoons

Butter, unsalted

1

cup

Sour Cream

Can use non-dairy

1

teaspoon

Kosher salt

1

teaspoon

Freshly ground pepper

1

teaspoon

Garlic powder

or a clove of crushed garlic

2

cups

Broccoli, cooked and finely chopped

Can use frozen broccoli, defrosted

1 ½

cups

Cheddar Cheese, grated, 1/2 cup reserved

½

cup

Parmesan cheese, grated

2

tablespoons

Green Onion, thinly sliced, white part only

2

tablespoons

Italian Parsley, chopped
Instructions
Preheat oven to 425. Prepare a large baking sheet by lining it with parchment paper to put the potatoes on. Pierce the potatoes with a fork, then rub the skins with a little olive oil (or other oil like vegetable oil). Place the potatoes on the baking sheet and bake for 50-60 minutes, until they yield to pressure with a gentle push of your finger.

While the potatoes bake, cook the diced shallots in a medium non-stick pan with the tablespoons of olive oil and butter. Cook on medium heat until the shallots are soft, about 5-6 minutes. Set aside.

When the potatoes are done, remove from the oven and let them sit for 5 minutes, then, using an oven mitt, cut them in half lengthwise.

Scoop out the inside flesh of the warm potato into a large bowl, leaving about 1/4-1/2 inch thickness inside the shell. Once you have the all the potato flesh in the bowl, mash lightly with a potato masher.

In a medium saucepan, heat the vegetable broth (or milk) until hot but not boiling, and add it a little at a time to the bowl of the potatoes, mashing it together.

Add the 3 tablespoons of butter and the sour cream, and continue to stir and mash just until combined, about a minute. Add the salt, pepper and garlic powder, and stir to combine.

Taste the mixture. Does it need a little more salt or pepper? If the mixture tastes dry, add another dab of sour cream or vegetable broth a tablespoon at a time, but note that the mixture should be stiff, much more so than mashed potatoes.

Add the cooked, chopped and dried broccoli, the shallots, a cup of the cheddar cheese, the Parmesan cheese and the sliced green onions. Mix it thoroughly with a big spoon.

With another smaller spoon, gently fill each of the shells, mounding the broccoli potato mixture up high. Place the potatoes on a large baking sheet lined with parchment paper.

Use the remaining 1/2 cup of grated cheddar cheese to sprinkle over the top of each potato. Sprinkle with the chopped Italian Parsley.

Decrease the oven temperature to 400 and bake the potatoes until they are heated through and the cheese is melted, about 20 minutes. Remove from oven and serve.
Notes
I like using vegetable broth in this recipe because there's also sour cream, but feel free to use 2% milk if you'd like, or a combination of both.
You can use non-dairy sour cream in this recipe instead of regular.
You can use a clove of crushed garlic instead of garlic powder if you don't have any.
You can use frozen chopped and defrosted broccoli instead of fresh, just squeeze completely dry with paper towels.
Nutrition
Calories:
393
kcal
|
Carbohydrates:
38
g
|
Protein:
13
g
|
Fat:
22
g
|
Saturated Fat:
13
g
|
Polyunsaturated Fat:
1
g
|
Monounsaturated Fat:
7
g
|
Trans Fat:
1
g
|
Cholesterol:
58
mg
|
Sodium:
727
mg
|
Potassium:
940
mg
|
Fiber:
3
g
|
Sugar:
3
g
|
Vitamin A:
927
IU
|
Vitamin C:
33
mg
|
Calcium:
295
mg
|
Iron:
2
mg
Tips for Success with Every Recipe
Super important to read the whole recipe before you begin
Pay attention to the ingredient list and photos for the recipe
If possible, prep your ingredients a little before you start
Always use a sharp knife for safety
Use the size of pan called for in the recipe
For savory recipes, taste and season as you go
Buy fresh, organic ingredients, locally sourced whenever possible
Don't Miss a Recipe!