I stopped at a roadside fruit stand recently where there was an abundance of fresh California figs.  Pick some up now while they are in season – here are three easy ideas for serving them.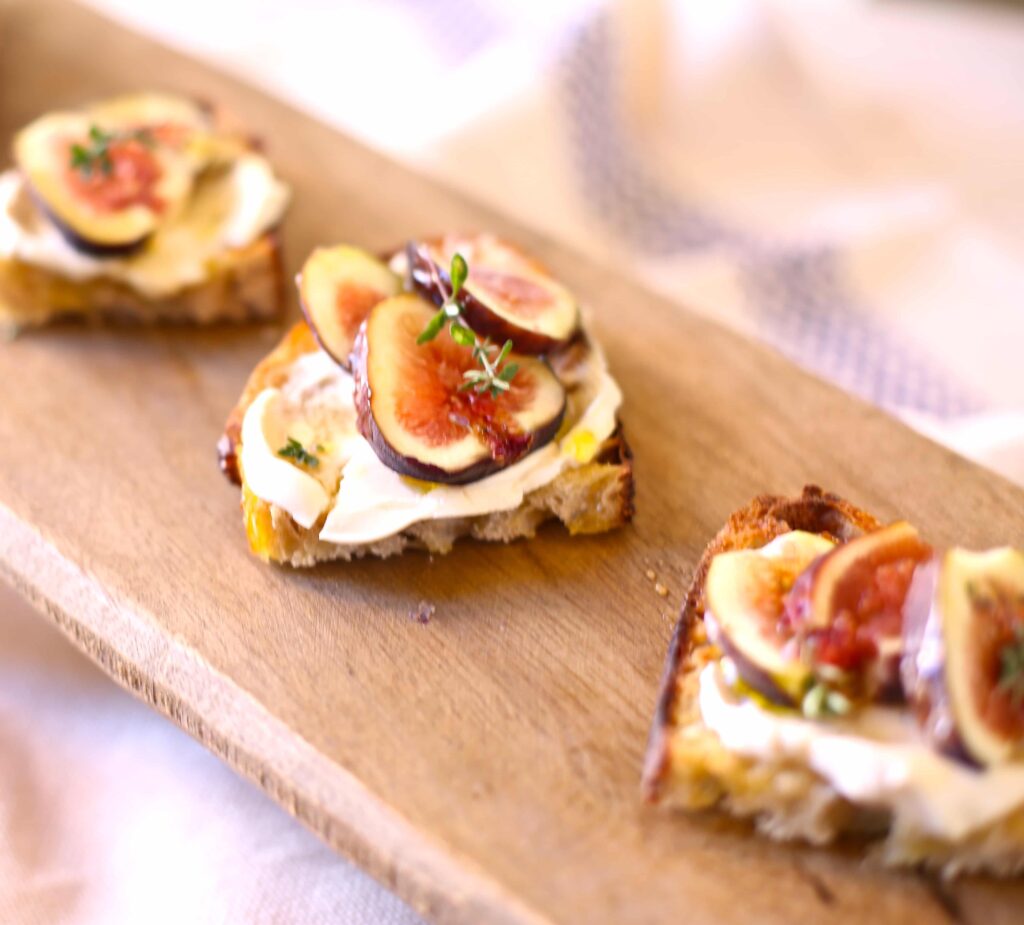 I may have mentioned I used to hate fresh figs.
To me they were never going to work, never going to be any good.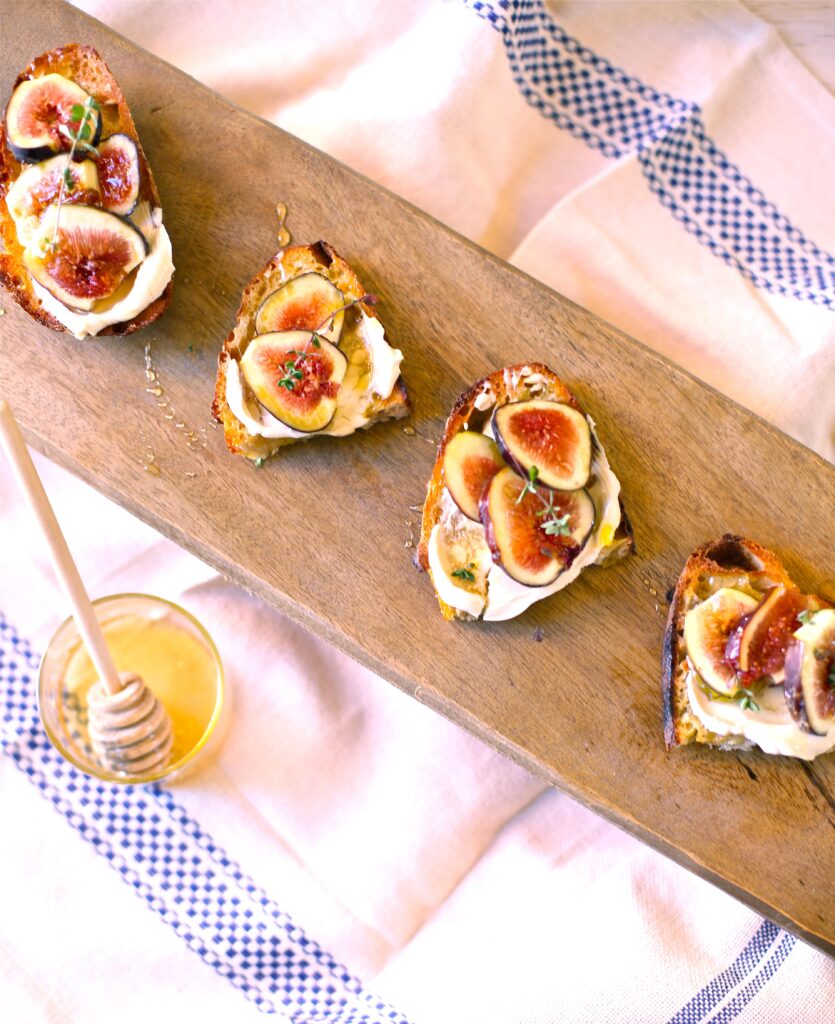 They fell into a squishy category with papaya, under-cooked eggs and sponge-like mushrooms.
Just typing that makes me depressed.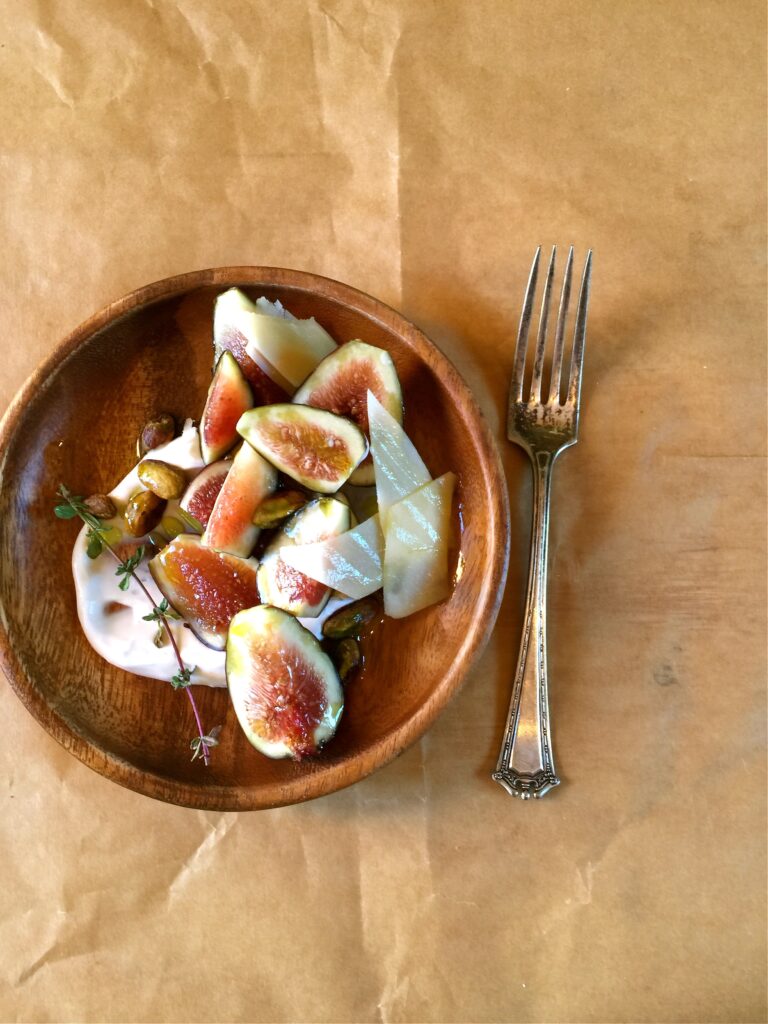 My mind was changed forever with one perfect little bite.
One autumn evening years ago, I was chatting with a friend in a local bistro when the server offered us an amuse-bouche  – a tiny slice of toasted bread with a bit of California fig, a crumble of Stilton cheese and dot of honey on top.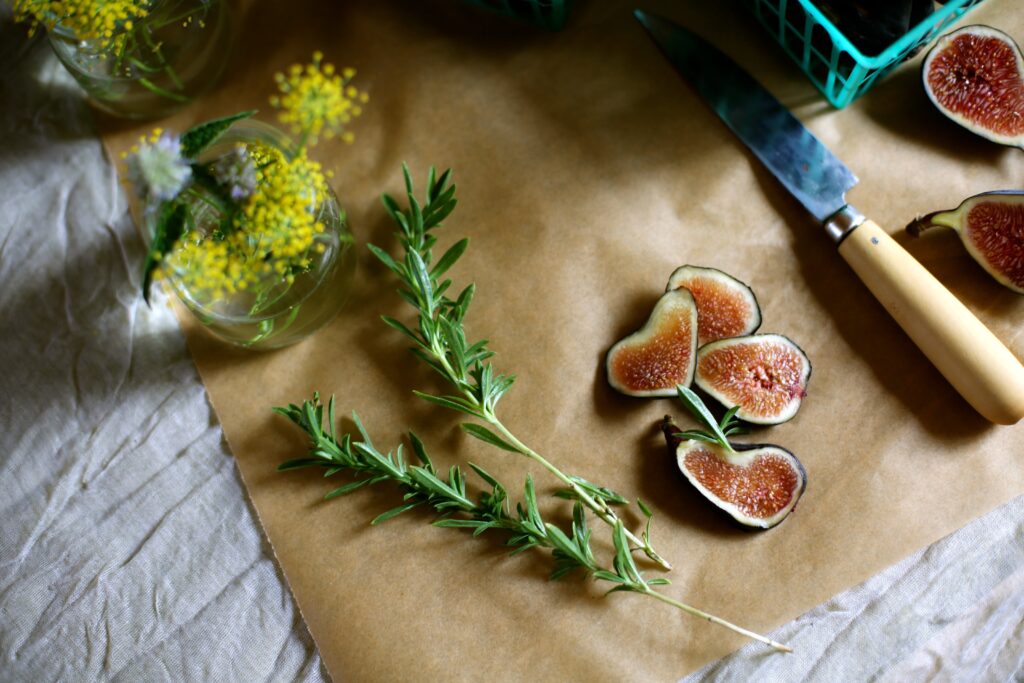 I ate it and was instantly converted.
It was powerful, and life-changing 🙂
These figs were not squishy –  they were silky!
And paired with the cheese and honey, well.  I wanted more.
They were a beautiful color, too, with a delicate floral flavor.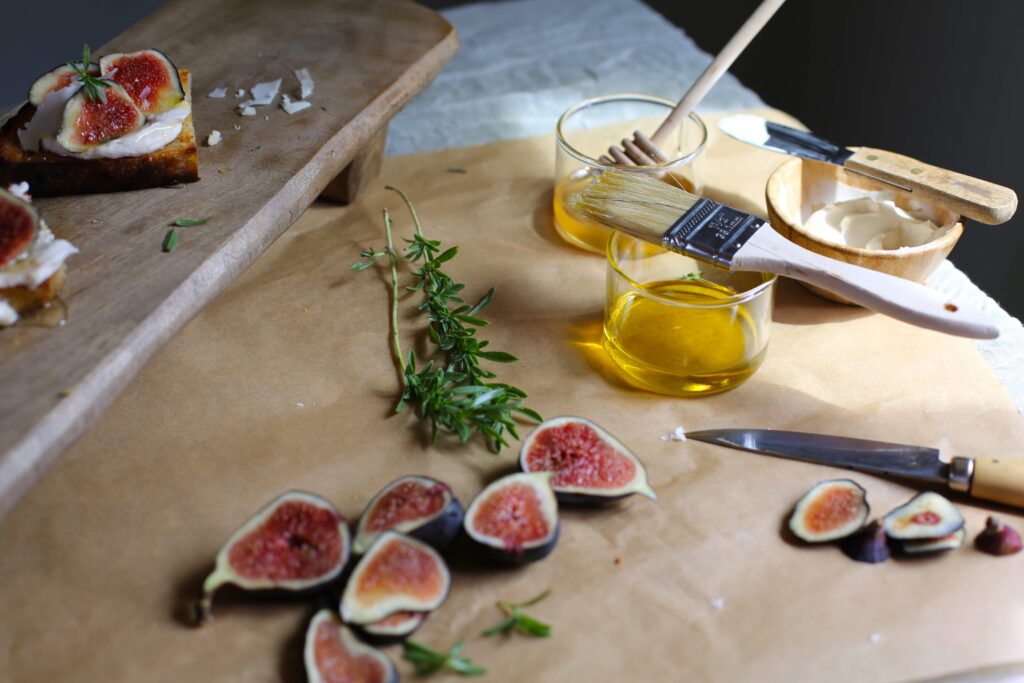 And they tasted of the season – Autumn – my favorite time of year.
I was in love.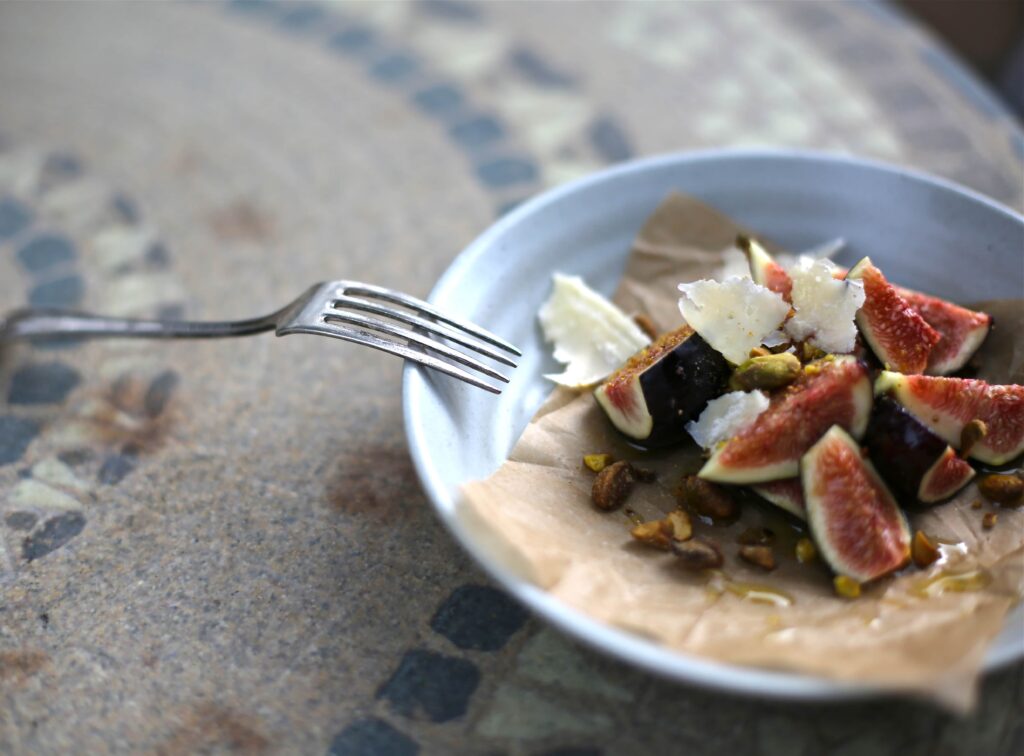 But blink your eyes and they'll be gone –  though there are some terrific dried and preserved California fig options out there.
What follows are three favorite combinations:  on toasted sourdough with cream cheese and honey, with vanilla yogurt and fresh thyme, and a simple plate of quartered figs with Parmesan cheese, honey and olive oil.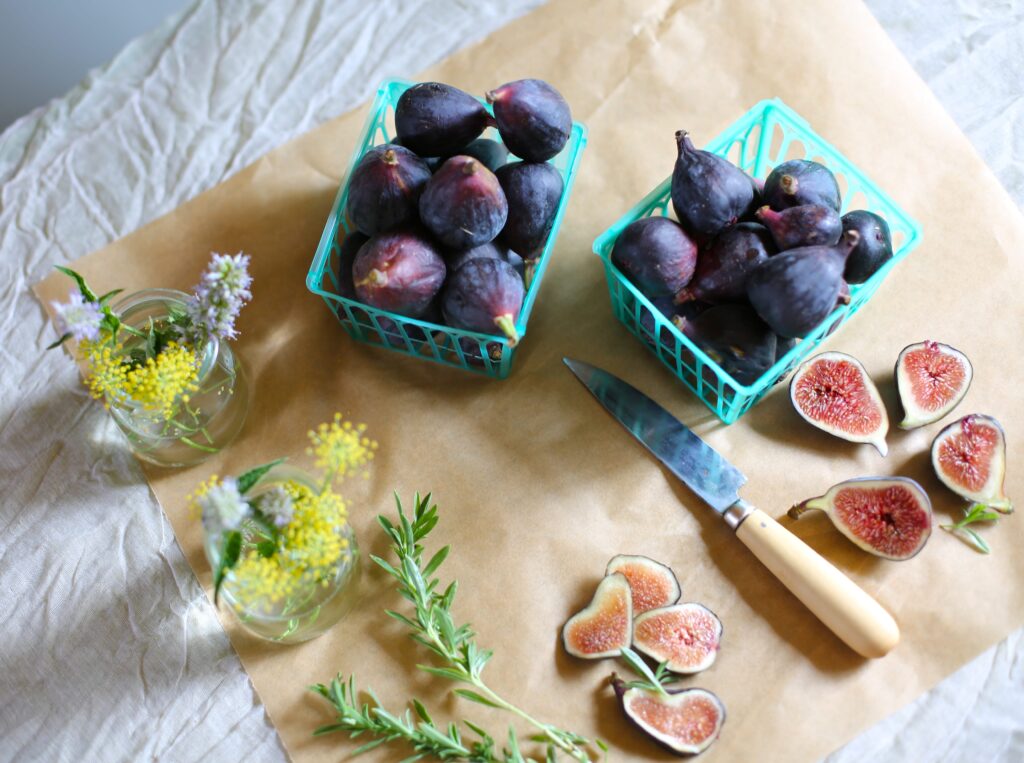 Every time I serve these, I get asked for the recipe.
These are super easy, and I bet will inspire your own figgy combinations.
Ingredients
FRESH FIGS ON TOASTED BREAD

Sourdough bread

cut 1/2 " thick

Lemon olive oil

or regular extra virgin olive oil

Cream cheese

Fresh California figs

about one fig per toast

Honey

Flaky sea salt

Maldon is my favorite

Fresh thyme leaves

Slice

as many pieces of good quality sourdough you'd like in about 1/2 inch pieces. Brush or drizzle each slice with enough lemon olive oil to cover the top but not drench it. Place on a baking sheet and broil until toasted and light brown on the edges. Remove from oven and let cool for a couple of minutes.

Stir some softened cream cheese in a small bowl with a butter knife or back of a spoon - you'll want a generous tablespoon or so for each slice

or slightly more depending on the size of your bread.

Smear the cream cheese mixture on each toast.

Slice

the figs about 1/4 thick

you'll need about 3-4 fig slices per toast.

Place the figs on the toast that has been smeared with the cream cheese.

In

a small bowl combine equal parts lemon

or regular olive oil and honey. Whisk together with a fork and drizzle over the top of each toast, about a 1/2 teaspoon of the mixture per toast.

Top with a few sprigs of fresh thyme

lemon thyme is especially good and a pinch (1/8 tsp) of flaky sea salt.

###

FRESH FIGS AND YOGURT

Plain or vanilla yogurt

1/2 cup

3

or 4 fresh California figs

ends removed, sliced in quarters

Chopped pistachio's

about 1 tablespoon per serving

Shaved Parmesan cheese

about 1 tablespoon per serving

A few sprigs of fresh thyme

Honey

1 teaspoon (or more if you like it sweeter)

Place yogurt in a bowl or plate and top with fresh figs

pistachio's, cheese, thyme and honey.

###

FRESH FIGS

PARMESAN AND SALTED PISTACHIO

Cut the ends off 2 or 3 fresh California figs and place them on a small plate or platter.

Shave a couple of tablespoons Parmesan cheese

drizzle with a teaspoon of olive oil and a teaspoon of honey, and garnish with a tablespoon of chopped salted pistachios.
Source: Studio Delicious
Note:  California figs – fresh or dried – are a regular ingredient in my kitchen.  This post isn't sponsored, but there's a recommended link in this post. All opinions shared are my own.