Next time you see fresh figs at the grocery store or Farmer's Market, buy a container or two and try these recipes, prepared three different and delicious ways!
Love fresh fruit desserts? Try my Mini Strawberry Pies Recipe too!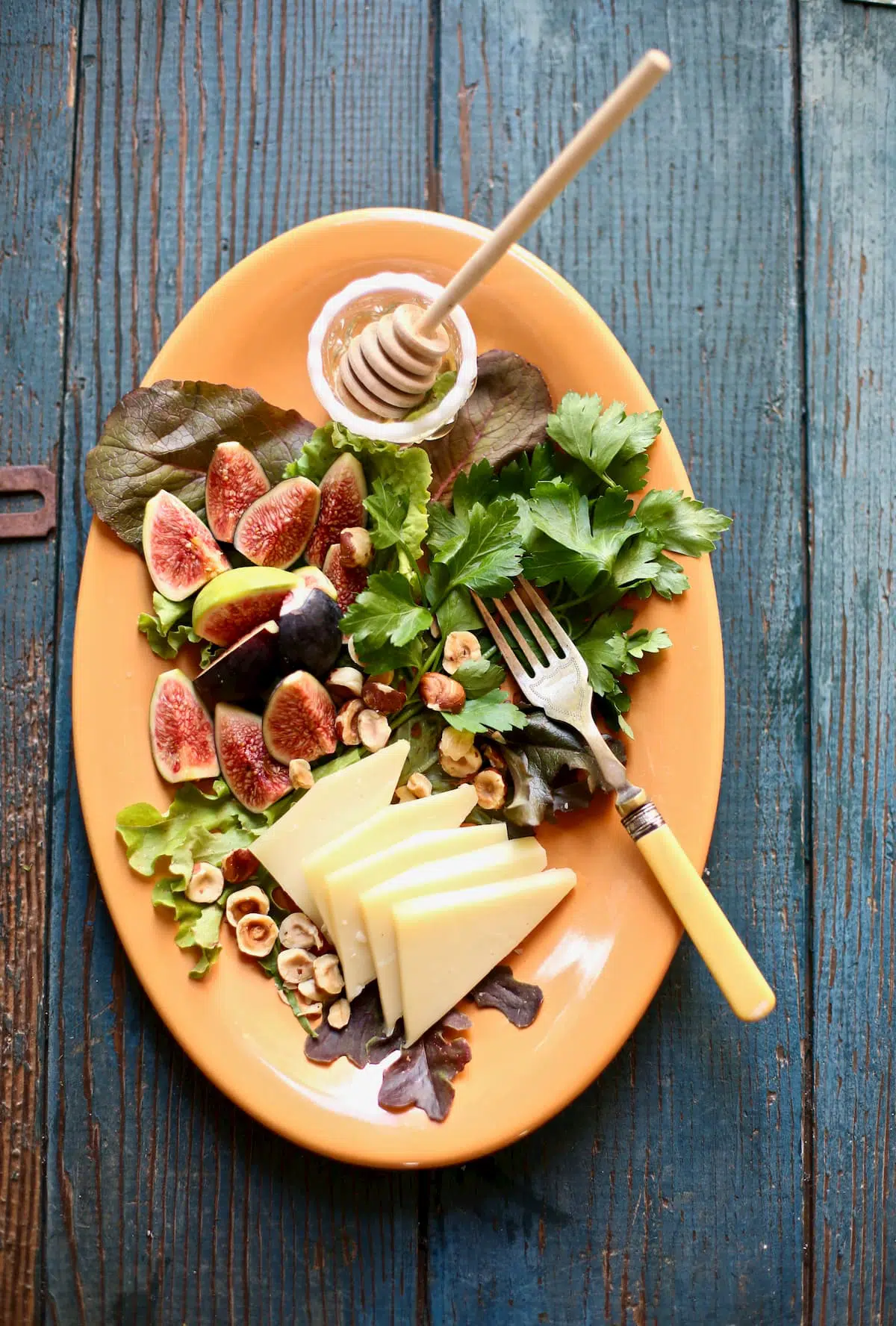 I used to hate fresh figs. To me, they fell into an unpleasant category of squishiness alongside the likes of papaya, under-cooked eggs and sponge-like mushrooms.
At restaurant a few years back I was presented a beautiful little appetizer of toasted baguette with a little piece of fig and a chunk of soft cheese and a drizzle of local honey. My life was forever changed 🙂 These are a seasonal wonder, full of flavor with a luscious, jammy texture. They are so good, and here are a few of my favorite ways to eat them:
In a simple cheese plate with greens, toasted hazelnuts, flaky sea salt, honey and olive oil
As an easy yogurt bowl with granola, blueberries and honey. So good at breakfast! (and so extra with a big slice of California Fig Banana Bread)
As an appetizer or light lunch of toasted sourdough bread with soft cheese, fresh thyme, pistachios and honey. Honestly, I'd love to eat this anytime. (Excellent with a bowl of Creamy Pumpkin Soup or Fresh Corn Chowder)
All three recipes are easy to prepare, absolutely delicious, and don't require any cooking!
Ingredients for Recipe #1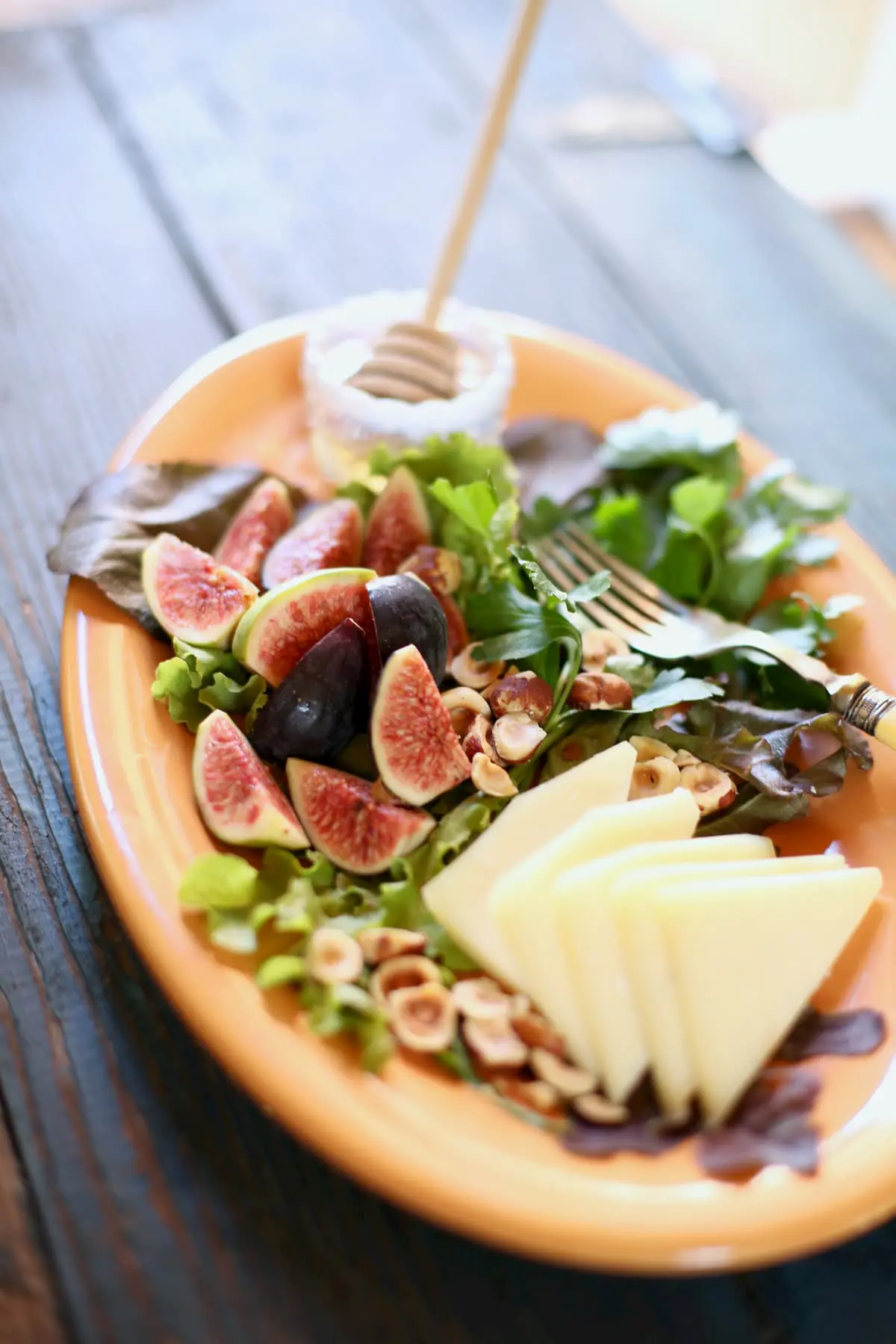 For full details and descriptions on the recipes and ingredients, please scroll to the recipe card below.
The ingredients you'll need to make a fig and cheese plate are:
Greens: A handful of organic green lettuces and also flat leaf (Italian) parsley
Figs: Fresh Mission variety, quartered and scattered on the plate
Hazelnuts: Toasted and chopped (and salted!)
Cheese: Manchego or other semi-hard cheese like Fontina, Gruyere or even Parmesan
Honey: For liberal drizzling
Olive oil: A full flavored fruity variety, if possible
Flaky Sea Salt: Always and forever
To assemble your plate:
Place the greens on a plate or platter
Add the cheese and sliced figs
Sprinkle with sea salt, fresh parsley and hazelnuts
Drizzle with honey and olive oil
So delicious! Super easy too for lunch or as an appetizer before a dinner of Baked Pasta with Chicken Sausage or Chicken Sausage Tortellini Soup.
Ingredients You'll Need for Recipe #2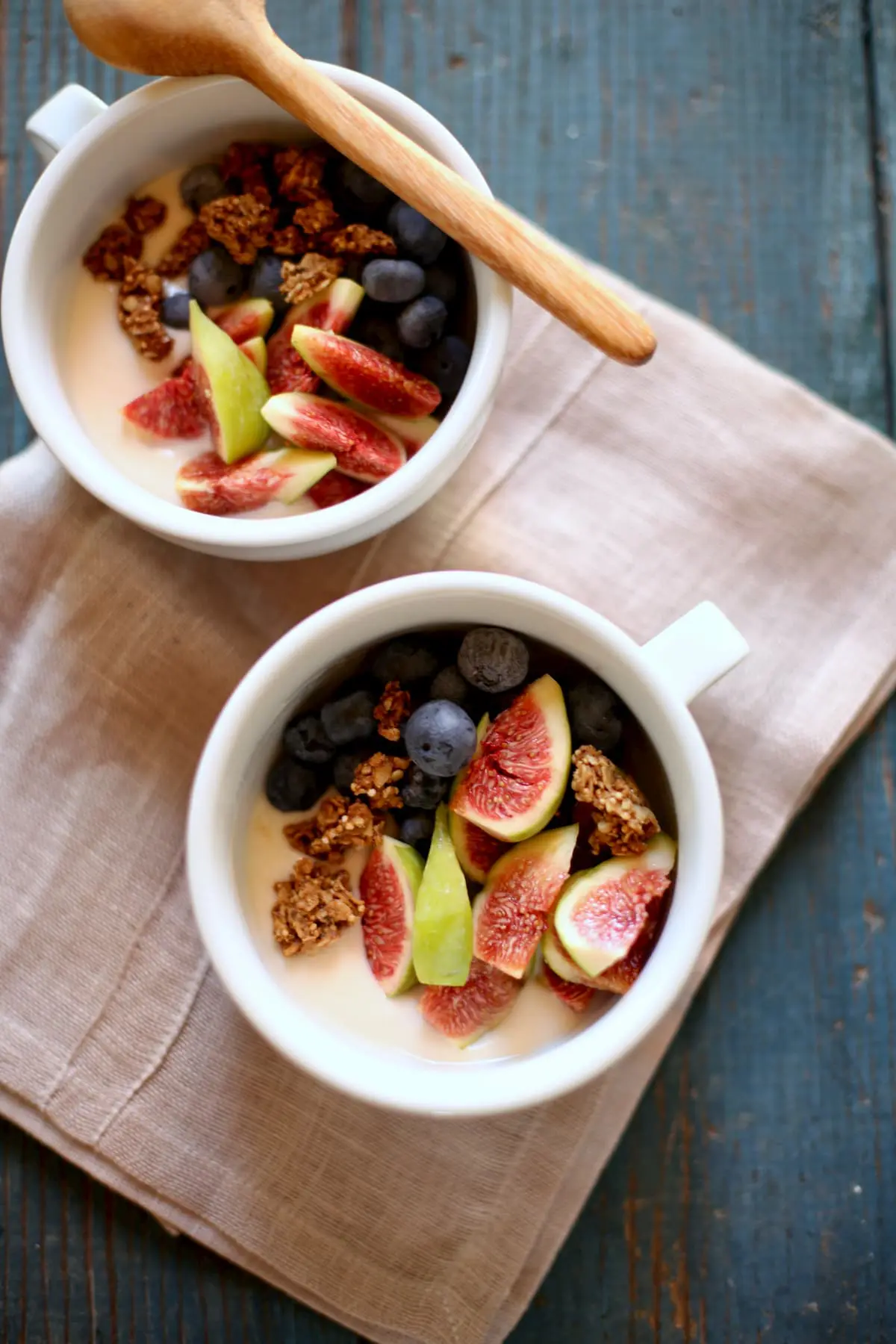 Seriously, is there anything better than fresh fruit, yogurt and a little crumble of granola? I've been known to eat this more than once in a day. It's like, addicting. Here's what you do:
Yogurt: Any flavor, but I recommend plain or vanilla to let the fresh fruit shine through.
Figs and Blueberries: Just a little of each.
Granola: A few sprinklings, tucked here and there for satisfying crunchiness.
Honey: To make things just a little sweeter.
Assembling the Bowls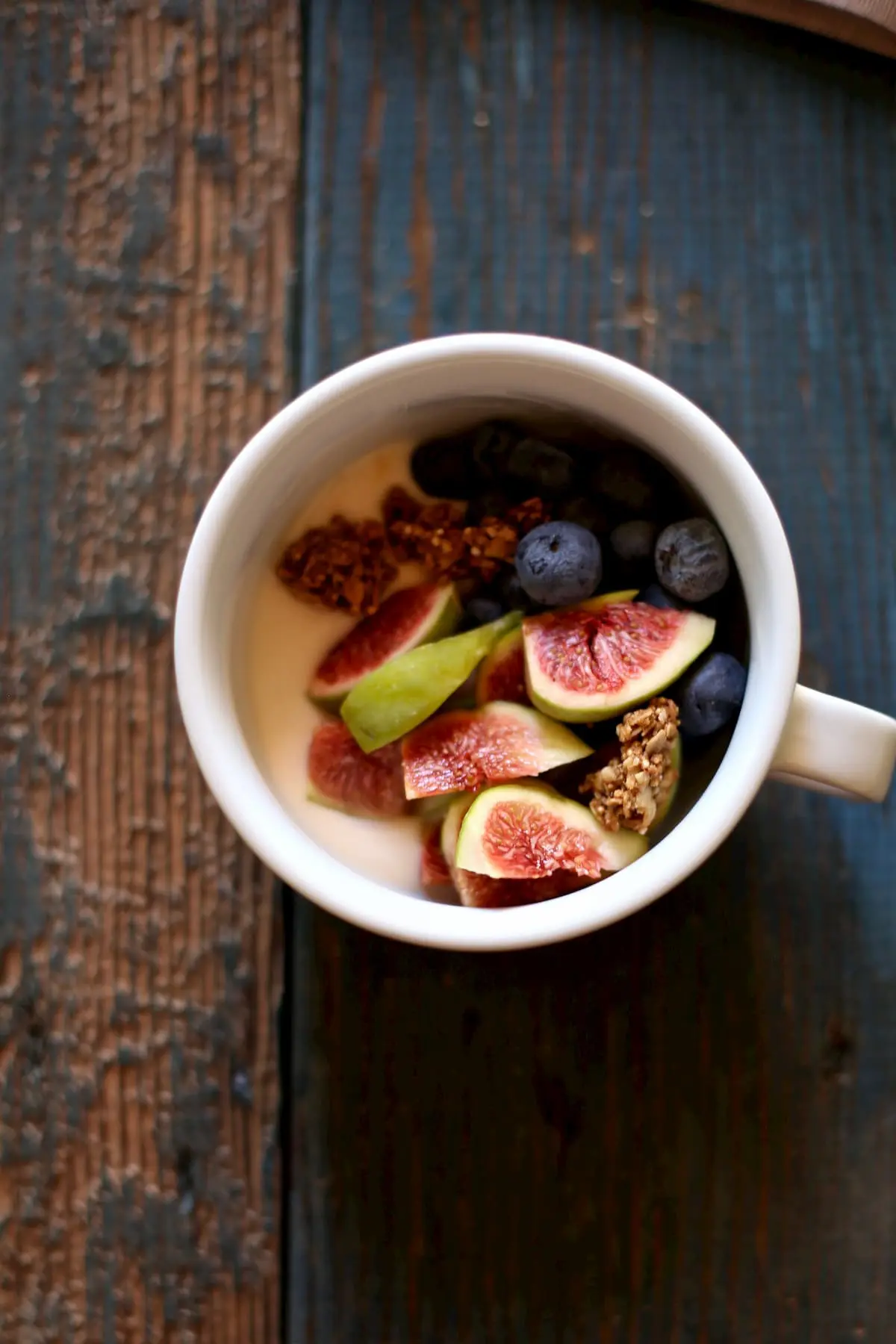 Be sure to check out the full recipe card below for details on all these preparations. For a Yogurt and Granola Bowl:
Place the yogurt in a small bowl
Add the granola
Add the sliced fresh figs and blueberries on top
Drizzle with honey
This is a really delicious bowl to eat in the afternoon for a snack, or for breakfast. Easy, too!
Ingredients You'll Need for Recipe #3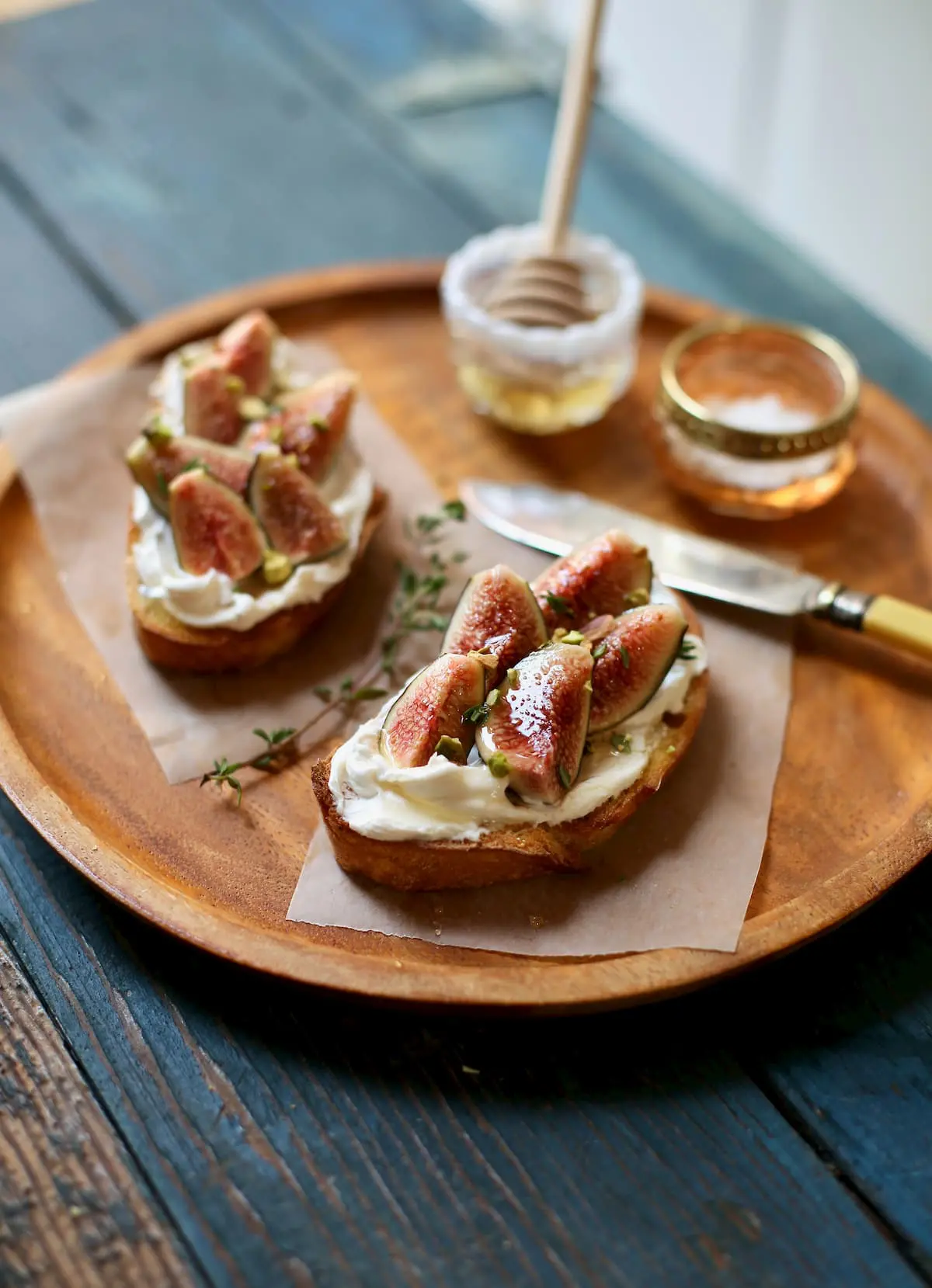 Okay, every time I serve these, I get asked for the "recipe". No one can believe it's so simple!
Here's the ingredients you'll need:
Sourdough & Olive Oil: Use any artisan-style rustic bread, drizzled with olive oil and toasted
Cream Cheese: Softened for easy spreading on the warm toast
Figs: Of course 🙂
Pistachios: For crunch and flavor
Thyme, Salt and Honey: For sprinkling and drizzling
How to Make it:
Slice the bread, drizzle with olive oil, then toast it under the broiler until lightly golden brown.
Slather on some cream cheese.
Add the sliced fresh figs on top.
Sprinkle with crushed pistachios, thyme, and flaky sea salt.
Drizzle with honey and enjoy!
Expert Tips & Possible Substitutions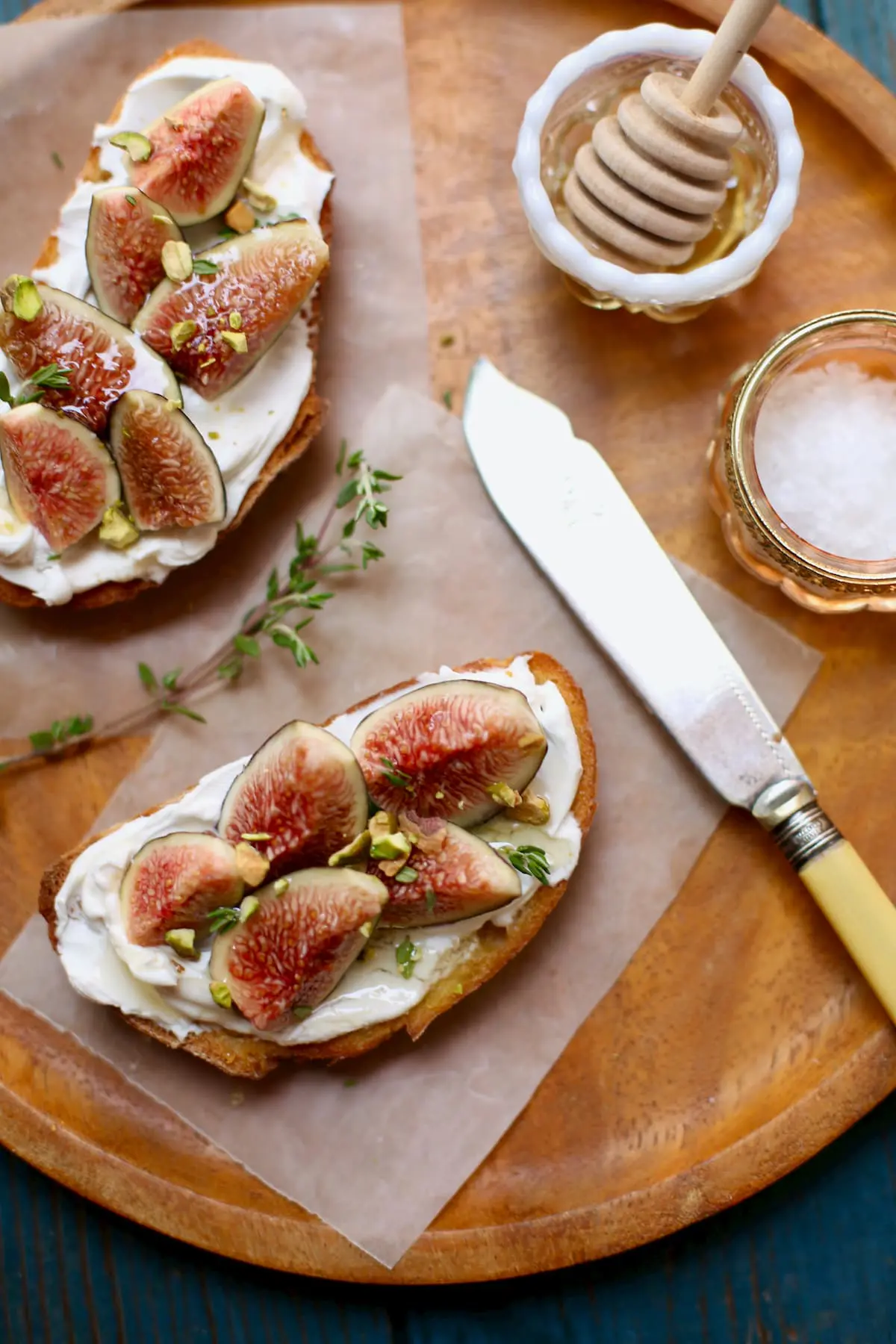 You really need to taste fresh figs to experience them for yourself, but if you don't want to commit to buying a whole basket, most grocery stores or Farmer's Market's will gladly give you a sample if you ask nicely. 🙂 You can also add figs to almost any kind of charcuterie board. Slice a few, and leave a few whole for a pretty presentation.
Here's some possible substitutions:
Use peach or vanilla Greek yogurt in the Yogurt & Granola Bowl
Try plant-based yogurt's too (I love plain)
Try other cheeses for the plate, like Gruyere or Fontina or even Parmesan
No pistachios? Try toasted almonds instead!
Varieties of Figs and Tips for Buying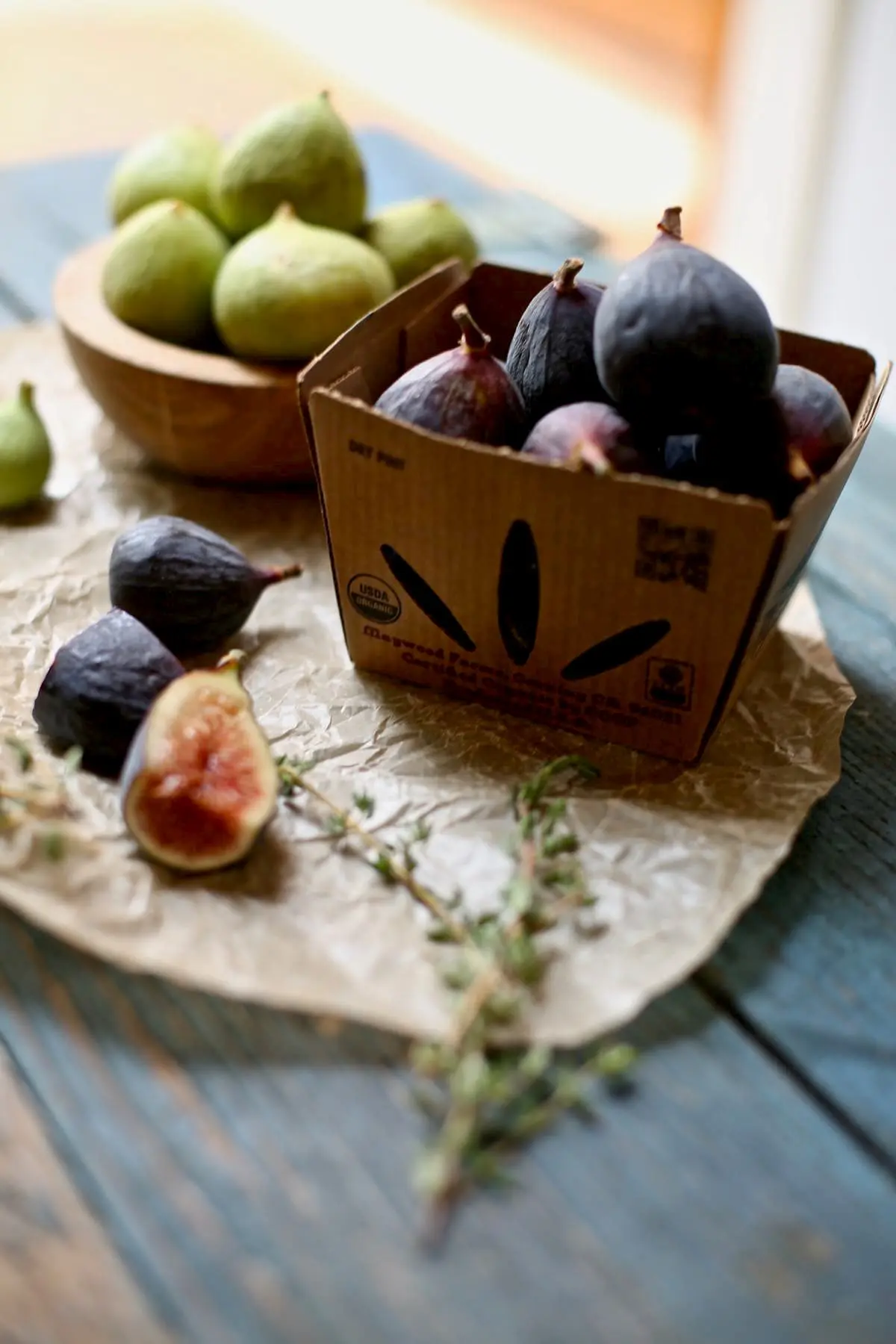 Figs have a mysterious, almost savory quality, and they aren't too sweet or too tart. They are:
Sweet, with a rich flavor and soft texture
A pulpy flesh that's similar to jam
Beware! of unripe figs! which are dry! and rubbery!!! Be sure to select a basket where the figs are mostly firm and smooth.
There are hundreds of varieties of figs, but the most common and readily available are Black Mission (shown in the container above. Don't shy away from other types if you see them at the Farmers Market or grocery store:
Brown Turkey
Sierra
Calimyrna
King
Kadota
If you've got an interest in learning more, here's some fascinating fig facts from Valley Fig Growers here in California. I've eaten figs straight from the container, but you should gently rinse and dry them, trim the stem and very bottom with a sharp knife and enjoy!
Frequently Asked Questions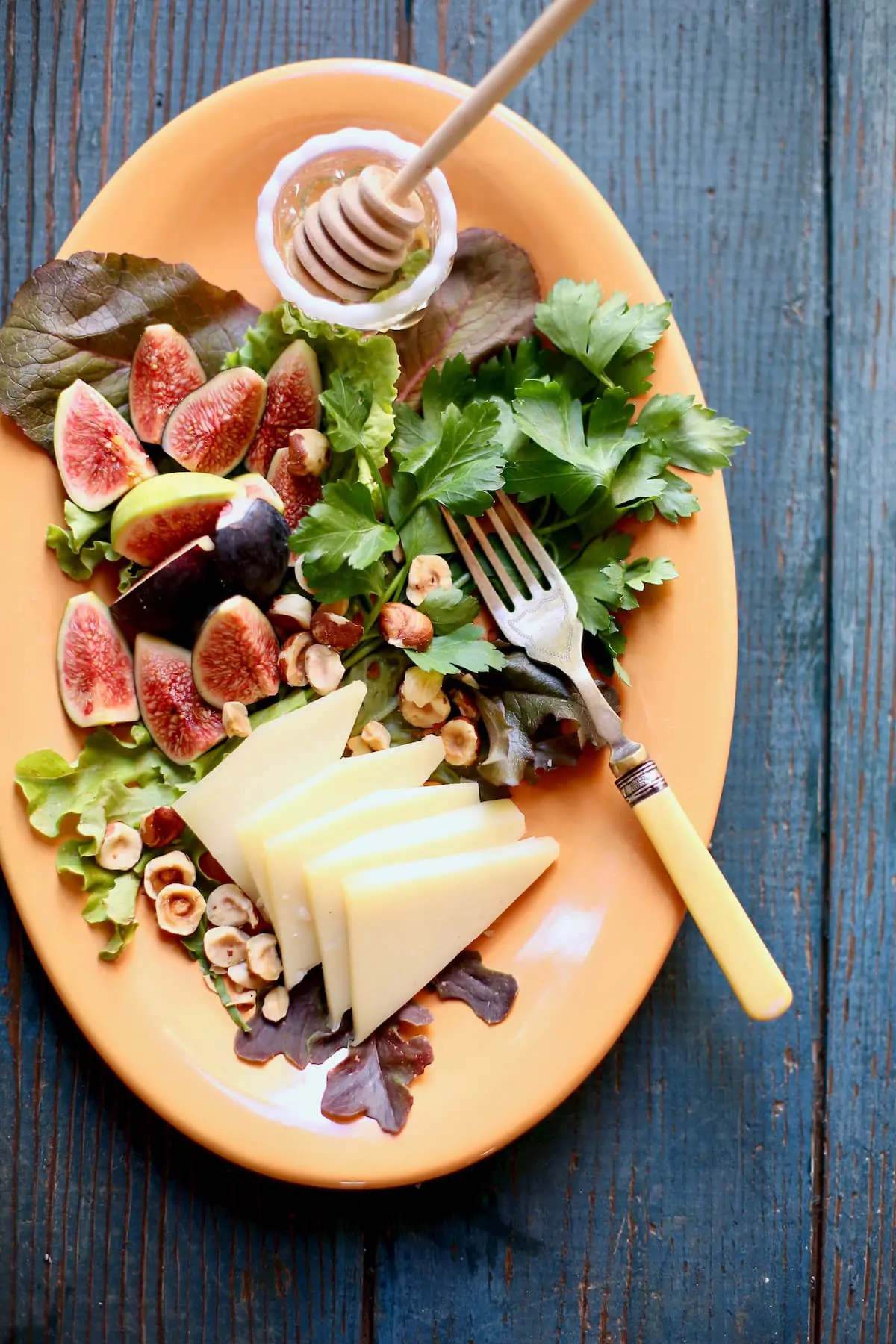 How do I store fresh figs?
Fresh figs are pretty fragile and bruise easily, and should be stored in the refrigerator. Just gently rinse them off and trim the ends before use.
How long will fresh figs last before using?
Figs will last for up to 3 days in the refrigerator if they were firm when you purchased them.
Other Recipes to Try
Pan Roasted Pear Salad: Just an amazing combination of flavors!
Pumpkin Spice Milkshake: Delightful!
Nectarine Toast with Honey Goat Cheese A match made in heaven.
Goat Cheese Toasts with Cranberry Compote Another match made in heaven. Seriously!
Roasted Grape Hazelnut Breakfast Bowl If you've never roasted grapes, OMG.
Spicy Roasted Sweet Potatoes with Yogurt Sauce: A favorite seasonal side dish
If you've tried Fresh Figs, Three Ways, or any recipe on Studio Delicious, please leave a rating and comment below…I'd love to hear from you!
Looking for more tips and fresh, homemade recipes? Join my email list, tag me at #studiodeliciouseats and see what I'm up to on Pinterest, Facebook, Instagram and Twitter 🙂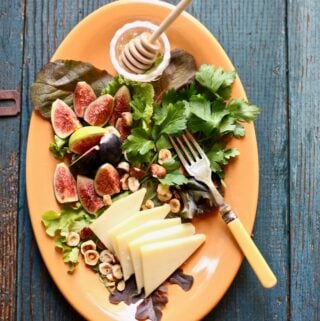 Fresh Figs, Three Ways
A Fig & Cheese Plate, Yogurt & Granola Bowl and Fig Toast, three easy ideas!
Print
Pin
Rate
Ingredients
FIG & CHEESE PLATE

1

cup

Greens, organic

4

slices

Manchego cheese

4

Fresh Figs, sliced lengthwise

1

tsp

Flaky sea salt

1

tbsp.

Flat leaf Parsley, fresh

1

tbsp

Hazelnuts, chopped

1

tbsp

Olive Oil

1

tbsp

Honey
YOGURT & GRANOLA BOWL

1/2

cup

Yogurt, any flavor

1/4

cup

Granola, any variety

4

Fresh Figs, quartered

1/4

cup

Blueberries, fresh

1

tsp

Honey (optional)
FIG TOAST

1

Slice

Sourdough or artisan bread, toasted

1

tsp

Olive oil

1 1/2

tbsp

Cream Cheese, softened

4

Fresh figs, sliced

1

tbsp

Pistachios, chopped

1

tsp

Thyme, fresh

1/4

tsp

Flaky Sea Salt

1

tsp

Honey
Instructions
FIG AND CHEESE PLATE

Place the greens on a plate or platter Add the sliced cheese and fresh figs Sprinkle with sea salt, fresh parsley, chopped hazelnuts Drizzle with honey and olive oil

YOGURT & GRANOLA BOWL

Place yogurt in a small bowl Add the granola Add the fresh figs and blueberries Drizzle with honey

FIG TOAST

Slice the bread 1/2 " thick and drizzle with olive oil Toast under the broiler until lightly brown on edges and slightly in the middle Remove from broiler and smear cream cheese on the warm breadPlace some sliced fresh figs on top Sprinkle with pistachios, thyme, sea salt Drizzle with honey
Notes
Use plain or vanilla yogurt in the Yogurt & Granola Bowl
Try vanilla plant-based yogurt for a change too!
Use other cheeses for the plate, like Gruyere or Fontina
Use toasted almonds instead of pistachios on the Fig Toast
Note: The nutrition facts are for a total for one serving of each preparation of easy fresh fig recipes shown, or 3 servings total (one serving of each preparation.)
Nutrition
Serving:
3
g
|
Calories:
1812
kcal
|
Carbohydrates:
222
g
|
Protein:
56
g
|
Fat:
86
g
|
Saturated Fat:
38
g
|
Cholesterol:
151
mg
|
Sodium:
4108
mg
|
Potassium:
2174
mg
|
Fiber:
24
g
|
Sugar:
148
g
|
Vitamin A:
3522
IU
|
Vitamin C:
47
mg
|
Calcium:
1740
mg
|
Iron:
8
mg
Tips for Success with Every Recipe
Super important to read the whole recipe before you begin
Pay attention to the ingredient list and photos for the recipe
If possible, prep your ingredients a little before you start
Always use a sharp knife for safety
Use the size of pan called for in the recipe
For savory recipes, taste and season as you go
Buy fresh, organic ingredients, locally sourced whenever possible
Don't Miss a Recipe!
This recipe was originally posted in September 2019. Instructions and tips were updated July 2021.