How about a healthy breakfast or snack that captures the best fruit flavors of the season? Nectarine Toast with Honey Goat Cheese is simple and totally delicious…toasty bread with soft cheese, juicy nectarines, a drizzle of honey and sprigs of fresh basil. Unbelievably easy and tasty!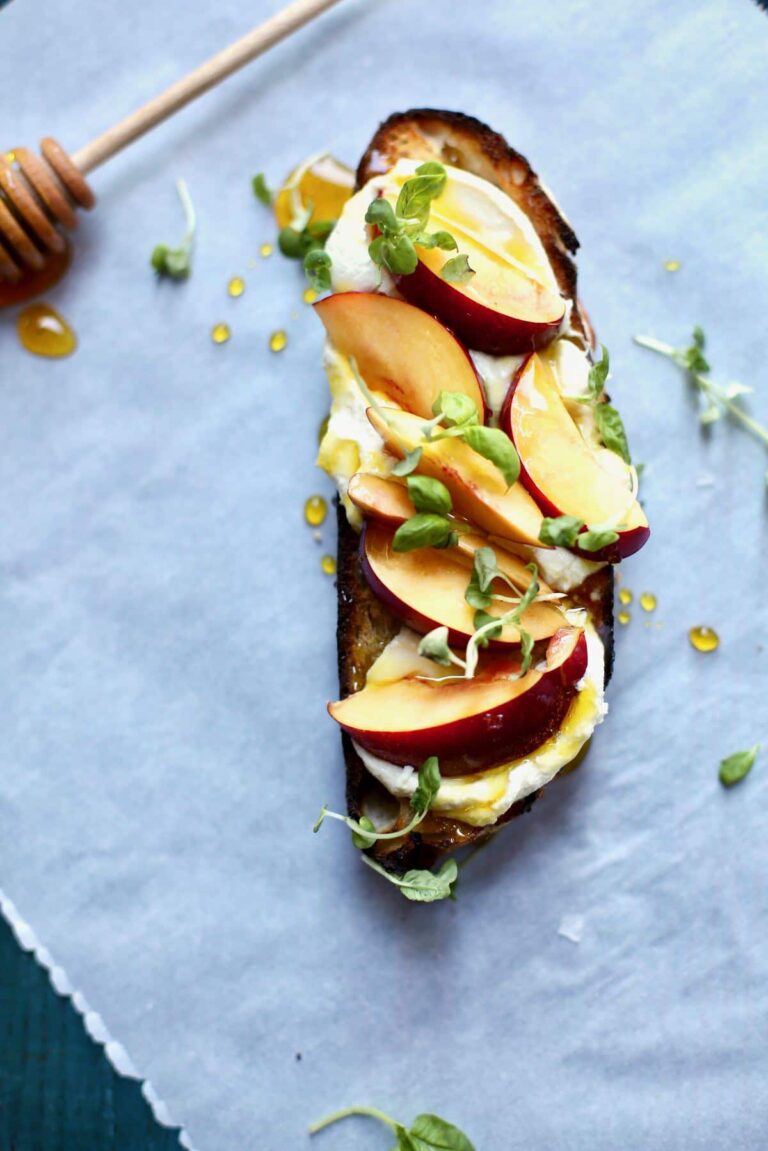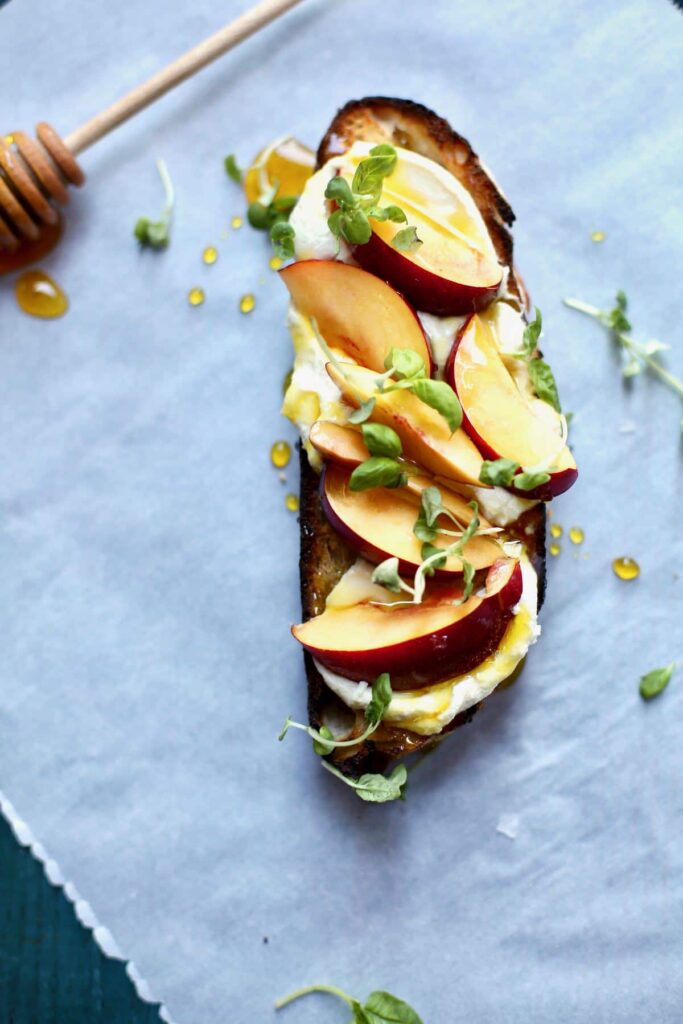 I'm a firm believer in calling things exactly what they are.
For example, I thought for a minute about naming this recipe "Nectarine Tartine", but it rhymes weird and can we just admit that what follows here is just actually good old toast? I totally agree.
The idea here is so simple! Just fresh bread, cheese, fruit, olive oil, flaky sea salt and basil. If you've never had such a thing, you're going to LOVE it.
Also:
Toast is easy and versatile, and can be deliciously dressed up when it wants to be 🙂
It's also QUICK, satisfying and a little indulgent, and perfect for breakfast or a substantial snack.
Ingredients You'll Need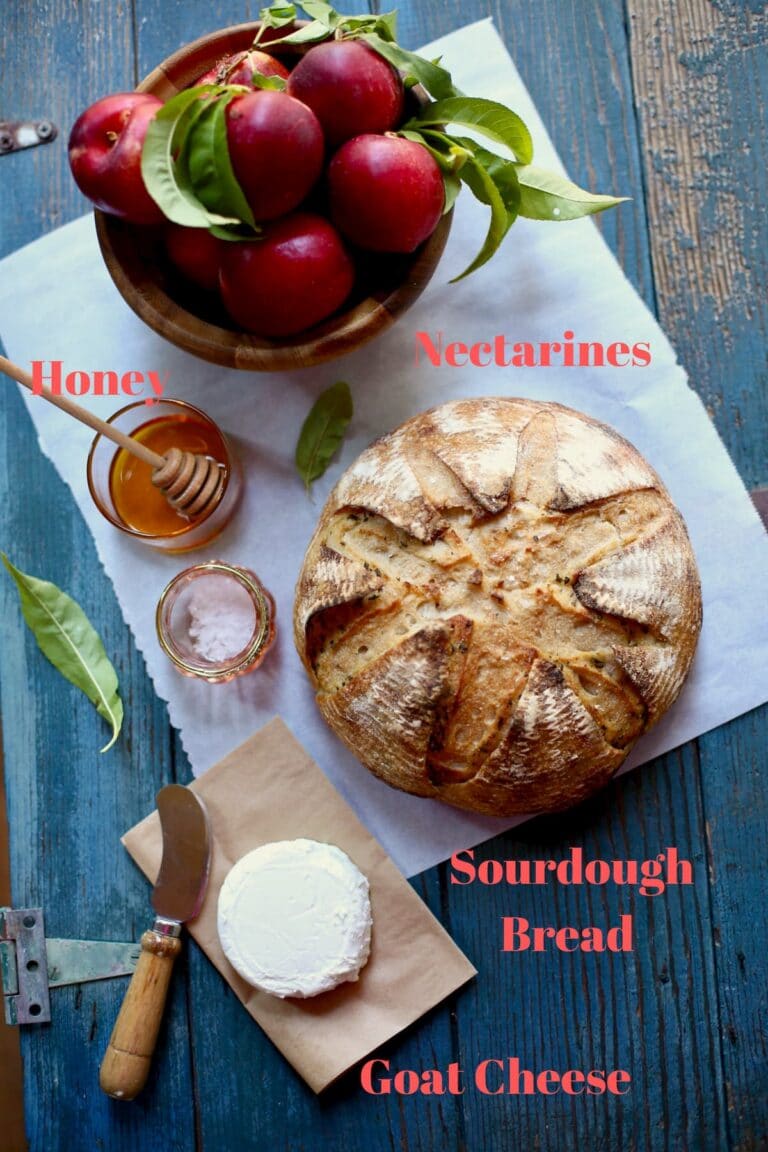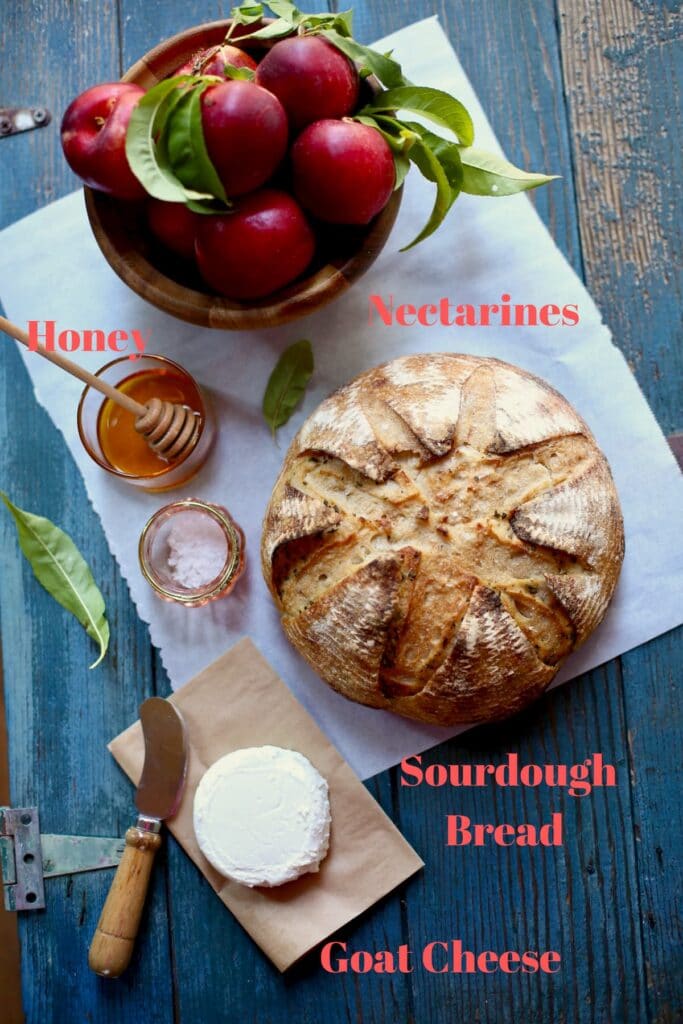 Sourdough Bread: Freshly sliced off a round, please 🙂
Goat Cheese: For texture and a slightly tangy flavor
Olive Oil: A drizzle here, a drizzle there.
Honey: Raw and pesticide-free if you can
Flaky Sea Salt: A small thing, but so important for flavor, so don't skip it!

Nectarines: Juicy, sweet and organic, if possible
Basil: Just a pinch or two of fresh leaves, a little goes a long way!
Step by Step Instructions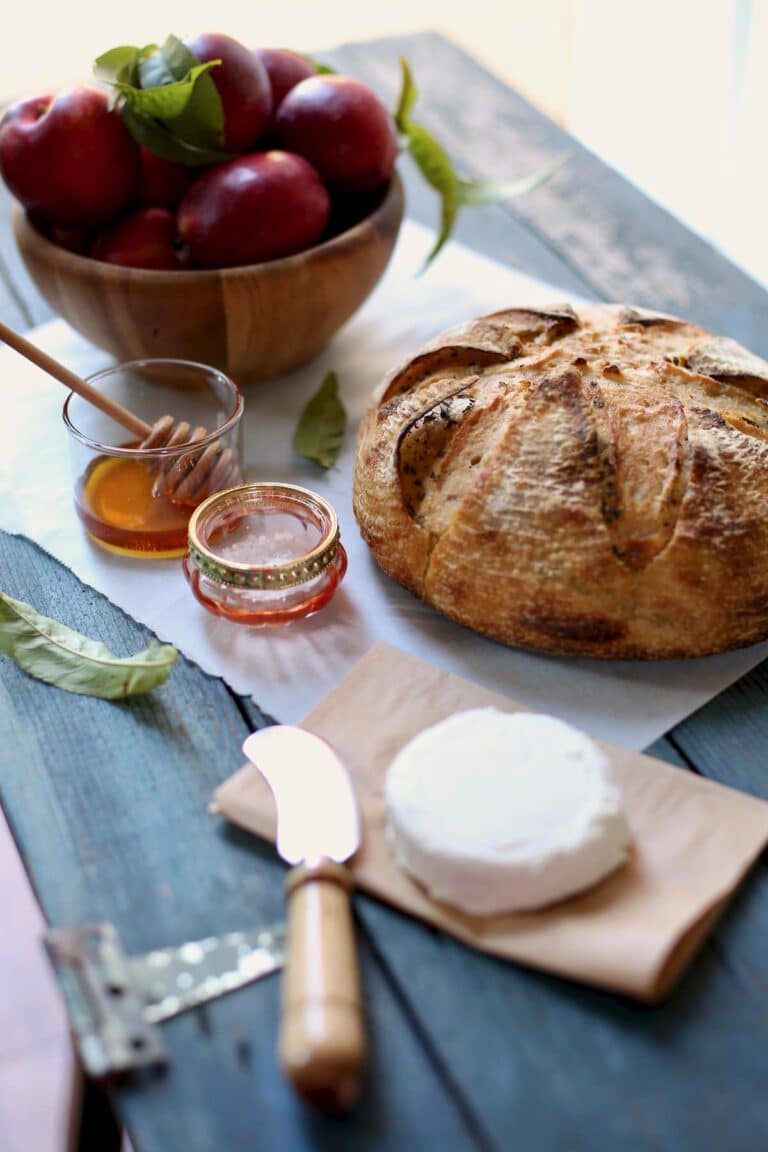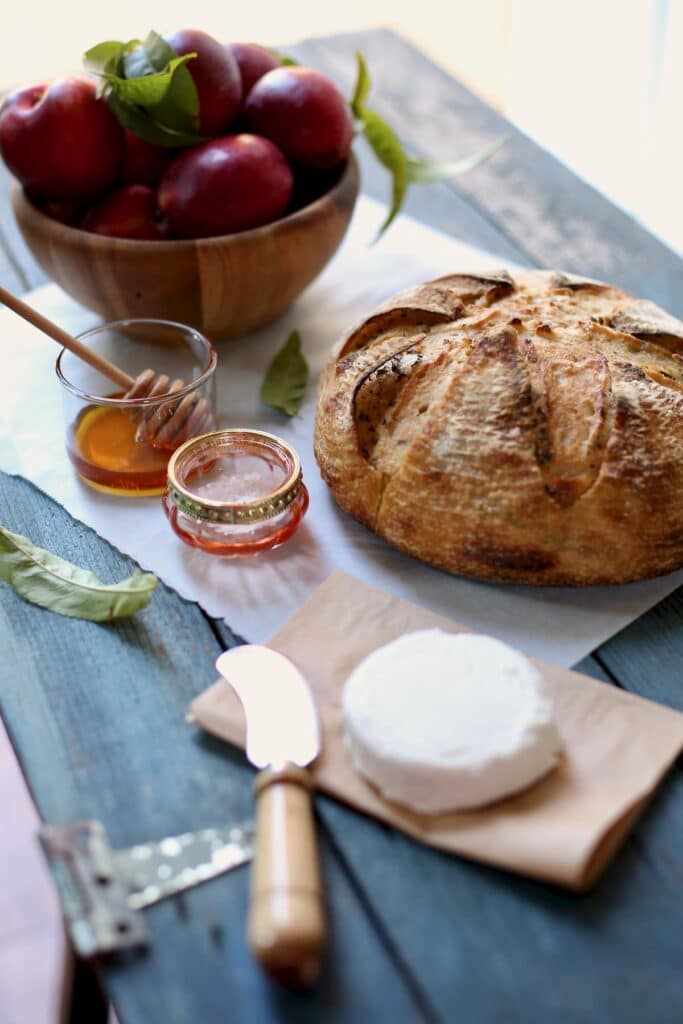 Slice the sourdough bread about 1″ thick
Drizzle the bread with a little olive oil, then broil until lightly brown and crispy at the edges. Repeat on the other side.
Whip the goat cheese, olive oil, honey and salt together with a hand mixer.
Slice the nectarines, set aside in a medium bowl TIP: Taste them! If they're tart, add a little honey and gently toss together.
Divide the cheese mixture on the warm toasts, add the nectarines on top and a bit of honey. Finish with a pinch of flaky sea salt and a bit of fresh basil.
Serve yourself this delicious little summer-y breakfast or snack, preferably while sitting on the porch or near a pool. 🙂
Tips on Nectarines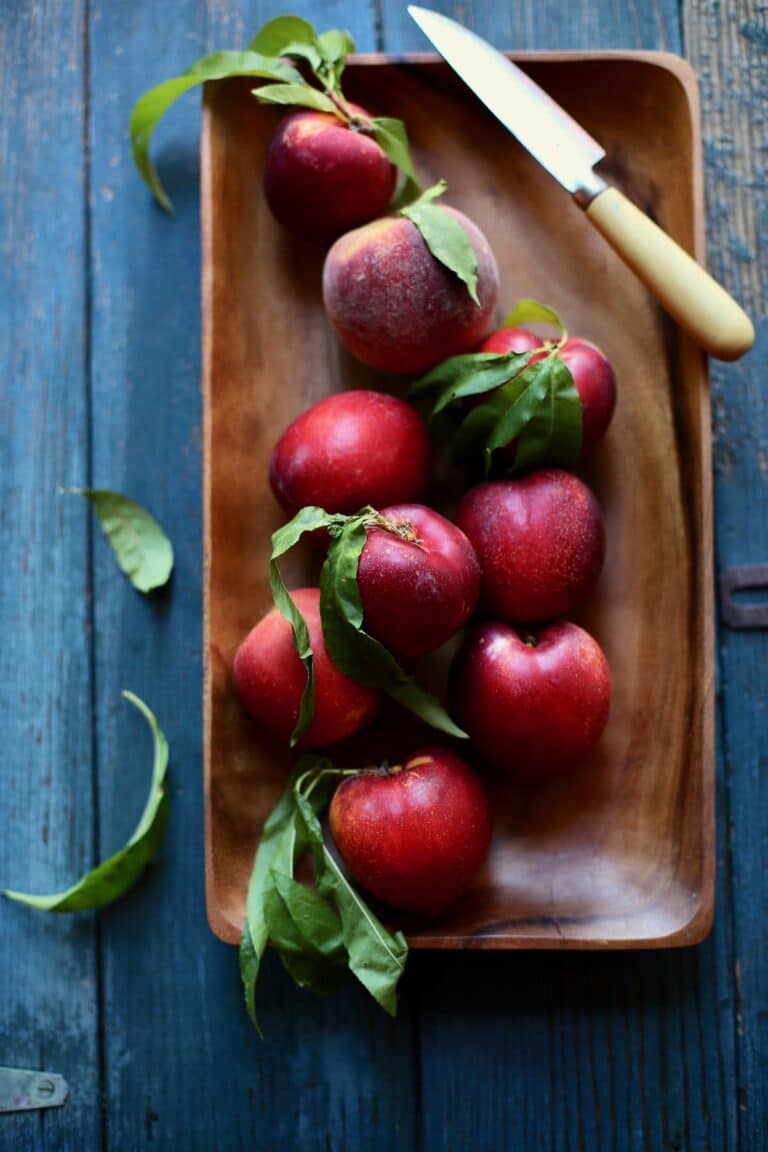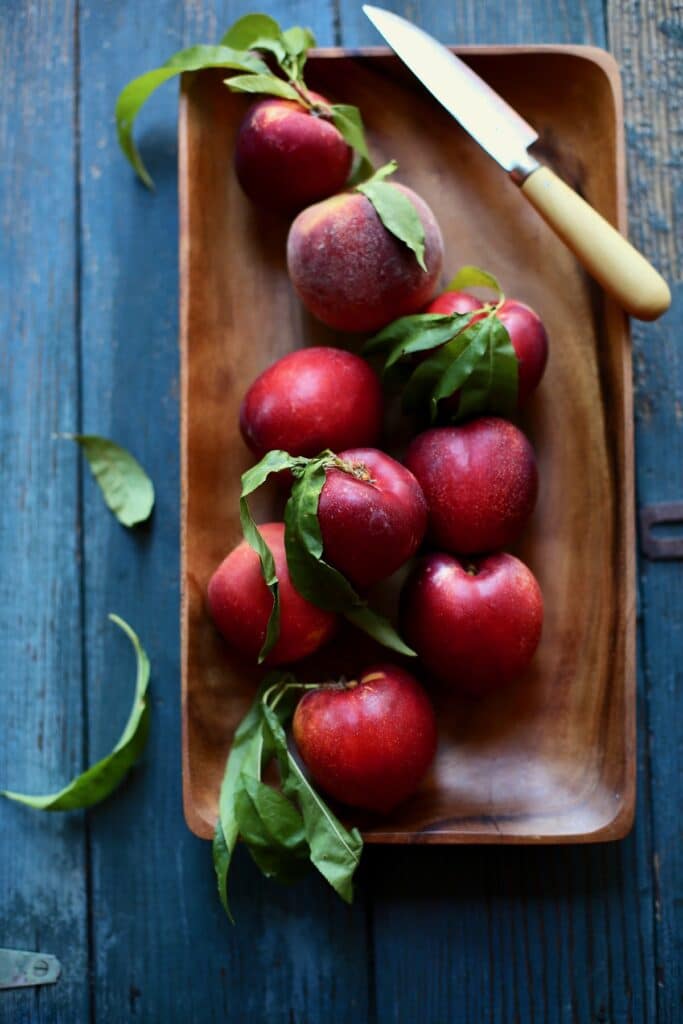 Nectarines are basically the same as peaches, but with a smooth (not fuzzy) exterior. You'll want to use them when they're firm but not soft, with a slight "give" to them when gently indented with your thumb.
Note that nectarines don't continue to ripen after picking, but they do soften!
Both the yellow and white flesh varieties are delicious, so use whatever looks and tastes best to you. And if you can't find a nectarine, just use a fresh peach instead!
Tips and Serving Ideas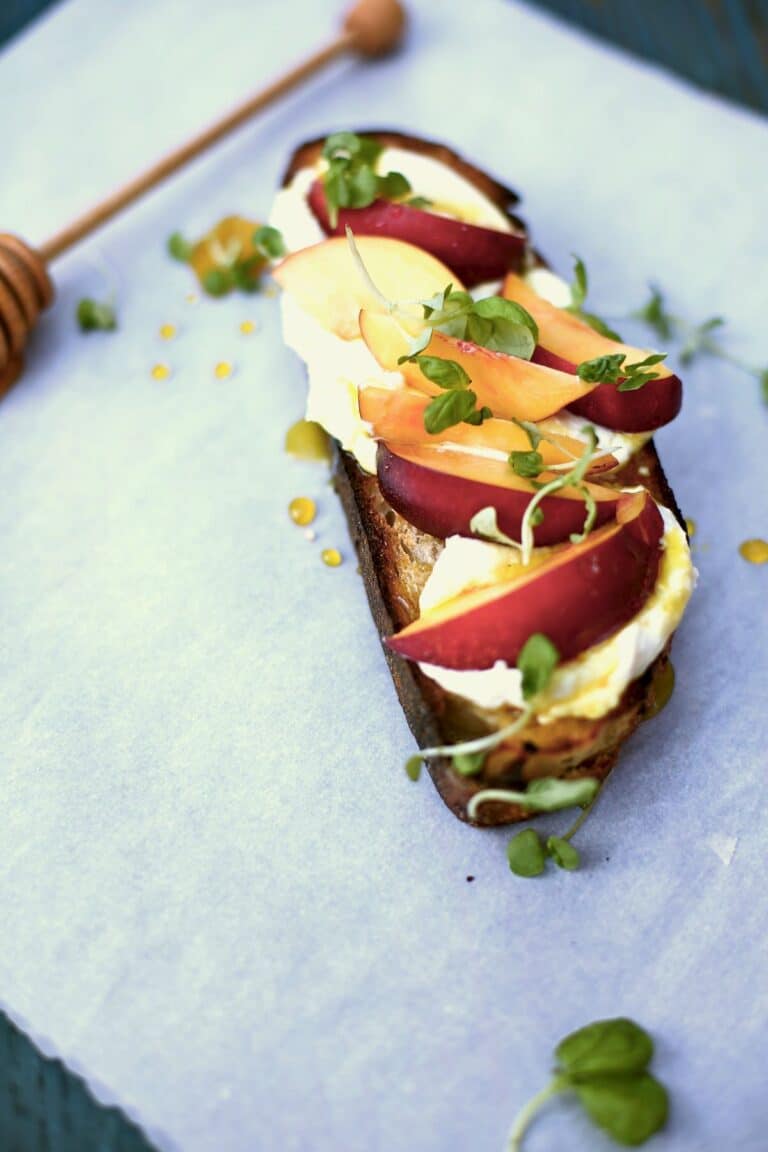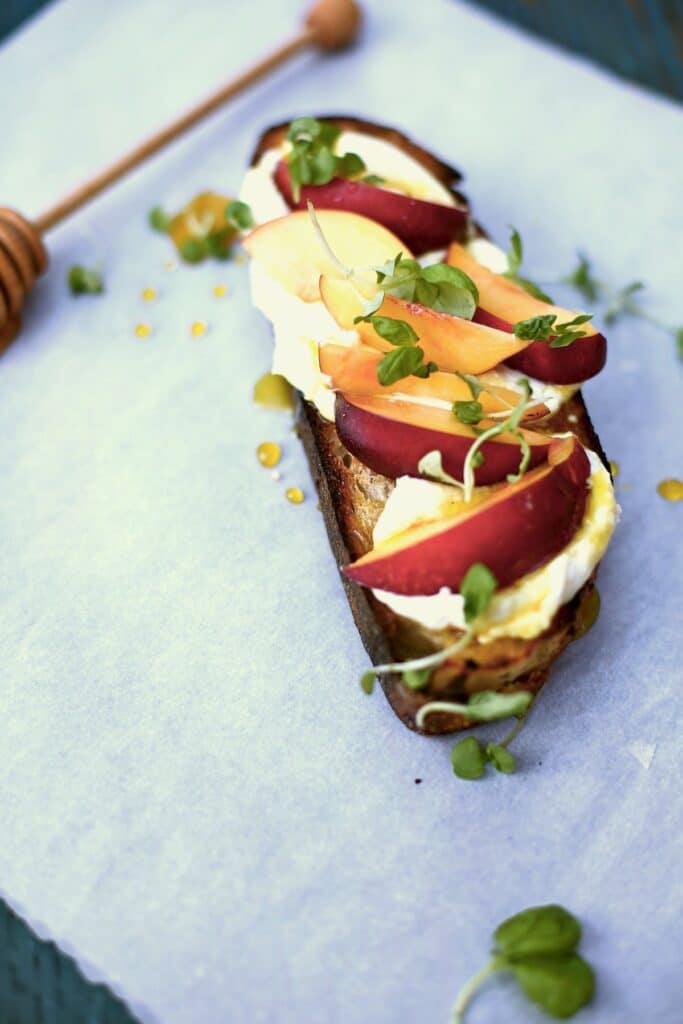 Use almost any artisan bread instead of sourdough. TIP: A freshly baked round-shaped bread is best for flavor and presentation in this recipe.
If the nectarines you have are a bit tart after slicing into them, just toss with a little bit of honey first.
Peaches are a good substitute for nectarines (and are basically the same thing except for the fuzzy exterior.)
Serve guests a quick, delicious and seasonally-inspired breakfast with mugs of hot coffee or tea.
Whip up a batch of my Dark Cherry Smoothies to round out the menu!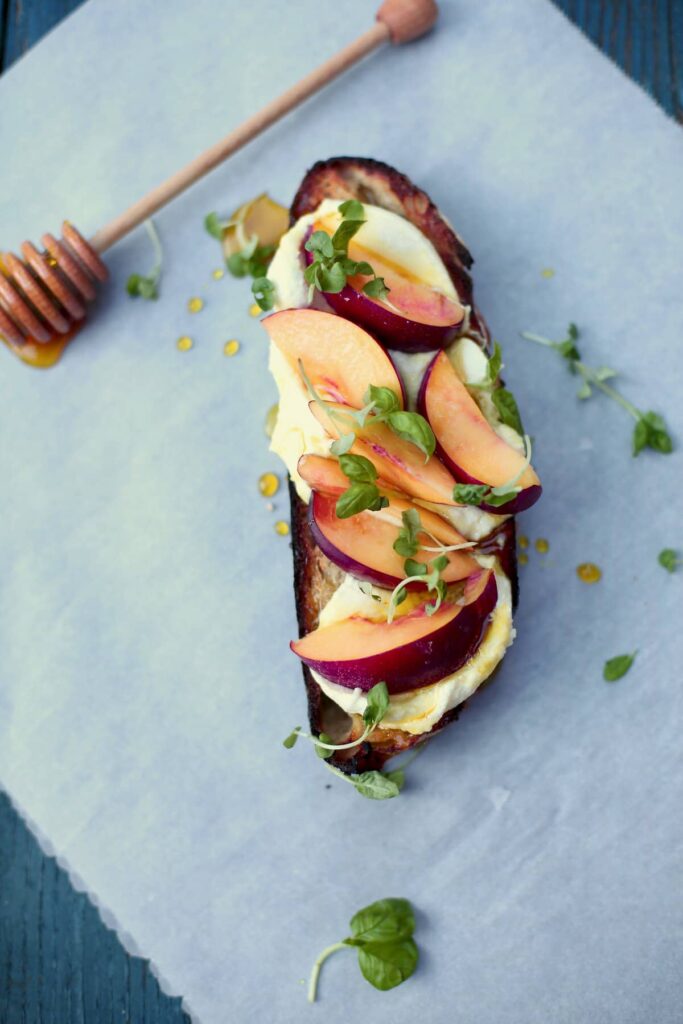 More Recipes to Try:

Melon with Ice Cream & Caramel Sauce
Boozy Fresh Cherry Blackbottom Milkshakes
Frozen Pineapple Nectarine Slushy
Roasted Nectarines with Caramel Sauce
Goat Cheese Toasts with Cranberry Compote
If you've tried Nectarine Toast with Honey Goat Cheese, or any recipe on Studio Delicious, I'd love to hear about it in the comments below!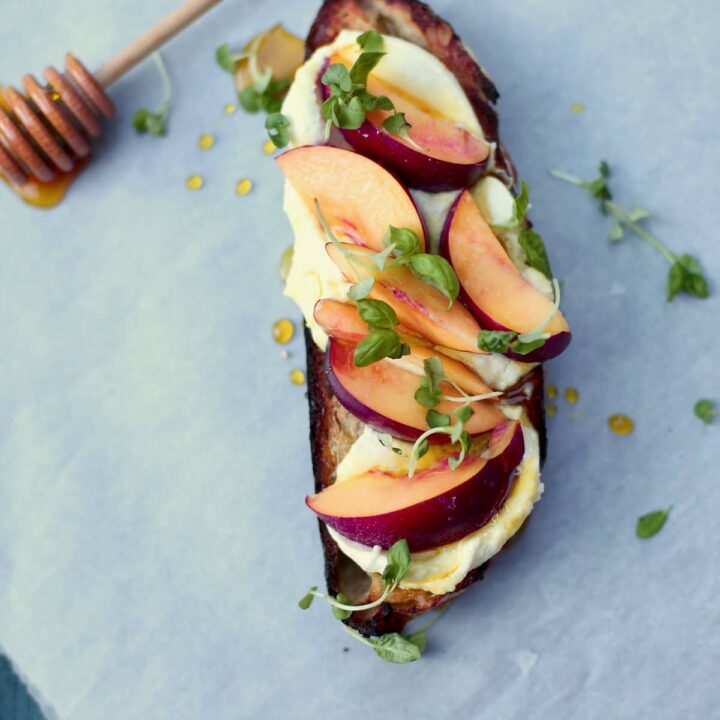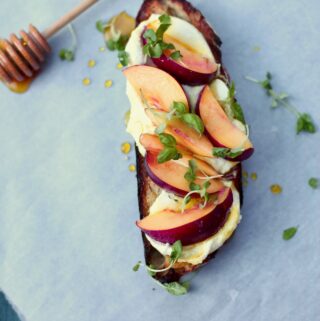 Nectarine Toast With Honey Goat Cheese
A fabulous recipe for summer when the nectarines are at their peak!
Print
Pin
Rate
Ingredients
4

slices

Sourdough bread, 1" slices cut from a round

4

ounces

Goat Cheese, softened

2

tablespoons

Olive Oil

2

teaspoons

Honey

1/4

teaspoon

Salt, flaky sea salt

4

Nectarines, fresh, organic, washed and dried and sliced thinly

3

tbsp.

Honey

1/4

tsp

Salt, flake sea salt

tbsp

Basil leaves, fresh
Instructions
TOAST THE BREAD

Turn oven to the "broil" setting and prepare a baking sheet by lining it with natural or regular parchment paper.

Drizzle the sourdough bread slices with the olive oil - just enough to lightly cover each slice.

Place baking sheet on middle rack of oven and broil the bread just until it's lightly brown and crispy on the edges. Remove from oven and turn the bread slices overContinue to broil for a minute or so, just to lightly crisp up the bottom of the slices

Remove toasts from oven and assemble the toasts with the other ingredients

FOR THE GOAT CHEESE MIXTURE

Place the goat cheese, olive oil, and honey in a medium sized bowl

Whip the ingredients together using a hand held electric mixer until very smooth and light in texture, about 2 minutes.

Add the salt and mix for 30 seconds or so until combined

PREP THE NECTARINES

Slice the nectarines to 1/2" in size and place in a medium-sized bowl. If your nectarines taste tart, add a teaspoon of honey and gently toss together

ASSEMBLE THE TOASTS

Divide the cheese mixture among the 4 toasts

Arrange some nectarine slices on top, roughly one sliced nectarine per toast.

Drizzle with a teaspoon of honey, a pinch of flake sea salt, and some of fresh basil leaves to serve
Notes
You can use other kinds of bread than sourdough, try your favorite!
If you're nectarines are a little tart, toss them with a little honey before using on the toasts.
Here's a nice organic, raw pesticide-free honey to try!
Nutrition
Calories:
398
kcal
|
Carbohydrates:
63
g
|
Protein:
14
g
|
Fat:
11
g
|
Saturated Fat:
5
g
|
Cholesterol:
13
mg
|
Sodium:
724
mg
|
Potassium:
367
mg
|
Fiber:
4
g
|
Sugar:
25
g
|
Vitamin A:
764
IU
|
Vitamin C:
8
mg
|
Calcium:
76
mg
|
Iron:
3
mg
Tips for Success with Every Recipe
Super important to read the whole recipe before you begin
Pay attention to the ingredient list and photos for the recipe
If possible, prep your ingredients a little before you start
Always use a sharp knife for safety
Use the size of pan called for in the recipe
For savory recipes, taste and season as you go
Buy fresh, organic ingredients, locally sourced whenever possible
This recipe was posted June 2017 and updated with new content June 2020