Everyone loves pancakes for breakfast, and these Cornmeal Pancakes with Strawberry Jam from the cookbook Pretty Simple Cooking are beyond delicious with zero refined flour or sugar.
If you're a pancake fan, you've got to try these wonderful Peanut Butter Banana Pancakes, too…

Why You'll Love Them
It's a rare person who doesn't love a pancake, and these are different in the most delicious way..totally worth a try.
Made mostly with cornmeal flour (plus a little regular flour) the texture and flavor is amazing.
A quick strawberry jam – no thermometers or special equipment required – is worth the price of admission. You'll will love this.
Drizzled with yogurt or creme fraiche or almond butter or maple syrup, there are options for everyone, all super delicious!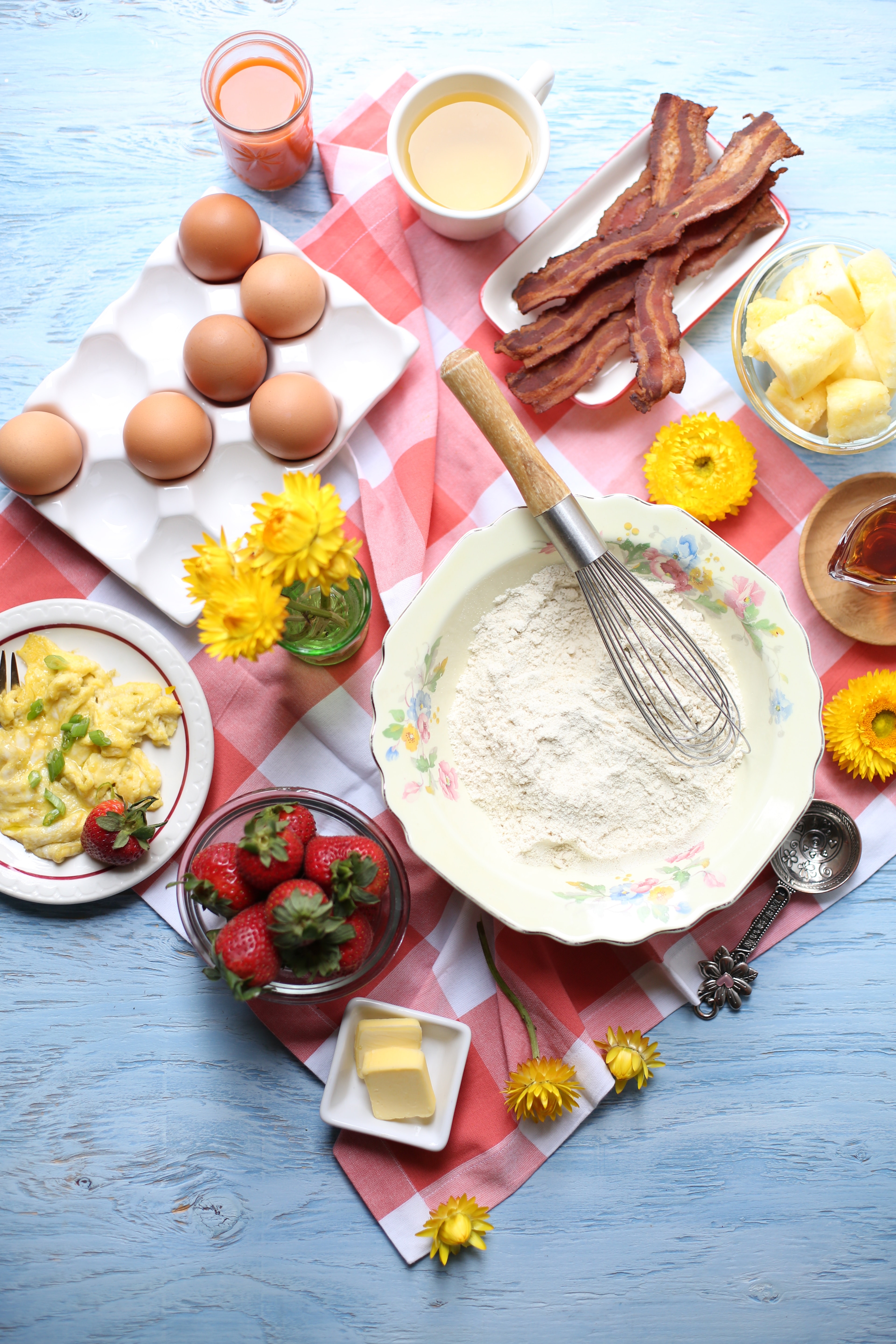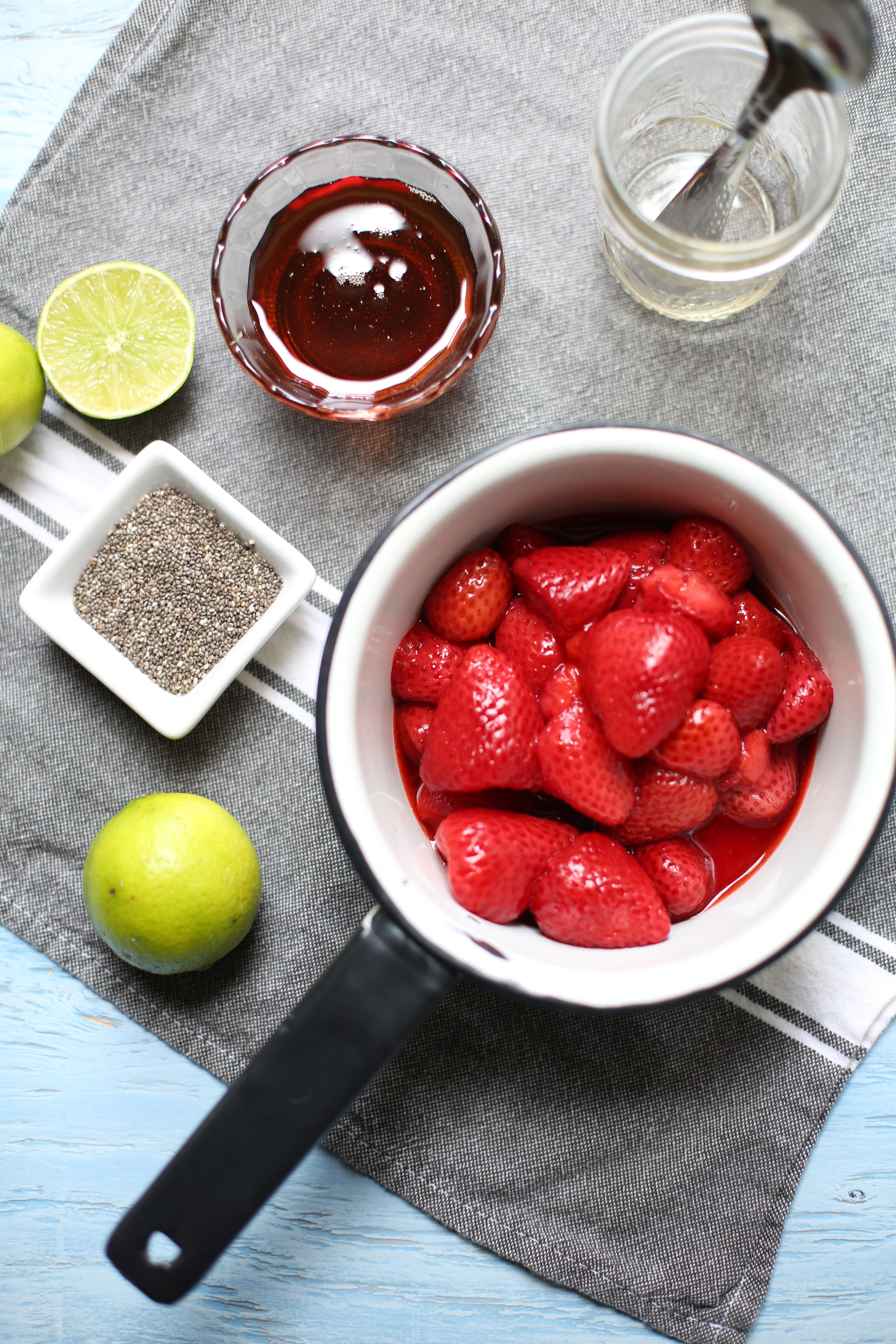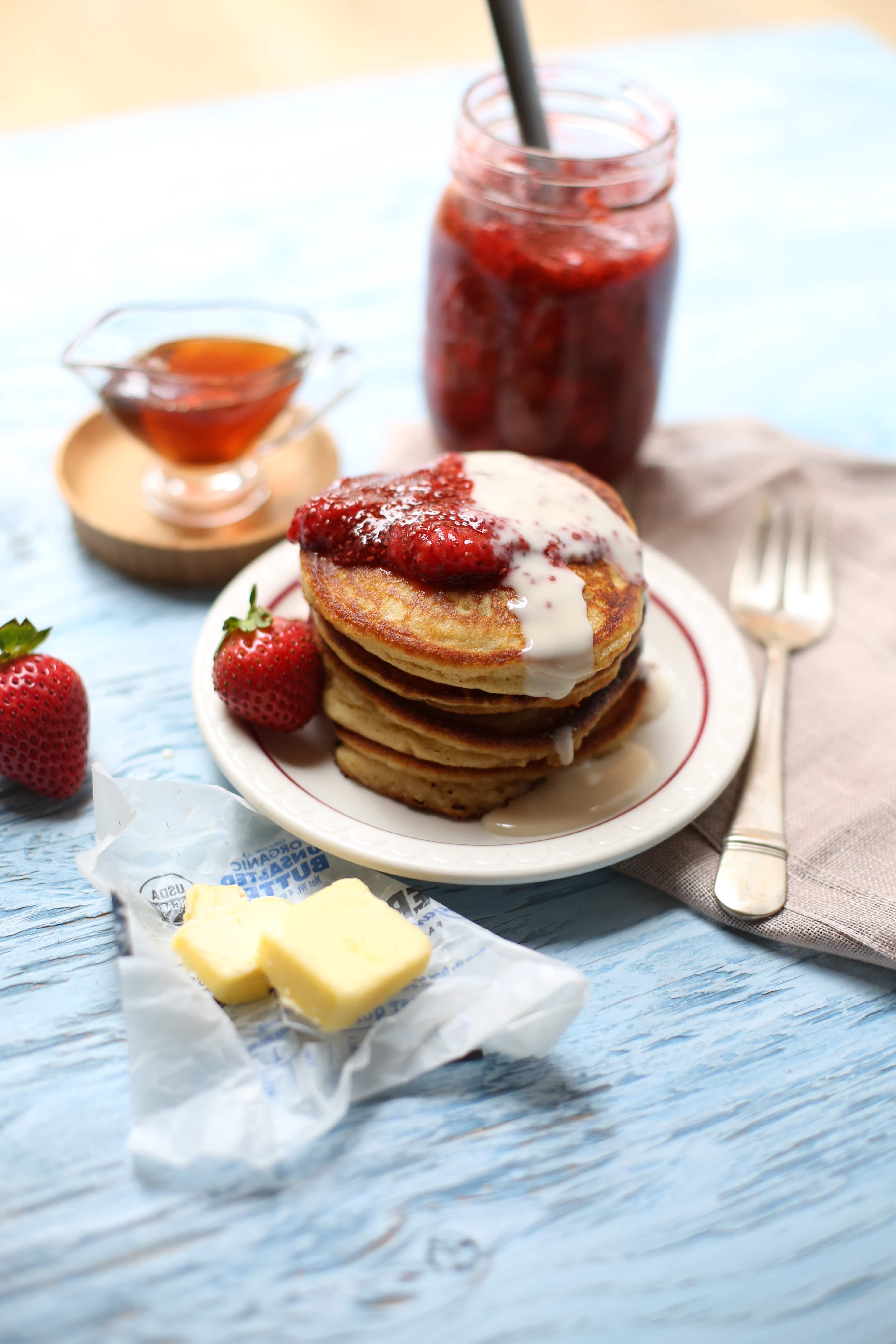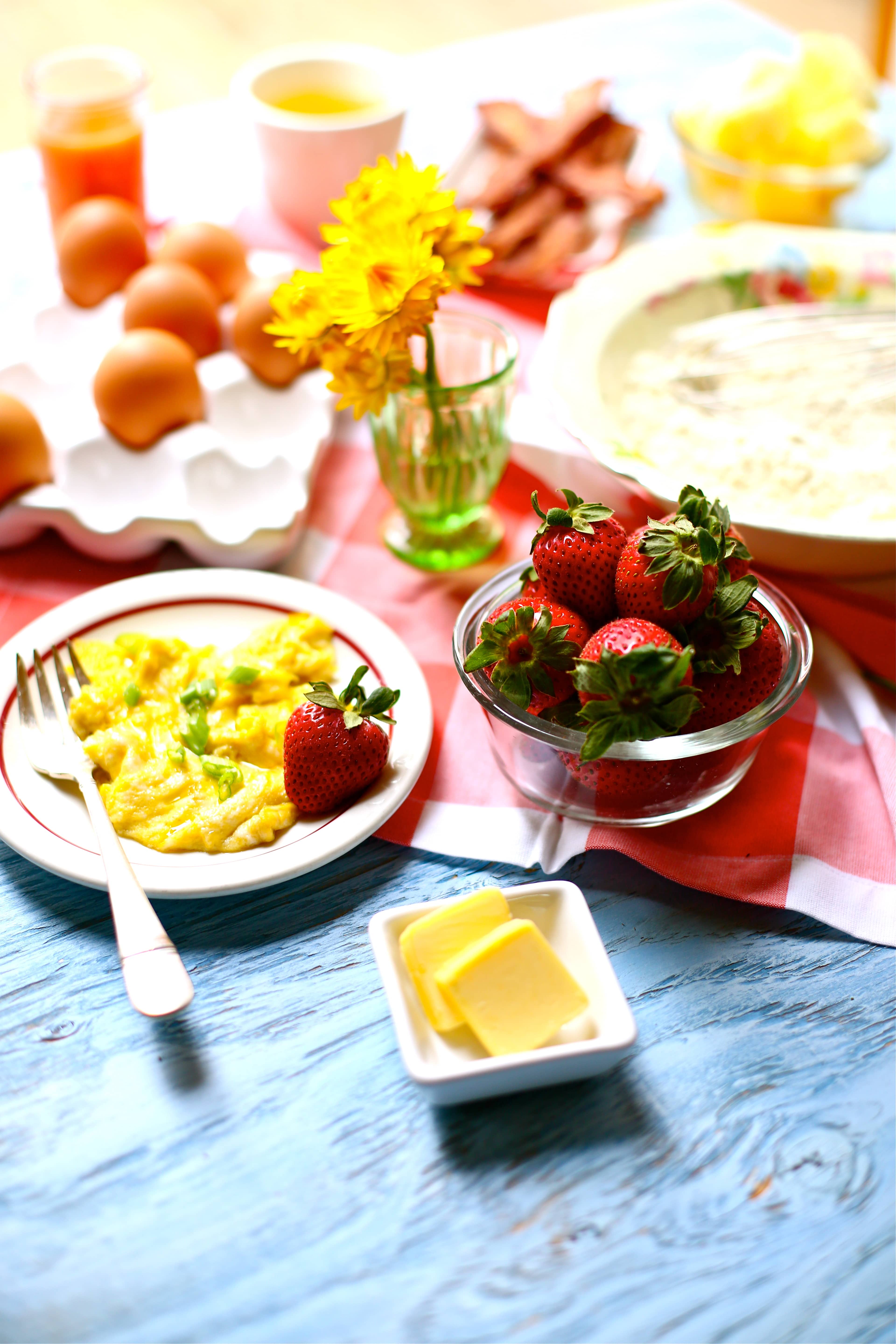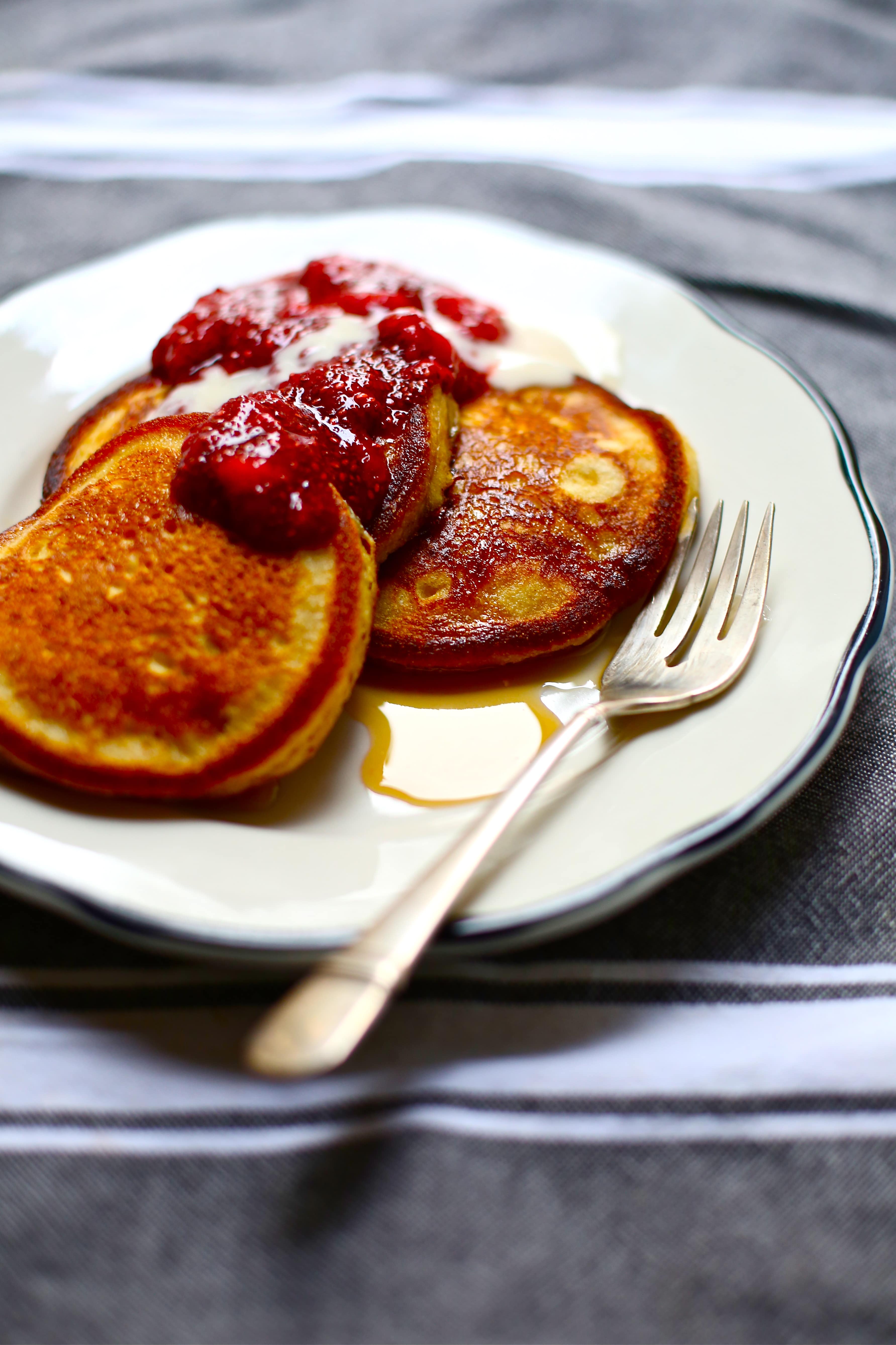 More Recipes to Try:
Peanut Butter and Jam Cookies: The perfect combo, really good…
Mini Strawberry Pies Recipe: These are cute and so delicious!
Strawberry Cheesecake in a Jar A reader favorite, these are easy to put together, delish and super portable!
Deocrated Chocolate Dipped Strawberries You'll get "oohs" and "ahhs" when you bring out a platter of these amazing strawberries!
Strawberry Shortcake Cookies: A classic dessert, re-imagined as a cookie…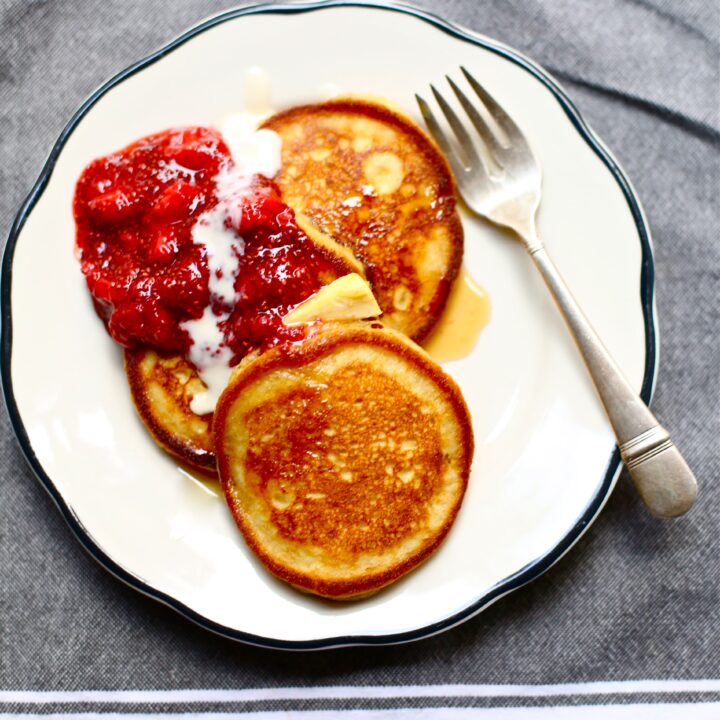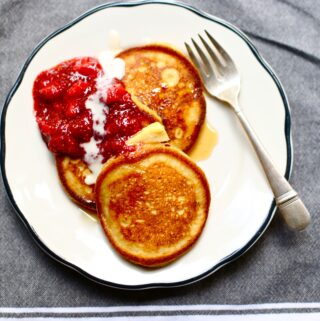 Cornmeal Pancakes With Strawberry Jam
Cornmeal Pancakes with Strawberry Jam are beyond delicious with zero refined flour or sugar, and a quick homemade strawberry jam
Print
Pin
Rate
Ingredients
CORNMEAL PANCAKES

1

cup

Masa Harina

1/2

cup

Flour, all-purpose

1

teaspoon

Baking Soda

1/2

teaspoon

Salt, kosher

2

Eggs, large

3

tablespoons

Oil, neutral like grapeseed or vegetable

2

tablespoons

Honey or Pure Maple Syrup

1/2

cup

Greek yogurt, plain

1

cup

Milk, 2 %
Maple syrup for serving

optional

Almond butter for serving

optional

Creme Fraiche or Vanilla Yogurt for serving

optional

STRAWBERRY JAM

2

cups

Frozen Strawberries

2

tablespoons

Lime juice plus zest

1 large lime

6

tablespoons

Maple syrup, pure

1

teaspoon

Pure Vanilla Extract

3

tablespoons

Chia Seeds
Instructions
MAKE THE PANCAKES

Preheat oven to 200 degrees

Stir together in a medium-sized bowl the masa harina, flour, baking soda, and kosher salt. In another bowl, whisk together the eggs, oil, honey or maple syrup, Greek yogurt and milk.

Pour the dry ingredients into the wet ingredients, then stir to gently combine until the batter comes together and is pourable but slightly lumpy. Note: You can add a bit more milk if the batter is too thick.

Heat a large non-stick griddle or skillet over medium-low heat, then brush the skillet with butter or oil.

Scoop a scant 1/3 cup of batter onto the griddle and repeat to make 4 pancakes. Cook for several minutes until a few of the bubbles that appear on the surface have burst and the bottoms are golden brown, adjusting the heat as necessary. Flip the pancake carefully, then cook for another minute or so until golden brown on the other side.

Place the cooked pancakes on a baking sheet in the oven to keep warm. Add a splash of milk to the remaining batter to loosen it, then repeat for the remaining pancakes, adjusting the heat as necessary since the griddle can become very hot.

Serve warm with maple syrup, almond butter, Strawberry Lime Chia Jam (recipe follows) or creme fraiche or yogurt.

MAKE THE STRAWBERRY JAM

Place the strawberries, lime juice and 2 tablespoons water in a non-stick medium-sized skillet. Simmer the ingredients over medium heat for 10 minutes, stirring occasionally. Halfway through the simmering time, begin to break down the berries by smashing them with a fork into a chunky but uniform texture.

Stir in the maple syrup, vanilla, chia seeds, and lime zest until combined, about 30 seconds. Turn off the heat. Let the jam sit in the pan for 5-7 minutes until the chia seeds thicken the jam. Transfer to a 16-ounce canning jar and refrigerate; the texture will set even further when chilled.
Notes
Masa Harina can be found in the international foods aisle in most grocery stores, or online. Do not substitute cornmeal.
For gluten free, use gluten-free flour.
For the Strawberry Lime Chia Jam, it can be refrigerated for up to 2 weeks (chia jam is not shelf stable)
This recipe was updated December 2019
Nutrition
Calories:
205
kcal
|
Carbohydrates:
31
g
|
Protein:
5
g
|
Fat:
7
g
|
Saturated Fat:
4
g
|
Cholesterol:
35
mg
|
Sodium:
256
mg
|
Potassium:
182
mg
|
Fiber:
3
g
|
Sugar:
14
g
|
Vitamin A:
96
IU
|
Vitamin C:
18
mg
|
Calcium:
100
mg
|
Iron:
2
mg
Tips for Success with Every Recipe
Super important to read the whole recipe before you begin
Pay attention to the ingredient list and photos for the recipe
If possible, prep your ingredients a little before you start
Always use a sharp knife for safety
Use the size of pan called for in the recipe
For savory recipes, taste and season as you go
Buy fresh, organic ingredients, locally sourced whenever possible
SOURCE: Excerpted with permission from A Couple Cooks Pretty Simple Cooking: 100 Delicious Vegetarian Recipes to Make You Fall in Love with Real Food by Sonja Overhiser and Alex Overhiser. Copyright 2018. Available from Da Caop Lifelong Books, an inprint of Perseus Books, LLC, a subsidiary of Hachette Book Group, Inc.
Original Post:
Pancakes are very important to me.
This is a true fact 🙂
At summer camp when I was 12, there was one morning during the annual trip that I dreaded more than anything—getting up at the crack of dawn for a freezing cold sunrise hike in the Sierra Nevada Mountains.
We campers had zero say in the matter.
At the time, I thought this was complete and utter torture— I wanted nothing more than to stay in my warm sleeping bag that sat on top of an old rickety cot—even if it was a little uncomfortable.
Our cabin counselors rounded us up with flashlights and blankets, warning us to stay together and wear our sturdy shoes. We were led up a steep and rocky mountain with tall, scary-looking pine trees.
The payoff for all this was a big pancake breakfast when we finished several hours later, starved and sore and mildly proud of ourselves, but mostly just glad it was over.
The Mess Hall had a buffet of hot pancakes with butter, sausages and bacon and syrup you squeezed from a plastic bottle alongside big wooden bowls of whole fruit.
Nothing has ever tasted so good.
So when I had the opportunity to cook from blogger friends A Couple Cooks new cookbook Pretty Simple Cooking: 100 Delicious Vegetarian Recipes to Make You Fall in Love With Real Food, I jumped at the chance to try out their Cornmeal Pancakes with Strawberry Jam.
I consider myself an unofficial expert on pancakes—a status I claim for no other reason than I have eaten a lot of them, and at all times of the day.
Try these. You'll love them, I promise.
The Strawberry Jam couldn't be easier, and makes the corn flavor in these cakes seem extra special.