You are gonna love this Pumpkin Spice Milkshake! It's easy to make as a non-dairy recipe too.
For more shakes and smoothie ideas, try this Dark Cherry Smoothie, this tropical and delish Pineapple Smoothie, or this thick, creamy Strawberry Granola Smoothie….all are refreshing, fruity, and quick & easy for breakfast or snacks.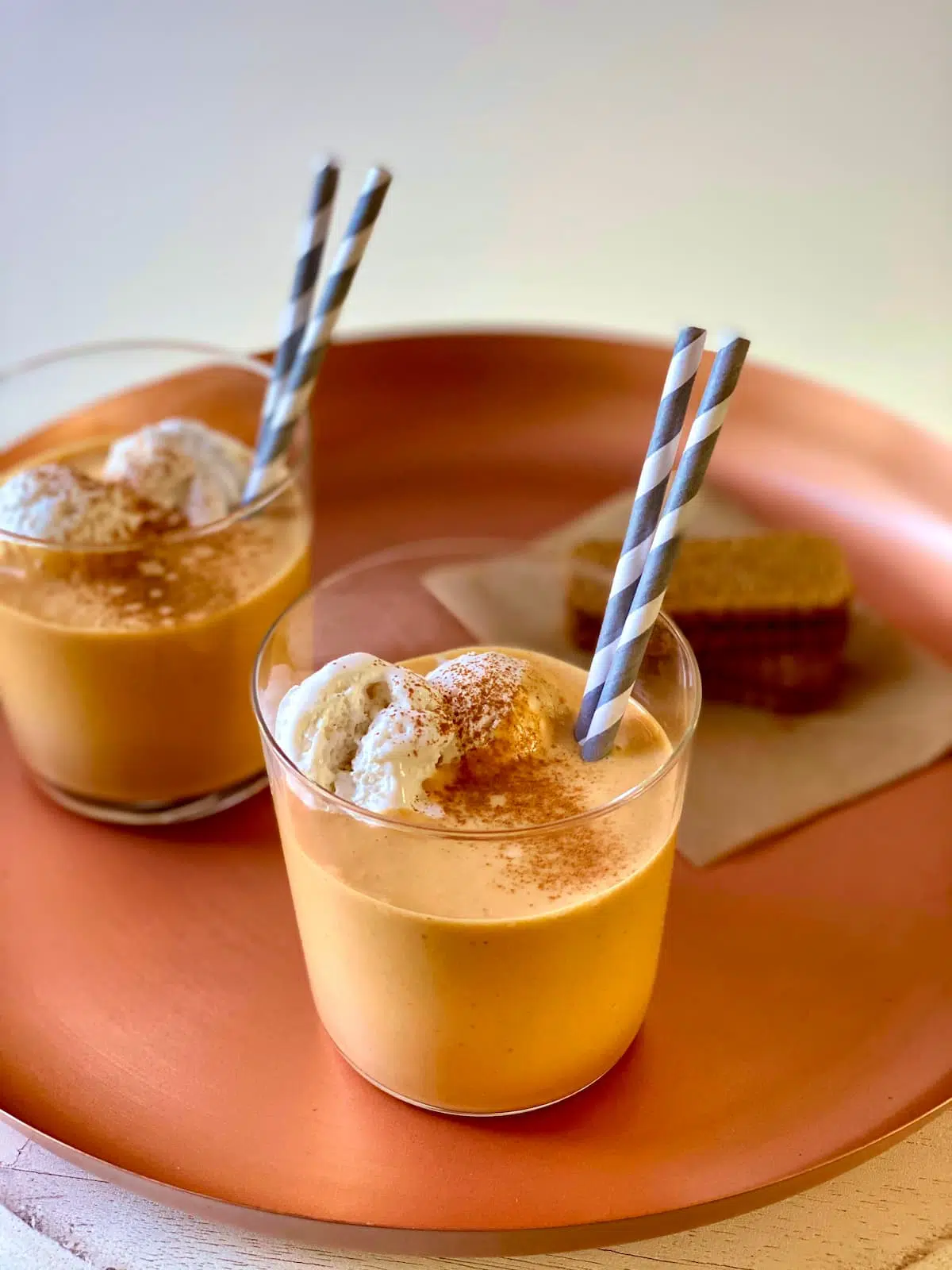 Why You'll Love This Recipe
Pumpkin is one of my favorite flavors, and every year I can't wait to taste it in pie, cake and my very favorite milkshake!
This is just a great fall dessert, right up there with Mini Caramel Apple Pies, Apple Upside Down Cake and this amazing banana fig bread. These would also be awesome with a Chocolate Hummus Dessert Tray..just sayin'.
Use vanilla regular or non-dairy ice cream/frozen dessert for this recipe. Same for the frozen whipped topping…non-dairy is readily available in most grocery stores.
This milkshake can be easily doubled….also, everyone LOVES it.
Solid packed pumpkin puree (say that three times) is what makes this shake taste sort of like pumpkin pie in a glass.
If you're a fan of fall flavors, try this Creamy Pumpkin Soup or my Pan Roasted Pear Salad. Try a fresh fig recipe from this post too…a platter would be a great addition to this pumpkin soup!
Ingredients You'll Need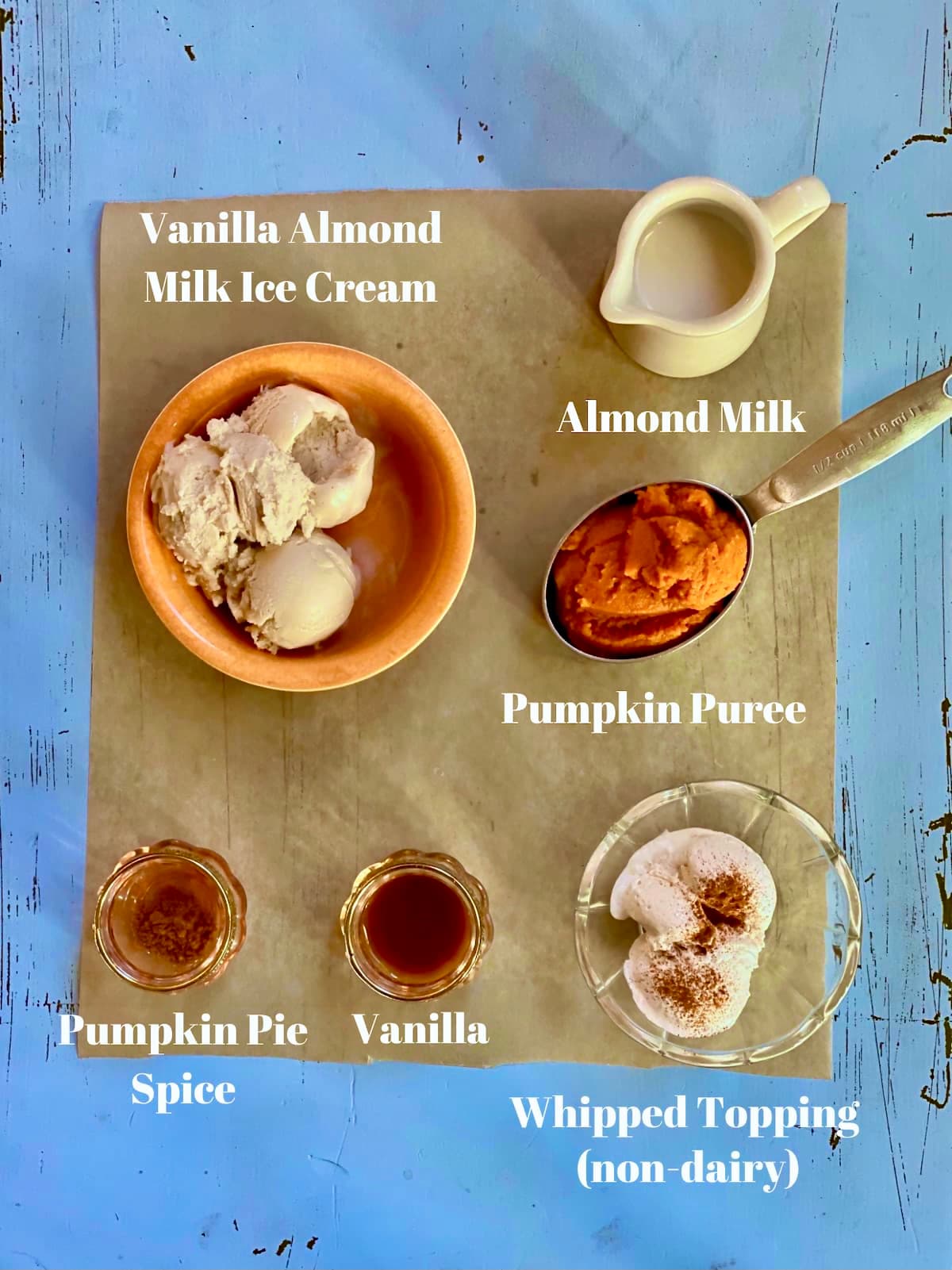 For the full list of ingredients and instructions, please scroll to the recipe card below.
Ice Cream: Use regular or non-dairy vanilla almond, cashew or coconut milk ice cream
Milk: Any regular or non-dairy milk will do.
Pumpkin Puree: Canned puree (not canned pie filling) has great color and flavor.
Pumpkin Pie Spice: Easy to find at most grocery stores, just a quarter teaspoon of the stuff is all we need, and it makes all the difference.
Pure Vanilla Extract: For a sweetness you just can't get any other way.
Whipped topping: Non-dairy or regular frozen whipped cream finishes this beauty off.
Step-by-Step Instructions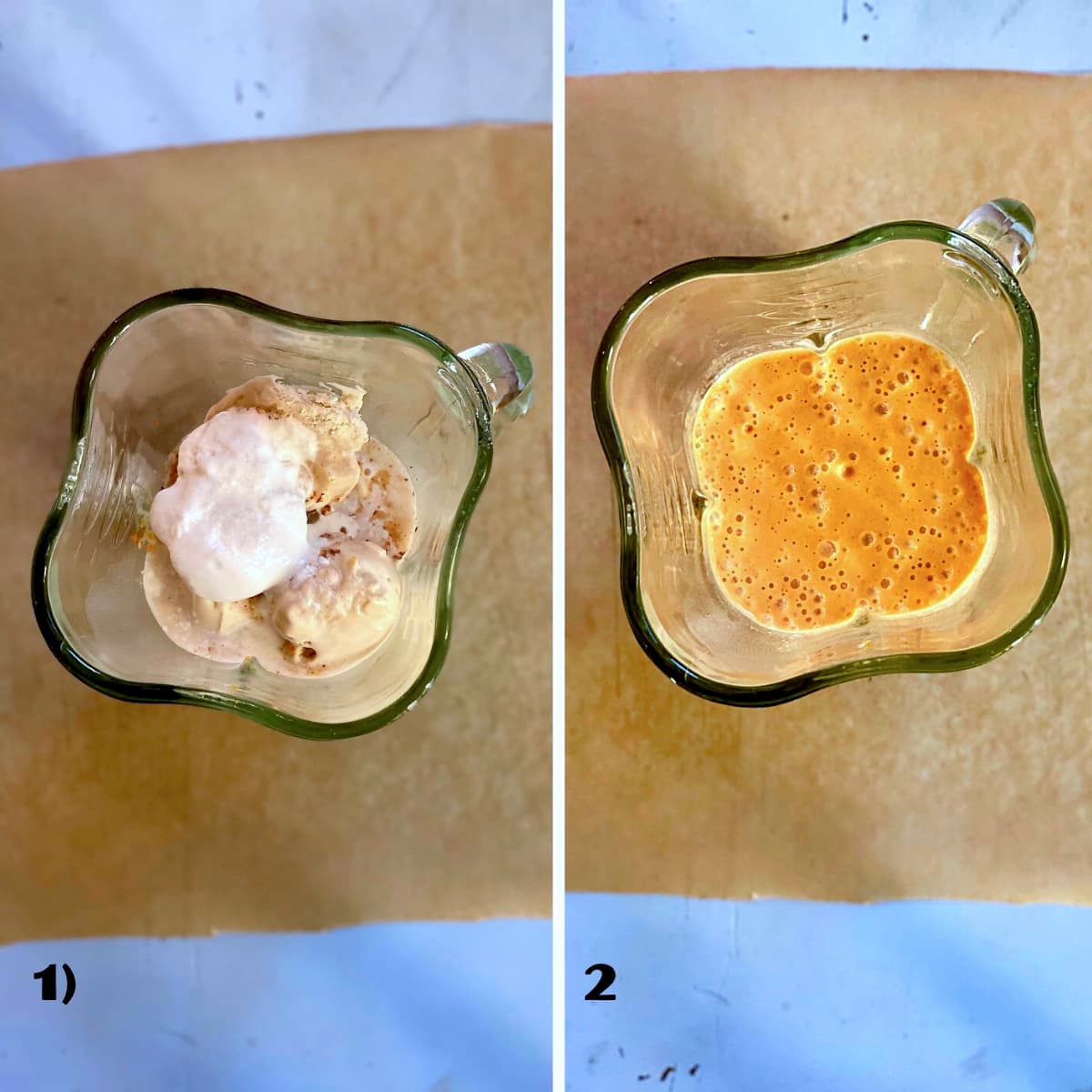 For the full recipe and list of instructions, please scroll down to the recipe card.
This recipe is easy! Here's all you do:
Put the ice cream, milk, pumpkin, vanilla extract and pumpkin pie spice in the blender. Add a little more milk if its too thick.
2. Blend on high speed until completely combined and smooth.
3. Divide into two glasses.
4. Serve with a small scoop of the frozen whipped topping as a garnish with a little sprinkle of pumpkin pie spice on top.
Expert Tips and Serving Ideas
Pumpkin milkshakes are a fun, seasonal treat. I guarantee people will be delighted if you bring out a tray of these on a fall weekend afternoon. Make the servings smaller as an option too.
Use mis-matched glassware to serve the shakes for interest, and I highly recommend a plate of cookies too, like My Favorite Chocolate Chip Cookies, Lemon Shortbread Cookies, or Triple Chocolate Cookies. A couple of graham crackers works in a pinch.
Be sure to use solid pack pumpkin like this one, not pumpkin pie filling which is different.
Try using a small cookie scoop to portion out the frozen topping in uniform shape. This works best when it's partially frozen. Sprinkle with pumpkin pie spice for garnish.
Add a cinnamon stick as garnish with the whipped cream if you'd like!
Frequently Asked Questions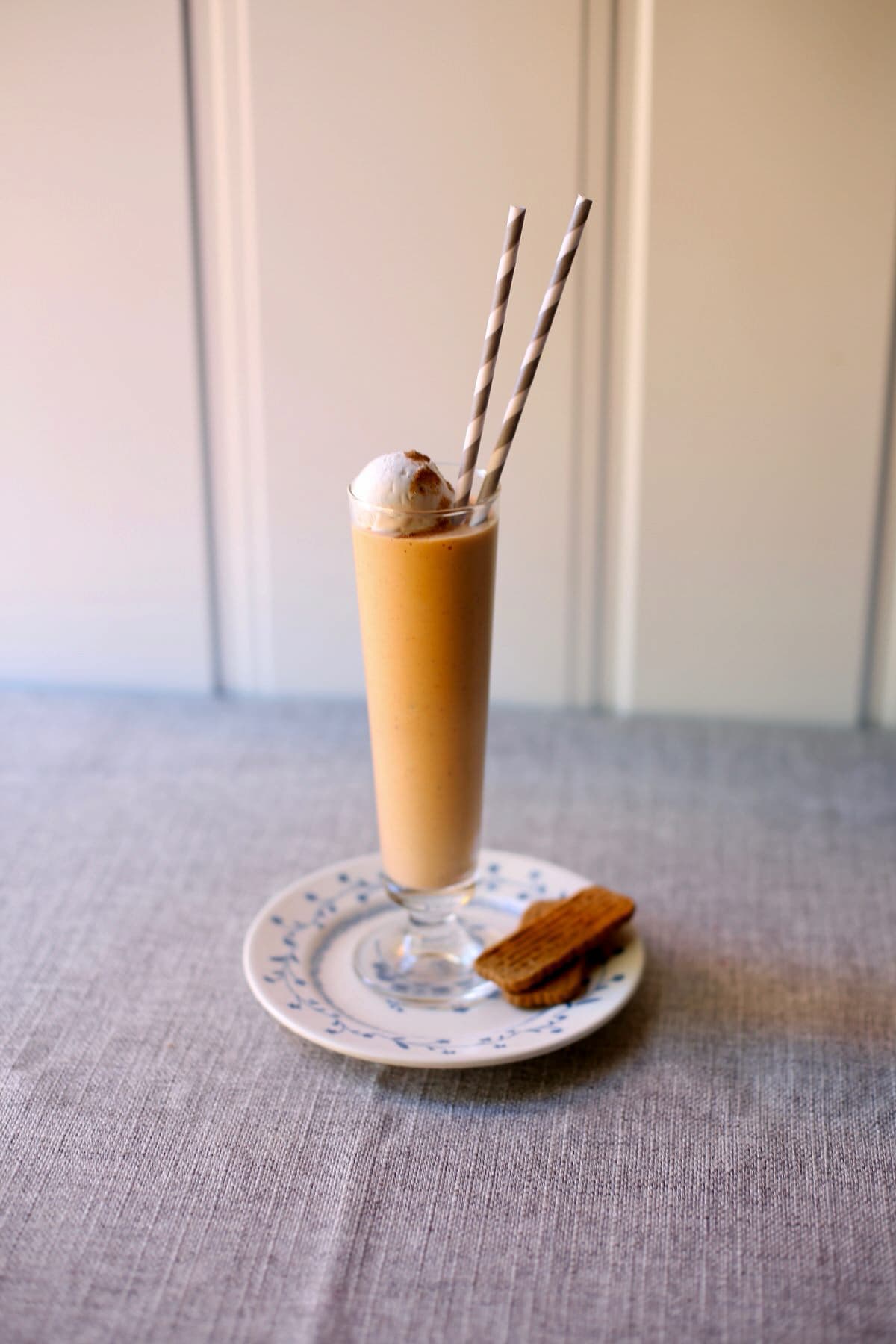 What is pumpkin spice?
It's a spice blend that typically includes cinnamon, cloves (or allspice) ginger and nutmeg. To make it at home, combine one tablespoon of cinnamon with one teaspoon of the rest of the spices (nutmeg, cloves (or allspice) and ginger). These spices traditionally are used in recipes with pumpkin and other winter squash.
Can this recipe be easily doubled?
Absolutely! Just judge this depending on the size of your blender. You should be able to easily double the recipe in a standard blender, but you can also have the ingredients prepped, measured and ready to go if you'd like to make multiple batches too.
Can I make the servings smaller?
Yes, depending on your needs, you could make this as four small servings for a brunch, say. Try with this Zucchini Potato Fritatta.
More Recipes to Try:
Ginger Biscotti with Pistachios: Full of amazing flavor, I make these every year.
Waffles with Spiced Apples: OMG is all there is to say about this recipe.
Baked Pasta with Chicken Sausage: A favorite recipe, cheesy and delicious!
Dark Cherry Smoothies: Deep cherry flavor and so, so good..
Boozy Fresh Cherry Blackbottom Milkshakes: With or without the booze, you're choice 🙂
If you've tried this Pumpkin Spice Milkshake or any other recipe on Studio Delicious, please rate the recipe with five stars and tell me about it in the comments below!
Interested in more tips and fresh, homemade recipes? Join my email list, tag and follow me on Instagram using #studiodeliciouseats, follow my boards on Pinterest, and see what I'm up to on Facebook and Twitter!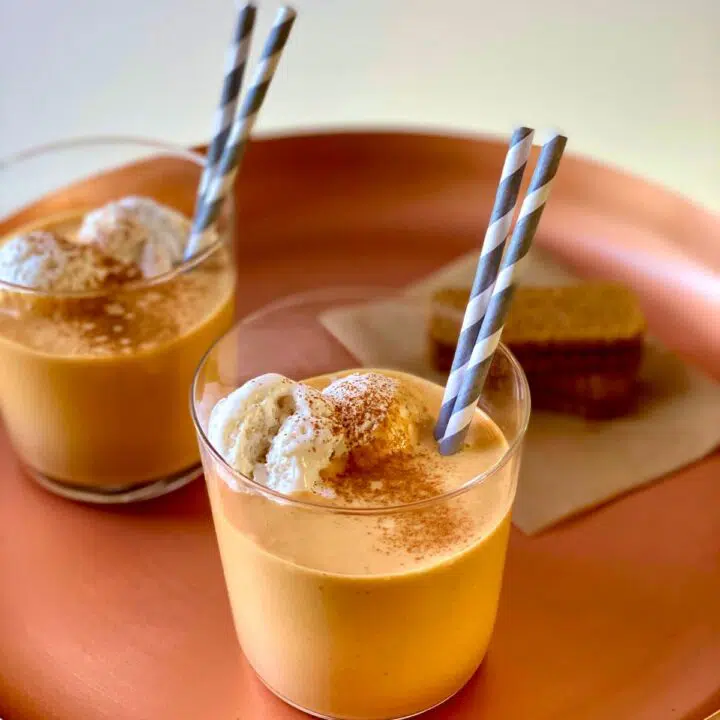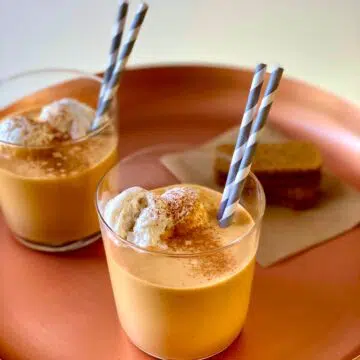 Pumpkin Spice Milkshake
Simple & delicious, this milkshake tastes like pumpkin pie!
Print
Pin
Rate
Ingredients
1

cup

Vanilla ice cream

or non-dairy ice cream

2/3

cup

Milk

or non-dairy milk

1/2

cup

Pumpkin, solid pack

1

teaspoon

Pure Vanilla Extract

1/4

teaspoon

Pumpkin Pie spice

plus more for garnish

Frozen Whipped Topping
Instructions
Place all of the ingredients in a blender except for the frozen whipped topping and blend on high speed until completely smooth. Add a little more milk if needed if the mixture is too thick.

Pour into two glasses. Serve with a small scoop of frozen whipped topping on top as a garnish, and a pinch of pumpkin pie spice sprinkled on top.
Notes
Feel free to use non-dairy ice cream, milk and whipped topping. Try vanilla almond milk!
Use solid pack pumpkin, not canned pumpkin pie filling for this recipe.
Use a small cookie scoop to portion out the frozen topping, then sprinkle with a dusting of pumpkin pie spice.
Nutrition
Calories:
214
kcal
|
Carbohydrates:
25
g
|
Protein:
6
g
|
Fat:
10
g
|
Saturated Fat:
6
g
|
Cholesterol:
37
mg
|
Sodium:
91
mg
|
Potassium:
365
mg
|
Fiber:
2
g
|
Sugar:
20
g
|
Vitamin A:
9942
IU
|
Vitamin C:
3
mg
|
Calcium:
192
mg
|
Iron:
1
mg
Tips for Success with Every Recipe
Super important to read the whole recipe before you begin
Pay attention to the ingredient list and photos for the recipe
If possible, prep your ingredients a little before you start
Always use a sharp knife for safety
Use the size of pan called for in the recipe
For savory recipes, taste and season as you go
Buy fresh, organic ingredients, locally sourced whenever possible
This post was updated with new text and photos September, 2021. Original text:
I don't know about you, but I crave pumpkin spice this time of year, in it's many, many forms.
The stuff is out in full swing as you've probably noticed, everything from pumpkin spice peanut butter to pumpkin tea bags and cookies, even jars of spicy pumpkin pasta sauce.
October makes me nostalgic, which got me thinking about why random memories stick with us our whole lives.
Like when I was 14 – that awkward stage when you're not old enough to do anything.
My Mom drove my brother and me to Skagg's Drugstore on Main Street in her moss green Chevy Impala.
I was bored and miserable (my full-time job back then) but perked up with the thought of cosmetics and the new issue of Tiger Beat magazine.
That day I bought a tiny bottle of Golden Autumn by Prince Matchabelli – after lavishly spraying myself with the tester – and some roll-on lip gloss using my monthly allowance.
As I walked out of the store, a little kid yelled real loud that I smelled good.
I was totally taken off-guard and red faced, too – but said thanks.
Feeling newly confident, I'm pretty sure I flipped my hair a few times back to the car but I can't be sure 🙂
Who knows why, but I won't forget that day.
You can buy pumpkin spice ice cream right now in just about any grocery store, but we're going old-school on this one.
Use best-quality vanilla ice cream, some canned pumpkin puree, real vanilla extract, cold milk (I used vanilla almond milk) and a big pinch of cinnamon.
Blend to combine, then pour in a tall, stylish glass with a trendy straw 🙂
Try some frozen whipped topping using a small scoop for a fun garnish on top and enjoy.