Here's a brunch recipe that's a little bit fancy and a LOT tasty. The small size of these Spring Vegetable Frittatas make it a fun option for brunches and parties, or for a quick, delicious make-ahead breakfast on the go.

If you're like me, finding time for breakfast can be a challenge, especially if you're running to work, the gym or school. I've got a easy solution for those times, and this recipe for spring vegetable frittatas is not only tasty, it's also pretty enough to serve for brunch, too. Start with this Lemon Artichoke Dip, so good, and roasted vegetables work great too, like Carrots with Almonds.
Don't let the long ingredient list scare you! This recipe comes together easily and is worth the prep.
These ingredients are easy to find, you may have many of them already on hand
Shredded frozen hash browns make these frittatas more substantial, and keeps them held together well
Hate zucchini? Try diced green peppers instead! Switch it up!
Want a different recipe for frittata? Try my Zucchini Potato Frittata, made all in one baking dish!
Ingredients You'll Need for this Recipe

Eggs: Seven large, to be exact.
Cherry Tomatoes: Cut these into tiny pieces, then gently squeeze to release the seeds and excess juice
Onion: Just a couple of tablespoons, diced up adds alot of flavor
Hash Browns: Frozen, shredded hash browns work perfect, just defrost them before starting the recipe
Cheese: Parmesan is my choice, but a good melty cheese like Gruyere would taste amazing too
Vegetables: Just one zucchini and some asparagus, plus frozen peas too
Seasonings: Garlic powder, salt, lemon pepper and a little red pepper sauce for extra flavor
Italian Parsley: Because it looks and tastes good on EVERYTHING, right?
Olive Oil: A little drizzle on top right before baking is the key to extra deliciousness 🙂
Step-By-Step Instructions for this Recipe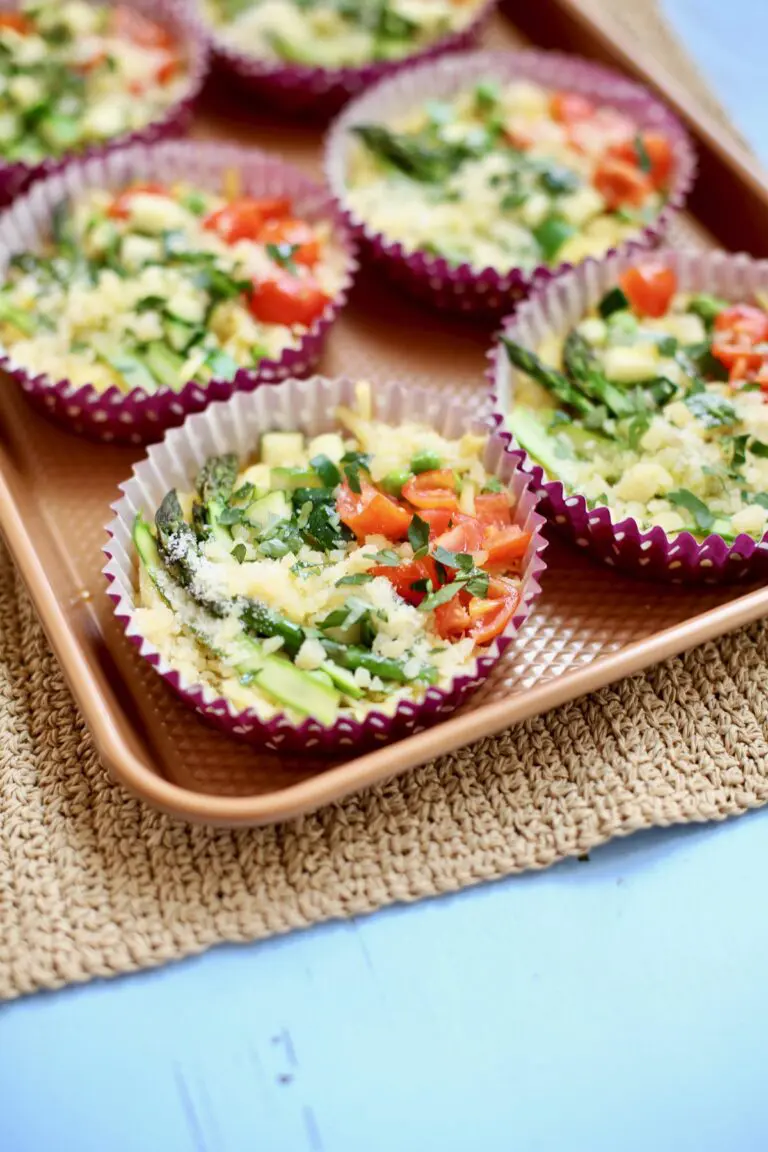 Mix together the egg and potato mixture by cooking the onion in a nonstick saute pan with olive oil and salt
Crack the eggs in a separate bowl with a bit of water, then whisk them to a light and frothy state. Add the seasonings, too.
Add the cheese, hash browns, onions, peas and parsley to the bowl with the eggs and stir to combine
Cook the zucchini and asparagus quickly in the same pan that you used for the onions
Spray the inside of each muffin liner with non-stick cooking spray before assembling, otherwise they will stick!
Assemble by putting the egg/hash brown mixture inside each paper liner to 2/3 full.
Top with the veggies, cheese and parsley, plus a drizzle of olive oil
Bake for about 25 minutes and enjoy!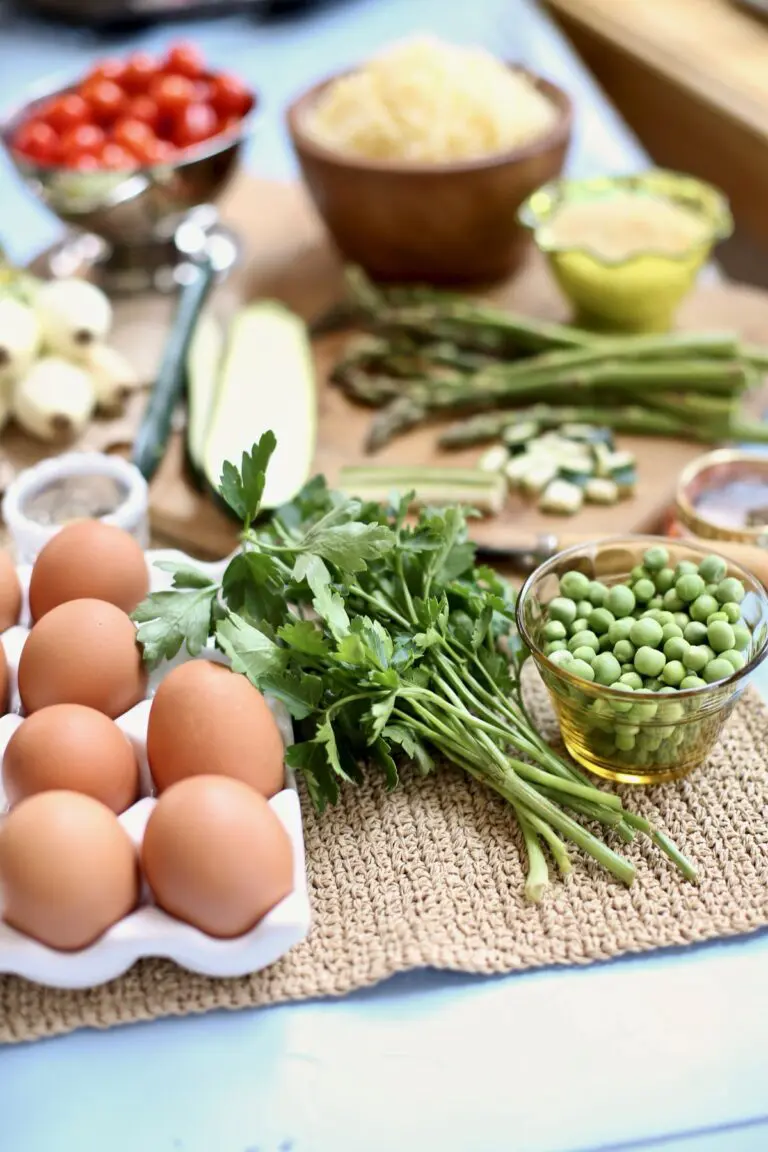 Fresh, seasonal vegetables are the star of this recipe, but feel free to add cooked, crumbled bacon, sausage or ham to change things up 🙂
Tips and Serving Ideas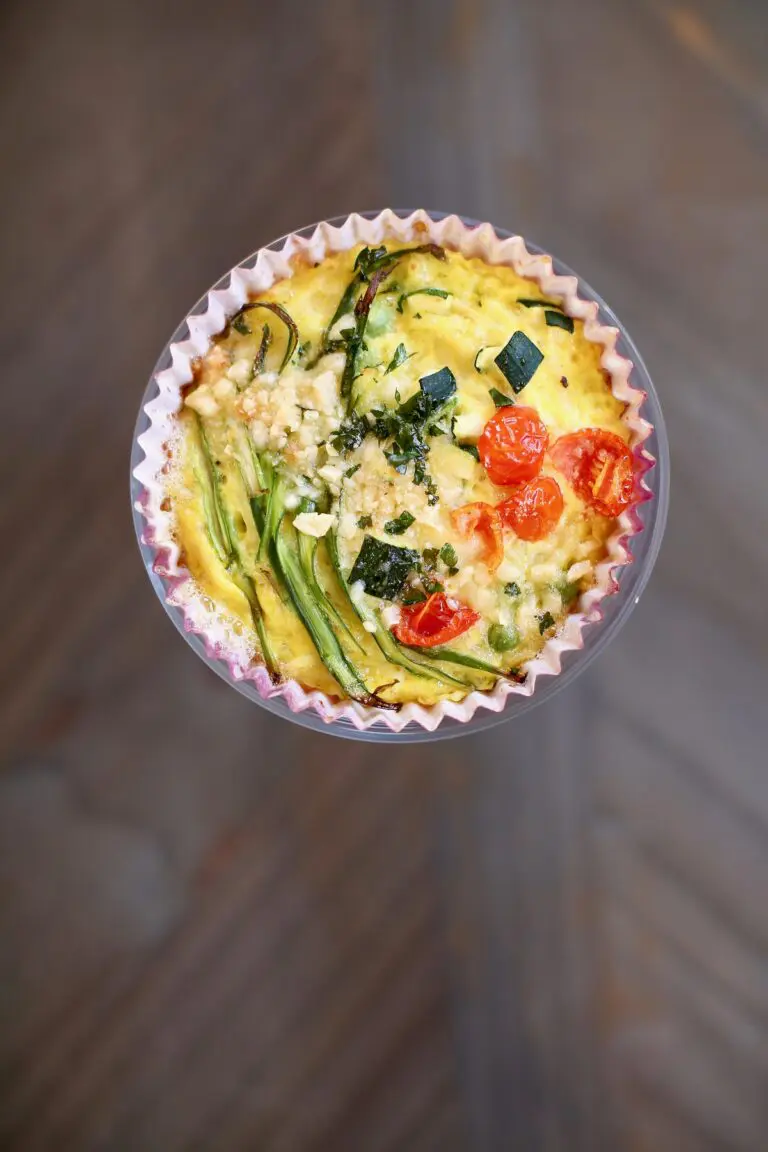 Experiment and customize your toppings and cheeses if you'd like! Havarti or Gruyere would be good choices instead of Parmesan.
Add some small pieces of shaved ham, bacon or sausage for variation.
Serve these frittatas on big platter with a bowl of chunky fresh salsa, some cut fresh fruit and a platter of crispy bacon or chicken sausage, or both, or a big platter of Summer Pasta to round out the menu, and how about Roasted Nectarines with Caramel Sauce for dessert?
Add a basket of warm muffins or pastries and you've got a good reason to invite people over for brunch. I'd also consider adding a Frozen Pineapple Nectarine Slushee to the brunch line-up.
You could also use paper cupcake liners here, just double them and place inside a muffin tin as you would a cupcake. BE SURE to spray the INSIDE of each liner with non-stick cooking spray before filling, though, or you'll be sorry (cuz it'll stick).
To remove seeds from a cherry tomato, cut them in half and place in a small bowl, then gently squeeze with your hands and the seeds will come right out.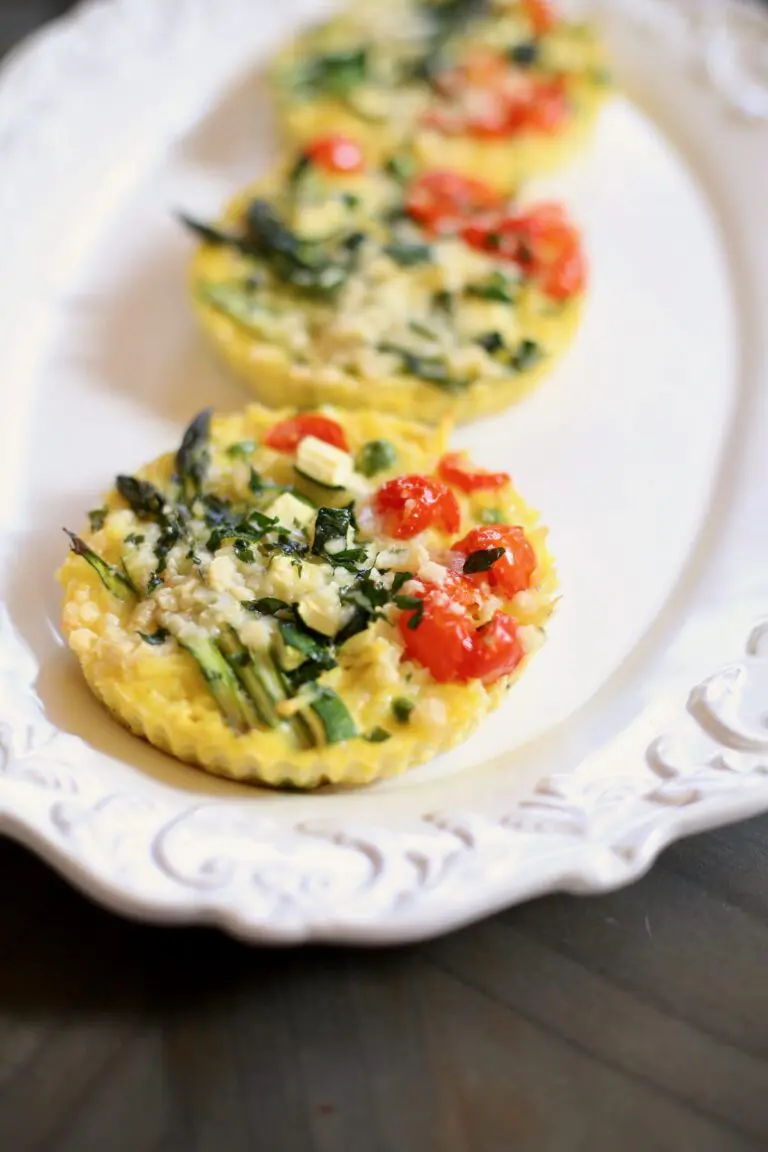 More Recipes to Try:
Decorated Chocolate Covered Strawberries
Ice Cream Cake with Peanut Butter Ganache
Roasted Spring Vegetables with Vinaigrette
Coconut Milk Rice Pudding with Rose Rhubarb
Strawberry Asparagus Salad with Lemon Vinaigrette
Roasted Grape Hazelnut Breakfast Bowl
If you've tried Spring Vegetable Frittatas or any recipe on Studio Delicious, I'd love to hear about it in the comments below!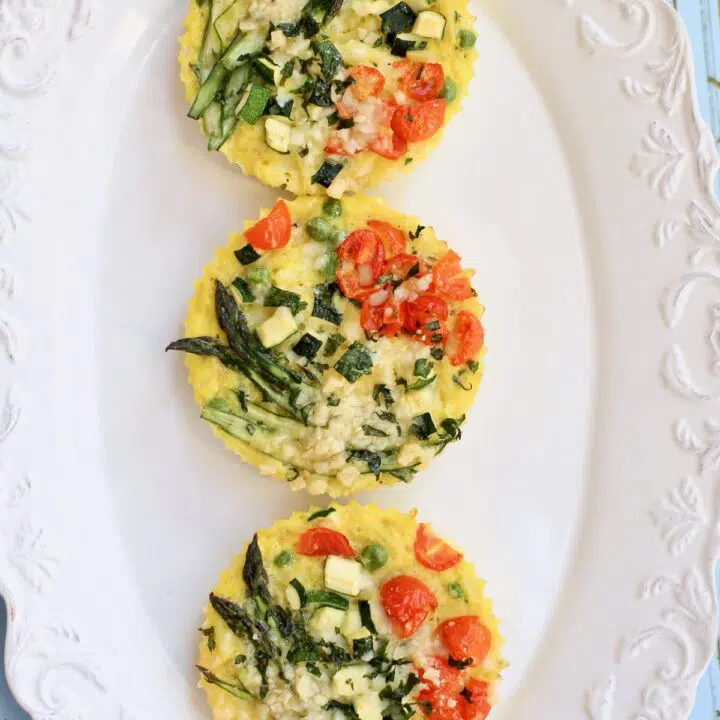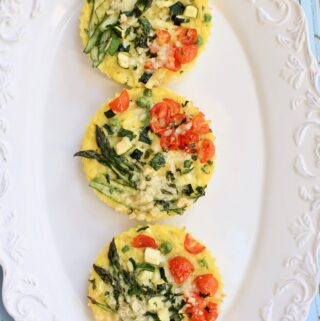 Spring Vegetable Frittatas
Spring Vegetable Frittatas are healthy, easy, portable and SO tasty for brunch or picnics
Print
Pin
Rate
Ingredients
2

teaspoons

Olive Oil

2

tbsp

Yellow Onion, diced

1/4

tsp

Salt

7

Eggs, large

2

tablespoons

Water

1

teaspoon

Garlic powder

1

teaspoon

Salt

1

teaspoon

Lemon Pepper

1

teaspoon

Pepper sauce

1/3

cup

Parmesan cheese, finely grated

plus more for garnish

1 16

ounce

Hash Browns, shredded, defrosted from frozen

1/2

cup

Peas, fresh or frozen, shelled

1/4

cup

Italian Parsley (aka flat leaf parsley)

chopped fine

1

medium

Zucchini, ends removed, quartered, seeded

cut in 1/4' slices

1/4

pound

Asparagus, fresh, ends trimmed and peeled lengthwise then cut in 1" pieces

1/2

cup

Cherry Tomatoes, halved and seeded
Olive oil

for drizzling.
Instructions
Make the EGG and POTATO Mixture

Heat 2 teaspoons olive oil in a medium sized (10") non-stick saute panAdd the chopped onion and a pinch of salt, and cook on medium high heat stirring occasionally with a wooden spoon until soft, about 5 minutes. Set aside to cool.

Crack the eggs and 2 tablespoons of water into a medium-sized bowl and whisk to combine completely. The mixture should be light and a bit frothy.

Add the powdered garlic, salt, lemon pepper and pepper sauce to the eggs and whisk together until combined.

Add the Parmesan cheese, hash browns, cooled onion, peas and half of the chopped parsley to the bowl with the egg mixture, and stir gently to combine.

Prep the VEGGIES

Using the same medium non-stick sauce pan you used for the onion, add the zucchini plus 2 tablespoons of water and a pinch of salt. Cook on medium heat stirring occasionally until the water evaporates, 2-4 minutes. They should be cooked but not mushy. Remove from pan and set aside.

Repeat this process the asparagus and set them aside.

Assemble the Frittatas for Baking

Preheat oven to 350

Place oven safe paper liners on a large baking sheet that's been lined with parchment paper or foil. Spray the inside of each paper liner with non-stick cooking spray. (See Recipe Notes.)

Spoon the egg and potato mixture into the baking cups, filling them to 2/3 full.

Top each baking cup with a loosely measured tablespoon each the zucchini, asparagus and tomatoes. This will vary with the baking cup size you use, and the goal is not to overload the cups, so just eyeball it, and don't add too much.

Sprinkle the top of each cup with a generous teaspoon of Parmesan cheese and a bit of the remaining chopped parsley.

Drizzle a little olive oil on top of each frittata, about a 1/2 teaspoon Bake on the lower third shelf of the oven at 350 for 25 minutes, or until the egg is set in the middle and does not wiggle with no pooling liquid in the middle (which means they aren't completely cooked yet.)

Broil for 2-3 minutes if the cheese hasn't quite melted after 25 minutes to finish cooking the very top of the frittatas.Remove from oven and enjoy!
Notes
Here's a source for Free Standing oven safe paper liners 4" diameter
Alternatively, you can also use paper cupcake liners, and I'd place two of them inside a muffin tin, just as you would for a cupcake. And be sure to spray the inside of the liner with non-stick cooking spray, or you'll have problems removing them 🙂
Use green onions instead of onions for variation if you'd like.
To remove the seeds from a cherry tomato, cut them in half, place in a small bowl, then gently squeeze them with your hands and the seeds will come right out. Drain and use.
Nutrition
Calories:
150
kcal
|
Carbohydrates:
15
g
|
Protein:
9
g
|
Fat:
6
g
|
Saturated Fat:
2
g
|
Cholesterol:
146
mg
|
Sodium:
517
mg
|
Potassium:
385
mg
|
Fiber:
2
g
|
Sugar:
2
g
|
Vitamin A:
669
IU
|
Vitamin C:
19
mg
|
Calcium:
89
mg
|
Iron:
2
mg
Tips for Success with Every Recipe
Super important to read the whole recipe before you begin
Pay attention to the ingredient list and photos for the recipe
If possible, prep your ingredients a little before you start
Always use a sharp knife for safety
Use the size of pan called for in the recipe
For savory recipes, taste and season as you go
Buy fresh, organic ingredients, locally sourced whenever possible
This recipe was originally posted March 2019 and updated with new tips in May 2020