Here's a fabulous dessert that's perfect anytime, Ice Cream Cake with Peanut Butter Ganache. Adding peanut butter to a classic chocolate ganache makes this ice cream cake recipe a real stand-out.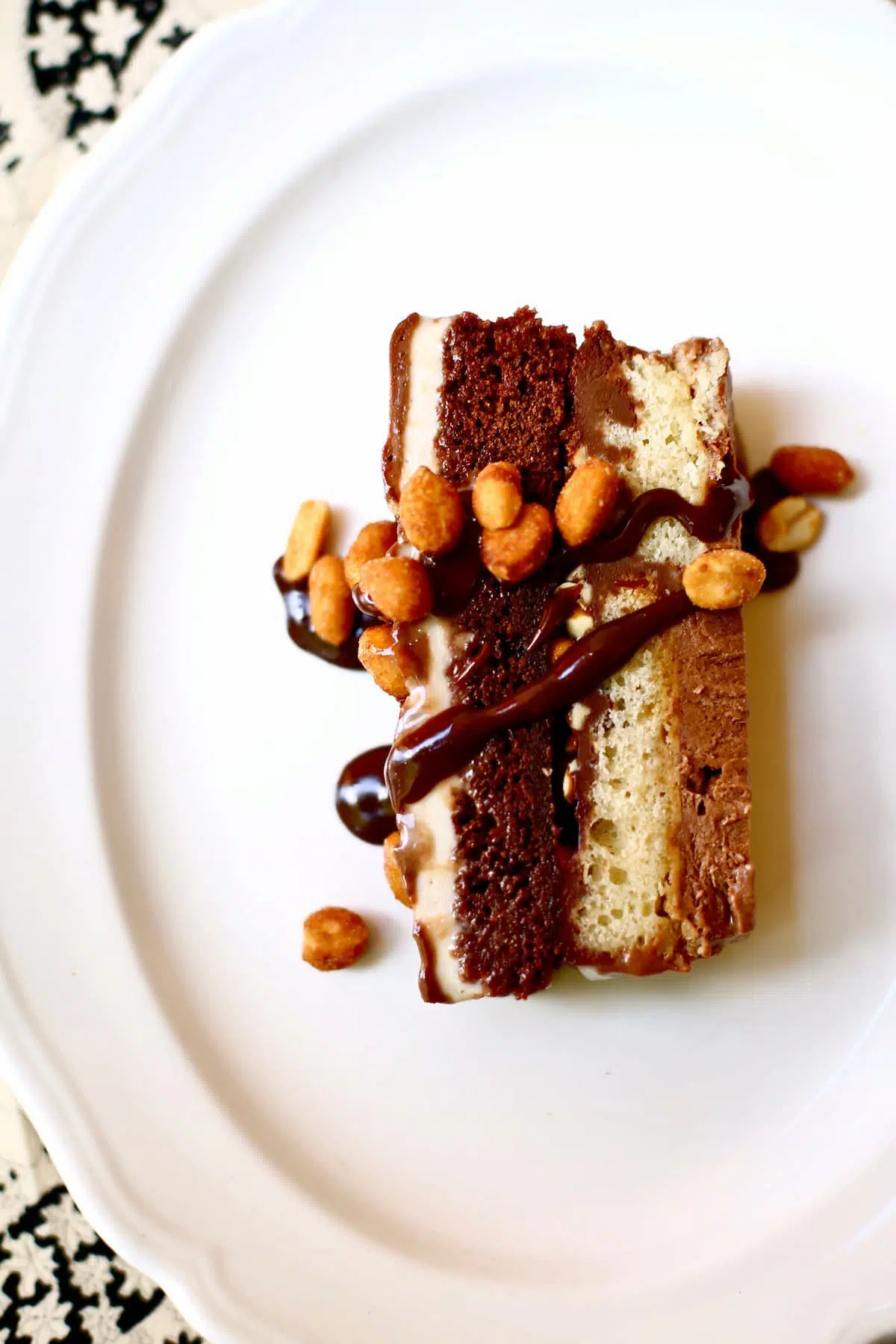 Jump to:
Why Make this Recipe?
I had the idea for this easy Ice Cream Cake with Peanut Butter Ganache while sitting on the porch one night, thinking about whether to make Fresh Banana Cake, Peanut Butter and Jam Cookies, or an Apple Upside Down Cake. It's entirely too hot to turn on the oven in my neck of the woods for at least another month, so ice cream cake with peanut butter and chocolate won.
If you're a creamy peanut butter lover, you'll LOVE the peanut butter ganache in this recipe. It's sort of like eating softened peanut butter cups, only better.
What could be better than cake with chocolate and peanut butter?
The cake part of this recipe is store-bought, a real time-saver.
There's no sweetened condensed milk in this recipe, and non-dairy or regular heavy whipping cream can be used for the ganache.
Ingredients You'll Need

Store Bought Vanilla and Chocolate Loaf Cakes: about 12 ounces each. Usually found in the bakery area, but try the freezer section too.
Vanilla and Chocolate Ice Cream: Non-dairy varieties work well too.
Chocolate Chips and Milk Chocolate: For that perfectly balanced chocolate flavor.
Peanuts: Honey roasted peanuts are amazing in this recipe, because of that sweet & salty thing that happens 🙂
Creamy Peanut Butter: Smooth and creamy, and so tasty mixed into a classic chocolate ganache
Heavy Cream: Very hot, but not boiling…. to melt all that chocolate and peanut butter. Non-dairy cream works well too.
Step-By-Step Instructions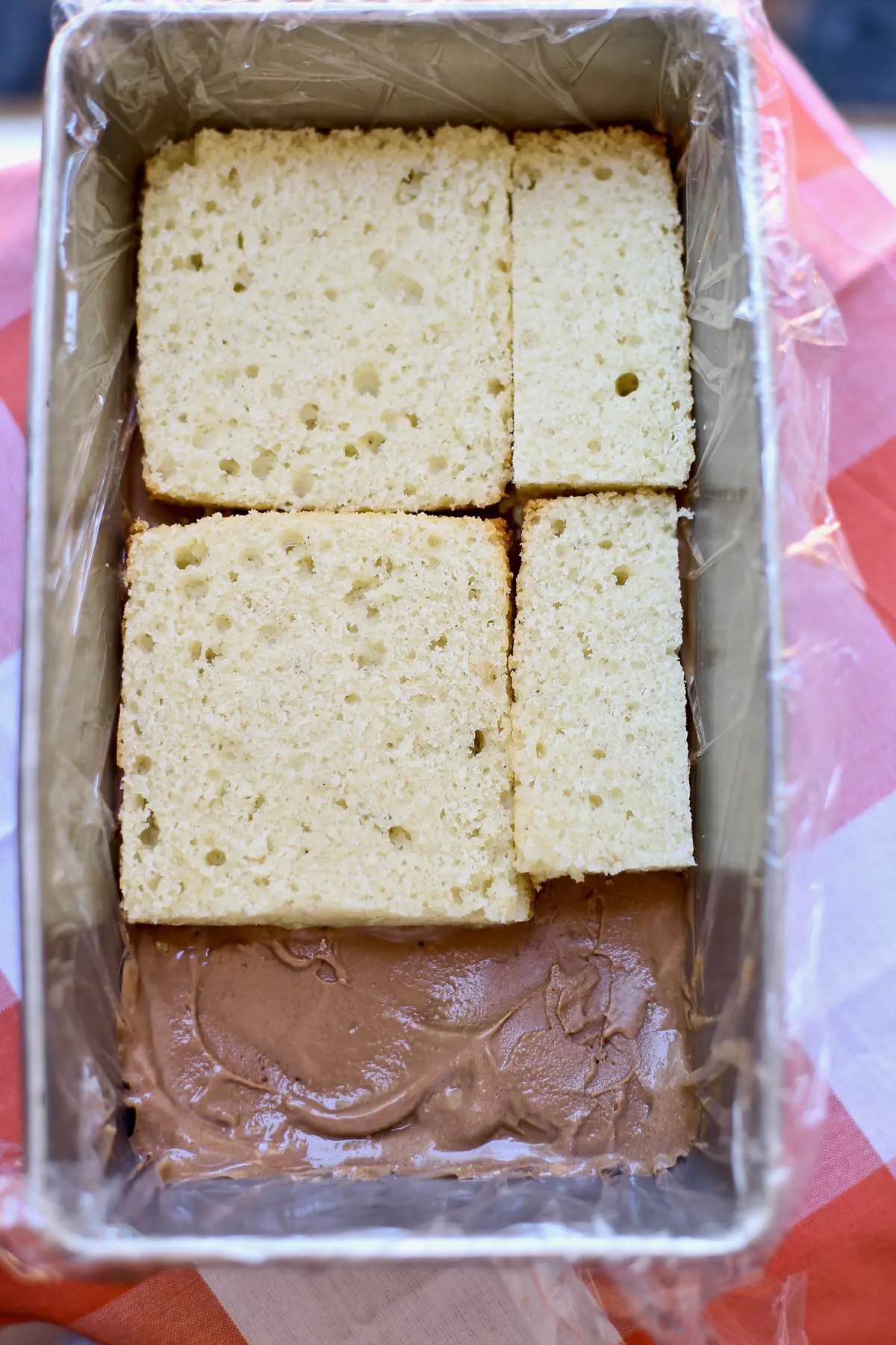 Prep your loaf pan with some cooking spray, then smooth some plastic wrap in the pan so it overlaps the sides. (This will make it much easier to remove the cake later.)
Add the softened chocolate ice cream to the loaf pan, and top with 1/2″ slices of vanilla cake. Spoon some ganache and chopped peanuts on top of this and freeze for 30 minutes.
Repeat with the vanilla ice cream and chocolate cake, freeze again.
Spoon more ganache, sprinkle with the whole peanuts and – you guessed it – freeze for another 30 minutes.
Loosely cover the whole thing in plastic wrap and freeze it overnight.
Remove from your freezer 15-20 minutes before serving, then slice and drizzle with a little more ganache, a few more peanuts and serve!
For the full recipe and instructions, just scroll to the recipe card below!
How to Make Peanut Butter Ganache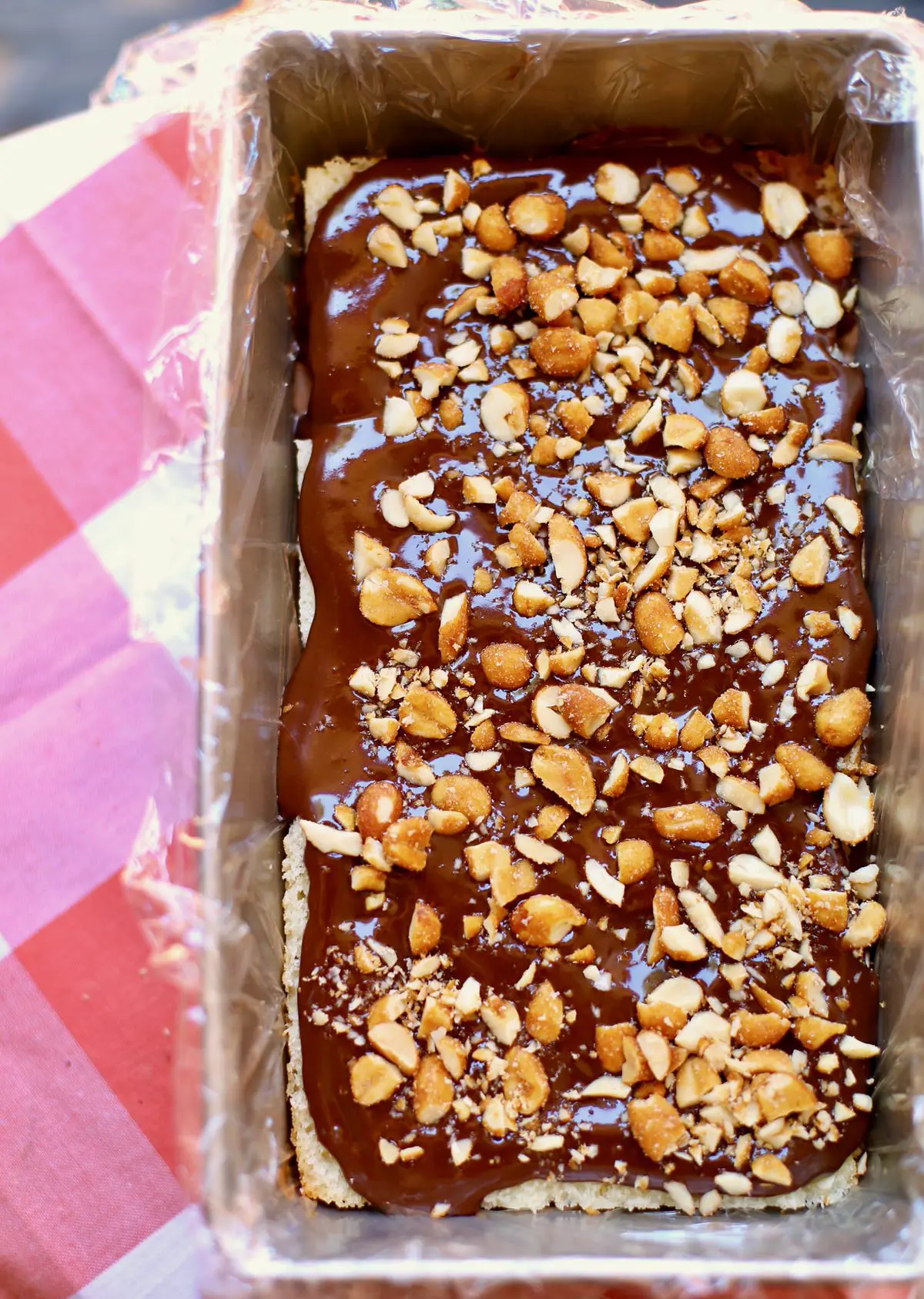 "Ganache" is a fancy name for chocolate and cream with a lot of delicious uses, such as a filling for truffles or pastry or whipped with an electric beater to make a decadent frosting.
For this Ice Cream Cake with Peanut Butter Ganache, all you do is:
Place the milk and semi-sweet chocolate plus the creamy peanut butter in a medium-sized bowl.
Heat the cream slowly on medium-high until very hot but not boiling, about 3 minutes.
Pour the cream over the chocolate and peanut butter.
Do nothing for at least 3 minutes. Just let it sit there. Don't be tempted to even stir it, okay? 🙂 Thank you very much.
Stir, starting from the middle, then up the sides and around the bowl with a spatula until combined. Set it aside to cool a bit (or pop it in the fridge if your kitchen is hot) until you're ready to assemble the cake. It should be set-up slightly, but not too hard to scoop.
Tips and Serving Ideas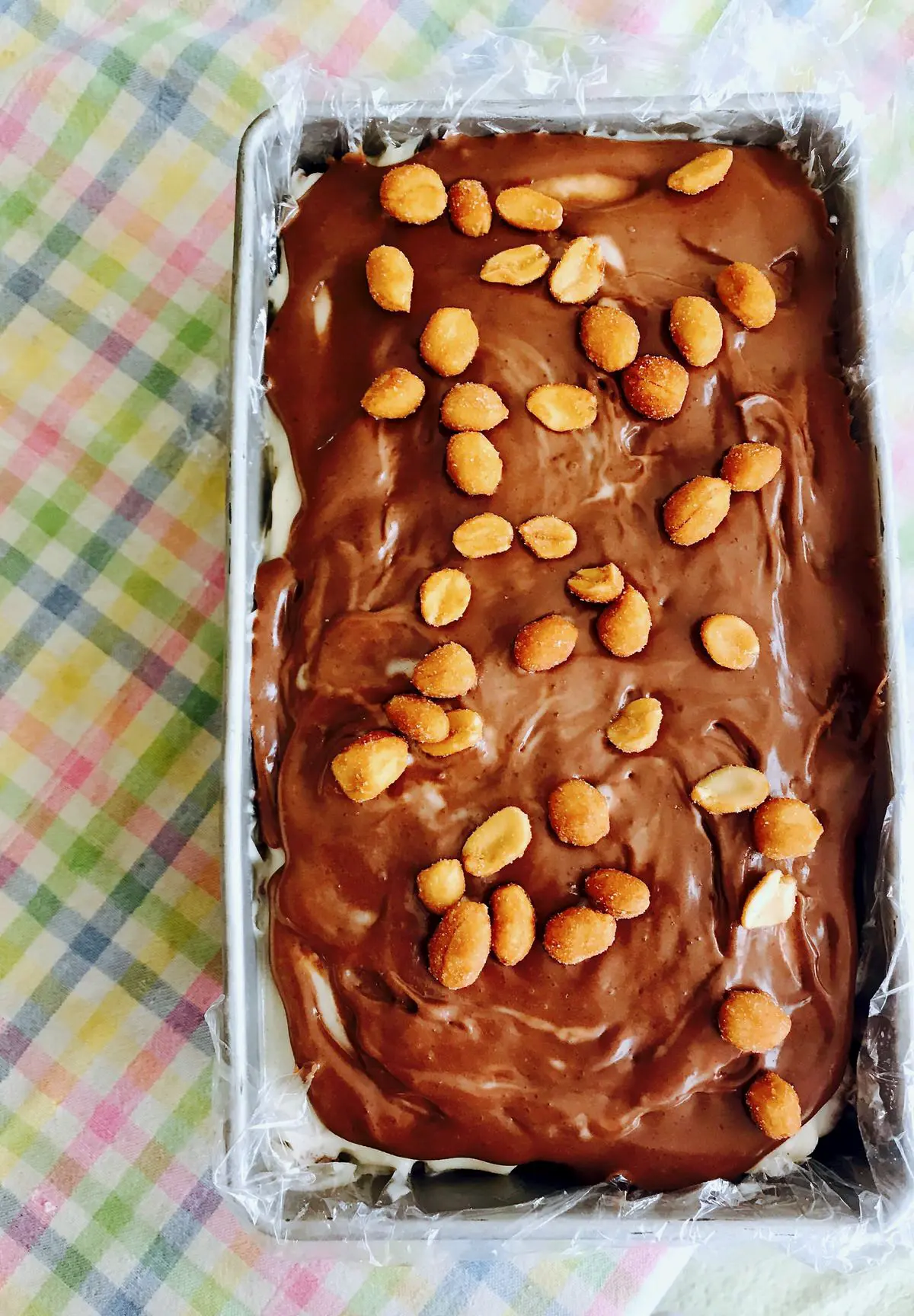 One of the best things about Ice Cream Cake with Chocolate Ganache is it MUST be made in advance, which is great news, don't you think?
Frequently Asked Questions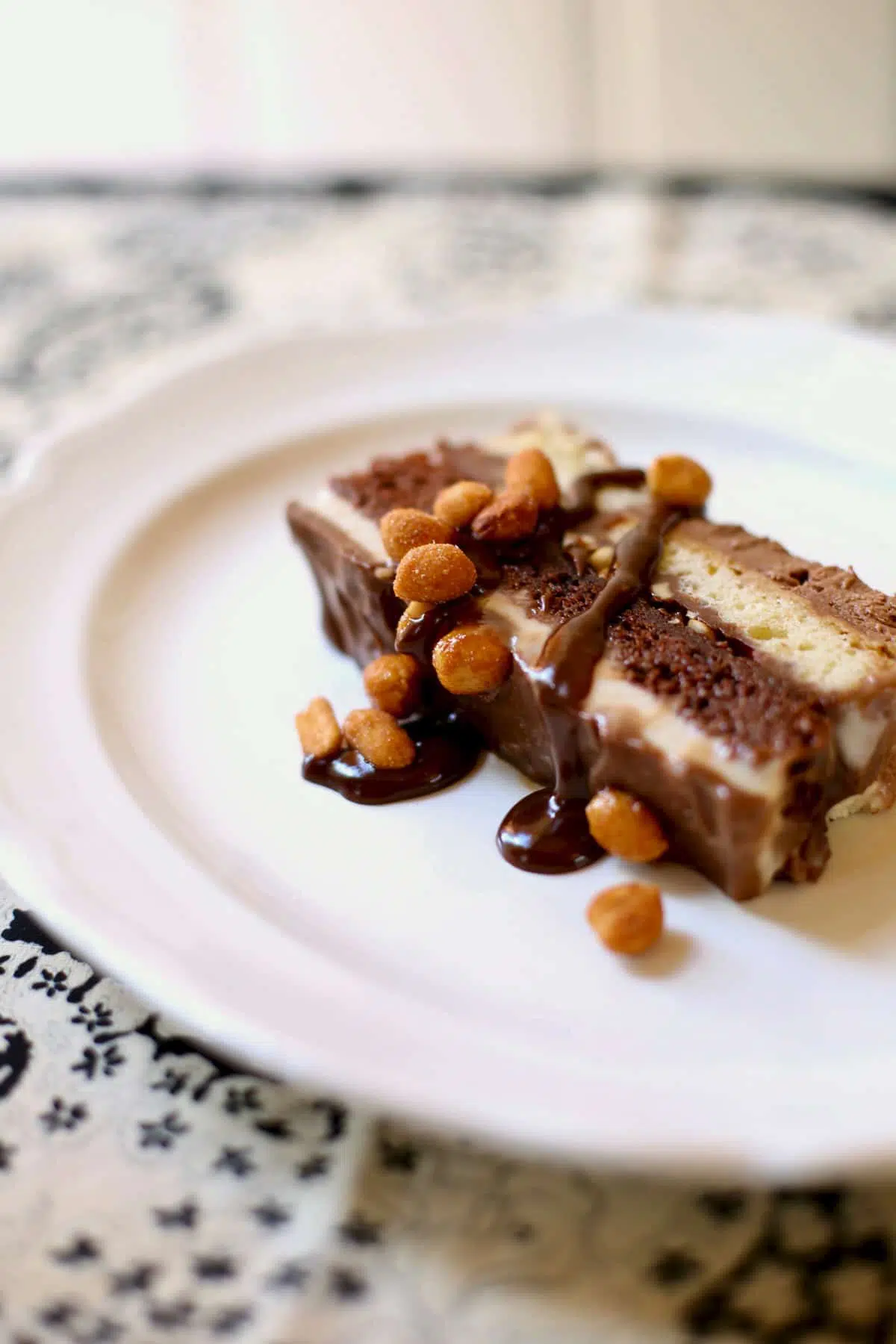 Can I use other flavors of ice cream in this recipe?
Sure! Chocolate Chip or coffee ice cream would be delicious too!
How long can I store this cake in the freezer?
Ice cream cake keeps in the freezer for up to 7 days when stored in an airtight container or wrapped with plastic wrap and foil.
More Recipes to Try:
If you've tried Ice Cream Cake with Peanut Butter Ganache, or any other recipe on Studio Delicious, I'd love to hear about it in the comments below!
Looking for more tips and fresh, homemade recipes? Join my email list, tag and follow me on Instagram using #studiodeliciouseats, follow my boards on Pinterest, and see what I'm up to on Facebook and Twitter!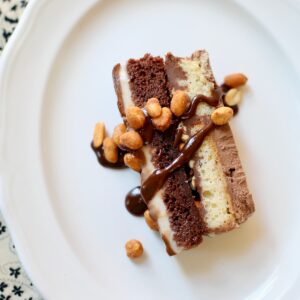 Ice Cream Cake With Peanut Butter Ganache
Ice Cream Cake with Peanut Butter Ganache is a no-fuss dessert everyone loves!
Print
Pin
Rate
Ingredients
2

Loaf cakes, store-bought, vanilla and chocolate (approx. weight of twelve ounces each)

2

pints

Ice Cream, vanilla and chocolate, one pint of each

3

ounces

Milk Chocolate, chopped

⅓

cup

Chocolate chips, semi-sweet

⅓

cup

Peanut Butter, creamy

½

cup plus 2 tablespoons

Heavy Cream

Total measurement is 1/2 cup plus 2 tablespoons of heavy cream

½

teaspoon

Vanilla (Pure Vanilla Extract)

½

cup

Honey Roasted Peanuts, chopped, but reserving two tablespoons whole nuts for the top of the cake, plus more for serving.
Instructions
Prepare a standard-sized loaf pan (9 x 5") by spraying the bottom and sides with non-stick baking spray, then lining the inside with plastic wrap so it overlaps on the two longest sides by about six inches. (The baking spray will help the plastic stick to the loaf pan). Use your fingers to smooth the plastic out as much as possible.

MAKE THE PEANUT BUTTER GANACHEPlace both the milk and semi-sweet chocolate in a medium-sized bowl with the peanut butter. Heat the cream in a non-stick sauce pan on medium-high heat until it starts to bubble up on the sides. Continue to slowly heat the cream all the way through – but not to the point of boiling – which should take about 3 minutes. Remove it from heat and add the vanilla.

Pour the hot cream mixture over the chopped chocolate/peanut butter mixture. Let this sit undisturbed for three minutes, then stir using a rubber spatula starting from the middle and then around the sides until it's smooth and combined.

Set the ganache aside while assembling the rest of the cake. Note: Ganache will harden when it's cold, so to make it spoon-able just microwave it for ten seconds at a time. Note: Before assembling the cake, reserve a generous ⅓ (third cup) of the ganache for serving.

ASSEMBLE THE ICE CREAM CAKERemove both ice creams from the freezer and let them sit at room temperature until lightly softened, about fifteen minutes. Starting with the chocolate ice cream, transfer it to a medium-sized bowl and stir until smooth using a spatula. Spoon it evenly on the bottom of the prepared loaf pan. Wipe any random ice cream smudges from the sides of the pan with a paper towel.

Cut the vanilla loaf cake into half-inch slices, then place on top of the chocolate ice cream in a single, even layer. You'll need to trim some smaller pieces to make the cake cover all the ice cream snugly. Spoon a 1/3 cup of the peanut butter ganache carefully over the top of the cake, spreading in an even layer. Sprinkle three tablespoons of the chopped peanuts on top, then place in the freezer for thirty minutes.

Remove from freezer and add the chocolate loaf cake as the next layer, cutting it the same way you did the vanilla. Spoon the vanilla ice cream on top of this, then freeze again for thirty minutes. Finish the cake by spooning all but the reserved 1/3 cup of ganache on top. Sprinkle with the whole peanuts, and freeze for 30 minutes, then loosely cover with plastic wrap and freeze overnight. See Recipe Note. Note: Allowing the cake to freeze one final time before placing the plastic wrap on top.

Before serving, remove from freezer and let the cake sit at room temperature for fifteen-twenty minutes. Loosen the plastic wrap from the sides of the cake by running a thin knife along the edges to make sure the cake and ice cream aren't stuck to the sides. Grasp the plastic wrap overhang on each side and gently lift the cake out of the pan, then set it on a cutting board lined with wax paper. Cut into slices with a sharp knife that's dipped in very hot water and carefully dried with a clean cloth first. Makes the slicing much easier. Serve with a little of the peanut butter ganache on top and a few more honey roasted peanuts.
Notes
Allowing the cake to freeze one additional time before adding the plastic wrap will help make sure it doesn't stick to the top of your cake when you go to serve it. 🙂

You'll have scraps of cake left over from trimming the cake to fit the loaf pan, so you have full permission to eat these 🙂
Make slicing easier and neater by dipping your knife into very hot water and carefully drying it with a thick kitchen towel first.
Use an offset spatula to spread the ganache and ice cream if you have one, otherwise a regular rubber spatula works fine.

Nutrition
Calories:
496
kcal
|
Carbohydrates:
61
g
|
Protein:
10
g
|
Fat:
25
g
|
Saturated Fat:
10
g
|
Cholesterol:
98
mg
|
Sodium:
462
mg
|
Potassium:
310
mg
|
Fiber:
3
g
|
Sugar:
38
g
|
Vitamin A:
334
IU
|
Calcium:
85
mg
|
Iron:
4
mg
Tips for Success with Every Recipe
Super important to read the whole recipe before you begin
Pay attention to the ingredient list and photos for the recipe
If possible, prep your ingredients a little before you start
Always use a sharp knife for safety
Use the size of pan called for in the recipe
For savory recipes, taste and season as you go
Buy fresh, organic ingredients, locally sourced whenever possible
Don't Miss a Recipe!
This recipe was originally posted in June 2018. Instructions were updated July 2021.