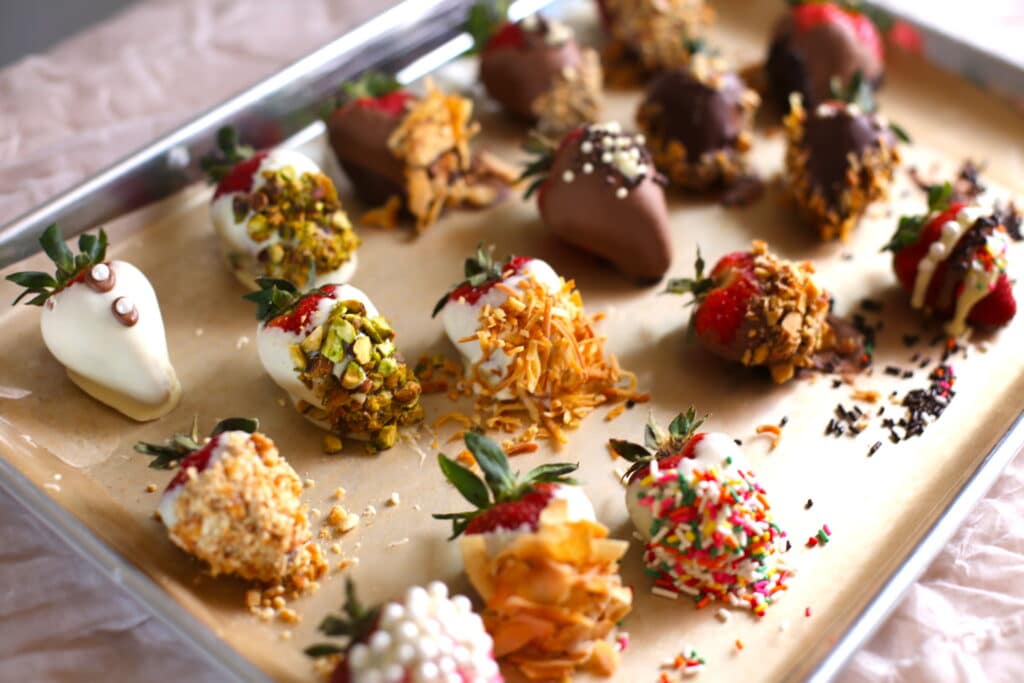 I believe in recycling with all my heart.
Bottles, cans, paper bags, cardboard and even blog posts.
I get worried, you see, and obsess about crazy things.  Like maybe I've been talking about strawberries too much.
In this case, I didn't want you to miss these chocolate-dipped strawberries, now deemed to be "outrageous."
By me, myself and I.
When I originally created this post, the photos were as small as a postage stamp.
And you could have easily missed it, since maybe we didn't know each other then.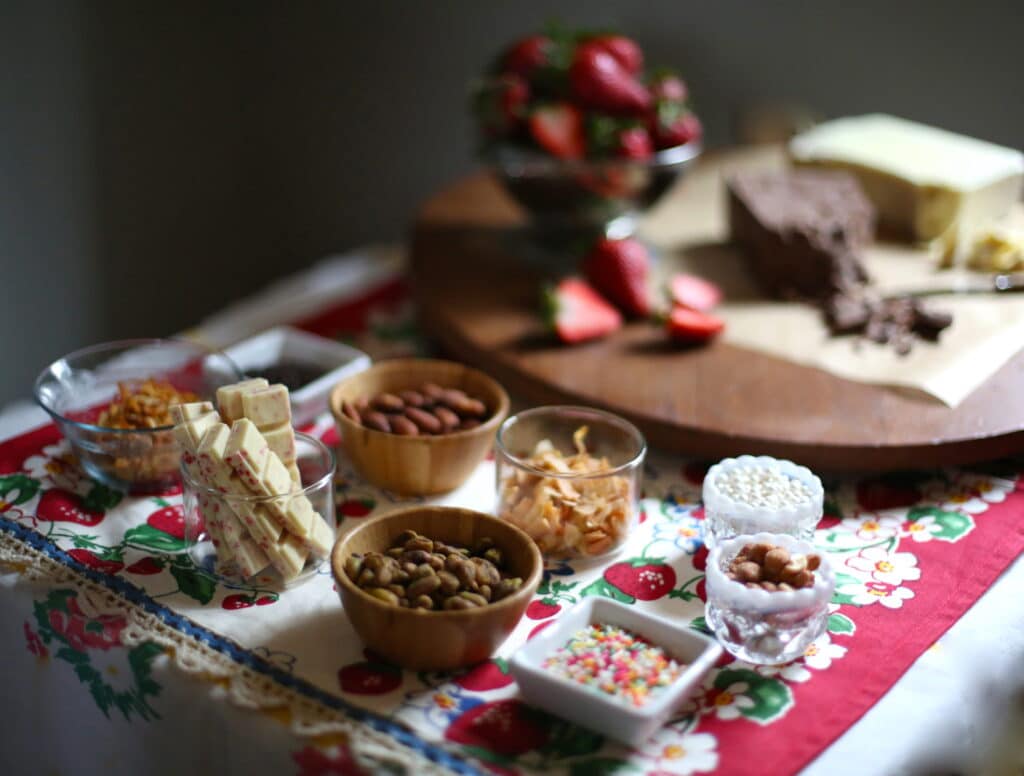 By the way, "recycling" by another name is called "cheating."
As in, trying to pass off an old thing as a new thing.
So, that's happening.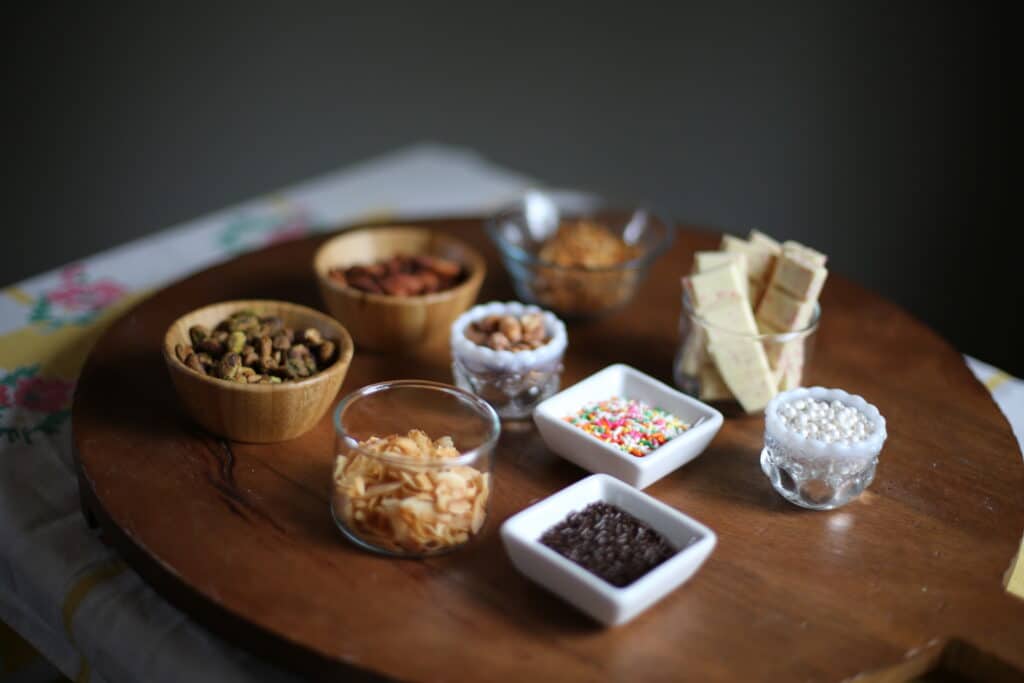 This time around I picked a few different photos for you, and made them as big as could fit on the page.
In fact, depending on your screen, the strawberries are now almost actual size.
You're welcome.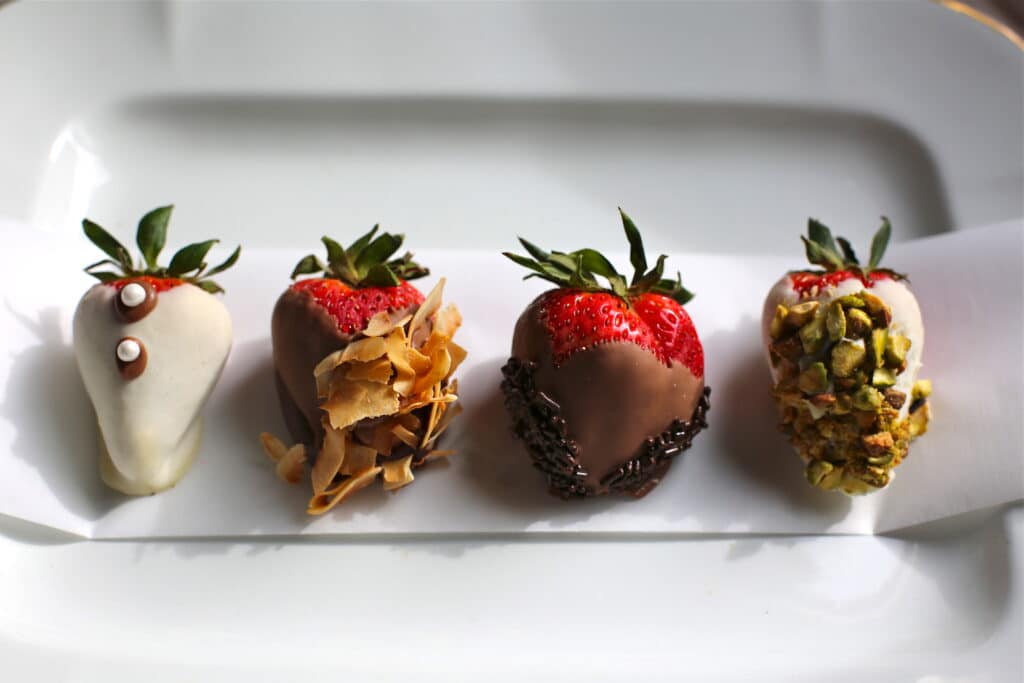 What didn't change is the smooth best-quality white and milk chocolate – and the interesting dippers like toasted coconut, chopped honey roasted peanuts, sprinkles and pistachios.
Insert your own ideas here, because all kinds of things could work.
I saw a fun version at a outdoor festival once – big, fat strawberries dipped in chocolate, then sprinkled with chocolate cookie crumbs and draped with little gummy worms. A worm and dirt situation for the kids, I guess.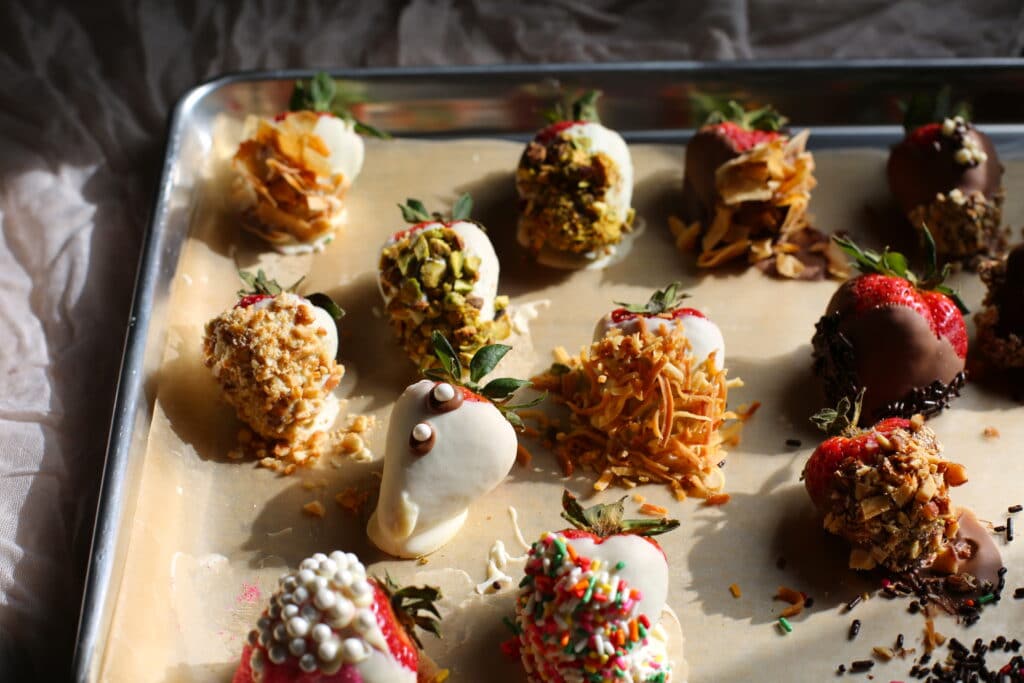 What ever you do, just be sure to give them a try, because these guys are over the top.
Ingredients
1

pound

organic strawberries

6

ounces

milk chocolate

6

ounces

white chocolate

Topping Ideas:

Chopped salted pistachios

Chopped honey roasted peanuts

Unsweetened flaked coconut

toasting is optional

Chocolate

multi-colored, and white sugars and sprinkles
Instructions
Line a cookie sheet with wax or parchment paper.

Carefully rinse the strawberries in cool water and dry them with a paper towel, being careful not to disturb the stem. Set aside while you melt the chocolates, and make sure the strawberries are completely dry before you begin.

Place the milk chocolate in a heatproof bowl over a medium saucepan filled with a few inches of water.

Simmer on medium heat until chocolate starts to melt, stirring occasionally. Remove from heat and continue to stir until smooth. Do the same with the white chocolate.

Note: I start with the white chocolate first and go through the process, then I melt my milk chocolate and dip them second. Or, you can get two saucepans going if you'd like 🙂

The chocolate can also be melted in a microwave, using a microwave-safe bowl. Heat for 30 seconds at time, stirring with a spoon regularly until the mixture begins to melt. Continue to heat and stir until smooth.

Carefully hold each strawberry by the stem and dip it in the warm chocolate, then in the nuts or sprinkles, and set it on the wax or parchment paper. Sprinkle more nuts or sprinkles on each berry if you'd like, to taste.

Mix and match the chocolates and toppings to make a variety.

The chocolate will set after 30-45 minutes. Or, place in the refrigerator for about 15 minutes until they are completely cooled before serving.
Source: Studio Delicious