Cool, refreshing and not too sweet, this delicious Pineapple Slushie is a great breakfast or snack with a fresh fruit kabob on top!
Jump to:
Why You'll Love This Recipe
This Pineapple Slushie is made with fresh pineapple, and is great for summer birthday parties & baby or wedding showers, or on a hot summer day when the heat is unbearable.
Here's some good reasons to try it:
It's versatile! Make it for a snack or fruity cocktails (pineapple rum slush, anyone?)
This recipe can easily be doubled or halved. No need for multiple cups of ice either, since the fruit is frozen!
It's a delicious and easy drink to take for a quick breakfast on the run
Pineapple drinks are very pretty poured into smaller glasses for the brunch table
How about a super refreshing sip in the afternoon by the pool?
Make an adult version with a little rum for happy hour! 🙂
What you can count on with this pineapple slush drink is a clean, tropical flavor and fresh, fruity taste that's icy cold, not too sweet, and easy to make with just a few ingredients.
All you need is a good blender and you've got the perfect drink!
Ingredients You'll Need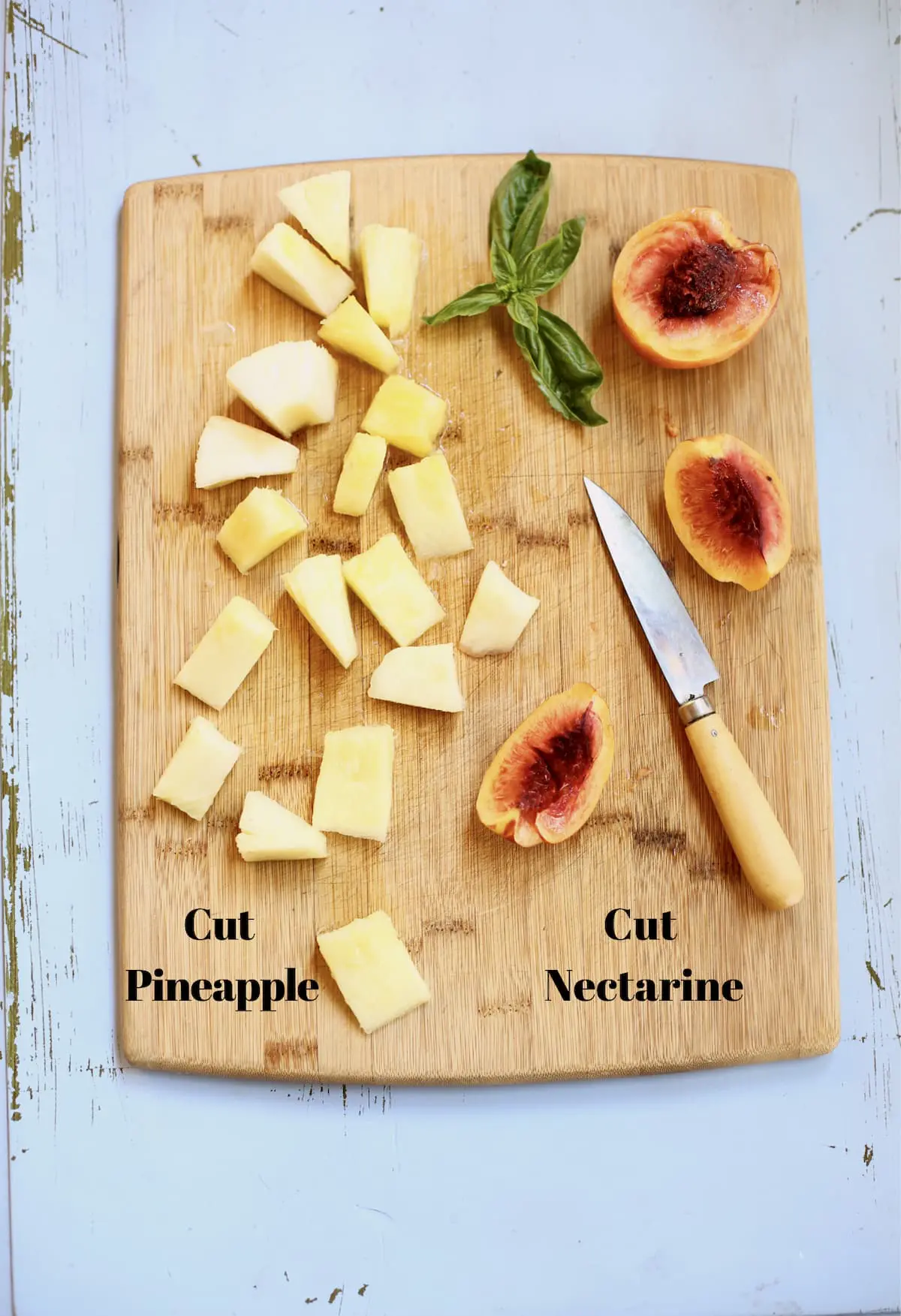 Here's a list of the key ingredients for this Pineapple Smoothie, but see the recipe card below for full details.
Pineapple: Cut into chunks yourself, or buy them already cut to make things even easier
Nectarine: Also cut into chunks, and when frozen, the nectarines make this frozen smoothie into an almost creamy consistency
Coconut Water: For a little background flavor that reminds us of those fabulous vacations in Hawaii 🙂
Lemon or Peach Sorbet: Just a little bit to amp up the creamy texture we're after
Fresh Fruit: Kiwi, blueberries, strawberries, blackberries and fresh basil or mint to make an adorable fresh fruit kabob garnish.
Step-By-Step Instructions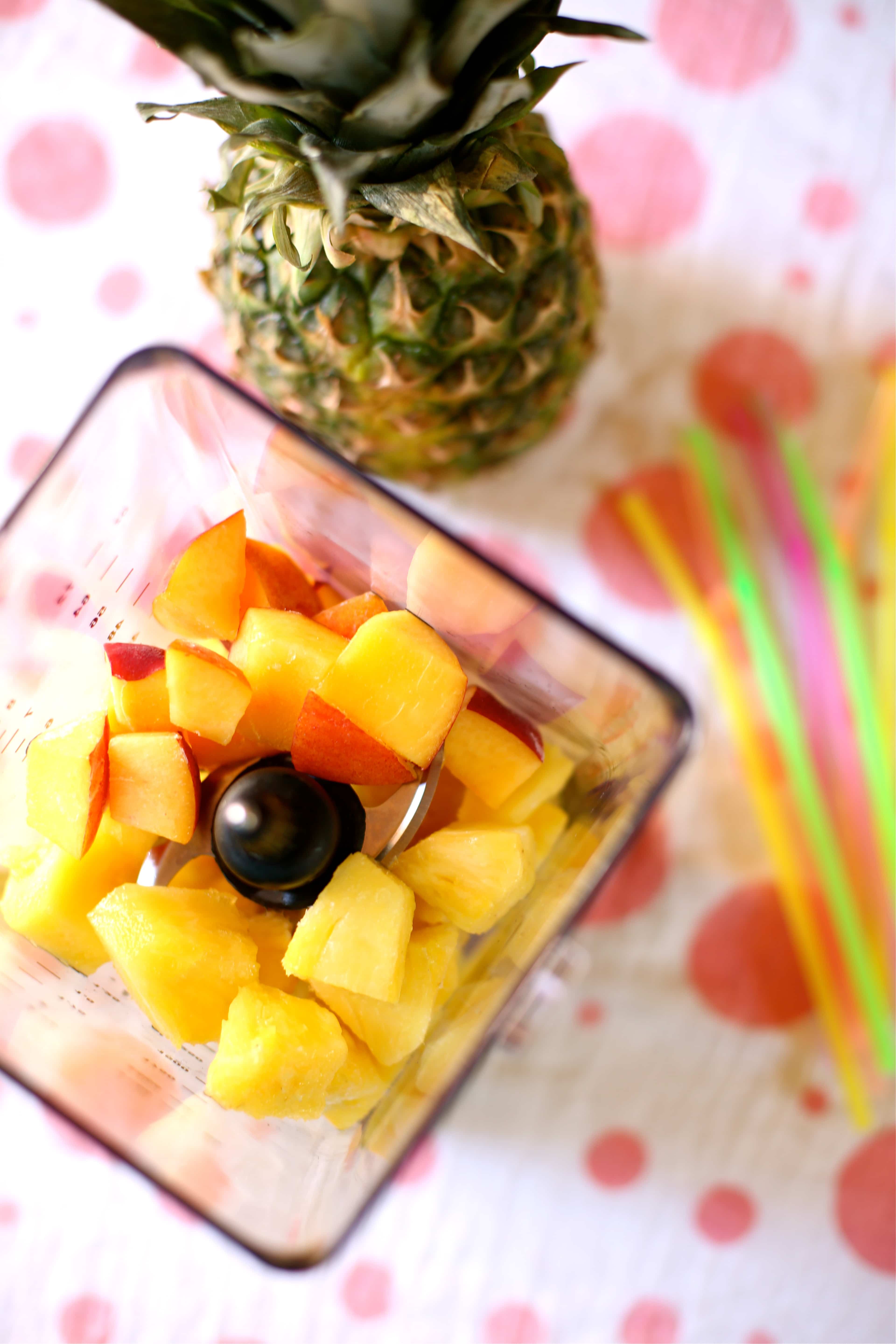 This smoothie recipe comes together quickly once you have your fruit prepped (which also takes just a few minutes) and the steps are simple:
Place the frozen fruit chunks in an electric blender on high speed and process until completely smooth
Add more coconut water to thin the mixture out as needed
Taste with a spoon and add more honey if you like it sweeter
Divide into glasses and garnish with a fresh fruit kabob
Enjoy!
Ingredients You'll Need for Fruit Kabobs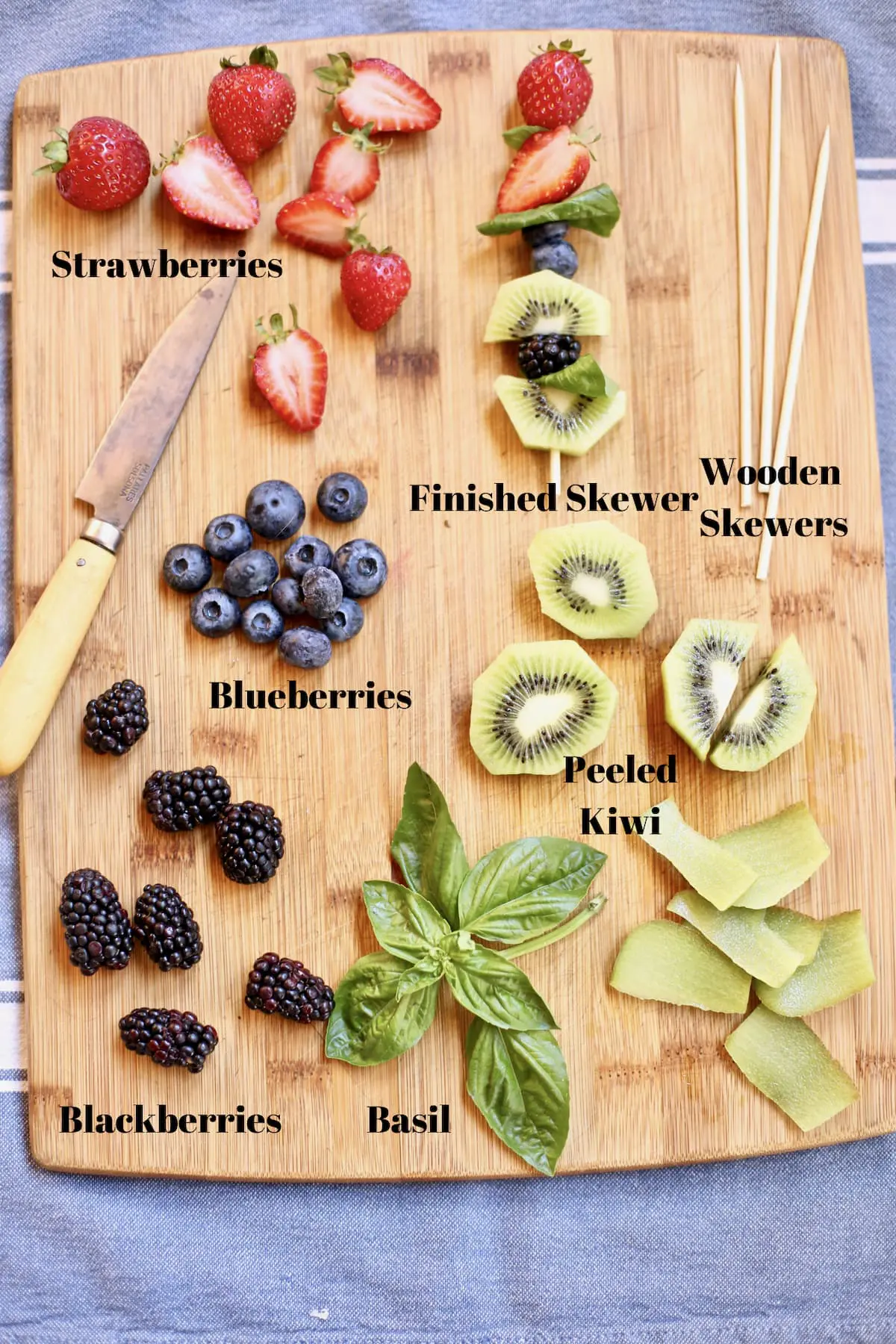 Fresh fruit kabobs add a really special touch to this frozen pineapple smoothie, and they just take a few minutes to prepare and are so worth the time and effort. Here's how you do it:
Wooden Skewers: I had 10″ skewers on hand, and they were easy to cut to 6″ which was perfect for the size glasses I was using. This is very flexible, so make yours bigger or smaller as needed too.
Strawberries: Find some on the small side, carefully wash them and cut in half keeping the green tops on for a pretty presentation.
Blueberries: Washed and dried and the biggest you can find!
Blackberries: Whole and unwashed, and like all fruit, buy organic if you can.
Kiwi: Peel the rough brown exterior with a sharp paring knife, then slice into 1/2″ pieces and cut in half again so they easily slide on the wooden skewer.
Basil or Fresh Mint: To thread in between….smells great and looks amazing!
Tips For Making Fruit Kabobs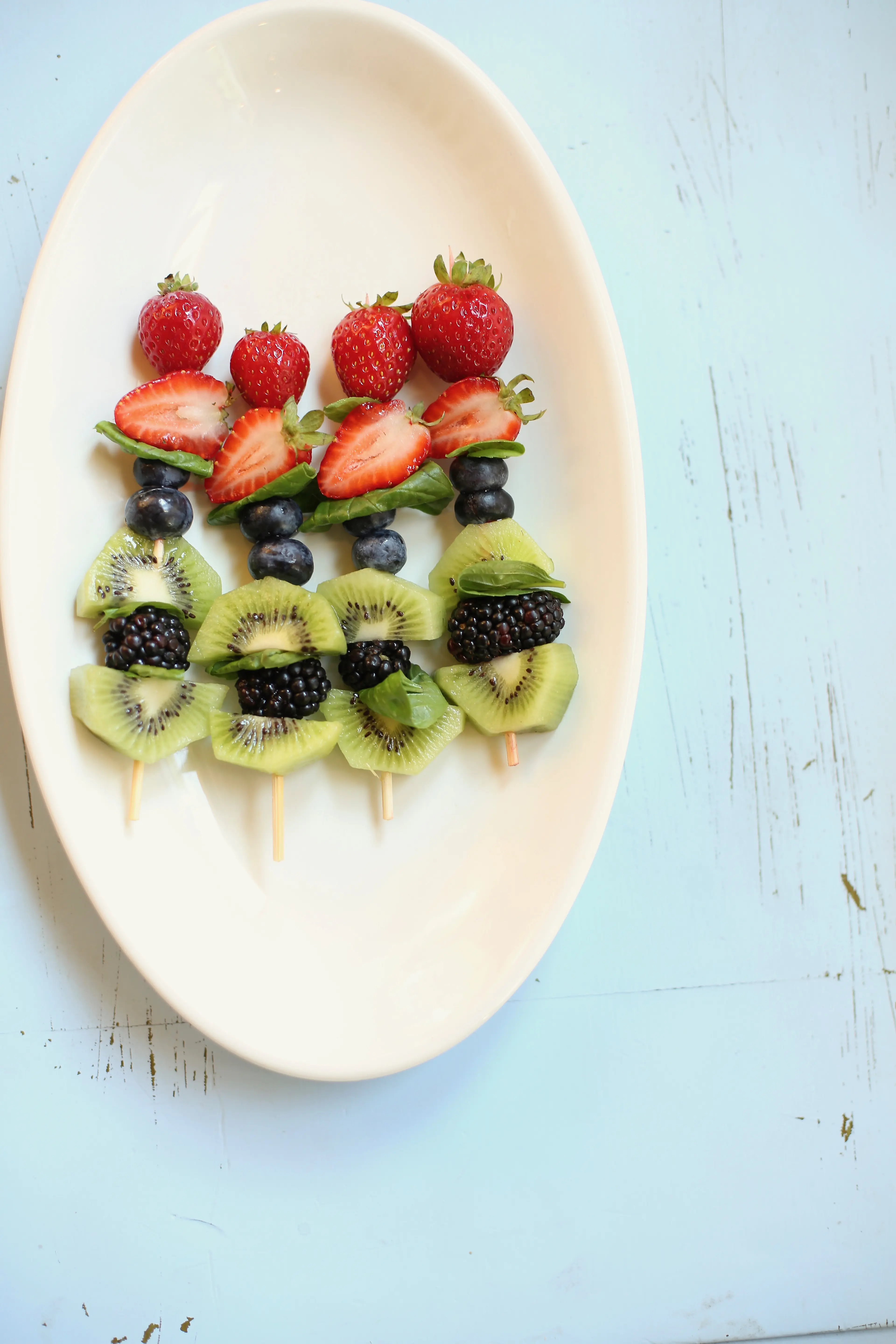 To make a fresh fruit kabob as a garnish for this pineapple smoothie, here's what you do:
Using a 6′ wooded skewer, start with a piece of the fresh kiwi and push it from the pointed end toward the bottom of the skewer, leaving several inches of space on the bottom.
Thread a full leaf of fresh basil or mint on the skewer, just above the kiwi slice
Add a big, juicy, organic blackberry and another piece of kiwi
Add a couple of plump blueberries next
Followed by another fresh leaf of basil or mint
Carefully thread a cut strawberry half next
Finish with a small, uncut strawberry on the very top!
Tips and Serving Ideas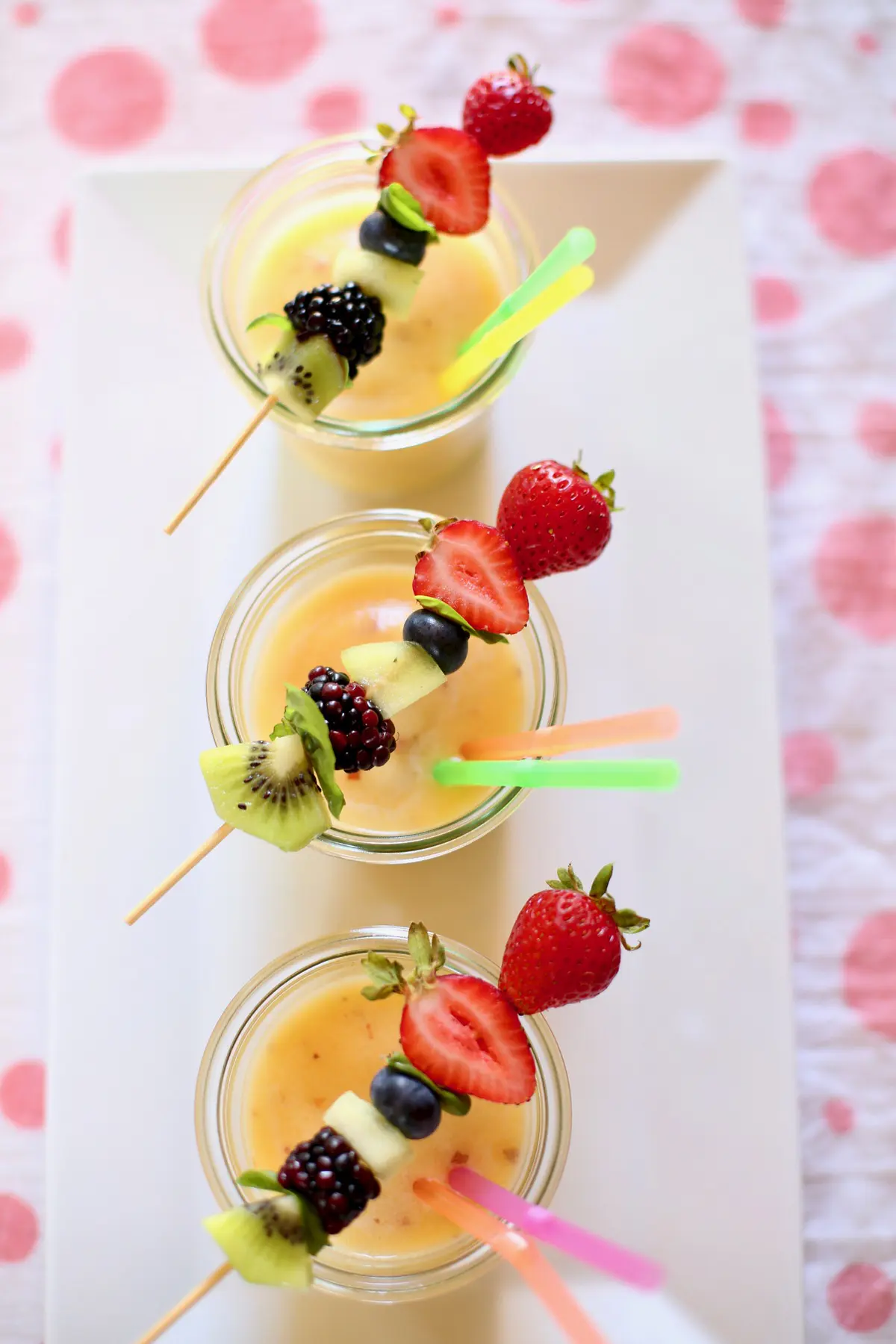 This recipe is easily adaptable, and you can really be creative with your choices of fruit.
This slushie is extra good alongside Nectarine Toast with Honey Goat Cheese for example, or a Roasted Grape Hazelnut Breakfast Bowl or maybe a thick slice of California Fig Banana Bread in the morning.
Other delicious pairing ideas for later in the day are Naan BLT's with Sundried Tomato Mayo, or with a couple of healthy salads like Modern Carrot Salad, Simple Chickpea Salad or Celery Salad with Hazelnuts. So good!
Use frozen peaches instead of nectarines, you can't go wrong with this substitution
This recipe can be doubled or halved, depending on how many people you are serving
Want it sweeter? Add more honey. Less sweet? Leave the honey out completely.
Add more coconut water if the mixture is too thick.
Buy already frozen and cut fruit if you don't want to cut and freeze your own.
Add a little vodka if you want to make this an adults-only version to sip by the pool 🙂
Frequently Asked Questions
What if I don't have time to make the fruit kabobs?
Use a fresh pineapple slice cut into a wedge instead!
Can I use pineapple juice instead of fresh?
Pineapple chunks, either fresh or purchased frozen are the best way to make this smoothie, and give a much better flavor than juice mixed with ice cubes.
More Recipes to Try:
If you've tried this Pineapple Slushie, or any recipe on Studio Delicious, I'd love to hear about it in the comments below!
Looking for more tips and fresh, homemade recipes? Join my email list, tag and follow me on Instagram using #studiodeliciouseats, follow my boards on Pinterest, and see what I'm up to on Facebook and Twitter!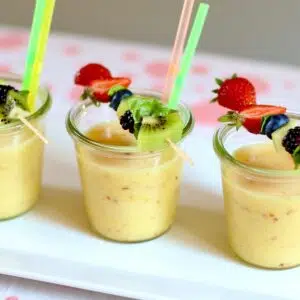 Pineapple Slushie
This Pineapple Slushie is cool, refreshing and not too sweet, and puts the spotlight on the ripest fruit available. Frozen fruit works great too!
Print
Pin
Rate
Ingredients
FOR THE SMOOTHIE

3

cups

Pineapple cut in chunks, frozen

1

cup

Nectarine cut in chunks, frozen

1 ½

cups

Coconut Water

½

cup

Lemon or Peach Sorbet

1

tablespoon

Honey
FOR THE FRUIT SKEWERS

¼

cup

Kiwi, peeled, sliced

¼

cup

Blueberries, whole

¼

cup

Strawberries, cut in half

¼

cup

Blackberries, whole

¼

cup

Fresh basil or mint leaves, whole

To add in between the fruit

4

Wooden skewers, 6 inch

4

Colorful straws as garnish, optional
Instructions
FOR THE SMOOTHIEPlace the frozen pineapple and nectarine chunks in a blender, along with the coconut water, sorbet and honey Mix the ingredients in an electric blender on high speed until completely smooth, stopping occasionally to scrape the mixture down from the sides, about 2 minutes. Add more coconut water in small amounts if the consistency is too thick.Add more honey if you want the slushee sweeter. Divide into glasses and garnish with a fruit skewer and straws, if desired.

FOR THE FRUIT SKEWERSCarefully thread one or two of each fruit onto a 6" wooden skewer, including a basil or mint leaf randomly when threading the fruit, leaving about 2" of space on the bottom.Repeat to make four skewers
Notes
For the pineapple and nectarine, cut them into rough chunks, put in a freezer bag and freeze for an hour or two. Or use pre-cut frozen fruit!
Add a little more coconut water if the mixture is too thick when blending.
Add more honey if you like it sweeter
Add vodka or rum if you want to serve this a party slushee
Cut the wooden skewers to 6″ from a larger skewer if you can't find 6″
Nutrition
Calories:
156
kcal
|
Carbohydrates:
38
g
|
Protein:
3
g
|
Fat:
1
g
|
Saturated Fat:
1
g
|
Sodium:
111
mg
|
Potassium:
495
mg
|
Fiber:
5
g
|
Sugar:
28
g
|
Vitamin A:
289
IU
|
Vitamin C:
82
mg
|
Calcium:
47
mg
|
Iron:
1
mg
Tips for Success with Every Recipe
Super important to read the whole recipe before you begin
Pay attention to the ingredient list and photos for the recipe
If possible, prep your ingredients a little before you start
Always use a sharp knife for safety
Use the size of pan called for in the recipe
For savory recipes, taste and season as you go
Buy fresh, organic ingredients, locally sourced whenever possible
Don't Miss a Recipe!
This post was originally made July 2018. Photos, instructions and tips were updated October, 2020