Looking for easy breakfast ideas for taking with you on the road? Find some great travel breakfast ideas & tips right here!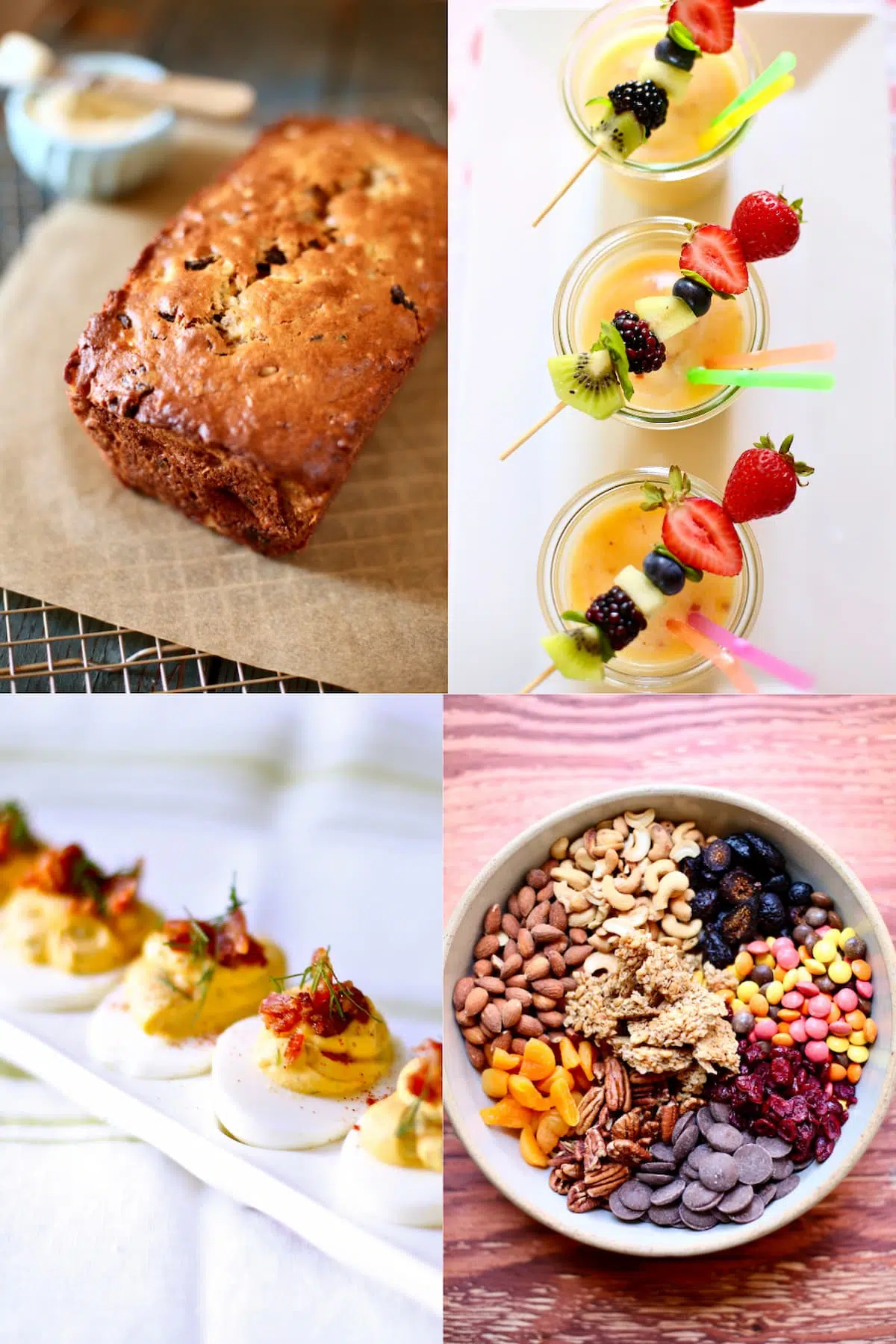 Jump to:
Why You'll Love These Recipes
Part of the fun of any getaway is eating some good local food along the way. And while it's totally fun to do that, it's nice to have some tasty options for a healthy breakfast that can last through a long car ride until you get to your hotel room. Here are some favorite travel breakfast ideas to help you navigate hunger!
Here's some good reasons to love these recipes:
Easy grab & go – most are filling breakfasts that can be made in advance
Nothing too heavy or difficult to tote, easy things like Greek yogurt and make ahead breakfast sandwiches are a great option on the road
Everything is delicious, fresh and homemade. There's not a single breakfast burrito with hash browns on this list!
Pineapple Slushie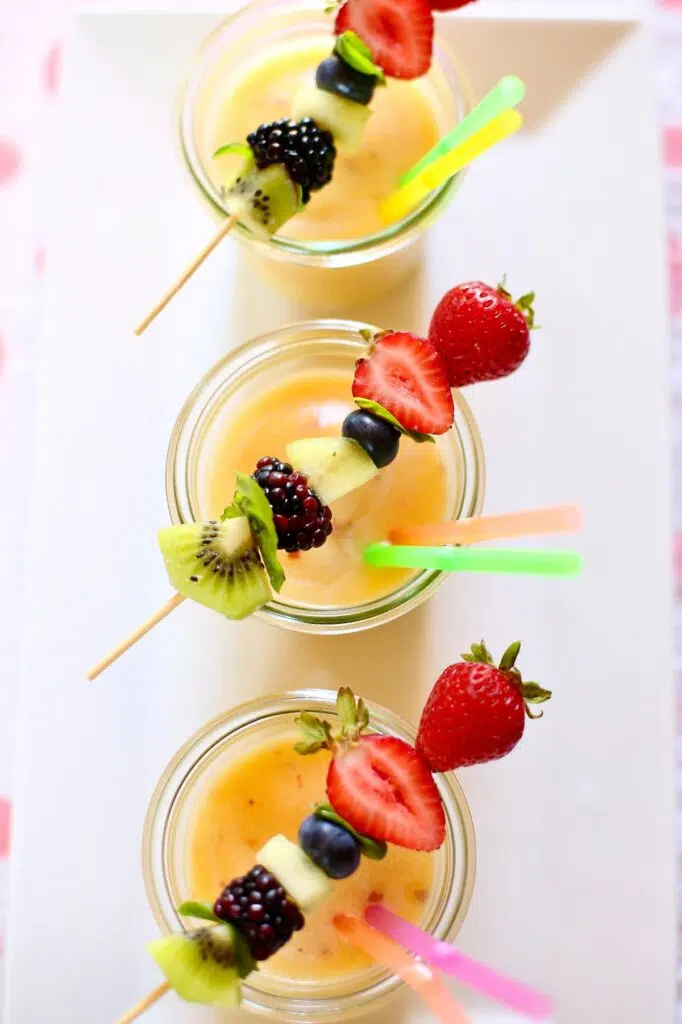 Pineapple Slushie: Fresh pineapple, nectarines, coconut water and a fresh fruit kabob too! Make extra fruit kabobs to take along, stored in an airtight container for snacking throughout the day.
Dark Cherry Smoothies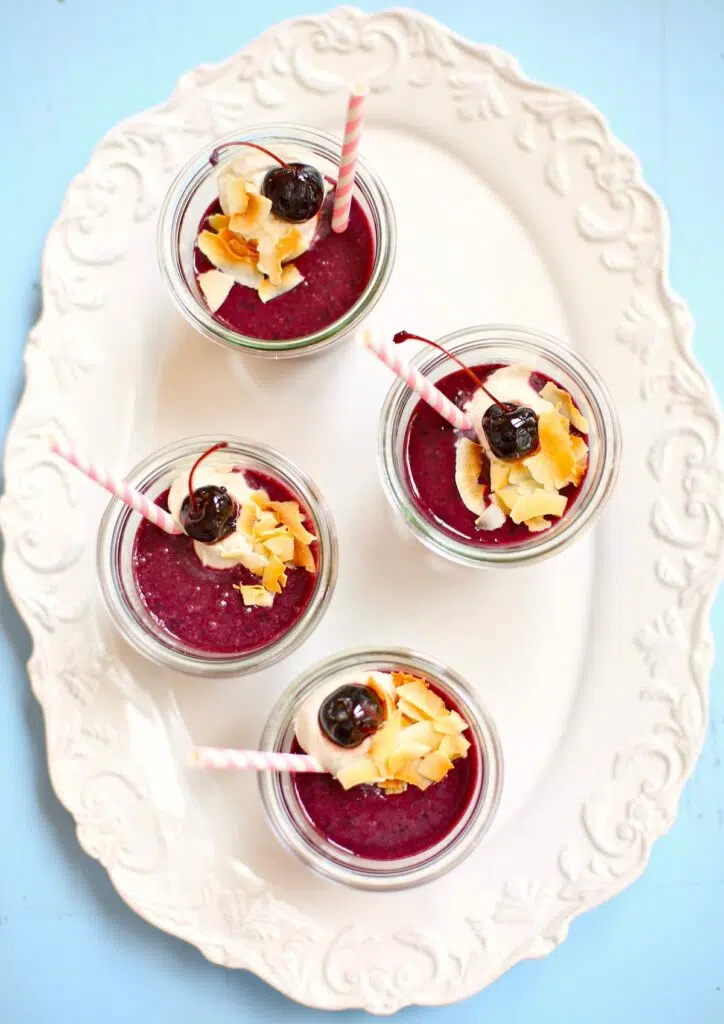 Dark Cherry Smoothies: Smooth and creamy, these drinks are quick to make (skip the garnish!) with frozen cherries, banana and coconut milk. Pour into portable drink containers and off you go!
Dark Chocolate Trail Mix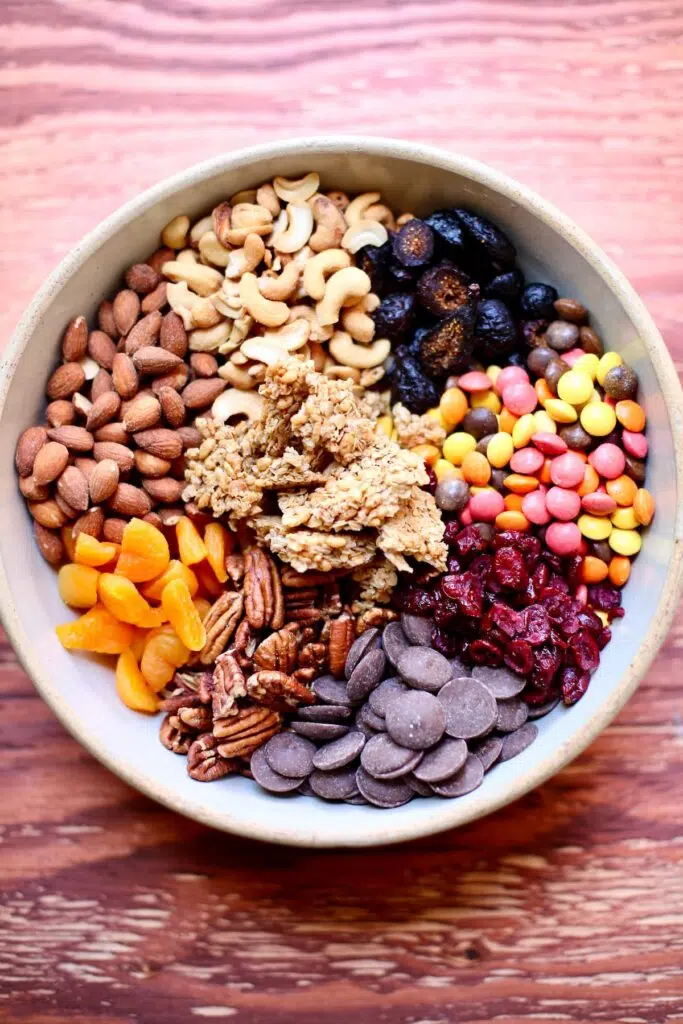 There's something for everyone in this trail mix recipe..
Dark Chocolate Trail Mix: Almost like breakfast bars, take along a batch of this addicting trail mix for whenever hunger pangs strike. Tote in a resealable container or smaller bags to customize the ingredeints. Add a ripe banana, some string cheese and plain yogurt for a lunch meal idea!
Fig Banana Bread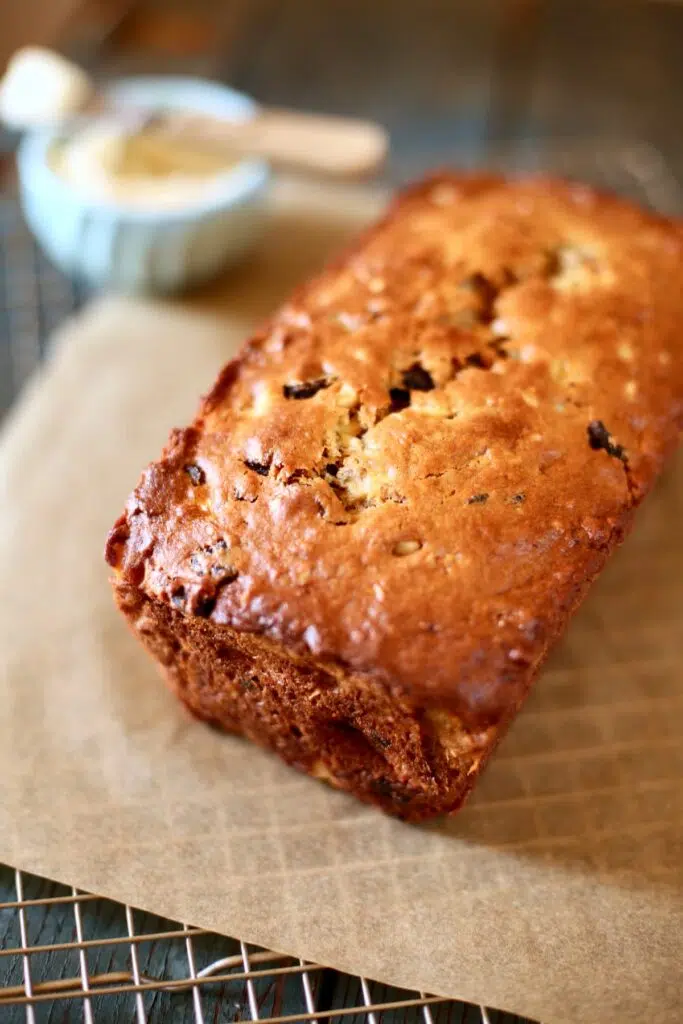 pack up thick slices of this moist banana bread for the trip
Fig Banana Bread: Bake a loaf or two of this sturdy fig banana bread the day before, then when it's cooled, cut into thick slices and individually wrap for easy packing in a picnic basket or cooler. Very delicious with a container of vanilla yogurt, it's one of the best road trip snacks!
Deviled Eggs with Candied Bacon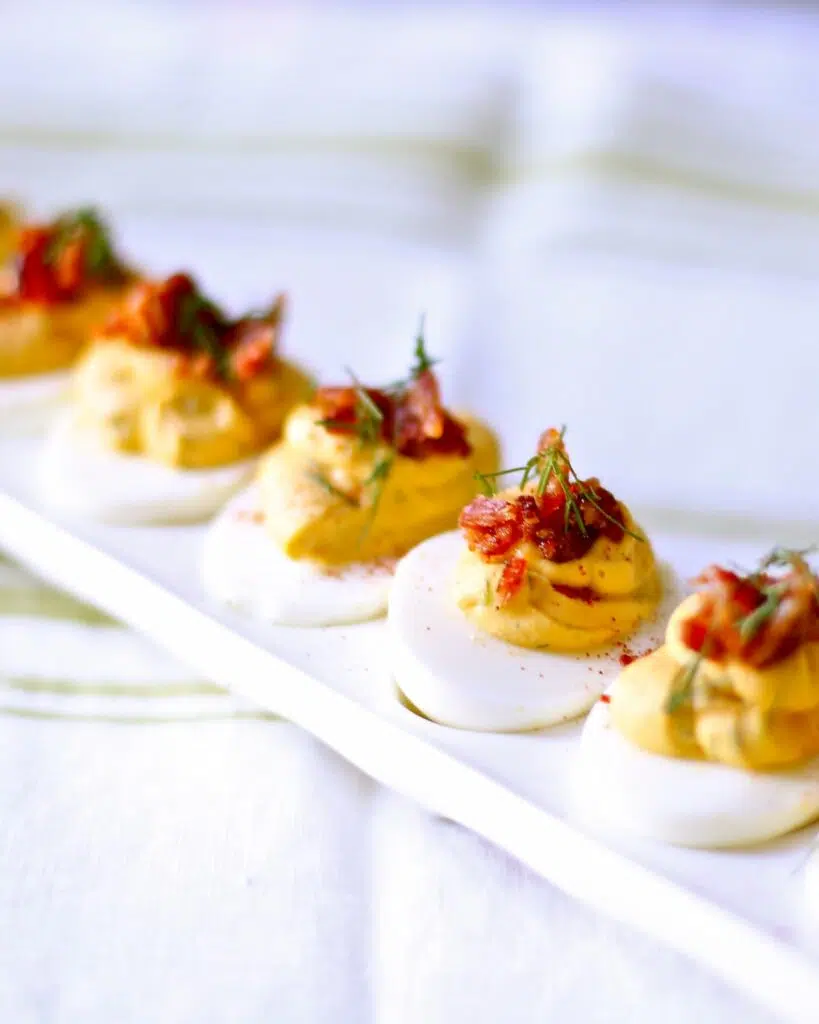 why not pack up some deviled eggs?
Deviled Eggs with Candied Bacon: Pack up some deviled eggs for a grab and go breakfast..line an airtight container with paper towels to help the eggs stay in place, keep well chilled if you don't plan to eat them right away.
Plant-Based Breakfast Bowl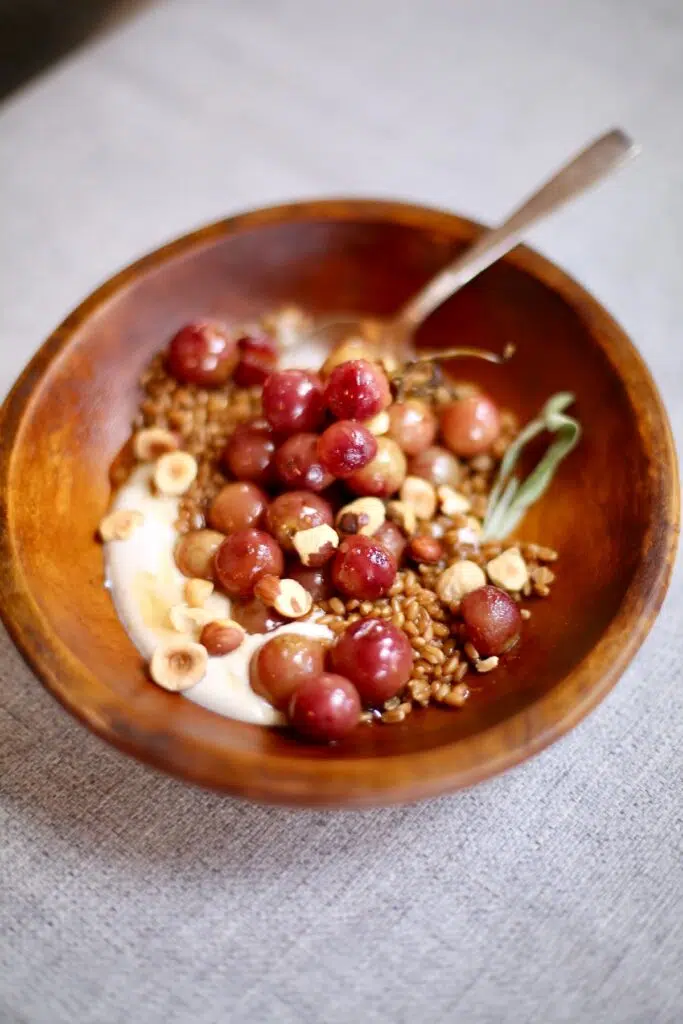 Plant-Based Breakfast Bowl: Pack this fresh & healthy breakfast bowl in a mason jar with a lid, just layer the yogurt, grains, fruit, and top with nuts. Add some maple syrup too if you'd like! This is a healthy, filling bowl.
Fruit Toast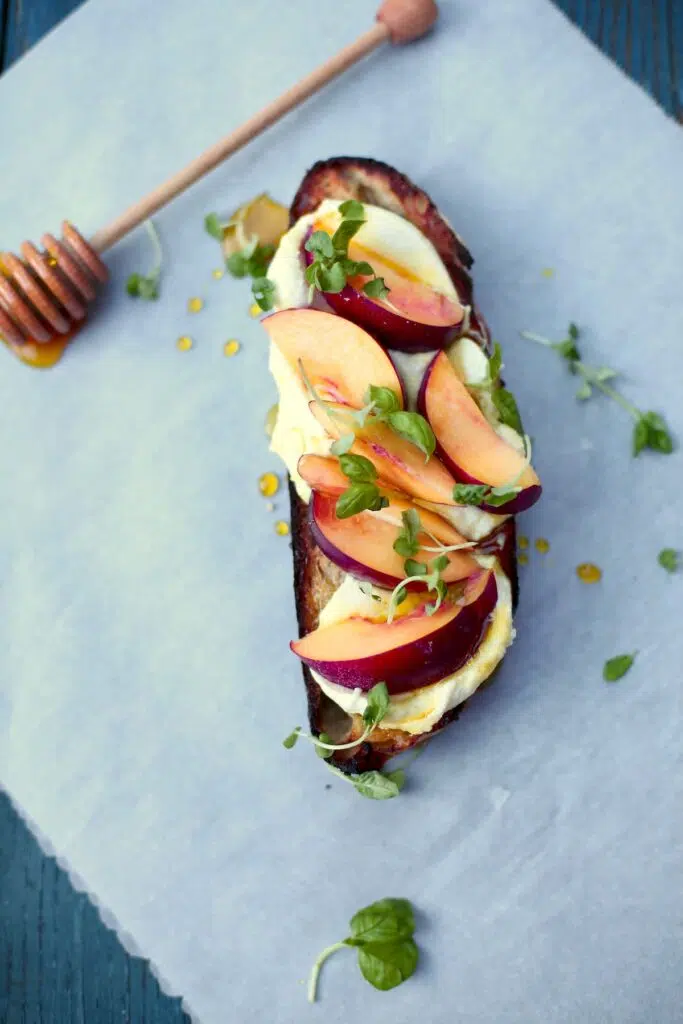 Fruit Toast: Easily customizable with different fruits (try sliced strawberries) assemble this delicious toast on your way out the door!
Fresh Figs, Three Ways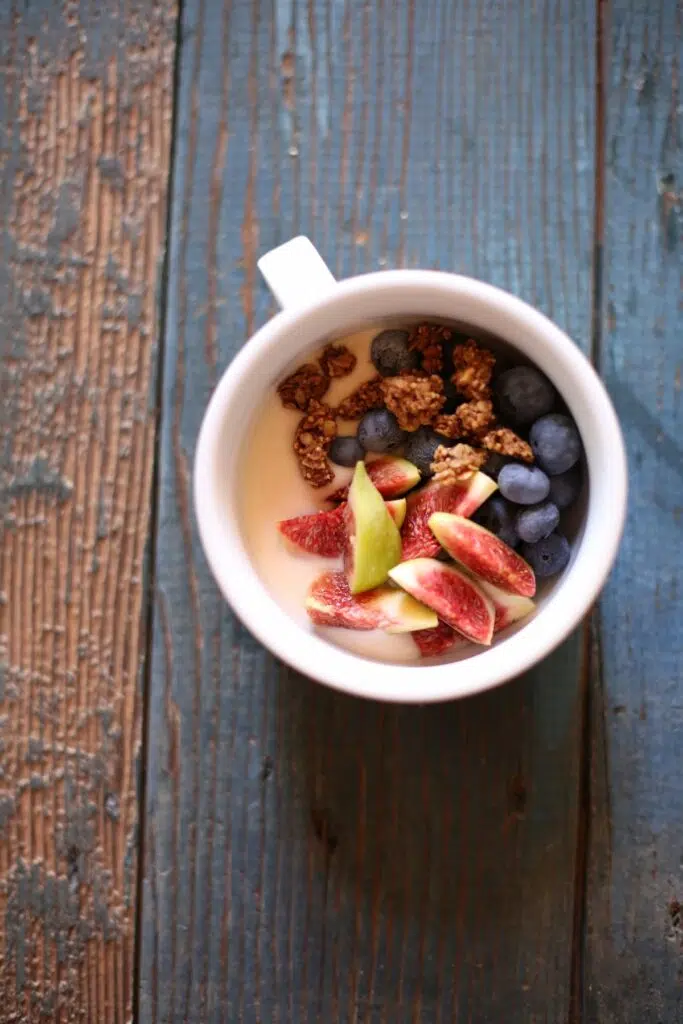 fruit & yogurt can't be beat..
Fresh Fig Recipes: Any of these fig recipes would be perfect way to start the day. Add extra fresh berries and pack it in a mason jar. Easy to take on the road, and much better than a stale granola bar! Be sure to take plenty of napkins, forks and spoons.
Cherry Oatmeal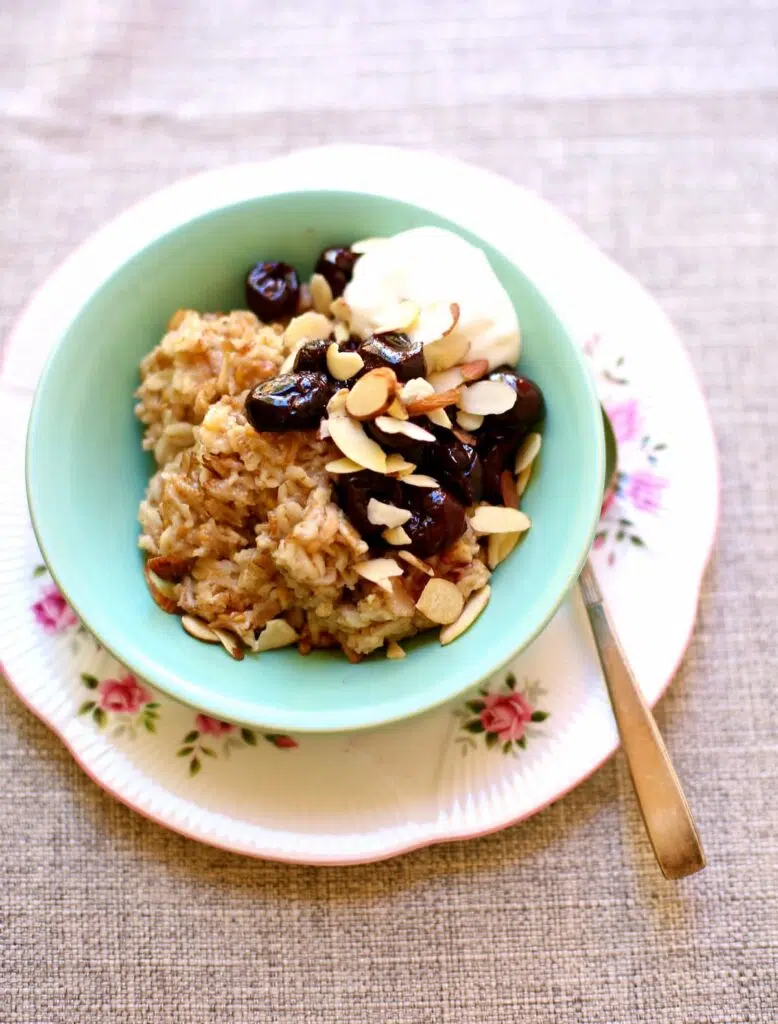 pack the oatmeal in a mason jar or airtight container..
Cherry Oatmeal: Make this hearty oatmeal the night before to eat cold or warm with cherries and almonds on top. Tip! Add some peanut butter or almond butter for extra protein, and brown sugar & chocolate chips are optional! A great recipe and filling breakfast.
Italian Frittata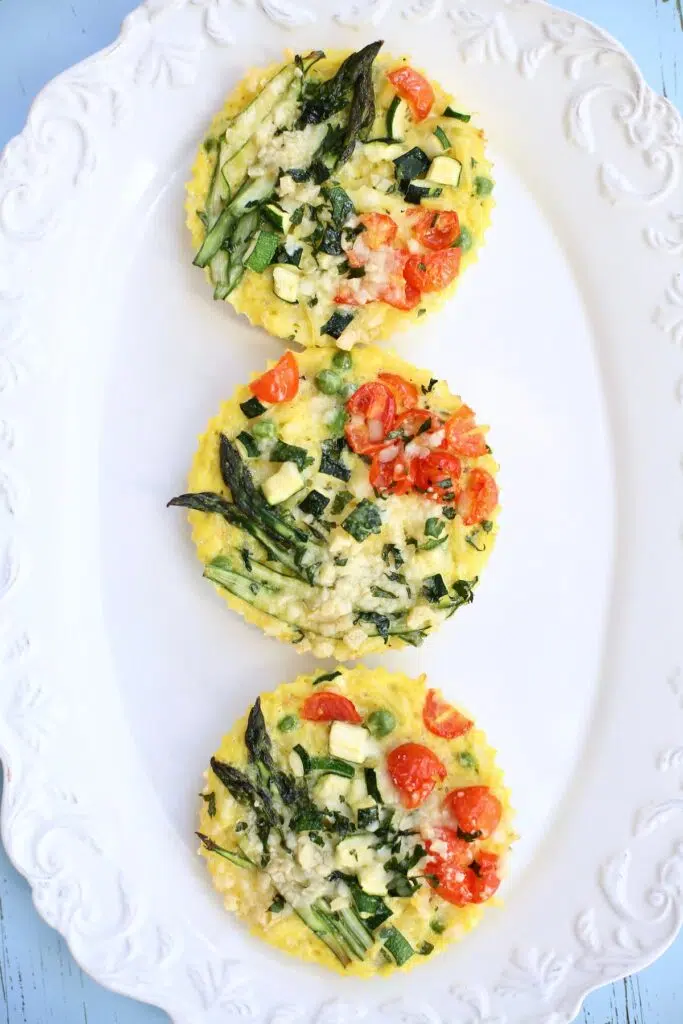 Italian Frittata: These little vegetable frittatas can be made the day before and eaten warm or cold. Store in an airtight container layered with parchment paper. For another breakfast idea, add a frittata to some split and toasted English muffins with mayo & mustard and slices of cheese. A make-ahead breakfast sandwich and a great morning meal!
More Recipes to Try:
If you've tried these Travel Breakfast Ideas, or any other recipe on Studio Delicious, please tell me how you liked it in comments below
Looking for more tips and fresh, homemade recipes? Join my email list, tag and follow me on Instagram using #studiodeliciouseats, follow my boards on Pinterest, and see what I'm up to on Facebook and Twitter!