This is a fabulous fresh fruit dessert that really celebrates the flavors of summer. Summer Fruit Crisp comes together easily, it's super flexible, and the crisp topping can be made in advance and kept frozen until ready to use.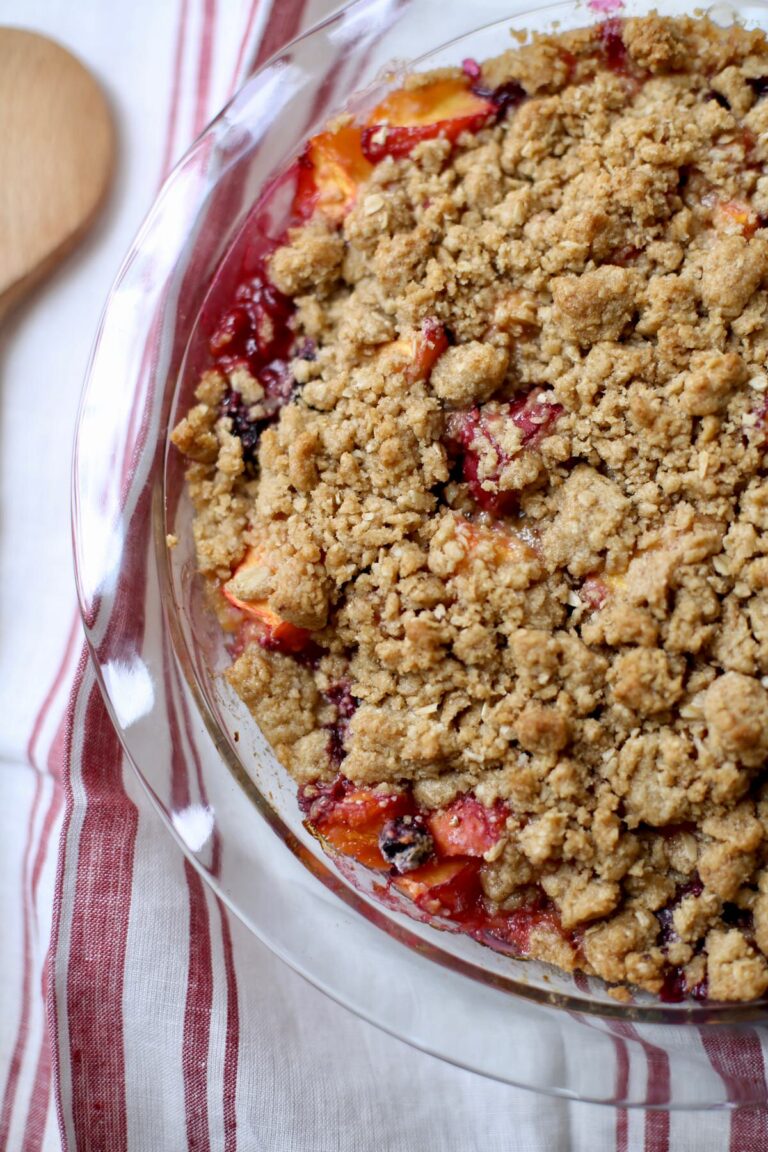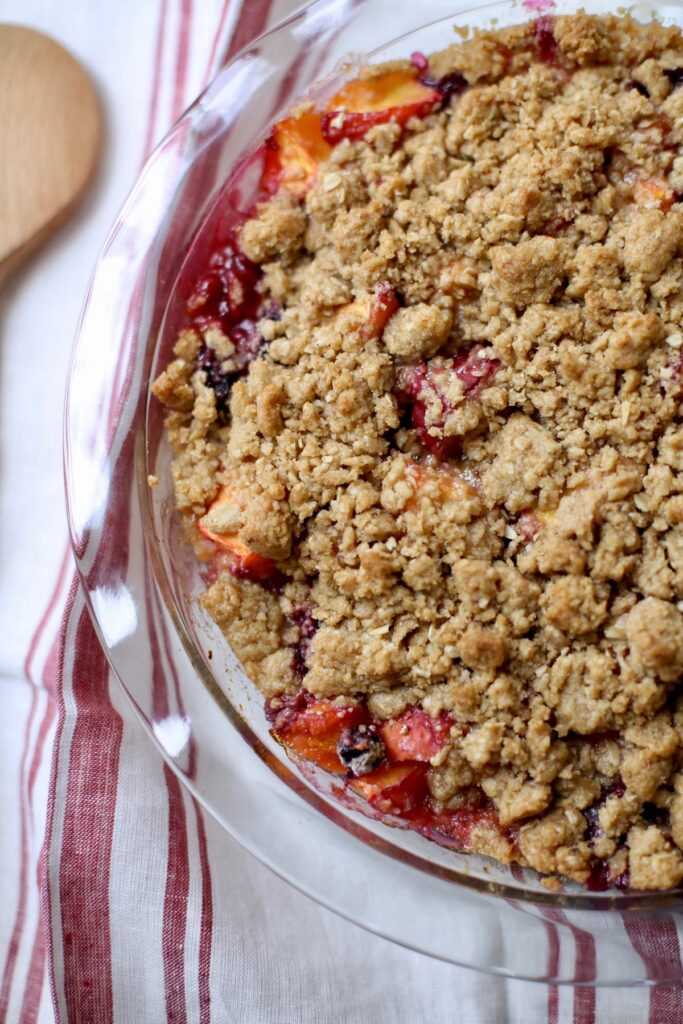 Do you have more summer fruits than you can handle? Maybe you have a few apricots and some leftover cherries, and a couple of nectarines or peaches too?
Take this as a sign that you should make a fabulous Summer Fruit Crisp!
Why?
Do we even need to explain why crispy, warm fruit desserts are BEST in summer, especially with a little vanilla ice cream?
The sweet, crumbly topping is a PERFECT match for berries and stone fruits like peaches, nectarines and apricots….so good!
My personal opinion is that dessert is totally fine on the reg, especially if you have a light dinner like Simple Chickpea Salad or a Naan BLT with Sun Dried Tomato Mayo.
Ingredients For this Recipe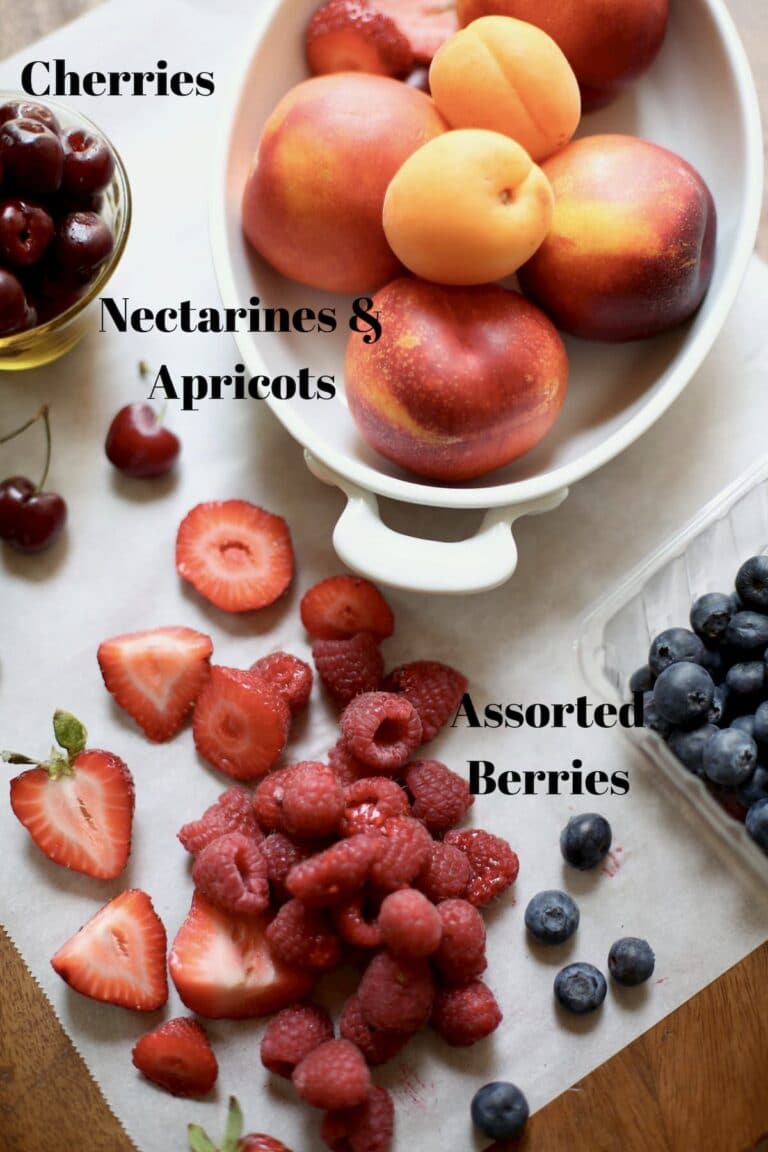 Fresh Fruit: A combination of six cups to be exact.
Vanilla: Pure vanilla extract, and just a touch to give some depth of flavor to the fruit mixture before baking.
Flour: Very important to make sure our baked fruit filling isn't too soupy.
Sugar and Lemon: Just a little sugar and fresh lemon zest and juice to balance the flavors.
Crumb Topping: You'll need flour, regular and brown sugar, a little cinnamon, salt, oatmeal (not instant) and some butter.
How to Make this Recipe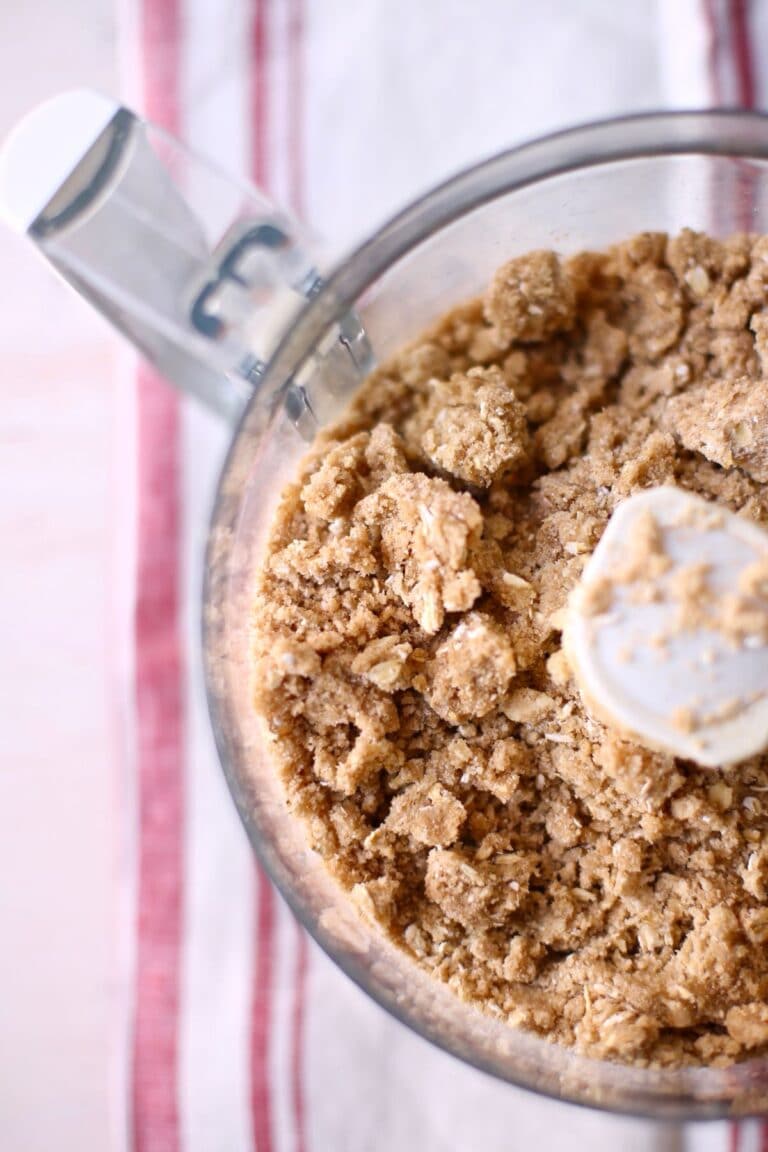 First off, you'll make the filling for this Summer Fruit Crisp with a combination of fresh fruits like blueberries, raspberries, peaches and nectarines. You'll need 6 cups total.
Prep a glass pie dish or other similar sized oven-safe baking dish, and smear it with a little butter or olive oil on the inside of the dish with your (clean) fingers to make sure nothing sticks.
Combine all the fruits in a large bowl, then add the vanilla extract, flour, sugar, lemon zest & juice, then pour this mixture into the prepared bowl.
Make the crumb topping by mixing together flour, regular and brown sugars, cinnamon, salt, oatmeal and butter, and combine in a food processor until the mixture is fully combined and clumps together.
Alternatively, you can use a pastry cutter and/or your hands to combine the ingredients of the crumb topping, making sure to press and smear the butter pieces with your fingers into the dry ingredients until crumbly and completely combined.
Put half of the crumb topping mixture on top of the fruit mixture, then set it on a baking sheet (in case it bubbles over a bit) and bake until the crumb topping is golden brown, about 45 minutes.
TIP!
This crumb topping recipe will make more than you need, and this is NOT a bad thing. Store it in a freezer-safe container or bag for up to 90 days. Isn't it exciting that you're already half-way done making your next Summer Fruit Crisp? #WINNING. 🙂
Best Fruits to Use in This Recipe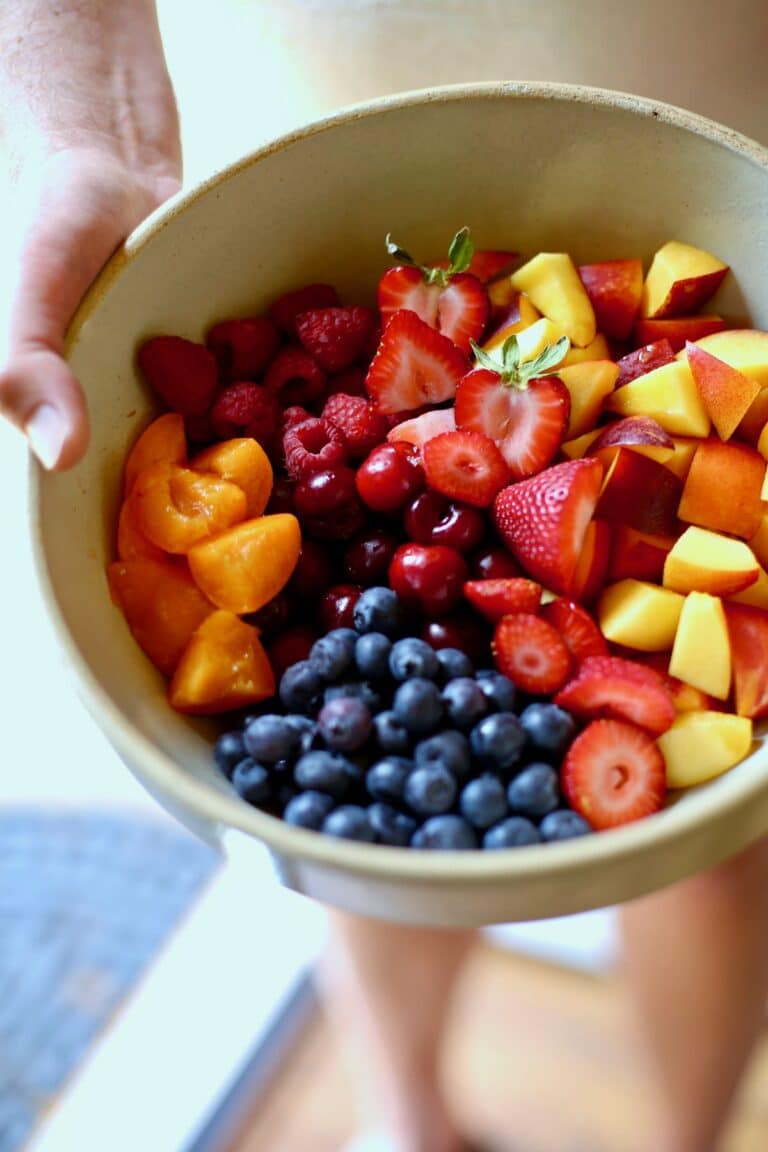 Stone fruits like nectarines, peaches and apricots should be about half of what you use in this recipe, just remove the pits and cut into rough-sized chunks, 1-2″ or so. It doesn't need to be perfect!
Fresh cherries are awesome to use too if you can find them, just remove the pits with your fingers and place them in the bowl.. no additional chopping required!
Blueberries, raspberries and strawberries are favorites to use here.
Alert! Strawberries will release water with baking, so don't use more than a cup of them in this recipe.
Melons wouldn't work in this recipe at all, save those for enjoying on the porch with a spoon 🙂
Tips and Serving Ideas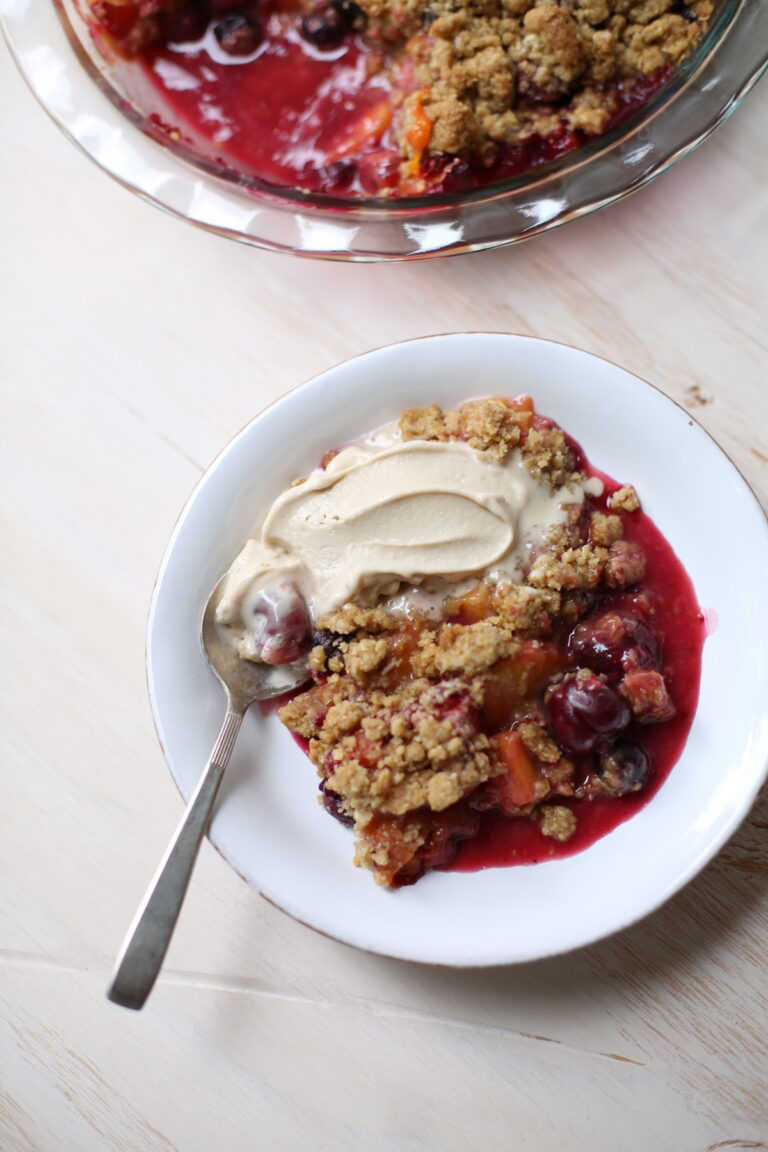 It goes without saying that a warm, delicious fruit dessert NEEDS vanilla ice cream. Or almond milk ice cream, or even whipped cream. But please, promise me you'll have one of these….it's just so, so good.
This is a great recipe to make for dessert, no matter what's for dinner, (hello Summer Pasta) everyone loves it, and it's not difficult or too time consuming which is great.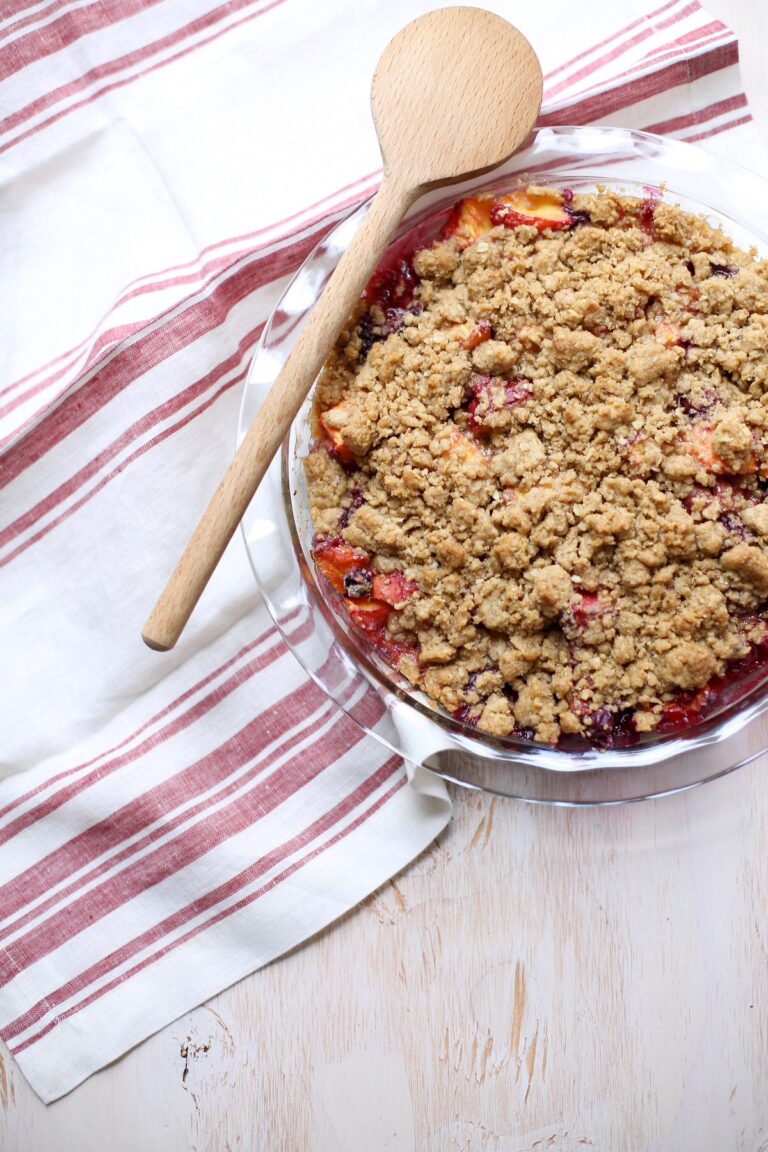 More Dessert Recipes to Try:

Melon with Ice Cream & Caramel Sauce
Ice Cream Cake with Peanut Butter Ganache
Outrageous Chocolate Dipped Strawberries
Strawberry Cheesecake in a Jar
Boozy Fresh Cherry Blackbottom Milkshakes
Nectarine Toast with Honey Goat Cheese
If you've tried Summer Fruit Crisp or any other recipe on Studio Delicious, I'd love to hear from you in the comments below!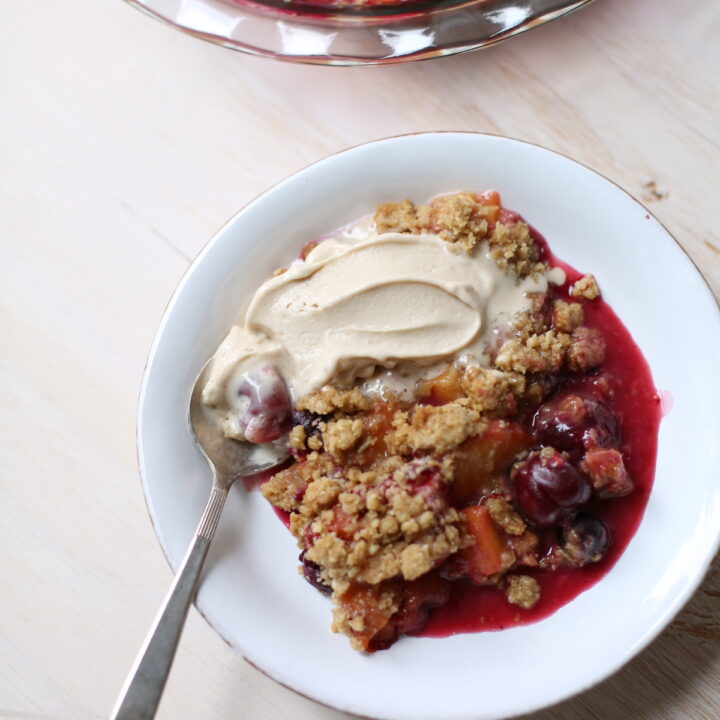 Summer Fruit Crisp
A family favorite, Summer Fruit Crisp is the BEST!
Print
Pin
Rate
Ingredients
6

cups

Sliced nectarines, pitted cherries, blueberries, raspberries, and strawberries in any combination to total 6 cups

See Recipe Notes

1

teaspoon

Pure Vanilla Extract

1/4

cup

Flour, all-purpose

1/4

cup

Sugar

1

teaspoon

Lemon zest, freshly grated

1

teaspoon

Lemon juice, freshly squeezed
CRUMB TOPPING

1 1/2

cups

Flour, all-purpose

3/4

cup

Sugar

3/4

cup

Brown Sugar, packed

1/2

teaspoon

Cinnamon

1/2

teaspoon

Salt

1

cup

Oatmeal, not instant

1/2

pound (2 sticks)

Butter, cold, unsalted and cut into pieces
Instructions
Heat the oven to 350 Prepare a large pie dish (9.5") or other oven-safe baking dish by smearing a little butter, light olive oil or baking spray on the inside to prevent sticking. You'll also need a large baking sheet to set the finished crisp on before you put it in the oven in case it bubbles over. Place all the fruit in a large bowl and add the vanilla, flour, sugar, lemon zest and juice. Toss together gently with a large wooden spoon.Place the fruit mixture into the baking dish, and sprinkle with 2 1/2 cups of the crumb topping. Bake as directed.

FOR THE CRUMB TOPPING: In a food processor, combine the flour, regular and brown sugars, cinnamon, salt, oatmeal and butter. Process in the "pulse" mode until well combined and the mixture clumps together. Alternatively, you can use a pastry cutter or two butter knives and your fingers, making sure to press and smear the butter into the dry ingredients until its fully combined, crumbly and sticks together when you squeeze it.

NOTE: This makes about 5 cups of crumb topping, and you'll use 2 1/2 cups for this recipe. Freeze the remaining crumb topping for up to 3 months.

TO BAKE: Place the fruit crisp on a baking sheet in case it bubbles over, then put on the lower third rack of the oven. Bake for 40-45 minutes, until the topping is light brown and crisp on the edges. Serve with whipped cream or ice cream.
Notes
For stone fruits such as nectarines, peaches or apricots, remove pit and cut into rough-sized chunks, 1-2" or so. It doesn't need to be perfect!
To prep fresh cherries, remove the pits with your fingers and place them in the bowl.. no additional chopping required!
Stone fruits and berries work best for this recipe.
Strawberries release a lot of water with baking, so it's best to work with a combination of fruits for this recipe
Same with melons, they won't work for this dessert either 🙂
Nutrition
Calories:
520
kcal
|
Carbohydrates:
124
g
|
Protein:
6
g
|
Fat:
1
g
|
Saturated Fat:
1
g
|
Cholesterol:
1
mg
|
Sodium:
218
mg
|
Potassium:
308
mg
|
Fiber:
5
g
|
Sugar:
85
g
|
Vitamin A:
716
IU
|
Vitamin C:
6
mg
|
Calcium:
43
mg
|
Iron:
3
mg
Tips for Success with Every Recipe
Super important to read the whole recipe before you begin
Pay attention to the ingredient list and photos for the recipe
If possible, prep your ingredients a little before you start
Always use a sharp knife for safety
Use the size of pan called for in the recipe
For savory recipes, taste and season as you go
Buy fresh, organic ingredients, locally sourced whenever possible
This recipe was originally published July, 2018 and was updated with new content and photos June 2020. Topping for this recipe was adapted by Ina's for old-fashioned apple crisp