This Summer Fruit Crisp is everything you want in a dessert.  It's easy to put together with whatever combination of fruit you have on hand, and the crisp topping can be made in advance and stored in the freezer. 
Here's a new thing I just learned.
If you leave a bunch of random papers in a pile long enough, they don't matter anymore.
Isn't that great?
My piles had turned into a couple of small bags, which was getting me all stressy.
Lo and behold, there was nothing in these bags that mattered anymore, except for the movie stub (why do I keep them?) and eleven pennies 🙂
While we're talking about this, maybe it's time to clean out the fridge a bit?
Next time you have more fruit than you can handle, this recipe is your go-to.
Maybe you have a couple of sad-looking apricots, and some melancholy blueberries?
Are the cherries looking pale and depleted?  Maybe the raspberries are tired but the nectarines are still frisky?
Chop them, pit them, peel them and throw everybody in the pool.
Give them some love with a squeeze of fresh lemon juice and a teaspoon of sweet vanilla.
Toss together carefully with other staples you probably have on hand, and that's it.
Crispy, warm fruit desserts are always a huge hit with family and friends in summer— especially served with ice cream—and this one is adapted from Ina.
It's very, very good.
I'll tell you straight-up this makes more crisp topping than you'll need, which isn't a bad thing.
Just put the leftover topping in the freezer for next time….or up to 60 days later.
So next time the strawberries are a looking a little worn out around the edges?
You'll have an easy and delicious plan.
HOVER OVER PHOTO TO PIN RECIPE FOR LATER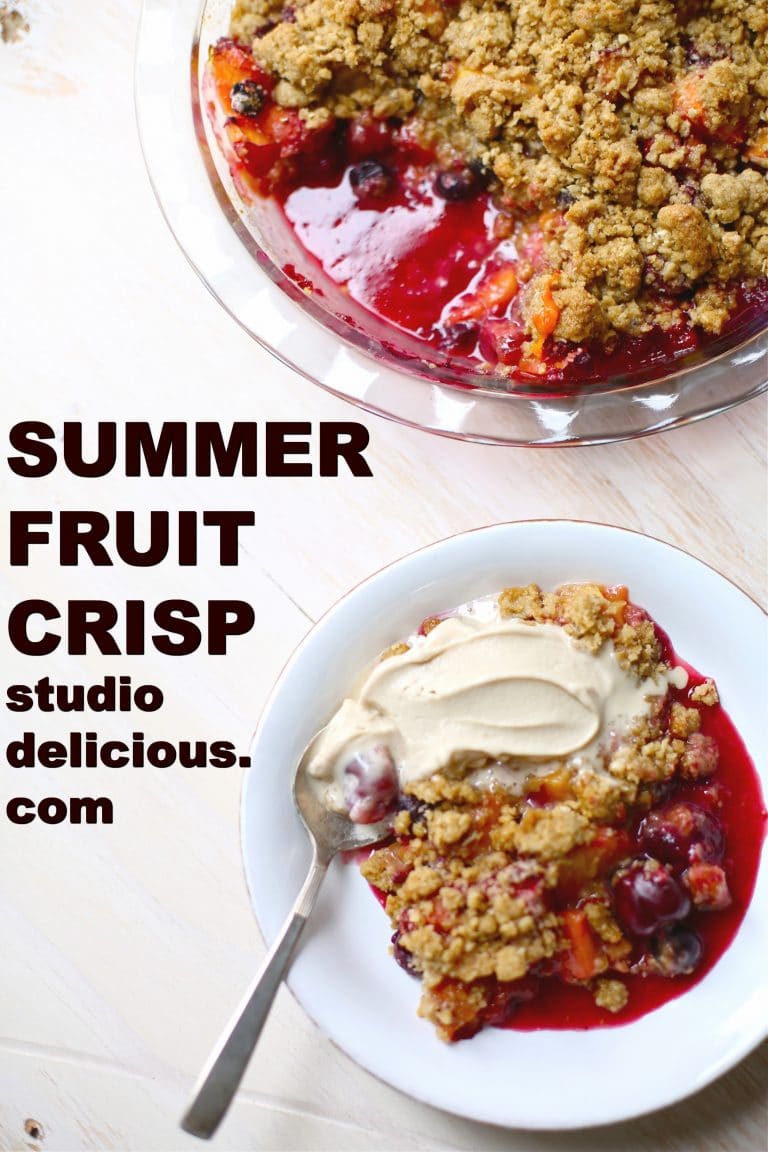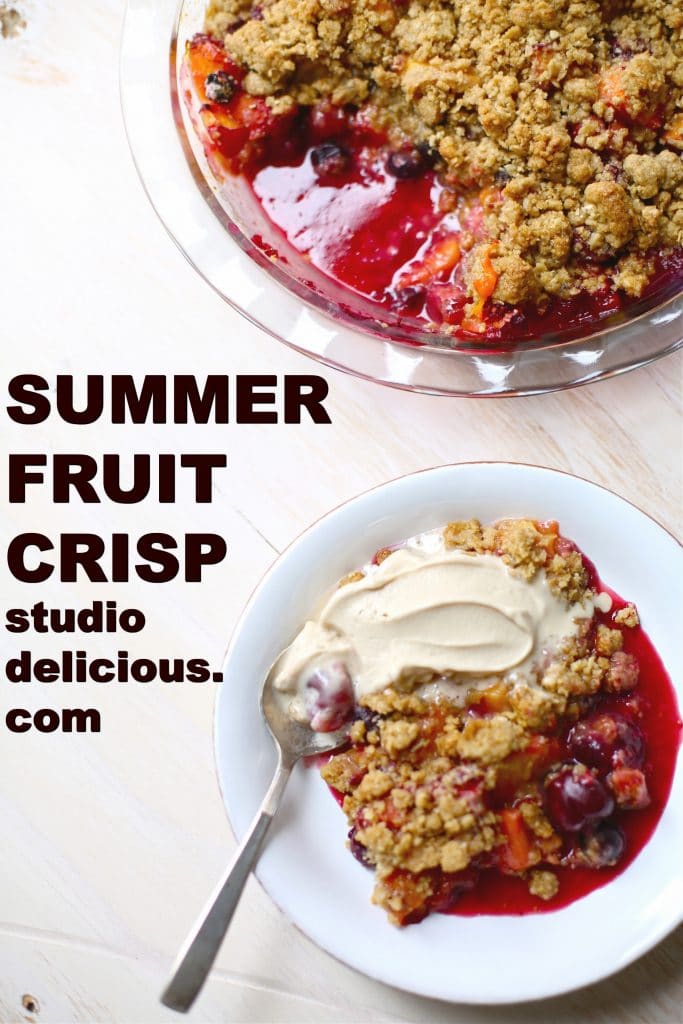 Ingredients
Heat oven to 350 degrees

Butter a 9.5 deep dish pie pan or similar size

FRUIT:

You'll need 6 cups of fruit total

I used:

Nectarines

pitted and cut in 1" cubes

Cherries

pitted and used whole

Blueberries

rinsed and dried, whole

Raspberries

just straight out of the basket so they keep their shape

Strawberries

stems removed and sliced in half or quarters

1

teaspoon

vanilla

3

tablespoons

unbleached all-purpose flour

2-3

tablespoons

of sugar

I used 3, some of my fruit was a bit tart

1

teaspoon

freshly grated lemon zest

1

teaspoon

freshly squeezed lemon juice

TOPPING:

1 1/2

cups

unbleached all-purpose flour

3/4

cup

granulated sugar

3/4

cup

brown sugar

packed

1/2

teaspoon

cinnamon

1/2

teaspoon

sea salt

1

cup

oatmeal

2

sticks of cold unsalted butter

cut into pieces
Instructions
MAKE THE FRUIT FILLING:

In a large bowl, place all the fruit.

Add the vanilla, the flour, sugar, lemon zest and lemon juice, and toss very carefully together. I use a large wooden spoon for this.

Spoon into the baking dish, and sprinkle on 2 1/2 cups of the topping as noted below.

MAKE THE TOPPING:

In a food processor, combine the flour, sugars, cinnamon, sea salt, oatmeal and butter. Process in the pulse mode until combined and the mixture lumps together.

This will make about 5 cups of topping. Use 2 1/2 cups for this recipe (over approximately 6 cups of fruit) and freeze the remaining topping in a plastic bag or freezer-safe container. The topping is good for at least 60 days, and can be used straight out of the freezer.

BAKE THE SUMMER FRUIT CRISP:

Place the fruit crisp on a large baking sheet on the lower third of the oven and bake for 40-45 minutes, until the topping is light brown and crisp on the edges.

Serve with whipped cream or ice cream.
Source:  Studio Delicious