If you've never had a Melon with Ice Cream and Caramel Sauce, well, friends, you may be missing out. What could be better than a juicy ripe melon filled with vanilla ice cream and drizzled with a silky, homemade caramel sauce? There's nothing better for dessert when it's hot outside, and everybody just loves it!


Warm weather BEGS for recipes that feature beautiful fresh fruit, and melons are one of my favorite things to pick up at the Farmers Market. Melon with Ice Cream & Caramel Sauce is one of those fabulous easy dessert recipes you'll want to hang onto forever and ever! 🙂
Besides eating a LOT of melons and fragrant, juicy peaches, I'm also craving my Roasted Grape Hazelnut Breakfast Bowls, and Dark Cherry Smoothies, a really delicious and fancy-looking Ice Cream Cake with Peanut Butter Ganache, and of course, my all-time favorite, Summer Fruit Crisp.

Good Reasons to Try this Recipe:
Melons are really flavorful and abundant right now…also, they come with their own little built-in bowl for ice cream, so how great is that?
A big scoop of vanilla ice cream inside the hollowed out center of the melon is next-level delicious. Caramel Sauce on top makes it even better, and trust me, everyone LOVES it.
For such an easy dessert, it's kind of a show-stopper too. Bring out a big tray of these and pass around the extra caramel sauce!

Ingredients You'll Need for This Recipe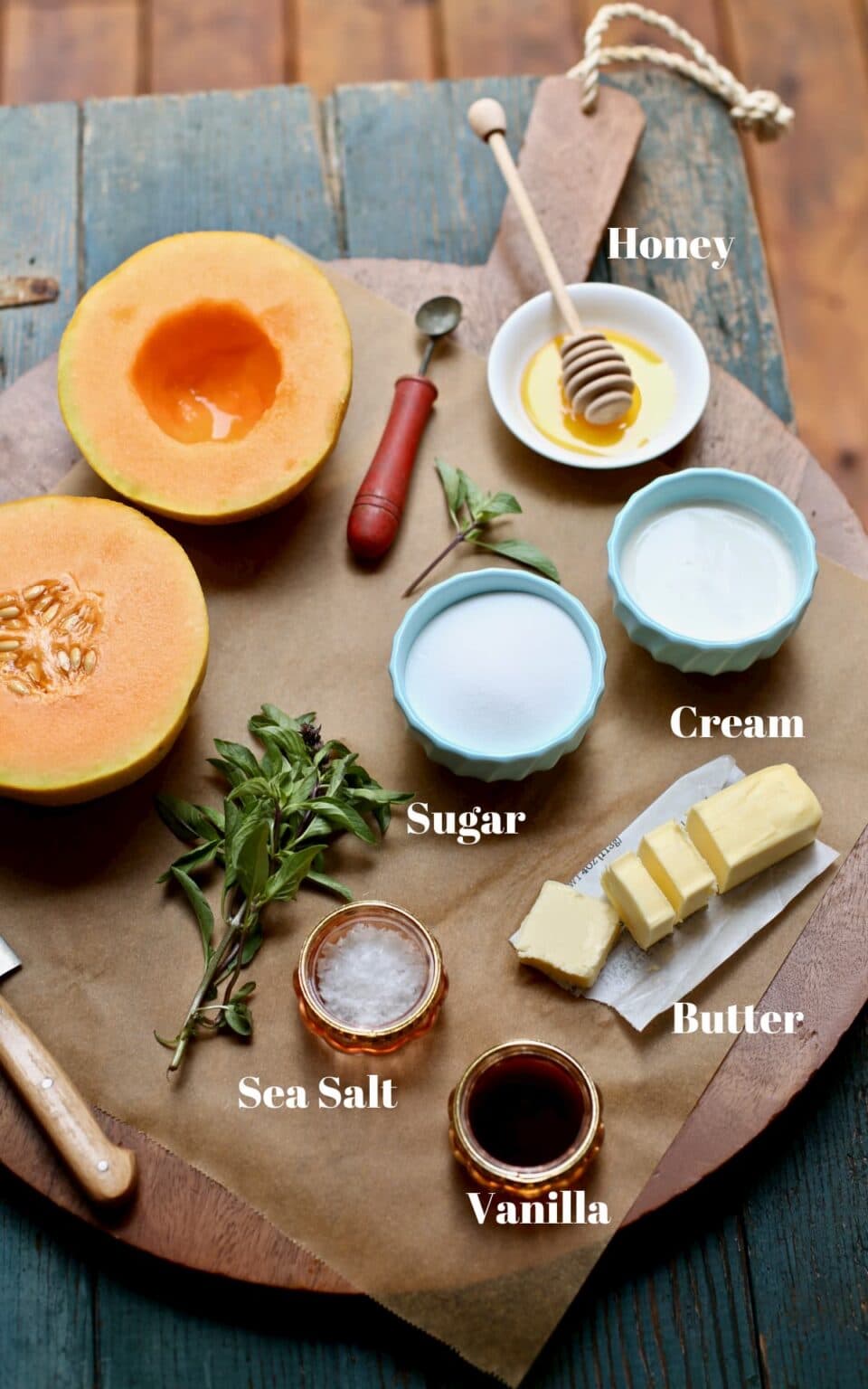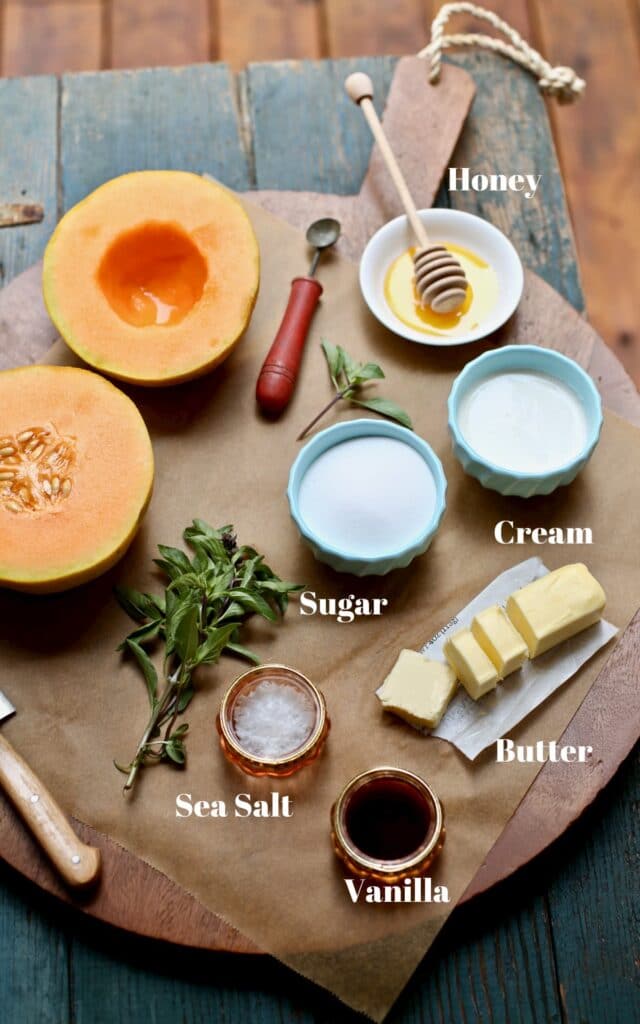 Melon: The easiest melons to find are Cantaloupe, which have a rich, juicy taste and golden interior.
Ice Cream: Vanilla works best, and feel free to use any kind you'd like, including non-dairy versions.
Basil: You can skip the sprigs of fresh basil, but it does add a very pleasant and slightly savory herbaceous quality to this amazing dessert.
Honey: Just a little bit to sweeten the homemade caramel sauce
Sugar: Mix this with the honey and a little water to cook together and caramelize.
Heavy Cream: This is what makes our caramel sauce creamy and luxurious tasting.
Butter: For richness and buttery flavor 🙂
Sea Salt: This little ingredient makes ALL the difference in the caramel sauce..the flavors just POP.
Vanilla: For a little sweetness and depth of flavor you can't get from anything else.
Tips for Choosing a Good Melon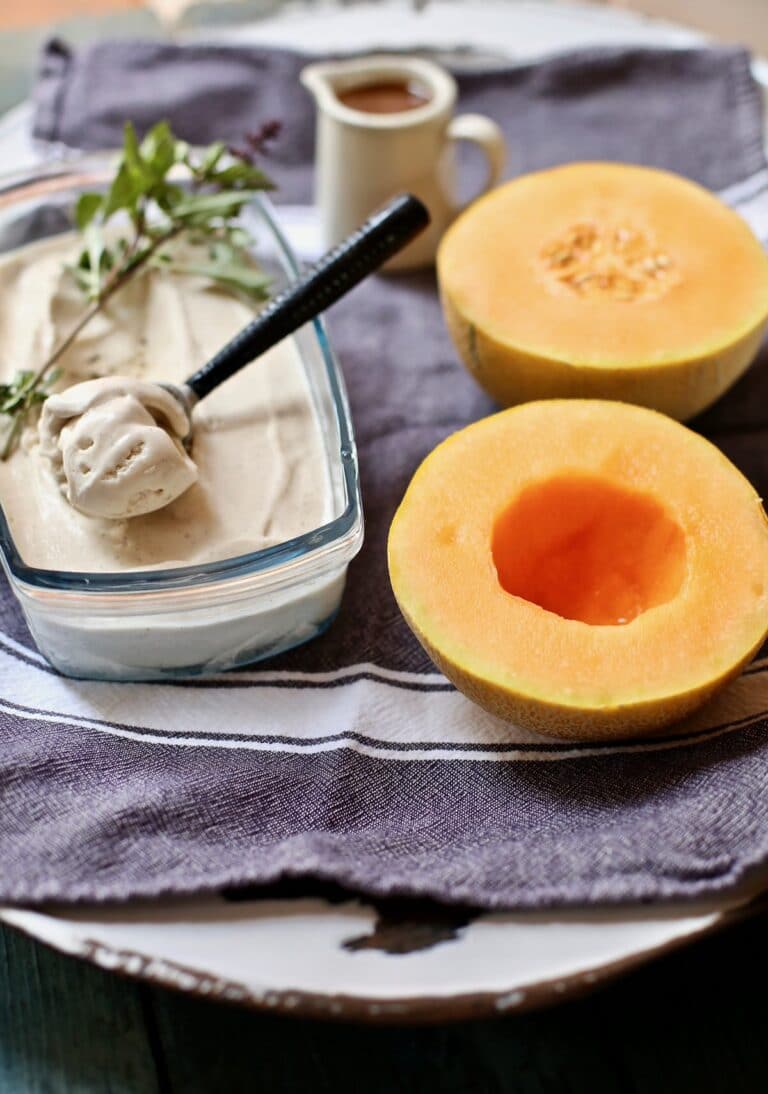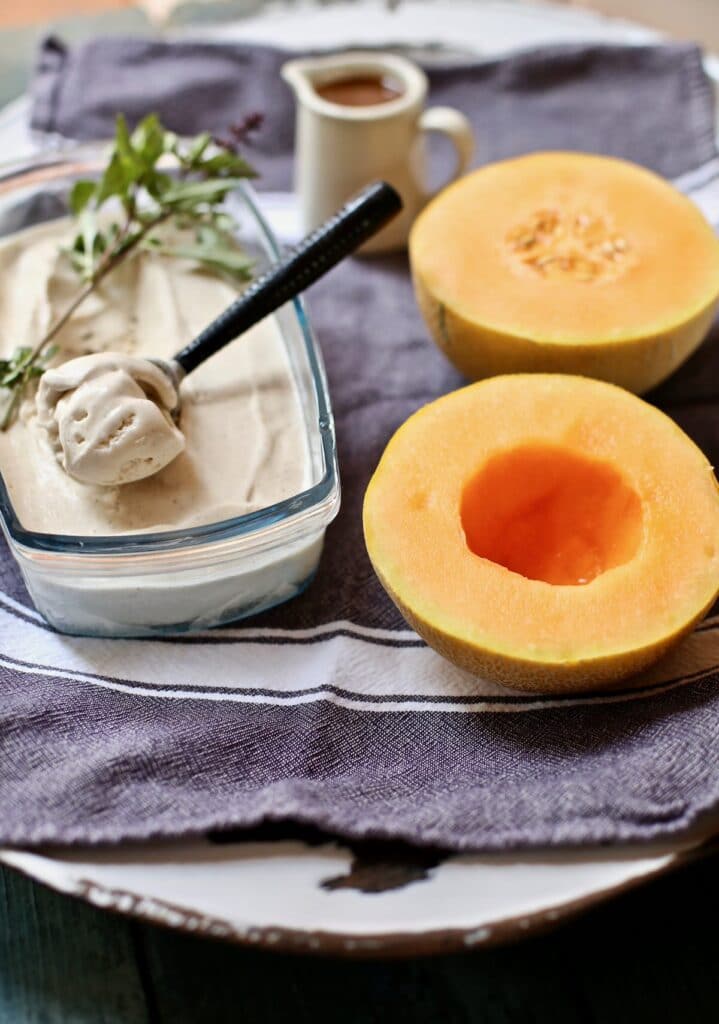 A few things I've learned along the way when picking out a melon:
Use all your senses – sight, smell, touch and sound. When picking out a watermelon, a hollow sound is good.
Seek a filled-out, rounded melon, with no bruises or soft parts.
The heavier the fruit, the juicier it is.

Fun Facts! T

he sweetest melon is a Honeydew. Cantaloupes are sometimes called Muskmelons and are by far the most popular and common variety.
A musky aroma and skin that's easy to depress lightly with your finger are signals that your melon is ripe and ready to eat.
Often you can ask to taste the melon first, especially at a farmer's market. This is great, because you can try before you buy.
I'm in LOVE with heirloom melons for their perfume-y, exotic taste, so if you ever come across a French Charentais variety, be sure to give it a try.
How to Make this Recipe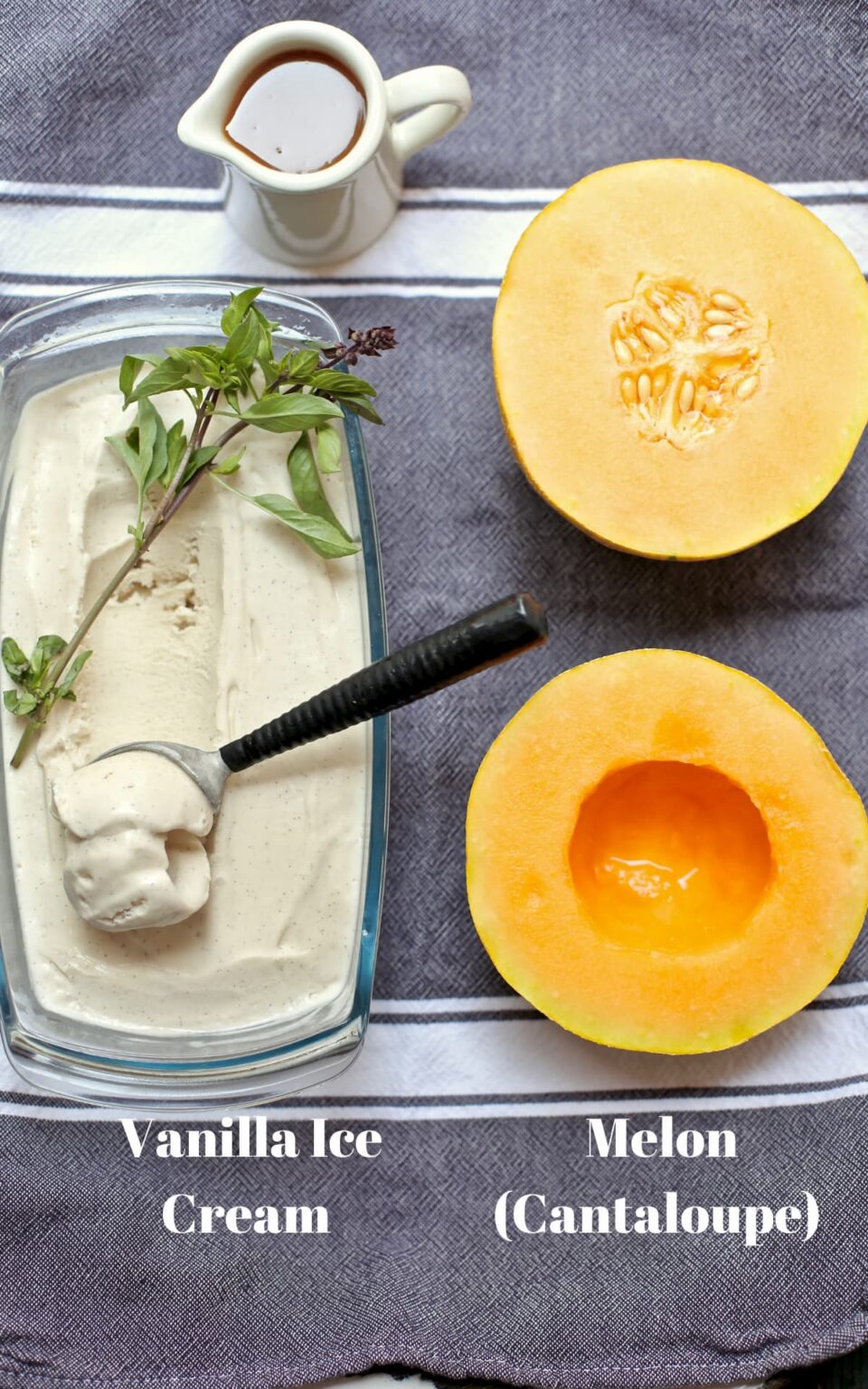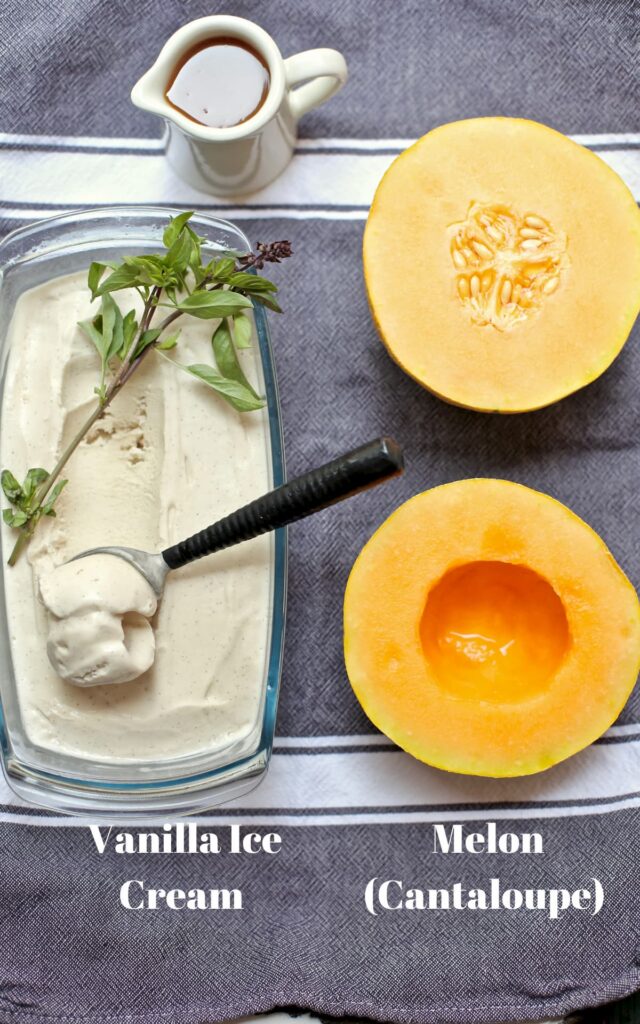 Guys, this is EASY! Here's all you do:
Cut the melon in half, scoop out the seeds and discard them.
Scoop in a generous cup of vanilla ice cream.
Spoon a couple of tablespoons of caramel sauce on top of the melons.
Garnish with fresh basil and serve!
Homemade Caramel Sauce, Step by Step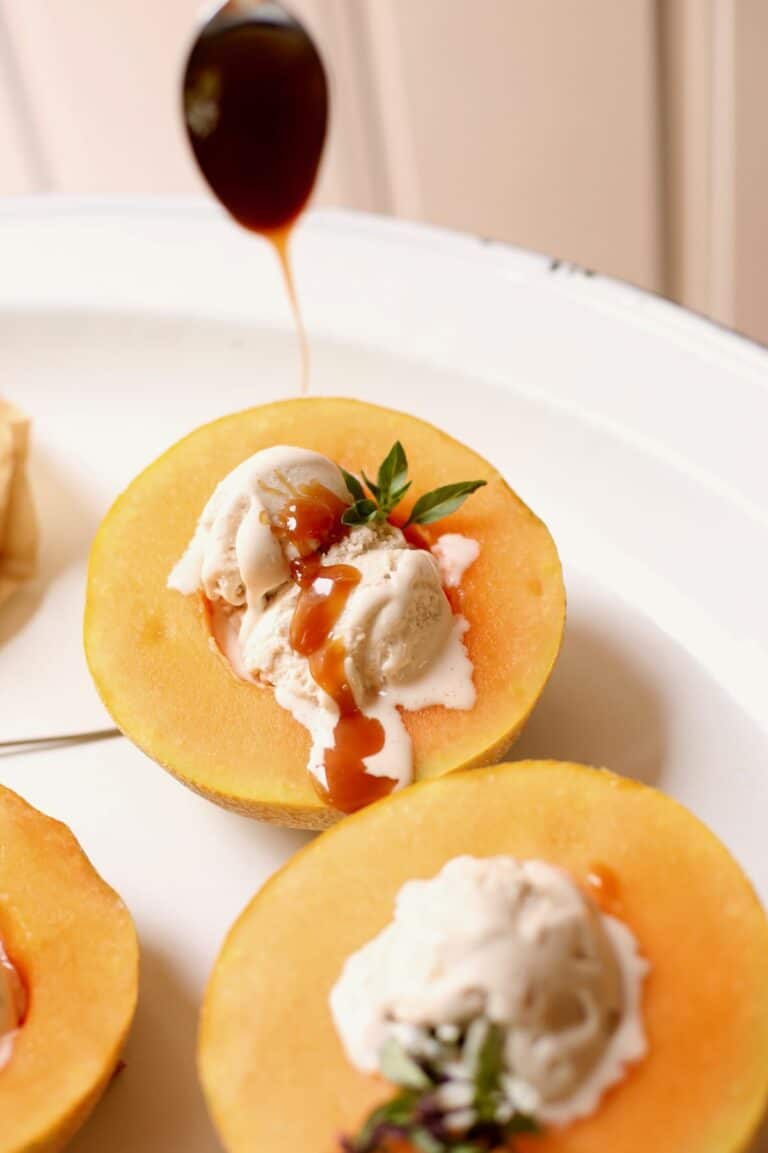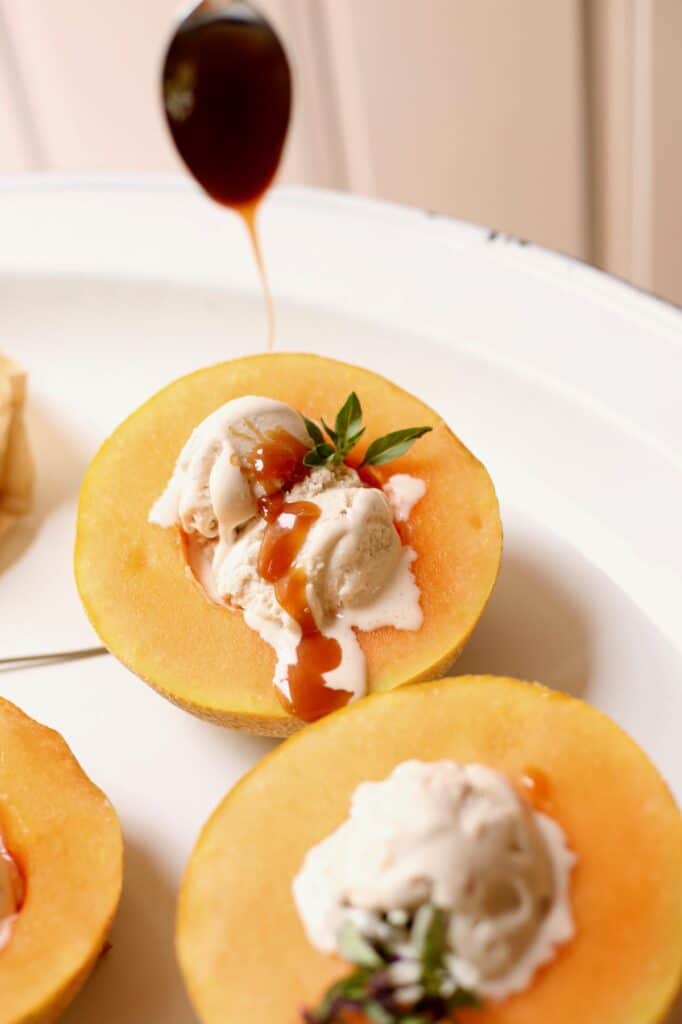 Homemade caramel sauce may seem intimidating, but it's totally do-able, and doesn't take long. It's basically three easy steps, four if you count the cooling time:
Cook the honey, water and sugar in a nonstick saucepan and bring it to the boil, stirring occasionally with a wooden spoon until the sugar is dissolved
Stir the mixture while it cooks, until it turns golden brown, about 5 minutes
Add in the cream, butter, salt and vanilla and whisk it all together (carefully, it can splatter!)
Cool for 10-15 minutes until it sets, then serve!
SHORTCUT TIP: No time to make homemade caramel sauce? Buy a good quality store-bought variety! Just spoon it into a heatproof bowl and microwave for 10 seconds or so to loosen and warm it slightly, which will make it easier to pour.
Serving Tips and Ideas

I love to serve this easy dessert on a big platter already assembled with some extra caramel sauce on the side.
They also look great in individual bowls, served with a spoon.
TIP!

Slice a small piece off the bottom of the melon… this will allow it to sit level on whatever serving dish you choose. Genius, right?

This is wonderful after a dinner of Summer Pasta!
Also VERY good after a healthy dinner of Blackberry Salad with Toasted Hazelnuts.
More Recipes to Try:

Nectarine Toast with Honey Goat Cheese
Coconut Milk Rice Pudding with Rose Rhubarb
Roasted Nectarines with Caramel Sauce
If you've tried Melon with Ice Cream & Caramel Sauce or any recipe on Studio Delicious, I'd love to hear about it in the comments below!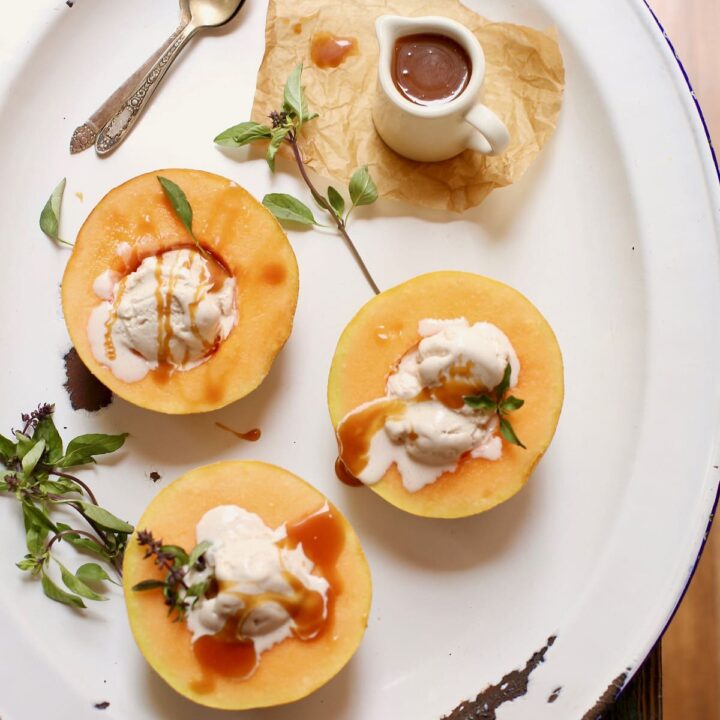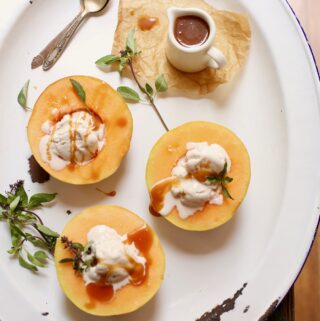 MELON WITH ICE CREAM & CARAMEL SAUCE
An easy and refreshing warm weather treat your friends and family will absolutely love!
Print
Pin
Rate
Ingredients
2

medium-sized

Melon, (cantaloupe)

4

1/2 cups

Vanilla ice cream

3

tbsp

Basil leaves, fresh
FOR THE CARAMEL SAUCE

2

tablespoons

Honey

2

tablespoons

Water

1/2

cup

Sugar

1/2

cup

Heavy Cream

2

tablespoons

Butter

1/4

teaspoon

Sea Salt

1/2

teaspoon

Vanilla extract (pure)
Instructions
Cut each melon in half and remove and discard the seeds Scoop a generous cup of vanilla ice cream into the center of each melon halfSpoon 2 about tablespoons (or more if you like) of caramel sauce over the melon and ice creamGarnish with fresh basil and serve

FOR THE CARAMEL SAUCE

Combine the honey, water and sugar in a medium-sized nonstick saucepan, and stir with a wooden spoon on medium-high heat until the sugar is dissolved.Continue cooking on medium-high heat until the mixture comes to the boil. Continue to cook and stir until it's deep golden brown, about 5-6 minutesRemove pan from the heat and quickly whisk in the cream, butter, salt and vanilla (careful, it may splatter a little) until combined. Cool the caramel for 10-15 minutes before serving, keep in the refrigerator until ready to use.
Notes
Cantaloupe is my favorite melon to use for this dessert, and it's usually easy to find at the grocery store or Farmers Market.
Running short on time? Use a store-bought Caramel Sauce instead!
This recipe calls for full-fat vanilla ice cream, but you can use any brand or type of regular or non-dairy ice cream you'd like.
Leftover caramel sauce will keep in the refrigerator for up to a month. Be sure to seal it securely - I use a small Ball canning jar with a lid.

Nutrition
Serving:
4
g
|
Calories:
513
kcal
|
Carbohydrates:
73
g
|
Protein:
5
g
|
Fat:
24
g
|
Saturated Fat:
15
g
|
Cholesterol:
85
mg
|
Sodium:
255
mg
|
Potassium:
891
mg
|
Fiber:
3
g
|
Sugar:
69
g
|
Vitamin A:
10224
IU
|
Vitamin C:
102
mg
|
Calcium:
129
mg
|
Iron:
1
mg
Tips for Success with Every Recipe
Super important to read the whole recipe before you begin
Pay attention to the ingredient list and photos for the recipe
If possible, prep your ingredients a little before you start
Always use a sharp knife for safety
Use the size of pan called for in the recipe
For savory recipes, taste and season as you go
Buy fresh, organic ingredients, locally sourced whenever possible
This recipe was posted in August 2019 and was updated with new instructions and photos July 2020