If you've never had a Melon with Ice Cream and Caramel Sauce, well, friends, you may be missing out.  There's nothing better for dessert when it's hot outside, and everybody just loves it.


Summertime is the best time, isn't it?
There are melons in all the farmers markets and grocery stores, just waiting to be eaten.
This is an easy and absolutely delicious recipe – Melon with Ice Cream and Caramel Sauce!
Tips on Choosing a Good Melon

 Use all your senses when picking out a ripe melon: sight, smell, touch and sound.  If it's a watermelon, a hollow sound is good.
 Often you can ask to taste the melons first, especially if you're at a farmer's market.
 Seek a filled-out, rounded melon, with no bruises or soft parts.
 The heavier the melon, the juicier it is.
 A musky aroma and skin that's easy to depress lightly with your finger are signals your melon is ripe and ready to eat!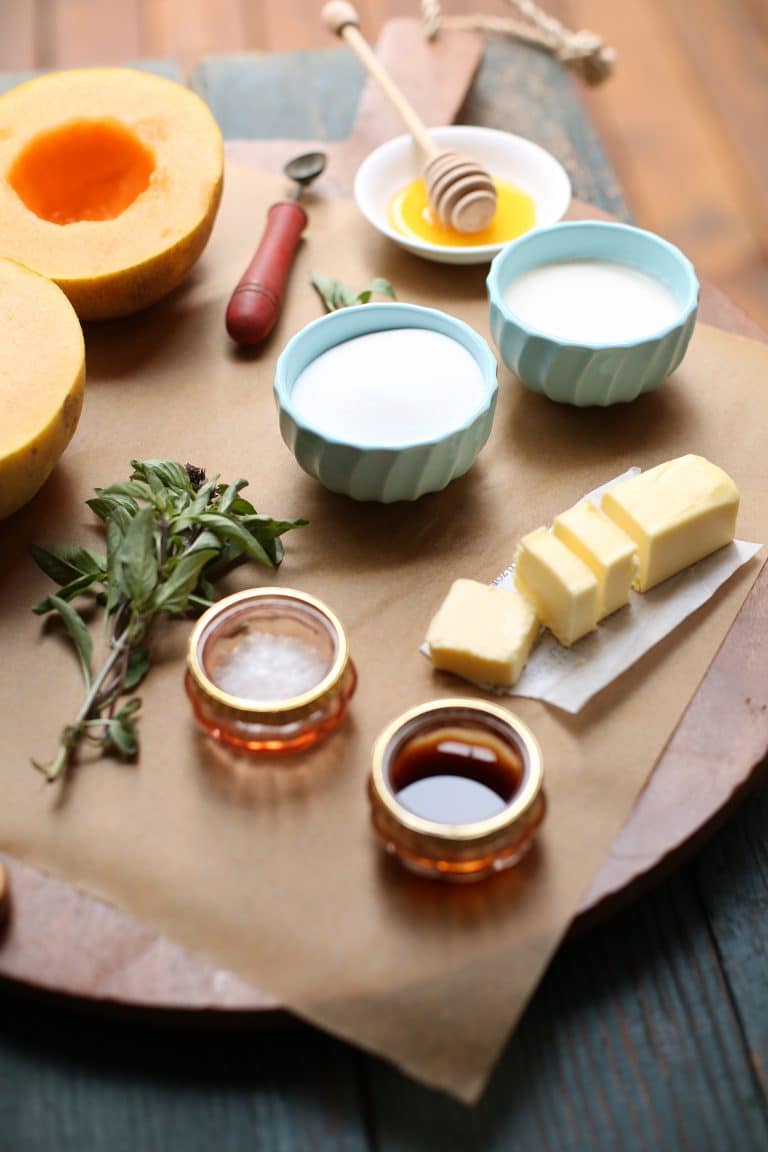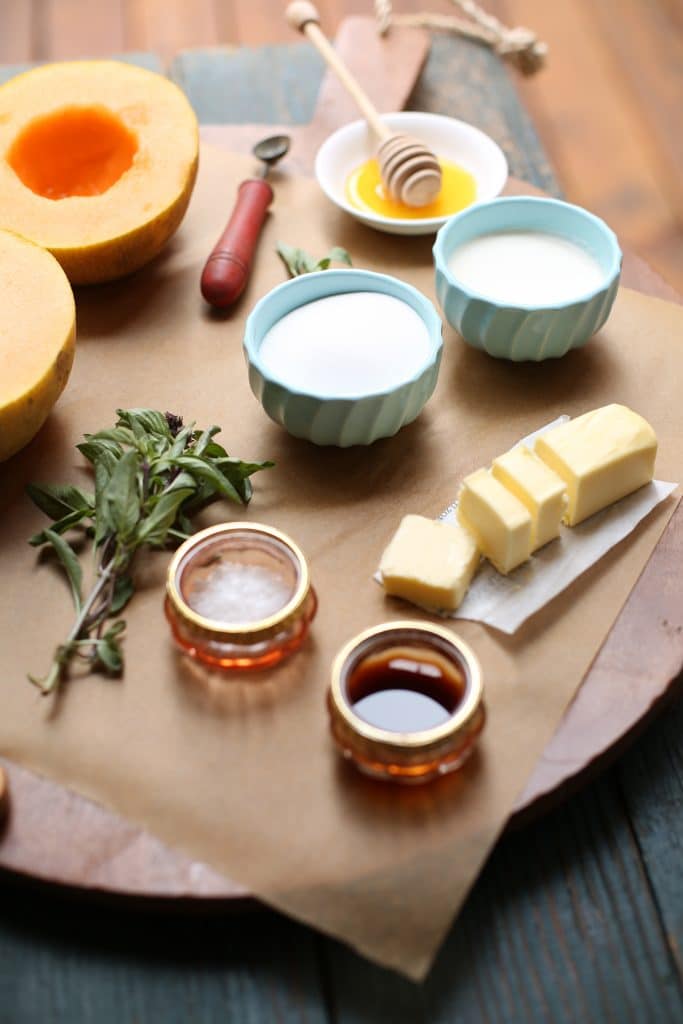 Good things to know about Melon

Who knew that melons are relatives of squashes and cucumbers!
This doesn't make any sense to me at all, but melons come in many delicious varieties.
I'm SO IN LOVE with the small, heirloom kind at the Farmer's Market right now.
If you ever come across a French Charentais, be sure to give it a try.
You can thank me later 🙂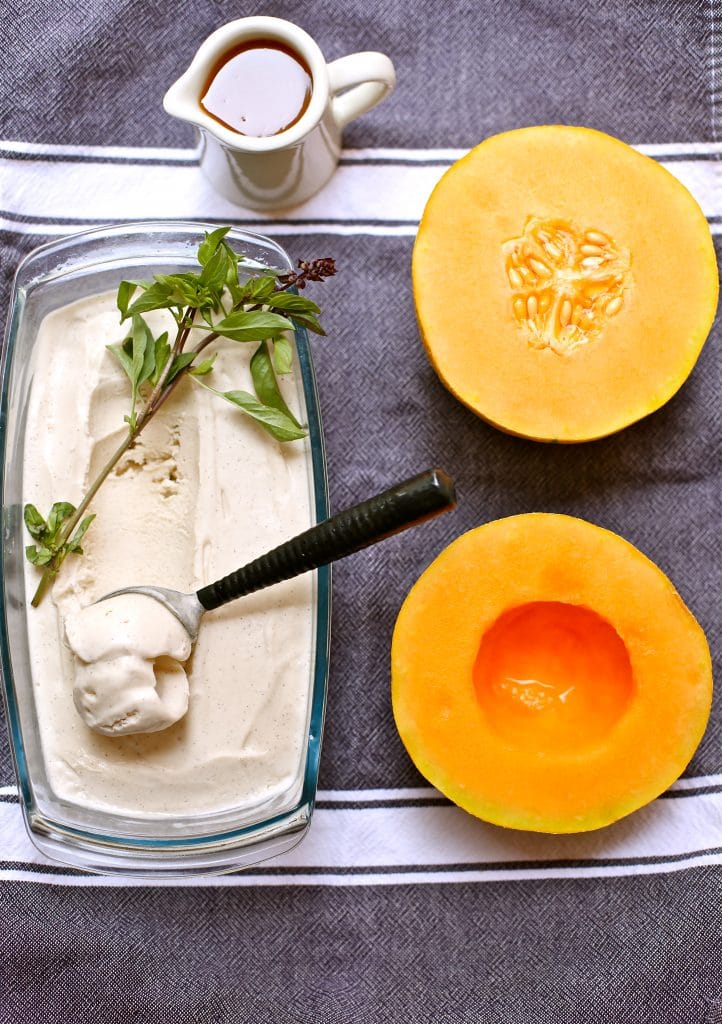 I don't know about you, but I've been eating peaches from the Farmer's Market that taste like perfume, and almond milk yogurt with sliced figs and honey too.
SO AMAZINGLY good.
Summertime is my favorite for desserts with fresh fruit, and Melon with Ice Cream and Caramel Sauce is an old-timey favorite.
I first had this at a friends house when I was a kid.  They were from Iowa, and really knew their produce if you know what I mean.
Adding a big, delicious scoop of vanilla ice cream to the hollowed out center of a juicy, sweet melon– eaten with a spoon on a hot summer day?
Wow and WOW.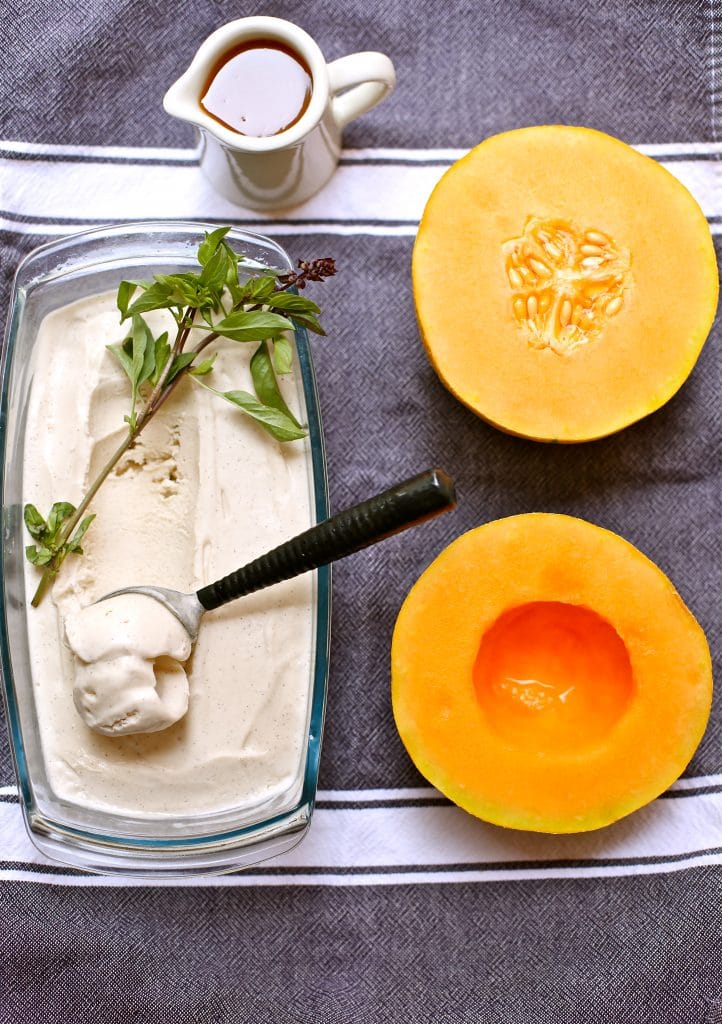 What if you don't eat dairy?

Yes, you can use full fat vanilla ice cream, but with so many nut milk ice creams to choose from, everyone wins.
Nobody has to miss out on this summery treat because they don't eat dairy.
My very favorite is any vanilla bean almond milk variety, but vanilla coconut milk ice cream is super tasty too.
Then just cut a big, ripe cantaloupe in half, scoop out the seeds, and scoop in the ice cream.
Done and done.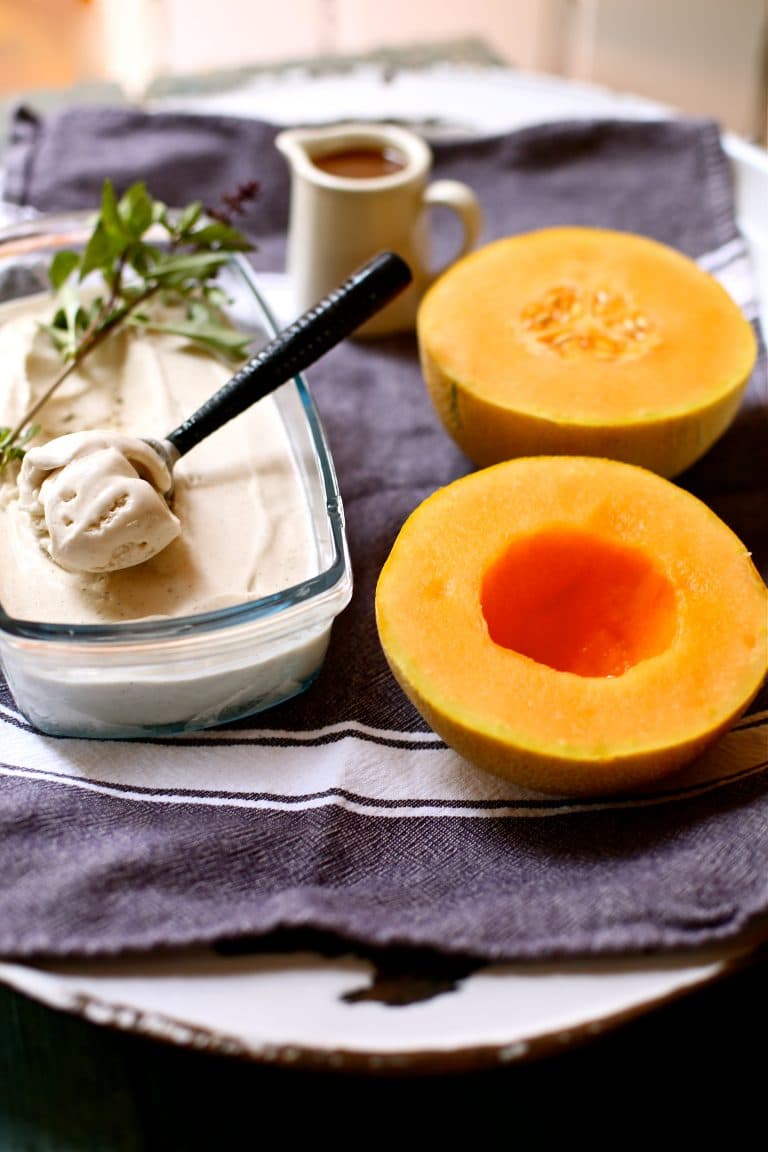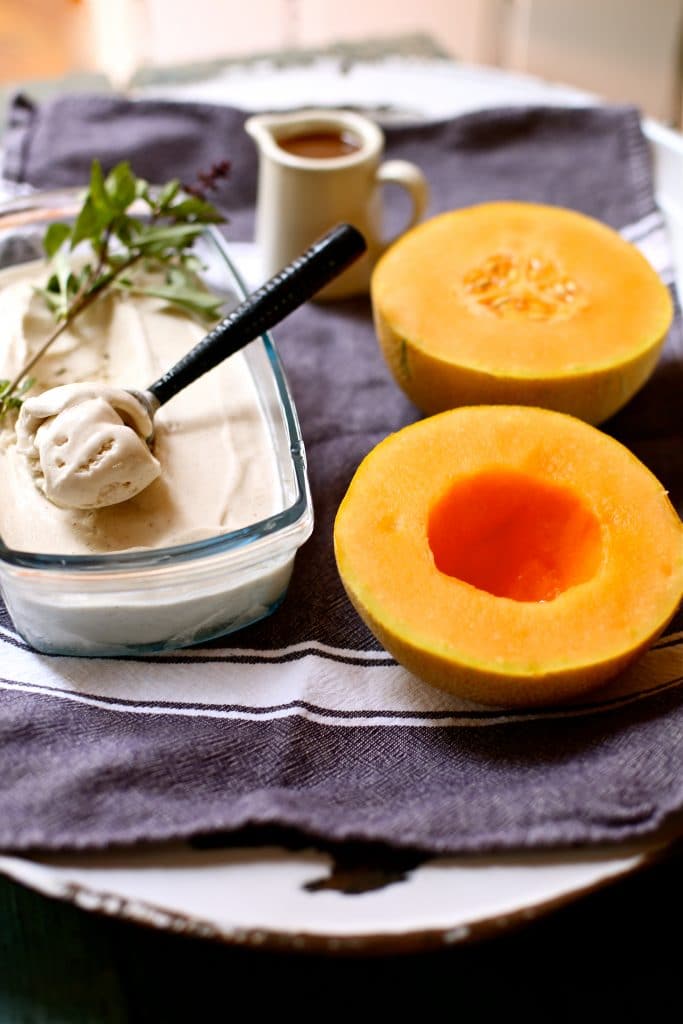 How to Make Homemade Caramel Sauce
Read through the recipe first. (always, always.)
And!  My personal belief is that caramel sauce added to absolutely anything cannot be bad.
It's basically three easy steps, four if you count cooling time:
Cook the honey, water and sugar in a saucepan and bring it to the boil
Keep stirring and cooking until it turns a nice, golden brown
Add in the cream, butter, salt and vanilla and whisk it all together (carefully, it can splatter!)
If you don't have time to make caramel sauce, use a store-bought brand!  It'll be delicious.

How to Serve Melon with Ice Cream and Caramel Sauce

The melon comes naturally with it's own perfect little bowl, just remove the seeds first 🙂
Start by putting the cleaned out melons on a big platter, or place them in individual bowls.
Pro tip: Slice off a small piece of the outside skin side, just opposite the bowl. This will allow the melon to sit level on whatever serving dish you choose.
Next, drizzle on the dreamy, amazing caramel sauce and enjoy!
More Recipes:
Coconut Milk Rice Pudding with Rose Rhubarb
Roasted Nectarines with Caramel Sauce
Thanks for Pinning!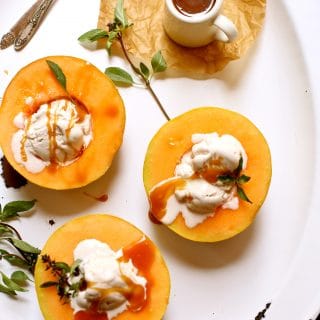 MELON WITH ICE CREAM AND CARAMEL SAUCE
Melon with Ice Cream and Caramel Sauce is an easy and refreshing warm weather treat your friends and family will absolutely love!
Print
Pin
Rate
Ingredients
Serves 4

2

medium sized cantaloupe

4

1/2 cup

scoops vanilla ice cream or nut milk ice cream
Caramel Sauce
About 3 tablespoons fresh basil leaves

optional garnish

FOR THE CARAMEL SAUCE

2

tablespoons

honey

2

tablespoons

water

1/2

cup

sugar

1/2

cup

heavy cream

2

tablespoons

cold, unsalted butter

1/4

teaspoon

sea salt

1/2

teaspoon

pure vanilla extract
Instructions
PREPARE THE MELONS

Cut each melon in half and remove the seeds with a spoon

Scoop vanilla ice cream (or nut milk, if using) in the center of each melon half

Spoon 2 tablespoons (or more, if you'd like) of caramel sauce over the melon and ice cream, and garnish with fresh basil (if desired).

PREPARE THE CARAMEL SAUCE

Combine honey, water, sugar in a medium sized nonstick saucepan, and stir with a wooden spoon on medium high heat until everything is dissolved

Continue cooking on medium as the mixture comes to the boil, and continue cooking, stirring occasionally until deep golden brown, about 5-6 minutes

Remove pan from the heat and using a whisk, add the cream, butter, salt and vanilla (careful, it may splatter a little) and continue whisking until combined.

Cool the caramel for 10-15 minutes before serving, or keep in the refrigerator until ready to use.
Notes
You can use other varieties of melon, but honeydew and watermelon might be too sweet and too watery, respectively. 
No time to make the caramel sauce? Buy a good quality salted caramel sauce at the grocery store!  Just scoop some in a heatproof bowl and microwave until it's soft enough to pour
Note the nutrition calculation here is for full-fat vanilla ice cream.  This will vary depending on the brand and type of ice cream or nut milk ice cream you use. 
Leftover caramel sauce will keep in the refrigerator for up to a month.  Be sure to seal it securely - I use a small Ball canning jar with a lid.  
This recipe for Melon with Ice Cream and Salted Caramel Sauce was originally published 8/12/2018 and has been updated.

Nutrition
Serving:
4
g
|
Calories:
513
kcal
|
Carbohydrates:
73
g
|
Protein:
5
g
|
Fat:
24
g
|
Saturated Fat:
15
g
|
Cholesterol:
85
mg
|
Sodium:
255
mg
|
Potassium:
891
mg
|
Fiber:
3
g
|
Sugar:
69
g
|
Vitamin A:
10224
IU
|
Vitamin C:
102
mg
|
Calcium:
129
mg
|
Iron:
1
mg
Tips for Success with Every Recipe
Super important to read the whole recipe before you begin
Pay attention to the ingredient list and photos for the recipe
If possible, prep your ingredients a little before you start
Always use a sharp knife for safety
Use the size of pan called for in the recipe
For savory recipes, taste and season as you go
Buy fresh, organic ingredients, locally sourced whenever possible
SOURCE: STUDIO DELICIOUS