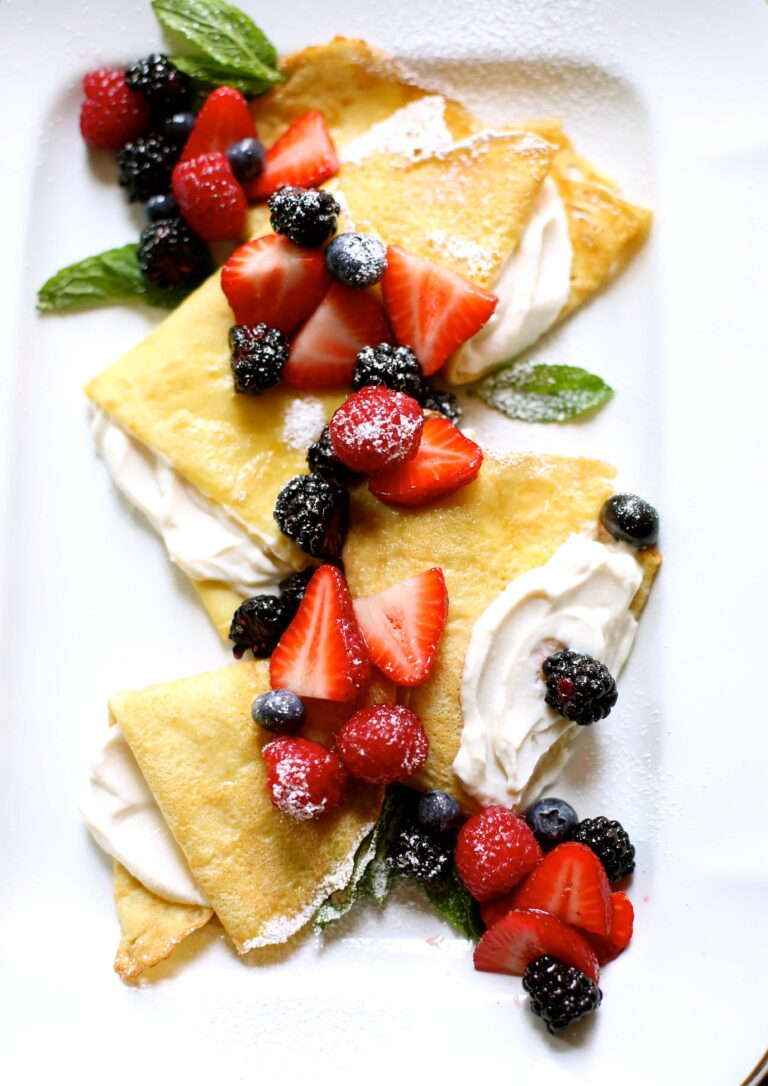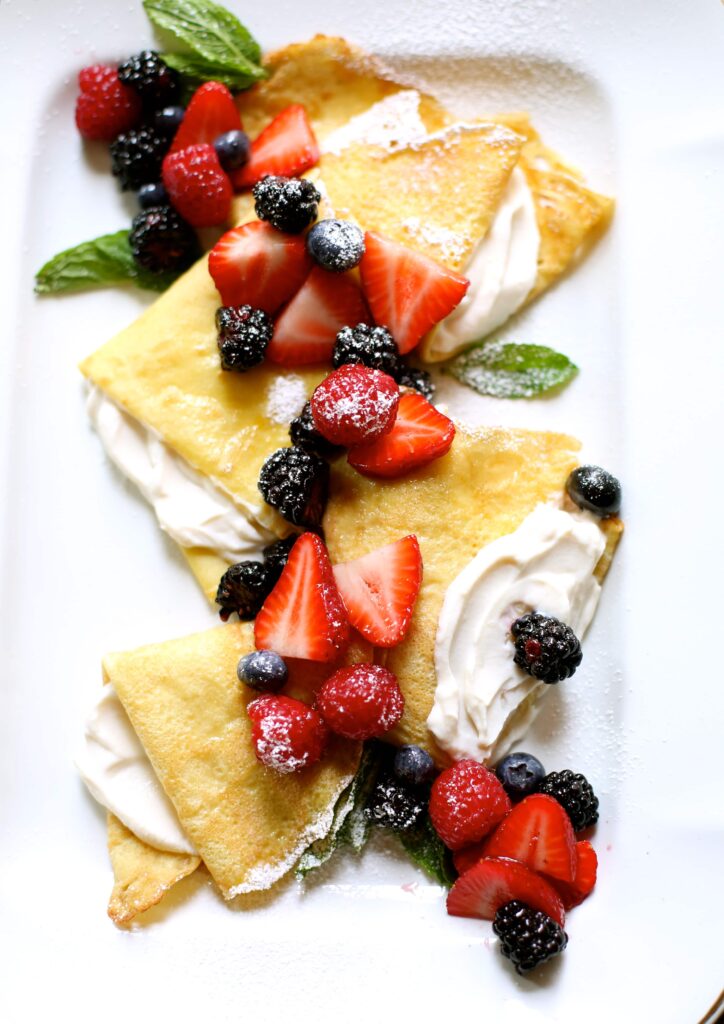 Life is a mystery. For example:
Where did the water come from that is being soaked up by my kitchen rug? Why haven't my contact lens arrived in the mail? Why is the thing not taking my password? Where is that gift certificate from Christmas?
These things drive me crazy.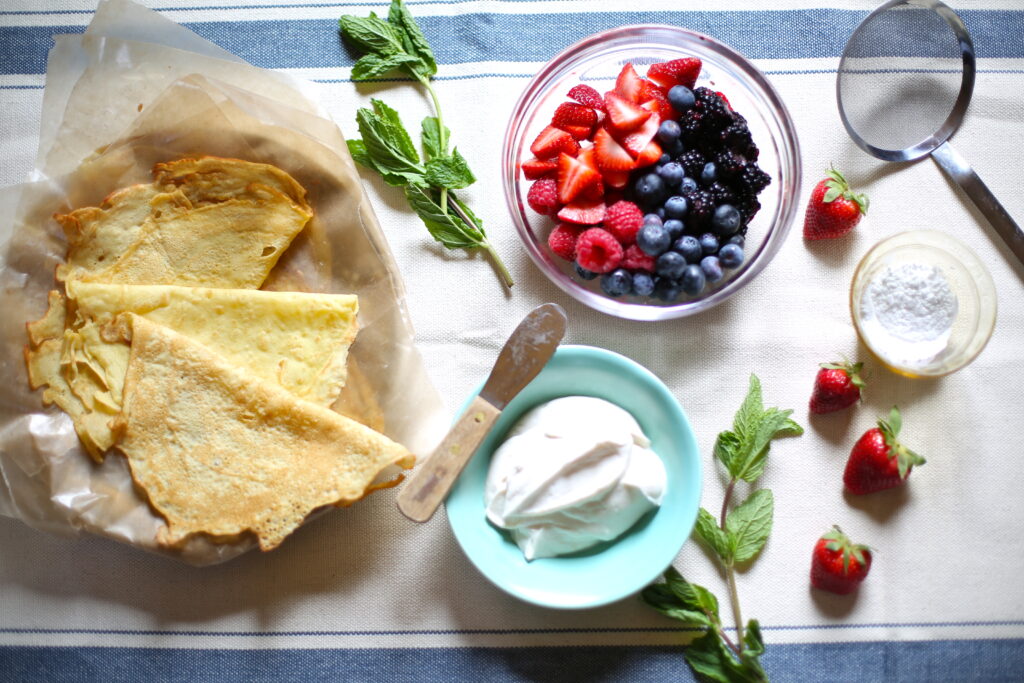 Spending time tracking it down is highly annoying to say the least.
So, I had this idea about fresh berry crepes, the kind that are blintz-like with soft whipped cheese and berries on top.
This would be a good time to tell you I'd never made crepes before, and didn't want any trouble.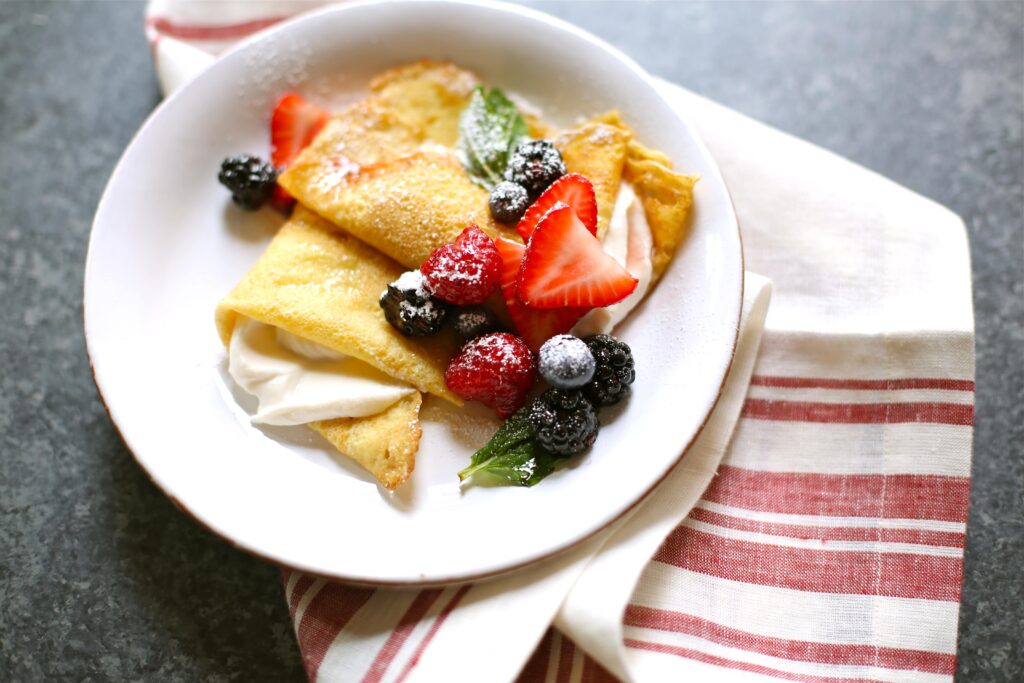 Next question was – are they dessert crepes? Brunch crepes? Could you eat them for breakfast too? Warm or cold?
There are days when nothing is easy.
The quick answer is yes, yes, yes, yes and yes.
Turns out crepes are no more difficult than making a regular old pancake.
Another mystery solved.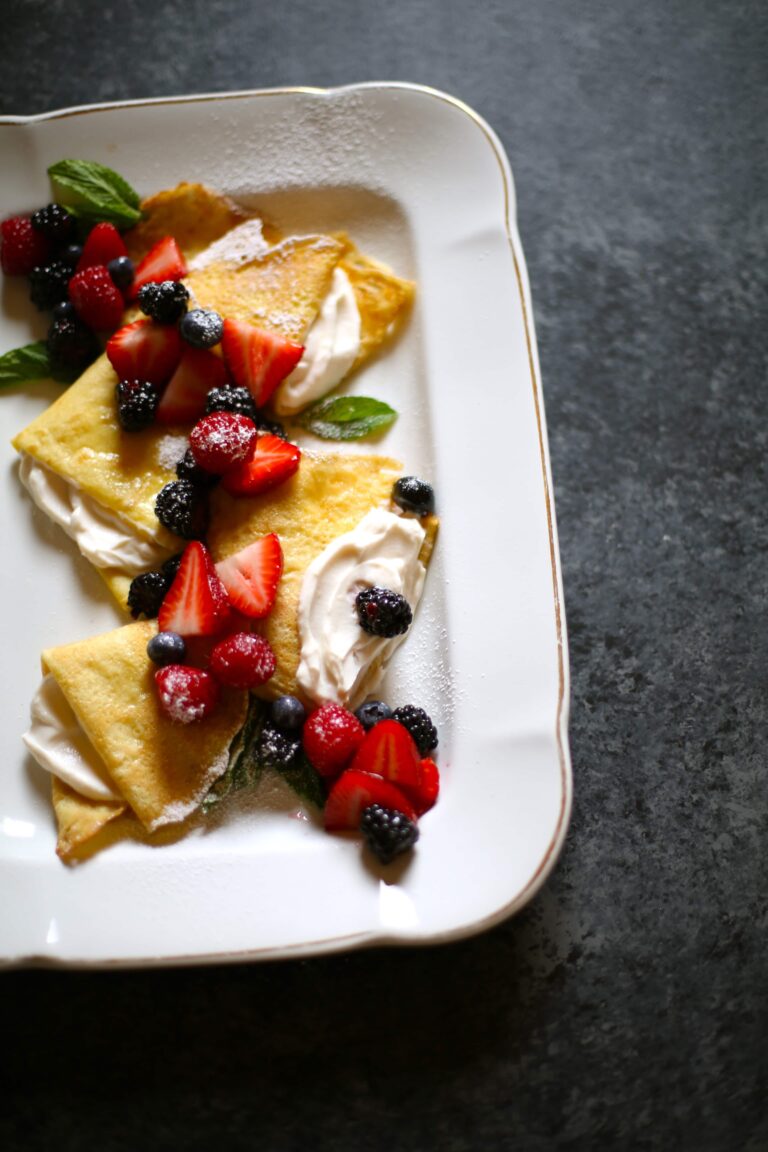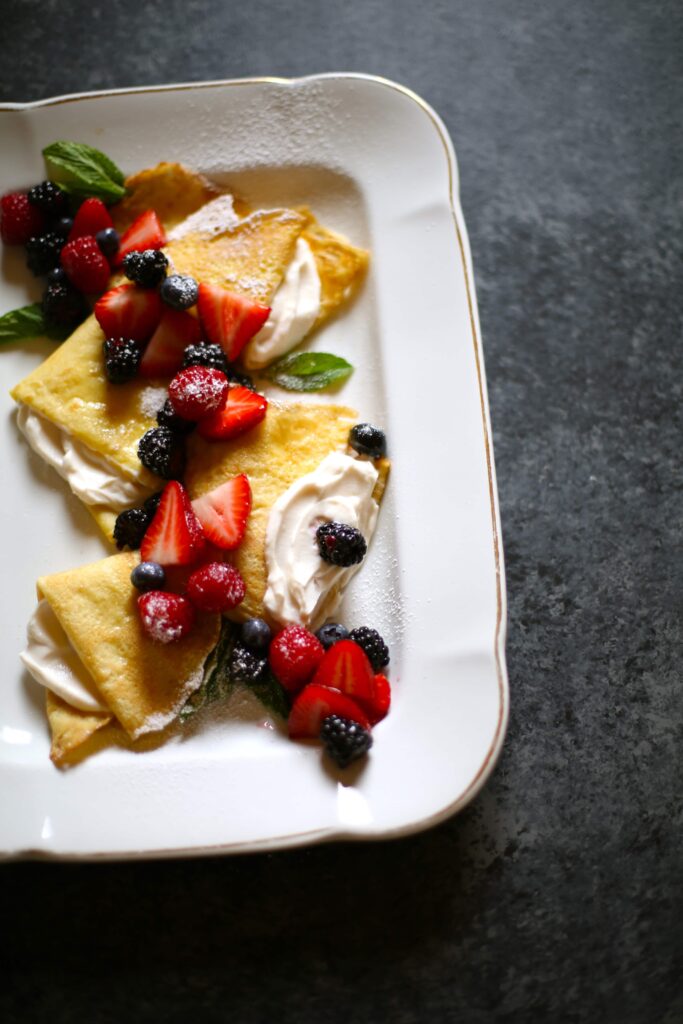 After a quick test run, I ate these crepes every which way but standing on my head.  I'd testify in a court of law they were very good.
They're impressive looking too, a nice little bonus.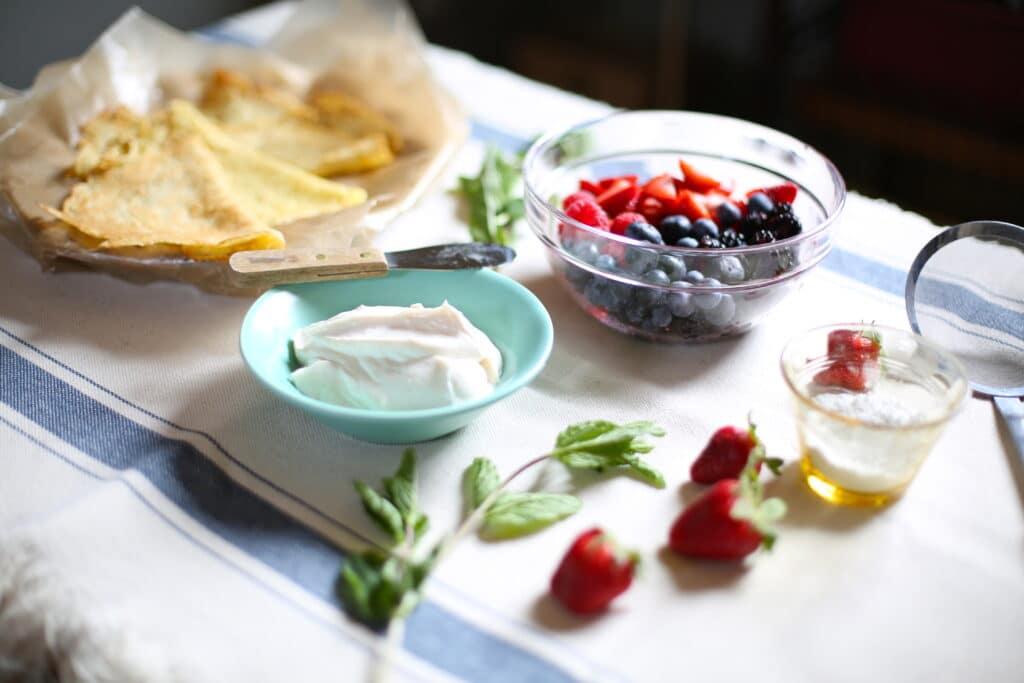 I was surprised how well they held up a day later, stored in the fridge and assembled just before eating.
Here's another trick:  brush your non-stick pan with melted butter in between each crepe – and place a tablespoon of batter at a time in a small circular motion in the middle of the pan.
These babies cook fast.
And please give up on the idea that they need to look perfect. Each crepe is unique, with its own special personality 🙂
Ingredients
FOR THE CREPES:

2

large eggs

6

tablespoons

flour

1/2

cup

whole milk

1

tablespoon

brandy or cognac

Pinch

of sea salt

Zest of fresh lemon rind

1/2 teaspoon

1

tablespoon

sugar

Several tablespoons melted butter and pastry brush

for pan

8

" well seasoned non-stick skillet or crepe pan

FOR THE WHIPPED RICOTTA:

16

ounces

of fresh ricotta

2 cups

1 1/2

teaspoons

pure vanilla extract

4

tablespoons

or more, if preferred powdered sugar

1

tablespoon

milk or cream

1/2

teaspoon

fresh lemon zest

Pinch

of sea salt

FOR THE MIXED FRESH BERRIES

2

cups

of fresh mixed berries such as blackberries

blueberries, raspberries, strawberries. Note: I used a 1/2 cup of each

2

tablespoons

pure maple syrup

Powdered sugar

for serving
Instructions
MAKE THE CREPES

Put all ingredients in a blender and process until completely smooth. Transfer to a container with a handle and pour spout, like a Pyrex 2 cup liquid glass measuring cup.

Heat non-stick skillet on medium high heat and brush with butter.

Working quickly, spoon 3 tablespoons or so of the crepe batter in the pa, making a circle with it on the middle, filling in any gaps with a little bit more batter. Tilt the pan and cook until set, about 1 1/2 minutes or when the outside edges look a bit dry.

Carefully flip using an non-stick spatula and continue cooking for another 30 seconds or so. Place crepes on wax paper with the crepe folded in half until ready to fill. Makes about 8, 7 inch crepes.

PREPARE THE WHIPPED RICOTTA

Using a food processor or hand held mixer, place all ingredients together and process until light and smooth. Taste with a clean spoon and add more sugar if you like it a little sweeter.

PREPARE THE MIXED FRESH BERRIES

Place the berries in bowl and drizzle with the maple syrup. Carefully fold together until all the berries are coated.

To assemble, fold each crepe in half and spoon about a 1/4 cup of the whipped ricotta mixture inside, then fold in half again. Place them on a large platter, or portion 2 of them on smaller plates to make four servings.

Spoon the berries over the top, and garnish with powdered sugar.
Source: Studio Delicious