Headed out on a road trip and wondering what to eat instead of greasy fast food and gas station potato chips? Here's some helpful ideas for the best road trip foods!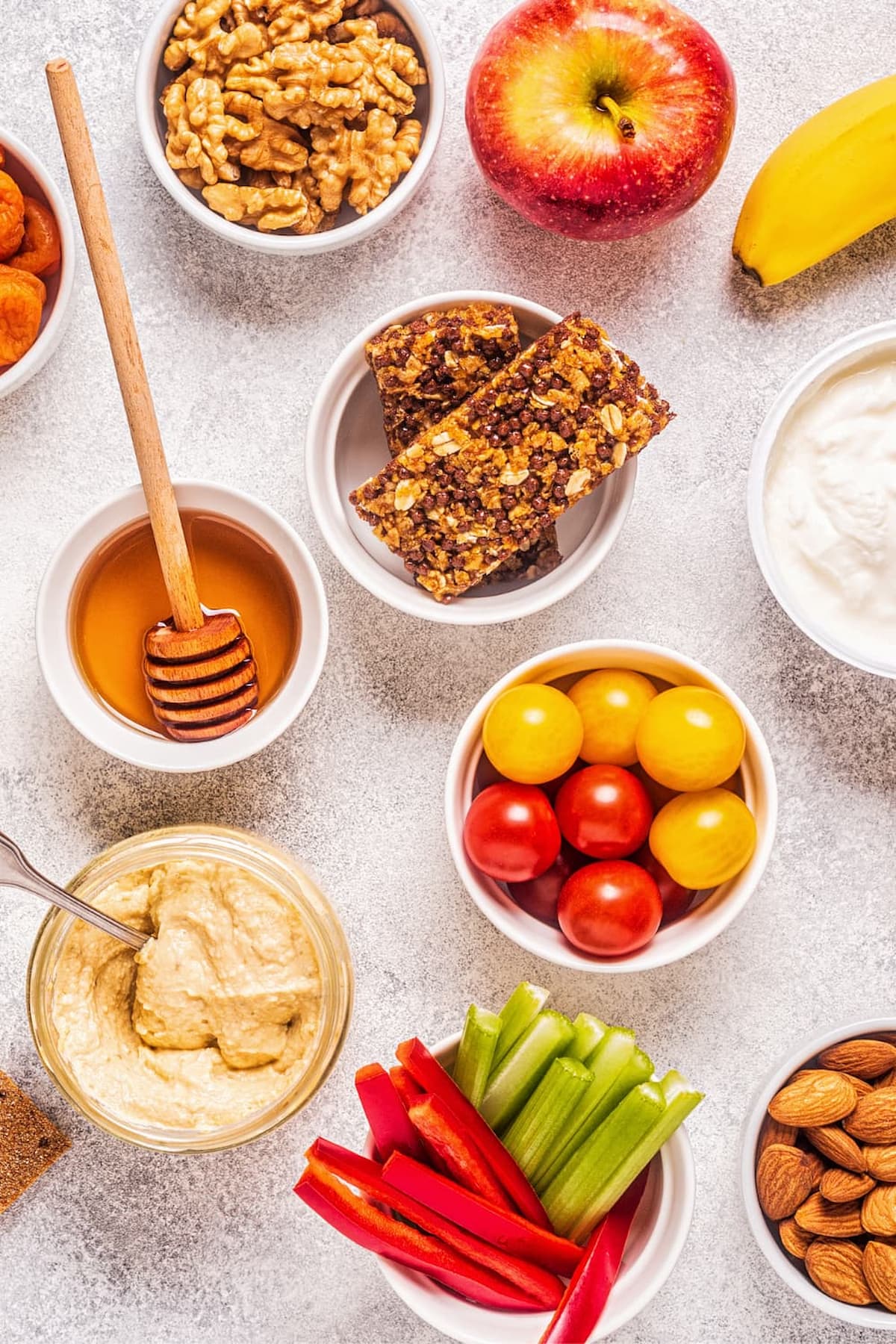 Jump to:
Heading out on a road trip and looking for some fresh ideas for healthy food to take with you? While gas station chili dogs and cheese fries are tempting, there are better options that are low-stress with just a little planning.
Easy shortcuts you can prep in advance.
Tips for packing and storing.
Recipe ideas to help get you started on the road.
What Are The Best Foods For a Road Trip?
When it comes to taking food with you on the road, some choices are definitely better than others. I'm a big fan of preparing your own stuff to enjoy on the drive, and have done so many times. It's kind of like a picnic in the car!
Here's a handy list of ideas to get you started. just pack everything in a basket or large zippered pouch for easy access.
Non-Perishable Items – Pack some of these in a basket or large zippered pouch for easy access.
Turkey or beef jerky: To keep on hand for a quick protein boost.
Protein Bars: Get the smaller snack sizes if possible.
Granola Bars: Great with a cup of fruity yogurt.
Dry Roasted Edamame: These really squash hunger and are individually wrapped.
Nut Butter Packs: Buy individual serving sizes to swirl over a rice cake.
Nuts: Buy a container of nuts and portion in advance in small bags that close.
Dried Fruit: Any dried fruit is good, portion them in advance in small baggies.
Pretzels: Great to dip in hummus or nut butter.
Veggie Chips: A healthy-ish snack instead of potato chips.
Whole Fruit: Wash whole fresh fruit snacks like apples and oranges in advance.
Roasted Chickpeas: High protein and really satisfying.
Perishable Items: Pack some of these in an ice chest – with ice packs that go inside.
String Cheese: Or sliced cheeses, in different varieties.
Hard-Boiled Eggs: Bring some flatbread crackers too.
Rice Cakes and Crackers: Can't have enough of these.
Individual Hummus Cups: Don't forget to cut carrots and celery for a light lunch.
Frozen Grapes: These taste like a real treat when they're ice cold.
Individual Yogurt Cups: Perfect with a granola bar.
Beverages: Regular or sparkling waters, individual serving juice boxes, or pack up some smoothies to enjoy.
Make sandwiches: Peanut butter and cherry jam is a favorite, and sandwiches with deli meats are a great option too. Try turkey and avocado, ham and cheddar in a pita pocket, or a veggie sandwich with pesto or hummus on whole grain toast.
TIP: Perishables are generally fine if stored properly and cold-packed in an ice chest for no more than three hours.

Dark Chocolate Trail Mix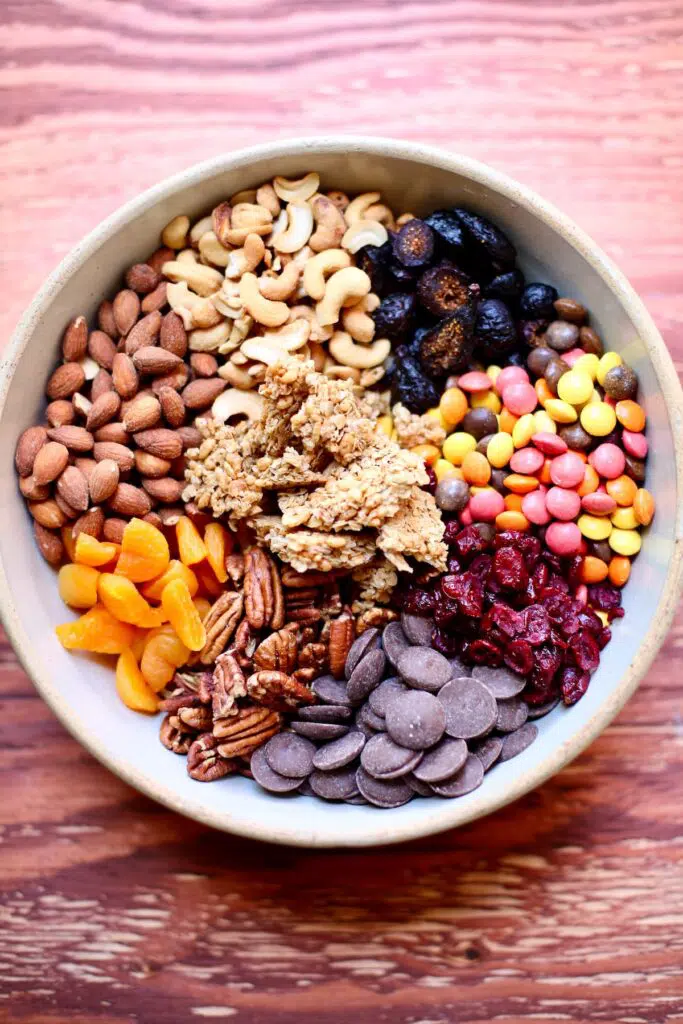 ….a big batch of trail mix is the perfect road trip snack..
Dark Chocolate Trail Mix: There's something for everybody in this trail mix – this healthy snack has dried apricots, almonds, sun drops, dried cranberries and figs, cashews and oat clusters. Use this as a base recipe to include your own favorites! Take it with you in a large container, or pre-portion the mix in small containers or ziplock bags.
Stuffed Celery
A fantastic snack for the road…
Stuffed Celery: This is one of those snacks that gets a lot of "oohs and ahhs". Set these crunchy sun dried tomato cream cheese celery sticks upright in an airtight container, and keep them chilled in a small cooler with ice packs until ready to enjoy.
Veggie Cups with Hummus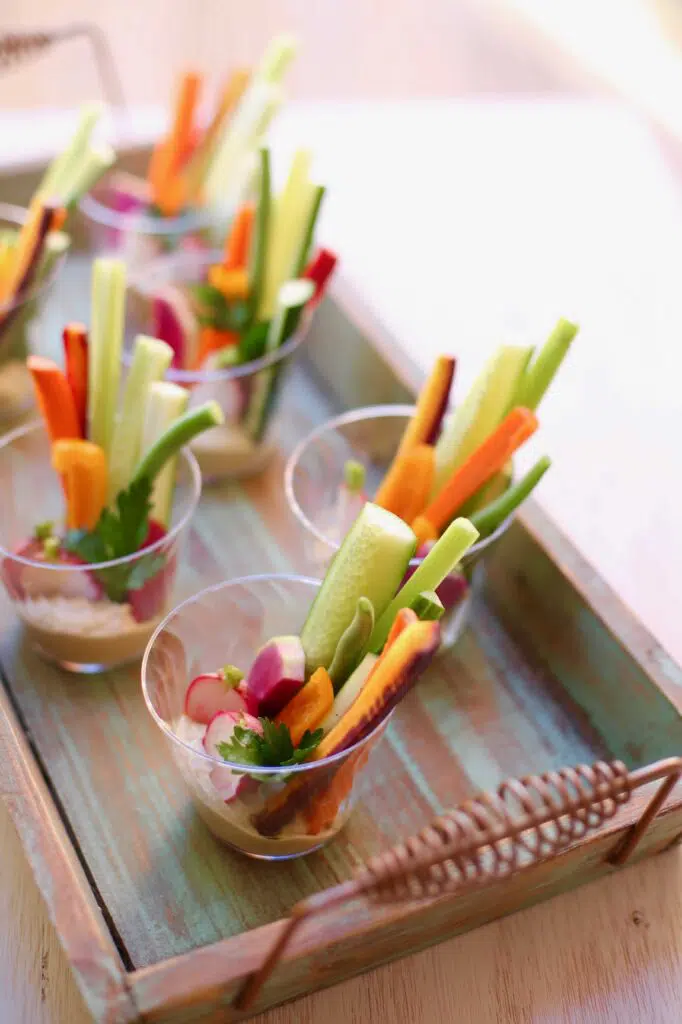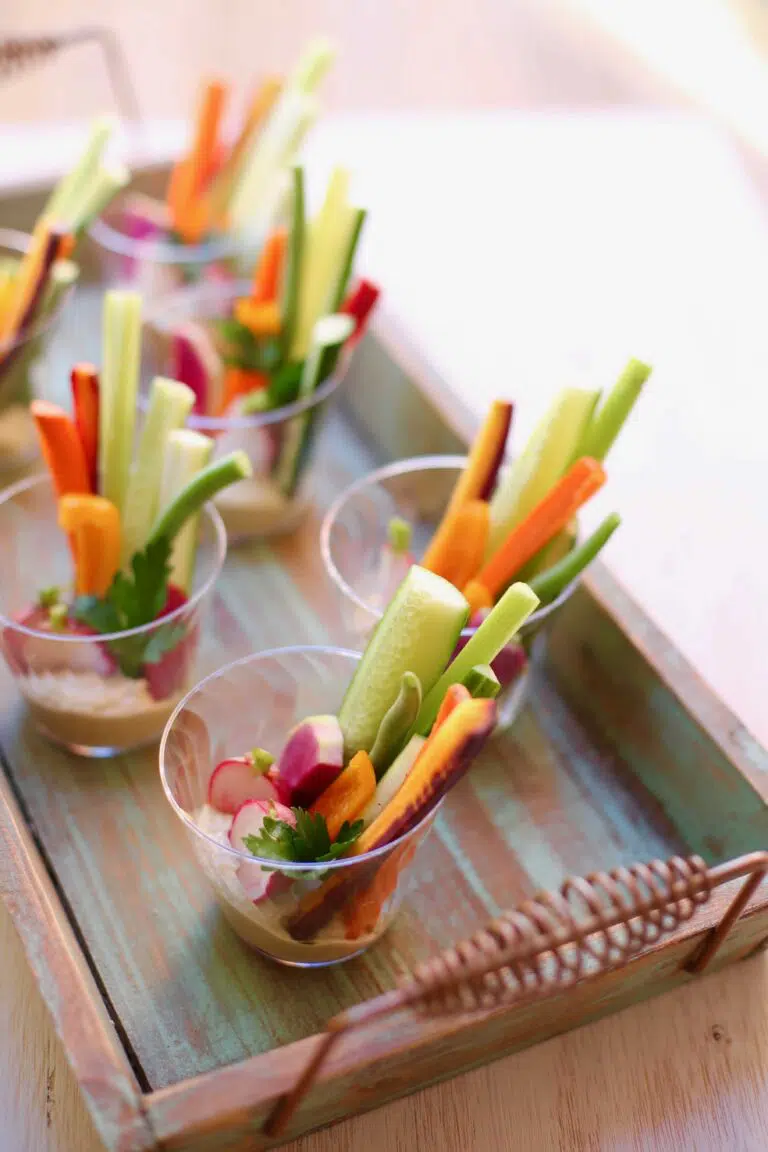 Fun and easy to hold in the car…
Veggie Cups with Hummus: These are so great to make in advance using disposable cups. Or assemble them in the car with pre-cut vegetables. Just scoop the hummus into small containers or cups and drop a few vegetable sticks in. A tasty, healthy and filling snack.
Avocado Rolls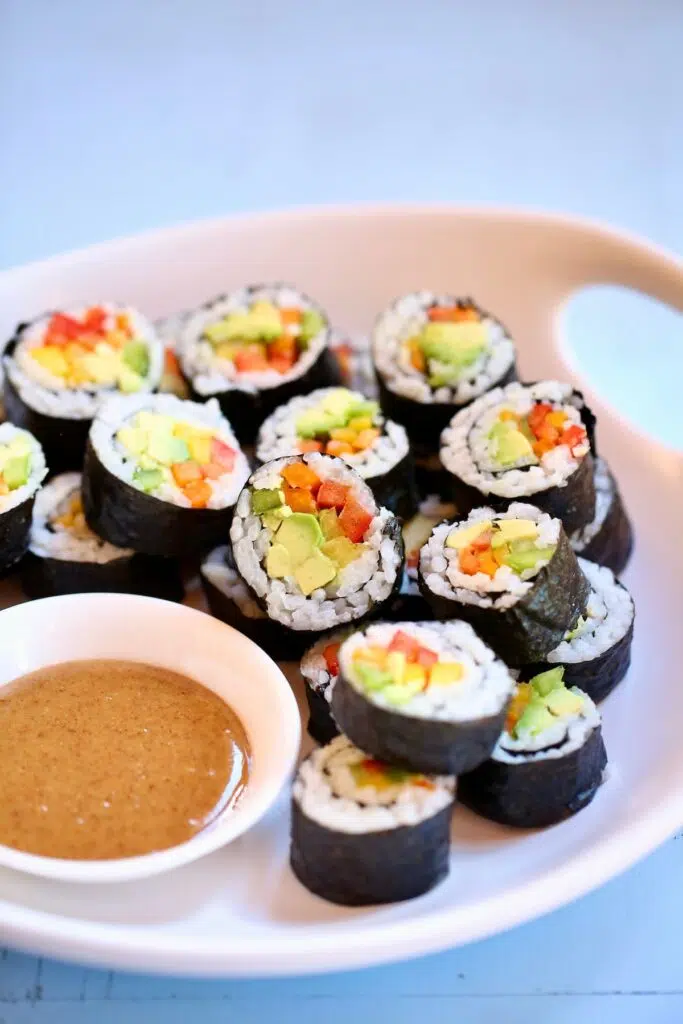 These vegetarian rolls are easy to transport and very tasty…
Avocado Sushi Roll Recipe: No raw fish in these rolls! Just fresh, crunchy vegetables and avocado with a luscious almond butter dipping sauce. Use an airtight container to pack up this easy meal, and keep it chilled in an ice chest until ready to enjoy.
Egg White Cups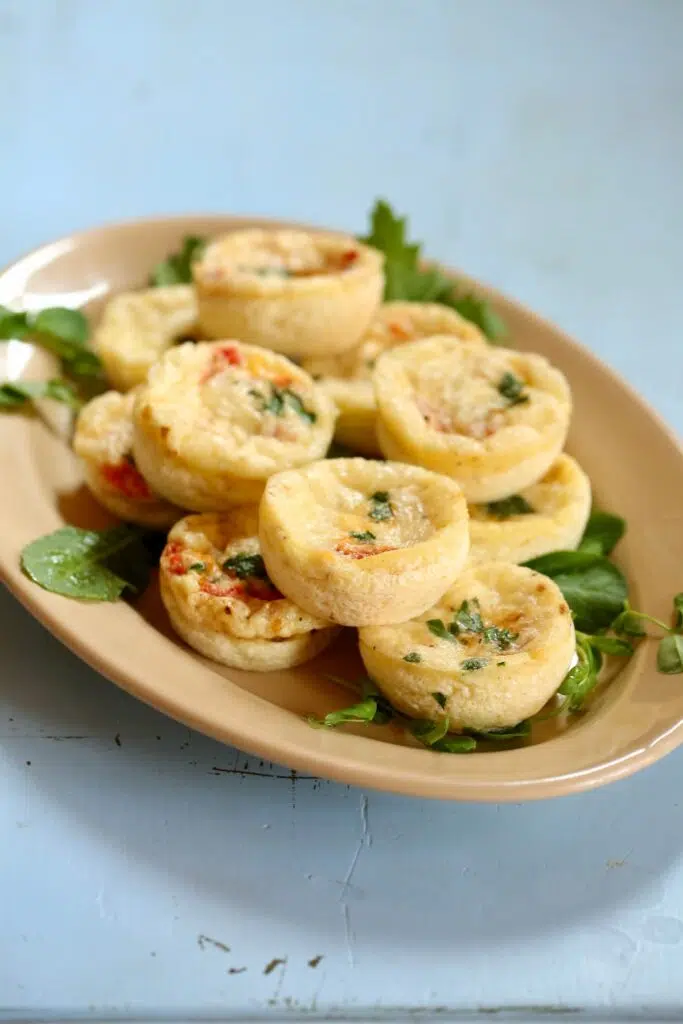 Grab these when you're walking out the door for an easy breakfast…..
Starbucks Egg White Bites Recipe: Skip a trip to the drive-though and make a batch of these easy, super delicious egg white bites instead! Full of favor and protein, they are a perfect on-the-go breakfast or brunch and taste great at room temperature.
Apple Butter Cookies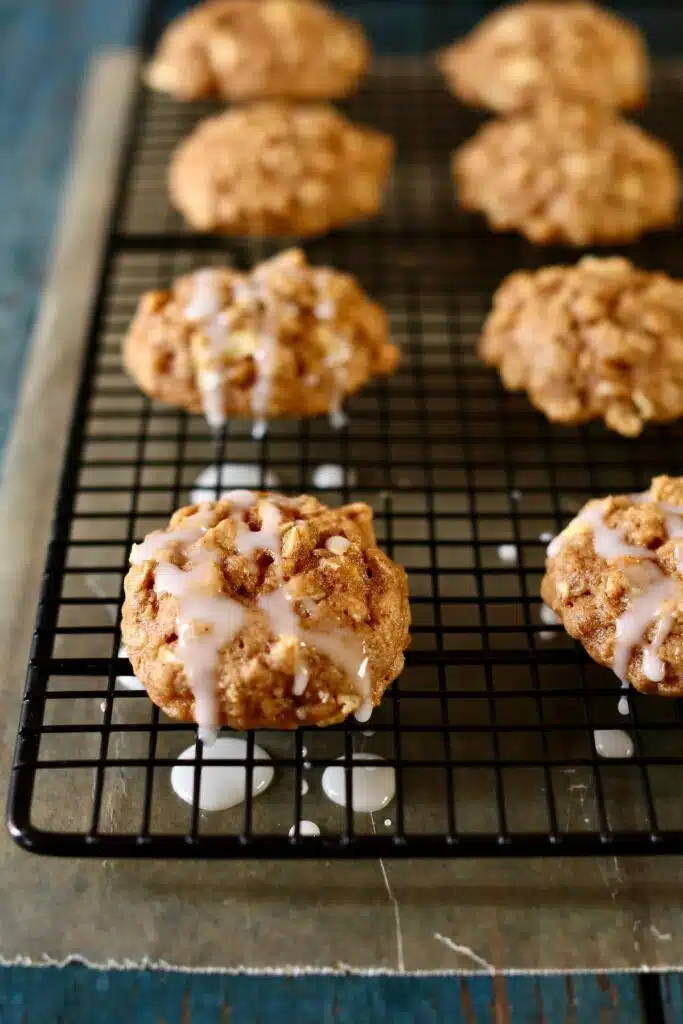 Soft and filled with chunks of apples, these cookies will perk everyone up…
Apple Butter Cookies: These easy cookies are packed with apple favor…apple butter and chunks of fresh apple, and are fantastic with or without a glaze drizzled on the top.
Tips and Serving Ideas
When you're heading out on a road trip, it's nice to be prepared so you aren't tempted by fast-food restaurants. Find a park or rest stop with a picnic table and take a minute to stretch your legs too.
Here's a few things to add to your checklist to make the trip more comfortable:
Disposable napkins and utensils.
Towels or a blanket to sit on.
A pack of wet wipes. Great for your hands or things that spill.
Travel cup/water bottle for hot or cold drinks.
Travel pillow and blanket.
A designated bag for trash.
Flashlight and a paper map in case cell service is spotty.
Hand sanitizer.
Gum or mints.
Toothpicks.
Frequently Asked Questions
Can I prepare these foods in advance?
Yes you sure can. Pre-portion foods in a small ziplock bags or cantainers. Have an easy grab and go breakfast such as yogurt, granola and berries on your way out the door.
What about hot beverages like coffee or tea?
Take a thermos or two plus some re-usable mugs or disposable cups… the best bet for warm beverages on the road!
More Recipes to Try
If you've tried these Road Trip Food Ideas, or any other recipe on Studio Delicious, please tell me how you liked it in comments below
Looking for more tips and fresh, homemade recipes? Join my email list, tag and follow me on Instagram using #studiodeliciouseats, follow my boards on Pinterest, and see what I'm up to on Facebook and Twitter!