Easy and full of fresh, chunky vegetables and crumbled goat cheese, Zucchini Potato Fritatta is great for brunch, lunch or a make-ahead healthy breakfast.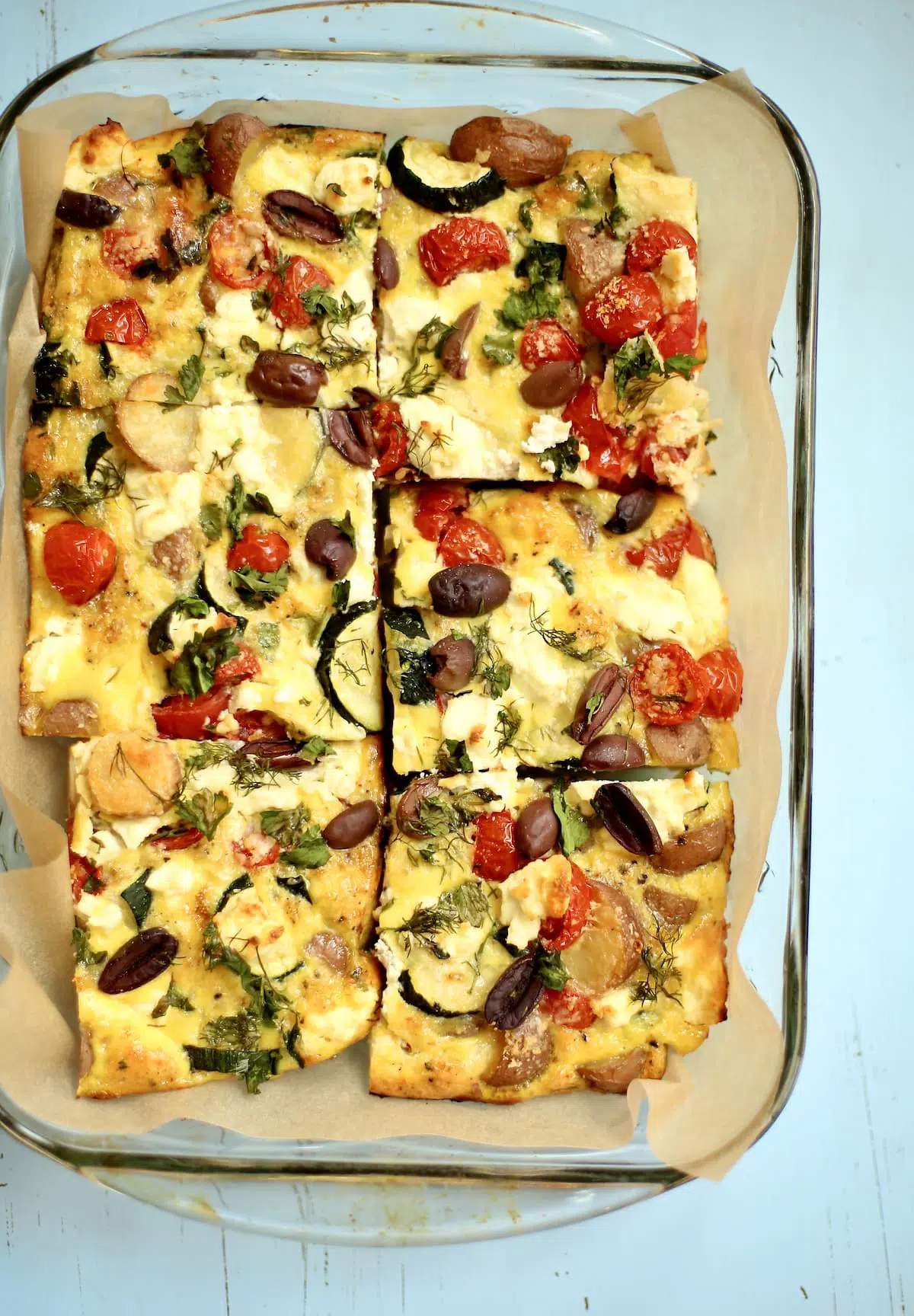 Jump to:
Why You'll Love this Recipe
A potato zucchini frittata is an absolutely delicious egg-based Italian dish that's similar to a crustless quiche or omelette, with cheeses, vegetables and meats if you are so inclined.
I like to make a frittata recipe most weeks as a main dish or brunch, switching out the types of vegetables so there's always handy, healthy & satisfying food in the fridge. Also:
So versatile! Use whatever leftovers you might have on hand, almost anything can make a great tasting frittata!
It's simple, satisfying, easy and portable. How many things can you say that about?
Great news that this can be made ahead…and leftovers are an excellent breakfast/lunch the next day
This recipe comes together quickly too 🙂
Frittata's are easy to scale up for a crowd too, no matter what size kitchen since it can be made in advance. Just double the recipe and serve with other brunch favorites like moist & flavorful California Fig Banana Bread, Waffles with Spiced Apples or Roasted Grape Hazelnut Breakfast Bowls for a nice spread. See more serving ideas below.
Love veggies? Try these Veggie Cups with Hummus!
Ingredients You'll Need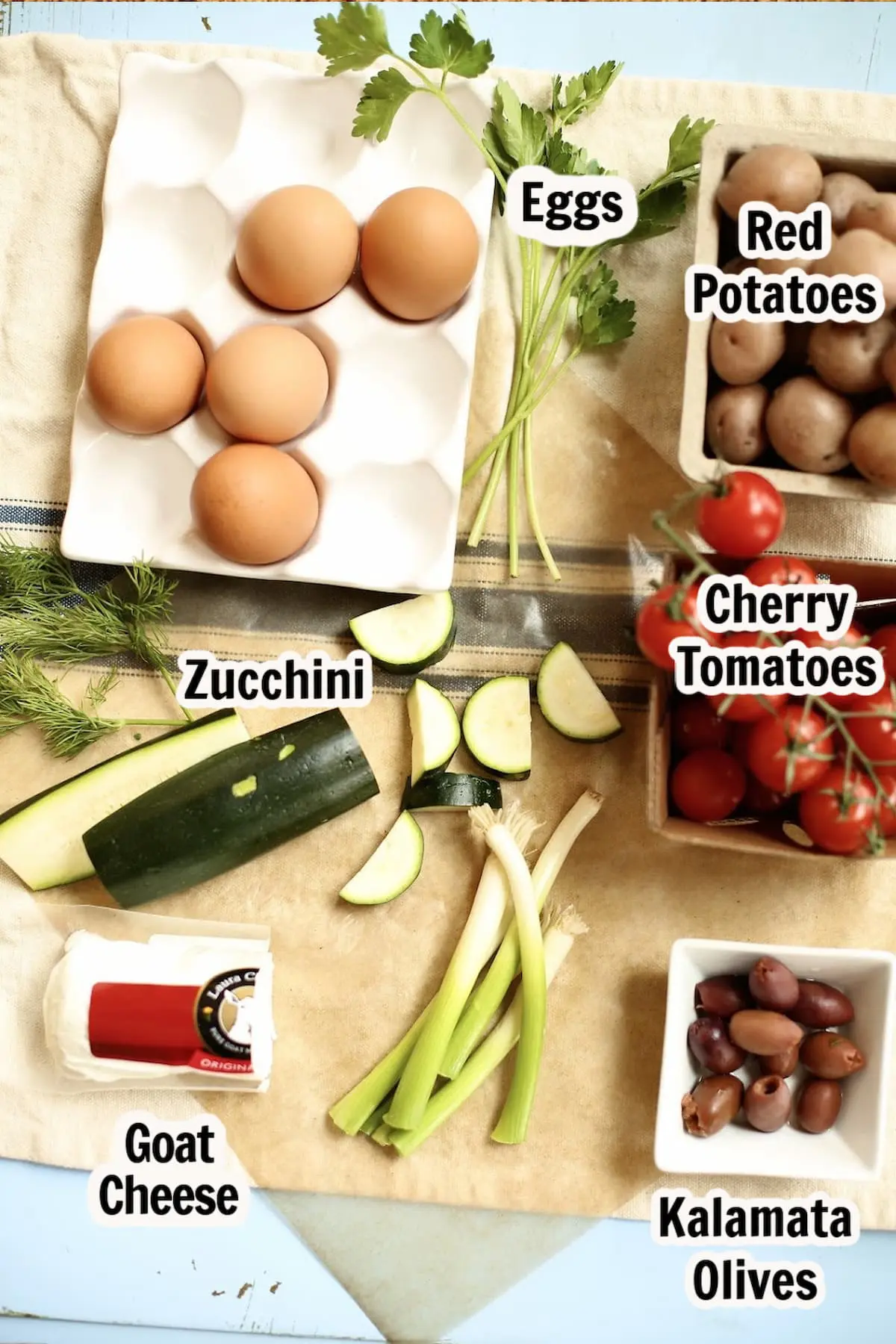 For the full recipe and instructions, just scroll straight down to the recipe card.
Eggs: Use organic, large eggs.
Green Onions: Also called scallions, these are sliced super thin and the white part only
Goat Cheese: Freshly crumbled from a log
Zucchini: We'll saute these quickly to remove some of the moisture and that raw taste.
Parmesan Cheese: We can't make a frittata without some cheese! It's illegal, I think.
Kalamata Olives: Pitted and cut or torn to toss for a rustic look and punchy taste
Red Potatoes: Boiled first before baking with the other ingredients, these tender little potatoes are creamy and hearty all at the same time.
Cherry Tomatoes: For beautiful color, texture and a light, acidic flavor
Olive Oil: Just a drizzle of a robust olive oil (not sponsored) to finish the frittata off before baking it in the oven.
Fresh Herbs: Chopped fresh dill and Italian flat leaf parsley for a burst of freshness.
How to Prep the Vegetables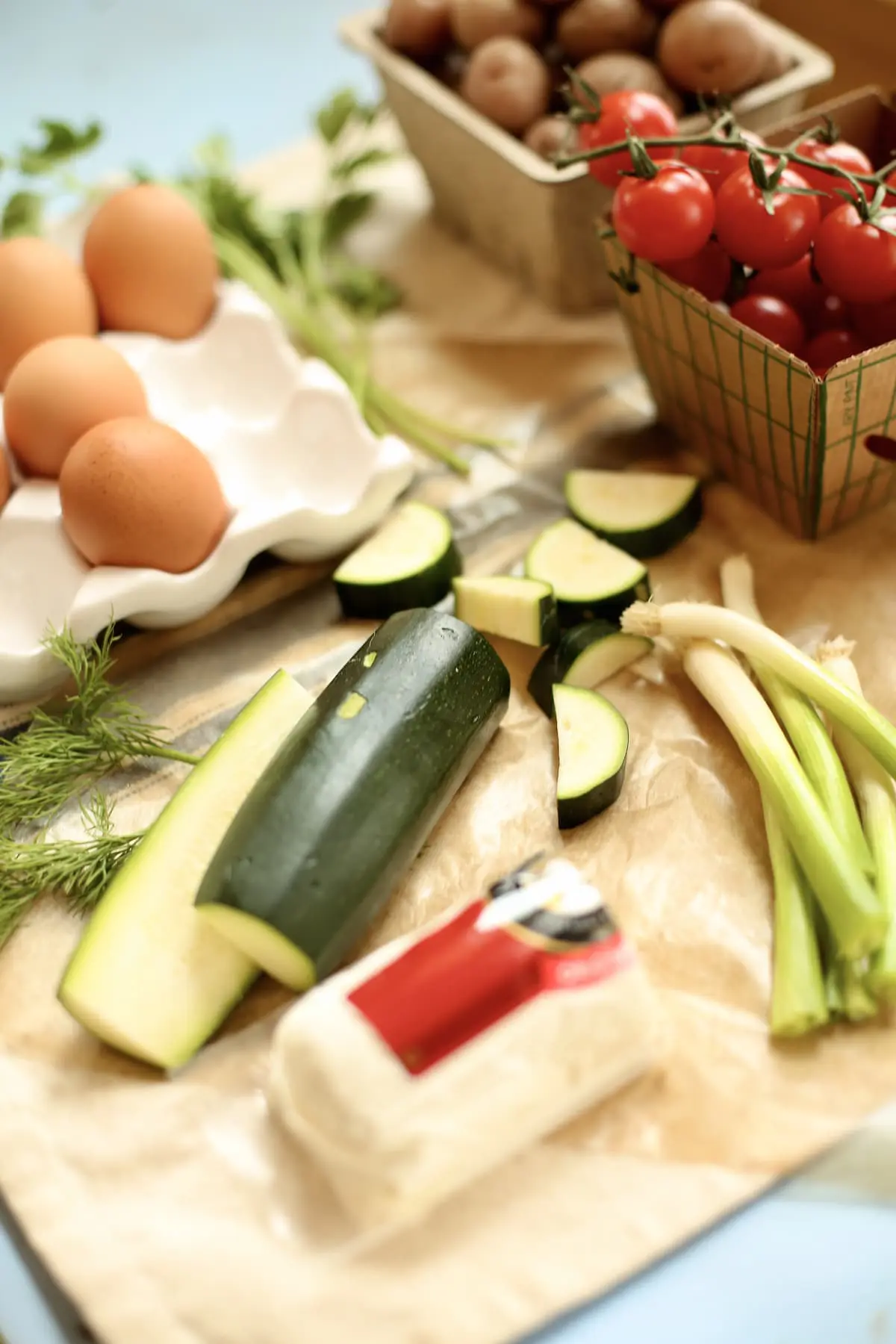 To prepare the vegetables for this recipe, here's some simple prepping tips:
For the Zucchini:
Trim the ends of both sides of two whole zucchini, then slice lengthwise, then into 1/2″ pieces and place in a medium-sized saute pan.
Add the thinly sliced green onion t the pan too.
Add 1/4 cup water and a pinch of salt.
Cook on medium heat just until the water evaporates. About 3-4 minutes.
Don't overcook! You want the zucchini to be firm with no mushy center.
For the Potatoes:
Use small red potatoes, washed, dried and cut in half. Large red potatoes work just fine too, cut them in half lengthwise, then half down the middle lengthwise again, then across into about 1″ chunks.
Boil the potatoes in a saucepan of salted water over medium heat for about 20 minutes until they are tender but still hold their shape.
Step-by-Step Instructions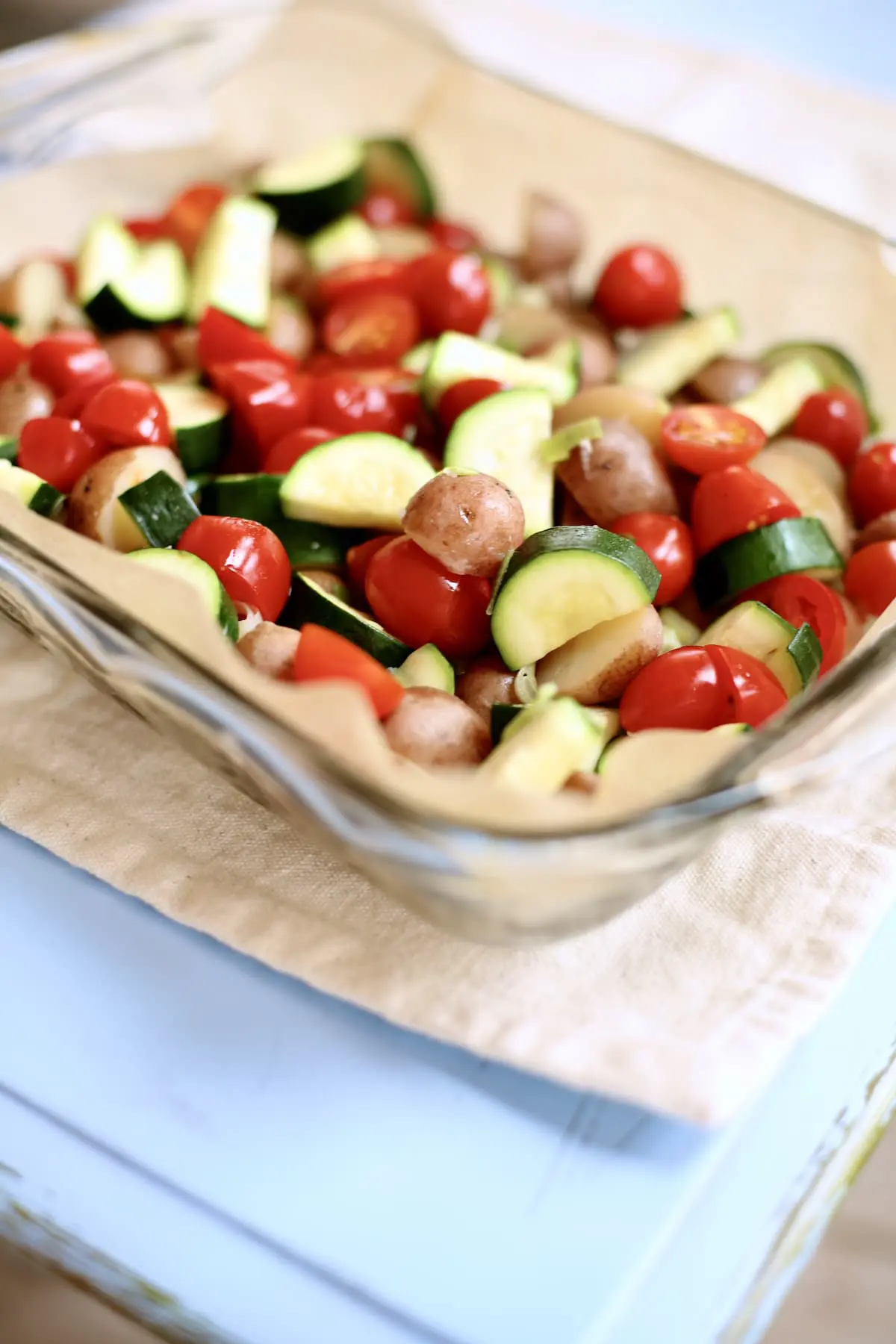 For the full list of instructions, nutrition info, and servings, please scroll to the recipe card below
Crack the eggs: You're going to whisk them with the seasonings and either water, cream or milk.
Prep the Zucchini: Cooked just enough in a skillet to take the raw taste away.
Boil the Potatoes: Just until tender over medium heat.
Combine everything in a baking dish. Make sure the vegetables are spread evenly in the baking dish, then add the egg mixture, goat and Parmesan cheeses, the freshly chopped herbs and a nice finish of olive oil.
Pre-heat the oven, and bake, slice and eat!
Expert Tips and Variations
Cook the zucchini potato frittata until the center is no longer jiggly. If it moves pretty easily, it's not fully not in the middle. Every oven is different, but start checking at 40 minutes, and total time won't be more than 50 minutes.
If the cheese isn't fully melted on top but the middle seems set, switch the oven to the broiler for 3-5 minutes..this will finish melting the cheese and give you a little bit of browning too.
Switch up the goat cheese for Havarti cheese or Jack or Cheddar cheese. You can add a bit more too, if you'd like!
Add some thinly sliced bell pepper as a variation.
Instead of water in the eggs, use heavy cream or milk. Either one will add an extra creaminess to the eggs that's really delicious.
No lemon pepper? Use ground black pepper instead.
Add 1/2 cup of sliced, cooked sausage to the frittata for a meatier version if you'd like
Use a large ovenproof nonstick skillet or cast iron skillet instead of a glass 9 x 13″ if you'd like. I like to line my cast iron skillets with parchment paper the same way as noted in this recipe for using a glass plan…. for easy clean-up, FYI.
Serving Ideas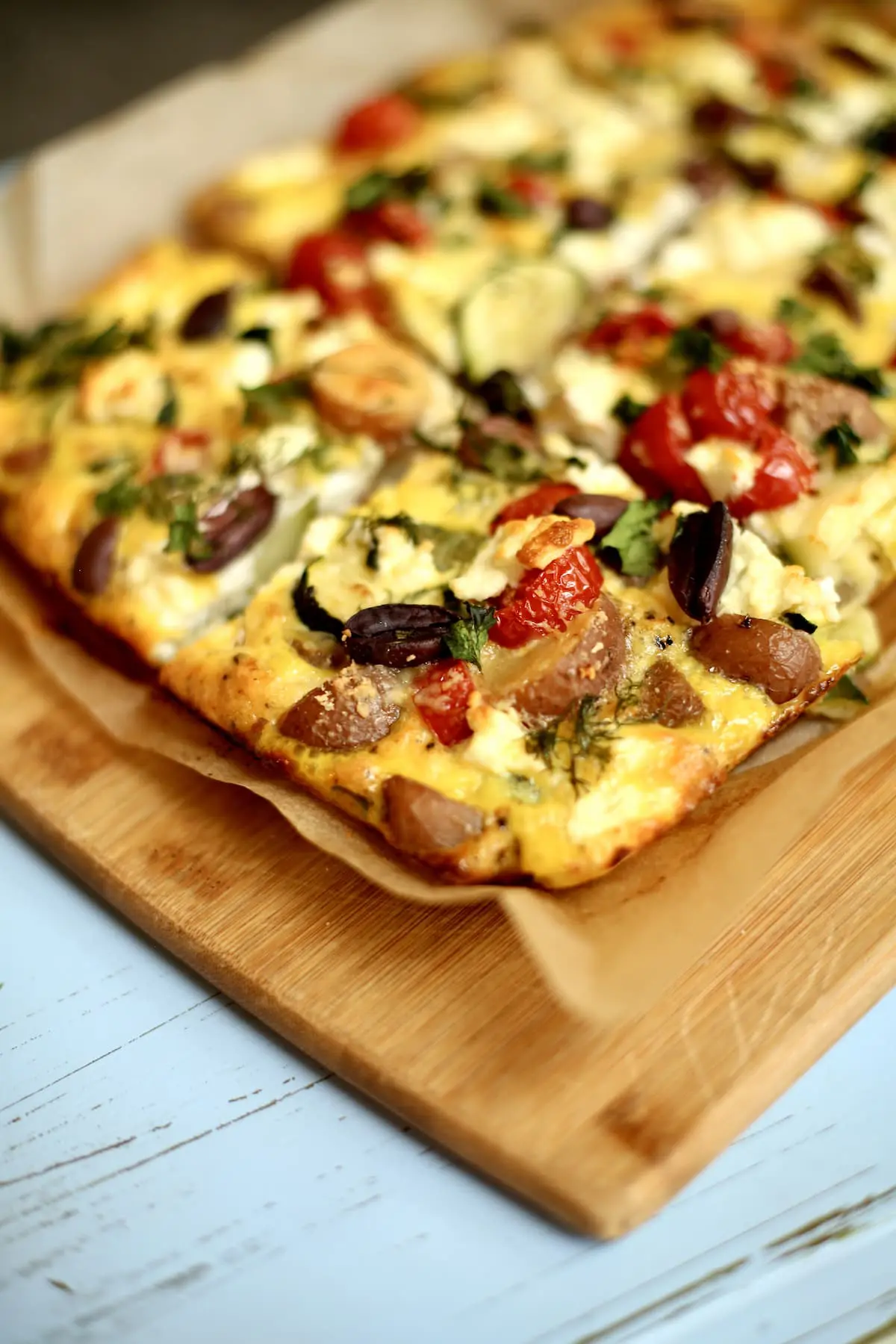 Frequently Asked Questions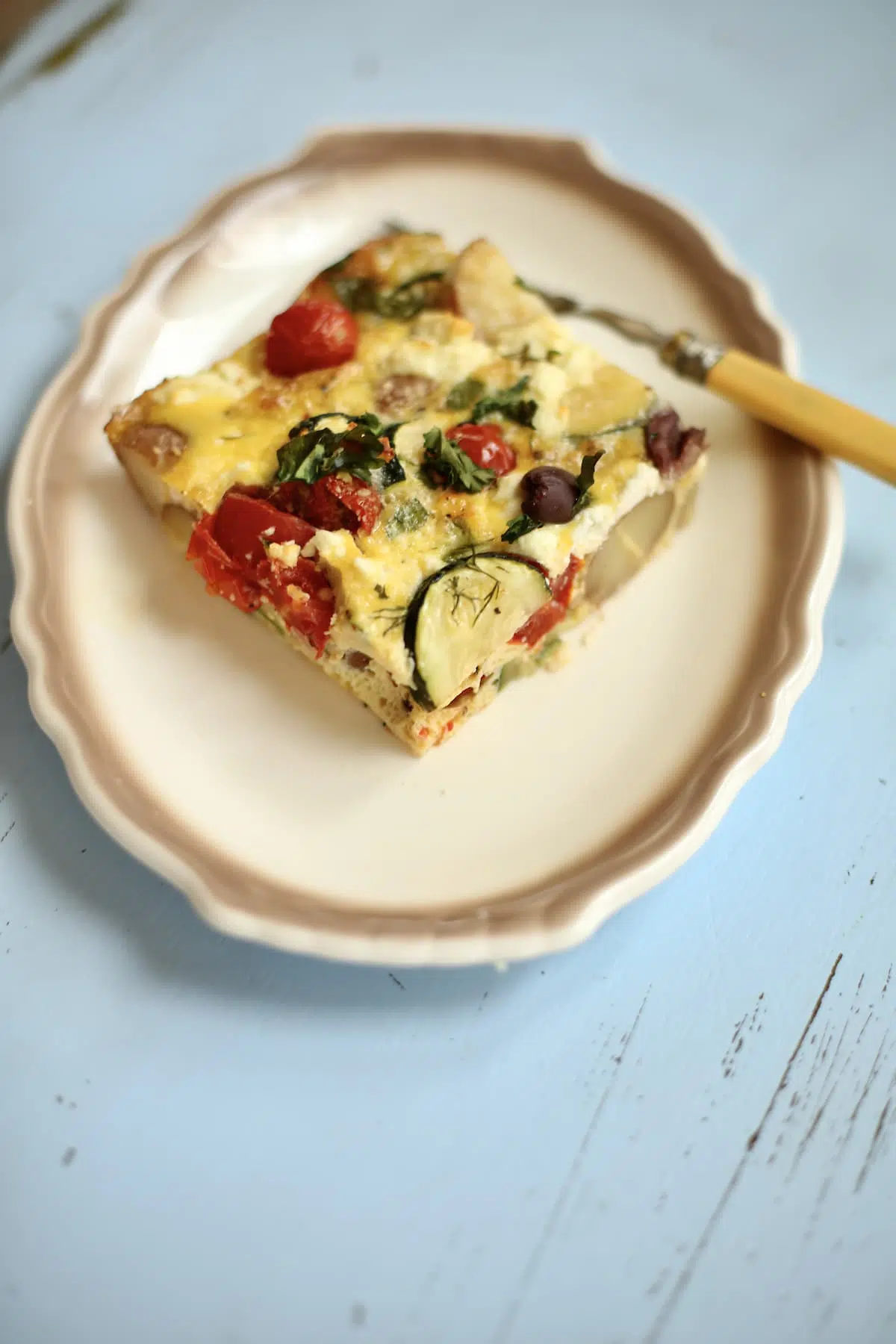 Can I make this fritatta in advance?
Yes! It's fine to make it a day ahead, just let it cool completely then cover and store in the refrigerator until you're ready to use.
How long will the fritatta last in refrigerator?
It'll keep 3-4 days if stored in a well-sealed container!
More Recipes to Try:
If you've tried this Zucchini Potato Frittata, or any other recipe on Studio Delicious, please rate the recipe 5 stars and tell me how you liked it in comments below!
Looking for more tips and fresh, homemade recipes? Join my email list, tag and follow me on Instagram using #studiodeliciouseats, follow my boards on Pinterest, and see what I'm up to on Facebook and Twitter!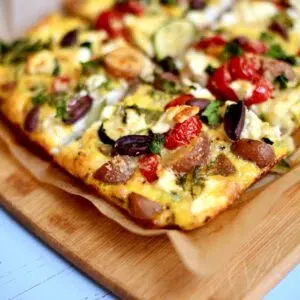 Zucchini Potato Frittata
Easy and full of fresh, chunky vegetables and crumbled goat cheese, Zucchini Potato Fritatta is great for brunch, lunch or a make-ahead healthy breakfast.
Print
Pin
Rate
Ingredients
6

large

Eggs, beaten

¼

cup

Water (or cream or milk)

1

teaspoon

Salt, Kosher

½

teaspoon

Lemon Pepper, freshly ground

1

teaspoon

Chili or Hot Sauce

2

Medium sized

Zucchini, halved and cut in 1/2" pieces

4

Green Onions, white part thinly sliced

1

pound

Small Red Potatoes, cooked and cut in half

10

Kalamata Olives, seeded and cut in half

1

cup

Cherry Tomatoes, cut in half

4

ounces

Goat Cheese, crumbled

⅓

cup

Parmesan Cheese, grated

2

tablespoons

Dill, fresh, chopped fine

2

tablespoons

Italian Parsley, fresh, chopped fine

1

tablespoon

Olive Oil
Instructions
Preheat oven to 350 degrees Prep a 9 x 13" Baking Dish by putting a little olive oil on the bottom and spreading it around, then a piece parchment paper on top with a 2" overhang on the sides so you can lift it out after baking. Add a little more olive oil on top of the parchment paper, and spread it around with (clean) fingers as insurance that nothing sticks.

Crack the eggs in a medium-sized bowl, add the water (or cream or milk) and the salt, lemon pepper and chili sauce. Mix together with a whisk or fork until combined. Set aside. Trim the zucchini on both ends, then slice length-wise and again down the middle so you have 4 long quarters for each zucchini. Cut them into ½" pieces and add to a medium-sized non-stick skillet with a ¼ cup of water, a pinch of salt and the sliced green onions. Cook on medium-high heat until the water evaporates, which should be just a few minutes stirring occasionally. Leave the zucchini in the pan and cook for an additional minute or so until the zucchini look a little dry. You don't want them fully cooked, you want them half-cooked so they aren't mushy when baked. Transfer the zucchini and onion to the prepared baking dish. Cut the potatoes into ½ pieces and boil in salted water until just tender, about 15-20 minutes. Drain and add to the zucchini and onion in the prepared baking dish. Add the Kalamata olives and cherry tomatoes to the vegetable mixture and gently toss together. Spread the ingredients out as evenly as you can in the baking dish. Give the eggs another quick whisk, then pour over the vegetables. Shake the baking dish back and forth a little to make sure the eggs have spread evenly throughout the pan. Sprinkle the Parmesan cheese on top of the vegetables, followed by the crumbled goat cheese. Top with the dill and parsley, then drizzle with a tablespoon of olive oil. Place on the lower/middle part of the oven and bake for 40-45 minutes. The time will vary depending on your oven. You want the center to be set and not jiggly and the cheese melted and lightly browned. If the eggs are set at about 40 minutes but the top isn't browned, turn the broiler on for 3-5 minutes until that happens and remove from the oven to a cooling rack. Let it sit for 10-15 minutes, then slice into 6 pieces and serve.
Notes
Cook the frittata until the center is no longer jiggly. If the cheese is not fully melted or lightly brown on top and the middle seems set, turn the oven off and the broiler on for 3-5 minutes until this happens.
Switch up the goat cheese for Havarti cheese or Jack or Cheddar cheese. You can add a bit more too, if you'd like!
Instead of water in the eggs, use heavy cream or milk. Either will add an extra creaminess to the eggs that's delicious.
No lemon pepper? Use regular, but always freshly grind!
Nutrition
Serving:
6
g
|
Calories:
248
kcal
|
Carbohydrates:
17
g
|
Protein:
15
g
|
Fat:
14
g
|
Saturated Fat:
6
g
|
Trans Fat:
1
g
|
Cholesterol:
200
mg
|
Sodium:
759
mg
|
Potassium:
686
mg
|
Fiber:
3
g
|
Sugar:
4
g
|
Vitamin A:
1001
IU
|
Vitamin C:
28
mg
|
Calcium:
150
mg
|
Iron:
3
mg
Tips for Success with Every Recipe
Super important to read the whole recipe before you begin
Pay attention to the ingredient list and photos for the recipe
If possible, prep your ingredients a little before you start
Always use a sharp knife for safety
Use the size of pan called for in the recipe
For savory recipes, taste and season as you go
Buy fresh, organic ingredients, locally sourced whenever possible
Don't Miss a Recipe!
This recipe was updated with new text in September, 2022.