Cherry Almond Oatmeal totally elevates your basic bowl of oatmeal or other hot grains to something downright special. This simple and satisfying recipe is made even better with a spoonful of vanilla yogurt and sprinkle of sliced almonds.

WHY IS CHERRY ALMOND OATMEAL SO GOOD?

Cherry Almond Oatmeal is a real treat, especially on a weekday morning.
It's easy to make.
It can be made in advance and heated up when you're ready.
The flavors of cherry and almond tastes just like a not-too-sweet cherry pie except it's on your oatmeal.
Who can argue with something that tastes a little like pie for breakfast?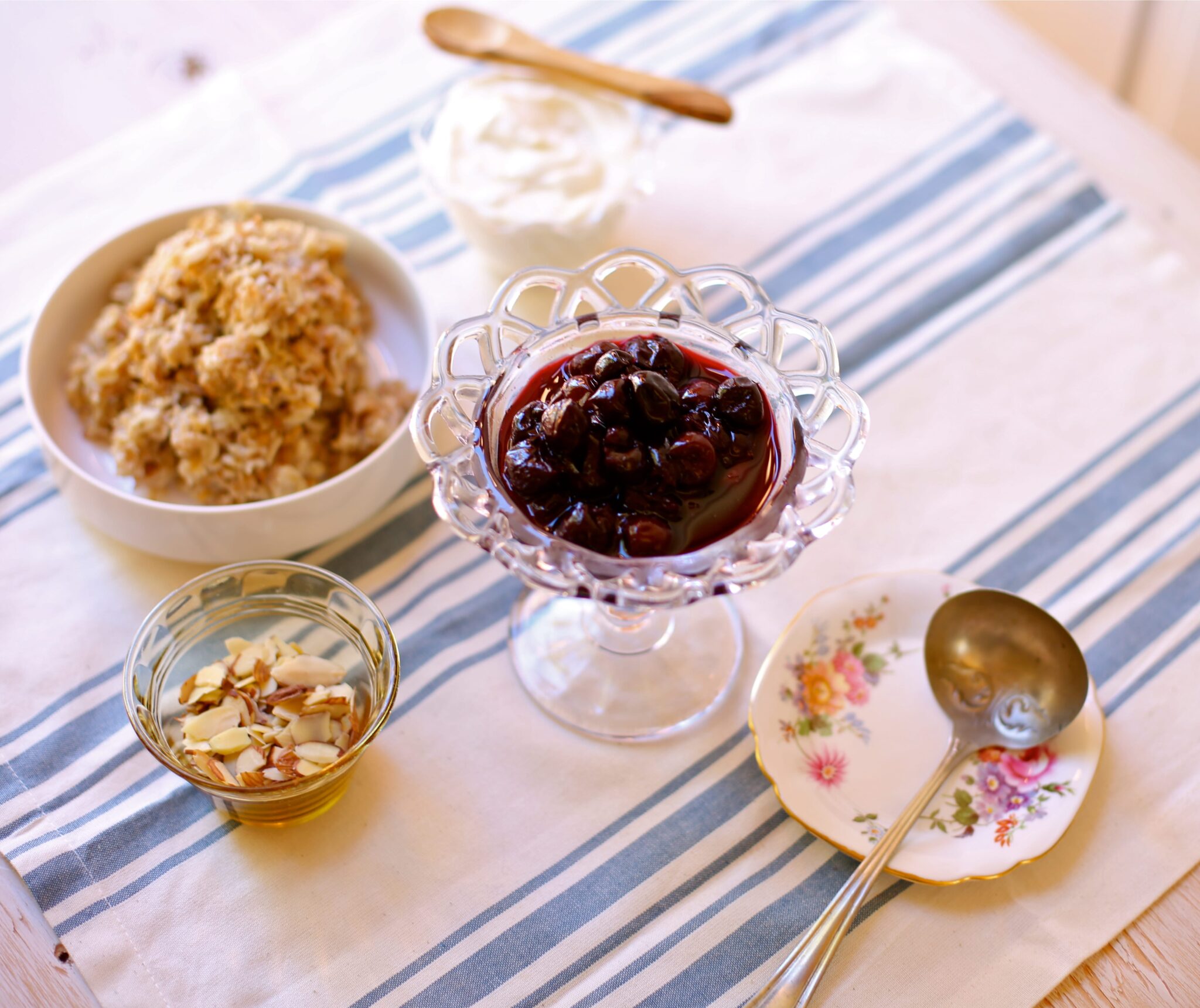 WHAT IS A CHERRY COMPOTE, ANYWAY?
That's what we are going to do here, folks – make a cherry compote.
But what is it?
The dictonary confirms that a "compote" is in fact whole fruits that are cooked in water and sugar and seasonings and can be served warm or cold.
You can compote many kinds of fruit, but I think berries are the easiest and also the most versatile.
Blueberry compote for your pancakes?
Thank you, and YES.
In this case, we use frozen cherries and all we need is a saucepan and a few simple flavorings.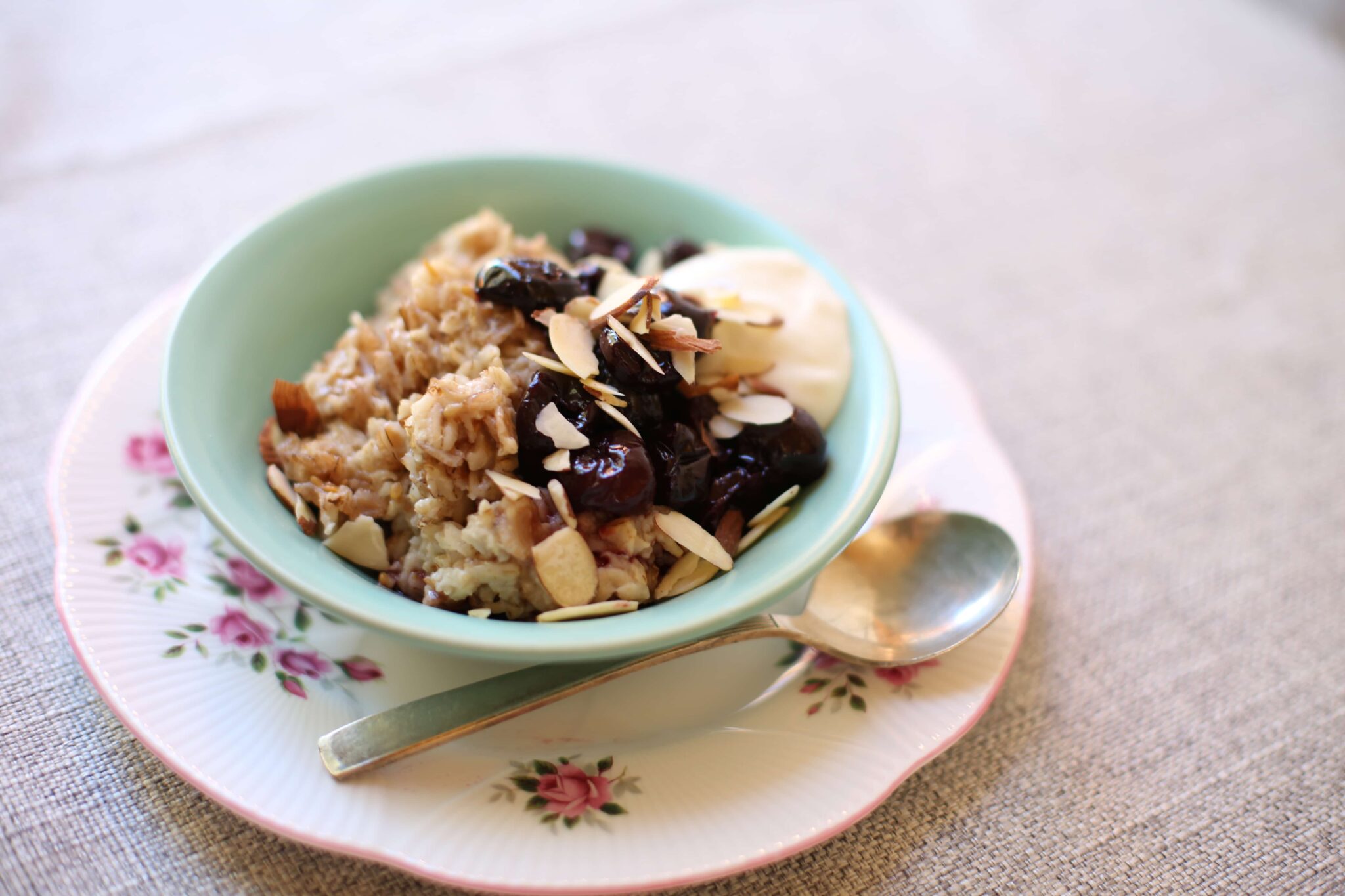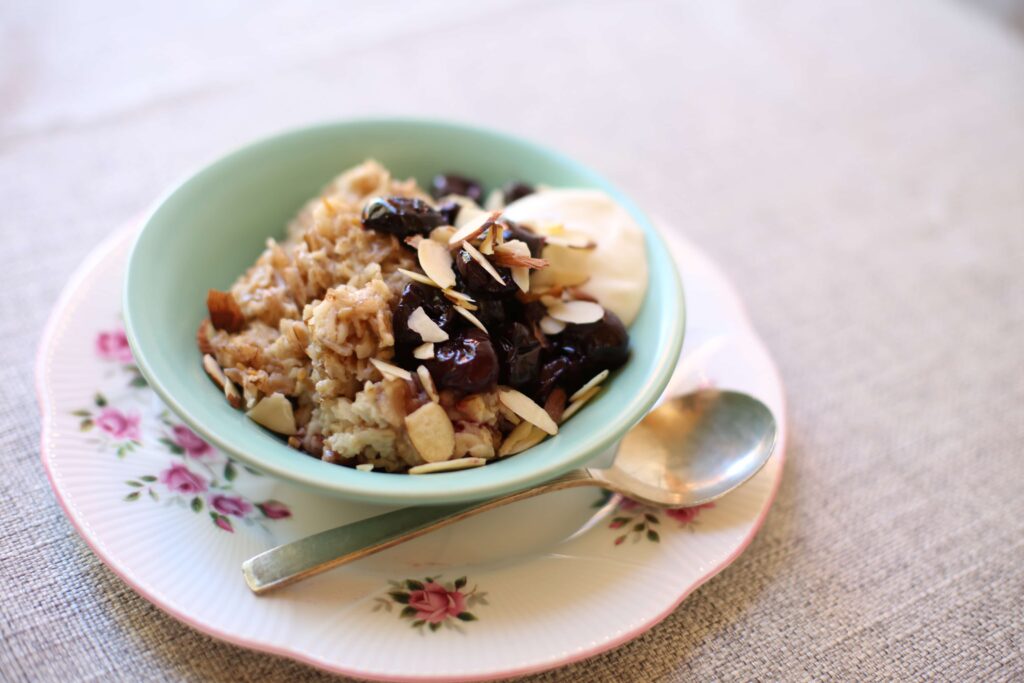 LET'S TALK ABOUT YOUR OATMEAL OPTIONS
Okay, so here's the thing.
You can make whatever you want in the oatmeal department.
I don't care if its old-fashioned, steel cut, whole oat groats, gluten-filled or my favorite gluten free, but whatever you do, don't use INSTANT.
Just, ugg.
Instant oatmeal just doesn't deserve the luscious cherry almond compote. The texture is different and I've never tried one that wasn't a bit watery, and well, a little sad.
You can make most old-fashion oatmeal varieties within 10 minutes, and the steel cut a bit more, and it's really worth the extra few minutes.
Just cook enough for four-servings of your favorite variety, then we're good to go.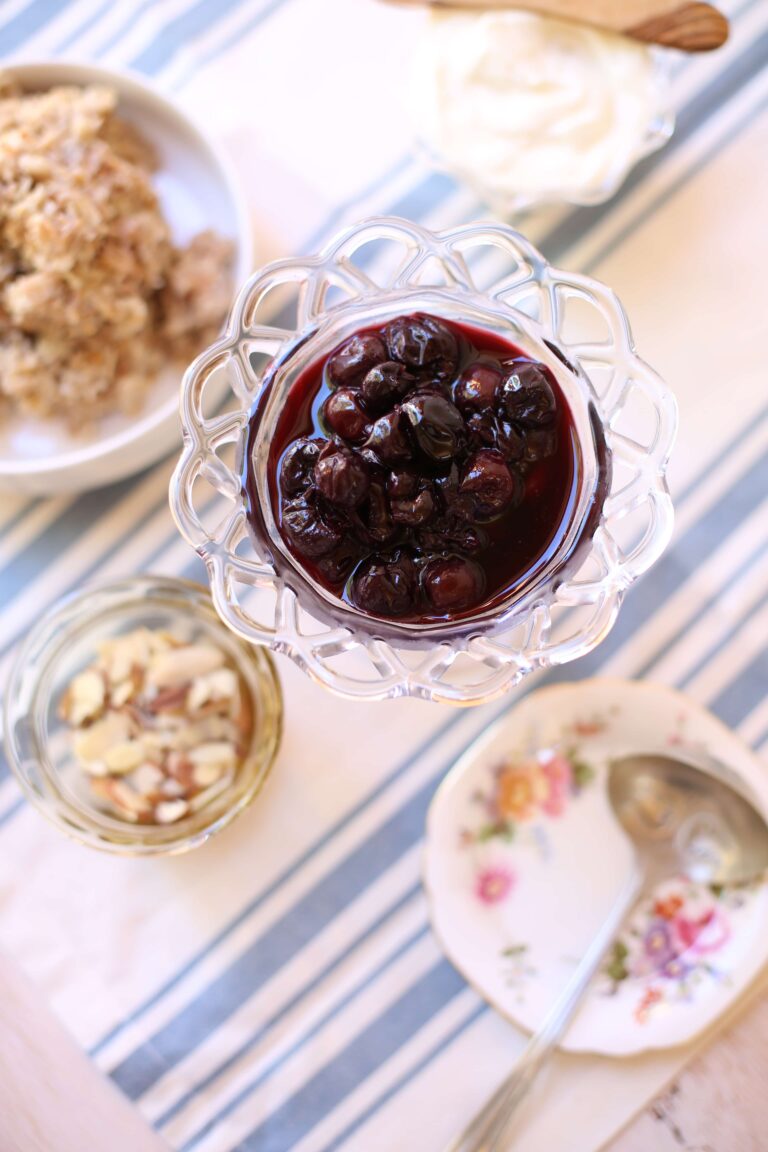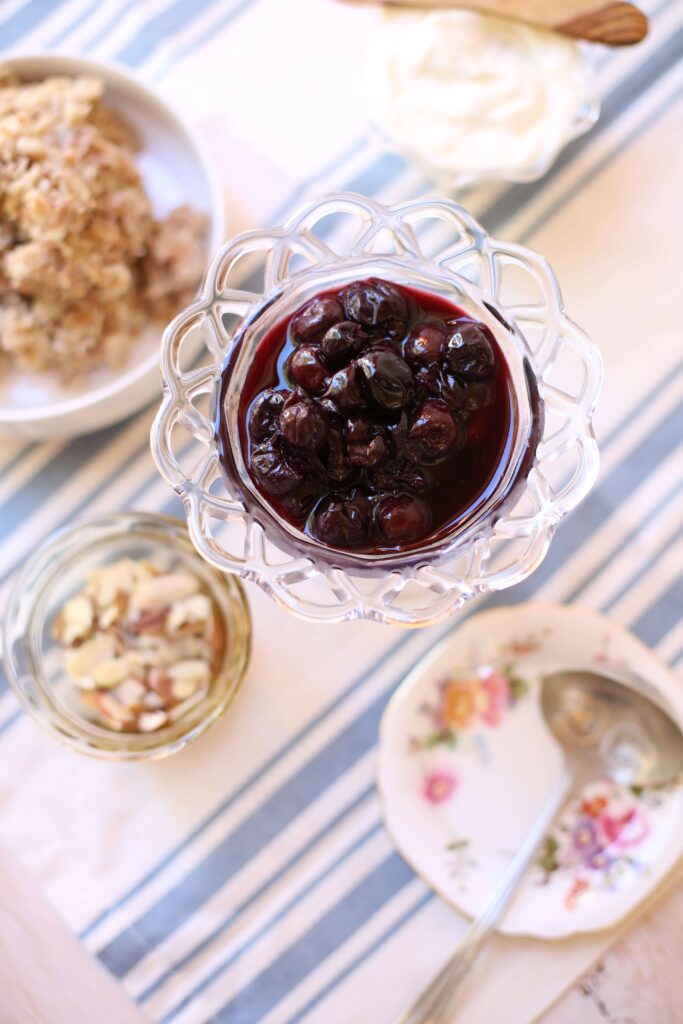 WHY CHERRY IS THE VERY BEST FLAVOR
In a world of strawberry and blueberry EVERYTHING, cherry is a flavor standout.
To me, there is NOTHING, and I really mean this – better than a piece of homemade cherry pie.
With a scoop of vanilla bean almond milk ice cream, please.
Cherry is hands down my favorite flavor, because it tastes so luxurious, so special.
Also, making this simple cherry compote to top your morning oatmeal is the closest you'll get to cherry pie for breakfast on a Tuesday morning, so please – PLEASE – take the call.
Who knows? It may even make the rest of the week go fast 🙂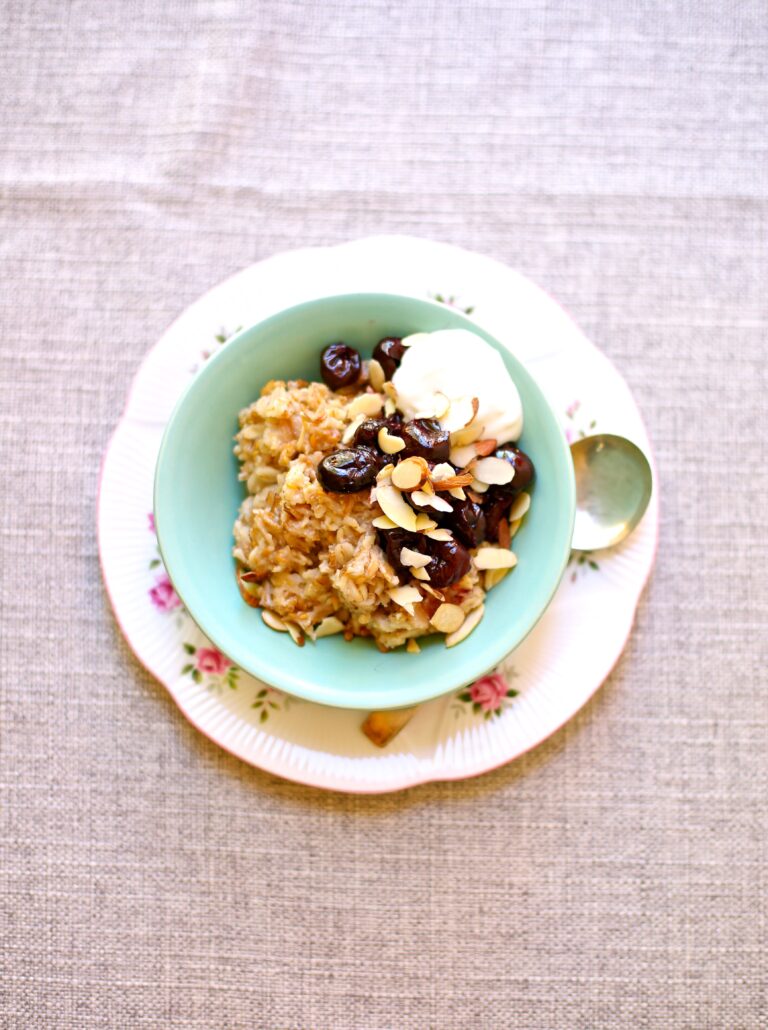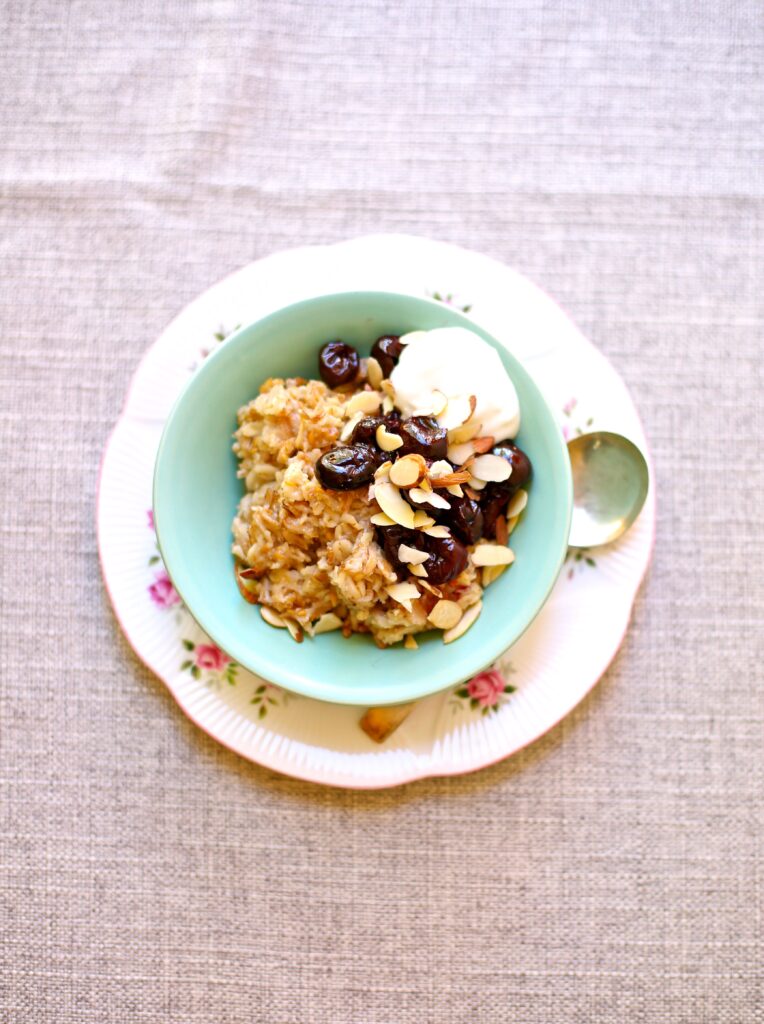 CHERRY COMPOTE IS THE STAR OF THIS SHOW. BUT.
There is vanilla yogurt to be had!
This is important!
Sliced almonds too!
The combination of these few, simple flavors really takes this idea of Cherry Almond Oatmeal over the top.
In fact, this stuff is so satisfying and tasty you'll want to eat it on the reg, and why shouldn't you? Oatmeal is a great way to start the day unless the other choice is a big, juicy chili cheese omelet. In which case, do as you please 🙂
This recipe overall is super easy and flexible..just cooked oatmeal, a simple fruit compote, a little vanilla yogurt and sliced almonds.
MORE TIPS FOR MAKING CHERRY ALMOND OATMEAL
Who says you have to use Cherry Compote just on your oatmeal?
No one. Not one person.
YES you can use it on ice cream, and it's amazing.
YES you can put some on your pancakes or waffles too, because who wouldn't want that?
If you don't want or like cherries, why not use mixed berries or blackberries or strawberries instead? If you do, use vanilla instead of almond extract.
SOME OTHER CHERRY RECIPES TO TRY
Boozy Fresh Cherry Blackbottom Milkshakes
THANKS FOR PINNING!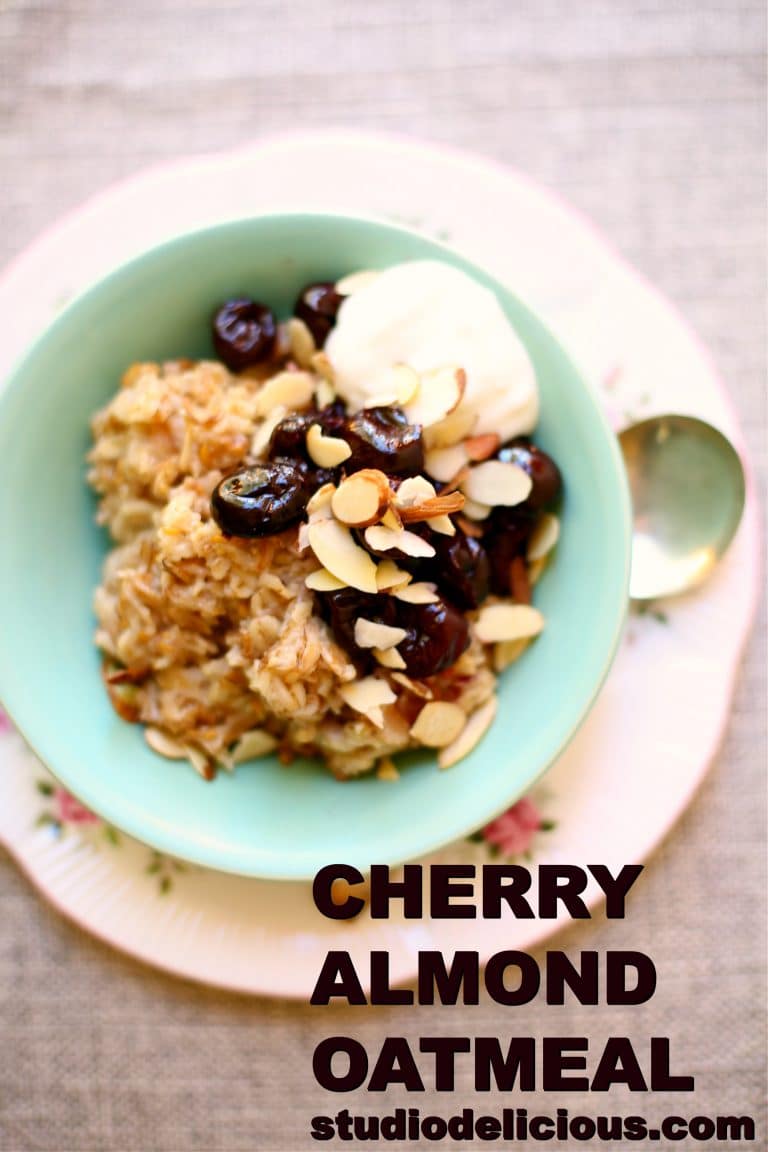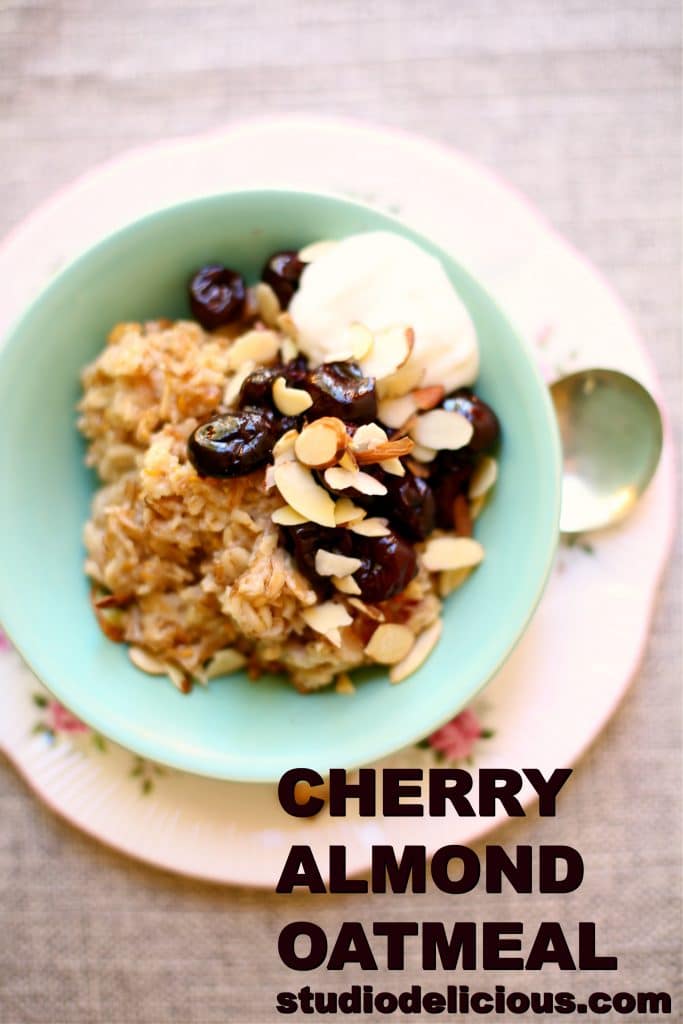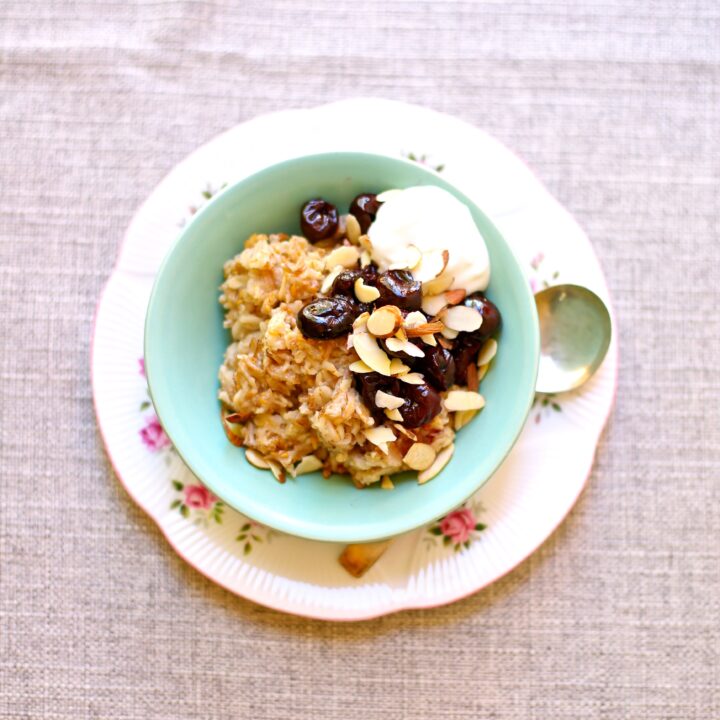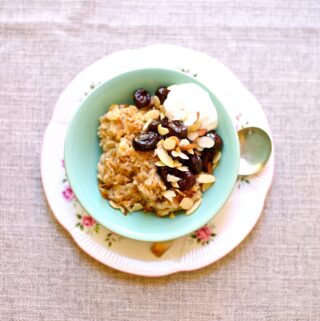 Cherry Almond Oatmeal
Cherry Almond Oatmeal really scales up your morning breakfast game with delicious cherry almond flavor and a dollop of vanilla yogurt too
Print
Pin
Rate
Ingredients
1

teaspoon

butter

2

tablespoons

honey

1/2

teaspoon

cinnamon

2

teaspoons

lemon juice

1 10-12

ounce

cherries

Organic, frozen

1/2

teaspoon

almond extract

4

cups

oatmeal

Cooked according to package directions

4

tablespoons

Vanilla yogurt

for serving

4

tablespoons

Sliced almonds

for serving
Instructions
CHERRY ALMOND COMPOTE

In a medium-sized non-stick saucepan, melt the butter then add the honey, cinnamon , lemon juice and the bag of frozen cherries.

Bring the mixture to a gentle boil, and let it simmer for 6-10 minutes until it becomes a syrupy consistency and the frozen cherries have become soft and released their juices.

Remove from heat and add the almond extract, stirring to combine. Cool the mixture for about 10 minutes, then divide the cherry compote on top of the hot prepared oatmeal or other grains.

Top with a heaping spoonful of vanilla yogurt and a sprinkle of sliced almonds.
Notes
Use whatever type of Oatmeal you like, and prepare it according to the package directions. My favorite oatmeal is this one from Bob's Red Mill.
This recipe is for 4 servings, and it's easy to flex this up or down.
The Cherry Compote is good covered in a container in the fridge (such as a Ball glass jar) for 3 days after you make it.
Eight grain hot cereal is a really delicious option too. In fact, any whole grain hot cereal would be delicious.
If you like a sweeter Cherry Almond Compote, just add more honey while the mixture is still warm and stir gently to combine.
If almond flavor isn't your favorite, just substitute pure vanilla extract.
Why not use a small drizzle of maple syrup on top of the whole oatmeal situation while you're at it? More is better.
Note: This post was originally published in 2018 and has been updated.
Nutrition
Calories:
333
kcal
|
Carbohydrates:
55
g
|
Protein:
10
g
|
Fat:
10
g
|
Saturated Fat:
2
g
|
Cholesterol:
4
mg
|
Sodium:
32
mg
|
Potassium:
451
mg
|
Fiber:
7
g
|
Sugar:
23
g
|
Vitamin A:
81
IU
|
Vitamin C:
6
mg
|
Calcium:
92
mg
|
Iron:
3
mg
Tips for Success with Every Recipe
Super important to read the whole recipe before you begin
Pay attention to the ingredient list and photos for the recipe
If possible, prep your ingredients a little before you start
Always use a sharp knife for safety
Use the size of pan called for in the recipe
For savory recipes, taste and season as you go
Buy fresh, organic ingredients, locally sourced whenever possible
SOURCE: Studio Delicious, adapted from Cooking Light.