The great thing about a bowl of hot oatmeal is you can dress it up or down.  This Cherry Almond Oatmeal elevates breakfast to a whole new level – and it's even better with a spoonful of yogurt and sprinkle of almonds.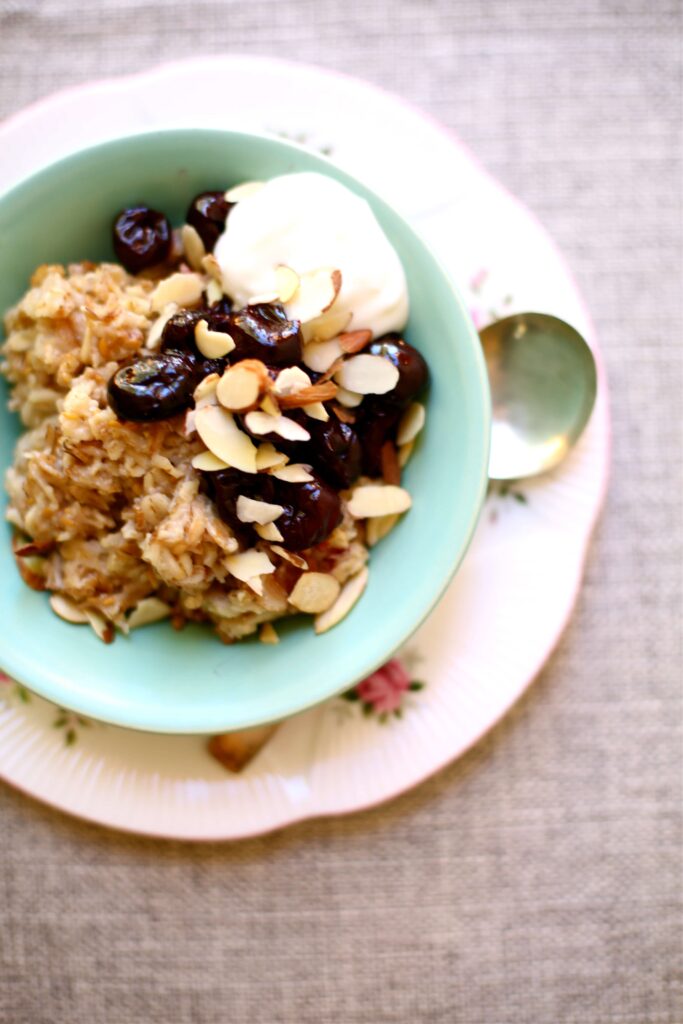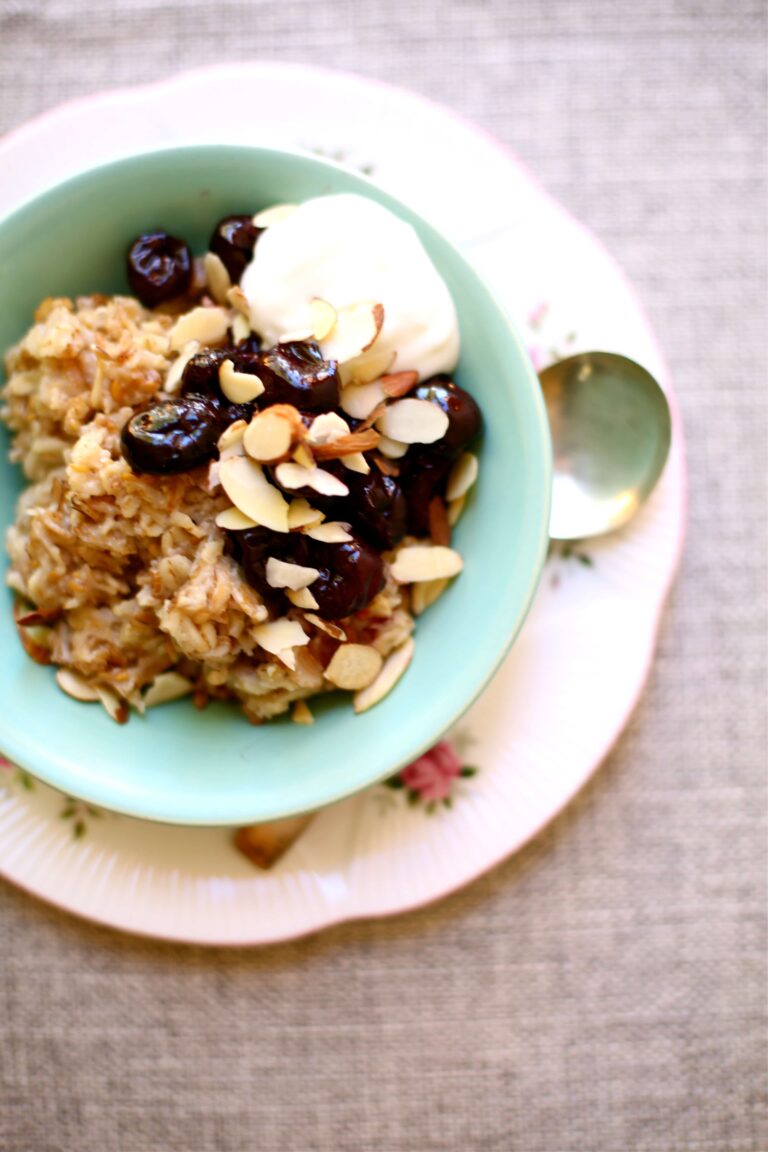 In the last 24 hours, the following random things have happened, and none of them are important.
The guy in front of me in line at the grocery store was flirting so wildly with the female clerk it was as though no one else was in the store.
In fact, she was so flustered and distracted, she scanned his items in slow motion while I juggled and struggled my bag of apples.
I think they had real chemistry, and should get married immediately, if not sooner 🙂
Next random item is I had dinner with my Mother at the same restaurant we've eaten at no less than 10,000 times.
This means I am personal witness to the eating of 10,000 chicken quesadillas and at least that many glasses of Pinot Grigio, with ice cubes served on the side.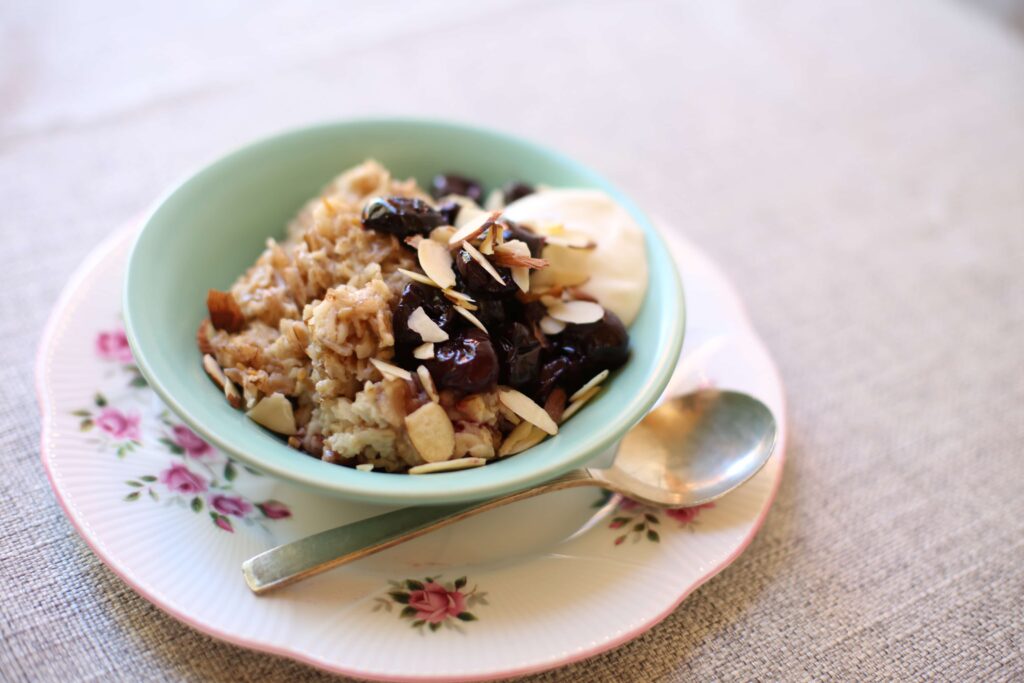 I ate a massively disappointing breakfast sandwich at a local diner.
Made worse by seeing the bartender from the night before who was sitting at the counter and greeted me with the words "good morning baby."
Kind of awkward, kind of gross.
Hello? I'm not your baby.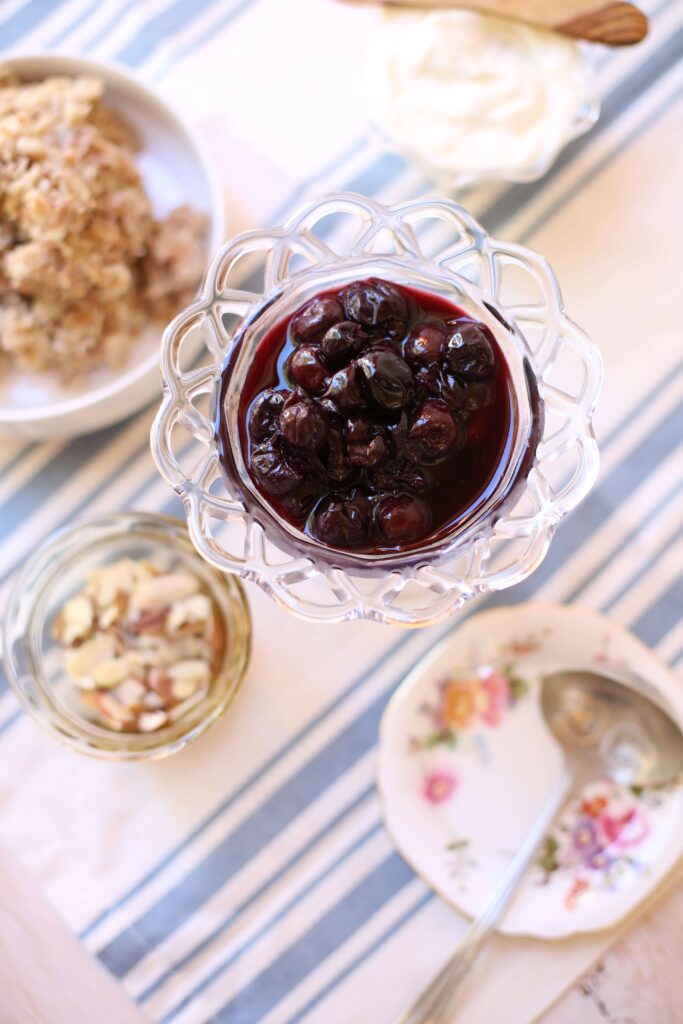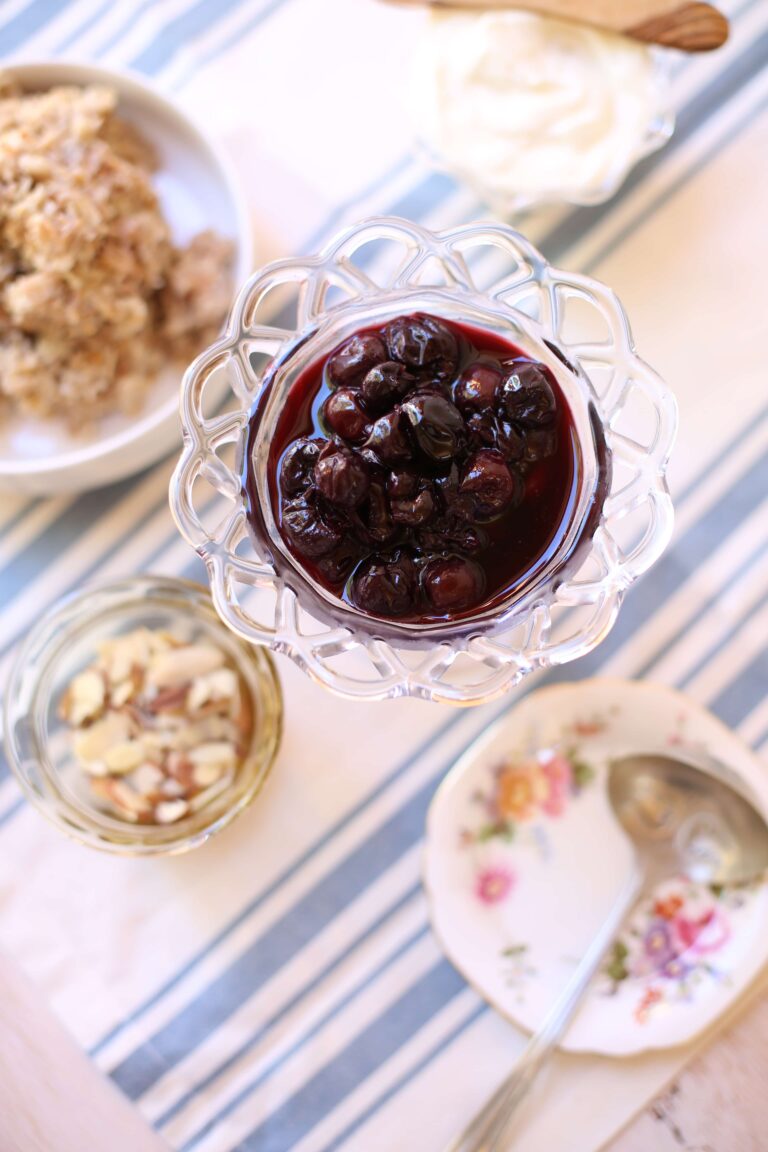 These everyday interactions mean nothing really, even though they seem mildly important at the time.
Cherry Almond Oatmeal takes your ordinary bowl of hot grains up a notch.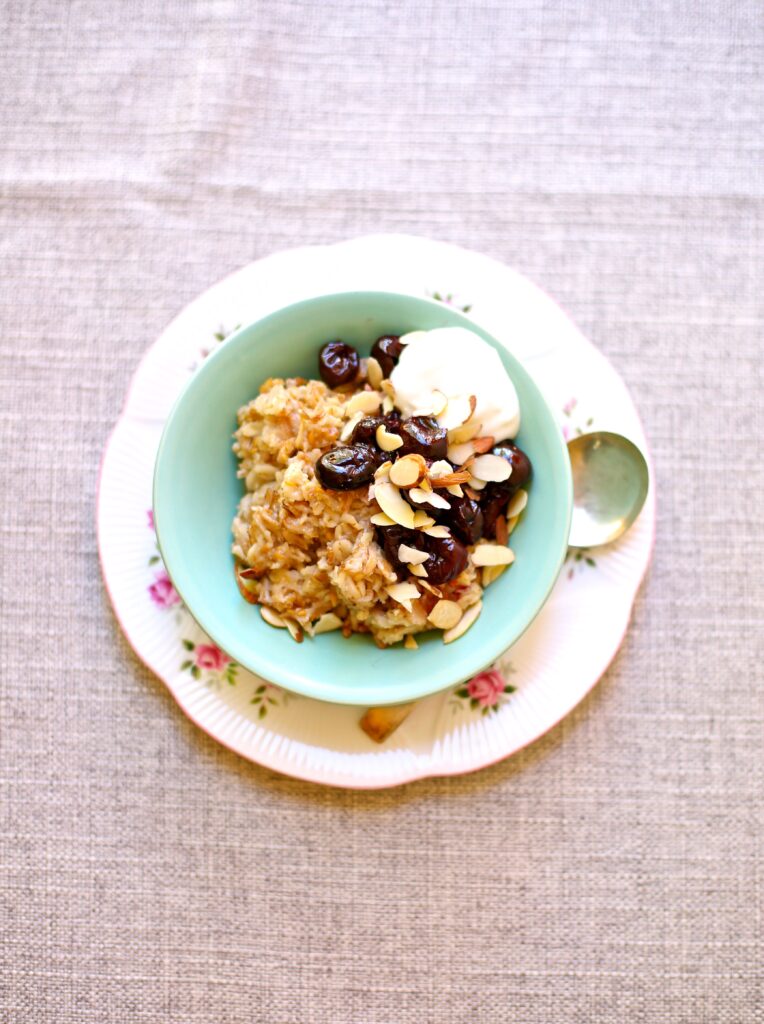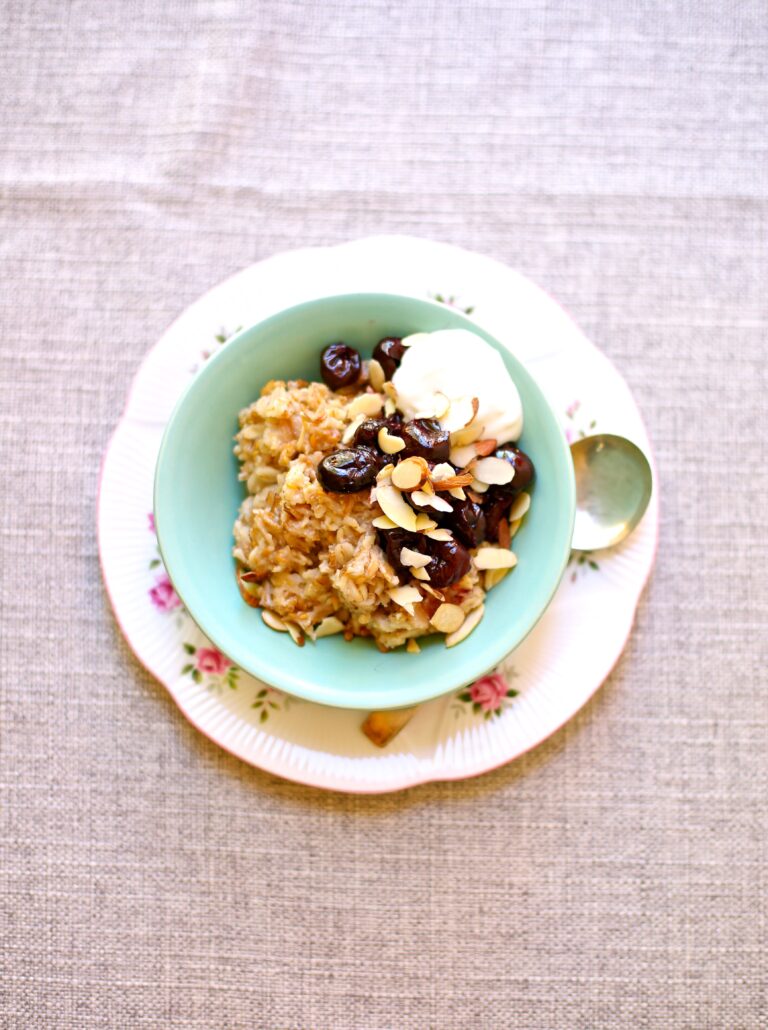 In fact, this stuff is so satisfying and tasty you'll want to eat it all the time, I bet.
Make the cherry compote in advance to top your cereal all week.
It's super flexible, so try it with frozen mixed berries too.
HOVER OVER PHOTO TO PIN THIS RECIPE FOR LATER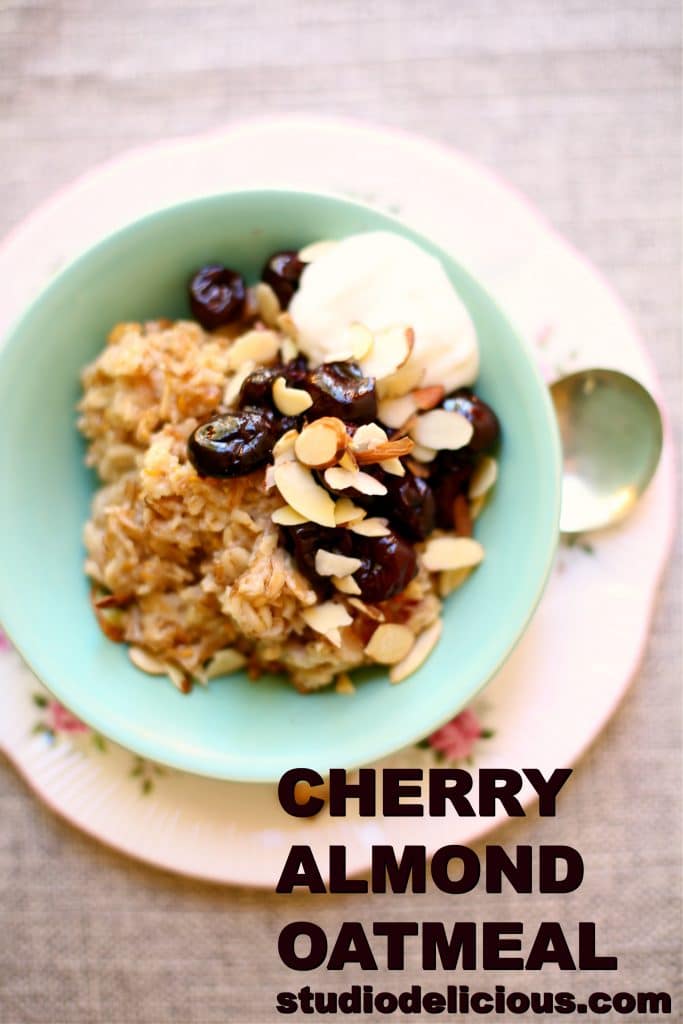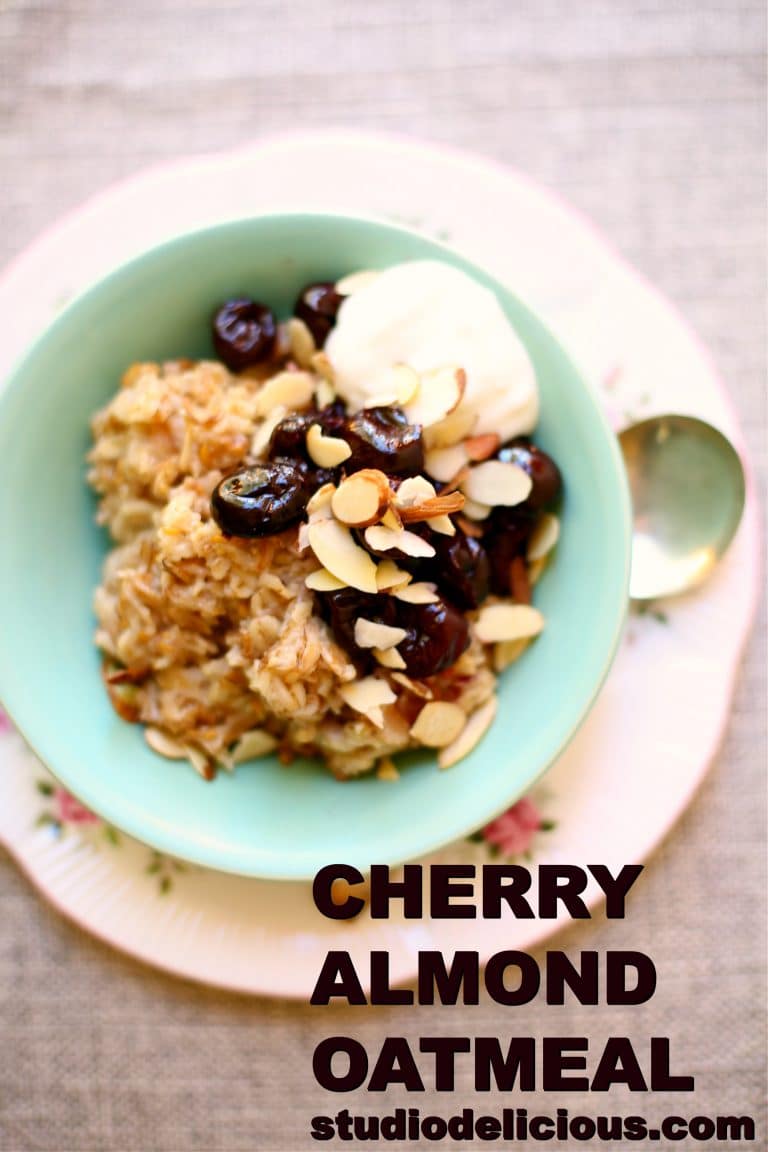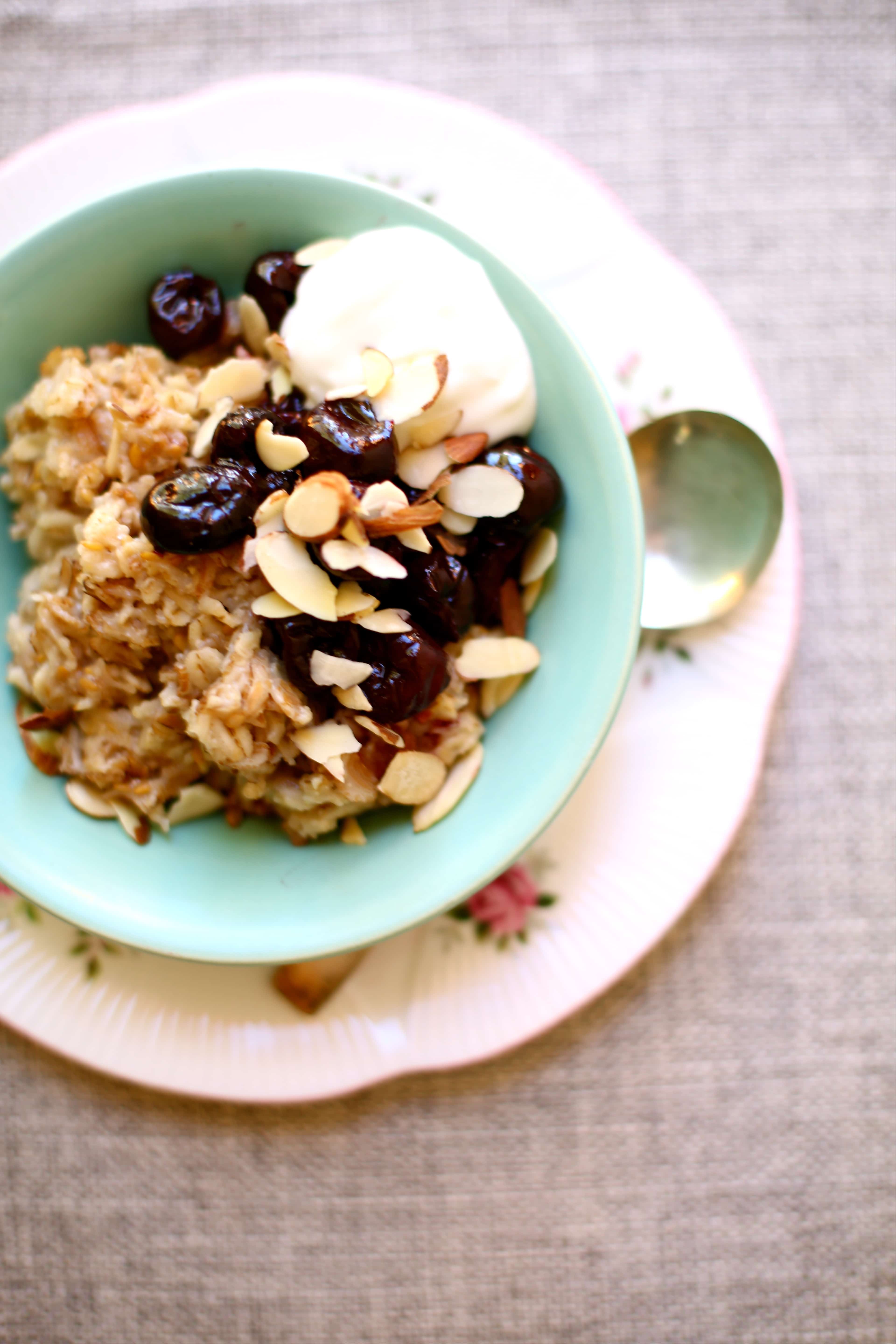 Ingredients
CHERRY COMPOTE
1 teaspoon butter
2 tablespoons honey
2 teaspoons lemon juice
1 10-12 ounce bag frozen organic cherries
1/2 teaspoon almond extract
Old fashioned oatmeal or five-grain cereal, prepared (Bob's Red Mill is my fave)
Note: I add a pinch of cinnamon and salt to my grains when I'm cooking them.
Vanilla yogurt, for serving
Sliced almonds, for serving
Instructions
MAKE THE COMPOTE
In a medium saucepan melt the butter and add the honey and lemon juice and the bag of frozen cherries.
Bring the mixture to a boil, and let it simmer for 5-7 minutes until syrupy consistency.
Remove from heat and add the almond extract. Let the mixture cool for a few minutes and spoon about 1/3 cup of the cherry compote on top of the hot prepared oatmeal or other grains.
Top with a heaping tablespoon of vanilla yogurt and a sprinkling of sliced almonds.
7.8.1.2
54
https://www.studiodelicious.com/cherry-almond-oatmeal/
SOURCE: Studio Delicious, adapted from Cooking Light.
Please don't reprint/copy and paste photos with recipes from Studio Delicious without prior permission as they are copyrighted. If you'd like to feature a recipe on your website, please rewrite the header and method of preparation in your own words and link back to this original post with Studio Delicious as the source.