A day that begins with pancakes and ends with pizza is very, very good.
This is a fact that cannot be disputed by any source in history.
I checked it myself on Google.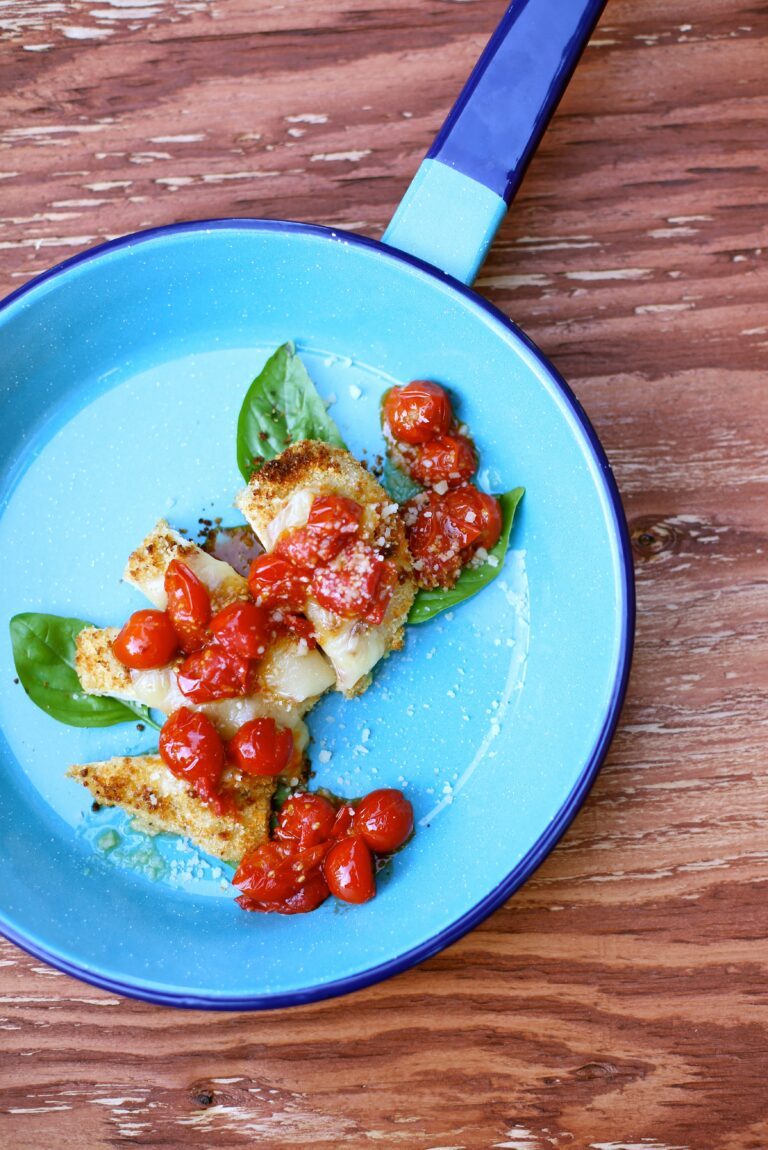 Yesterday I did something unusual. I took the whole day off and did one fun thing after the other  – all by myself.
After I ate the (perfect, tender, buttery, hot) pancakes I went to a cooking demonstration with the wonderful chef Sara Moulton.
She made 3 recipes from her latest cookbook and shared tips and stories (and impersonations!) about her mentor Julia Child and days as Executive Chef of Gourmet Magazine.
We laughed, tasted samples, got autographs and pictures and bought cooking supplies.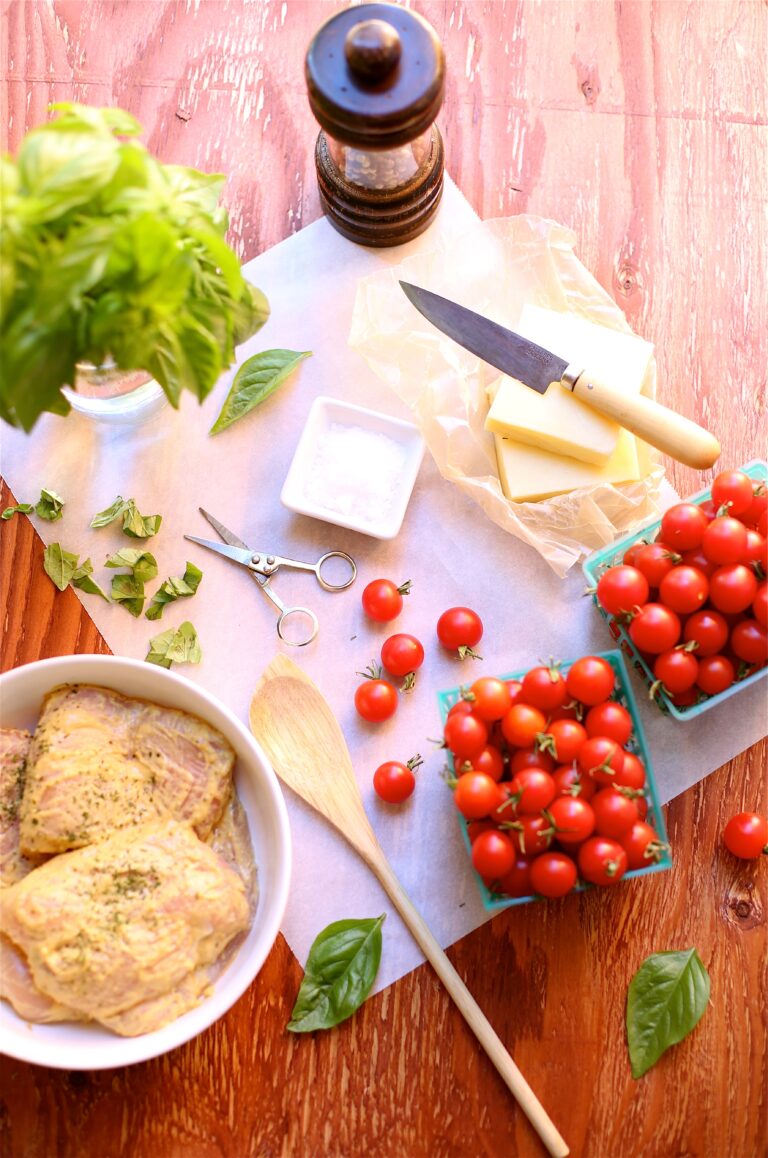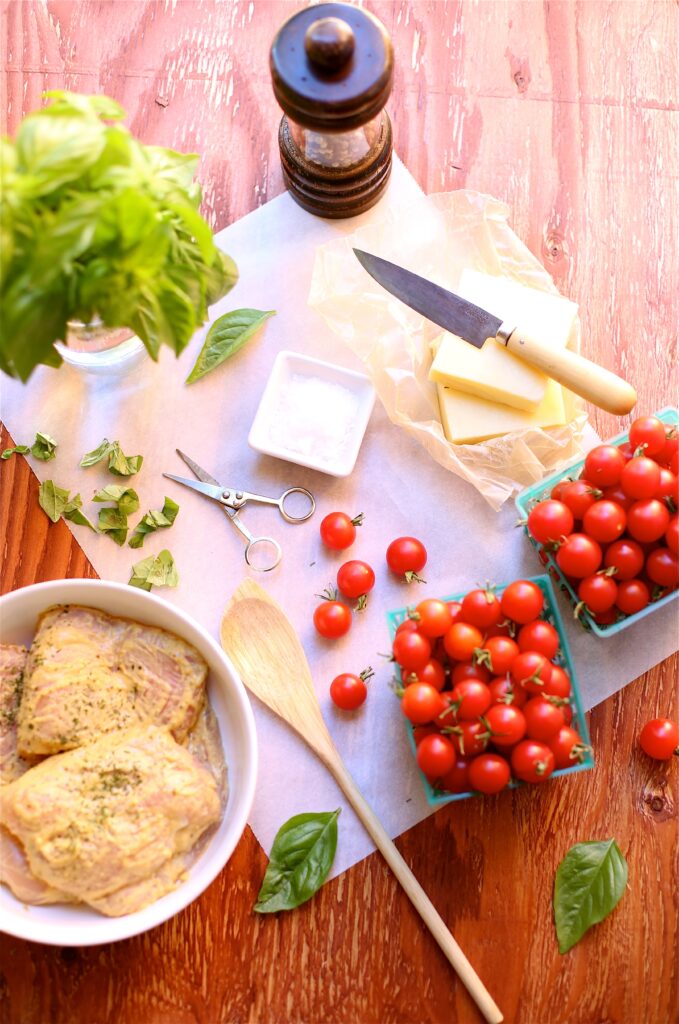 Being in the same room with a famous chef can be intimidating – but she was chatty and friendly and down to earth, and engaged and connected to her audience of eager home cooks.
Afterward I went to lunch, and when I asked the waitress if there was cream in the soup, she said yes, but it was vegan.  Note:  This is not a good sign.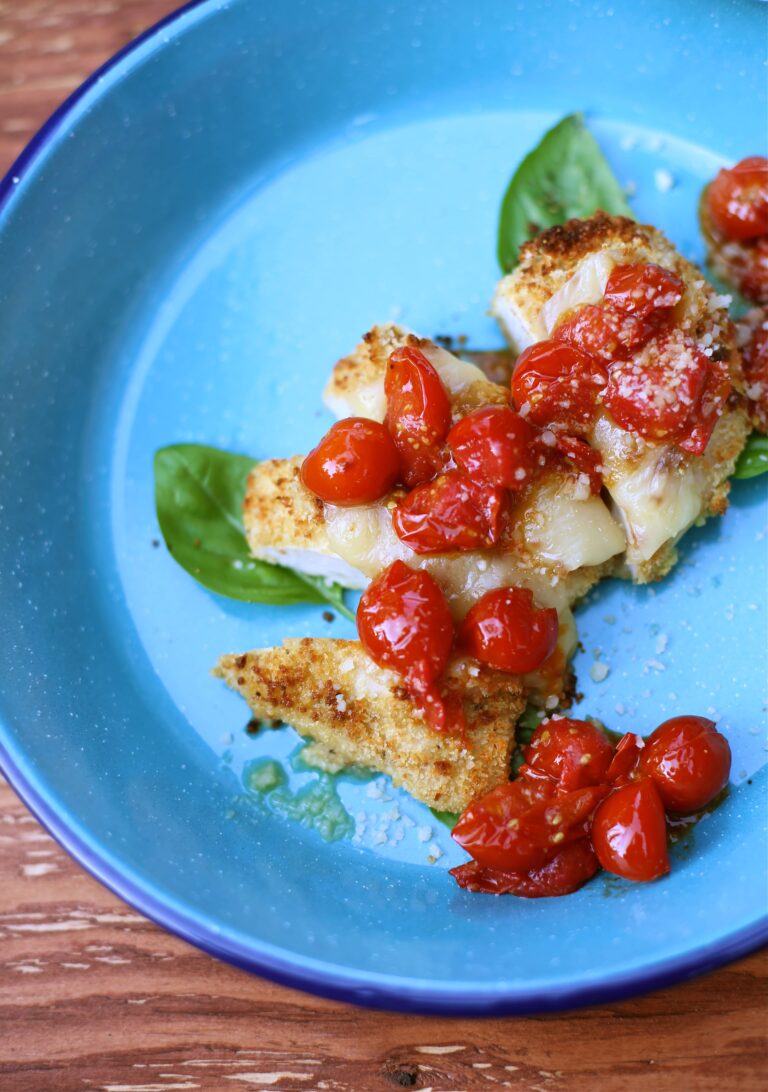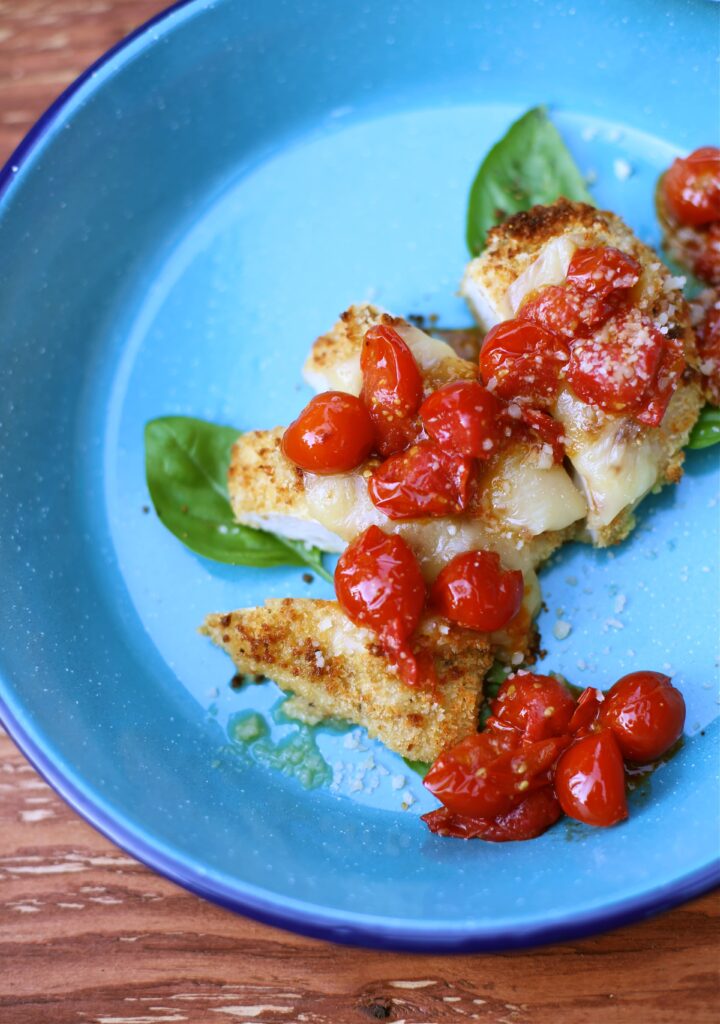 From there I hit the bookstore, where lucky for me they were having some kind of Harry Potter event just as I walked in.
They passed out small green milkshakes and – here's something you don't see everyday – there was an entire family dressed in full Hogwarts attire.
So that was totally worth the trip 🙂
The day ended with a slice of take-out pizza and a big glass of prosecco.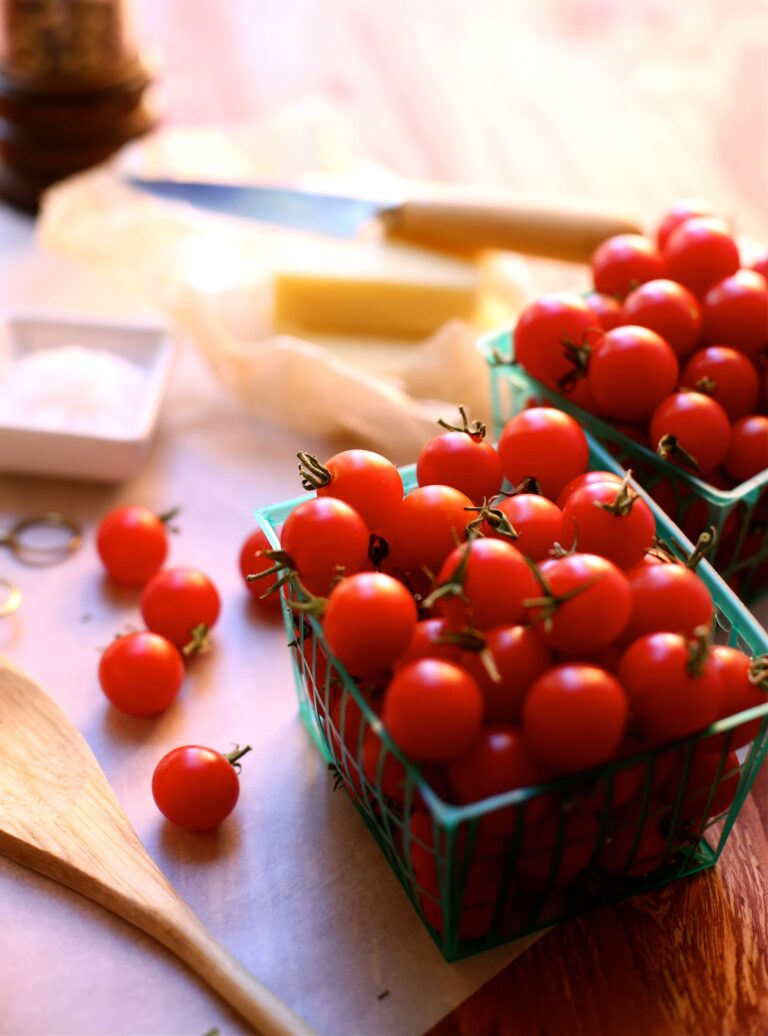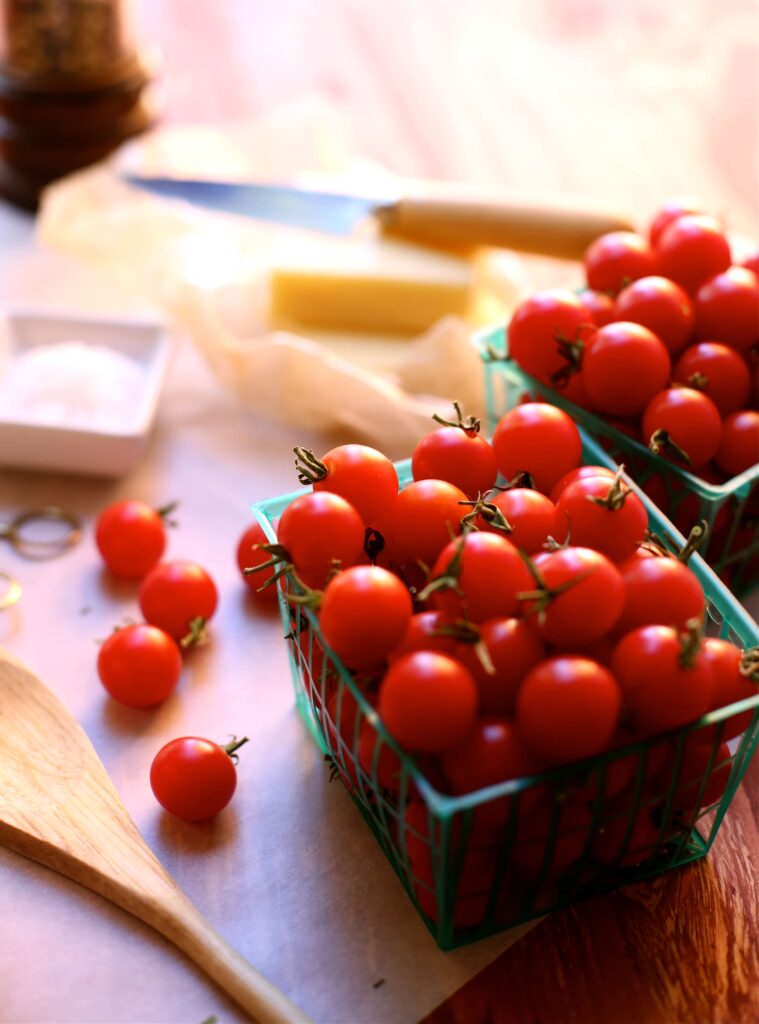 Oh, and about this recipe?
It's savory, summery and very tasty and satisfying – and uses those cherry tomatoes you have sitting on the counter that are getting old.
This one is worth making and enjoying on your own day off.
Ingredients
Serves 4-6

recipe based on 2 pounds of chicken, which will either be 4 medium or 6 small chicken breasts

Place an oven rack in the middle of the oven

Preheat oven to 450

Line a baking sheet with parchment paper

FOR THE CHICKEN

3

tablespoons

Dijon mustard

1

teaspoon

white wine vinegar

1/2

teaspoon

salt

1/2

teaspoon

garlic powder

1/2

teaspoon

freshly ground pepper

note: I use lemon pepper

2

pounds

skinless

boneless chicken breasts, rinsed and patted dry

1 1/2

English muffins

3/4

cup

finely grated Parmesan cheese

1

tablespoon

unsalted butter

melted

Mozzarella cheese

about 4 ounces

Fresh basil leaves

for garnish

FOR THE SAUTEED CHERRY TOMATOES

4

cups

whole cherry tomatoes

2

tablespoons

olive oil

1/2

teaspoon

kosher salt

1/2

teaspoon

freshly ground pepper

1/2

teaspoon

crushed red pepper flakes

1

tablespoon

unsalted butter
Instructions
PREPARE THE CHICKEN

In a large bowl,mix together the Dijon mustard, vinegar, salt, garlic powder, and pepper.

Add the chicken to the bowl and toss ingredients together to coat well.

Using a food processor, add the English muffins and pulse until fine. Add Parmesan cheese and butter and continue to pulse until combined. Transfer bread crumbs to a shallow pan or large plate.

Coat each piece of chicken in the bread crumb mixture, pressing the crumbs to the chicken so they stick and the chicken is completely coated.

Place each piece of chicken on a baking sheet, and bake until golden brown and cooked through, about 15-20 minutes.

Remove from oven and place a slice or two of mozzarella cheese(about 1 ounce) on each piece of chicken. Return to oven and continue cooking for 2-3 more minutes until cheese is melted and bubbly. Note: You can use the broiler for this step as well with the chicken placed on the upper third of the oven, heating for 1-2 minutes until the cheese is melted.

Remove from oven and transfer chicken to plates or serving platter, topping each piece with some of the tomato sauce and garnish with fresh basil leaves.

MAKE THE SAUTEED CHERRY TOMATOES

In a large non-stick saute pan, add the olive oil and whole cherry tomatoes over medium high heat.

Cook until the tomatoes start to sizzle, shaking the pan occasionally. Continue cooking until the tomatoes start to pop and burst, crushing some of them with the back of a wooden spoon. You want the tomatoes to be soft, barely crushed and a bit saucy, total cooking time between 6-8 minutes.

Add the tablespoon of butter and stir gently to combine.

Divide tomato mixture evenly on each piece of chicken and garnish with fresh basil.
Source:  Studio Delicious.  Parmesan Chicken recipe adapted from The Gourmet Cookbook.