Veggie Cups with Hummus are a really fun way to eat your veggies and offer something healthy to your guests for any kind of party. Crunchy, fresh, and easy to handle with a beverage in hand, these individual crudite cups are always a hit and welcome and they travel well, too.

Veggie Cups with Hummus
Don't we all love it when there's at least one healthy item on the party buffet table?
This is especially true for those of us who have eaten 4 pieces of candy before noon 🙂
These cute little cups are:
Easy to make
Fun to eat
A conversation starter if you're lucky

Appetizers in Cups are a Thing
Who among us wouldn't want their own little individual crudite cup?
Also, they are completely ADORABLE, and you can make them in advance.
Besides being easy to carry around while you're socializing, they are a snap to put together, and are easy to scale up or down.
Bonus! KIDS love these too.

How to Make Veggie Cups with Hummus
Get the best quality vegetables you can find. Farmers Market is my favorite.
Most grocery stores now sell great organic vegetables, and the difference in quality and flavor are worth seeking out.
This is a super flexible recipe, so use whatever vegetables look good to you.
Prep the Veggies: Best choices are long green beans, zucchini, carrot, radish, celery and cucumber. Wash them and peel if needed, then make lengthwise cuts, then cut in half horizontally so they fit in the cup.
Cut the Veggies: Use a sharp knife! It's safer, and it's a much prettier presentation.
Prep the Cups: Hello store bought hummus! Just a tablespoon or so, spooned on the bottom.
Assemble: I used a flared-top 9-ounce cup in order to fit the maximum number of veggies inside.
Serve: Finish with a lemon flavored olive oil, just a touch, and a sprinkling of Italian Parsley makes them even prettier.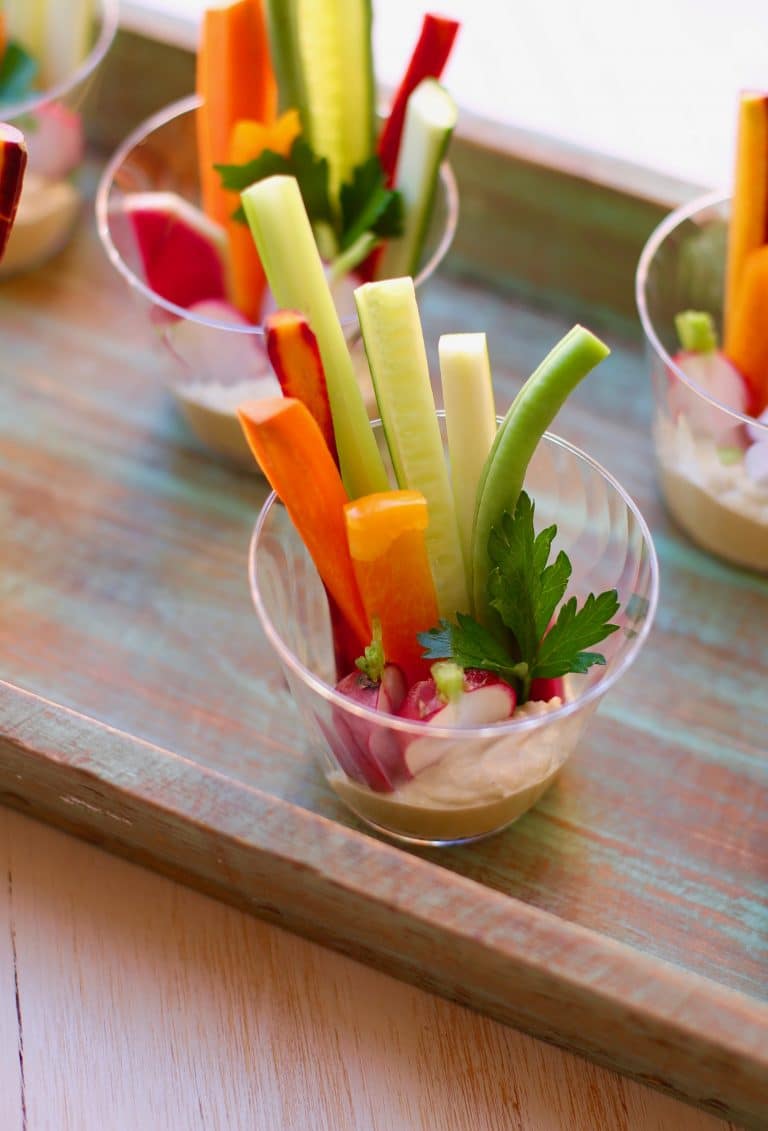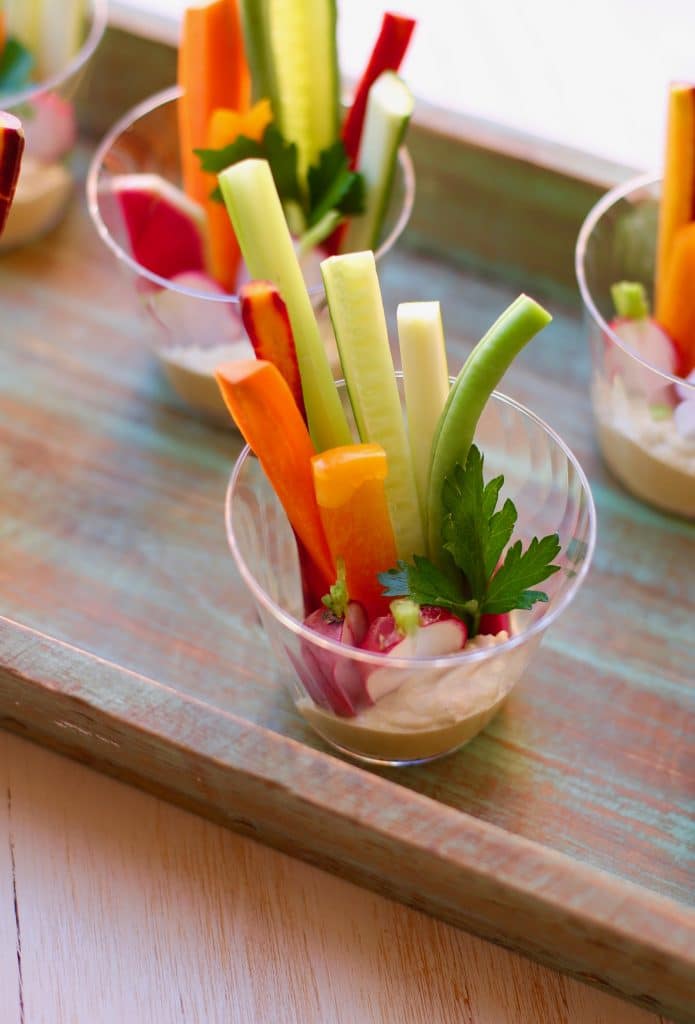 Look how cute these are!
Make these hummus cups for:
Wedding or baby showers
Superbowl parties
Office parties! Prep everything separately and assemble when you get there

Other Tips for Veggie Cups with Hummus
A large serving tray is perfect for these individual veggie cups, and you'll be surprised how quickly people grab them.
If your cucumber and zucchini have a lot of seeds, carefully cut some off when you are prepping and cutting them.
If you make these, be sure to take a picture and tag me at #studiodeliciouseats!
Other Easy Appetizers to Try:
Goat Cheese Toasts with Cranberry Compote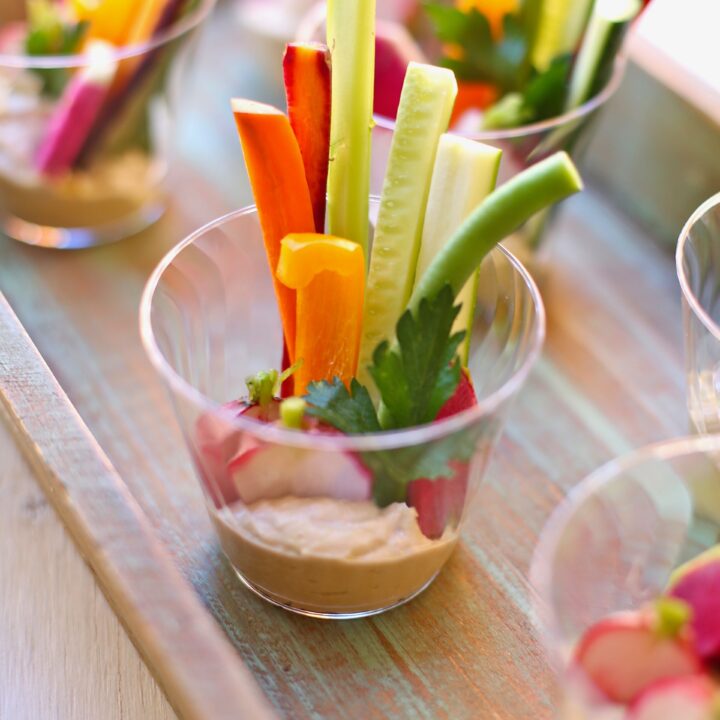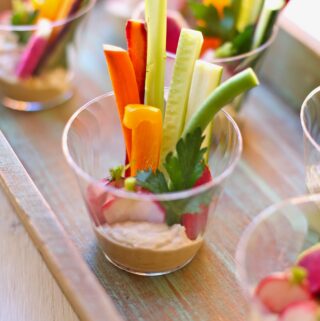 Veggie Cups With Hummus
Veggie Cups with Hummus are a fun, easy to hold veggie cup for parties when you want a portable appetizer!
Print
Pin
Rate
Ingredients
8

ounces

Hummus, store bought, plain or lemon flavor

3

Carrots peeled, cut in 1/2" thick batons

orange carrots

3

Purple Carrots, peeled, cut in 1/2" thick batons

3

Radishes, halved and quartered if large

2

Watermelon Radish, peeled, cut in 1/4 rounds

1

English Cucumber, cut in 1/2 batons

1

Zucchini, cut in 1/2 batons

3

Celery, cut in 1/2 batons

6

Green Beans, ends trimmed

2

Orange Bell Pepper, 1/2 lengthwise slices

2

tbsp

Italian Parsley, for serving

2

tbsp

Olive oil, lemon flavored or regular
Instructions
PREP THE VEGGIES

Wash all vegetables, peel and trim as needed. Dry with a clean dish towel before cutting as noted.

Cut your vegetables depending on the size of your plastic cups. To make a baton, cut the vegetable in half lengthwise, then cut each half again lengthwise, and again to make multiple long, 1'2" thick pieces. Cut these in half horizontally so that each baton is 4-5 inches long.

Place 2 rounded tablespoons of hummus in the bottom of each cup.

Place one or two pieces of each kind of vegetable in each cup.

Drizzle each cup with a little olive oil at the base on the cup near the hummus (about a 1/2 teaspoon) and top with a leaf or two of Italian (flat leaf) parsley.

Place the cups on a large platter or tray for serving.
Notes
This is a super flexible recipe, use any kind of vegetables you'd like!
You can easily scale the quantity up or down for this recipe, no problem.
I use the best quality organic vegetables I can find, especially from the Farmer's Market if available.
Using a sharp knife will give your cut vegetables the best presentation
For the Plastic Cups, I used a Chinet 9oz Clear Plastic Tumbler
Whatever cup you use, one with a flared rim is best for easy filling and dipping.
If you can find a bunch of carrots that are multi-colored, that's the way to go!
This recipe was updated in December 2019
Nutrition
Calories:
169
kcal
|
Carbohydrates:
20
g
|
Protein:
5
g
|
Fat:
9
g
|
Saturated Fat:
1
g
|
Sodium:
231
mg
|
Potassium:
727
mg
|
Fiber:
7
g
|
Sugar:
8
g
|
Vitamin A:
11802
IU
|
Vitamin C:
73
mg
|
Calcium:
77
mg
|
Iron:
2
mg
Tips for Success with Every Recipe
Super important to read the whole recipe before you begin
Pay attention to the ingredient list and photos for the recipe
If possible, prep your ingredients a little before you start
Always use a sharp knife for safety
Use the size of pan called for in the recipe
For savory recipes, taste and season as you go
Buy fresh, organic ingredients, locally sourced whenever possible
SOURCE: Studio Delicious