Here's a homemade recipe for a beloved treat- Philadelphia Strawberry Cheesecake Snack Bars Recipe are creamy, easy and absolutely delicious!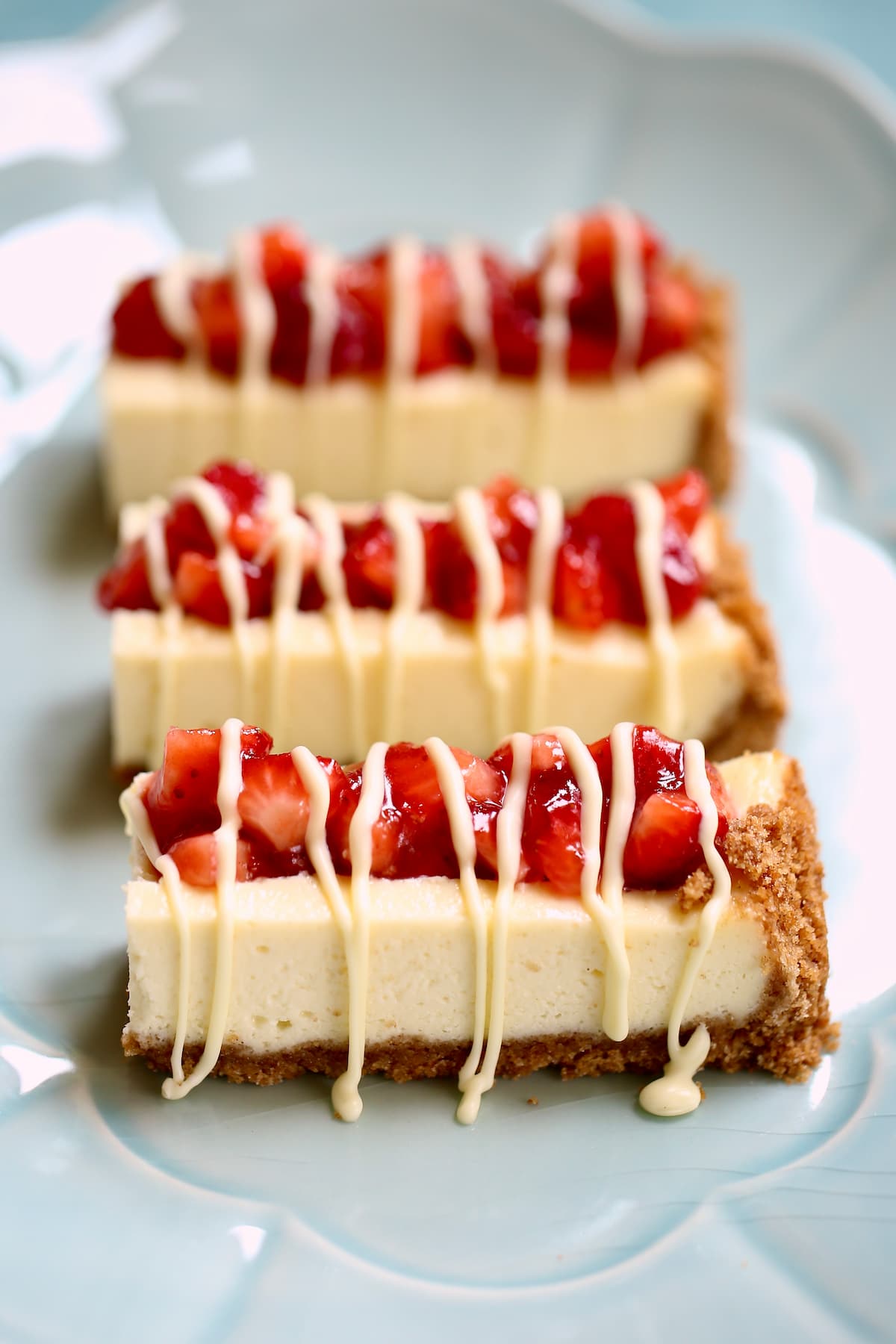 Jump to:
Why You'll Love This Recipe
Here's a throwback to the old Philadelphia Strawberry Cheesecake Snack Bars recipe that were in grocery stores everywhere, and then poof! gone away in the early 2000's. While this isn't an exact copycat recipe for those divine treats, this original recipe for delicious cheesecake dessert bars taste just as great!
Here's a few good reasons to make them:
These are an indulgent treat with a cinnamon-y graham cracker crust, fresh strawberry topping (made easy) and a drizzle of white chocolate. Great for parties!
This is an easy recipe that doesn't actually take long to prepare, but there is significant cooling and chilling time needed, so plan accordingly
If you like cheesecake recipes, bookmark these too! Strawberry Cheesecake in a Jar (so much fun to eat!) and these Strawberry Cheesecake Cookies are thick, soft and amazingly good.
Ingredients You'll Need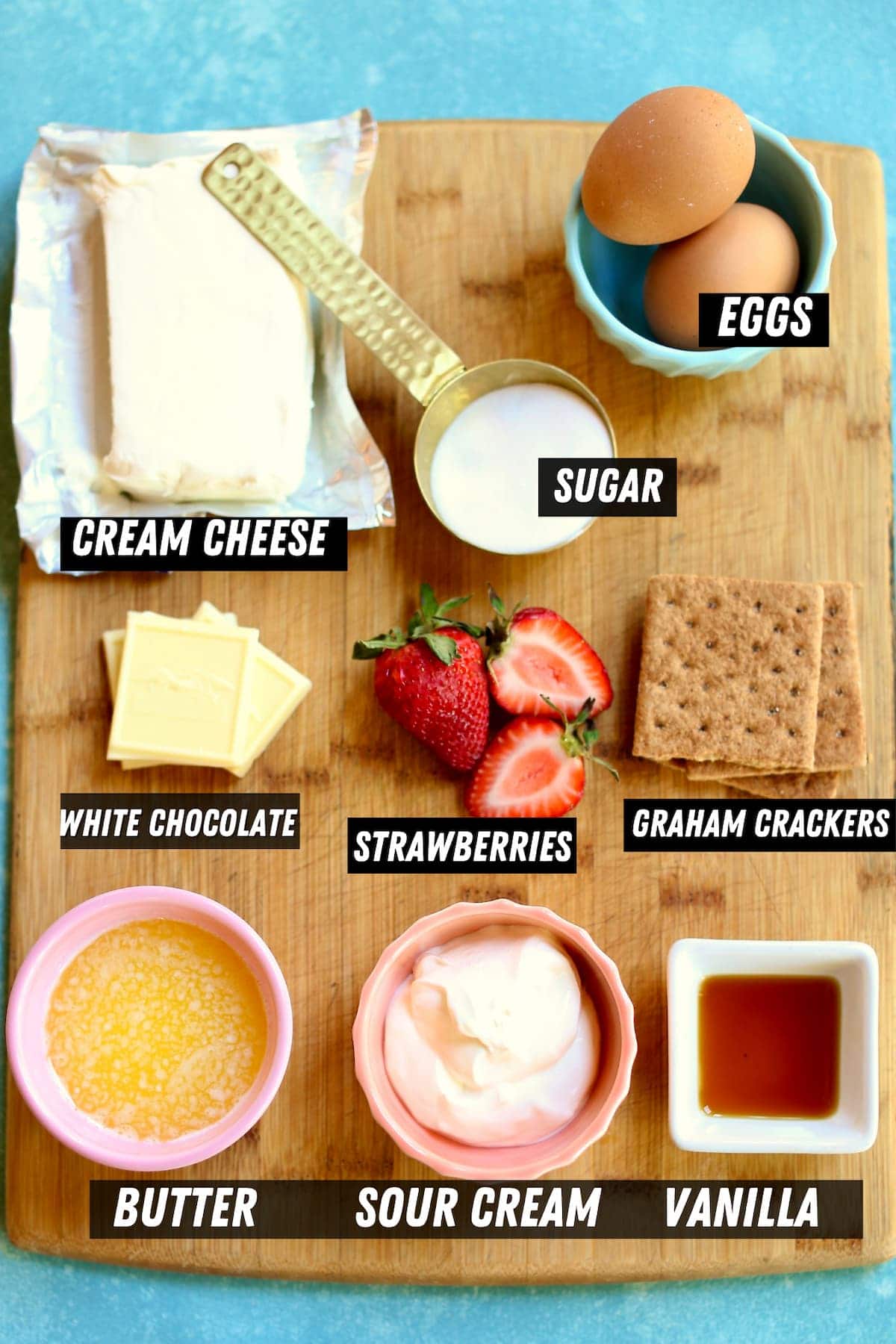 For the full recipe and list of ingredients, please scroll to the recipe card below.
Cream Cheese: Full fat, regular Philly cream cheese
Eggs: Large, room temperature
Sugar: Regular granulated or Bakers (superfine) sugar
White Chocolate: Just a little for that signature drizzle
Graham Crackers: Get the cinnamon grahams. So much better.
Butter: Just a little unsalted & melted to make the crumb base
Sour Cream: For richness
Vanilla: For that flavor you can't get anywhere else
Strawberries: Fresh and chopped small
Step-By Step Instructions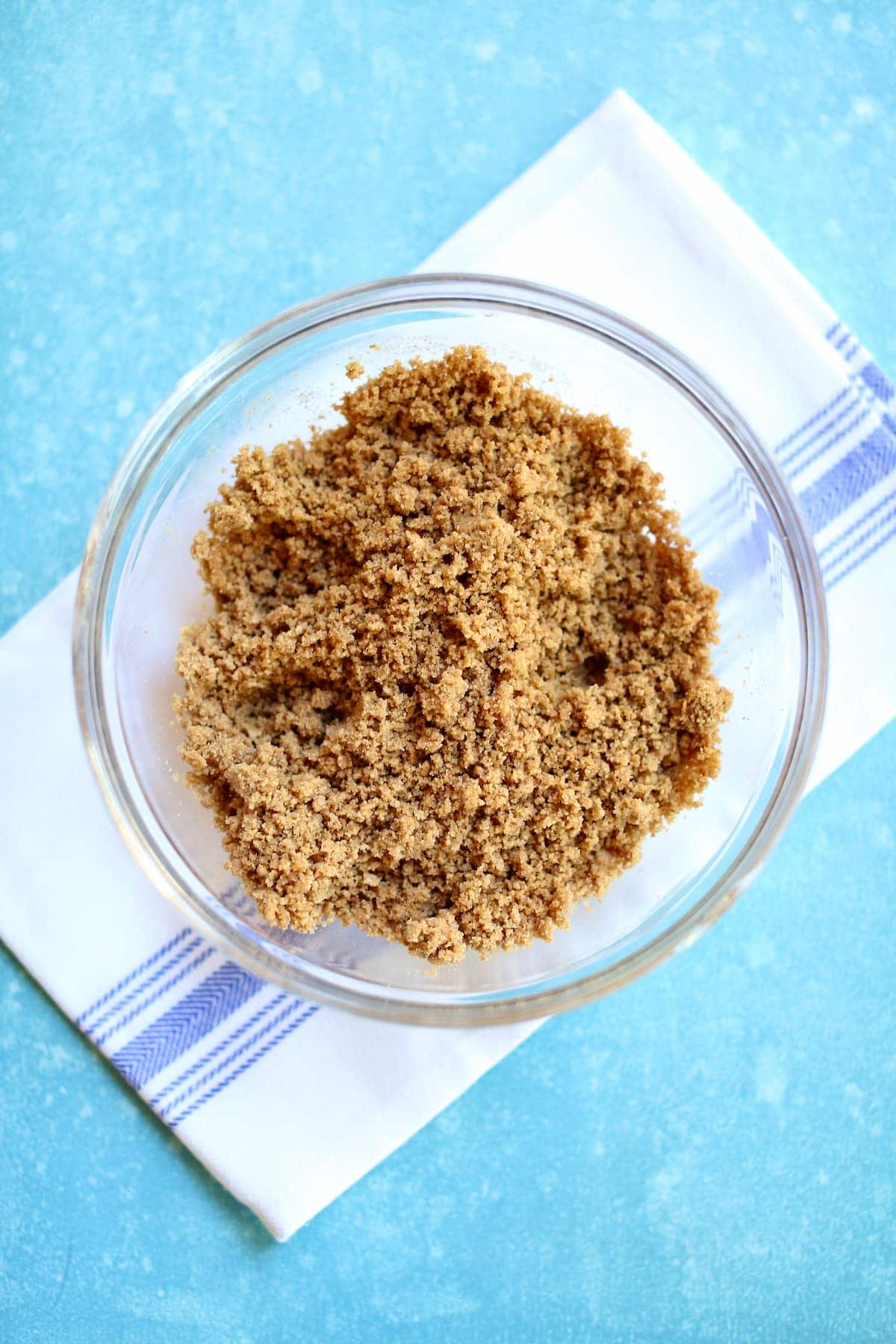 For the full recipe, please scroll to the recipe card below
First, make the crumb base for the cheesecake:
Heat oven to 350 degrees
Crush the graham cracker crumbs by using a rolling pin (put the graham crackers inside a plastic bag and pound until they are powdery) or just use a food processor.
Add the crumbs to a medium bowl with the melted butter, crumbs and sugar, mix to combine.
To prepare the graham cracker crust, here's all you do:
Line a square 8″ square pan with a piece of parchment paper as in the photo above. If your pan isn't non-stick, you can sling two pieces of parchment paper – one in each direction – to cover the bottom and all four inside walls of the pan
Spray the entire bottom of pan with baking spray, then add the graham crumbs and gently pat them into place with a flat-bottomed glass or jar, going up an inch or so on the sides
Note: I used a pan that was non-stick with a removable bottom, with one sheet of parchment paper cut high enough to go up an inch or so on two sides of the pan. I then sprayed the entire inside with non-stick baking spray.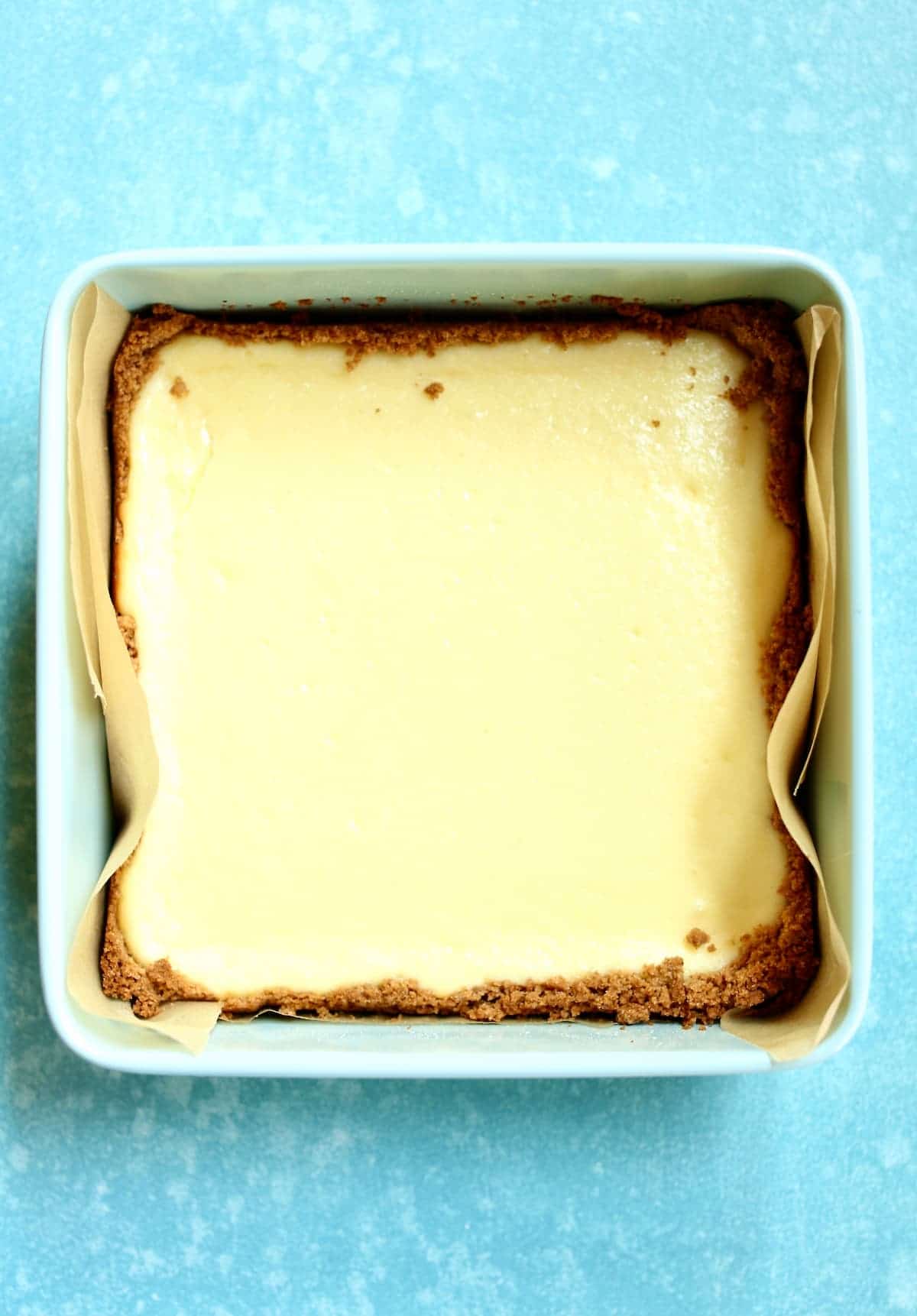 Next, prepare the cheese filling one of two ways:
With an electric mixer: Start by mixing the room temperature cream cheese on medium speed until light and fluffy (important for the final texture). Then add the sugar, sour cream, eggs and vanilla and continue to mix until completely smooth.
OR
Use a food processor: Just add all of the cheese mixture ingredients in and process until smooth. Super easy!
Tips for Cutting the Bars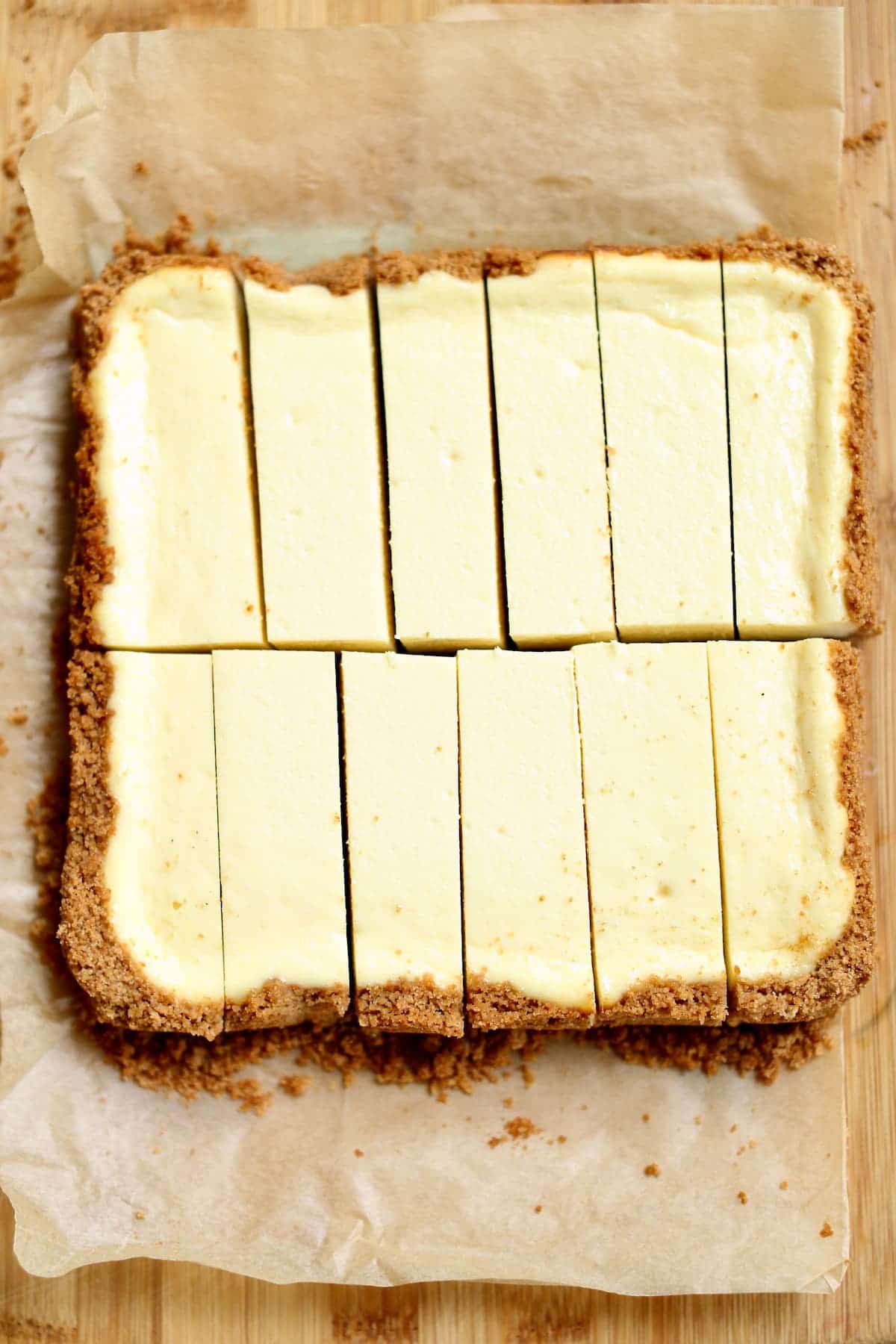 Note that these bars need to cool for a full two hours after baking, and then chill for 4 hours (or overnight) before attempting to slice them, so be sure to plan accordingly.
Here's the best technique for making clean slices:
Use a sharp knife and have a tall heatproof glass or jar with boiling or very hot water nearby and ready
Dip the knife in the hot water, then dry it off with a thick, clean kitchen towel
Cut the cheesecake bars in half horizontally first
Dip and clean your knife again, then slice into 12 pieces, dipping your knife in the hot water and wiping if off with the kitchen towel after each slice.
FYI: The hot water sort of melts through the cake, giving you a super clean cut every time. Wiping off the blade between slices makes a big difference too, because if crumbs are still on your knife, you definitely won't get a clean cut.
Tips for Filling the Bars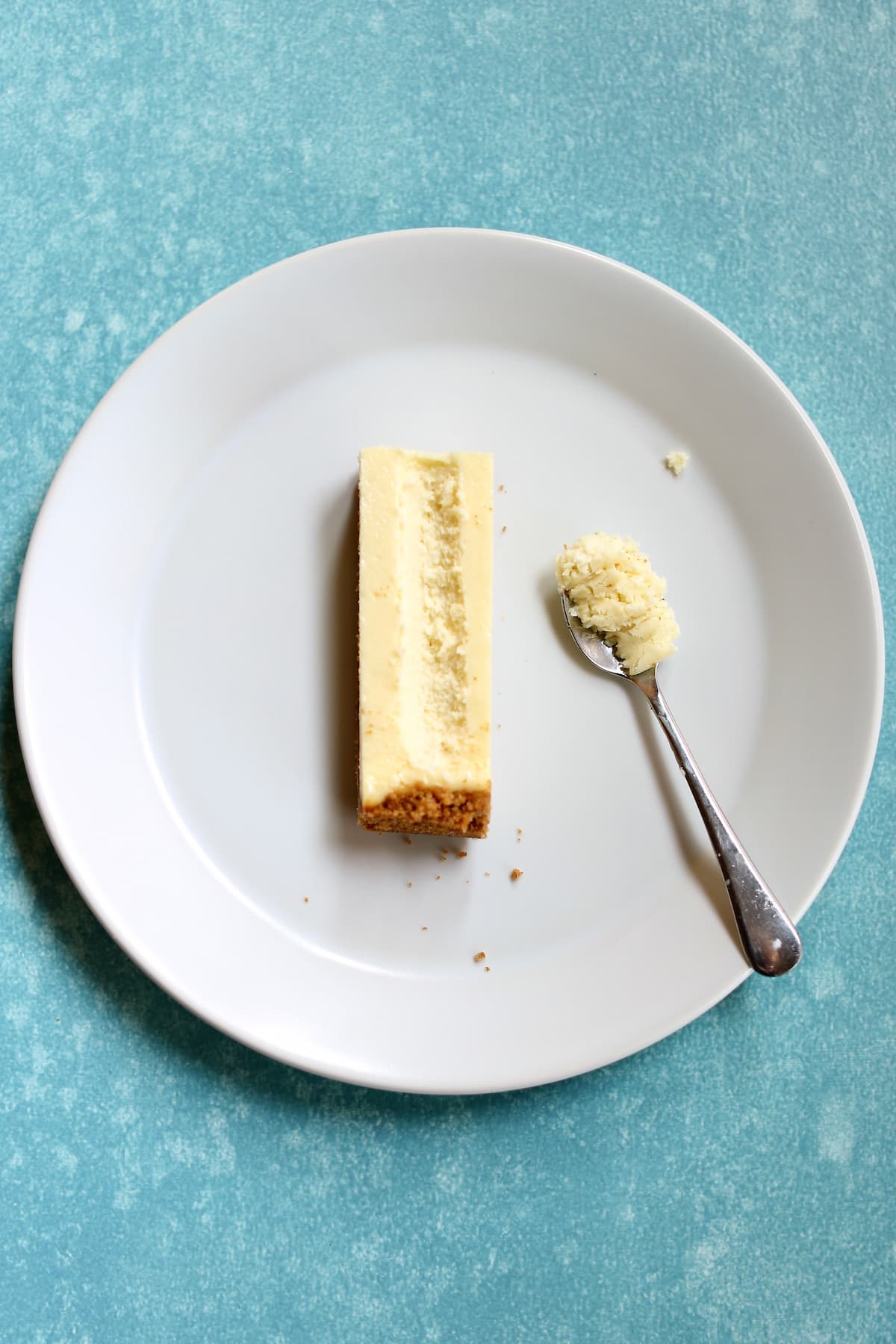 To prep the slices for that signature Philly cheesecake bar look, simply take a small spoon or melon ball scoop and drag it down the middle (carefully) to pull a little of the cheesecake mixture out
The "well" that's left in the middle is where the strawberry sauce will go
Alternatively, you can simply cut the bars and spoon the strawberry sauce over the top
Tips for the Strawberry Topping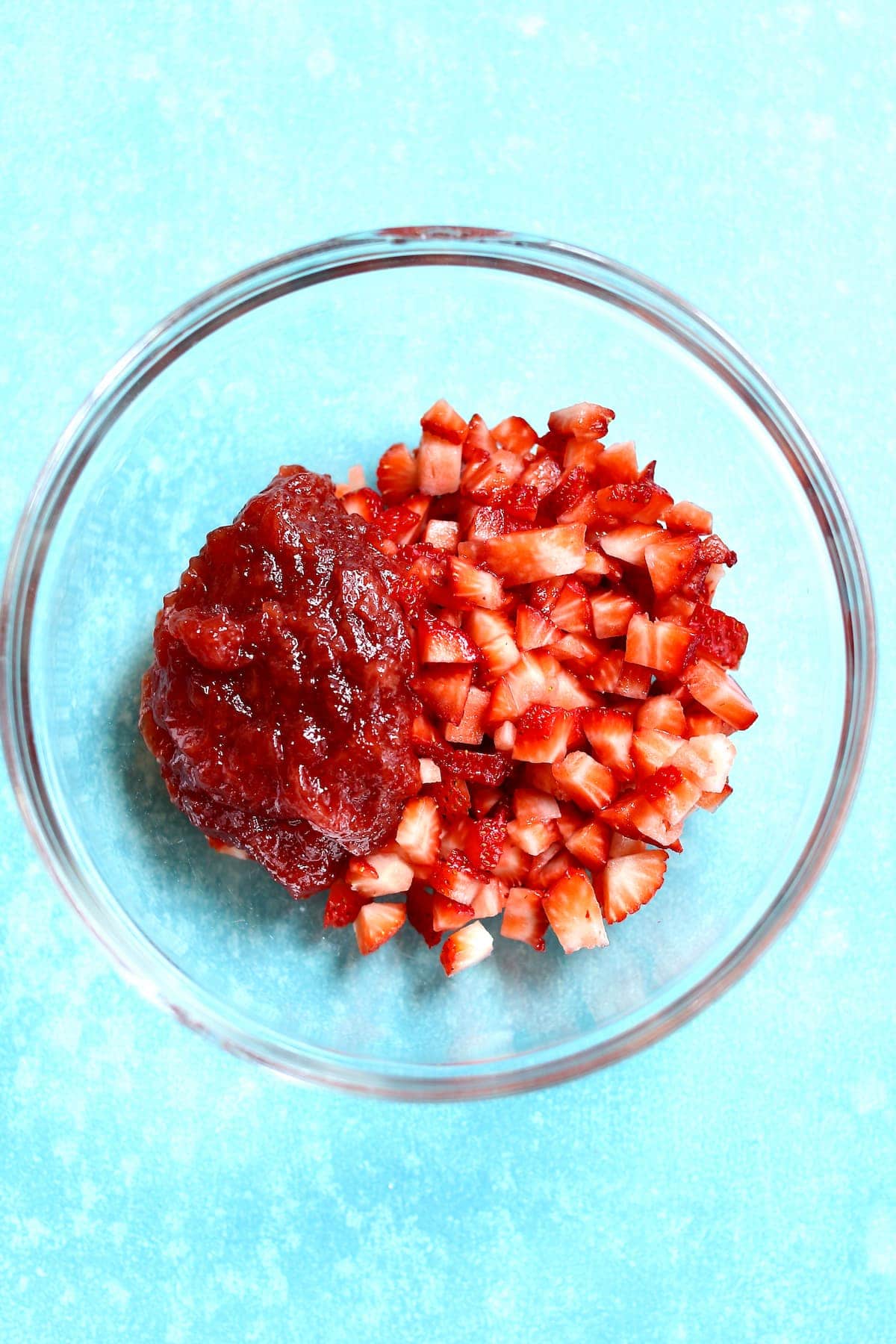 To make the fresh strawberry topping, here's all you do:
Wash, dry and trim the strawberries, then cut them into small pieces (1/2″chunks)
Add a good quality strawberry jam (I used an organic strawberry fruit spread)
Toss together to mix, then cover and set aside in the refrigerator until ready to use
Tips for Preparing Melted Chocolate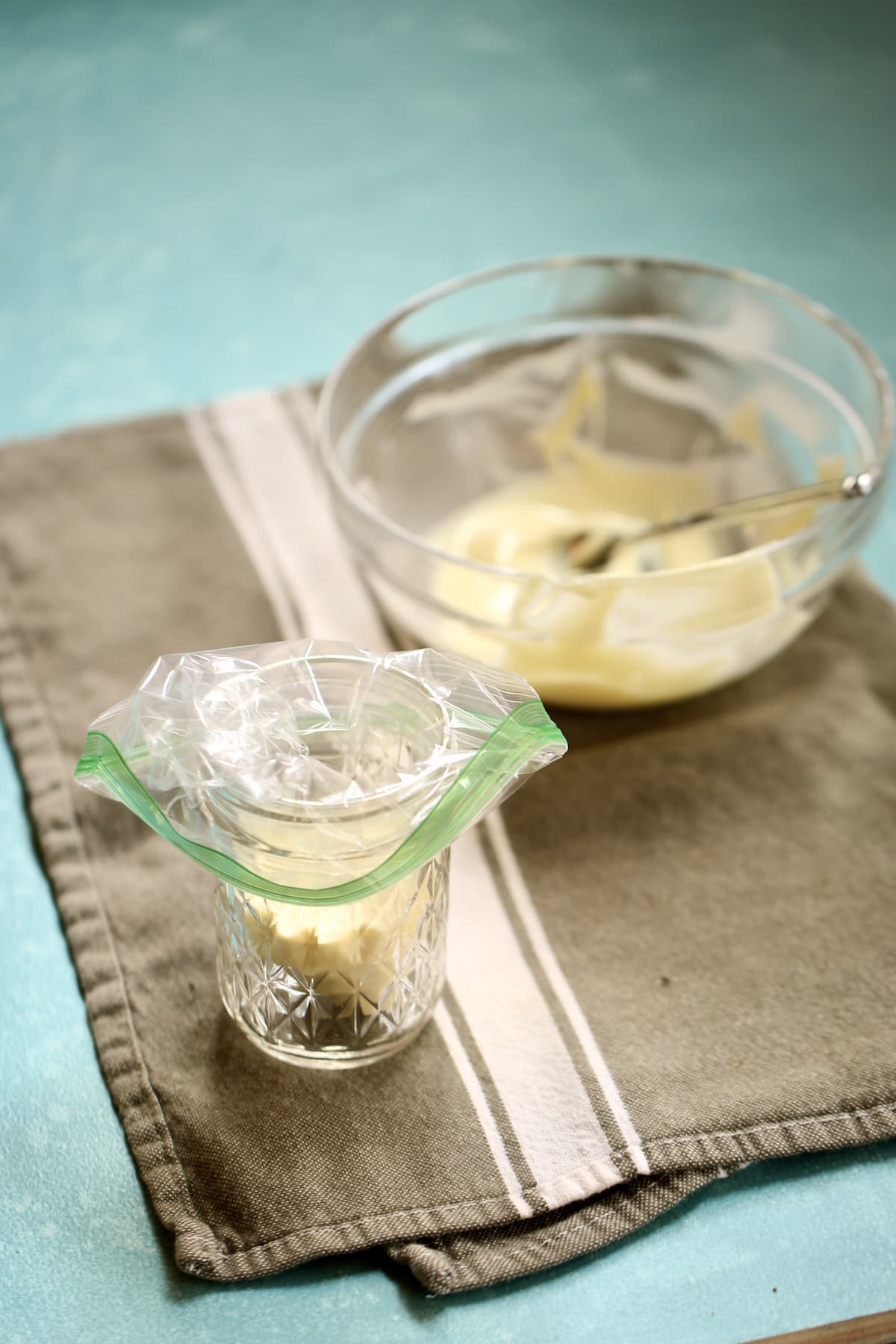 This recipe calls for a little drizzle of white chocolate over the top of each bar. It's a delicious little extra touch (and optional!) and here's all you do:
Melt the white chocolate in a heatproof glass bowl that's set over a saucepan of simmering water on medium heat.
Once it starts to melt, pull it off of the heat – it will continue to melt as you stir.
Spoon the melted chocolate into a small plastic bag, which is easier to fill if you set the plastic bag inside a glass or canning jar like in the photo above
Remove the bag, twist to close it, forcing the chocolate to one of the two corners. Snip the end of one corner and drizzle the chocolate over the filled bars.
Tips and Possible Variations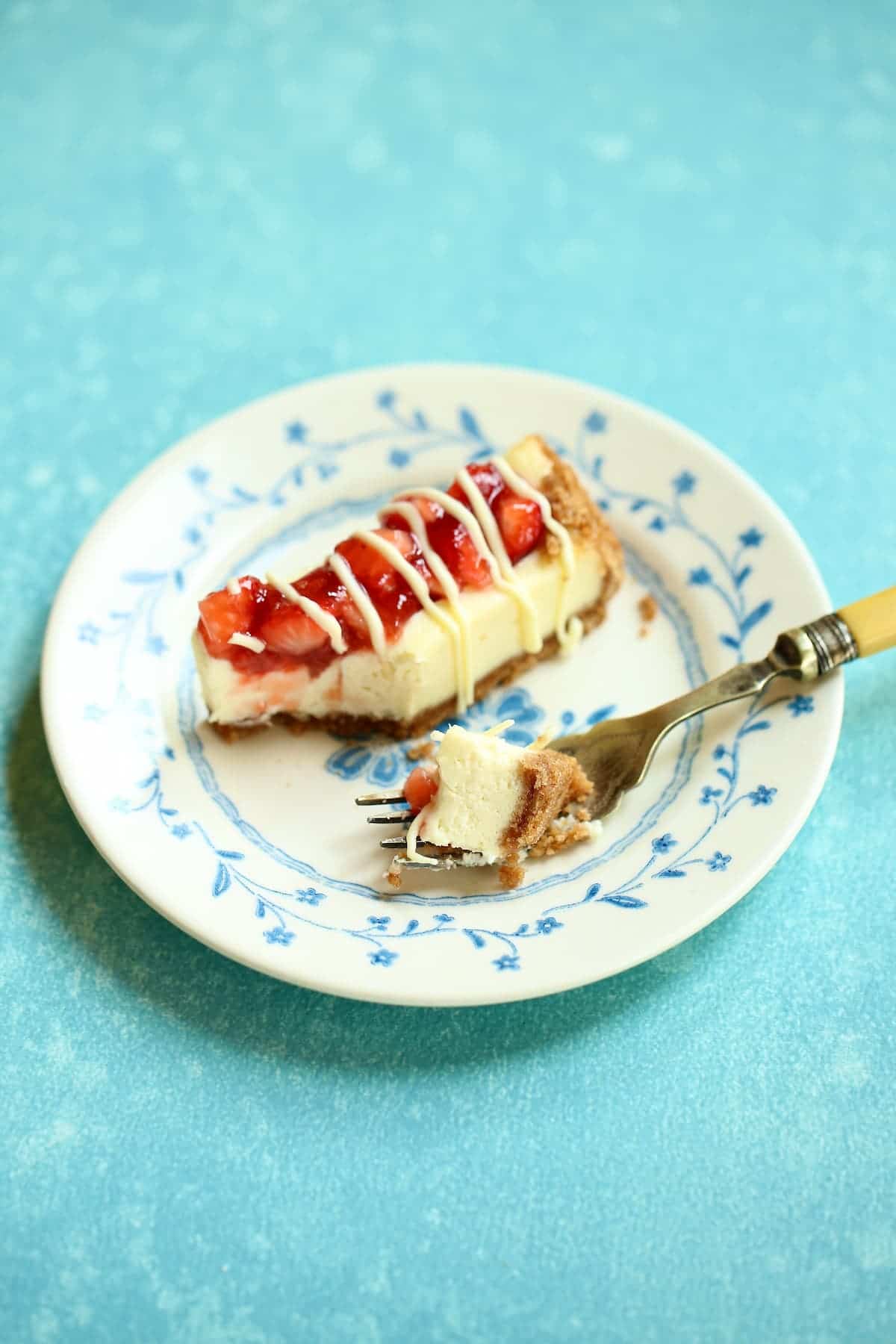 For best results, don't use non-fat or low fat cream cheese in this recipe
It's best to start this recipe the day before you plan to eat it due to the chilling time that's needed
Try using fresh raspberries instead of strawberries
Fill the bars with the strawberry sauce the day you plan to serve them
Keep the sauce and bars separate and chilled if there are leftovers or making in advance- they don't hold more than a day if they are already filled with the strawberry topping
Serving Ideas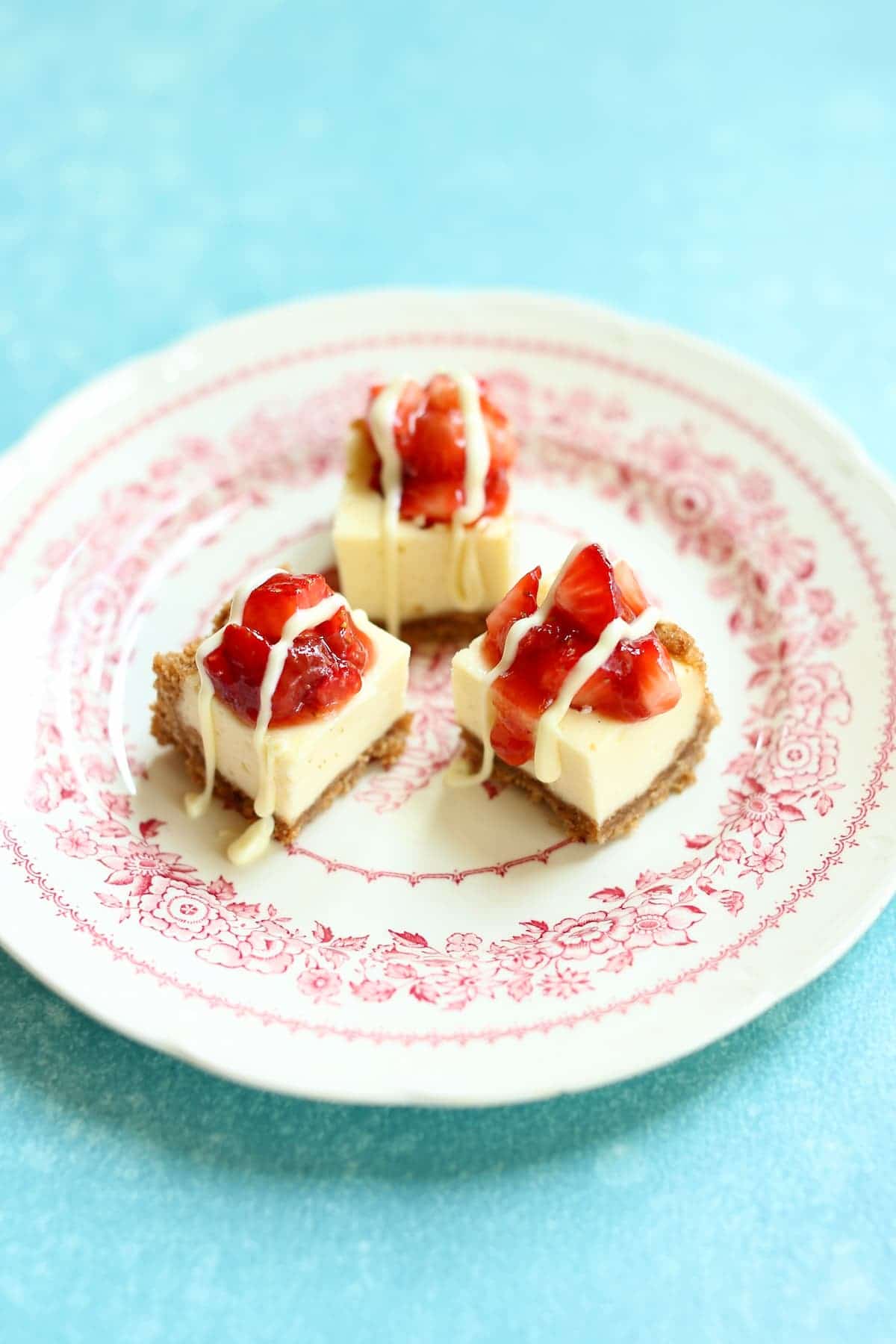 Frequently Asked Questions
What if I can't find cinnamon flavored graham crackers?
No problem! Just use regular graham crackers but add a 1/2 teaspoon of cinnamon to the crumb mixture.
How do I store the cheesecake bars?
An airtight container in the refrigerator is best, with the bars and the sauce kept separate. If the bars are already filled with the strawberries, they'll taste fine the next day but they typically don't look quite as good 🙂
More Recipes to Try:
If you've tried this Philadelphia Strawberry Cheesecake Snack Bars recipe, or any other recipe on Studio Delicious, please rate the recipe 5 stars and tell me how you liked it in comments below!
Looking for more tips and fresh, homemade recipes? Join my email list, tag and follow me on Instagram using #studiodeliciouseats, follow my boards on Pinterest, and see what I'm up to on Facebook and Twitter!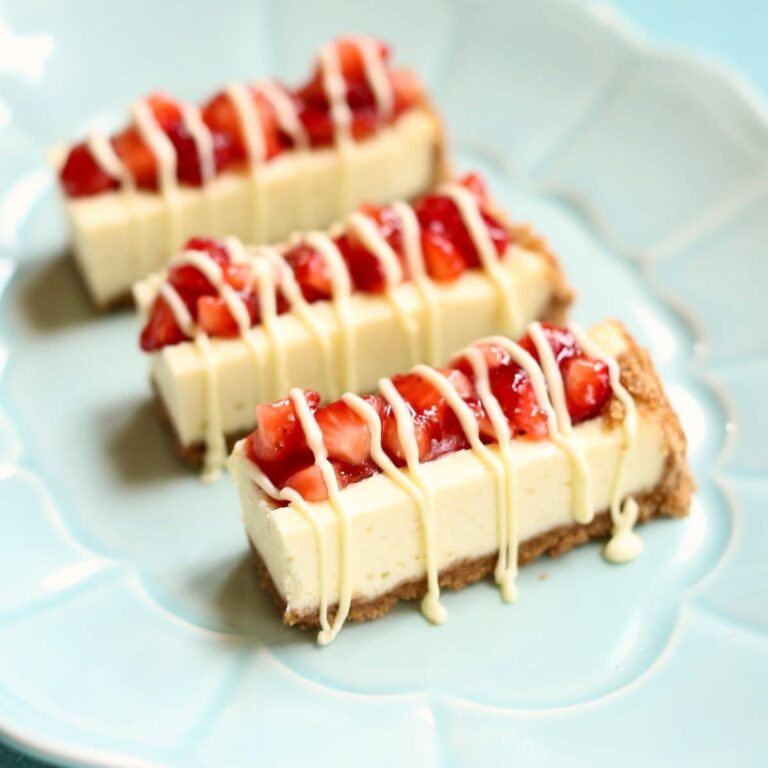 Philadelphia Strawberry Cheesecake Snack Bars Recipe
Here's a homemade recipe for a beloved, store-bought item – this Philadelphia Strawberry Cheesecake Snack Bars Recipe is creamy, easy and absolutely delicious!
Print
Pin
Rate
Ingredients
FOR THE GRAHAM CRACKER CRUST

1½

cups

Cinnamon Graham Crackers, crushed

About 12 sheets uncrushed

⅓

cup

Sugar

6

tablespoons

Butter, unsalted, melted

2

8 ounce packages

Cream Cheese, full fat

½

cup

Sugar, granulated

¼

cup

Sour Cream

1

teaspoon

Pure Vanilla Extract

2

large

Eggs, large, room temperature

1½

cups

Strawberries, washed and trimmed and cut into ½" inch pieces

½

cup

Strawberry Jam or fruit spread

¼

Cup

White Chocolate, melted
Instructions
Pre-heat the oven to 350 and position the rack to lower middle third of the oven.

Prepare an 8" square non-stick baking pan by spraying with baking spray and then lining it with parchment paper, then spray baking spray over the top

Note: Spraying the bottom of the pan first ensures the paper will stick to the pan.

FOR THE GRAHAM CRACKER CRUST

Crush the graham crackers into crumbs by putting them in a large plastic freezer or ziplock bag and pounding them with a rolling pin until are completely crushed with no chunks remaining. Alternatively, use a food processor.

Add the sugar and melted butter to the crumbs in a large bowl and mix, then lightly press the mixture into the baking pan, pushing an inch or so of the crumbs up the sides of the pan using a small flat bottom jar or glass to make the crumbs even.

Bake for 10 minutes, then set aside to cool while you make the cheese mixture

FOR THE CHEESECAKE MIXTURE

Let the cream cheese soften for 45-60 minutes, then place in a large bowl and beat with an electric mixture until light, fluffy and free of clumps, about 3 minutes.

When the cream cheese is completely smooth, add the sugar, sour cream, vanilla and eggs, and continue to beat until combined and very smooth, 1-2 minutes.

Alternatively, add the cream cheese, sugar, sour cream, vanilla and eggs to a food processor and mix until smooth.

Pour the cheese mixture into the cooled graham cracker crust and bake for 35-40 minutes. The middle will still jiggle a little, but it will set up as it cools.

Set aside to cool for 2 hours, then chill the bars covered with plastic wrap for at least 4 hours, or overnight.

FOR THE STRAWBERRIES AND CHOCOLATE

Wash and dry the strawberries, trim the leafy tops and discard. Chop into ½" inch pieces.

In a large bowl, toss gently with the strawberry jam.

For the chocolate, melt it by placing in a heat-proof glass bowl set over simmering water. When it begins to melt, take it off the heat and stir until smooth. (The chocolate will continue to melt as it's stirred).

Spoon the chocolate into a small plastic bag -this is easier to do if you set the bag in a glass jar or drinking glass with the plastic bag folded over the top to secure it in place. Twist the bag up, forcing the chocolate onto one corner of the bag.

Snip the corner off one end of the bag and drizzle the chocolate over each bar.

TO ASSEMBLE

Using a sharp knife with a cup of hot water handy, let the knife warm up in the water, then dry it off with a thick kitchen towel, then slice the bars horizontally. Wipe off the knife, and dip it in the hot water again (and after each slice) to make 12 pieces. You can slice each bar in half if desired to make 24 "bites" instead of bars too.

Spoon a little of the cheesecake out of the center of each bar, and fill with the strawberry mixture.

Drizzle some white chocolate over each bar and serve!
Notes
For best results, don't use non-fat or low fat cream cheese in this recipe
It's best to start this recipe the day before you plan to eat it due to the chilling time needed.
Try using fresh raspberries or other fruit instead of strawberries
Fill the bars with the strawberry sauce the day you plan to serve them
Keep the sauce and bars separate and chilled if there are leftovers – they don't hold well the next day if they are alre
Nutrition
Calories:
239
kcal
|
Carbohydrates:
36
g
|
Protein:
2
g
|
Fat:
10
g
|
Saturated Fat:
5
g
|
Polyunsaturated Fat:
1
g
|
Monounsaturated Fat:
3
g
|
Trans Fat:
1
g
|
Cholesterol:
50
mg
|
Sodium:
141
mg
|
Potassium:
89
mg
|
Fiber:
1
g
|
Sugar:
27
g
|
Vitamin A:
255
IU
|
Vitamin C:
12
mg
|
Calcium:
33
mg
|
Iron:
1
mg
Tips for Success with Every Recipe
Super important to read the whole recipe before you begin
Pay attention to the ingredient list and photos for the recipe
If possible, prep your ingredients a little before you start
Always use a sharp knife for safety
Use the size of pan called for in the recipe
For savory recipes, taste and season as you go
Buy fresh, organic ingredients, locally sourced whenever possible