These White Chocolate Snowflake Cookies first appeared here last holiday season.  These are everything you want in a holiday cookie—buttery, versatile, sweet and festive and the dough can be made in advance.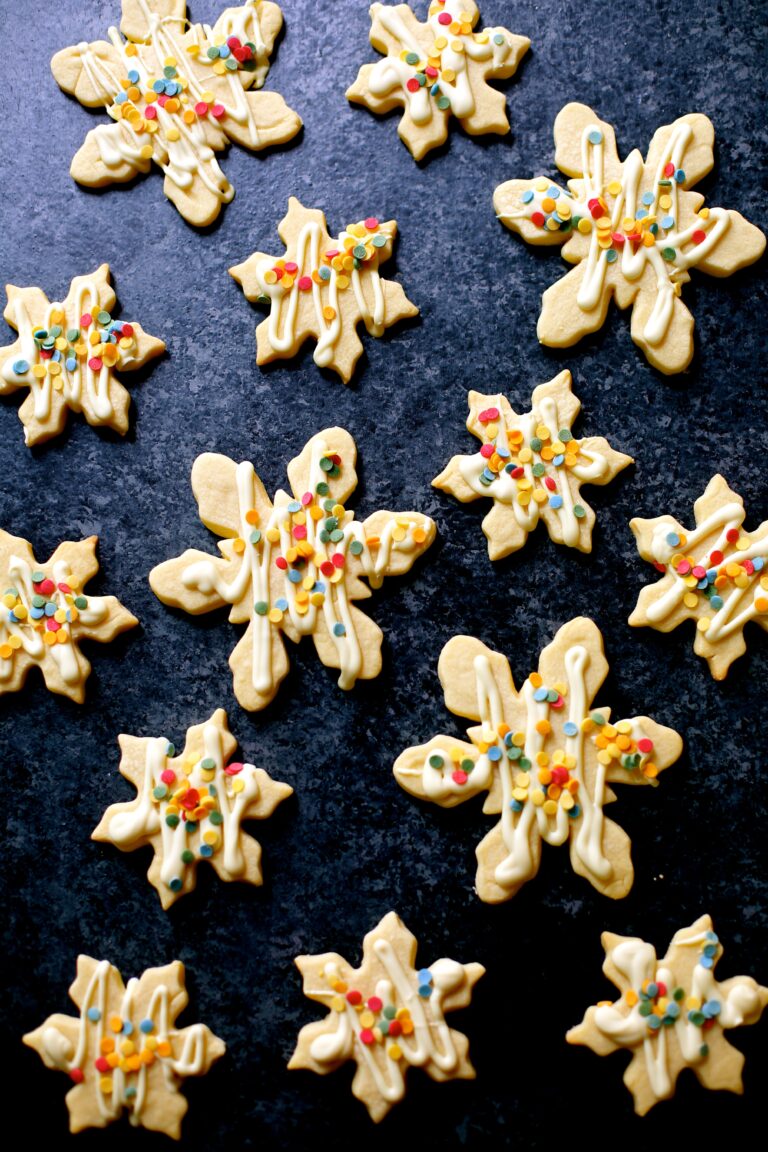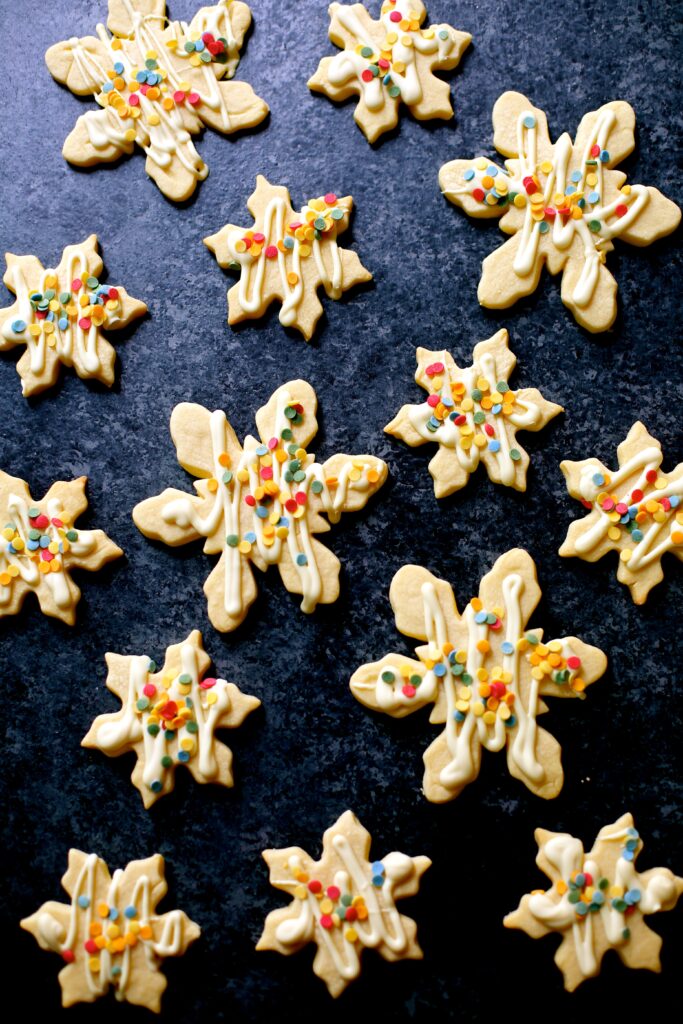 I'm sitting here pecking out this post with the three fingers on my hand that are currently working, thanks to my recent carpel tunnel surgery.
There are all kinds of things you take for granted when you can't use your hand, like putting your hair in a ponytail and brushing your teeth.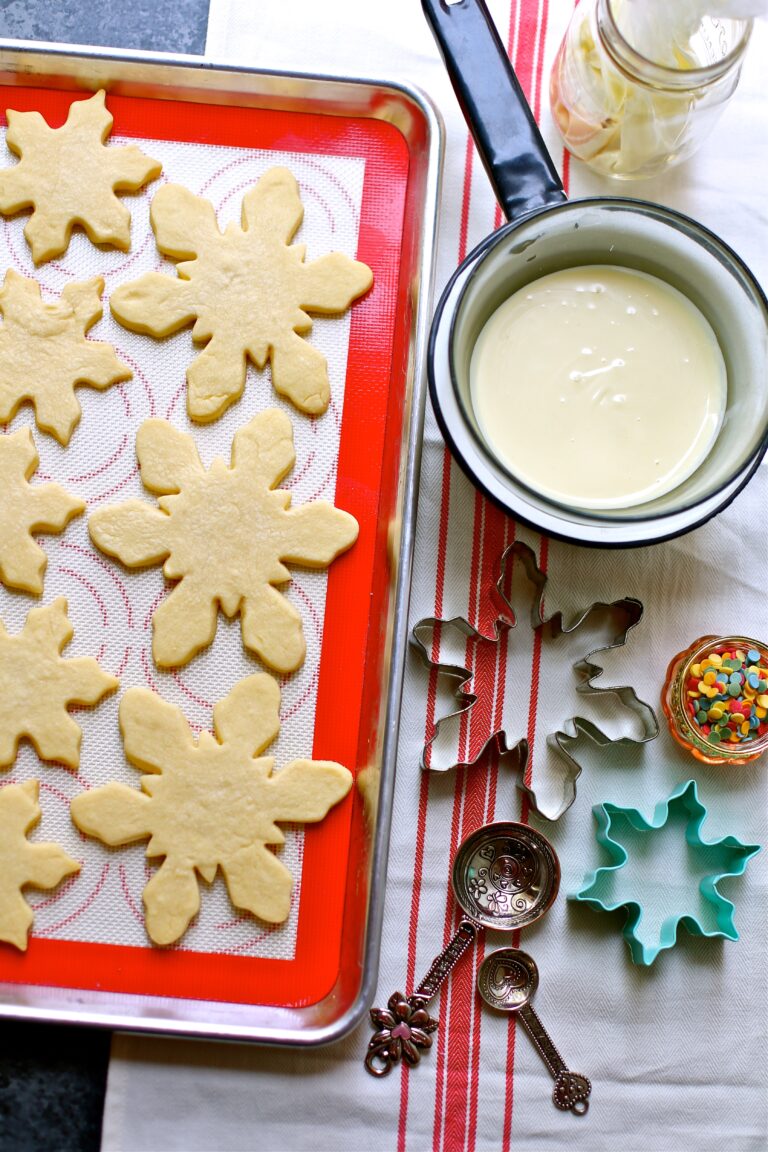 I'm so over putting a plastic bag on my arm to keep it from getting wet.
I've watched more TV in the last two weeks than I have all year (Longmire, Anne with an E) and while it's been nice, I'm ready to get back in the kitchen.

Seriously, I've never met a cookie I didn't like.
If there was ever a time to bake and eat cookies guilt-free, it's right now.  January is a full four weeks away, and we have permission.

WHITE CHOCOLATE SNOWFLAKE COOKIES ARE:
Fun and delicious with a warm vanilla flavor
Easy to make using a basic cookie dough
Versatile!  Use any cookie cutter and decorations you'd like
Did I mention the dough freezes beautifully?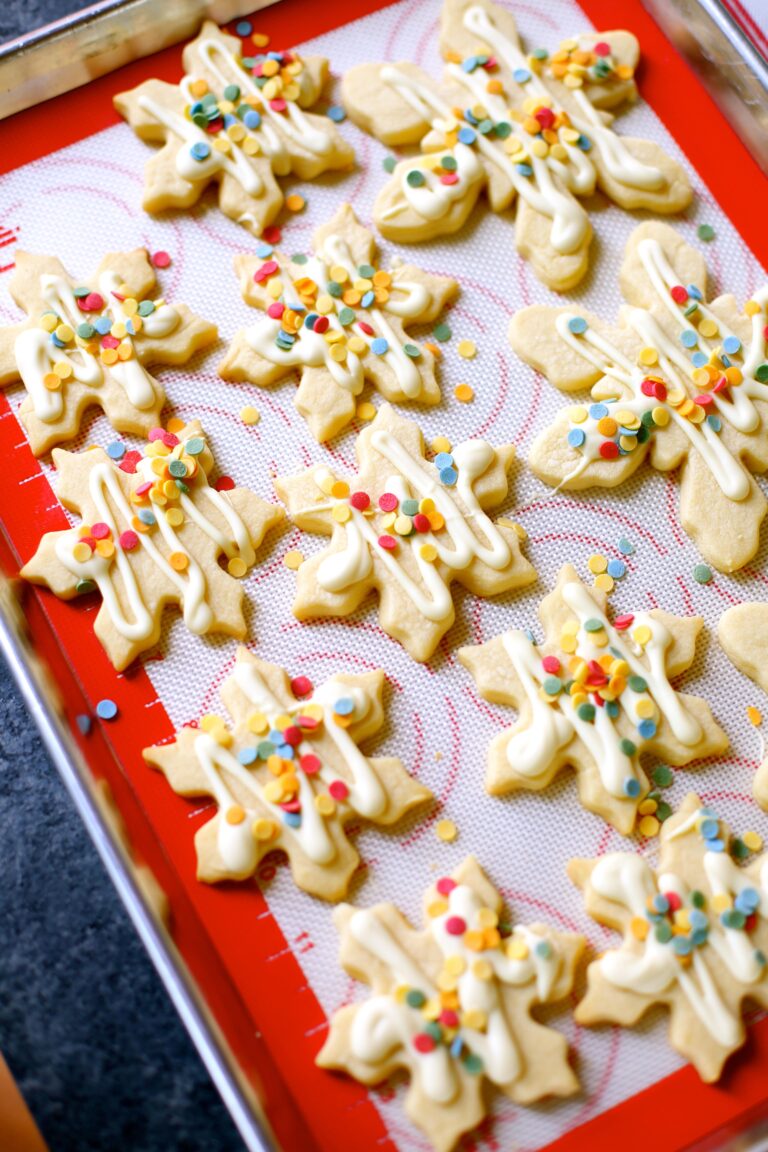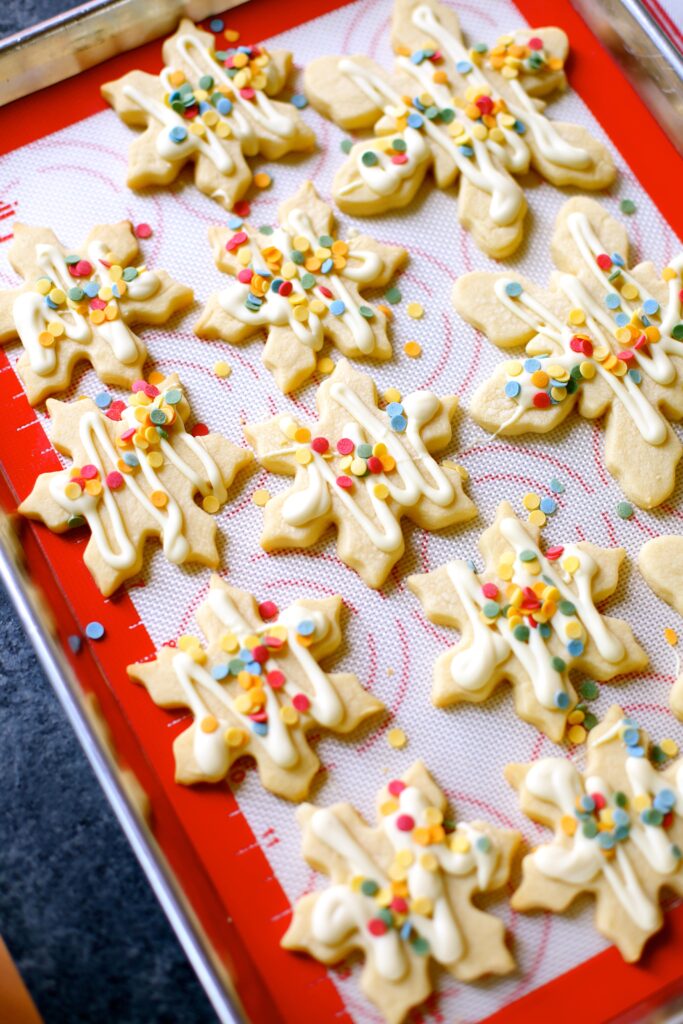 These pretty little beauties start with a sugar cookie dough that's super easy to work with—the recipe is really no fuss.
The White Chocolate Snowflake Cookies come out of the oven thick and soft and buttery and a little sweet, made even better by a healthy squiggle of melted white chocolate.
I love the word squiggle.
Finish them up with a festive sprinkle, and you have yourself a fancy, fun and versatile cookie to add to your holiday cookie repertoire.
WANT MORE GREAT COOKIE RECIPES? 
Triple Chocolate Cookies are here
Butterscotch Shortbread Dipped in Chocolate are here
Ginger Spice Biscotti with White Chocolate are here
PIN THIS RECIPE FOR LATER!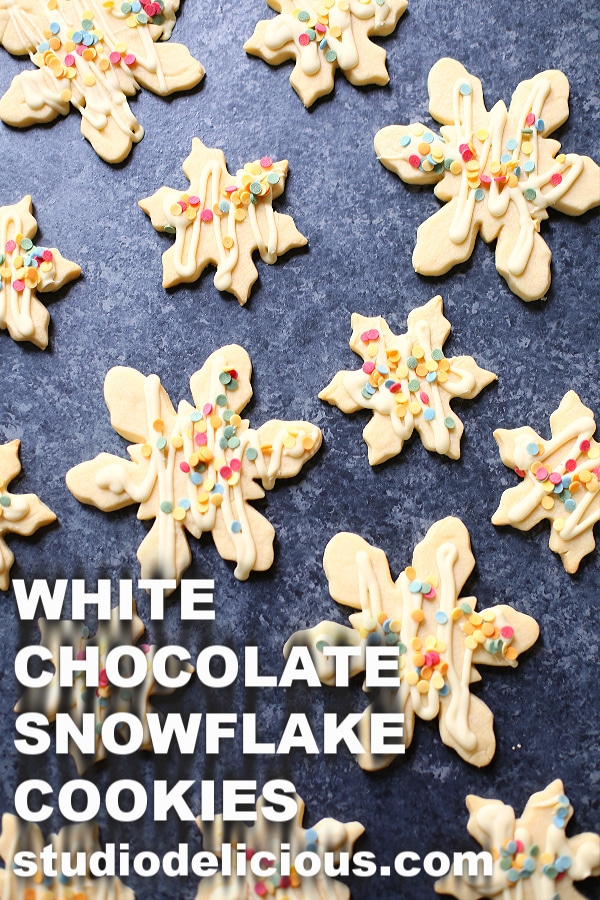 Ingredients
Makes about two dozen 3" cookies

8

ounces

2 sticks unsalted butter, softened

1

cup

sugar

1

large egg

room temperature

1

teaspoon

pure vanilla extract

3

cups

all purpose flour

2

teaspoons

baking powder

1/2

teaspoon

salt

Snowflake cookie cutters

I used a 3" and a 5" cutout

1/2

pound

good quality white chocolate

I used Callebaut

Dye-free sprinkles
Instructions
MAKE THE COOKIES

Heat the oven to 375 and line two large baking sheets with parchment paper or non-stick baking mats.

In the bowl of a stand mixer with paddle attachment, beat the butter on medium speed for 2 minutes. (Alternatively, use a medium-sized mixing bowl and a hand mixer.)

Add the sugar and beat for 2 more minutes, scraping down the sides as needed. Add the egg and vanilla and mix to combine for another 30 seconds.

Add the flour, baking powder and salt and beat on low for 1 1/2-2 minutes until the dough starts to come together. Push the dough and scraps together to form a ball with your hands.

Turn the dough out on a lightly floured flat surface and divide the dough in half with a knife.

Working with one half at a time, pat the dough into a disc with your hand, then roll the dough out with a rolling pin to 1/4 inch thickness.

Cut the dough with the cookie cutter, doing one cut out at a time, gently lifting each cookie and placing on the prepare baking sheets.

Repeat with the other portion of dough, pressing the leftover scraps together and rolling them out for cutting too, so as not to waste any dough.

Refrigerate the sheets of unbaked cookies for 20 minutes. Remove from the fridge and bake for 8-11 minutes until barely golden brown on the very edges. The length of cooking time will depend on your oven, so check at 8 minutes for soft cookies..baking for 11 minutes or slightly more will make the cookies crisper (but very good!)

Cool the cookies on baking racks.

MELT THE CHOCOLATE

Place some water in a medium-sized saucepan on the stove-top, and place a heat-proof glass bowl fitted on top. The sauce pan only needs an inch or two of water on the bottom, and you don't want the glass bowl to touch the water.

Add the white chocolate, and simmer until melted.

Let the chocolate cool for a few minutes, then transfer it to a plastic freezer bag. Push all the chocolate in one corner of the freezer bag, then snip off the very end with scissors and squiggle a little white chocolate on each cookie. Alternatively, you could drizzle the chocolate with a fork or spoon.

Sprinkle with dye-free sprinkles or decorative sugars.

Let the cookies set completely, about an hour.
Source:  Studio Delicious