If you've never tasted White Chocolate Peanut Butter Cups, its time to change that. These sweet treats are a fantastic riff on the milk chocolate standby. You can make these smaller by using a mini muffin pan, but why would you want to?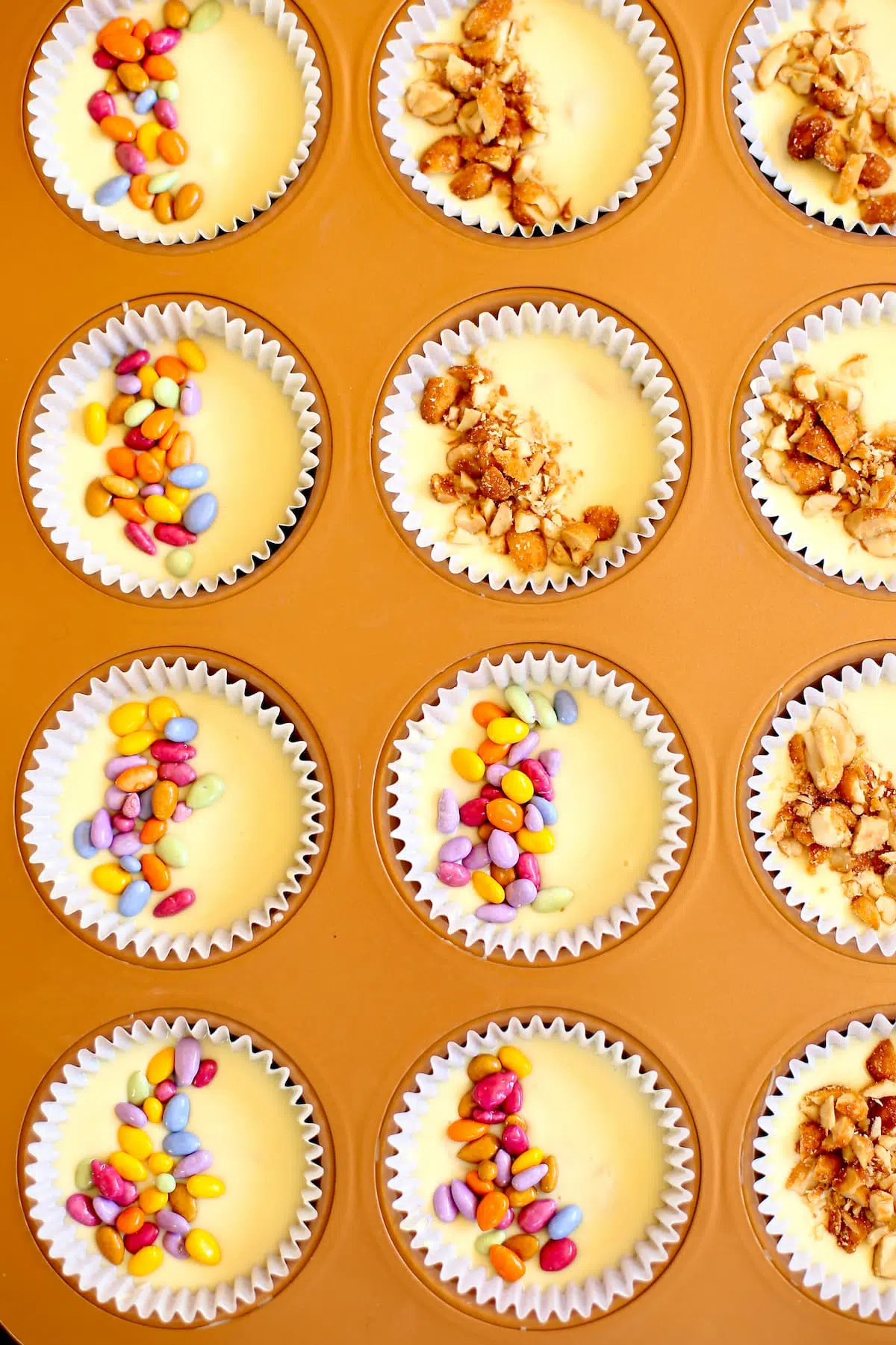 Jump to:
Why You'll Love this Recipe
If you've never tried white chocolate and peanut butter together, you really must change that. These homemade peanut butter cups are similar to Reese's Peanut Butter Cups, but this favorite candy has white chocolate and is made with simple ingredients.
Here's why they're so good:
White Chocolate is a dreamy confection—slightly soft in texture with delicate undertones of vanilla.
This peanut butter filling is creamy and perfectly sweet, but not too much.
Make the cups for gifting!…Valentines Day, Easter, Mother's Day.
The prep time on these treats is pretty quick, they aren't difficult to make
This is one of those easy recipes that's fun to customize. Use any sprinkles you'd like on top
Make mini cups if you prefer, just use a small cupcake pan and mini cupcake liners instead of regular size which is used here
If you love chocolate-dipped things with sprinkles, think about making these fabulous decorated chocolate covered strawberries too!
Ingredients You'll Need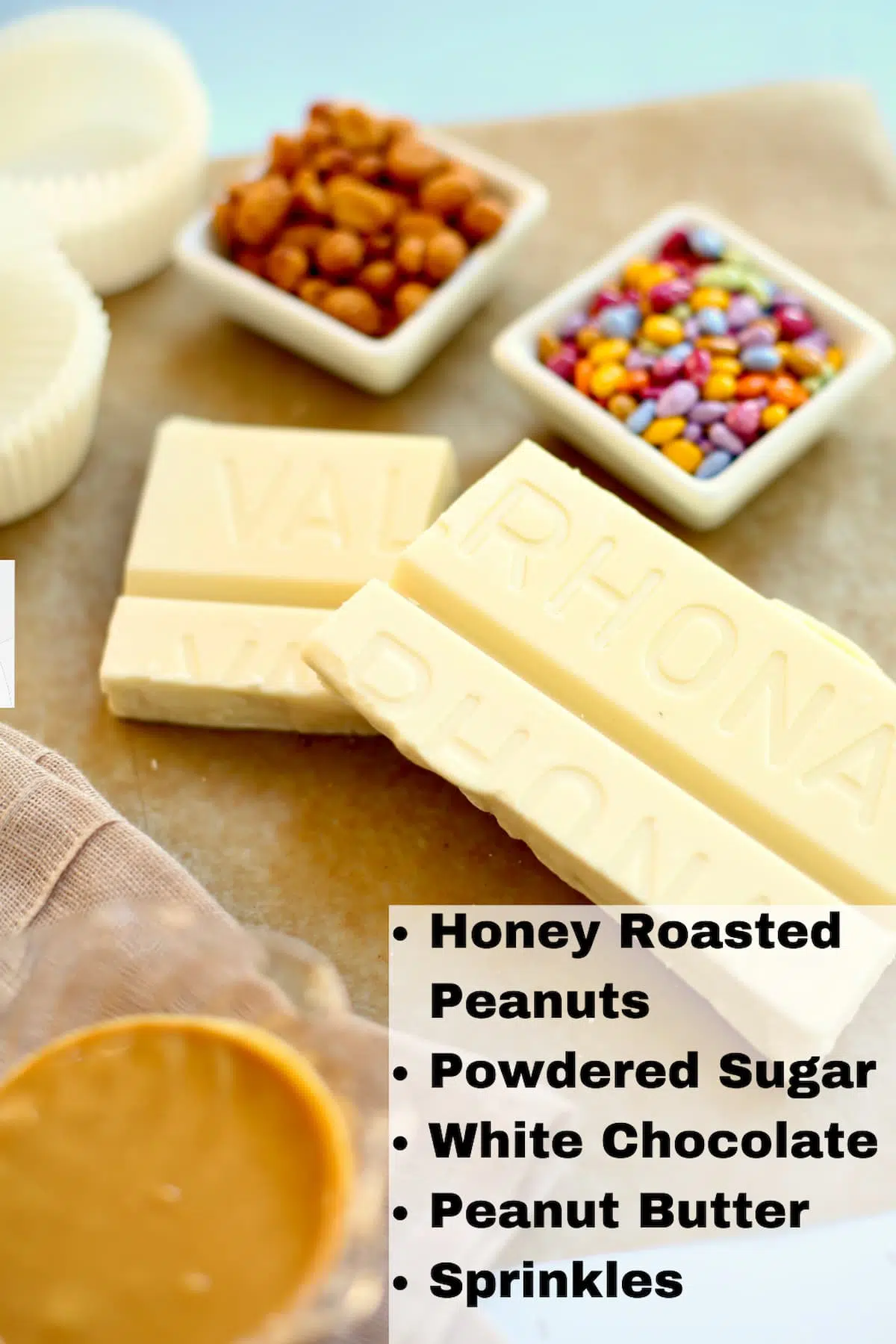 Here's a list of the main ingredients, and for the full recipe and list of instructions, please scroll to the recipe card below.
Peanuts: Honey roasted rule the day here. So, so good.
Peanut Butter: Smooth peanut butter is best, room temperature, and organic if possible!
Powdered Sugar: The secret ingredient to set the peanut butter 🙂
Butter and Sea Salt: Just a little of each
White Chocolate: Blocks or squares are best in this recipe (found on the baking aisle)
Sprinkles: A must for this recipe!
Step-by-Step Instructions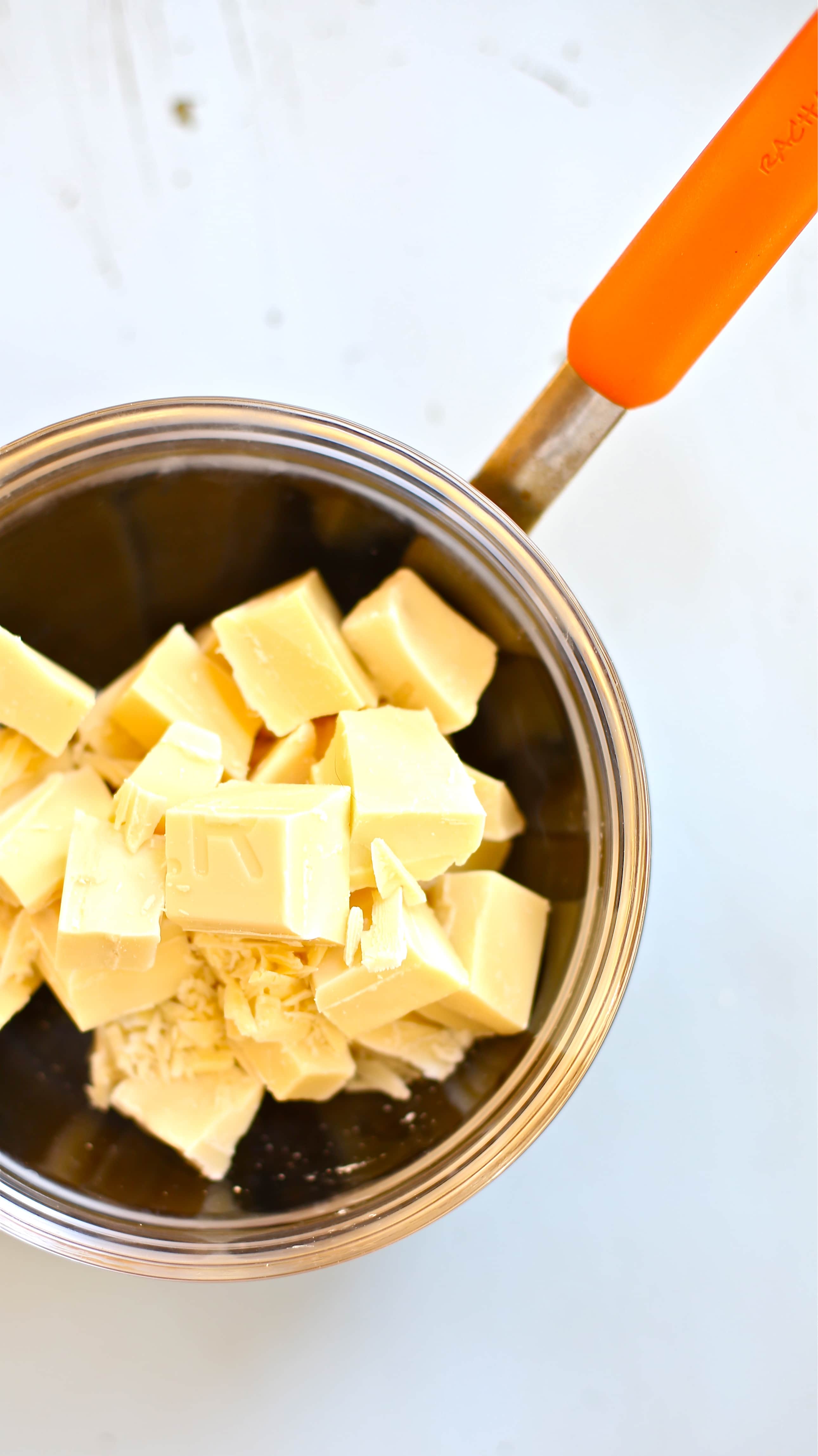 For the full list of instructions, please scroll down to the recipe card below.
Make the peanut butter filling, which is held together with a little powdered sugar
Melt chocolate in a double boiler or saucepan with a few inches of water and a microwave-safe bowl is the best way to do this
Assemble the peanut butter mixture and the melted chocolate inside the muffin tins with a paper cupcake liner
Sprinkle with chopped peanuts or sprinkles
Chill and enjoy!
Serving Ideas
There are so many ways to enjoy homemade candy, and here are just a few:
Use them as hostess gifts by wrapping in cellophane bags or a decorative box
Give a couple as a party favor, wrapped in a small gift bag with a cute ribbon
Include these on a dessert table for any occasion
Holidays like Valentine's Day, Easter, Mother's Day are a great time to make these fun treats
Some ideas of what to serve at a gathering like this are:
Tips for Success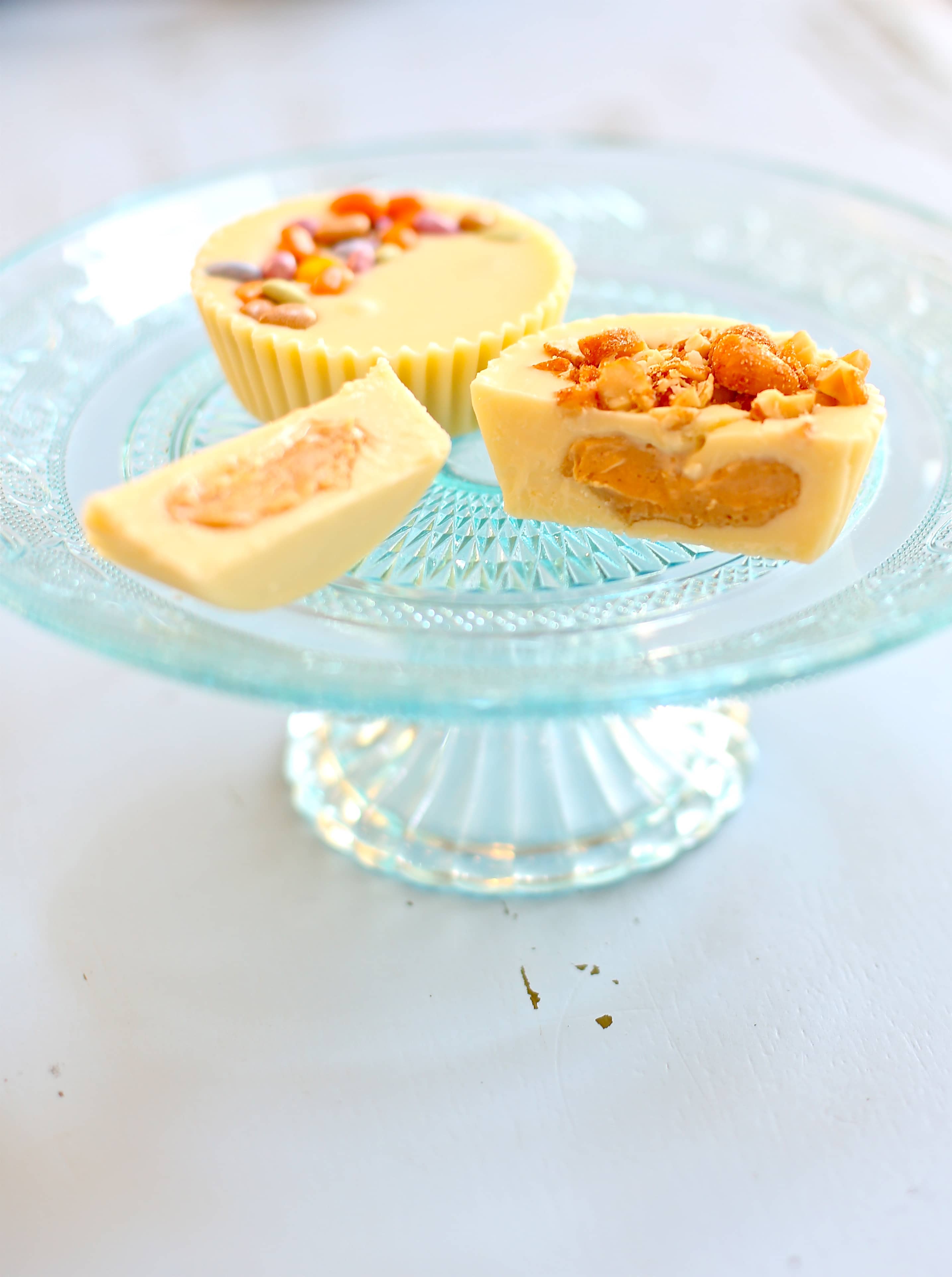 Use a good quality white chocolate if possible, since it's the star of the show. Avoid using chocolate chips as they don't melt quite as easily as bar chocolate (try Ghirardelli White Chocolate Baking Bars, in the baking aisle of well-stocked grocery stores)
There are lots of fun ways to use sprinkles on these homemade cups. Try chocolate covered sunflower seeds or just regular sprinkles too.
When scooping the peanut butter mixture on top of the chocolate, use the back of a small spoon to level the mixture out before adding the final layer of chocolate
Use regular chopped peanuts if you'd like instead of honey roasted. Sweet & salty is where it's at! 🙂
Avoid using natural peanut butter in this recipe, but organic peanut butter works great.
Frequently Asked Questions
Can I use a different kinds of toppings on these white chocolate peanut butter cups?
Yes! My toppings are just a suggestion! Regular chopped peanuts and any kind of sprinkles would totally work!
Can I use other nut butters instead of peanut butter?
I think so! I didn't test other types of nut butters in this recipe, but I think nut butter cups made with almond or cashew butter would be delicious!
Cam I use chunky peanut butter instead of creamy?
I don't see why not! The creamy peanut butter does give a nice contrast to the crunchy topping, so there's that to consider 🙂
Can I make these in larger quantities for holidays?
Yes! This recipe is easy to double. You can also make this simple treat in a small muffin tin with mini muffin liners.
How do I store the peanut butter cups?
These cups are fine for a day or two, and will last a few days longer refrigerated in an airtight container.
More Recipes to Try:
If you've tried White Chocolate Peanut Butter Cups, or any recipe on Studio Delicious, I'd love to hear about it in the comments below!
Looking for more tips and fresh, homemade recipes? Join my email list, tag and follow me on Instagram using #studiodeliciouseats, follow my boards on Pinterest, and see what I'm up to on Facebook and Twitter!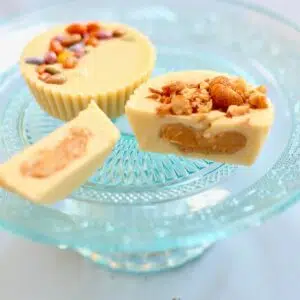 White Chocolate Peanut Butter Cups
This is a fantastic riff on the old milk chocolate standby. Make these even smaller with a mini muffin pan too!
Print
Pin
Rate
Ingredients
For the PEANUT BUTTER FILLING

1/2

cup

Peanut butter, creamy

1/2

cup

Powdered Sugar

plus more as needed

1

tablespoon

Butter, room temperature

1/2

teaspoon

Salt
For the WHITE CHOCOLATE

1

pound

White chocolate, good quality, chopped into chunks. See recipe notes.

16 ounces

3

tablespoons

Honey Roasted Peanuts, chopped

3

tablespoons

Sprinkles
Instructions
Make the PEANUT BUTTER FILLING

Mix together peanut butter, powdered sugar, butter and salt with an electric mixer until smooth. It will be thick enough to form a small ball in your hands. If the mixture is too sticky, add a tablespoon of powdered sugar at a time, beating it with the mixture after each addition. It may take 2 or 3 extra tablespoons to form a small ball in your hand.

Melt the CHOCOLATE

Fill a medium saucepan with a couple of inches of water and place on medium heat.

Add the chopped chocolate to a medium-sized heat proof bowl that will fit comfortably inside the saucepan, but not touching the water.

Melt the chocolate in the bowl on medium low heat, stirring occasionally until most of the chocolate is melted. Remove from heat and carefully place the bowl of melted chocolate aside, continuing to stir until all the chocolate bits are melted.

Assemble the PEANUT BUTTER CUPS

Line a standard size 12 cup muffin tin with disposable mini or regualar muffin tin liners. Spoon slightly less than a tablespoon of the melted white chocolate in the bottom of each.

Measure a heaping teaspoon of the peanut butter mixture and flatten it gently with your fingers, then place it on top of the white chocolate in each cup.

Spoon another tablespoon of the melted white chocolate over the top of each cup, making sure to cover the peanut butter layer.

Gently tap the baking tray flat on a flat surface to release any air bubbles.

Sprinkle a teaspoon of the chopped peanuts or sprinkles if using on top of each cup to decorate.

Refrigerate the cups for at least 30 minutes to set the candy, then remove and serve.
Notes
It's best not to use white chocolate chips if you can help it..better to buy a bar of white chocolate and chop it yourself.
I used chocolate covered sunflower seeds as decoration, but any kind of sprinkles will work.
Nutrition
Calories:
320
kcal
|
Carbohydrates:
32
g
|
Protein:
6
g
|
Fat:
20
g
|
Saturated Fat:
9
g
|
Cholesterol:
10
mg
|
Sodium:
189
mg
|
Potassium:
196
mg
|
Fiber:
1
g
|
Sugar:
30
g
|
Vitamin A:
40
IU
|
Vitamin C:
1
mg
|
Calcium:
82
mg
|
Iron:
1
mg
Tips for Success with Every Recipe
Super important to read the whole recipe before you begin
Pay attention to the ingredient list and photos for the recipe
If possible, prep your ingredients a little before you start
Always use a sharp knife for safety
Use the size of pan called for in the recipe
For savory recipes, taste and season as you go
Buy fresh, organic ingredients, locally sourced whenever possible
Don't Miss a Recipe!
The original post of this recipe was February, 2019, and the text is below:
I just ate two giant cookies from yesterday's all-day baking session. I fear this is a problem since it's just 7:00 am and there are at least twelve hours until bedtime. The likelihood of healthier food til then is slim to none, since I've set the tone for the day so to speak.
Some of you may be rolling your eyes, thinking this girl has a big fat case of denial! Two cookies won't ruin the whole day! But I've got homemade White Chocolate Peanut Butter Cups on the kitchen counter too, you see.
Right next to those cookies, waiting patiently for me to bite them. I mean, I'm not really doing my job if I don't eat a couple of everything, right?
These precious candies are the unicorn of the peanut butter and chocolate genre. Maybe you usually skip right over white chocolate, thinking it's just not as good. SO not true. White Chocolate is a dreamy confection—slightly soft in texture with delicate undertones of vanilla. And the peanut butter filling is creamy and perfectly sweet, but not too much.
This is a sweet indulgence to enjoy slowly and mindfully, savoring each little nibble. Fair warning— this is a big piece of candy. Like a jumbo version of the size you buy in the orange package.
My logic is, if they were small you'd probably eat two anyway, so why not save yourself time? 🙂