This Ginger Spice Biscotti with White Chocolate recipe is made so much better by dunking the ends in melted white chocolate, and adding a few pistachios on the top for extra crunch and saltiness. Amazing!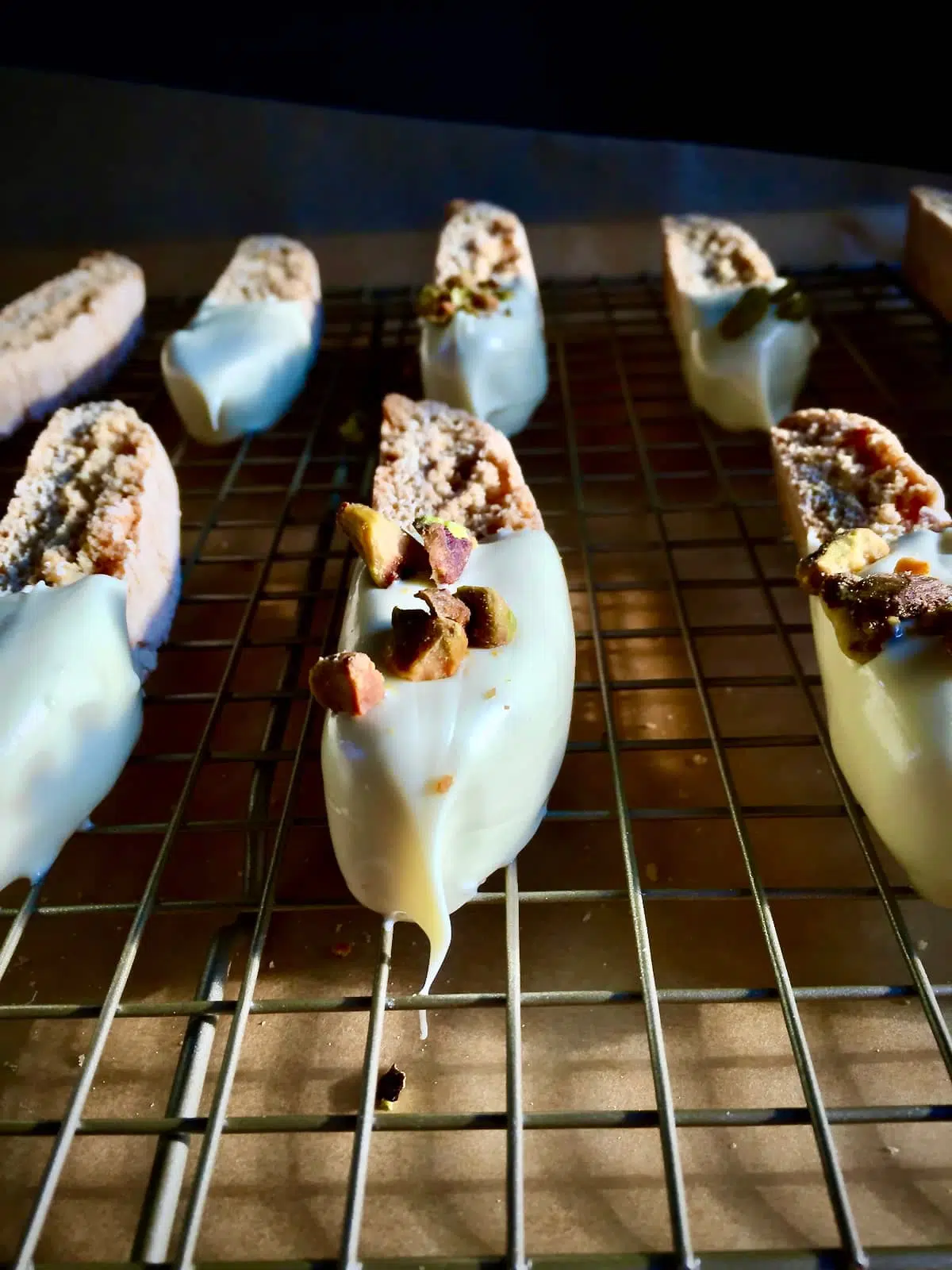 Jump to:
Why You'll Love this Recipe
Warm spices like ginger are wonderful in cookies…especially in winter when we're looking for something to dunk in our favorite hot chocolate!
Biscotti is fun to make, and great for a cookie exchange
This is an easy cookie even though it's baked twice
Candied ginger really makes the flavor in the cookies, but he white chocolate sends them over the top, and the chopped pistachios sprinkled on top are festive and tasty
Why not host a cookie exchange? Some good choices besides the biscotti are White Chocolate Snowflake Cookies and these soft and delicious Lemon Shortbread Cookies.
Love cookies? Try these Triple Chocolate Cookies too!
Ingredients You'll Need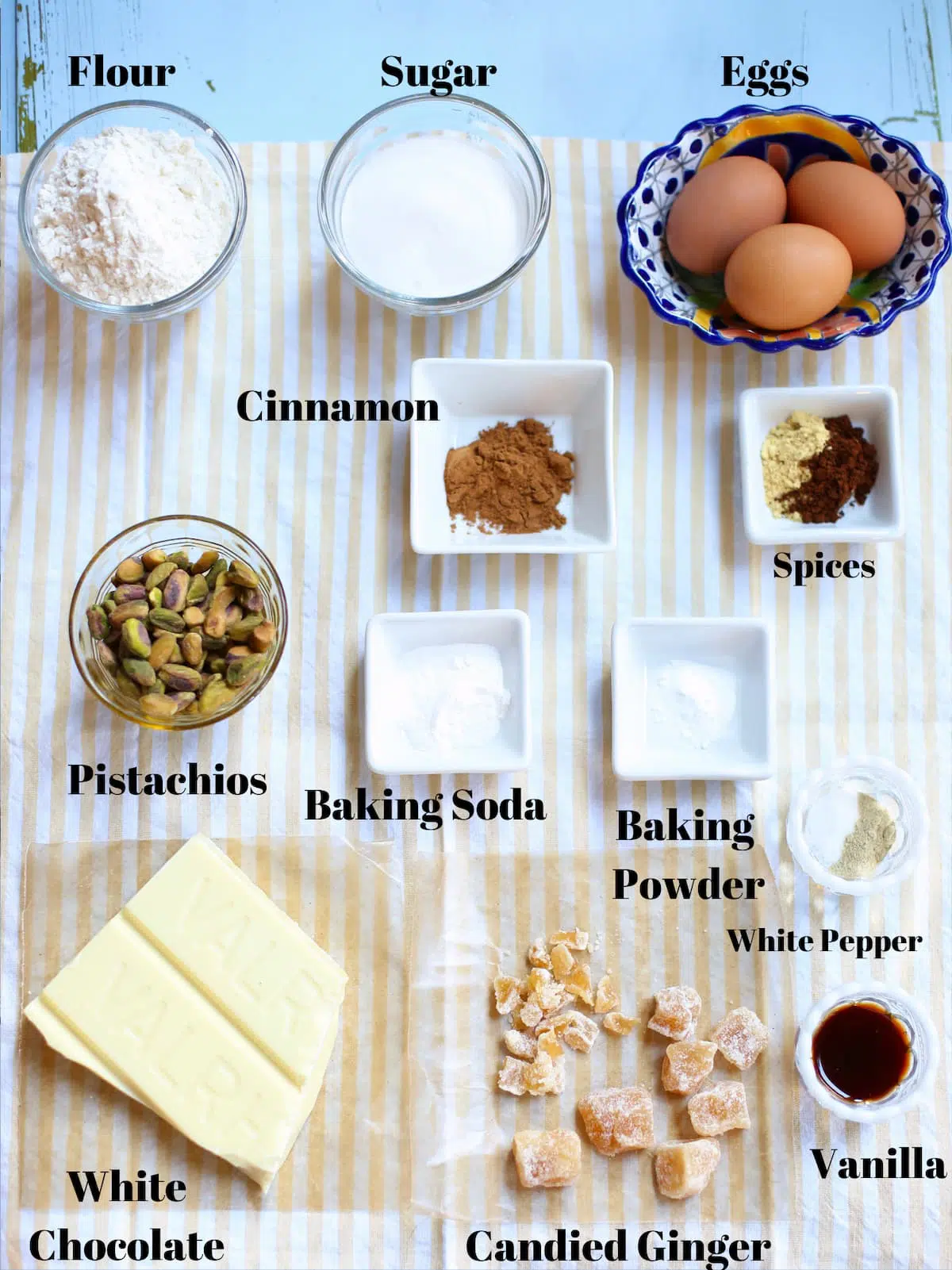 For the full recipe, please scroll down to the recipe card below, but here are the key ingredients:
Flour and Sugar: All-purpose flour and Bakers Sugar if you have it, otherwise regular granulated sugar.
Eggs and Spices: These cookies can handle a lot of spice!
Baking Powder and Soda: For a lift and browning (and if you want to geek out on a full explanation of using both, here's a good article from Fine Cooking).
White Pepper and Candied Ginger: To give these biscotti a mildly spicy kick
Pure Vanilla Extract: For the best cookie flavor
White Chocolate and Pistachios: For color, texture and flavor.
Step-by-Step Instructions
Preheat oven temperature to 350F degrees. Combine a cup of sugar with three eggs in a large mixing bowl
Use a whisk to combine.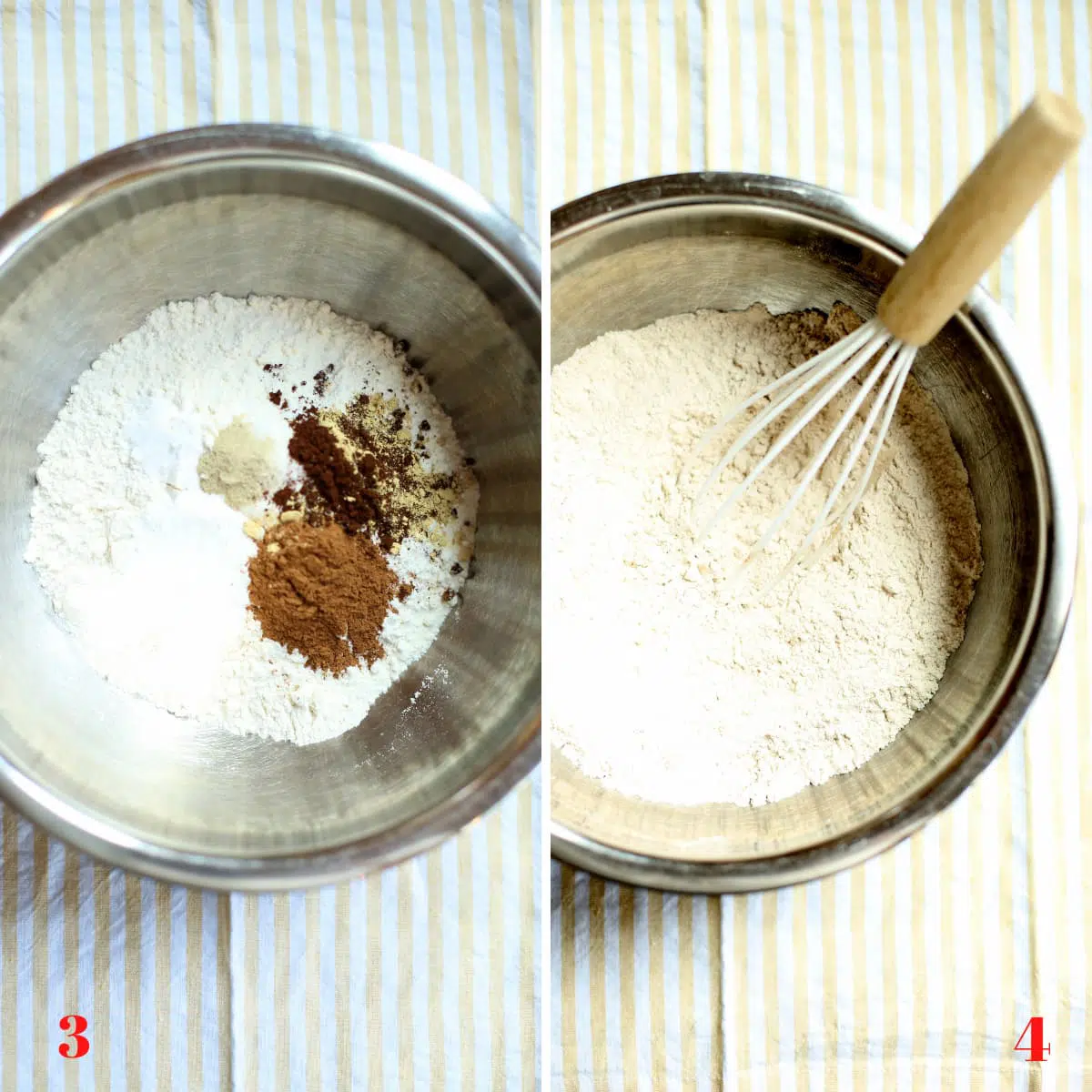 3. In a separate bowl measure out the dry ingredients. A large bowl is good for this.
4. Whisk the dry ingredients together to combine.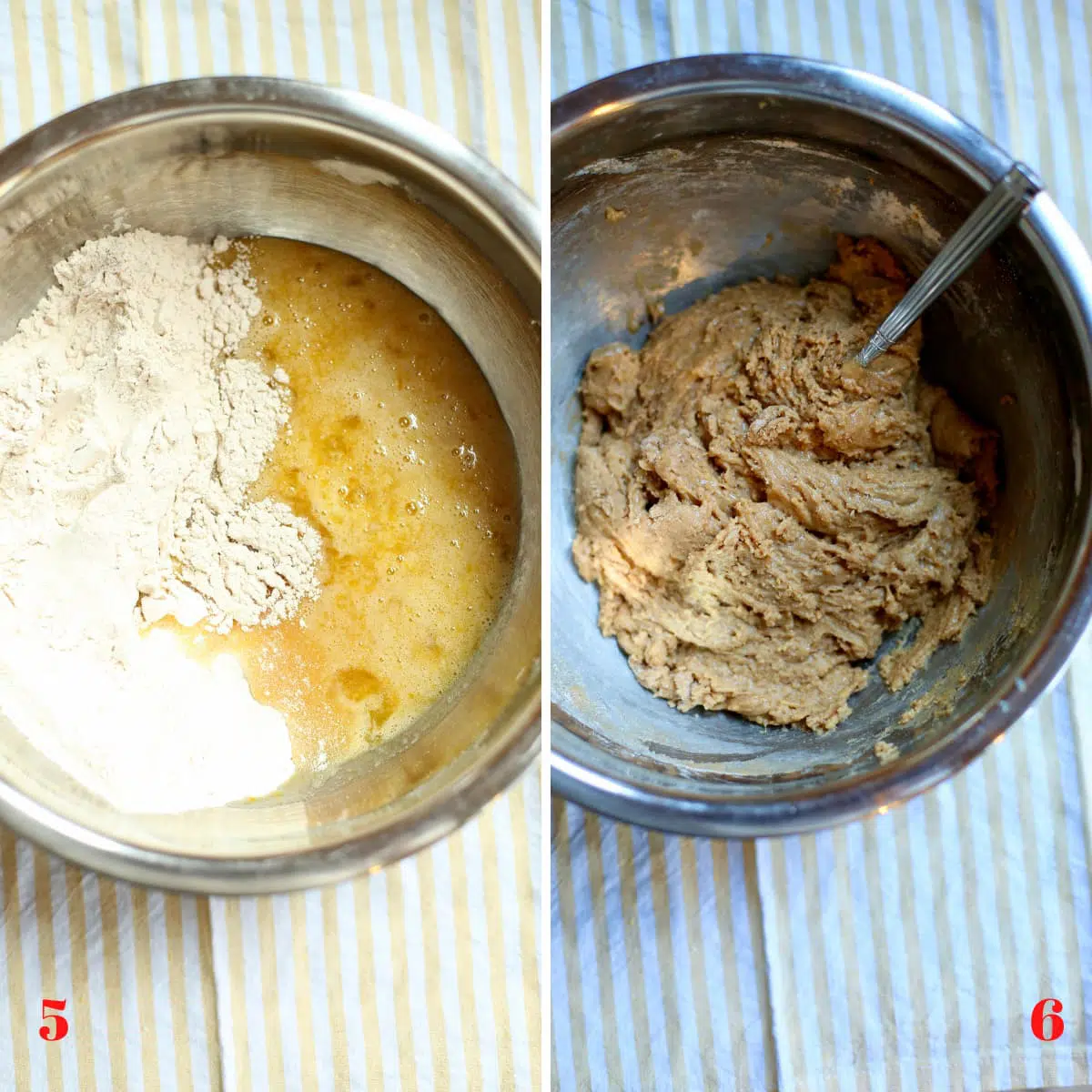 5. Add the wet ingredients to the flour mixture.
6. Stir the flour and the wet ingredients together to combine, and the candied ginger. No electric mixer needed!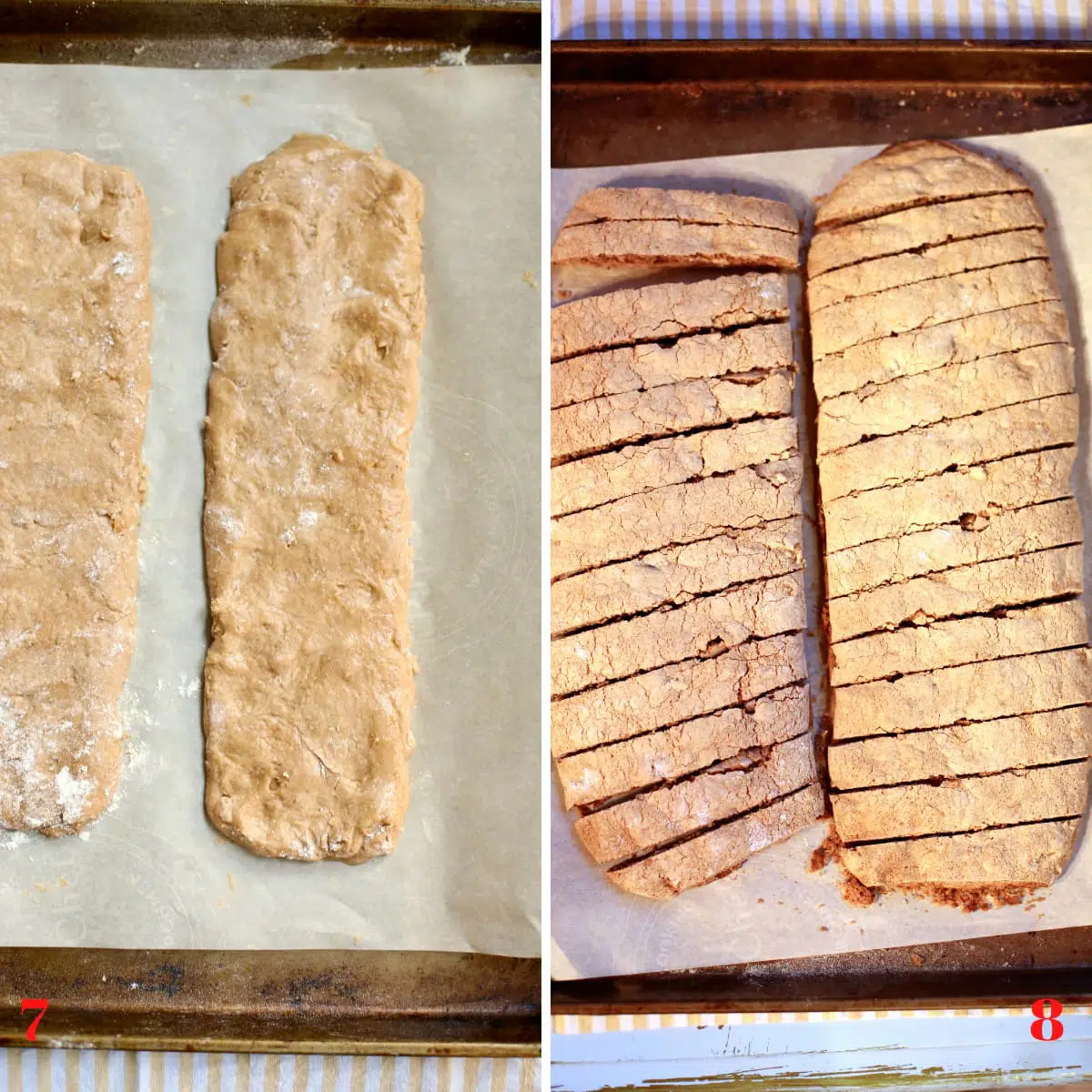 7. Divide dough into two sections on a large baking sheet lined with parchment paper, shape them into two oblong loafs about 12 inches long and 2 inches wide. This doesn't need to be perfect! For the first bake, go for about 30 minutes.
8. Let them cool for 10 minutes, then cut logs with a serrated knife (you can move them to a cutting board) into 2-inch-thick slices. From here, you'll bake them again for 15 minutes, cut side down until light golden brown.
Turn biscotti once during the baking time, the let them cool completely before dunking in melted chocolate and sprinkling with chopped pistachios.
Tips For Success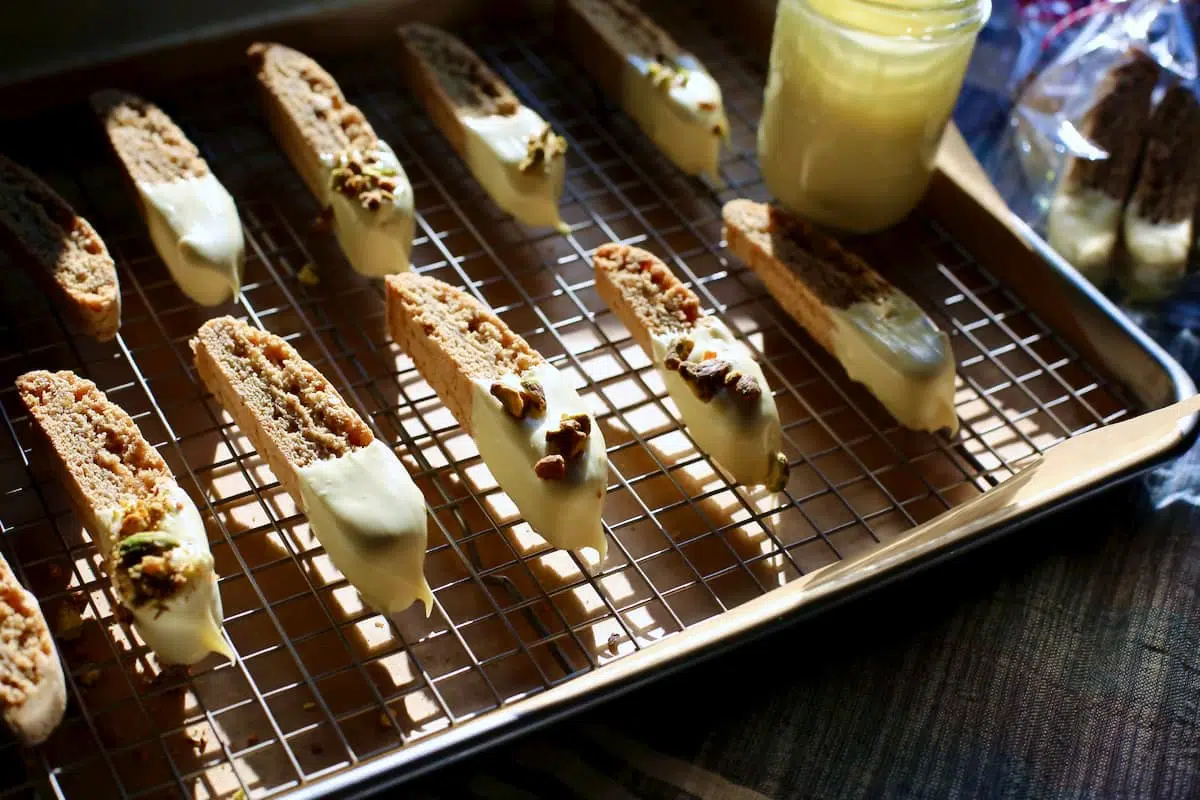 "Biscotti" is an Italian word that literally means "twice baked" and that's what these cookies are. Shape and bake the first time, then slice them into portions and bake again.
Be sure to let the cut biscotti cool completely before dunking in melted white chocolate.
Biscotti can be stored in an airtight container, with wax or parchment paper on top of each layer. They will keep for up to 2 weeks.
You can refrigerate the dough up to 3 days before baking. Make the dough into a log shape and wrap with plastic wrap.
Be sure to use a lined baking sheet to bake the cookies, and cool logs for just ten minutes before slicing and baking the second time.
Serving Ideas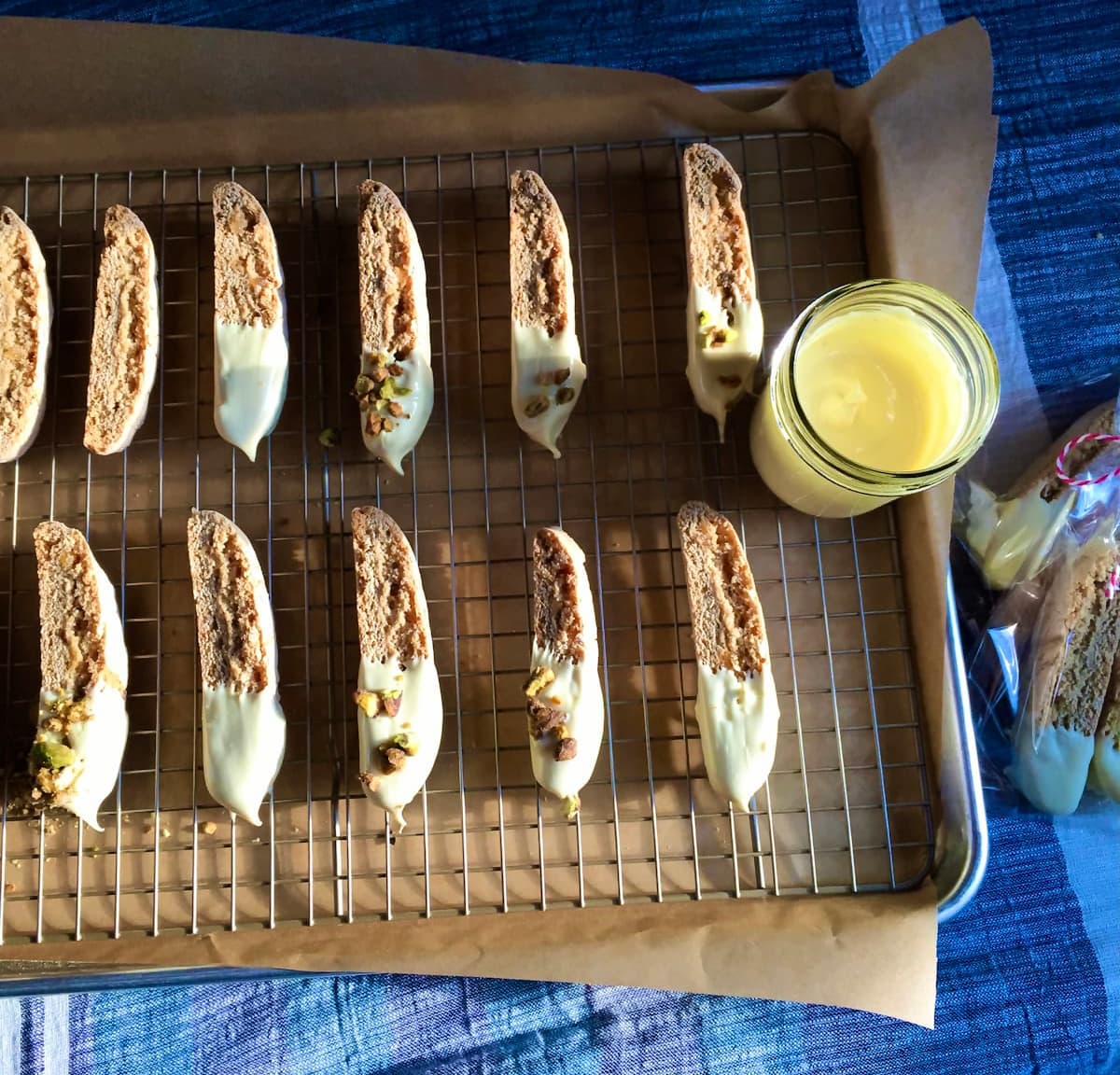 Frequently Asked Questions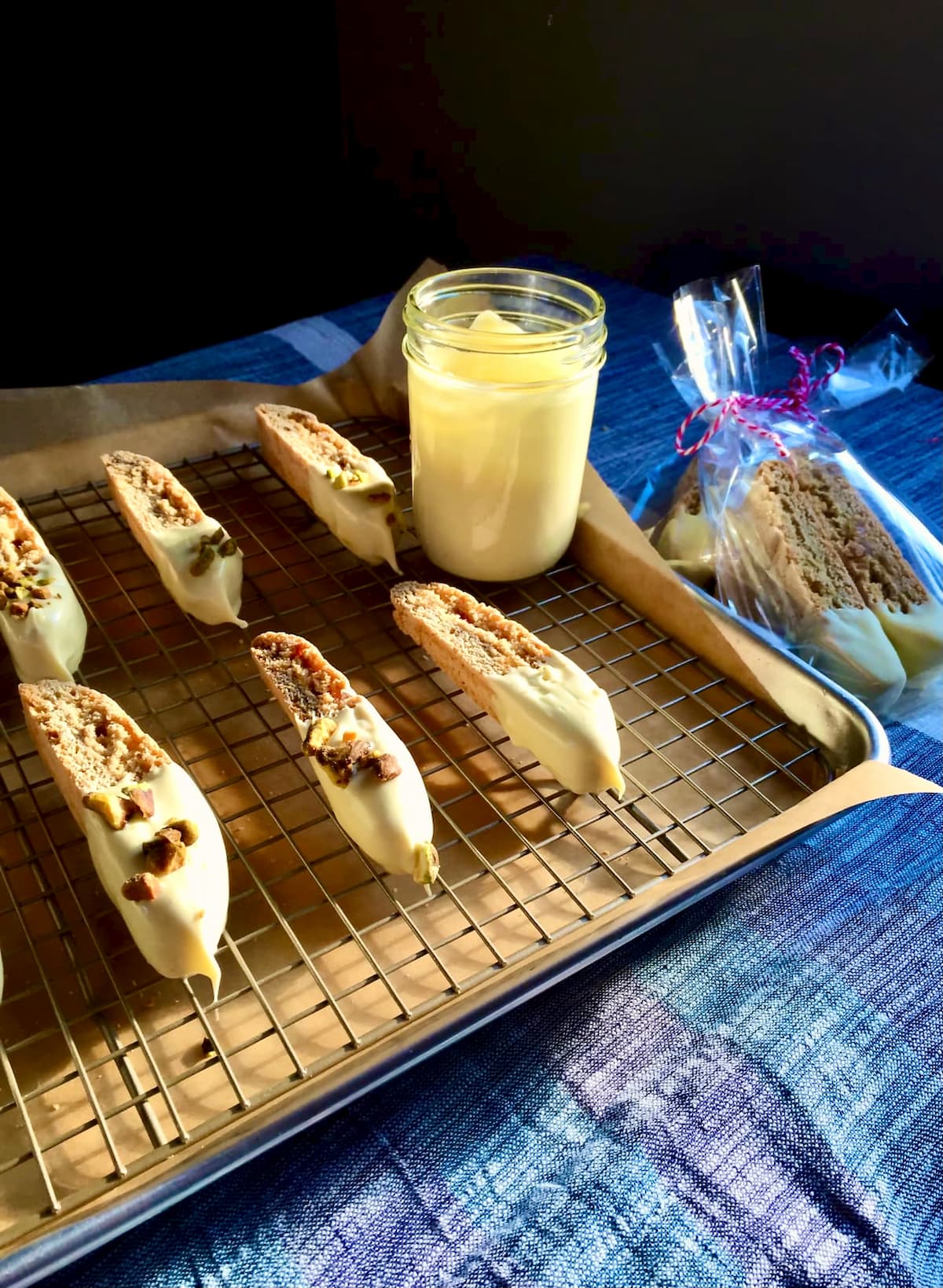 Can I use regular chocolate instead of white?
Absolutely. Use milk or dark, they will be delicious.
Can I use a different nut than pistachios?
You can! I think I'd start with chopped salted almonds, but almost any nut will work!
How to store these cookies and for how long?
Store the biscotti in an airtight container for up to 2 weeks. I divide the layers of cookies with wax or parchment paper too.
More Recipes to Try
If you've tried Ginger Biscotti with Pistachios, or any recipe on Studio Delicious, please leave a 5 star rating and tell me about it in the comments below, I'd love to hear about it!
Looking for more tips and fresh, homemade recipes? Join my email list, tag and follow me on Instagram using #studiodeliciouseats, follow my boards on Pinterest, and see what I'm up to on Facebook and Twitter!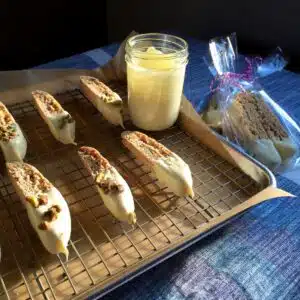 Ginger Biscotti with Pistachios
This Ginger Spice Biscotti with White Chocolate recipe is over the top delicious and great any time of year
Print
Pin
Rate
Ingredients
2 ¼

cups

All-purpose flour

1

teaspoon

baking powder

½

baking soda

½

teaspoon

ground cloves

1

teaspoon

ground cinnamon

½

teaspoon

ground ginger

¼

teaspoon

salt

¼

teaspoon

ground white pepper

1

cup

sugar

3

large eggs

1

teaspoon

pure vanilla extract

¼

cup

minced candied ginger

5

ounces

melted white chocolate

for dipping

Chopped pistachio nuts or almonds

For garnish
Instructions
Heat oven to 350, and adjust rack to middle of oven. Line a baking sheet with parchment paper. Combine the flour, baking powder, baking soda, cloves, cinnamon, ginger, salt, and white pepper in a small bowl, whisk these dry ingredients together to combine.

In a large bowl, whisk sugar and eggs until light yellow in color. Add vanilla. Mix the dry ingredients into the bowl until a dough forms.

Halve the dough and turn each portion onto the baking sheet. With some flour on your hands, quickly stretch each portion of the dough into a rustic 12 by 2 inch loaf, with the loaves about 3 inches apart.Smooth the top down, and bake until golden and beginning to crack on top, about 35 minutes, rotating the sheet halfway though the baking.

Cool loaves for just 10 minutes, and reduce oven temp to 325 degrees. Cut the loaves diagonally into 3/8 inch slices with a serrated knife. Place each cut slice cut side up about 1/2 inch apart on baking sheet and return to oven. Bake until crisp and golden on both sides, about 15 minutes, turning each cookie over half way through the baking. Remove from oven and cool completely on a wire rack, then dunk in melted white chocolate. Top with chopped pistachio or almonds. Cool until set and serve.
Notes
Be sure to let the cut biscotti cool completely before dunking in melted white chocolate.
Biscotti can be stored in an airtight container, with wax or parchment paper on top of each layer. They will keep for up to 2 weeks.
Use milk or dark chocolate instead of white if you'd like.
Use almonds or other chopped nuts instead of pistachios if you'd like.
Nutrition
Calories:
161
kcal
|
Carbohydrates:
30
g
|
Protein:
3
g
|
Fat:
3
g
|
Saturated Fat:
2
g
|
Cholesterol:
29
mg
|
Sodium:
53
mg
|
Potassium:
77
mg
|
Fiber:
1
g
|
Sugar:
17
g
|
Vitamin A:
40
IU
|
Calcium:
36
mg
|
Iron:
1
mg
Tips for Success with Every Recipe
Super important to read the whole recipe before you begin
Pay attention to the ingredient list and photos for the recipe
If possible, prep your ingredients a little before you start
Always use a sharp knife for safety
Use the size of pan called for in the recipe
For savory recipes, taste and season as you go
Buy fresh, organic ingredients, locally sourced whenever possible
Don't Miss a Recipe!
This post was created in 2016 and was updated with new photos and improved instructions December, 2022.
Original Post:
A while back my brother and I were at a party, surveying the appetizer offerings. The table was packed with deli-style cheeses, crackers and meats still in the plastic tray from the supermarket, alongside a giant pile of worn-out looking cut vegetables, more than you could ever eat in your whole life. In the center of all this pre-made party stuff was ranch dressing dip presented in a hollowed-out sourdough roll – the kind you get when you pay extra.
Anyway, I made a little sandwich of two butter crackers, a piece of dried salami and yellow cheese. I dunked it halfway into the ranch dressing, as my brother watched in approval ( genius!) and stuffed the whole thing in my mouth right then and there.
It was GOOD!
We ate many more, shoving them in our mouths as fast as we could put them together.
The point here folks is don't be afraid to take something sort of plain and think about what might make it taste even better.
Enter biscotti. Plain tasting, for sure. Boring and uninspired most of the time. It's rare I'll order one in a bakery, and I never buy the cellophane wrapped single serving kind at the check-out counter.
What I did was start with a basic recipe for biscotti from Cooks Illustrated, amped up the spices, then folded in some luscious chopped candied ginger.
Once that was baked and cut and baked again, I dunked them in velvety melted white chocolate.
Oh my.
These simple additions made all the difference. I looked forward to eating them, which I suppose isn't a stretch.
These taste even better a day or two after you make them. This is a nice perk if you were thinking of hosting a coffee break at the office.
That's what I did, and everybody loved them.