These Butterscotch Shortbread Cookies Dipped in Chocolate are scrumptious and easy to make. This is adapted from Chef Gail Simmons recipe, and trust me, you'll want to make these delicious cookies year round, with or without the dipped chocolate.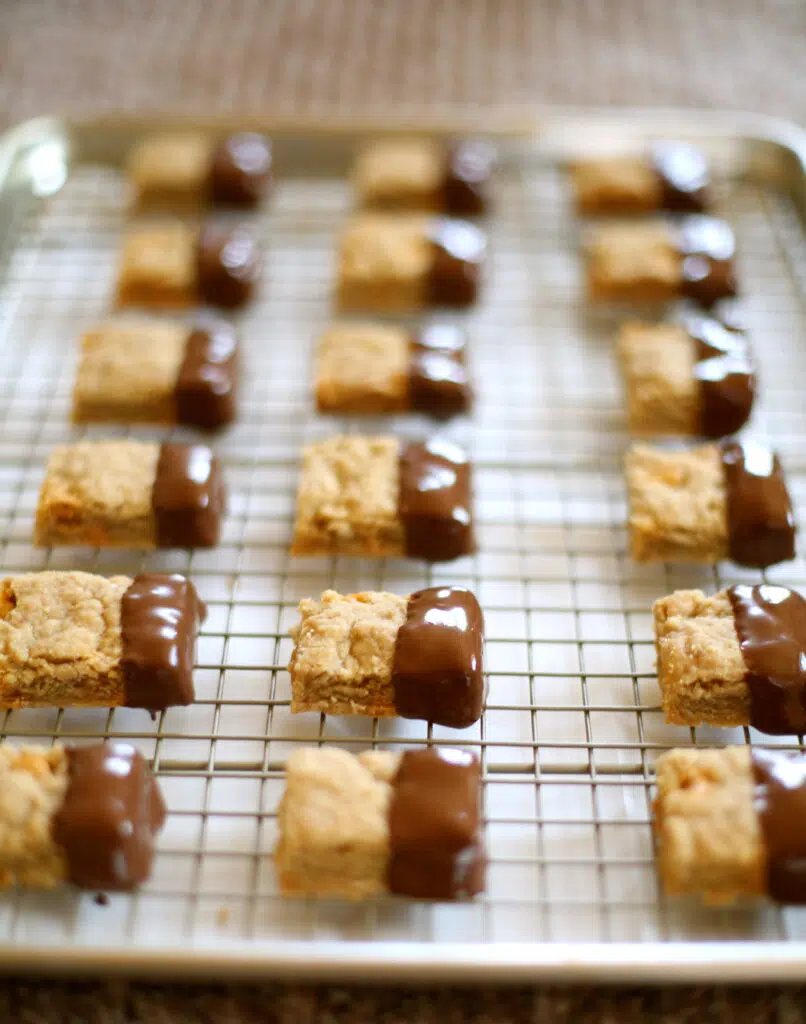 Butterscotch Shortbread Dipped in Chocolate
In my house, you can't say "cookie" without two giant Labrador Retrievers coming to get one. No matter how quietly you say it, they somehow hear the word and come running, with slobbery, happy faces ready for a treat.
It's impossible to turn them down.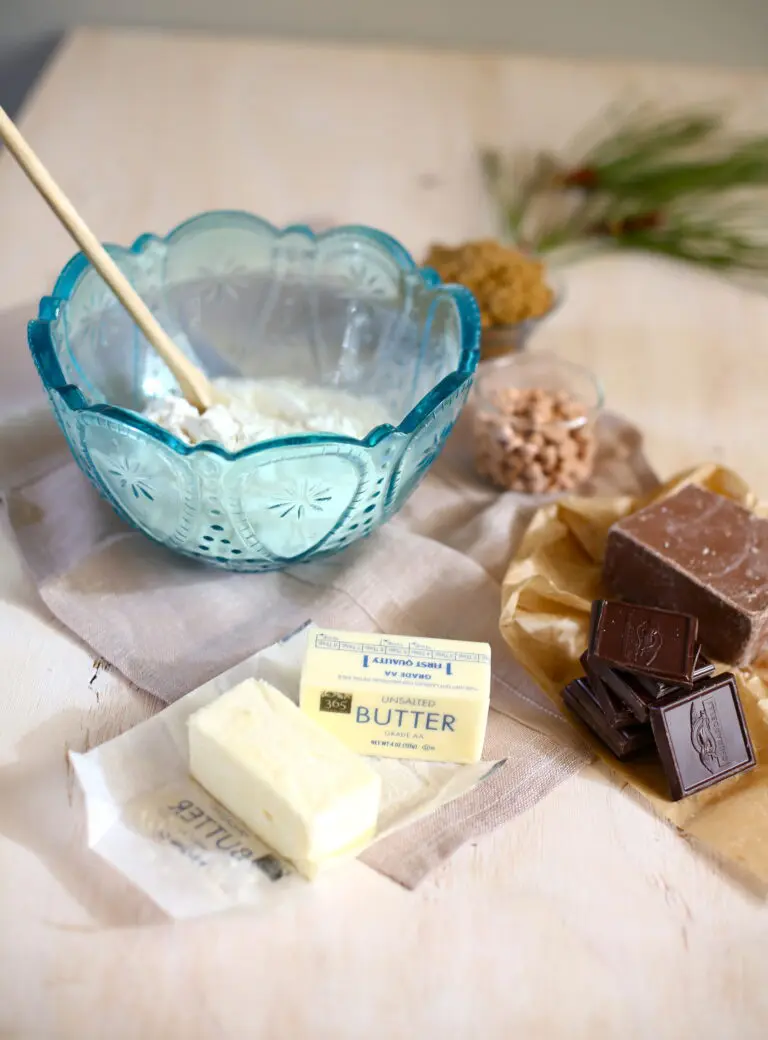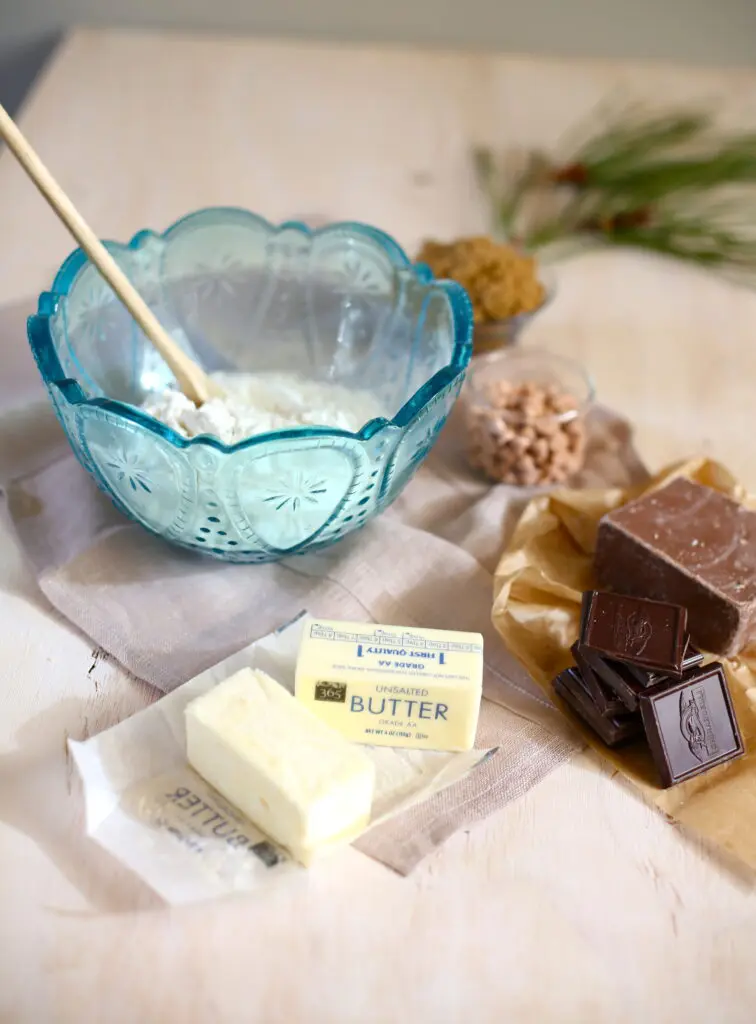 Cookies are a form of payment for everything with these two dogs, no matter how small the task. Want me outside? Give me a cookie. Are we going for a walk? Cookies, please. Rub my ears and pat my head? You guessed it.
They are such sophisticated hustlers they've even trained me to give them a cookie after I go potty 🙂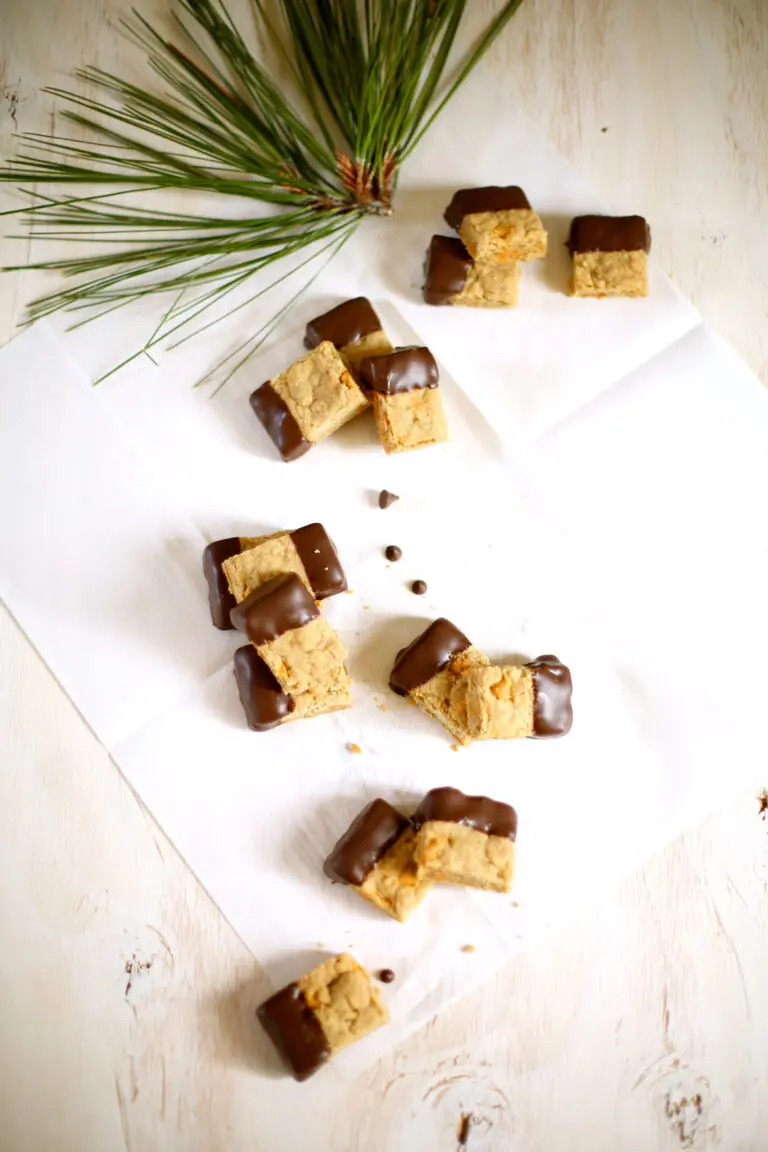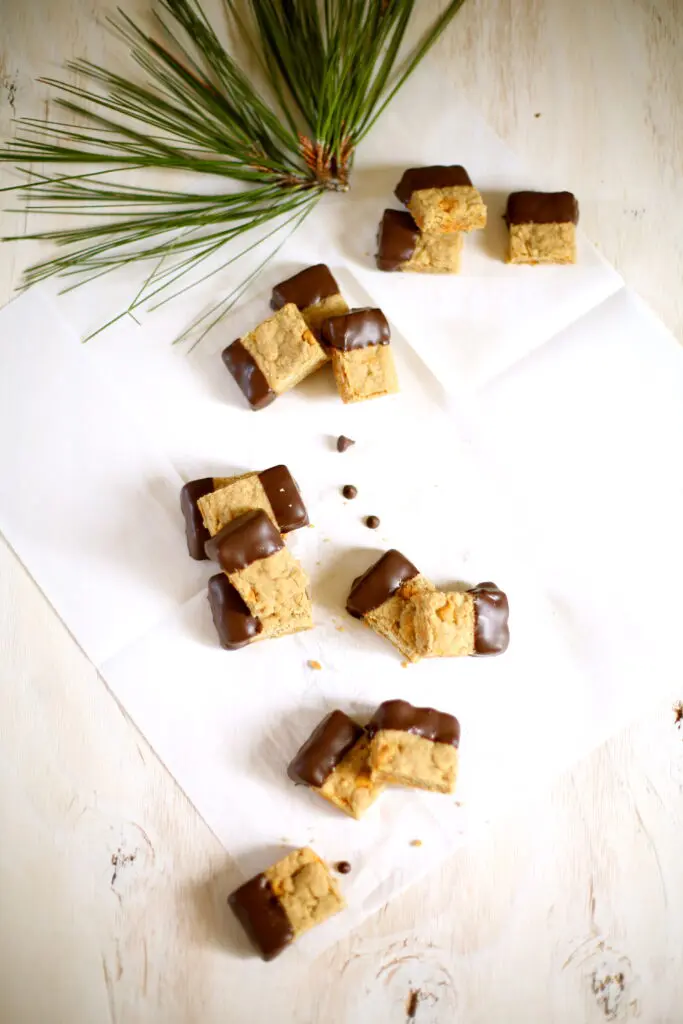 I have baked at least a million cookies in my life so far, and unfortunately, eaten many of them myself.
Cookies make you happy, so I totally get why my dogs take such extreme measures to get one.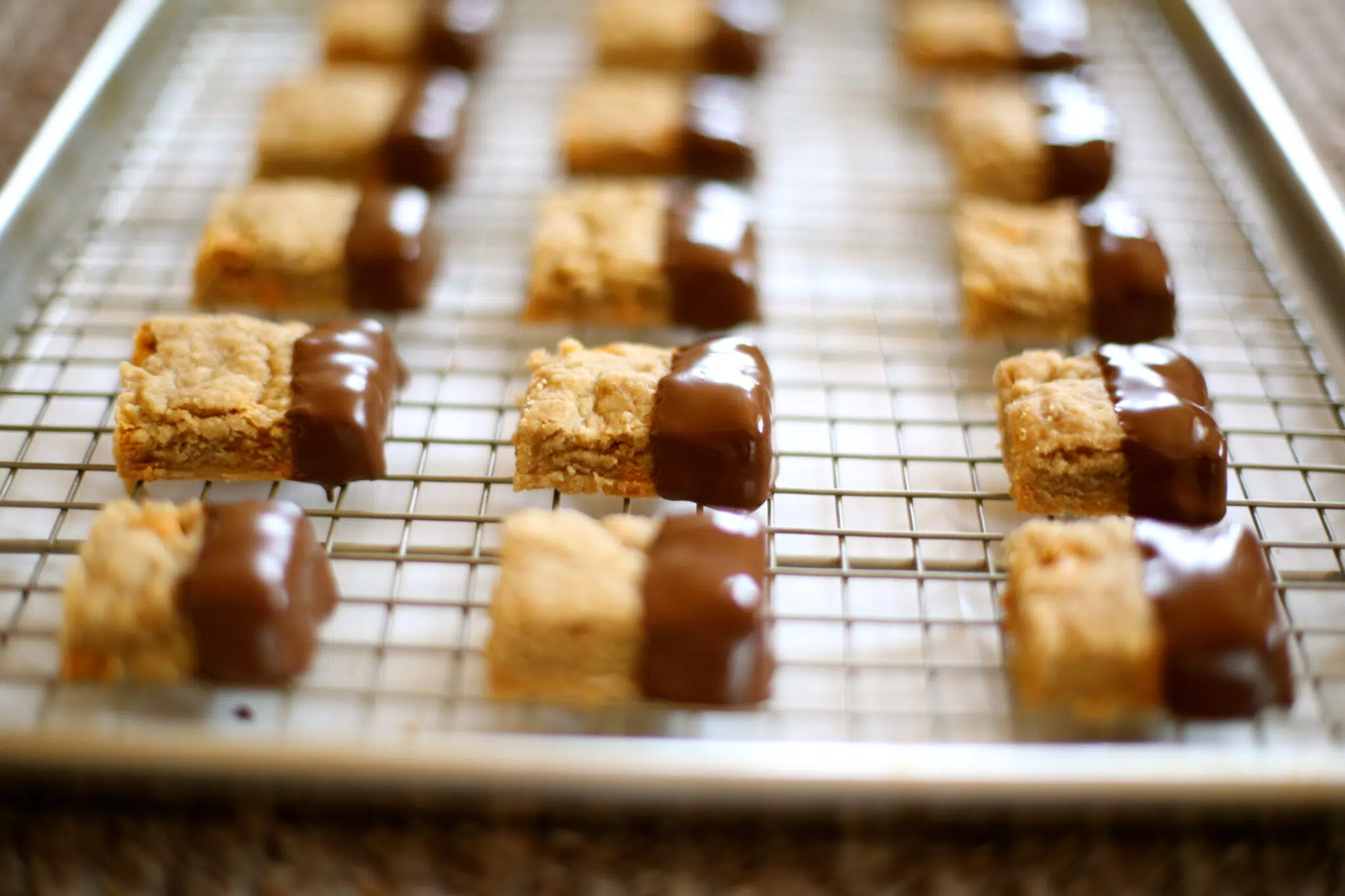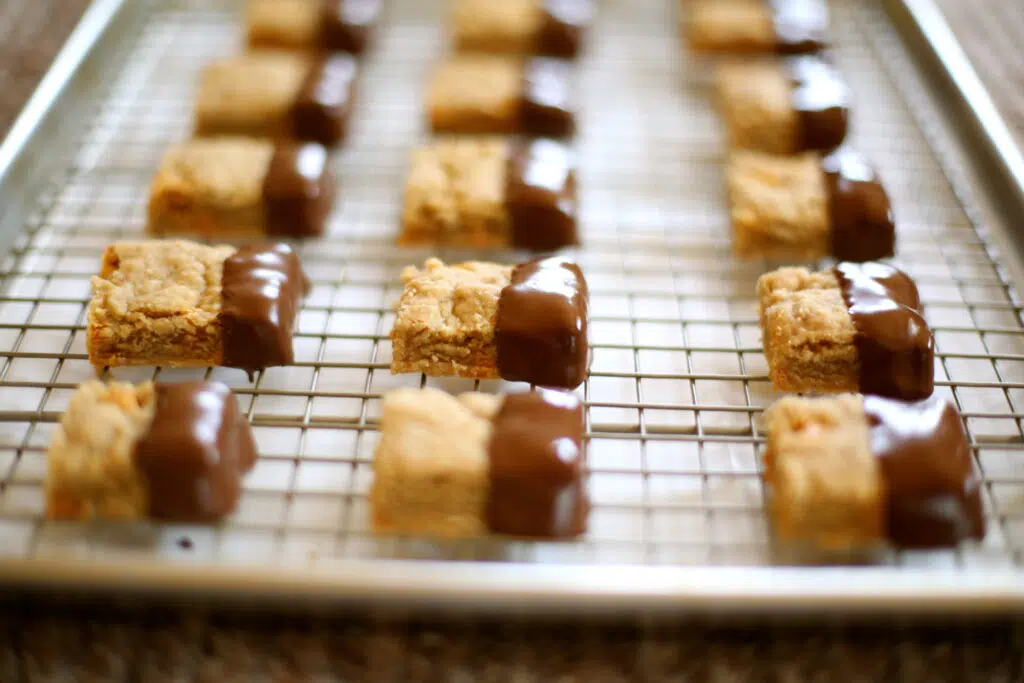 Here's a fun fact: I have read People magazine faithfully since I was 14 years old. I don't know that I've ever missed an issue, even the editions with the Dugger's and the latest news of their 20 kids.
In between stories about the Kardashian's (who is their publicist?) I stumbled on this world-class recipe for butterscotch shortbread bar cookies dipped in chocolate.
I made them, and as Khloe might say they were like seriously? I'm not even totally kidding? These are like the totally best, best ever.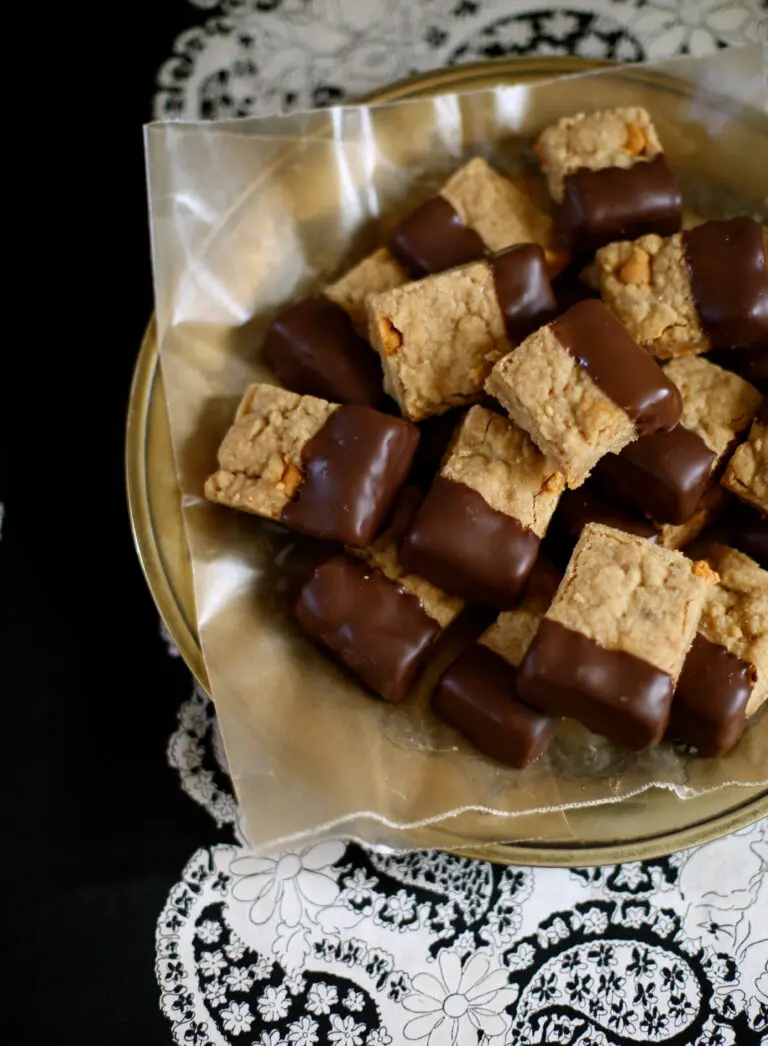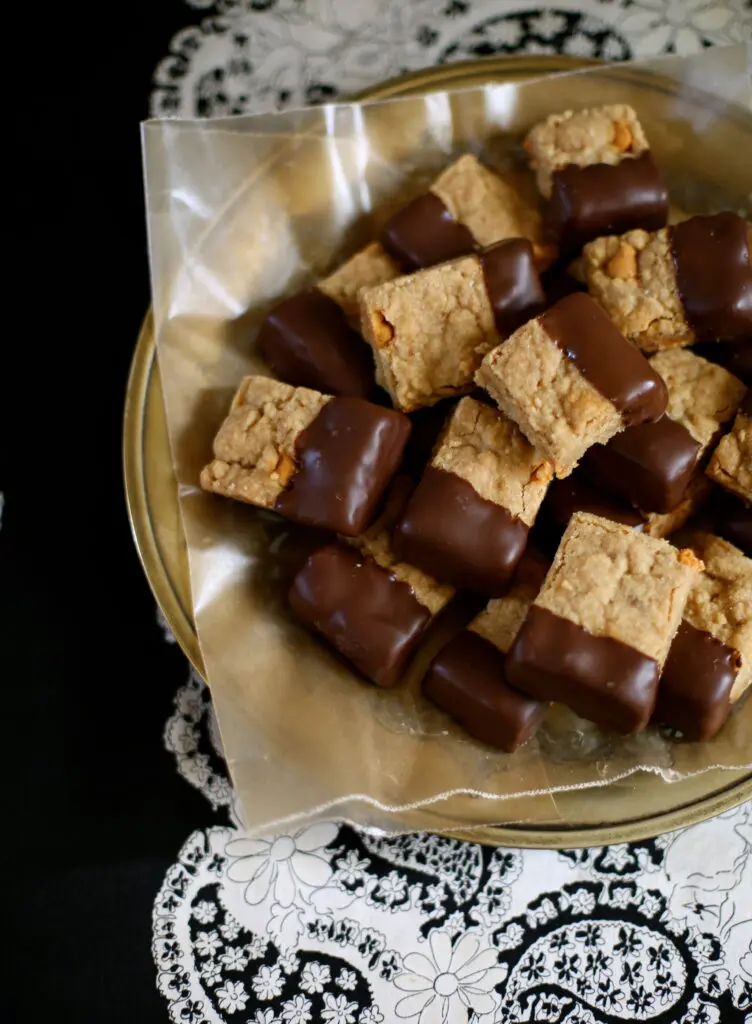 Close your eyes for a minute and remember the best shortbread you've ever had. I'll wait.
Now imagine that delightfully crumbly shortbread with a butterscotch-y taste too, that makes you so crazy with delight you can't stand it.
I wish I could see your face with the first bite.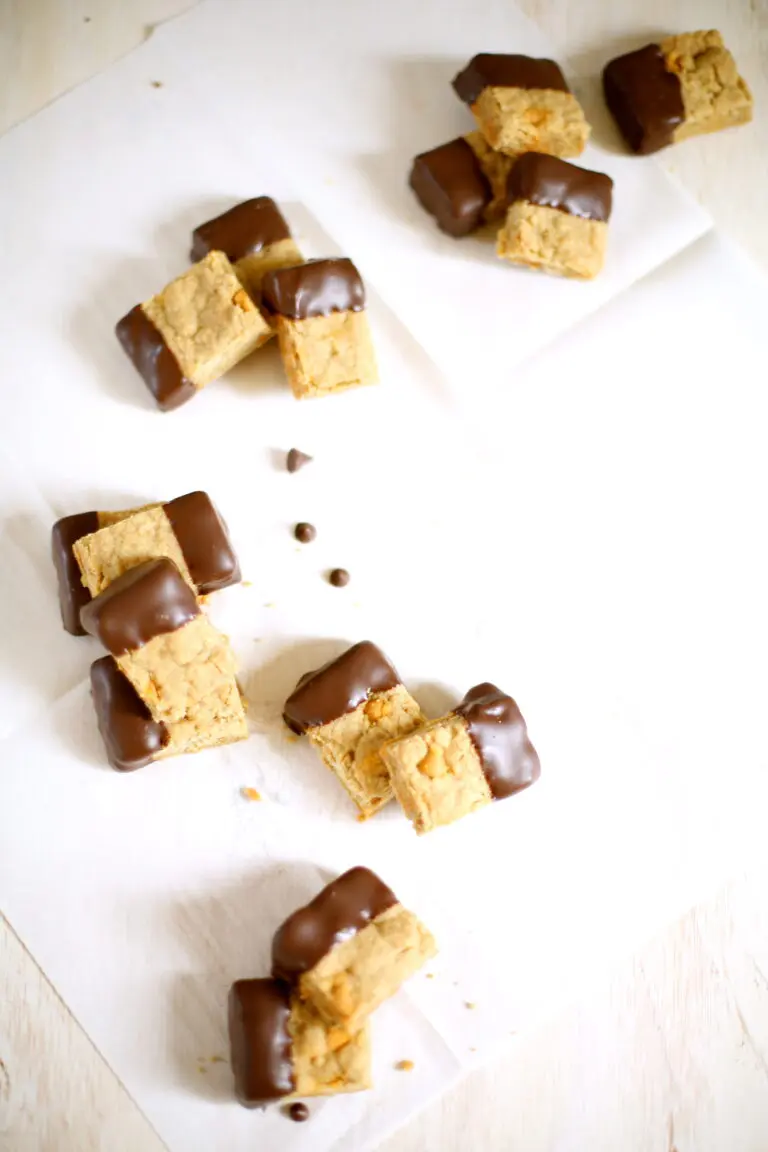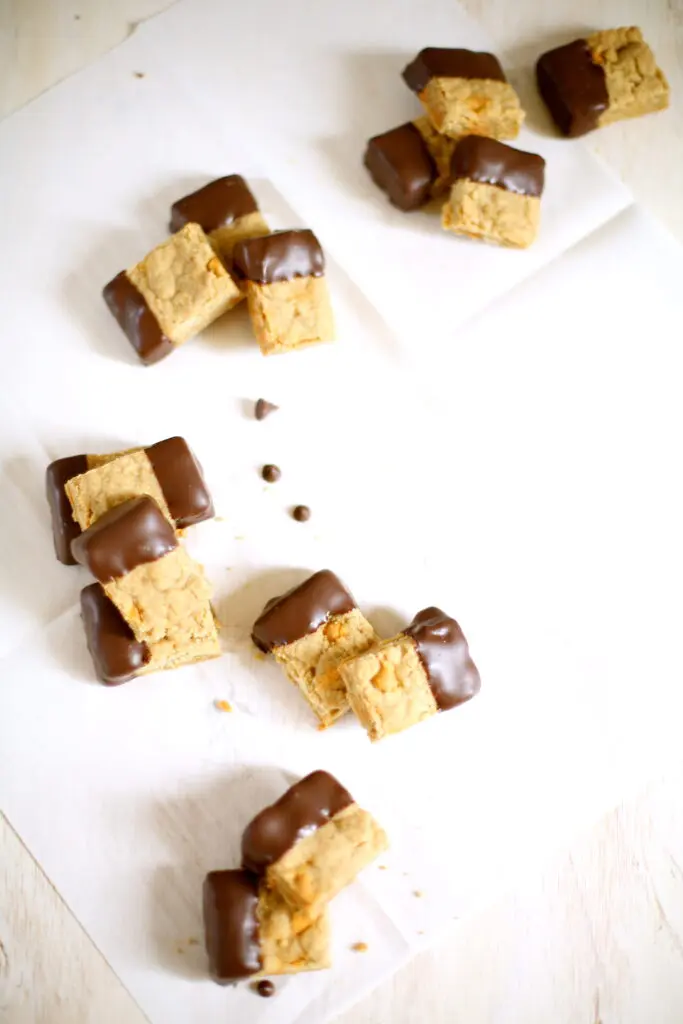 Better take a small plate of them with you back to the couch, so you'll have them handy.
My final thought on these is do not even consider skipping the chocolate- dipping part. It takes the cookies to a whole different level and will have everyone in your house coming back for more.
Source: Studio Delicious, barely adapted from
Gail Simmons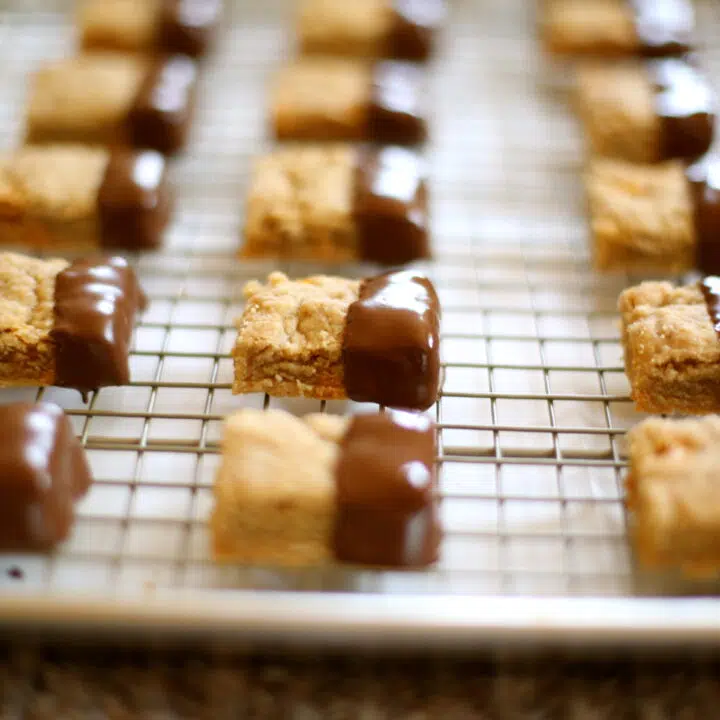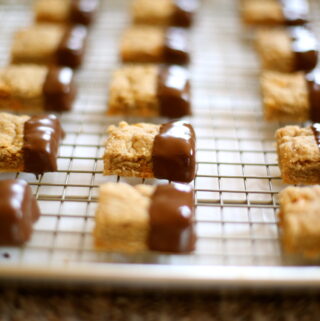 Butterscotch Shortbread Dipped In Chocolate
Butterscotch Shortbread dipped in chocolate are an all-time favorite recipe, an easy riff off traditional shortbread cookies
Print
Pin
Rate
Ingredients
2

sticks

Butter, unsalted, softened and cut in cubes

3/4

cup

Dark Brown Sugar

2

teaspoons

Pure Vanilla Extract

2

cups

Flour, all-purpose

1

teaspoon

Salt

1/2

cup

Butterscotch Chips

4

ounces

Dark Chocolate

4

ounces

Milk Chocolate
Instructions
Pre-heat the oven to 300, with the rack placed in the lower third of the oven.

Grease a 9 x 9 inch non-stick baking pan with butter or cooking spray.

MAKE THE SHORTBREAD

In a medium bowl using a hand mixer, beat butter and sugar on medium high speed until light and fluffy, about 3 minutes.

Add the vanilla, reduce speed to low, then add the flour and salt and mix until just combined.

Mix in the butterscotch chips with a wooden spoon until evenly distributed.

Press the dough lightly into the prepared pan using a rubber spatula and refrigerate for 20 minutes.

Score the dough with a knife of bench (pastry) scraper into eighths one direction and quarters in the other to make 32 rectangular cookies.

Before placing in the oven, lightly pierce the dough all over the top with a fork.

Bake the bars until firm and slightly golden brown on the edges, about 50-60 minutes (in my oven it was 55 minutes.)

Immediately cut through the scoring with a sharp knife or bench (pastry) scraper to separate the bars. Leave them in the pan to cool completely.

DIP THE COOKIES IN CHOCOLATE

Melt the dark and milk chocolate in a small sauce pan with shallow water and a bowl fitted on top (shallow enough not to let the bowl touch the water) on medium heat. Stir occassionally until melted and combined. You can also melt the chocolate in the microwave, 30 seconds at a time, stirring after each 30 seconds until all the chocolate is melted.

Remove the cookies from the pan and place on a cookie rack lined sheet pan or a parchment paper lined cookie sheet.

Dip half of each cookie in the melted chocolate, scraping any excess lightly with the side of the bowl, and place back on the baking sheet. Allow the cookies to set, about 30 minutes.

Store in an airtight container in the refrigerator for up to 2 weeks.
Notes
To prep the pan for baking, I spray the bottom and sides with a natural cooking spray, then place a fitted piece of parchment paper inside with a flap hanging over two sides, then spray it again.
The extra spray holds the parchment in place, and the whole thing can be easily pulled from the tray by lifting the flaps of the parchment. This is the technique I use for any bar cookie using a square pan.
This recipe was updated in December 2019
Nutrition
Calories:
99
kcal
|
Carbohydrates:
17
g
|
Protein:
1
g
|
Fat:
3
g
|
Saturated Fat:
2
g
|
Cholesterol:
1
mg
|
Sodium:
86
mg
|
Potassium:
51
mg
|
Fiber:
1
g
|
Sugar:
10
g
|
Vitamin A:
3
IU
|
Calcium:
9
mg
|
Iron:
1
mg
Tips for Success with Every Recipe
Super important to read the whole recipe before you begin
Pay attention to the ingredient list and photos for the recipe
If possible, prep your ingredients a little before you start
Always use a sharp knife for safety
Use the size of pan called for in the recipe
For savory recipes, taste and season as you go
Buy fresh, organic ingredients, locally sourced whenever possible