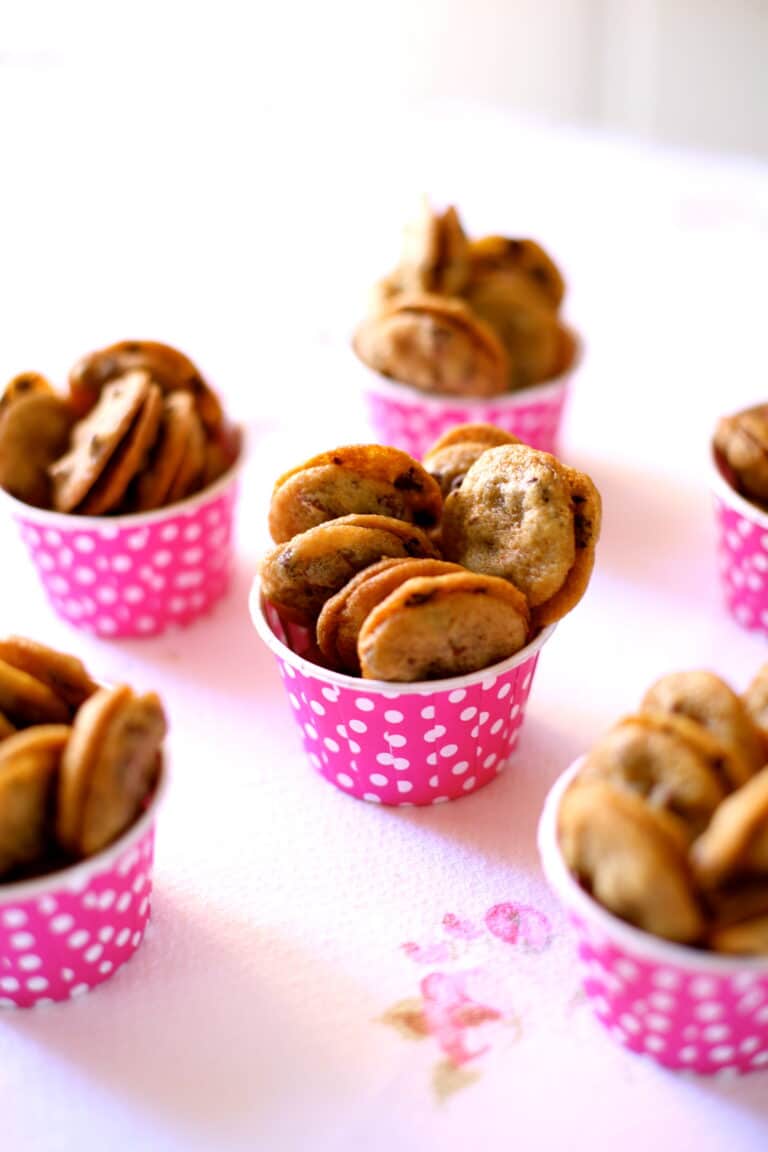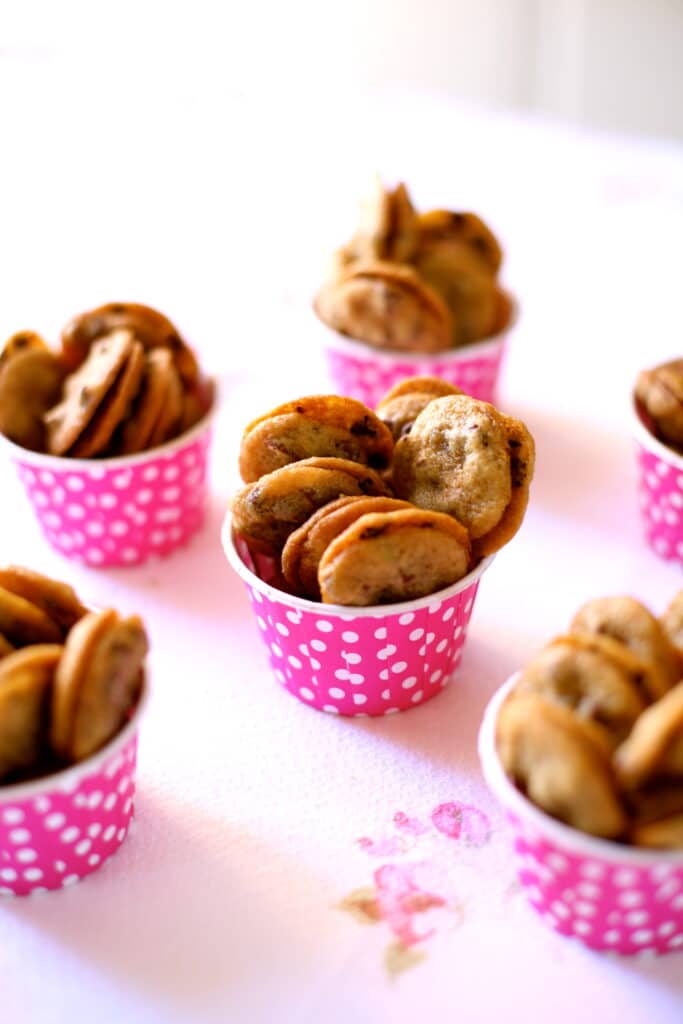 I have never been tiny.
Chances are good I never will be.
This isn't necessarily a bad thing, though not according to my doctor, but that's another story.
When it comes to sweets, I'm all for the trend to bake miniatures.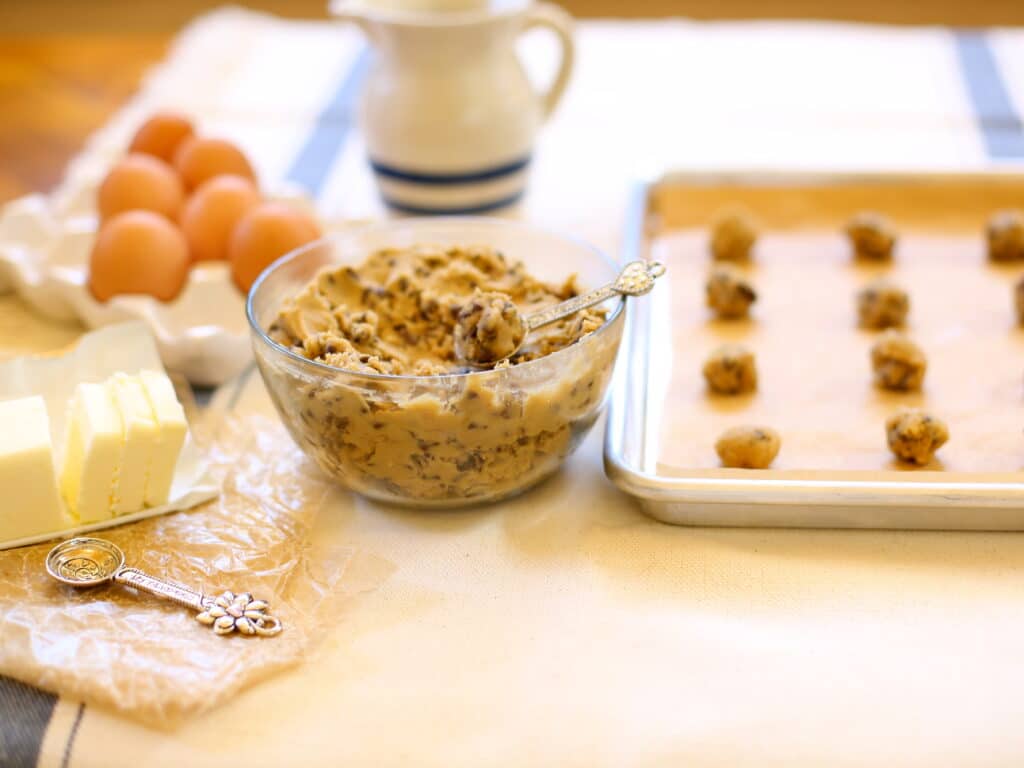 It makes eating dessert much more manageable, and you can have it more often. It also helps the person eating the dessert feel less guilty.  Unless you never feel guilty, in which case good for you 🙂
Who doesn't like chocolate chip cookies?  Not one person, ever.
Even if they aren't your personal favorite, I bet you wouldn't turn one down if you were on a desert island or something.
Especially a warm one, right out of the oven.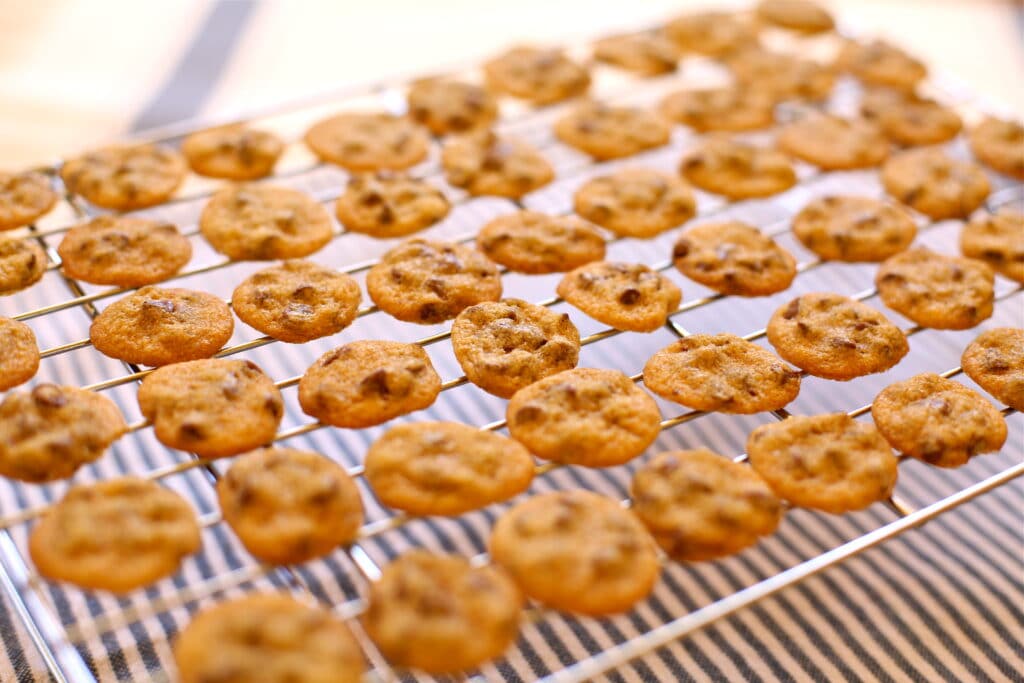 I'll fess up and admit I had 8 of them, right away. While this was a little piggish, it was easily rationalized since each cookie is only a little larger than a quarter.  No problem.

And tiny is fun!
These little guys have great flavor and there are lots of ways to use them.  Like as a take-away gift at a party or shower, in cute cups with cellophane and twine.  Or tucked inside a paper cone and small vintage glass for the buffet table.
Eating them off the cooling rack is totally fine too, and they keep well in an airtight container for several days, if needed.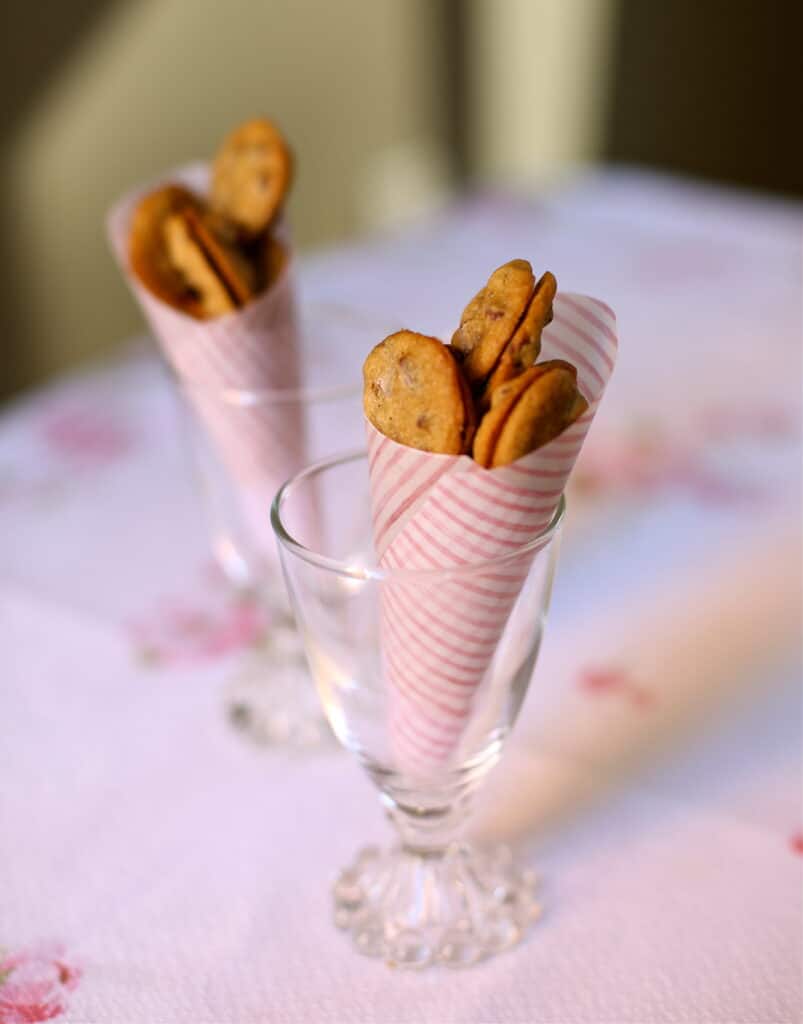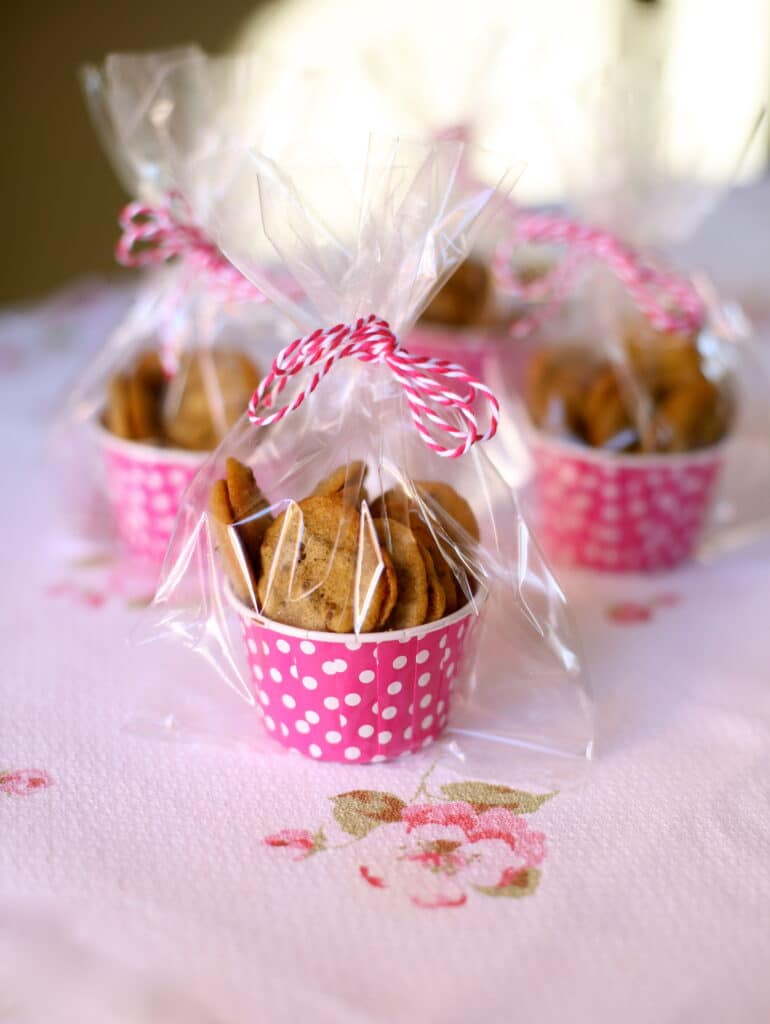 Oh, and this recipe makes about 100,000 tiny cookies.
Not really, but it feels like it when you are portioning them out in a 1/2 teaspoon.
Be sure to scoop the dough in the measuring spoon and flatten it with your fingers or they'll be too big, and tiny is totally part of their charm.
Ingredients
1 1/4

sticks unsalted butter

softened

2/3

cup

packed light or dark brown sugar

3/4

teaspoon

salt

1/2

teaspoon

baking soda

1

large egg

1

teaspoon

vanilla extract

1

cup

all-purpose flour

plus two tablespoons if needed

1 1/4

cup

7 ounces mini semi-sweet chocolate chips
Instructions
PREPARE EQUIPMENT

Place the oven rack in the middle position and preheat the oven to 400 degrees

Line a baking sheet (or sheets) with parchment paper

PREPARE COOKIE DOUGH

In a medium bowl, beat the butter and sugar with an electric mixer until

lighter in color and fluffy, about 3 minutes

Add the salt and baking soda, egg and vanilla and continue mixing for about 1 minute.

Add in one cup of the flour, and continue mixing just until combined. Fold in the chocolate chips with a spatula.

Drop measured 1/2 teaspoons of dough, not rounded about 1 1/2 inches apart on the cookie sheet. Bake in batches until golden brown on the edges, about 6 or 7 minutes. Cool on wire racks. Can be stored in an airtight container for 3-4 days. Makes about 12 dozen cookies that are roughly the size of a quarter.

NOTE: I test baked a few cookies first to make sure they were not flat. They were, so I added 2 level tablespoons more flour to the dough and lightly worked it in with my hands.
Source: Studio Delicious, adapted from The Gourmet Cookbook